It will be remiss if there are not one or two mozzarella appetizers on the table, whether you host a celebration or a party. This Italian cheese is always a go-to party food for many people on special occasions.
Not only a favorite pizza topping, but you also find various dishes using mozzarella. The cheese goes great with bread, meat, and vegetables. A bonus point is that it is low in fat and calories, which means this cheese is suitable for weight loss.
With the above advantages, using mozzarella as a base for your starter is a reasonable choice. From mozzarella cheese dip and its famous sticks to many salads, you are free to add them to your party menu.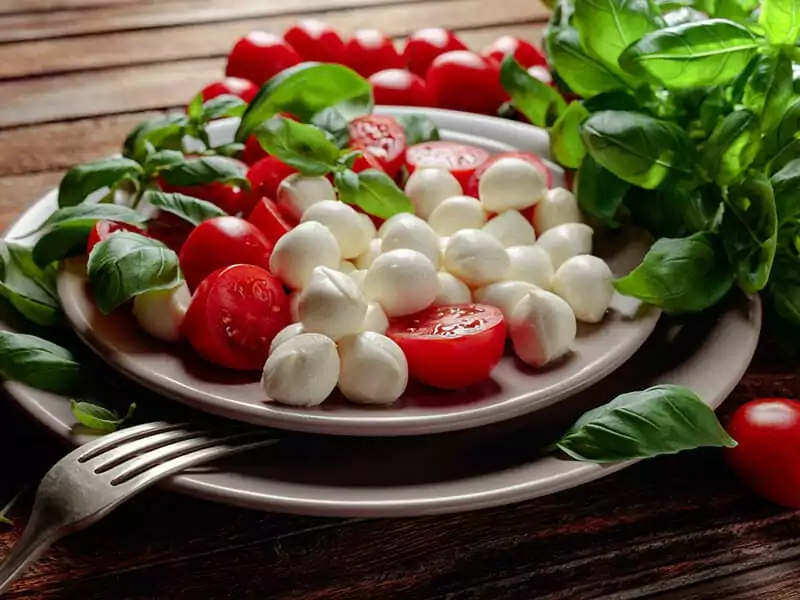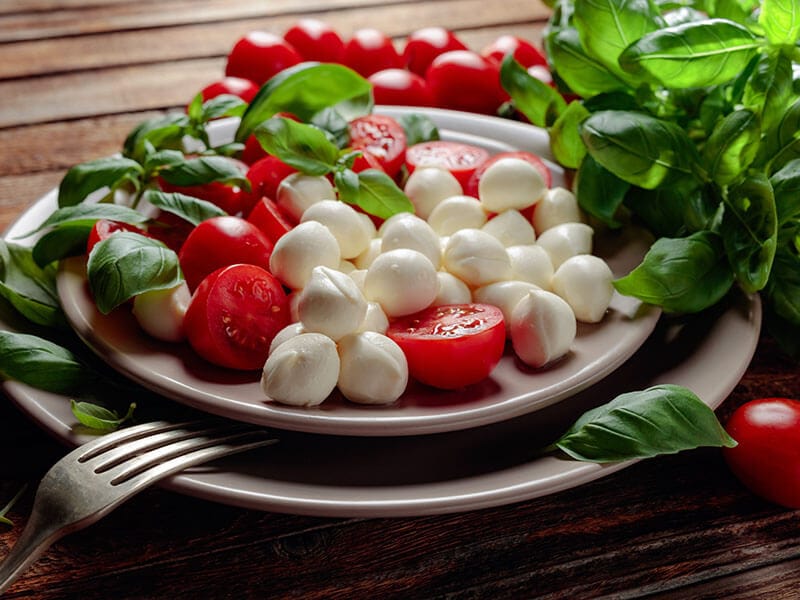 These Mozzarella Appetizers Will Leave You With Spectacular Results
If you look for more mozzarella appetizers to make your friends go nuts, this list will satisfy your need. Even the most sophisticated guest can not say no to these delicious treats.
Total time: 35 minutes
You can make a lot of appetizers with mozzarella, and one of my favorites is the simple yet flavorful herb-marinated fresh mozzarella. Simply put, this starter is about creamy white mozzarella balls soaked in olive oil and balsamic vinegar, garnished with fresh herbs and garlic.
This recipe comes together in just 30 minutes without fancy gadgets. Put all ingredients together in a measuring cup and let them marinate. In the meantime, you can make another dish or just relax with a cup of tea.
Let the cheese infuse the flavors for 30 – 60 minutes. You can wait a bit longer, but I recommend no more than 24 hours as the balsamic vinegar will ruin the texture of cheese balls.
Pour the mozzarella and oil mixture into a shallow dish and enjoy with crostini (toasted French bread with olive oil).
Do you know how to make the simple herb-marinated mozzarella balls? Learn here!
Total time: 30 minutes
On summer nights, there's nothing better than sipping a slice of French bread and dunking it in the cheesy baked Caprese dip. Use the ingredients in your fridges like fresh tomatoes, basils, and balsamic vinegar to make this dish. The hot cheesiness will melt away all your worries.
With the sweetness of tomatoes, the salty bite of mozzarella cheese, and the tanginess of balsamic vinegar, all the flavors will dance in your mouth. For a kick of spice, add extra red pepper flakes.
Remember that there are some must-have items in this recipe. For example, there is no substitute for shredded mozzarella cheese as it adds a stringy, chewy texture to the dip. Fresh basil is also featured in the Caprese dip, along with tomatoes and fresh mozzarella cheese.
Total time: About 1 hour and 20 minutes (including 1 hour of marinating time)
Prosciutto-wrapped mozzarella will be the first dish to disappear at your party. Who would want to miss the marinated cheese balls wrapped in sweet-and-salty prosciutto? Plus, feel free to combine the "marinated fresh mozzarella" recipe above to make this dish.
Prosciutto is cured meat made of high-quality pork legs and tastes delicately sweet and salty. The meat will be coated in salt and marinated for several weeks.
It is safe for raw consumption because the salt has absorbed all the blood and moisture, preventing the bacteria from penetrating the meat.
Wrap a prosciutto slice around each marinated cheese ball. Then place the results on a plate and sprinkle with the oil marinade. Because there are only a few ingredients in this dish, remember to focus on the quality of the products.
Total time: 15 minutes
If you want to serve a lighter and healthier hors d'oeuvre, consider this Caprese appetizer pesto bites recipe. This cocktail pick resembles a portable Caprese salad with ripe, juicy tomato and milky mozzarella cheese. You can make them even more interesting with homemade pesto.
Speaking about pesto, you need a few simple ingredients, such as pine nuts, basil, romano cheese, and olive oil. Toss all in the food processor, and your pesto is ready. The aroma and flavor are so unique that you never have to look for the store-bought again.
A tip for toasting pine nuts is to stir them in hot for 3 to 4 minutes. Remember to coat the presto with a layer of olive oil on top to preserve it. Lastly, if you don't use up all the pesto, store it in the fridge for up to 2 weeks.
Total time: 2 hours and 15 minutes (including 2 hours of freezing time)
Be a thoughtful host and amaze your gluten-sensitive guests with these gluten-free mozzarella sticks. Rest assured, these appetizers are as delicious as traditional sticks with a crisp outer layer and a cheesy melting inside.
The spotlight of this recipe is, of course, mozzarella. If you want to be extra careful, buy blocks of mozzarella and cut them into thick strips. Also, make sure to purchase gluten-free flour and panko breadcrumbs, which give a lighter, crispier texture to your cheese sticks.
350°F is the ideal temperature for deep frying. It is best to leave the deep-fry thermometer in the oil during cooking to ensure the frying temperature. Besides, be flexible on the timing because frozen cheese will need extra minutes to get things done.
Total time: 15 minutes
There is no way I forget to mention Caprese salad in the list of mozzarella-based appetizers. This Italian classic never goes out of style with its signature look, featuring delicious balls of mozzarella, juicy red tomatoes, fresh basils, and balsamic for drizzling.
Note that this tomato first course recipe includes fresh mozzarella cheese, which is different from the grated cheese you use to bake and melt. Fresh mozzarella is soft, milky, and not salty, though having a hint of tang.
The baby mozzarella (or bocconcini) is used in this recipe to match the cherry tomatoes in size.
Unlike the traditional Caprese salad, you will add more dimensions of flavor to the dish with two types of dressing instead of just plain olive oil. Toss the veggie with garlic-herb vinaigrette and finish with a sweet and tangy balsamic glaze drizzle.
Caprese salad is perfect for gatherings, potlucks, or parties. Learn how to make it now!
Total time: 15 minutes
After the first try, these cheesy baked tomatoes can be your forever go-to appetizer. The classical combo of tomatoes and mozzarella may remind you of a Caprese salad, but you'll double the deliciousness with a sprinkle of Parmesan cheese.
Cut tomatoes into slices, layer with Parmesan and shredded mozzarella cheese, and take them to the oven. And voila, this dish will come together in no time. I'm sure every bite is bursting with flavor and nutrients.
After 8 – 10 minutes of baking, the cheese will melt and start to brown. If possible, add some homemade basil pesto on top for extra flavors. Then your tasty tomatoes are ready to serve.
Total time: 10 minutes
When the peach season arrives, it's time to make these delicious skewer appetizers. Also, extra mozzarella and prosciutto will go a long way. The beauty of this finger food is its portability as the guests can just pick and mingle.
Pickle peaches may seem an unfamiliar concept, but their taste is worth a try. The sweet-and-sour flavor with a touch of spiciness is a result of the combination of peach, vinegar, and spices in the pickling mixture.
This bite-sized appetizer is the perfect blend of sweet and salty flavors. In particular, this recipe includes peach pickles, mozzarella pearls, basil leaves, and prosciutto. You need to thread all the ingredients on a stick and finish with a drizzle of dressing on top.
Total time: 25 minutes
Anything with bread is my go-to finger food for outdoor parties because of its convenience. Serve this cheesy bruschetta garlic bread and surprise your guests with its deliciousness.
This dish typically begins with a loaf of Italian bread. Cut lengthwise, spread butter on top of each loaf half, then broil for 1 – 2 minutes. Next, spoon over bruschetta, sprinkle mozzarella cheese, and give a quick broil in less than 2 minutes. Cut the loaf into six pieces and serve.
It is unnecessary to use Italian bread; go for French bread, sourdough, or any bread you have on hand. Also, opt for any kind of tomato that you like. You can make garlic bread in advance and store it in an airtight bag at room temperature.
Total time: 25 minutes
Wow your guests with the sliced ham and melty cheese, all wrapped in an egg roll wrapper that is baked to perfection. Of course, these baked ham and mozzarella cheese sticks are not the healthiest snacks, but they are better than the fried ones.
Pepperoni, turkey, or chicken are other terrific options instead of ham. Otherwise, go meatless if you want. Similarly, feel free to swap out the mozzarella with different types of cheese, such as cheddar or Monterey Jack.
With less than 30 minutes and five ingredients, these tasty baked cheese sticks are ready for eating. Serve them with your favorite dipping sauce, or eat them plain.
Total time: 30 minutes
Simple in its preparation and presentation, this appetizing dish with burrata cheese still blows you away with every bite. This type of cheese will add a touch of creaminess, while the balsamic glaze will contribute a sweet acidity to this vegetarian appetizer.
Burrata is a creamy concoction of mozzarella and cream, and that's why it picks up all the goodness from the duo. The cheese is fluffy, with a rich and buttery flavor, which is perfect for this appetizer. Don't use regular mozzarella in its stead because the flavors won't be the same.
Bake bell pepper and garlic stoves until slightly scorched. Transfer them to a plate and top with chopped-up burrata cheese in the center. Lastly, finish with balsamic glaze and fresh basil.
Remember to mix and match the colors of peppers to make the dish more attractive and yummier.
Total time: 10 minutes
It's no exaggeration to say this 10-minute bruschetta with mozzarella is such a crowd-pleaser. Simple, fresh, and flavorful, the dish is ready in a few minutes. Every bite will bring a package of Italian flavors to your mouth.
Feel free to use any type of tomato in this popular potluck appetizer. If you want to bring some fun twists, choose grape tomatoes. Besides, remove the seeds and guts to avoid a soggy bruschetta if you go for larger tomatoes.
Juicy tomatoes, fresh basil, creamy mozzarella, and the sweet and tangy balsamic vinaigrette will create a flavor bomb. The best way to enjoy the bruschetta is to serve it at room temperature with the warm toasted crostini.
Let's make all-time favorite bruschetta with mozzarella and wait for your friends' reaction!
Total time: 30 minutes
Set aside the taste, I will give this roast tomato mozzarella appetizer 10 points for its appearance. Of course, its flavor won't let you down either, as the sweetness of roast tomato and shallots will blend perfectly with the milky taste of the fresh mozzarella pearl.
Fresh mozzarella is a perfect companion for appetizer dishes with tomatoes. But if you want something different, choose Burrata for richer flavors. Besides, bring the Caprese salad flavor with extra balsamic vinegar at the end of roasting.
For decoration, place the cheese pearl in the middle of the roast tomato mixture, and add the last touch with some fresh herbs. Serve with French bread on the side. If you don't use up the tomato mixture, let the leftovers stay in the fridge. They can last for 3 – 4 days.
Total time: 1 hour and 2 minutes (including 30 minutes of freezing time)
Whether you want an appetizer to serve at the party or a finger food to enjoy with a cocktail, air-fried vegan mozzarella bites can do it all. These heavenly bites have an incredible crispy crust and a melt-in-your-mouth filling of vegan mozzarella.
For your information, vegan mozzarella is completely animal-free with plant-based ingredients, such as soy, nuts, cashews, and vegetable oils. And feel free to choose any block-style vegan mozzarella in this recipe. Worry not that its taste is not much different from regular cheese.
Air frying is not the only way to make this finger food. Consider other methods such as deep frying or baking. If you prefer the latter, I recommend baking them at 450°F, and your vegan mozzarella bites will be table-ready after 15 to 18 minutes.
Total time: 19 minutes
Here comes my favorite: pizza poppers, a pizza hors d'oeuvre adored by both kids and adults at any party. Making these bite-sized treats is surprisingly easy, and the taste is better than store-bought. Ask your kids to help because the process is super fun.
Pepperoni is a popular pizza topping, but feel free to customize your favorites, such as ham, sausage, or meatballs. On the other hand, you can go for meatless poppers with spinach, feta, chopped tomatoes, and more. Even pizza sauce with mozzarella alone is good enough.
What I love about these pizza poppers is their deliciousness remains the same when you reheat them the next day. That's why they are great made-ahead options. You can make these poppers in advance and let them sit at room temperature for hours until the party starts.
Total time: 10 minutes
Bored of frozen store-bought or regular cheese sticks? Understanding your struggles, I will introduce these air-fryer spicy mozzarella sticks to you. Hot, spicy flavor packed into crunchy and cheesy sticks. Its taste is not inferior to the deep-fried version.
Use fresh mozzarella cheese and stretch it into homemade string cheese. However, switch to pre-made string cheese if it is more convenient for you. Besides, let the cheese stay in the fridge until ready to use. Ensure that your cheese is always at a cool temperature.
The spiciness of this hors d'oeuvre comes from hot cheese puffs; choose whatever brand that suits your taste. Blend them in the food processor until they become crumbs to use for the breading part. I'm sure these spicy mozzarella sticks will win your guests' hearts.
Have you tried making air-fryer spicy mozzarella sticks with hot Cheetos before?
Total time: 45 minutes
If salad is not your thing, these fried Caprese bombs will be a great option to enjoy the same classic Italian flavors. Crispy fried tomatoes stuffed with fresh mozzarella cheese are served with aromatic basil and balsamic reduction. These bite-sized appetizers will be a big hit.
Remember to choose golf ball-sized tomatoes to fit the mozzarella balls. Keep the skin on so that the ingredients can hold together during frying. However, it is more challenging to bread tomatoes. A double coating is necessary to prevent the cheese from melting out.
This deep-fried finger food shares the same ingredients as the original Caprese salad and some extras such as bread crumbs, milk, and eggs for breading. As for the sauce, mix balsamic vinegar and honey. Only drizzle before serving to avoid sogginess.
Total time: 30 minutes
Quick to prep and quick to cook, these Caprese stuffed baked portobello mushrooms are a winning recipe. This bite-sized finger food has the well-loved Italian Caprese flavors with tomato, basil, and mozzarella.
To check the mushroom doneness, use a fork to press gently in the middle. If the mushrooms are soft and juicy, they are cooked. Let your mushrooms sit a few minutes after cooking to settle the flavors.
You only need 20 minutes of cooking to whip up this delicious baked portobello mushrooms recipe. The trio of tomato, mozzarella, and basil complements the baked portobello mushrooms beautifully. Not to mention that a garlic and olive oil duo will tie all the flavors together.
Total time: 15 minutes
Recreate one of the timeless summer appetizers in your home kitchen with this melon and prosciutto Caprese salad. Melon and prosciutto will breathe new air into the Caprese salad, a classic combo of mozzarella, tomatoes, and basil.
This salad has a unique balance of flavors, as the sweetness of melon blends perfectly with the salty prosciutto and the creaminess of mozzarella. Not to mention, basils bring a freshness and excellent finish to the dish. Therefore, every bite is like the taste of summer.
No exact measurements are needed in this recipe. Use as many cantaloupe and mozzarella balls as you prefer. The same case goes for prosciutto.
Nevertheless, be cautious when applying olive oil and balsamic vinegar. Because if the salad sits at room temperature for a while, the ingredients will get soggy due to the large amount of oil or vinegar.
Make the classic Caprese salad more fun with a new twist from melon and prosciutto!
Total time: 45 minutes
Whether you launch these crispy chicken Caprese bites as an appetizer or a full meal, they will be the party's highlight. The Italian seasoned fried chicken, baby mozzarella pearls, ripe tomatoes, and fresh basils work wonders in one stick.
For the dressing, stir the vinegar and sugar together over low heat until the mixture bubbles up. Be careful because it gets burnt easily. Remove from the heat and let it cool down. The balsamic syrup will thicken as it cools down.
This appetizer is a perfect combination of fresh flavors and crispy chicken nuggets. Plus, the syrup's sweet and sour taste will kick off your taste buds. Thread all ingredients in a toothpick or skewer, and drizzle the syrup over the bites as the finishing touch.
Total time: 25 minutes
Hello cheese lovers, today's recipe is for you. Enjoy your favorite Italian cheeses in one yummy appetizer: smoked mozzarella dip. Serve this cheesy dip with a side of Italian bread.
As I mentioned, this recipe calls for many of your favorite cheeses, including cream cheese, Parmesan, mozzarella, and provolone. They are all available at any local grocery.
There are two ways to make this dip: mixing everything by hand with a sturdy spoon or using a stand mixer. Choose the method that suits you best. Nevertheless, if you are short on time, using the stand mixer will do the job much quicker.
After 15 minutes in the oven, your bubbling and smoky cheese are ready to enjoy. To add a pop of color, top the dip with diced tomatoes and parsley. For added flavors, toast a few slices of Italian bread in the last 5 minutes of cooking to serve with this cheesy goodness.
Total time: 1 hour and 21 minutes (including 1 hour of chilling time)
These Italian pinwheels will be a showstopper at any party or event. With only six ingredients, you can prepare an elegant and delicious finger food in 10 minutes, making it the perfect, low-stress appetizer for a dinner party.
Unlike the tortilla and cream cheese combo of regular wrap sandwiches, this improved roll-ups uses a store-bought pie crust dough as the base. Opt for Dijon mustard instead of cream cheese, mozzarella, Parmesan cheese, and Italian seasoning.
When out of the oven, the pinwheels should have a crispy, golden-brown crust with a layer of melted cheese. To avoid last-minute party stress, prepare in advance and keep them in the fridge for up to 24 hours before slicing and baking.
Total time: 5 minutes
Let's add more twists to the classic Caprese salad by turning it into individual appetizers on toothpicks. Featured with grape tomatoes, mozzarella, basils, and balsamic vinegar, the flavor of these bites is still impressive. Yet, a change in appearance will catch everyone's attention.
Caprese salad is one of the classic Italian appetizers. The beauty of this salad is the simplicity of the ingredients. Combine mozzarella cheese, tomatoes, basil, and olive oil, and your famous salad is ready to serve. Interestingly enough, this salad also reflects the colors of the Italian flag.
Only a few minutes away, and your appetizer is ready on the table. To begin, thread basil, tomato, and a mini mozzarella ball onto each toothpick. Then add balsamic glaze or olive oil on top and serve.
Simple and delicious, these Caprese salad bites deserve a try.
Total time: 27 minutes
Italians never go wrong with their appetizers, so trust them and surprise your guests with these fried mozzarella balls with tomato sauce for dipping. Combining the crispy fried goodness with tomato dip creates a treat both for your eyes and palate.
Frozen mozzarella balls are the salvation for last-minute party foods. The prep is easy, and you only need 2 minutes to fry them. After breading, let your cheese sit and freeze for at least 15 minutes. If you don't, the cheese will melt quickly when frying.
Enjoy them with the homemade tomato dip. The tomato sauce is rich in flavor and will cut through the richness of the cheese. Word of warning: Make double batches because they will disappear quickly after serving.
Total time: 25 minutes
Traditional Italian cuisine and low-carb eating might appear incompatible, but these keto starter treats make it possible. They are low carb and embody everything good about Italian cuisine with pepperonis, mozzarella, and pizza sauce.
Ready in less than 30 minutes, these delicious pizza bites are irresistible starter treats for kids and adults alike. Apart from four essential ingredients, feel free to add more of your favorite toppings, such as black olives, ham, mushrooms, or bell peppers.
Many want to skip the 5-minute baking pepperoni and add all the ingredients to the cups from the beginning. However, I suggest you not do that because that process will make pizza bites extra crispy and better at holding their shapes.
Let's make these keto pepperoni pizza bites and see how it goes.
Total time: About 1 hour and 40 minutes
Pizza rolls are typical party food, so why don't you make some fun twists on this classic with extra prosciutto and more Italian flavor. These Caprese pizza rolls with prosciutto will upgrade the game with milky mozzarella, cherry tomatoes, and lemon zest.
Marinate your tomatoes in olive oil, garlic, lemon zest, and red pepper. Ensure to drain the juices before placing the tomatoes on the dough. Similarly, remember to dry or drain fresh mozzarella to remove excess moisture. Don't skip these steps to avoid a watery pizza.
Moreover, if you prefer a meatless pizza, feel free to eliminate the prosciutto. For storing, seal leftover rolls tightly and keep them at cold temperature for three days. When ready to use, reheat in the microwave for 30 to 60 seconds.
Total time: 20 minutes
Caprese is about three basic ingredients: mozzarella, basil, and tomatoes. Yet these mini pastry Caprese bites take it one step further, adding puff pastry, pesto, and a delicious balsamic vinaigrette.
This recipe utilizes ready-rolled puff pastry for convenience. In addition, you can choose gluten-free puff pastry instead of regular ones. Remember to thaw it at room temperature for at least 20 minutes before using it.
These festive appetizers with puff pastry will be a welcoming sight for holidays like Christmas: their gorgeous golden, red, and green colors are enough to tempt any party-goer into gorging on them. You can add more green to the base with homemade or store-bought pesto.
Total time: 10 minutes
I always believe there's something fun about eating things off a stick, especially with these blackberry cucumber Caprese skewers. This recipe is a spin-off of the classic Caprese salad. Instead of tomatoes, you will use blackberries and cucumber for extra crunch.
If you don't have pre-seasoned mozzarella balls, marinate your mozzarella with olive oil and Italian seasonings. Also, I'd recommend using English cucumbers and leaving their skin on for extra crunch and colors.
To save time, prepare these skewers a night before or earlier in the day and let them chill in the fridge. Be sure to wait to drizzle the balsamic glaze before serving. On the other hand, your leftovers can stay refrigerated for several days.
Select Your Favorite Appetizer And Go For It!
It is nothing better than enjoying delicious food with friends and family. I hope these mozzarella appetizers have done a great job bringing you a fantastic eating experience. There are so many options on this list; you're welcome to try them all.
You can spread positive emotions by sharing these delicious dishes with your friends. Also, remember to hit the like button if you find my article has inspired you with more ideas for future parties.
Nutrition Facts
6 servings per container
---
Amount Per ServingCalories149
% Daily Value *
Total Fat 10.7g

16

%
Cholesterol 18mg

6

%
Sodium 207mg

9

%
Potassium 191mg

6

%
Total Carbohydrate 4.4g

2

%

Dietary Fiber 1g

4

%
Sugars 2g

Protein 10.1g

20

%
---
* The % Daily Value tells you how much a nutrient in a serving of food contributes to a daily diet. 2,000 calories a day is used for general nutrition advice.