20+ Delicious Montenegro Foods For A Lovely Meal
Hey! If you are looking for delicious Montenegro foods, this post is the perfect place for you. The cuisine of Montenegro varies from region to region. The coastal area has different specialties compared to the northern highland area.
The country's culinary culture is inspired by Levant, Serbia, and Turkey, so you will find the fusion of these cultures in Montenegro foods. Are you excited to explore the upcoming specialties?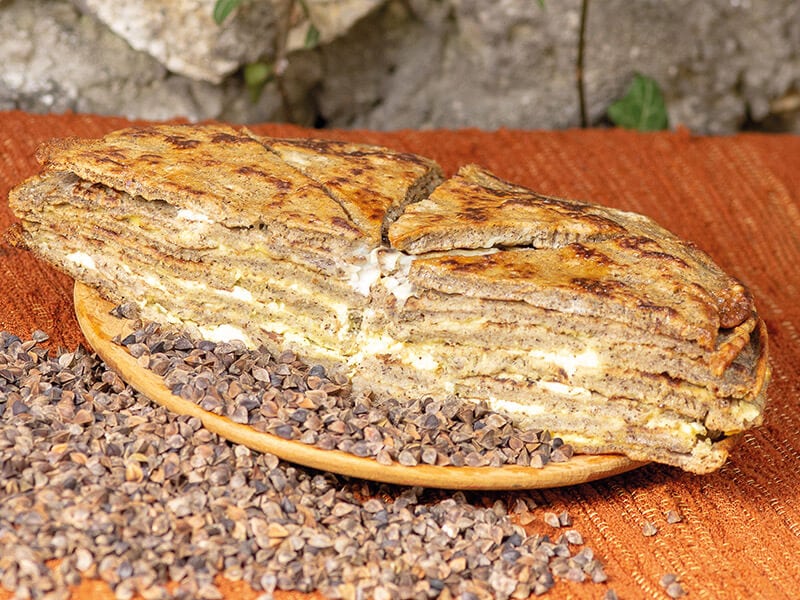 5 Montenegrin Appetizers To Treat Your Family
Don't hesitate! These Montenegrin appetizers will amaze you with their amazing flavor. Let's dig in!
1. Njeguški Pršut Or Njegusi Prosciutto (Smoked Ham)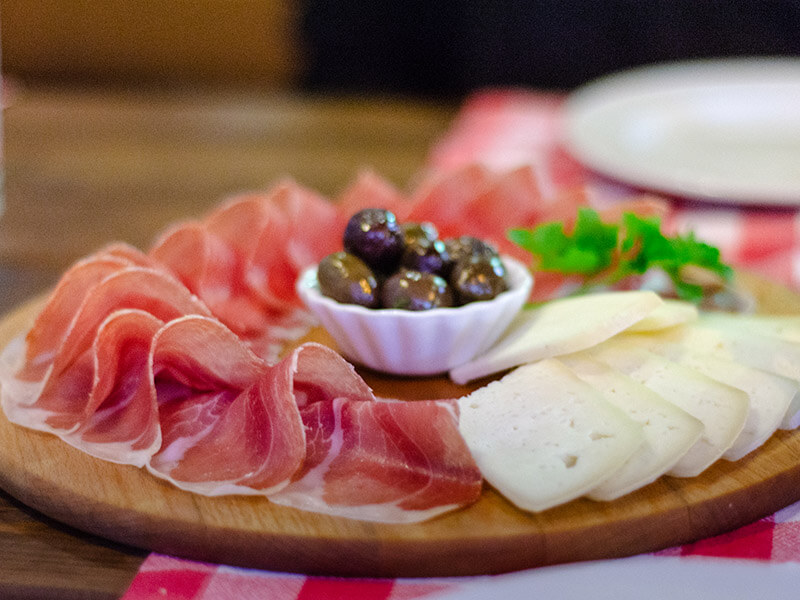 Njegusi Prosciutto is a special ham from Njeguški in Montenegro. The dish only has its authentic flavor in Njeguški due to the climate conditions here. In Balkan, there is a similar dry meat dish, but it can not mimic the Njeguški one.
In Montenegro, serving the dish shows hospitality and respect to the homeowner. Njegusi Prosciutto is a national pride of Montenegrins that you have to try.
Njegusi Prosciutto has a dark color with an intense taste resulting from the local dryers. The dryers have thick walls made from local carved stones. The salt used for this dish is from Ulcinj (a coastal town in Montenegro).
Traditionally, the meat is smoked on low heat (on beech wood) for 15 days. After that, people will wash the meat in water barrels before serving. The dish is often served in slices with Njegusi cheese and other Montenegro specialties for an exploding meal.
Discover the taste of Njegusi Prosciutto in Njeguši Village right now!
2. Ajvar (Roasted Red Pepper Sauce)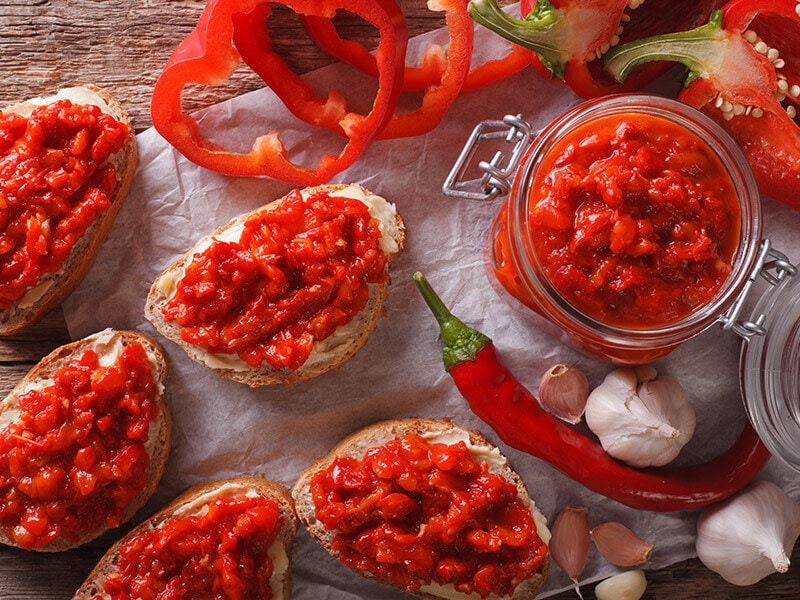 Let me treat you to a fascinating Montenegrin dish. Ajvar is a piquant sauce made out of pepper and eggplants that will spice up your meal. The sauce is popular in Southeast Europe and adored by the Montenegrins.
The traditional flavor of Ajvar is sweet, but people usually add chili peppers in recent days, so the sauce is spicier. You can have the dish as an appetizer, a side dish, or a bread spread.
Ajvar could be made from green bell peppers and oregano or tomatoes and eggplants. 'Leskovac Ajvar' and 'Macedonian Ajvar' have their brand names protected by the World Intellectual Property Organization.
Making Ajvar requires a sophisticated and skillful hand because peeling the peppers is not easy. The dish is made during mid-autumn and is a common dish to enjoy in winter.
3. Pasulj (Bean Soup)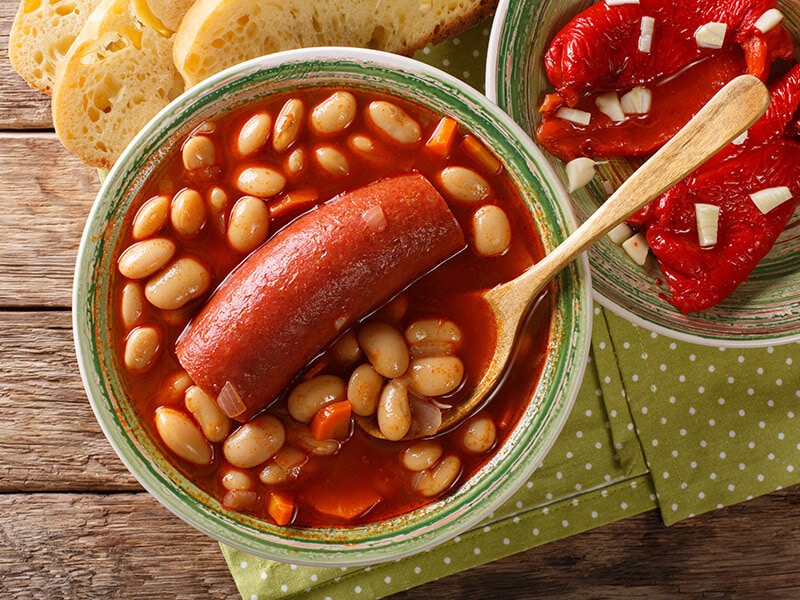 Pasulj is a beautiful soup often made from white or brown beans (cranberry or pinto beans). Sometimes, people will use kidney beans to give the dish a little twist in flavor. The dish is popular in Serbia, Croatia, and other neighboring countries.
Smoked meat like bacon, ham hock, and sausage are typical ingredients for the dish. Pasulj is a hearty soup in winter that will warm your body.
Tavče gravče is a beautiful and thicker version with an intense spiciness from North Macedonia. Pasulj soup has another variant called 'Prebranac' that uses baked beans for a slightly smoky flavor.
4. Priganice (Montenegrin Donuts)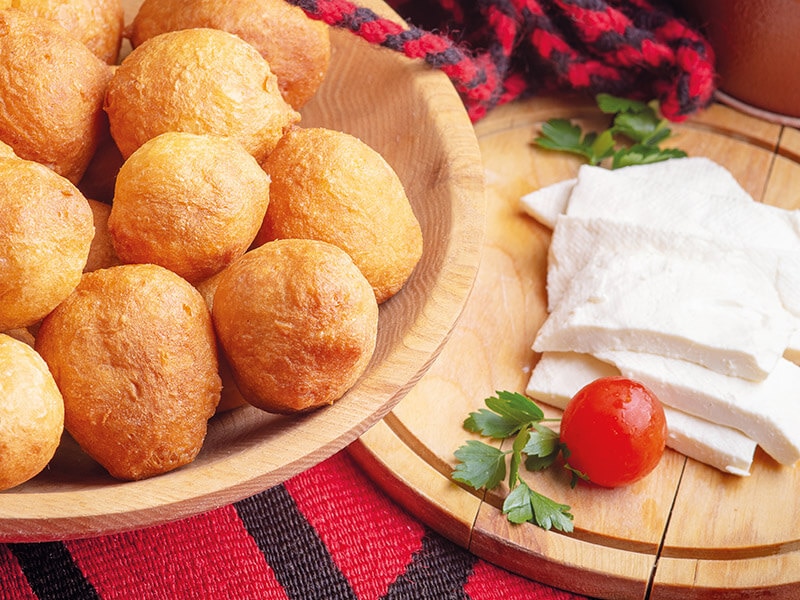 In Montenegro, there is a prominent snack that you can serve as an appetizer of a meal, Priganice. Yogurt or Rakija (a special drink in Montenegro) are often added to the Priganice dough for extra flavor and prevent the dough from soaking oil while deep-frying.
Montenegrins can make Priganice both savory or sweet and serve them while warm. It is a perfect dish for a hot lunch on busy days. You can enjoy them plain or pair the dish with cheese, sugar, or fruit jams for more flavor.
You can also enjoy the dish cold too; however, remember to store them in plastic cellophane so the balls will not dry out. And hey, if you need an excellent treat to substitute bread, Priganice is not a bad choice.
5. Kaymak (Clotted Cream)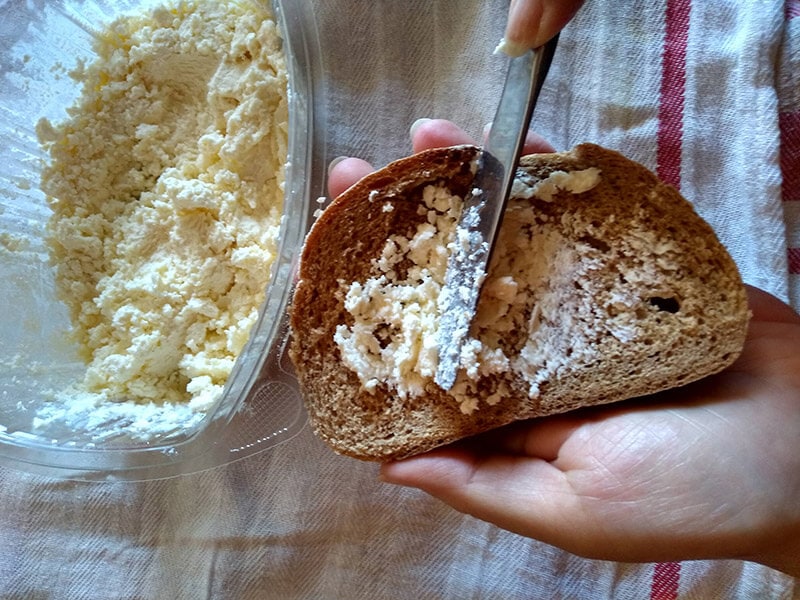 Kaymak is a dairy product that is similar to clotted cream. The dish originates from the Turkic region and is often called 'Skorup' in some regions of Montenegro. Kaymak is usually made from cow milk, but people also use sheep, goat, and even water buffalo milk.
Kaymak made from cow milk has a delightful flavor and can be stored longer. Only the variant from Montenegro has a slightly salty flavor from using salt. It is best to enjoy Kaymak when they are still 'young' (freshly-made).
If you leave the milk to ripen for around two months, you have another version of Kaymak with a more intense flavor. Kaymak is a perfect appetizer, or you can pair it with pancakes or pies. The dish is a great ingredient in many traditional stews or porridge recipes.
Piva River, Berane, and Durmitor have the best Kaymak recipe that you should try. Durmitor Skorup is a special dish patented by the Ministry of Agriculture and Rural Development.
Here Come Some Scrumptious Main Courses From Montenegro
These fascinating Montenegrin main courses will surprise your family and friends. So don't hesitate and give them a try.
6. Sarma (Stuffed Sauerkraut Cabbage)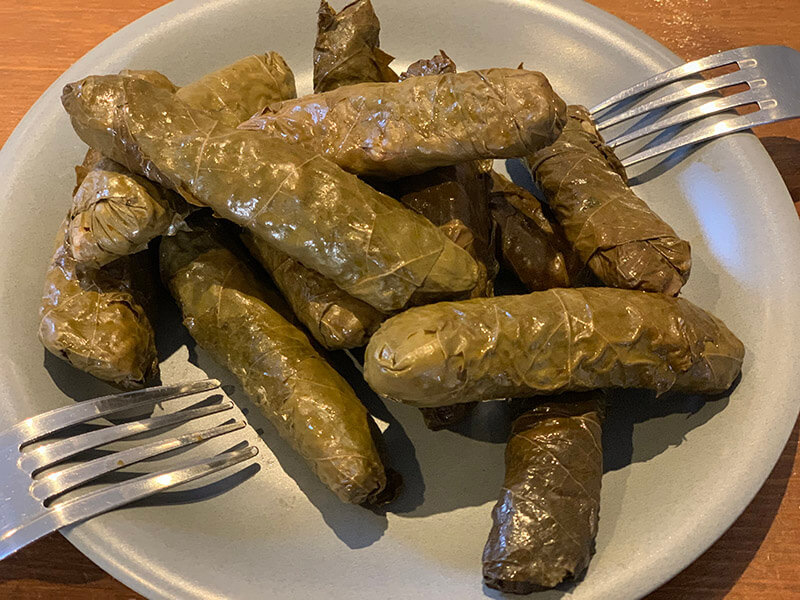 Sarma is a famous dish that is popular in the European region. Turkey, Croatia, and Greece have a special version of this food, but the version from Montenegro will surprise you with its unique flavor.
The cabbage wraps the juicy meat fillings inside, waiting to satisfy your taste with the most sophisticated flavor. The name 'Sarma' is inspired by the Turkish word 'sarmak', which means roll or wrap in English.
On Christmas Eve and Easter, Sarma is a traditional side dish with cabbage that you will find in almost any family meal. This is also an ideal main dish for wedding ceremonies.
7. Brav U Mlijeku Or Janjetina U Mlijeku (Montenegro Lamb In Milk)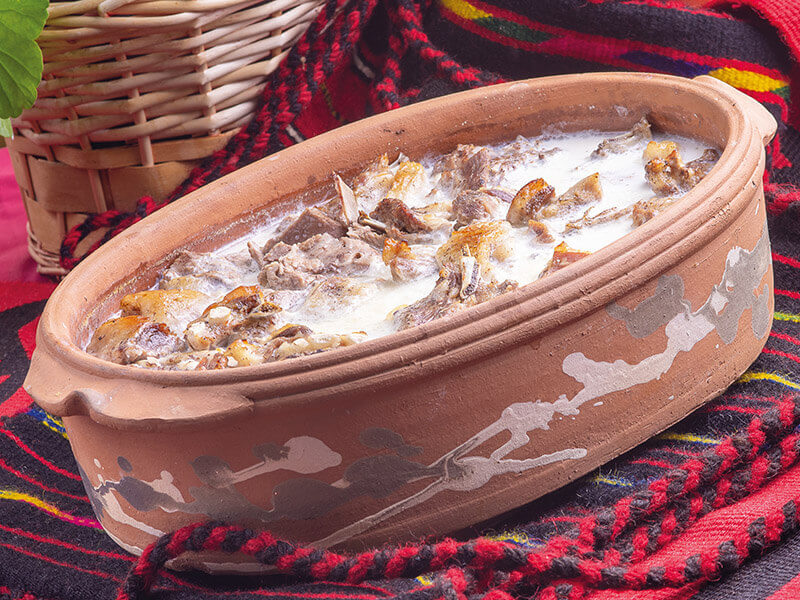 This special Brav U Mlijeku will charm you with its delicious and rich taste from lamb and milk. The dish is popular in Northern Montenegro and is considered a national dish of this country.
Lamb meat is a typical ingredient in Montenegro and the neighboring regions. The meat is cooked in a special pot called 'sac', resembling an image of a bell. Then, people will place the pot on burning ash and cook until the meat is tender.
Carrots and potatoes are the most typical vegetables to pair with the lamb. Don't worry about the smell of lamb because it will fade away when cooked in milk.
Janjetina u Mlijeku will change your perception of lamb taste.
8. Kacamak (Maize Porridge)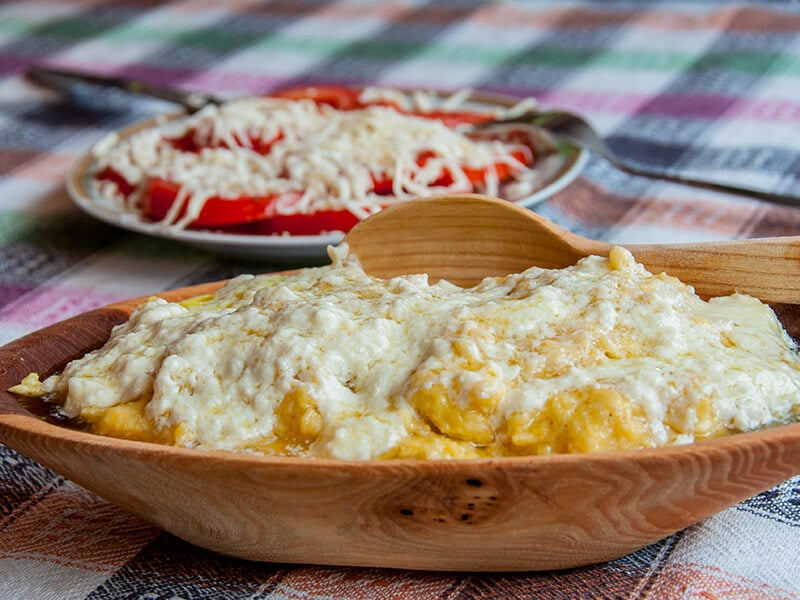 How about trying an outstanding breakfast dish from Montenegro? Kacamak is a special porridge with a thick structure and a delightful taste from wheat or cornflour.
Montenegrins use a wooden stick (called tučak) to make this dish to mash the potatoes and flour. This process requires strength and patience to gain a flawless outcome. Then, people will add Kaymak to form a beautifully rich flavor.
The dish is considered a specialty from the highlanders. Kacamak is evidence proving that Montenegrins fight against poverty. You can pair the dish with sour milk or yogurt as a companion.
9. Musaka Or Moussaka (Layered Pastry)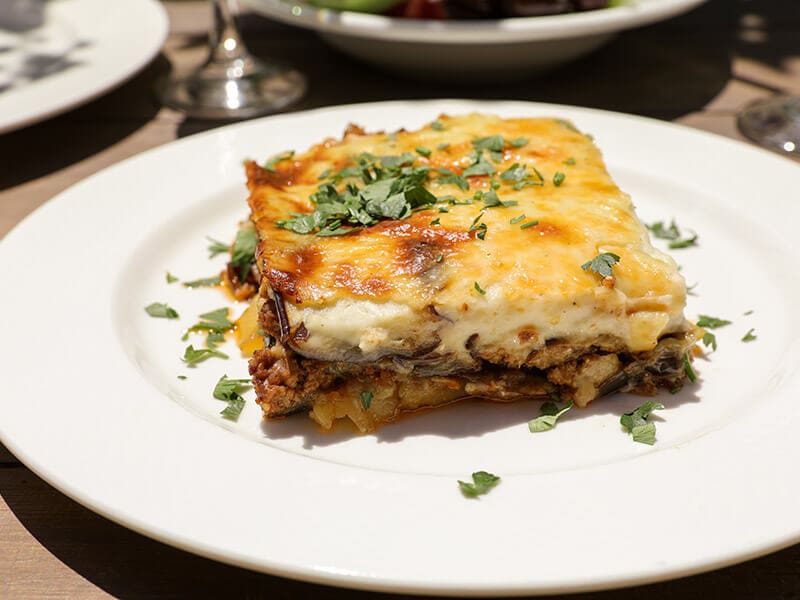 Hey! This Musaka will surprise you through every layer. The dish is famous for the Greek version, but the Montenegro one still has a magnificent taste. The two most common versions of Musaka are the eggplant one and the potato one.
In Montenegro, potato variants are adored all over the country. Traditionally, the dish has three layers, the bottom layer is potato (or eggplant), the middle layer is often a meat filling, and the top is full of béchamel-sauce.
Some variants use mushroom and zucchini to add a fascinating twist to the treat. You will find a quick-and-easy version with bread crumbs, vegetables, and tomato sauces.
10. Popara (Bread Porridge)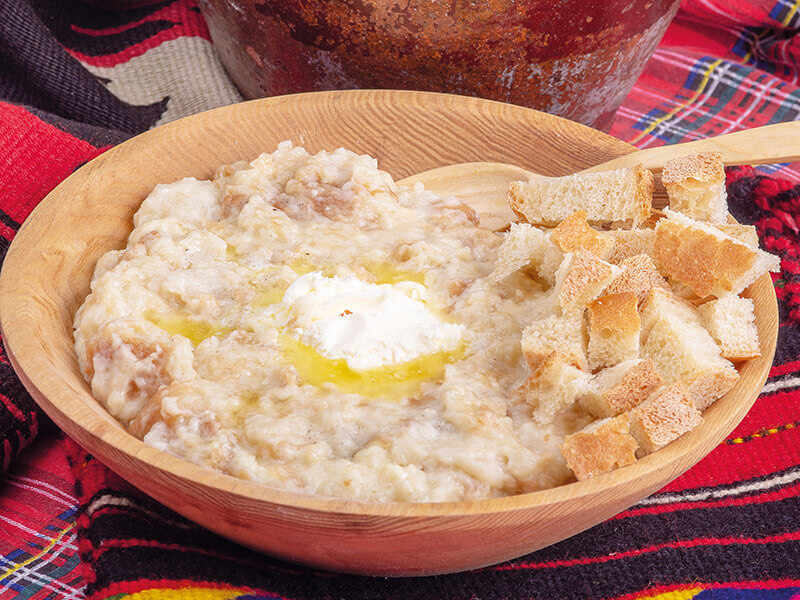 Here comes another dish from Montenegro with a creamy ingredient. Popara is a popular dish in Greece and Montenegro. The bread is mashed then flavored with butter, cheese, fried onions, and sour cream for an exploding flavor.
You can make Popara sweet or savory, depending on your taste. The bread is usually poured with hot water, but milk or tea is sometimes excellent to twist the flavor. Sometimes, smoked paprika is added to form a fantastic piquant kick.
In Montenegro, people will add creamy ingredients like Kaymak or cheese for a rich and delightful taste.
Popara is such a wonderful dish that you have to try in Montenegro.
11. Cicvara or Gotovac (Corn Flour With Kaymak)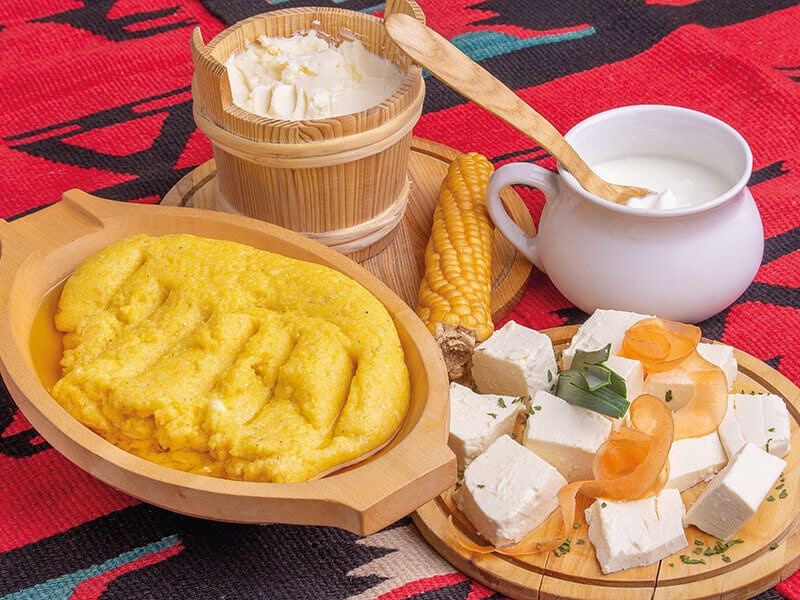 Cicvara is an exquisite dish from Montenegro enhanced by the creamy flavor of matured Kaymak. This recipe usually uses cottage cheese or other semi-hard cheese to boost the buttery flavor to another level.
Although you can use Cicvara and Gotovac interchangeably, these two have a slight difference. Cicvara has cornflour and cheese, while Gotovac is a mixture of Kaymak, flour, and a hint of yogurt.
Each family has a different way of creating their own Cicvara with a unique flavor. The dish is a pack of calories that will give you enough energy for an exciting working day. Montenegrins will serve Cicvara in a wooden bowl with herbs, honey, and sour cream.
These Delicate Montenegrin Desserts And Drinks Will Light Up Your Day
This section will cool you down with the most breathtaking sweet courses from Montenegro. Let's dive in!
12. Gibanica (Pastry Filled With Cheese And Fruit)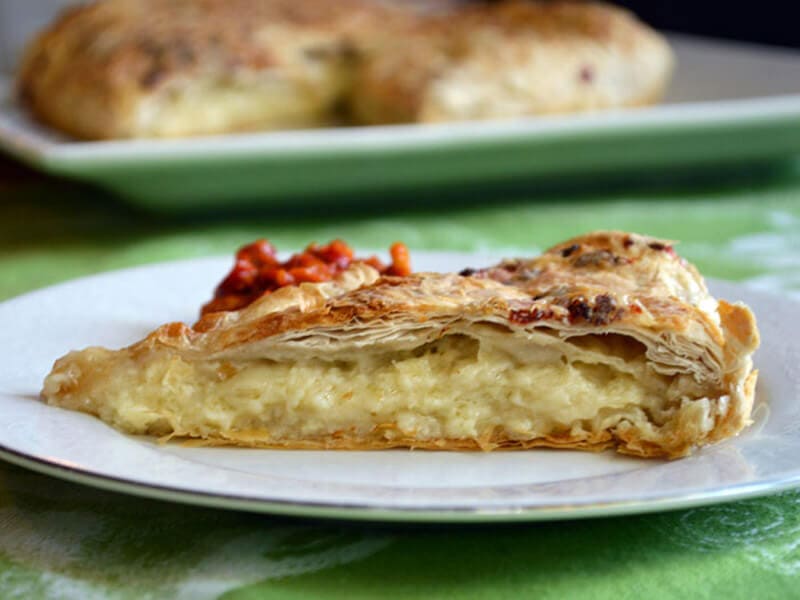 Wow! This magnificent Montenegro dish is a must-have dessert for your dinner parties. The dish is a sophisticated pastry with different fruit layers. The layer can be any kind of fruit you love. Apricots, strawberries, and raspberries, to name a few.
Gibanica is believed to originate in Serbia. Its name actually comes from the Serbian verb 'gibati', which means 'to fold' in English. You can have this dessert for breakfast or as a finisher for your dinner table.
Cheese is an excellent choice for this dish if you love a creamy flavor. This dessert is the beloved sweet treat in many Balkan countries. Montenegrins usually add some confectioners sugar on top and pair the dessert with a cup of strong coffee.
13. Heljdija (Buckwheat Pie)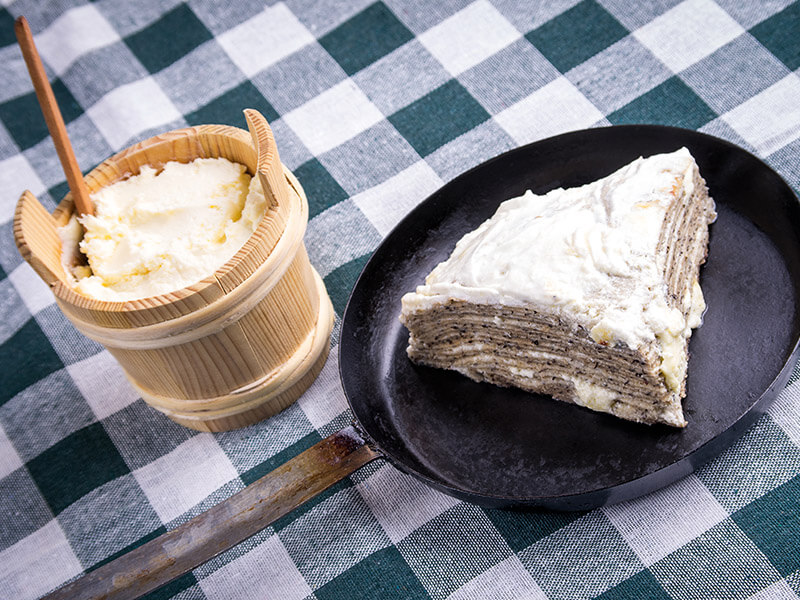 How about trying a wonderful Montenegro sweet course? When you need a quick snack or a lovely dessert for dinner, you will lose your head over this Heljdija. Customarily, the dish's main ingredient is buckwheat with a gentle aroma.
This H-something treat is like a pancake with plenty of layers. Buttery ingredients like Kaymak, milk, sour cream, and cheese are added to form an unforgettable paste for Heljdija. The layered structure of this dessert will hold the creamy paste.
The cheese used should be the main ingredient providing fat for this treat. To make Heljdija, you must be patient to create enough height from many layers. After being baked, the cake is now ready to serve.
14. Ava Kolač (Alva cake)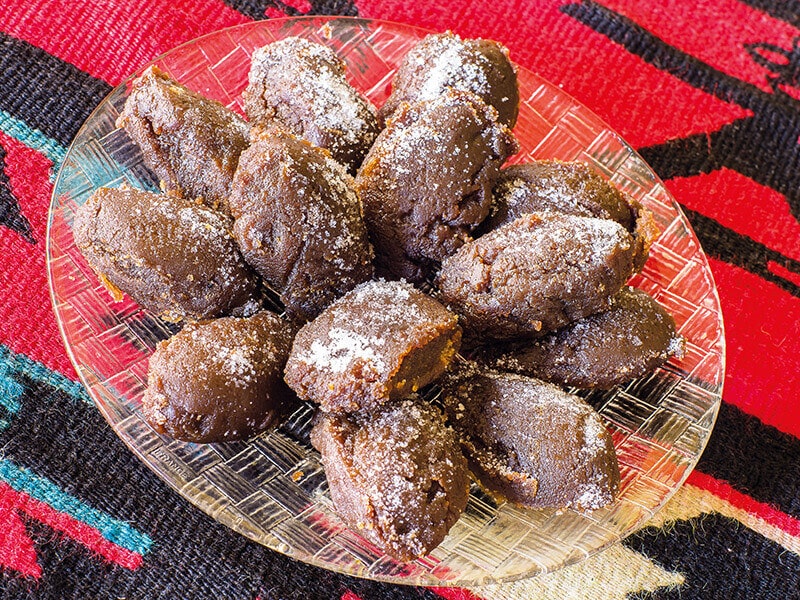 Ava Kolač is a yummy dessert that you can enjoy anytime. The dish has an impressive appearance with an enchanting flavor that will charm you immediately. This is an awesome dish to treat your friends and family to a beautiful meal.
There is a sweet version without any animal ingredients that are perfect for special occasions like 'slava'. You can dust the dessert with some powdered sugar for a touch of sweetness and powdery texture.
15. Rakija (Fruit Spirits)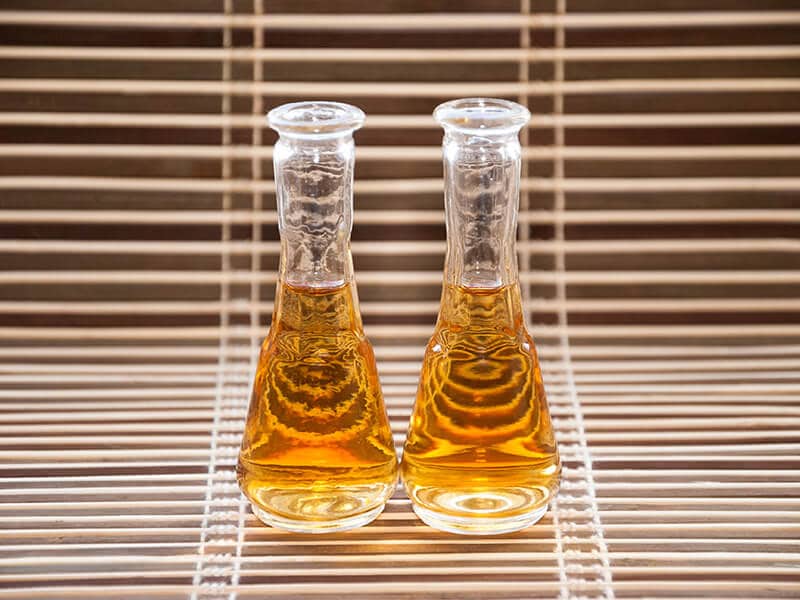 Rakija, sometimes known as Raki or Rakia, is an alcoholic drink in Montenegro and the Balkan region. The alcohol content of Rakija is around 40% ABV, but some Rakija produced at home might reach up to 50% ABV or higher.
This drink is widely consumed in Montenegro and is considered a national drink of the country. Usually, each family will have their own recipe for Rakija; if not, they will at least have a close relative who produces it.
Rakija will annihilate bacteria and viruses in your stomach, and the drink is a perfect disinfectant. Varieties like Sljiva, Loza, Kruska, Dunja are really popular, but Loza (made out of grapes) is most prominent in this country.
In the harvesting season in Montenegro, the ripest fruits will be used for making wine, while the less ripe ones are ideal for Rakija production. Fermenting duration will be around 20 to 40 days depending on the weather and the type of fruit used.
Such a sophisticated way to enjoy making this amazing Rakija!
16. Palacinke (Pancakes)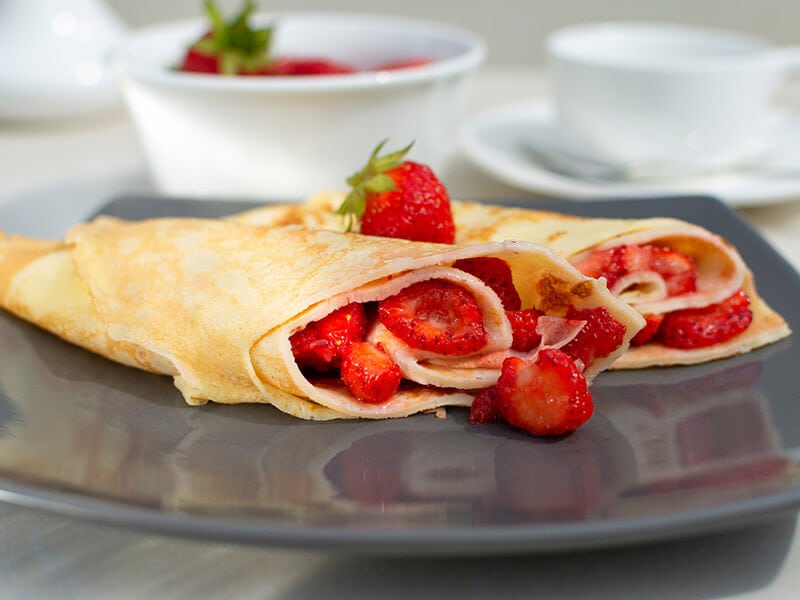 Palacinke is a popular dish in the European region that is popular worldwide. The dish was first mentioned around 350 BCE by Archestratos and Antiphanes – ancient Greek poets. At that time, it was called 'plakous', and then 'placenta' was used in 160 BC.
The word 'placenta' is a Latin word meaning 'thin flat bread'. The dish is quite similar to crêpe in France. Palacinke is a common breakfast dish in Montenegro that you can have with a sweet or savory version.
You can have the pancakes rolled with fruity and sweet fillings or just enjoy Nutella or chocolate sauce.
Hey! Other Montenegro Foods Are Coming To Surprise You
You will be overwhelmed with the following foods because of their fascinating taste. Hurry up! These tasty dishes are waiting for you!
17. Burek Or Borek (Spiral Phyllo Dough Pie)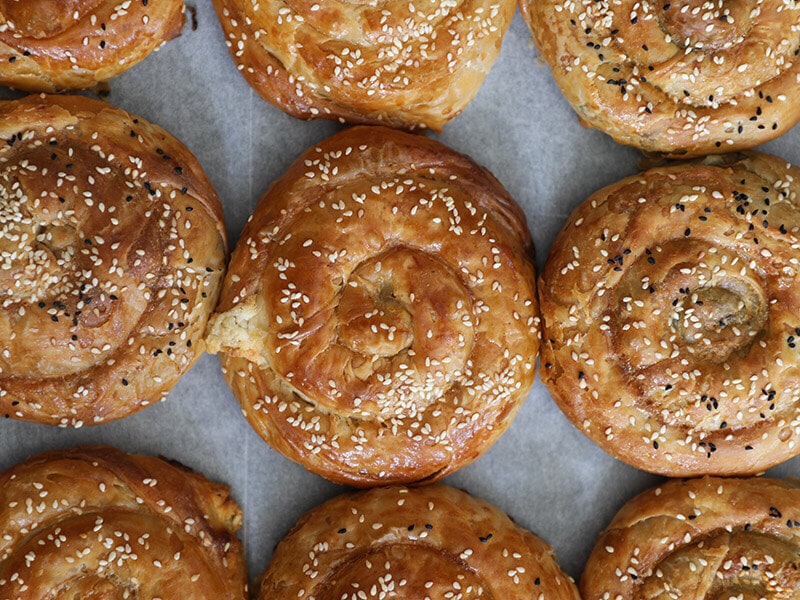 Burek is a flaky pastry loved over the Balkans and some Eastern and Central European countries. You can enjoy Burek hot or cold depending on your preference.
In Montenegro, the pastry has many dough layers with plenty of filling layers. Customarily, the dish has minced meat, cheese, and onions for the filling. However, nowadays, sour cherries, potatoes, spinach, and other ingredients are some typical options for Burek.
Other variants require frying to cook the treat. Burek has different shapes with a remarkable appearance; you might find a cigar, coil, or triangle shape
Making Burek is a true art of Montenegro and European cuisine.
18. Ćevapi (Minced And Grilled Meat)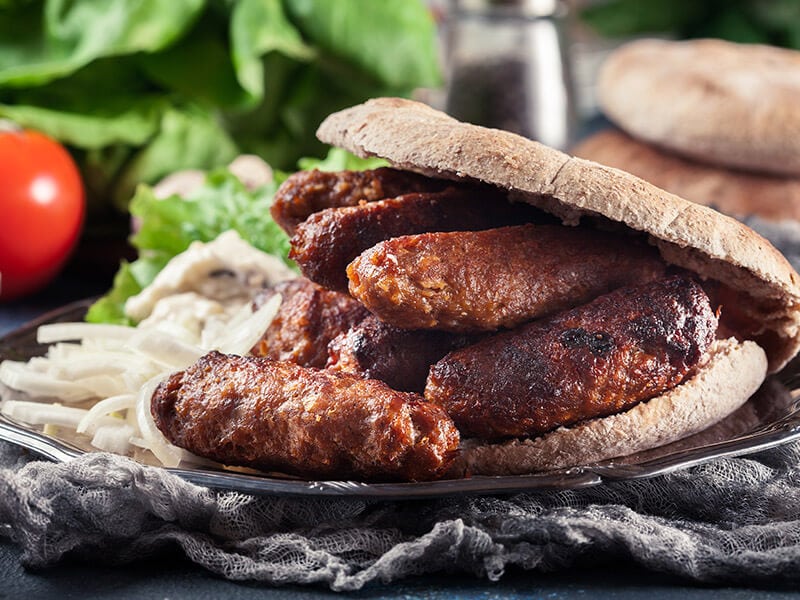 Allow me to introduce one of the most famous dishes in the Balkans region. It is usually referred to as sausage and served with flatbread. Ćevapi is a popular street food you must try when traveling to Montenegro.
Ćevapi originates from Serbia and first appeared during the Ottoman Empire's expansion into the Balkans region. The word Ćevapi means kebabs in Persian, explaining why Ćevapi and Turkish kebabs have many common features.
You can pair the dish with Ajvar for a tasty and outstanding flavor. Fried or roasted potatoes are an ideal companion for Ćevapi.
19. Salata Od Hobotnice (Octopus Salad)
Because Montenegro's geographical location is next to the Adriatic sea, this country has a rich source of fresh and delicious seafood. Lettuce, tomatoes, and cucumber are often used to pair with the plain taste of octopus.
There are many ways to cook the octopus; you can grill, bake, fry, or boil the octopus before mixing it with the vegetables. Olive oil, garlic, and chopped parsley are some typical ingredients to boost the flavor of this salad.
If you want your octopus to be softer, pick them at the local market in the early morning. I'm sure the flavor and texture will amaze you.
20. Shopska Salad (Chopped Salad)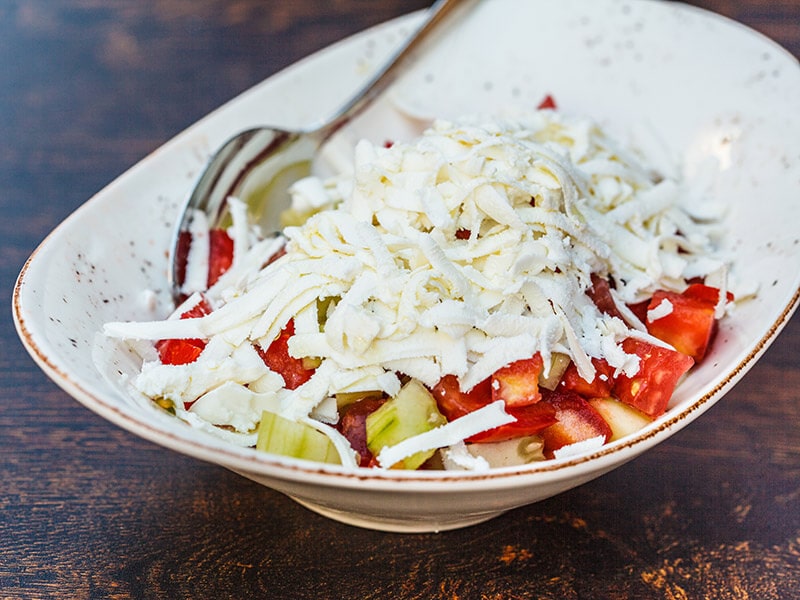 Shopska salad is the most-liked food that is believed to originate from Bulgaria. The dish has three colors of red, green, and white, symbolizing the country's flag. Shopska salad is also famous in Macedonia, Serbia, and neighboring countries.
The salad is also very popular right in Montenegro, where the people love to have it for lunch. The ingredients for this salad recipe are very plain, so you can make it and treat your friends without being afraid of the overwhelming flavor.
Various types of cheese like white cheese, feta cheese, or Sopsky cheese will embellish the dish with lovely color and a rich taste.
From tomatoes to peppers, these ingredients are available at any grocery store nearby your place. Therefore, you can make it easily whenever you don't have much time to cook.
21. Buzara (Montenegro Seafood Dish)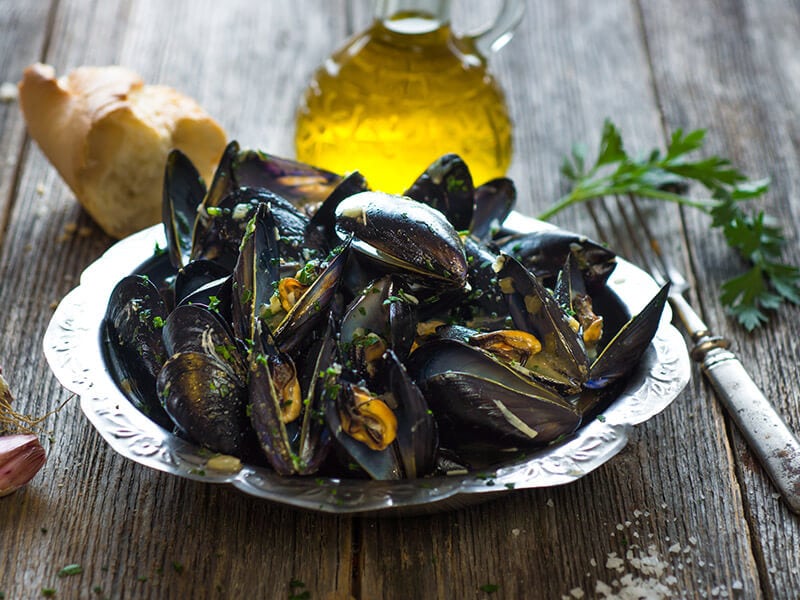 When visiting a coastal region in Montenegro, you will find Buzara applied with most seafood dishes here. The most common dish is shrimps or mussels Buzara with a sophisticated flavor.
The dish has a lot of varieties with different kinds of preparation. Typical ingredients are shrimp and tomato juice. Some chefs will use peeled tomatoes or whole tomatoes for a richer taste. The outcome will be red, so people call it 'red Buzara'.
The white version follows the same recipe, but it doesn't include tomatoes. This version will have mussels as the main ingredient and the entire dish called 'mussels Alla Buzara'.
In making Buzara, Montenegrins will not add onions; they use minced garlic for a beautiful aroma. The dish is a perfect choice for dinner with a glass of white and red wines (homemade).
Here is how a fine chef makes his beautiful seafood dish with Buzara.
It's Time To Try Some Montenegro Foods
If you want to discover the cuisine of the European region, Montenegro is a region that you have to try. Their foods are full of exploding flavors with interesting stories about their origins.
Trying new foods is a beautiful experience that will release stress from hard-working days.
So, don't wait any longer; these Montenegro specialties are waiting for you. Don't forget to hit the subscribe button and share this post with your friends. Goodbye and see ya!