40 Monday Night Dinner Ideas: Your Annual Guidebook For 2023
Searching for Monday night dinner ideas can be a daunting task, as the start of the week is already hard enough for everyone.
Monday always drains your energy with busy work schedules. Thus, when coming home, you don't want to spend the whole night preparing some fancy ideas for a five-star dinner. However, it does not mean you can settle for junk food or a lazy, frozen lasagna.
Aware of that, I put together a list of quick, fun, and healthy dinner ideas for your Monday night. You can pull these recipes off effortlessly in half an hour with easy-to-find ingredients.
Without further ado, let's get right into this annual guidebook to make your Monday dinners a little less manic!
Quick Navigating Map Of 40 Monday Night Dinner Ideas
I put together the following list of all 40 Monday night dinner ideas in one place to give you a quick glance at your potential menu suggestion for the year.
10 Flavorful Chicken Recipes For Monday Dinners
Chicken Piccata
Easy Chicken Marsala
Chicken Mie Goreng
Homemade Chicken Pot Pie
Salsa Verde Chicken Casserole
Thai Chicken Coconut And Rice
Lemon Chicken Thighs With Artichokes
Chicken Fajita Foil Packet
Crockpot Thai Chicken Curry
Bacon Ranch Chicken Breasts
10 Juicy Beef Recipes For Monday Dinners
Classic Beefsteak
Barilla Lasagna
Cheeseburger Meatloaf
Lime Beef And Basil Stir Fry
Smokey Chili Mac Soup
Easy Taco Soup
Pizza Casserole
Homemade Taco Bell Tacos
Stuffed Bell Peppers
Beef With Broccoli
6 Exotic Seafood Recipes For Monday Dinners
Seared Tuna With Sesame Seed Crust
Easy Crab Cakes
Seared Scallops With Coconut Lemongrass Sauce
Roasted Shrimp And Brussels Sprouts
Sheet Pan Mustard Roasted Salmon With Vegetables
Broiled Miso Cod With Vegetables
5 Delicious Pork Recipes For Monday Dinners
Easy Honey Garlic Pork Chops
Ham, Apple, And Swiss Panini
Garlic And Herb Rubbed Pork Tenderloin
Healthy Sweet And Sour Pork
Keto Pork Chops
9 Healthy Veggie Recipes For Monday Dinners
Vegan Winter Lentil Stew
10-Minute Quesadillas
Cheesy Vegetable Melts
Tofu Stir Fry
Mediterranean Quinoa Burger
Steamed Tempeh Bao Buns
Slow Cooker Chipotle Lentil Soup With Avocado
Broccoli Quinoa Cakes
Eggplant Lasagna
Top 10 Flavorful Chicken Recipes For Monday Nights
Let's start this exploration of Monday night dinner ideas with my top 10 flavorful chicken recipes. Trust me! You can prepare each one of them in under half an hour.
If you are not really into boneless and skinless chicken breasts, you might change your mind after trying chicken piccata.
This simple-to-cook recipe is a true lifesaver for your busy Monday nights. With only 30 minutes of preparing and cooking, you can put together a dish that is as tasty as what restaurants offer.
All the cooking requires simple technique and takes place in one single pan. Yet, you will have a crispy chicken dish in the end. There is also a flavorful sauce made of five common ingredients coming with this main dish. Feel free to serve it with pasta, crusty bread, or green salad.
Click on the following video to enjoy a concise tutorial on how to make the meal:
This classic skillet recipe for your Monday nights is a simple and tasty combination of the golden-brown chicken breasts, the meaty mushrooms, and the savory Marsala wine. You can serve it together with a salad for a more balanced diet. The whole preparation takes only 30 minutes or less.
Feel free to substitute Italian wine with other non-alcoholic options like grape juice or sherry vinegar. Also, enjoy this meal with some chicken marsala's side dishes to make things more flavorful.
Here is a friendly and easy-to-follow instruction on this restaurant-quality dish:
Mie Goreng is an easy Indonesian dish that you can prepare in around 20 minutes. Its savory sweet sauce will blend every ingredient together (chicken, egg ribbons, vegetables, etc.) nicely.
If you are exhausted on Monday nights, this chicken Mie Goreng is your go-to for a speedy and tasty dinner.
Let's learn how to pull this classic Indonesian recipe off by watching the following video:
Do you believe that you can prepare your Monday dinner in just 10 minutes? With homemade chicken pot pie, it is possible.
All you have to do is fill your flavorful chicken, a medley of frozen vegetables, and creamy sauce on a flaky pie crust. There you are, a convenient and high-comfort meal for your busy Monday nights.
This next video is actually an entertaining learning source that I really enjoy. Watch it and see how a chicken pot pie is made:
If you want a dish filled with strong Mexican taste, check out Salsa Verde chicken casserole. The dish will bathe your mouth with a cheesy and creamy aroma. It is surely a flavor-packed dinner that is irresistible to your family.
For more add-in flavor, you can use taco seasoning to mix the chicken. Using regular salsa is also a great option in case you are not really into salsa verde.
Learn how to make a speedy and delicious meal by clicking on the next instructional video:
Thai chicken, coconut, and rice is an easy dish with diced chicken for your Monday nights. You will enjoy a meal with basil, coconut milk, and some flavorful spices.
The cool thing about this dish is that it is a one-pot meal. By that, I mean all the cooking conveniently happens in one place. However, separating leaves from the stems might take you some time.
What can be better than learning to make Thai coconut rice from an authentic Thai? Let's enjoy the following video:
For those artichoke fans out there, this recipe is definitely your perfect match for a tired Monday night. You can enjoy the Mediterranean aromas of artichokes and white wine with lemon on your juicy chicken thighs.
What amazes me about this dish is that you can prepare it in advance and keep it frozen for later uses.
Let's follow Alison Roman – Cookbook author for New York Times, on how to make this amazing Italian recipe:
Chicken fajita foil packet is a simple homemade meal that you can reward yourself on Monday nights. It only takes 30 minutes to put all ingredients (chicken stock, black beans, fajita seasonings, veggies) together in a tidy parcel and grill (or bake in the oven).
And there you are, a quick and easy option for your dinner.
This Thai curry is one of the tastiest slow cooker recipes with chicken you can consume on Monday nights.
The dish is super creamy and flavorful, which are iconic words to describe curry's aroma. However, it does not compensate for a healthy diet. Trust me! You can enjoy it with no guilt!
Just toss ginger, curry paste, coconut milk, and other flavors into the crockpot before you leave for work. Let the crockpot do its magic! Once you come home that Monday, just take it out and enjoy it right away.
Here is the instructional video that shows you exactly how to pull this recipe off:
Chicken, bacon, and ranch are the perfect combination for a flavorful recipe. Plus, it is quick to put together, making it ideal for your Monday dinner as well.
All you need to do is coat your chicken breast in butter and ranch dip. Then, wrap the thick bacon around and grill everything. So simple, right?
Use this next video to never go wrong in making this simple dinner option:
Top 10 Juicy Beef Recipes For Monday Dinners
Moving on from the popular chicken recipes, it is time to get juicy with beef dishes. Here are 10 potential beef meals for your Monday night delights!
There is no introduction needed for the upcoming recipe. I mean, you must have enjoyed this dish once or twice in restaurants, right? Indeed, if you are a big steak lover, you can totally nail this recipe right in your kitchen at home.
This classic recipe is surprisingly simple to prepare. You can apply this easy technique to both high-quality steaks and economical ones.
Follow the following tutorial to correct your steak cooking once and for all:
If you are fed up with guilt-free meals on your gloomy Monday nights, let's check out the decadent Barilla Lasagna.
This 30-minute meal is a classic dish using ground beef, marinara sauce, and cheese. Once you have finished cooking, you will see the final ingredient bubbling attractively on the dish surface.
If you are still unconvinced about the beauty of this recipe, enjoy the initial 30 seconds of this next video. Hopefully, it will change your mind:
I don't know about you, but the juicy and tender cheeseburger meatloaf is my favorite choice so far for Monday dinner ideas.
I love every bit of it, from the melted cheese to the perfect moisture and the ketchup layer inside. It is like enjoying your ideal burger, which is very tempting!
Let's follow McCormick on his journey to flavor land with his tutorial on this recipe:
Broccoli, peas, lime, and thin beef strips are the main ingredients for this recipe. The whole cooking session takes place in fry sauce for only 30 minutes. During the cooking, feel free to toss in fresh basil. This leaf gives your dish a more tangy and fresh taste.
Let's spend your Monday night making and enjoying this tasty Asian dinner with your family!
The following video is nearly 10 years old. However, it is a very good material if you want to learn how to make this recipe for your Monday dinner:
This smokey chili mac soup is an especially cozy meal choice for winter nights. The beefy flavor blends with the fire-roasted tomatoes and smoked paprika are the secret of this irresistible meal.
Besides the tempting ingredients, there is also leafy kale to make it hearty and more nutritiously balanced. The dish cancels out most of the carbs and makes you feel less guilty while consuming.
Here comes another soup candidate for your exhausted Monday nights: the classic taco soup. Like chili mac soup, taco soup is a perfect choice for winter time.
This protein-packed dish is filled with a zesty and craving aroma. It only requires 30 minutes of preparing and cooking before you can dive into its flavors.
Enjoying the next video to see how to put taco soup together:
Upgrade your desired pizza with the delicious version of pizza casserole baked in a sizable pan. Do not hesitate to toss in bell peppers, olives, lots of cheese, and browned beef meat on top. That is how you make and enjoy the pizza casserole!
Perfect your skill in making pizza casserole with this upcoming video:
Who can reject the famous crispy Taco Bell tacos? The irresistible factor comes from the crispy on their external layers and the flavorful ground beef on their internal parts. You can spice things up with more refreshing cheese and lettuce toppings.
Next time, if you find it hard to stop by a Taco Bell store, you can confidently prepare a DIY version right in your kitchen.
Actually, here is a tutorial on how to bring Taco Bell's whole menu to your kitchen:
This dish is flexible, as you can stuff all of your favorite ingredients inside those colorful bell peppers. They can be a medley of vegetables, ground beef, rice, tomato sauces, and some flavorful seasonings.
Stuffed bell peppers are definitely your go-to meal on Monday nights, thanks to their simple and quick preparation.
Visual instruction incoming! Click the following video to enjoy it:
You can never go wrong with this incredibly tasty recipe: beef with broccoli. This Chinese dish requires minimum effort from you, especially on your gloomy and exhausted Monday night.
You can enjoy this meal with warm rice. The tender beef and the crisp broccoli will blend in perfectly with your hot rice, making it your most mesmerizing eating experience.
Despite the homemade video quality, you will gain huge advice on how to cook this dinner option:
Top 6 Exotic Seafood Recipes To Enjoy On Monday Nights
Do you know that 8 oz (around 225 grams) is the daily consumption amount of seafood recommended by the American Heart, Diabetes, Pediatric, Alzheimer's and Psychiatric Associations (1)?
So, here are six exotic seafood recipes that you can take in your body during those exhausted Monday nights. Let's go!
This first seafood recipe is a healthy and attractive dish that you can set up speedily in just 10 minutes. The crispy golden of tuna's outside and rare on its inside is what makes this meal delicious. Plus, the sesame seed coating the tuna also makes the flavor tastier and crispier.
Enjoy this quick tutorial from Gorden Ramsay – one of the top chefs in the world:
Your boring Monday nights will light up with this crab cake recipe. The dish is indeed a staple in American cuisine, especially in Virginia and Maryland.
With just seven simple ingredients, you can appreciate the juicy fresh crab meat (lots of them) with savory seasonings and flaky breadcrumbs. You will not find a cake recipe that is simpler than this one.
Furthermore, there are many great side dishes to go with crab cakes. Make sure to try them out to have a more fulfilling dinner.
Here is another tutorial from Gordon Ramsay with more extensive advice:
The upcoming recipe features nutritious scallops, which are packed with iodine to enhance your metabolism and thyroid. The combination of scallops and other tasty ingredients like lime zest and fresh basil yields an amazing Thai-inspired meal for your Monday night.
Do you know that there are tons of options to serve with scallops? Try them out and find the one that fits your preferences the most!
Making seared scallops would be easier by following a more visual tutorial:
20 minutes are all this recipe needs from you to put it together. The dish turns out to be a very simple and quick dinner option, which is suitable for your Monday nights.
With the assistance of lemon and garlic, your roasted shrimp and brussels sprouts will be an extremely flavorful sheet pan dinner for your enjoyment.
Unlike the above salmon and sesame seed recipe, this sheet-pan baked salmon proves to be an incredibly simple dinner option. With this recipe, you will spend less time in the kitchen and more time with the one you love on the dining table.
It is served with a tangy mustard sauce to spice up the dish's flavor. Moreover, there are caramelized asparagus and potatoes that you can eat alongside this salmon recipe.
Learning this combination of salmon and veggies by following this video:
Not only delicious, but this simple broiled miso cod recipe also frees you from the mundane cleanup. The post-cook cleaning process is a piece of cake, as you can pull it off in a matter of minutes.
All you need to do is cover your marinated fish in miso sauce and place everything in the oven. And there you go, a surprisingly simple and tasty dinner for your Monday night!
The following instruction is from an authentic Japanese:
Top 5 Delicious Pork Recipes For Monday Nights' Plan
Pork is a high-quality source of protein that is incredibly beneficial for muscle maintenance. Consuming pork regularly can help reverse sarcopenia – an extreme muscle degeneration (2).
Aware of that, I have prepared five delicious pork recipes for you to strengthen your muscle, even on tired Monday nights.
Making pork chops with honey and garlic is probably the easiest recipe you can ask for your Monday night. It requires only 20 minutes of preparation and all common ingredients that you often stock in your kitchen.
Plus, you don't even need to marinate the pork itself. Just sear the meat until it is golden brown and then grill it in the tasty honey garlic sauce.
Here is a simple tutorial on how to pull this meal off easily:
Consuming a sandwich for dinner might be a strange option. However, it is perfectly fine with this big, cheesy, and fulfilling Ham, Apple, and Swiss Panini.
Every bite of yours will be full of the crispy, juicy taste of apple slices and the flavorful aroma of your leftover ham. Plus, it is quick to prepare. That is why this panini recipe goes well on your Monday night menu.
Here is another speedy recipe for your Monday night meals: the garlic and herb rubbed pork tenderloin. The whole process, from searing the food on the stove and fine-tuning it in the oven, takes only 30 minutes of your schedule.
This pork recipe provides great protein amounts to your body while still nutritious and packed with Mediterranean aroma.
Follow the upcoming video to stack up your knowledge on the making of this recipe:
Inspired by all traditional Chinese dishes, this sweet and sour pork version focuses more on the healthy aspect by sautéing the pork tenderloin rather than deep-frying it.
Additionally, this recipe calls for the use of honey and balsamic vinegar to add a sweet flavor to your pork meal.
No talking! Jump straight to the action with this tutorial:
Putting "Keto" and "pork chops" together might sound oxymoronic. However, you can actually put together a meal that is both creamy and keto-applicable.
Enjoy this wonderful keto recipe with a mushroom cream sauce to prevent the pork chops from being dried out. This recipe may take you about one hour to prepare.
Learn how to make this low-carb recipe with this instruction:
Top 9 Veggie Recipes For Your Healthy Monday Night Diet
Tired of consuming meat? If you want to relieve yourself with one or a few meatless Monday nights, hop on for my nine recommended veggie recipes right away!
If you want to cut back on your meat consumption, here is a cool recipe that is 100 percent plant-based for your Monday dinner.
The dish is still perfectly hearty and flavorful, even with the absence of your tempting meat. It is a super nutritious meal with tender veggies in every bite of yours. What amazes me more is that you can pull everything together in 10 minutes flat.
Make this hearty, cozy soup recipe with the following tutorial:
Here is another speedy meal for your Monday dinners: the 10-minute quesadillas. The beauty of this dish is that you can toss everything in it and still have a flavorful dinner. You can use leftover black beans in your cupboard, peppers, tomatoes, and corn.
For extra flavor explosion, sprinkle some bits of cheese on the dish surface. Cook on medium heat to let the cheese melt and fry against the quesadilla.
Bring this recipe's flavor to a whole new level by enjoying it with various quesadillas' side dish ideas.
Enjoy the next video to master your skill of making quesadillas:
These cheesy vegetable melts guarantee to be your comfortable option on those exhausted first-day-of-the-week nights. The dish is vibrant, beautiful, and packed with flavor.
You can load your melts with any kind of sautéed vegetables, from green spinach to red peppers. And, of course, never miss out on the decent melted cheese.
With tofu stir fry, you will not have pity experiences with mushy tofu anymore. Instead, you get to enjoy the extra-firm tofu that holds its shape perfectly during cooking.
Ultimately, the dish offers you tofu with a crispy texture and delicious bites. You can enjoy it alone or serve the dish with some rice for a delightful Monday night.
You will fall in love with this simple meal after watching this instructional video:
Mediterranean quinoa burger is my primary option for a meatless meal. Using sun-dried tomatoes and feta cheese, these tender burgers are loaded with protein and fiber. Plus, the dish has a distinctive Mediterranean taste, making you remember and crave for more.
If you find cooking to be a mental recovery process that actually relaxes you, you will love this recipe of steamed tempeh bao buns.
Why do I say that? Because frankly speaking, this dish requires some hours to prepare, especially in letting the dough rise. After focusing on the dough, feel free to stuff it with tempeh and other preferred veggie ingredients.
You can learn to make the classic recipe of steamed bao buns via the following video:
Have you ever heard of the famous Beef Wellington, with the juicy beef sealed tightly inside the pastry? Yes, the same concept applies here with this recipe of Mushroom And Pecan Wellington.
This elegant meal is completely suitable for vegans and perfect for enjoying on special gathering occasions. You can even make it in advance and consume it during holidays like Thanksgiving and Christmas.
Any brilliant food served with Beef Wellington is also applicable to this mushroom and pecan version. Thus, feel free to do your experiment.
Here is another slightly different version of this recipe (using chestnut in replacement for pecan):
Give yourself half an hour, and you will have healthy and tasty vegan cakes ready to enjoy. Not only you, but your whole family will love them as well.
You can eat these broccoli quinoa fritters with sautéed veggies or salad and top them with your desired sauce.
Nourishing and comforting are two words that depict exactly my feelings for eggplant lasagna. You can prepare this cozy and hearty vegan meal effortlessly with no-boil noodles. Remember to use Arugula Pesto as a topping to spice the flavor up even more.
Enjoy the entertaining tutorial with Entertaining With Beth:
Saying Goodbye To Gloomy Monday Nights
I have introduced 40 quick and simple options as your Monday night dinner ideas. The list includes various categories that you can freely browse to find what matches your preference most.
I am deeply aware that there are many more potential recipes out there that I have not touched on in this article. Indeed, I want to hear more from you. Let's comment in the section below to let me and other readers know of your wonderful dining ideas, so all of us can confidently say goodbye to our gloomy Monday nights forever.
Nutrition Facts
4 servings per container
---
Amount Per ServingCalories302
% Daily Value *
Total Fat 16.4g

25

%
Cholesterol 79mg

27

%
Sodium 205mg

9

%
Potassium 62mg

2

%
Total Carbohydrate 13.7g

5

%

Dietary Fiber 0.6g

0

%
Sugars 0.4g

Protein 21.5g

42

%
---
Calcium

14

%
Iron

1

%
Vitamin D

8

%
* The % Daily Value tells you how much a nutrient in a serving of food contributes to a daily diet. 2,000 calories a day is used for general nutrition advice.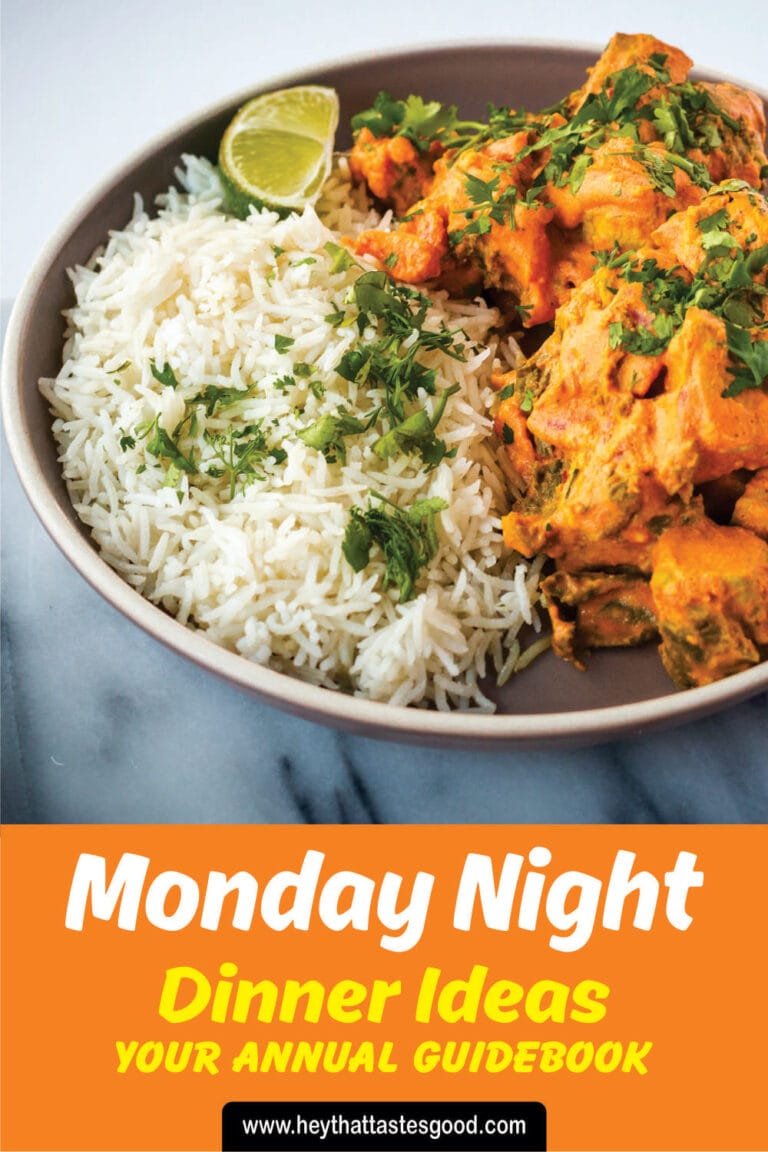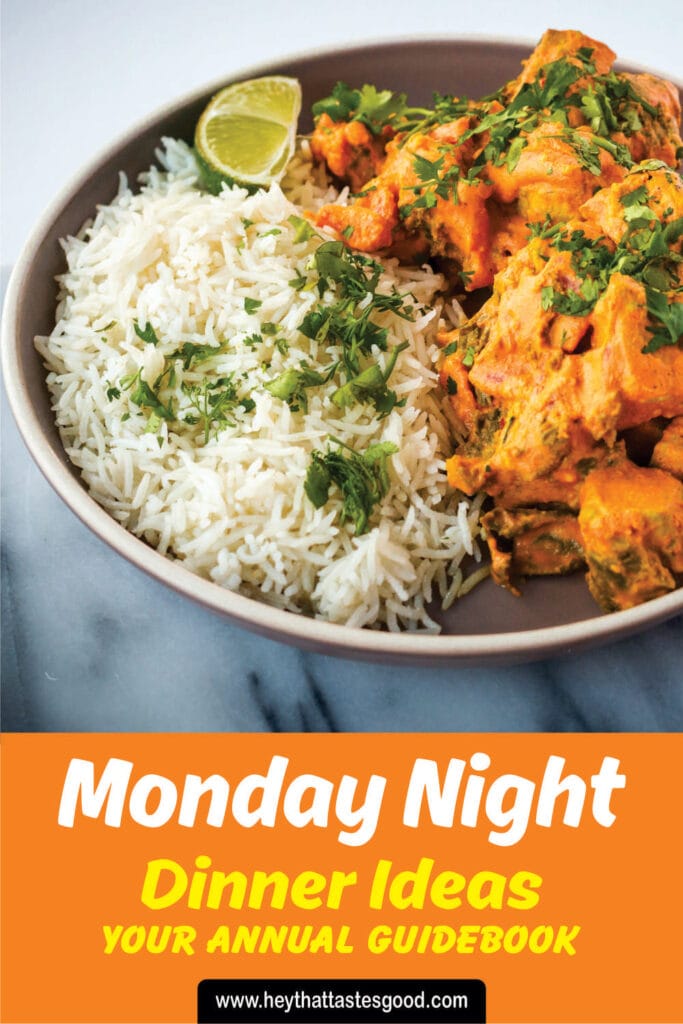 Reference
Seafoodnutrition.org. 2021. The Ultimate Guide To Making Smart Seafood Choices.
WebMD. 2021. Pork: Is It Good for You?.