20 Best Mini Muffin Recipes Of All Time 2023
This is the full collection of the best mini muffin recipes ever. Those family-friendly sweets below can be served as breakfast or late-night snacks. The most amazing thing is that all the recipes take no more than an hour to finish and are effortless to prepare.
If you're looking for awesome baking ideas, you've come to the right place. These muffins may surprise you with various ingredients like nuts, fruits, and even veggies. It's time to bake the most delicious muffins in the world.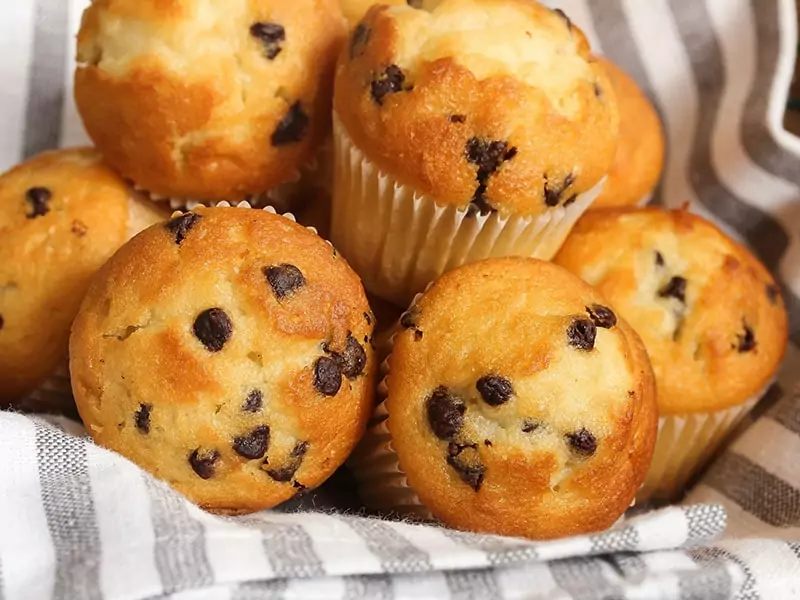 Amazing Mini Muffin Recipes For Everyone
Mini muffins are always the yummiest mini sweet snacks. Small, cute, and spongy cakes can please your taste buds immediately. Also, combining other ingredients will make the sweet treats more irresistible and outstanding. Let's check them all here!
Total time: 20 minutes
Unlike others, these amazing pecan recipes have a golden brown and crispy exterior while still moist and fluffy inside. The bites are loaded with toasted pecans, butter, and vanilla, like pecan pies in muffin form.
Note that cupcake papers aren't suitable in this case. Since the sweets contain high sugar, they will stick greatly to the cupcake papers. Also, remember to coat your mini-muffin pan with nonstick cooking spray or flour first.
Pecan pie mini muffins are super moist, sticky, and can be served every day.
Total time: 22 minutes
If you find those store-bought muffins don't have enough chocolate, try this double chocolate mini muffin. Though packed with a rich chocolate flavor, these baby-sized muffins are vegan. The chocolate treats are perfect for all sweet-loving vegans out there.
Let's see what you need here! The cakes include cocoa for a super bold taste, dairy-free milk, applesauce, vegan chocolate chips, vegetable oil, etc. To assemble the muffins, mix everything to make the batter, place it in your muffin tin, and bake for 9–12 minutes at 400°F.
Total time: 30 minutes
Banana walnut mini muffins with an oat base will never go wrong for both single and crowd servings. All you will do to make these healthy muffins is mix the ingredients, place the batter in the muffin pan, and bake for several minutes.
The muffins are not only packed with flavors but also give you tons of nutrients because of oat milk and oat flour. They're dairy-free, high in fiber, and full of vitamins. Besides, pure maple syrup and walnuts are also incredibly good for your health.
To check whether your muffins are ready to serve, insert a toothpick in the middle of the sweet. If it comes out clean without any sticky dough, your muffins are perfectly cooked.
Total time: 24 minutes
There are endless ways to vary your baked snacks. Unlike classic muffins, mini pumpkin coconut bites include a crumbly and crisp topping made from coconut, pecan chips, butter, and flour.
As for the coconut, larger coconut shreds enhance the texture better than the finer ones. This recipe can yield about 24 mini muffins. If you want to make standard-sized treats, there will be around 9–10 muffins.
The muffin is filled with pumpkin puree, cinnamon, and shredded coconut. I'm not going to lie to you, but the tasty snacks will disappear as soon as you dish them up on the table. They're a perfect on-the-go treat for breakfast, road trips, or a hike.
Total time: 30 minutes
These wonderful sweet treats using sweet potatoes are low in sugar but high in healthy fats, thanks to the lack of sugar and refined white flour. Besides, sweet potatoes are nutrient-packed with a great source of vitamin A, C, dietary fiber, and potassium.
There are abundant ways to deal with sweet potatoes without messing things up. Using an oven or a microwave is both advisable. Cooking in a microwave will save a lot of time, while oven-roasting will make the potatoes concentrate the caramelized sweetness.
If possible, let's use a non-sticky or silicone muffin pan and wait until the cakes are completely cool before popping them out. These tricks will help you greatly when removing the sweets from the mold.
Mini sweet potato muffins are the best to serve every occasion.
Total time: 35 minutes
If you have some leftover ripe cranberries in your fridge, it's time to make mini orange cranberry muffins. These muffins' fresh and juicy flavor is all you need to satisfy your sweet yearnings.
Cranberries can bring out the tart-sweet taste, an eye-catching look, and a slightly chewy texture for the treats. Feel free to add more fruits and veggies to these cranberry muffins to meet your personal taste.
Frozen cranberries work better in this recipe. Hence, next time cranberries come into season, let's store a few in the freezer, so you can make these lovely muffins whenever you want.
Total time: 25 minutes
If you're a mocha lover, these baby muffins are a must-try. The combo of chocolate and coffee turns the snacks into a big hit. Serving coffee-flavored sweets with the creamy and cheesy mocha spread is a wonderful and fancy way to satisfy your sweet tooth!
About the show's star, mocha cream cheese spread, it's not overly sweet to strike a balance with the coffee muffins. All you need to assemble the spread is to blend cubed cream cheese, coffee, vanilla, chocolate chips, and milk until smooth.
For whipping up regular-sized mocha muffins, you can do the same things but bake for 17–20 minutes instead of 10 minutes.
Total time: 25 minutes
Why skip breakfast when it's only a few minutes to prepare a hearty breakfast? You'll love these easy-to-make desserts, which have an acidic and sweet flavor of strawberries. You only need simple baking ingredients, diced strawberries, and mini chocolate chips.
Whisking the batter is very important here. Just mix all the ingredients until well combined. If you over-mix it, the muffins will come out dense. Moreover, measurable cups and spoons can help you use the exact amount in the recipe for a flawless result.
Total time: 25 minutes
Simple is perfect! Honey cornbread muffins may look dull, but they will be heavenly tempting. There is a little crisp around the edge of the muffin, but the interior is still so spongy.
Without butter, these muffins are still incredibly moist after a long time, thanks to coconut oil. The appropriate baking time and temperature for the cornbread treats are nearly 17–20 minutes in a 375°F preheated oven. It's better to serve them as a snack on game days.
The treats aren't too sweet. So, if you want the extra sweetness, you can drizzle them with honey on top.
Total time: 45 minutes
Want to treat everyone to impressive sweet snacks with cinnamon? I suggest these glazed cinnamon streusel muffins. They are amazingly suitable for family gatherings and festivities since you can prepare as many portions as you want within a short time.
The crumble streusel is the star of these muffins. Preparing streusel is also effortless only by combining flour, sugar, cinnamon, butter, etc. Make sure to top the streusel on the batter before baking, so when the muffin rises, it will stick to the cake.
Don't forget to drizzle the glaze once you finish baking the muffins. Powdered sugar, milk, vanilla, and almond extract are what you need to create a smooth and aromatic glaze.
Total time: 32 minutes
This recipe consists of all the good ingredients for your gut health, such as bananas, dark chocolate chips, buckwheat flour, etc. Among the ingredients, rolled oats and flax seeds are the keys to this healthy buckwheat treat.
Rolled oats, also known as a prebiotic food, provide your gut with beneficial bacteria. The flax seeds are packed with protein, fats, and fiber and can reduce inflammation.
Don't underestimate the taste. The muffins bring out a sweet, nutty flavor and slight bitterness. Your kids will get obsessed with their lusciousness.
Total time: 25 minutes
These spongy pumpkin muffins are so yummy with the combination of pumpkin puree, applesauce, and vanilla. Assemble the yummy applesauce-based treats the night before, so you can serve these tasty bites as breakfast or brunch without messing up your kitchen in the morning.
Due to applesauce and canned pumpkin puree, the muffins are naturally sweet. Moreover, the applesauce helps your cakes stay moist without adding unhealthy fat. I'm sure your family will ingest these muffins all day without getting bored or feeling guilty.
Mini pumpkin muffins with chocolate chips are healthy and simple to whip up.
Total time: 23 minutes
Now, you can easily prepare blueberry muffins as yummy as store-bought ones. You won't be able to resist this fluffy dessert topped with crumble streusel and loaded with dense blueberries. What's more, it only takes you less than half an hour to whip it up.
Let's talk about baking time. If you want to make regular-sized blueberry muffins, you should let them sit in the oven for around 20–22 minutes. As for mini-sized bites, 11–13 minutes of baking are enough, or your muffins may lose moisture and dry out.
For storing, place the sweets in a sealable plastic bag and keep them in the freezer. Note that you should wait until the baked goodies are totally cool before freezing. Once you're about to serve the muffins, simply thaw them at room temperature.
Total time: 27 minutes
Your children will become veggie fans after trying these mini muffins for the first time. These sweet snacks using carrots are yummy and easy to store. They can last up to five days in an airtight container at room temperature and up to three months when frozen.
Apply these tricks the next time you assemble the muffins. To fix a too-thin batter, you can thicken it by adding more flour and carrots. Otherwise, if the batter is too dense, a tablespoon of milk can solve your problems.
For a spongier muffin, fill enough batter (not too much) in the muffin pan. Moreover, you can add either baking soda or baking powder to the recipe to make the batter rise better.
Total time: 25 minutes
Matcha latte muffins are so wonderful that you won't stop eating them. Take a look at these beautiful sweet treats using matcha! They have a green color similar to the color of matcha powder. When chewing them, you may feel like enjoying a cup of warm and aromatic matcha.
Matcha or powdered green tea leaves contain a high level of antioxidants. It is also full of nutrients, like protein, dietary fiber, carbohydrates, etc. Matcha powder is widely available in Asian supermarkets.
It's optional, but vanilla icing on the muffins greatly enhances the flavor. The simple instruction for the icing is to whisk sugar, salt, unsweetened dairy-free milk beverage, and vanilla until smooth. The goodies are for everyone since they're eggless and dairy-free.
Total time: 22 minutes
Your family will be in for a surprise to see a sweet delicacy combined with avocado and accompanied by refreshing blueberry to back up the overall flavor. As you may know, avocados are nutritious with good fats, potassium, magnesium, and vitamins.
There are some small notes for you. You can use both fresh and frozen blueberries to make the muffins. As for avocados, ripe fruits will give you a better result. This recipe allows you to prepare 24 mini servings. If you prefer full-size cakes, you'll get around 6 muffins on hand.
If there are any leftovers, prepare a container and store them on the countertop. Plus, frozen cakes are still fine after two months of storing them in the freezer.
Total time: 23 minutes
Greens won't be a nightmare for kids when you treat them to these spinach muffins. The desserts don't even taste like spinach. Instead, they bring out a vivid green color, combined with the crunchy texture around the edges and the strong taste of coconut flakes.
To whip up the treats, one cup of baby spinach is enough for 24 mini-sized muffins. Then blend the greens, egg, milk, and avocado oil in a blender. Combine with other ingredients, divide them among the muffin cups, and bake for 13 minutes at 375°F.
If you feel uncomfortable with the texture of coconut flakes, just replace them with almond flour.
Total time: 45 minutes
Packed with chocolate chips and bananas, these mini muffins are a quick breakfast for everyone. You can bring them to your office to treat your colleagues or even serve them at get-togethers. Everyone will fall for their pleasant flavors.
Don't discard overripe bananas with black spots. They're perfect for this recipe. Those nearly black bananas will make your muffin naturally sweeter. You can follow this trick to make your banana ripen faster within a few days.
Let's prepare a paper bag, place your bananas inside, then find a warm area in your house, and leave the bag for a couple of days. Remember to use an appropriate amount of banana, or your muffins can turn out to be too dry or too soggy.
Mini banana chocolate chip muffins will be your family's favorite snacks.
Total time: 25 minutes
How about a dish combining leftover hot dogs and muffins? Extremely yummy. Enjoy your favorite snack without feeling guilty since these mini muffins are keto-friendly. They're the best breakfast for everyone, from young to old, especially those following a low-carb diet.
To avoid using cornbread in these keto snacks, you can substitute it with corn extract, which can improve the flavor but doesn't increase the number of carbs. Also, the treats are sugar-free but still incredibly sweet because of granulated erythritol.
Mini keto corn dog muffins can last for 5 days in the fridge and a month in the freezer. Remember to place the sweets in an airtight container when refrigerating or in a freezer bag if you want to freeze the cakes.
Total time: 30 minutes
These tiny treats totally stand out. They're still soft muffins but filled with bacon, cheddar, and potatoes. The savory breakfast can provide the energy you want to start the day within several preparation steps. For busy people, this recipe is for you.
Let's begin with dicing boiled potatoes and crumbling the cooked bacon. Next, mix the remaining ingredients, fill the mixture into the muffin tin, and bake for 20 minutes. The best part is that you can make muffins ahead of time and store them in the freezer.
You Can Serve Mini Muffins Whenever You Want
Not only are snacks, but mini-sized muffins can be served as a quick breakfast, brunch, evening dessert, or whenever you want. Just spare a little time to make these muffins on the weekends and keep them in the freezer. So, you always have some sweet treats on hand.
Don't keep these recipes to yourself. Let's share this post with more muffin lovers. Which muffins do you find the most fascinating? Leave a comment to let me know. I always love to read your feedback. Remember there are still recipe lists available waiting for you!
Nutrition Facts
24 servings per container
---
Amount Per ServingCalories125
% Daily Value *
Total Fat 9.6g

14

%
Cholesterol 24mg

8

%
Sodium 30mg

2

%
Potassium 47mg

2

%
Total Carbohydrate 9.2g

3

%

Dietary Fiber 0.8g

0

%
Sugars 6.2g

Protein 1.5g

2

%
---
* The % Daily Value tells you how much a nutrient in a serving of food contributes to a daily diet. 2,000 calories a day is used for general nutrition advice.