Best Mini Desserts: 40 Most Adorable Ideas 2023
Finding the best mini desserts is never simple to deal with. There are tons of sweet foods for you to research, and you probably don't know whether they are suitable for your purpose or not.
Don't worry anymore because here in this post, I will present to you a list of stunning mini desserts that have been carefully selected. Some of them are so easy that you can always try making them at home, while others require more of your time and effort.
Let's see which one suits you the best and enrich your knowledge about desserts with 40 breath-taking items down here.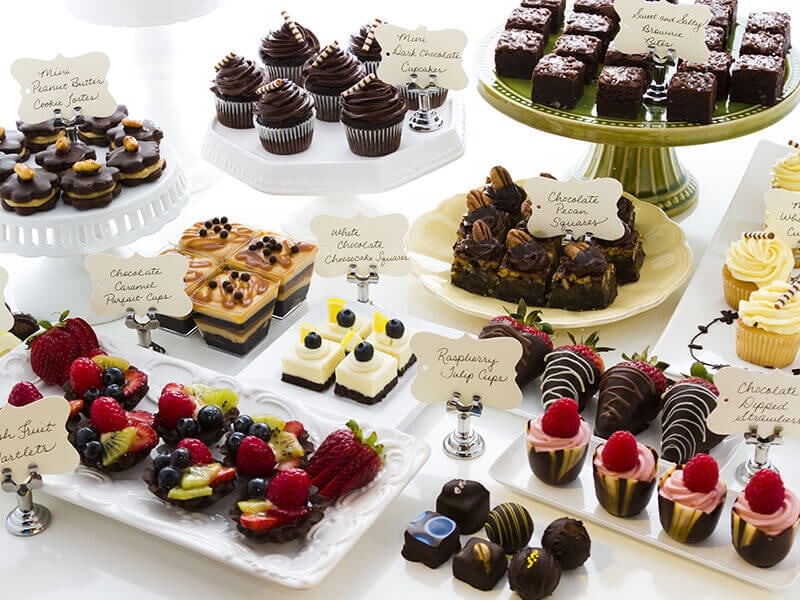 What Are The Best Mini Desserts?
In order to give you some first clues about what desserts are included in this post, I would like to separate them into 8 categories. Here is the desserts' list:
Mousse/Puddings:
Mini Blueberry Mousse
Mini Triple Chocolate Brownie Mousse
Blood Orange Chia Puddings
Individual Banana Puddings
Banana Pudding Parfaits
Bars:
Hello Dolly Bars
Apple Pie Oatmeal Bars
Cranberry Crumb Bars
Cupcakes/Cheesecakes:
Mini Vanilla Cupcakes
Brown Sugar Pecan Cupcakes
Gingerbread Cupcakes
Strawberry Lemonade Cupcakes
Chocolate Caramel Cupcakes
Tiramisu Mini Cupcakes
Mini Chocolate Layer Cakes
Mini Cheesecake Cupcakes
Caramel Apple Pie Mini Cheesecakes
Mini Peanut Butter Cheesecakes
Scones:
Petite Chocolate Chip Scones
Mini Blueberry Scones
Petite Vanilla Bean Scones
Mini Lemon Poppy Seed Scones
Cake Pops/Bites:
Starbucks Birthday Cake Pops
Red Velvet Cake Pops
No-bake Brownie Bites
Chocolate Coconut Truffles
Bread:
Mini Pecan Caramel Monkey Bread
Mini Cinnamon Rolls
Mini Banana Foster Sticky Buns
Mini Banana Bread Loaves
Muffins:
Mini Chocolate Orange Muffins
Mini Blueberry Muffins
Mini Mimosa Muffins
Mini Lemon Poppy Seed Muffins
Mini Strawberry Chocolate Chip Muffins
Mini Applesauce Muffins
Mini Donut Muffins
Cookies:
Little Hazelnut Chocolate Cookie Sandwiches
Mini Heart Sugar Cookies
Funfetti Cookie Bites
Very Decent Mini Mousse/Puddings For You To Marvel At
No dessert party is a real party without gorgeous, delicate mousse cakes or pudding, isn't it? You can make these treats ahead 1-2 days, refrigerate them in the fridge and serve them as the stars of your table later!
This luxurious mousse dessert is ready to steal your show with its fancy-looking purple color. Anyone would immediately be impressed once they have felt the gorgeous looking and ridiculously yumminess of mini blueberry mousse.
Blueberries are a rich source of antioxidants and beneficial nutrients to your body. Incorporating this superfruit into a dessert like this will not only improve your health but your appetite as well.
There are four layers contained in this amazing mousse: brownie, milk chocolate mousse, white chocolate mousse, and garnish on top, all of which create a very nice ombre effect.
If your guests are fans of brownie and chocolate, mini triple chocolate brownie mousse deserves to be the best candidate. Ready to prepare plenty of this mousse in advance because there's a high chance that your guests will keep asking for more!
Here is another healthy mini dessert for you to eat at any time of the day. What's special about this recipe is you can totally be flexible with your choice of citrus fruits!
Blood orange chia puddings deliver a soothing and refreshing feeling for you. It's rich in healthy components: chia seed, orange, Greek yogurt, almond, honey… and it is very easy to make.
This vanilla banana pudding is simply brilliant! These tiny, adorable cups of pudding are full of flavors, tastiness, and attractiveness.
This recipe doesn't require any complex techniques and costs you only a little time, so you can try making your own version of individual banana puddings. This pudding can also work really well as a wafer/butter cookie dip!
Bananas and puddings are really meant for each other, aren't they? Bring a new wind to your dessert party with these stunning, marvelous banana pudding parfaits!
Banana parfaits are such a breeze to make, and you will have a lot of fun while doing so. The creamy sweetness of whipped topping and the crunchy yet tender texture of coarse crumbs are a perfect couple!
Incredibly Yummy Little Bars That Everyone Will Love
Bars are easy to make, and they are super convenient as you can carry them to any occasion. Some are packed with excellent flavors, while others are healthy and bring you a lot of energy.
This is a completely new way to say "hello" to your dessert addiction: Hello dolly bars! Also regarded as "magic bars", these multi-layer cookie bars are entirely capable of blowing your mind.
Unlike puddings and other delicate desserts, you can totally pack these bars and send them as a gift to your friends, as they're not really fragile when delivered. Crackers, chocolate, shredded coconut, and pecans are some of the magic in this very gift!
Wanna boost your mood and health by having desserts? Enjoy eating sweets, but are you afraid of gaining too much weight? Then apple pie oatmeal bars are the ultimate option for you!
These tiny energy bars are my supreme favorite. They are brilliant from the look to their super quality. Making apple pie oatmeal bars at home are very straightforward, but keep in mind that you shouldn't let your butter melt very much at room temperature.
Here is another gorgeous gift that will definitely make your friends' faces beam with joy and satisfaction! The magnificent purplish-red color of these inviting cranberry treats can also make any Christmas celebration more outstanding.
You can either use fresh or frozen cranberries to create these marvelous crumb bars. They look fantastic, and that crumbly texture will melt right away once they are in your mouth. A touch of orange juice will really brighten up the taste of the whole mixture.
Raise Your Appetite With These Stunning Cupcakes And Cheesecakes
Having a single cup is never enough with these sweet little devils! Whether cupcakes or cheesecakes, they will definitely bring a lot of joy to your friends and family. Let's dig into these cute desserts right now!
Mini vanilla cupcakes are a simple yet elegant option when it comes to cute mini desserts. These golden, airy cups have a magical power that can connect people together and create a joyful air.
I can't wait for special occasions to create a large amount of these little cupcakes, as the method to create them is really basic. In addition, the decoration is up to your thinking, which is 1000% customizable.
What could be more cozy and flavorful than tiny brown sugar pecan cupcakes? They are soft, fluffy to eat, and great to serve as a dessert at any time of the year.
The nutty, milky sponge complements marvelously with exceptional browned butter frosting in this recipe. If you haven't browned butter before, you will be astonished when doing so because it smells like coming out of your dream!
Gingerbread cupcakes are the optimal solution to create a memorable Christmas event! Serve a tray of these petite cups at your holiday parties, and they will be gone in less than an hour!
Christmas is freezing, and that's why people include a lot of warming spices in this recipe. You can either serve these cakes with the cinnamon cream cheese frosting or stick some tiny gingerbread cookies on top to make them look really festive.
Strawberry lemonade cupcakes are the most phenomenal combination between a berry and a citrus fruit! With their bright and cherished flavor, these small-sized cakes are bound to be your new favorite.
In order to make really decent cupcakes, try to fill the sponges with the wonderfully creamy lemon curd. It is rich, custard-like, and can easily brighten up your senses with its unique citrus note.
Here is a spectacular treat for all of your chocolate lovers: chocolate caramel cupcakes! What could be better than cocoa cakes coated with salted caramel buttercream and chocolate sauce?
Though the method to make chocolate caramel cupcakes is a little bit intricate, they are absolutely worthy. I promise that these lovely devils really have an irresistible attraction to anyone.
What do you think about a hybrid of the famous Italian dessert tiramisu and tiny little cupcakes? In my opinion, this is the best combination that I have ever eaten!
The cakes deliver an extreme creaminess and sweet richness of vanilla cakes and Swiss buttercream. There is also the bitterness of coffee, which beautifully balances all of your senses.
These gorgeous, undeniably addictive mini chocolate layer cakes are perfect if you want to have a tasty twist after eating your meal! They are sweet-scented, beautiful-looking and incredibly seductive.
Serving these layer cakes at any party, and I'm sure that everybody can't stop marveling at how yummy these miniature treats are! With the soothing flavor of chocolate, this cake is all you need to turn any bad mood around.
Mini cheesecake cupcakes are a trendy dessert across the globe. Having the shared characteristics between cupcakes and cheesecakes, these are really an explosion of texture and flavor.
I suggest that you serve mini cheesecake cupcakes at your important events. They are fancy, luxurious yet simple, and straightforward to make. You can decorate them with any seasonal fruits and frostings of your choice!
Impress your beloved people by making this awesome one-bite dessert: mini cheesecake cupcake!
Are you bored with regular soft and fluffy cupcakes? Here's the most crumbly, crispy yet tender miniature cake for you to enjoy: caramel apple mini cheesecakes.
These caramel apple-filled treats are loaded with spices and brown sugar. They will bring you the ultimate warmth and sweetness that are guaranteed to please your feelings. If you have apples available in your kitchen right now, try to make these interesting cakes!
Any dessert party is a complete loss without this mini peanut butter cheesecake! They are cute to look at, fun to make, and easy to win your heart!
Cream cheese and peanut butter's rich, fatty taste pairs perfectly with other spices and salted caramel sauce. Perfect for satisfying your sweet tooth! These small cheesecakes have a lovely balance of flavors, don't they?
Appealing Mini Scones You Should Try Before You Die
Scones are outstanding with their particular triangle shapes and fun to take a bite. It will be even more joyful if you take many and many bites. Here I will introduce you to 4 of the most lovely scones on earth!
These petite chocolate chip scones are way more fabulous than chocolate chip cookies. Once you have dug into them, you will never come back to those regular cookies anymore.
You should serve these lovely scones after a meal because they will deliver a perfectly tender crumb and sweet vanilla note. These finger-licking chocolate scones are truly a dessert-killer!
Brighten up your day by making little cute chocolate chip scones with this wholesome instruction.
The marvelous little blueberry scones only require a handful of ingredients yet can lead to a whole-heartedly satisfying dessert. Flaky, moist, mouth-watering is not enough to describe this cake.
Challenge yourself with this phenomenal recipe. You can either choose fresh or frozen blueberries, and they should turn out to be equally good in both circumstances.
Petite vanilla bean scones are a breath-taking dessert that is regarded by many people as their favorite. They smell wonderful, look enticing, and taste marvelous.
With a barely bigger size than your mouth, you can easily swallow a whole scone within one bite. Once, two, three… and you will keep asking for more of this fantastic dessert.
Wanna make the atmosphere become happier? Bring these fabulous tiny poppy seed scones to your table, and they will immediately lift everyone's mood up!
Lemon and poppy seeds are a divine combo. Just a touch of vanilla extract, and these scones will be your addiction! You can either serve it as a dessert or eat it alongside your breakfast and lunch.
Petite Cake Pops And Bites That Take Your Party To A New Height
Cake pops and bites will take any of you on a trip back to your childhood! Kids will immediately fall in love with these petite, beautiful balls of sweetness.
Let's get on that trip, shall we?
These tiny, pinky cake pops are perfect for throwing as a mini dessert for any birthday party! Children are absolutely going to love them, and so are adults!
Starbucks birthday cake pops are actually miniature sponge cakes covered in frosting and thick layers of pink glaze. They smell ridiculously fragrant, and the taste is simply irresistible! Who could deny a lovely treat like this, right?
Red velvet cake pops can engender the happiest soul-soothing feelings! Their fancy and charming looks will easily suit any big celebration and even formal meetings.
What I love about making these little desserts is that you can have fun crumbling and shaping them into round bites! About the candy melts, you can freely be creative with your own choice of toppings and colors.
Have you ever seen brownies shaped into bites? They are usually in square shapes, right? This particular shape will make your guest keep asking for more of these amazing treats!
You can try making these no-bake brownies at home, as they don't require any special equipment and are super quick to make. The fudgy texture of this cocoa cake pairs perfectly with the nutty flavor of walnuts!
Learn how to master tiny brownie bites with this astounding instruction.
Chocolate coconut truffles are insanely tasty! Just one bite, and they will take you to the heaven of this dessert. And these lovely, adorable cakes require no baking at all!
What could be more fantastic than the combination of desiccated coconut, biscuits, and chocolate? If you serve these beautiful truffles at your party, your guests will surely be thankful for them.
Adorable Mini Bread As A Distinct Way To Serve Desserts
Mini bread can work as an awe-inspiring and unique treat at your dessert party. They are super lovely, and a single loaf can't seem to satisfy people's cravings. Let's find out all about these sweeties, shall we?
This bread's name is a little bit hilarious, isn't it? However, I can guarantee to you that mini pecan monkey bread loaves are totally a crowd-pleaser! Even their looks are distinct from other bread.
Throw them to your small-sized dessert party, and no one will ever resist these beautiful, smelling out of heaven loaves. Crushed pecans will add extra deliciousness to your "monkey", so don't skip them!
Cinnamon rolls are usually baked in a large pan, aren't they? However, you can totally change their sizes into these adorable mini bites that everyone would love to eat!
It will only cost you one and a half hours to finish this festive bread. Fill your wonderful dough with aromatic brown sugar, ground cinnamon, vanilla, and wait for its magician to rise! Finally, transform them into rolls and add your favorite frosting on top.
Here is another banana bread recipe for you. Though these buns and mini cinnamon rolls are similar in appearance, banana foster sticky buns have their unique characteristics.
The best part about this recipe is that you can make use of your refrigerated crescent rolls. Besides banana and cinnamon, toasted pecans can work as a flavoring agent in this fabulous recipe.
Warm your heart and free your soul with this amazing bread! People will love to have these cute mini banana bread loaves as a special dessert after your meal.
Eating this tiny bread will certainly make your day. Moreover, the recipe is quick and easy. Remember to carefully coat your loaf pans with butter or spray so as they don't stick to the pan later.
This gorgeous instruction will guide you on how to create super moist and tasty mini banana bread loaves.
Who Wouldn't Fall In Love With These Cute Small-sized Muffins?
Quick bread and muffin are actually very alike because they both use baking soda instead of yeast. It's easy and fast to make these gorgeous little treats, as there's no proofing time in the recipes.
I would say that chocolate and oranges are best friends! And when incorporated into beautiful little muffins, they could easily blow you away with excitement.
Mini chocolate orange muffins are ideal for serving at gatherings. Imagine that your friends or family all enjoy this marvelous dessert together, and everyone is thrilled. They deserve to be the most cheerful and delightsome muffins that many people will love.
Blueberries are already very yummy to be eaten alone, but incorporating this astounding fruit in muffins will take your dessert game to a whole new level!
The two dairy products to create this petite dessert are butter and sour cream. They bring out the best of blueberries, and when you pop the batter into the oven, they will definitely fill your kitchen up with unforgettable fragrance!
Have you ever encountered these bizarre muffins before? Mimosa is actually a very famous type of cocktail that usually contains champagne and orange juice.
Those two key elements "happen" to be here in these muffins, and that's how they got the exceptional name. If you're hosting a party for adults only, there's nothing more excellent than this treat. And don't be surprised if they all disappear after a few seconds!
If you are looking for a beginner muffin level to try with, this one is perfect for you! Petite lemon poppy seed muffins' colors are vibrant, and they are super moist, soft, and incredibly fluffy!
Sour and sweet is an excellent example of balancing flavors. Just try this recipe, and you will understand what I am trying to mean. Please keep in mind that you shouldn't stir the muffin mixture too much, as it can turn out to be dry and less airy.
Strawberry is a beautiful temperate fruit that is combined in a lot of dessert recipes. Together with chocolate chips and vanilla, it creates a brilliant type of muffin that tastes and smells out of this world!
The recipe is so quick that it only takes you half an hour until the baking is done! Besides dessert time, you can serve these mini strawberry chocolate chip muffins at breakfast or snack time. They are healthy to eat and yummy enough for you to keep digging in!
The small, cheerful, and super healthy apple muffins that both kids and adults will have a huge crush on are here! They have a beautiful golden brown hue and can not be mistaken for other muffins, thanks to their outstanding flavor.
A jar of applesauce, oatmeal, eggs, flour, and dairy products are basically what you're gonna need if you attempt to make these cute muffins. They are quick to make and easy to enjoy!
Mini donut muffins are insanely addictive and perhaps too adorable to eat! These sugary little ones are packed with wonderful spices, milk, and margarine/butter.
Once taken out from the oven, they will burst with a sweet and cozy flavor. Cute donut muffins are soft and perfectly moist on the inside with a charming golden-brown top. The sugar coating will even make these one-of-a-kind muffins become more astounding.
Very Cute Bite-Sized Cookies For You To Get Hooked On
Regular cookies are usually not very large. But when their sizes are reduced to little, this dessert becomes something extremely enchanting. Don't forget to try out all of these marvelous mini cookies one day!
Here are fancy mini cookies with quite expensive baking ingredients and a distinct aroma. The more gourmet hazelnuts you choose for the recipe, the more luxurious and high-quality your cookies will become.
But believe me, these petite hazelnut chocolate cookies are worth your money and effort! You can either use a food processor or an electric mixer for these beautiful, incredibly yummy miniature cookies.
Warm your heart and free your soul with this amazing treat! People will love to have these cute mini heart sugar cookies as a special dessert after your meal.
Eating these tiny cookies will certainly make your day. Moreover, the recipe is quick and easy. Just please remember to let the frosting rest completely at room temperature before storing.
Funfetti cookie bites are very likely to bring you a lot of fun, aren't they? If you want to serve a super bright dessert with an extremely remarkable look, consider making these adorable mini funfetti bites!
I recommend that you choose sprinkles with vibrant colors. The brighter they are, the more attractive your cookies will appear. Making this recipe doesn't consume much of your time and is almost effortless, but the result could really melt your heart!
Learn the super quick way to create these delicious miniature funfetti bites right now!
What Is Your Favorite Mini Dessert?
According to you, what dessert gives you the most stunning feeling? Which one do you like best? You can give me the name via the comment section below.
If you have any other questions about mini desserts, please don't hesitate to ask. I hope that my post has satisfied your searching purpose. Don't forget to share my post with your beloved ones because everyone tends to love these little sweeties.
Nutrition Facts
4 servings per container
---
Amount Per ServingCalories225
% Daily Value *
Total Fat 13.2g

20

%
Cholesterol 4mg

2

%
Sodium 29mg

2

%
Potassium 188mg

6

%
Total Carbohydrate 16.1g

6

%

Dietary Fiber 6.7g

24

%
Sugars 11.1g

Protein 11.3g

22

%
---
* The % Daily Value tells you how much a nutrient in a serving of food contributes to a daily diet. 2,000 calories a day is used for general nutrition advice.