Mexican side dishes always bring a fantastic flavor. If you have once tasted Mexican-flavored side dishes, you will hardly forget their distinctive and attractive flavor. Would you like to try making these wonderful side dishes at home?
This article will bring famous Mexican side dish recipes for you that are delicious and easy to make. The main dishes at your party will be less boring when served with these dishes. Trust me! The value of this article will surprise you.
Let the recipes that I present in this article make your family members happier, more satisfied while enjoying the taste of tremendous and long-standing cuisine in the world. Please read carefully so as not to miss any valuable information.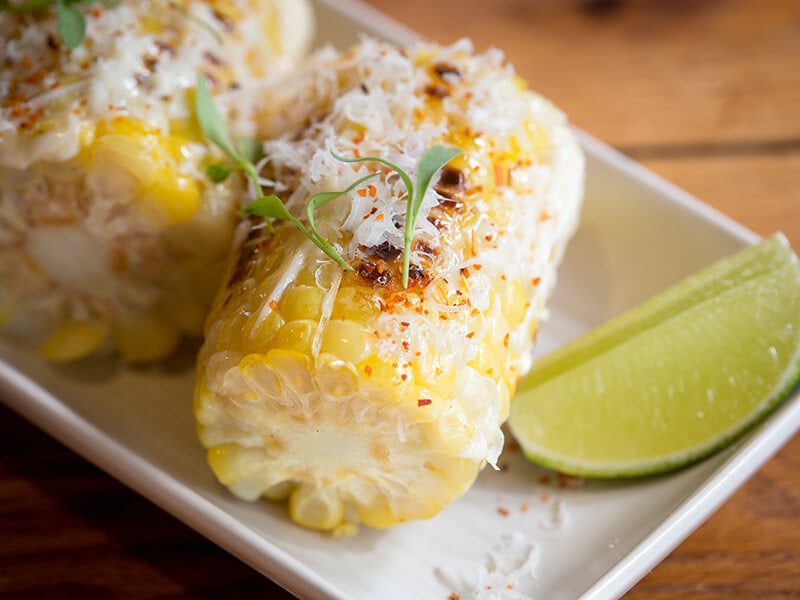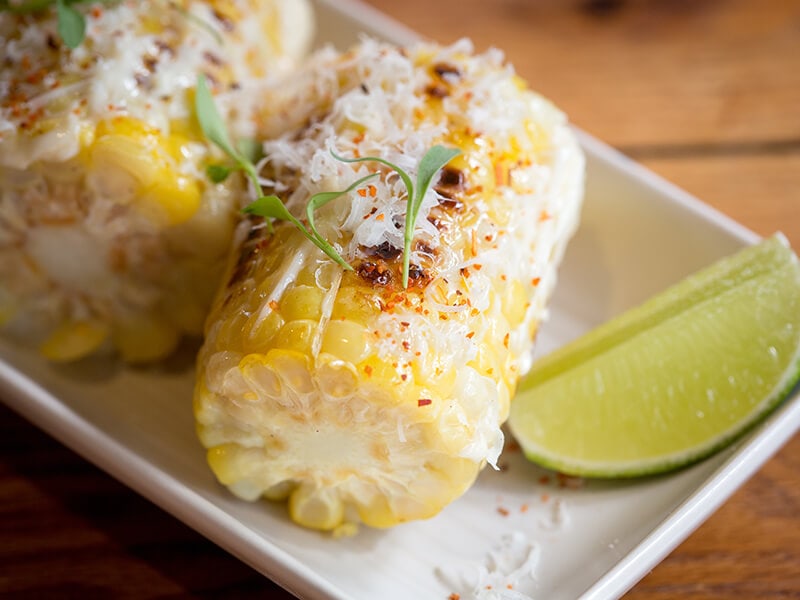 Open Your Mind With A List Of 19 Delicious Mexican Side Dishes
Mexico is a cuisine that has many characteristics of the Americas, and Mexican side dishes are very diverse. In this article, I will give you a list of 19 popular Mexican side dishes. I hope you will love them.
Mexican Side Dishes With Vegetable
Tangy Mexican Slaw
Mexican Potato Salad
Mexican Street Corn Salad
Mexican Chopped Salad
Corn-based Mexican Side Dishes
Mexican Street Corn (Elotes)
Mexican Cornbread
Mexican Corn Pudding
Mexican Corn Cake
Other Vegetable Mexican Side Dishes
Roasted Mexican Zucchini
Guacamole
Vegetarian Calabacitas
Mexican Roasted Broccoli
Mexican Side Dishes With Rice
Spanish Rice (Mexican Rice)
Black Beans And Rice
Cilantro Lime Rice
Mexican Brown Rice
Avocado Rice
Other Fantastic Mexican Side Dishes
Mexican Black Beans
Chicken Tortilla Soup
Protecting Your Health With Some Fantastic Vegetable Mexican Side Dishes
Nowadays, dishes made from vegetables are becoming the favorite choice of many people because they are healthy and also pretty simple to prepare. Learn these wonderful Mexican side dishes with vegetables to combine in your party.
Refresh Your Body With Delicious And Healthy Mexican Salads
Mexican side salads are very diverse and rich. The combination of salad with main dishes brings a fantastic effect. They help to increase the flavor of the main dishes as well as help maintain the appetite when consuming the main dishes. Let's discover them now!
A popular salad that you can come across a lot when you come to Mexico is tangy Mexican slaw. The slaw is a welcoming companion to cod or many Mexican dishes. In addition, the dish is also pretty easy to make, so you should give it a try. I believe you and your family will love it.
Tangy Mexican slaw is a rather special salad because you can not find the salad dressing topping the cabbage and red onions. A unique salad dressing made from cider vinegar and olive oil will coat them and create new flavors for tangy Mexican slaw.
How can you refuse to enjoy a plate of fresh and delicious Mexican potato salad? The dish has the taste and classic style of Mexican cuisine. Do not skip this wonderful recipe that is virtually made for chili, goulash, gumbo, and many other types of savory stews.
The aromatic and rich taste of potatoes combined with the slight sweetness of corn promises to create an overall flavor that you can hardly forget. To make the dish more attractive, you should add some small tomatoes as well as fresh cilantro.
Many people in the North American country love to enjoy this snack as an amazing side dish with fajitas, tacos, burritos, and other Mexican staples. While you do not have to spend a lot of time struggling in the kitchen to prepare it, you will still have a fantastic treat for the whole family.
A side dish has a taste that goes to the heart of people. It not only stimulates your taste buds but also diversifies your menu. Fresh corn kernels combined with black beans and other ingredients. Their flavor is multiplied by the divine salad dressing.
Let's go to the kitchen and create a delicious Mexican street corn salad for your family!
Mexican chopped salad is a plant-based side dish that you can find in the menu of many restaurants in Mexico. The combination of different kinds of vegetables create a variety of taste for this dish.
You can clearly feel the characteristic of corn kernels and the light sweetness of them. A bit of crunchiness and mild flavor of cucumbers will stimulate your taste buds and increase flavor for the dish.
Explore Amazing Corn-Based Mexican Side Dishes
Corn is a common ingredient in Mexican cuisine. Over time, Mexicans have created great recipes with typical components of the country. This section will provide you with a list of famous corn-based Mexican side dishes.
Perhaps, lovers of Mexican cuisine will be no strangers to Mexican street corn. They are a popular street food as well as a side dish in Mexico. Warm and fresh grilled corn will adorn your BBQ party. This is such a simple dish that even your kids can make it themselves.
Bright and eye-catching yellow corn kernels are garnished with a layer of fatty cheese, mayonnaise sauce, and paprika. This is a perfect combination to create a fresh and balanced dish. Add some fresh cilantro and lemon juice to make the dish more delicious.
Mexican cornbread can be Tamales adored side-order or paired with other traditional Mexican staples. This is one of the variations to create unique dishes from Mexican corn. You can absolutely make delicious and attractive cornbread like a Mexican.
Corn kernels, when used to make cakes, also bring out the same great flavor as fresh corn kernels. The soft, spongy, and crumbly cornbread will be a fantastic addition to your party. Do not forget to use jalapenos and cheddar cheese for this recipe.
The cornbread is delicious, and the corn pudding is amazing too. Like cornbread, Mexican corn pudding is an excellent creation of Mexican chefs in making delicious dishes from corn. You will not be able to resist the deliciousness of this dish.
Mexican corn pudding has a typical taste of Southern Mexican cuisine. The soft, fluffy, and fragrant corn pudding melts in your mouth when you take the first bite. In barbecue meals, you should make Mexican corn pudding to serve along.
These fantastic corn cakes are a perfect choice to add flavor and variety to your meal. Mexican corn cake will take you from surprise to other surprises. The ingredients are perfectly combined to create a culinary masterpiece.
The seductive tops and spongy, moist corn cake can accompany and add flavor to all dishes. Just a few simple steps and you will have a perfect accompaniment to treat your family and friends.
Let's listen to these helpful instructions to make fantastic Mexican corn cake for your dinner!
Diversify Your Menu With Other Yummy Vegetables Mexican Side Dishes
Besides the delicious fresh salads and fantastic side dishes made from corn, Mexico still has many other attractive and famous accompaniments containing vegetable ingredients. Let's diversify your recipes with these amazing dishes.
If you want an accompaniment with eye-catching color and great flavor, you should put roasted Mexican zucchini on your priority list. Moreover, roasted Mexican zucchini will help you reduce a significant amount of carbs for the meal.
Roasted Mexican zucchini bring you great experiences when enjoying. Do not think they will not taste good as they are just about roasted zucchini and veggies. In fact, it is delicious in a way that you can hardly imagine.
You can use guacamole as a filling, topping, or side-order to complement burritos for an authentic experience. No matter how you combine it, the results it brings will satisfy you. Guacamole stands out from other sides thanks to the balanced combination of ingredients.
Avocado will bring a bit of fatness and aroma for this dish. Add guacamole to your weekend party accompaniments list right away. From its appearance to its taste, you will not be disappointed.
I will share with you another traditional Mexican side dish. It is vegetarian calabacitas, a dish that brings both traditional flavor and modern touches that will create indescribable feelings for you. Zucchini will bring fresh flavor to the dish.
This is a suitable accompaniment for vegetarians as well as those who want to lose weight because vegetables are the main part of the dish. In addition, the dish also has typical l ingredients in any Mexican dish such as jalapeno and onions.
Mexican roasted broccoli is a very healthy vegetable side dish. It only takes about 25 minutes to prepare and cook, and you have an attractive roasted broccoli plate to serve with fantastic main dishes.
Broccoli grilled will bring a characteristic aroma. You can add a little garlic and chili powder to add more emphasis to the dish. The dish will be a rich source of fiber for your body. Let's jump into the kitchen to make it right away.
Fill Your Stomach With Mexican Side Dishes With Rice
Starch is an indispensable ingredient in your every meal. You need the energy to study and work, so adding starch is essential. The following starchy Mexican side dishes will help you satisfy your hunger and give your body energy.
If you are looking for a rice dish to go with enchiladas and tacos, you should consider Spanish rice as a top contender. Spanish rice, also known as Mexican rice, is a traditional and typical Mexican rice dish.
It only takes about 10 minutes in the kitchen to prepare everything. You have Spanish rice with lots of different flavors mixed together. It is the chewiness and softness of chicken broths, the characteristic taste of potato sauce, and many other ingredients.
Have you ever tried combining rice with black beans? If not, let's see how the Mexican people created the recipe for this unique rice dish. Black beans and rice is a fundamental and popular accompaniment recipe in Mexico. It is straightforward to make it.
The rice and black beans are seasoned with salt and other traditional ingredients to create a rich and Mexican flavor for the black beans and rice side. You will not be able to resist the intense attraction of this rice accompaniment when you consume it.
I used to think that the combination of cilantro, lime, and rice was a mythical and impossible combination when hearing the name of this side dish. However, when I tried it, I had to say "Wow, it was so much better than I thought.".
There is nothing complicated when making this delicious side dish, and you just need to season the rice and combine it with fresh herbs to create a unique and attractive aroma for your dish. For a fantastic burrito bowl, you should combine cilantro lime rice with salsa and beans.
Do not forget to wash and rinse rice well before creating an amazing cilantro lime rice!
Mexican brown rice is also a popular rice dish in Mexico. A dish that is both beautiful in appearance and serves as a great accompaniment to meals. To make Mexican brown rice, you do not need to spend a lot of time and effort.
Besides the elaborately seasoned rice grains, tomatoes and tomato paste contribute to the unique color as well as enhance the flavor of this rice accompaniment. Most of the ingredients to make it are in your kitchen; let's take your family to Mexico by making it.
If you need a dish to go with chicken, tacos, and steak, avocado rice will be a perfect choice for you. The avocado and rice that go together may sound a bit weird, but the flavor it gives will make you just want to eat and eat a lot.
The sweet aftertaste of rice will blend with the zestiness of lime juice and creamy avocado. You will be completely mesmerized when enjoying this scrumptious delicacy. It would be more delicious if avocado rice had cilantro, pepper, and other traditional spices.
Wrap Up The Fantastic Mexican Side Dishes With The List Of Other Accompaniments
The ingredients of Mexican cuisine are diverse and abundant. So, in addition to the side dishes made from starch and vegetables, Mexican cuisine still has other unique, strange, and delicious accompaniments. Let's explore together!
Until now, black beans have always been a common ingredient in Mexican cooking. Because of the neutral properties and flavor of black beans, they can be paired with any Mexican dish. This recipe is widespread and straightforward.
Black beans become more fragrant and flavorful when seasoned with salt and other spices. You will be immersed in the fatty and spongy taste of black beans; a few chopped fresh cilantro will bring a more intense flavor when you eat them.
This one is the perfect side dish for your taco or burritos parties.
Another soup that is equally delicious as Mexican pozole is chicken tortilla soup. The recipe carries the unique and distinctive features of this rich cuisine. Your dinners will be extremely satisfied when enjoying this wonderful accompaniment in the meal.
All the ingredients that make up this fantastic side dish have the identity of Mexico. Corn and beans are both essential elements in Mexican life along with chicken, all of them soaking in tomato soup.
Which Dish Will You Choose To Serve With The Main Courses Tonight?
Culinary is an extremely broad and rich category for you to learn all about. However, if you learn 1 or 2 dishes daily, after a while, your treasure of culinary recipes will be extremely diverse, especially in Mexican cuisine. So keep on cultivating and accumulating every day.
I hope the recipes I have given you in this article will result in better and more appealing meals for you and your family. It means that the relationship between your family members will be better because family meals are the root of a happy family.
If you know of any other delicious Mexican side dishes, feel free to share them in the comments. Please like and share if you find this article valuable. Thanks for reading!