23 Traditional Mexican Breakfast Recipes You Must Try 2023
When it comes to delicious Mexican breakfast recipes, you must be thinking of Taco as your first answer, but Mexican cuisine offers more than just Taco. So I've been sharpening my Mexican cooking skills to bring you many more Mexican dishes that you can use for your morning.
Mexican culture revolves around the production of corn, so it's not strange to see corn appear in almost every corner of the country's cuisine. The Tortilla is one example of a simple breakfast recipe that Mexican locals often have.
But enough about the country's overall cuisine. Let's dive into the world of flavorful Mexican breakfast.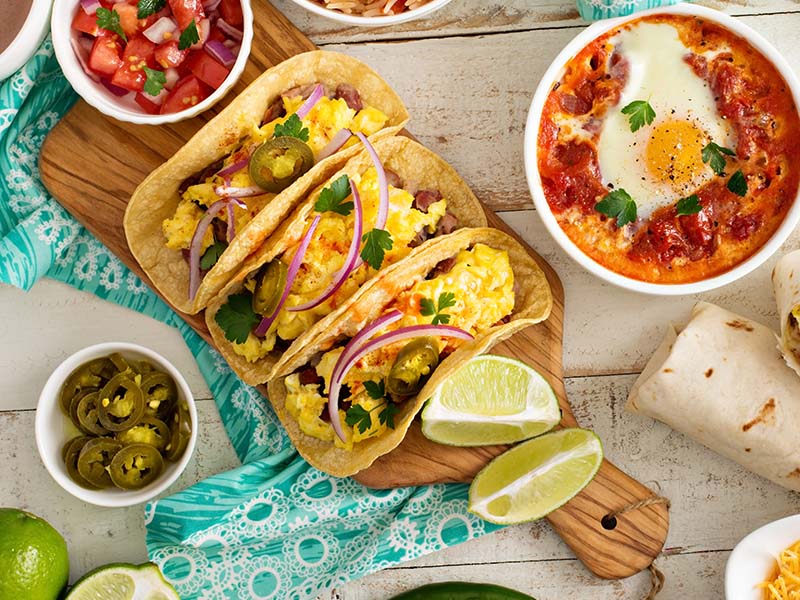 Delicious Mexican Breakfast Recipes To Kick Start Your Morning
Begin your morning in Mexico with these stunning traditional breakfasts that will leave you craving for more. You will discover that Mexican locals can have diverse dishes for their breakfasts.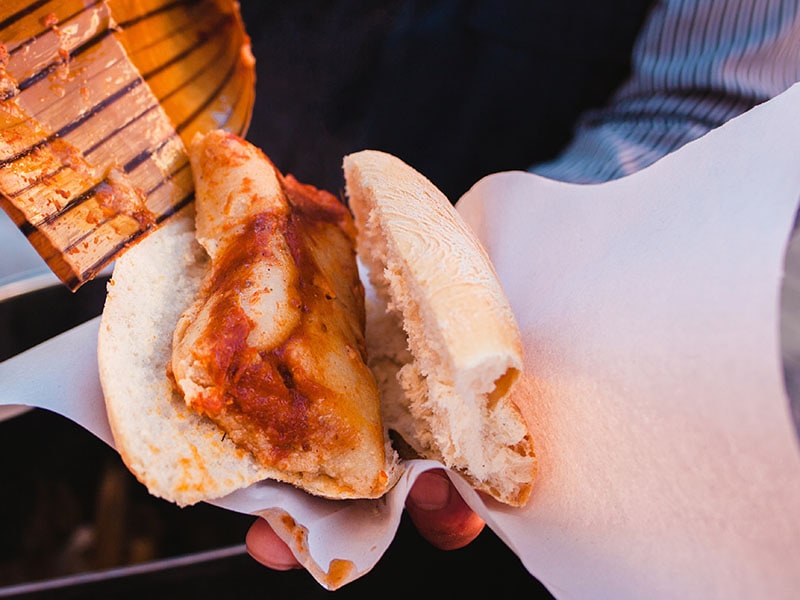 Torta de Tamal or Guajolota is a popular street food in Mexico. It is essentially sliced bread with Tamal in the middle as the main highlight to the dish. Mexican locals love using it as a breakfast since they are quick and require little effort to make.
Tamal is corn dough with a filling of various types of meat. Most commonly, you will see steamed Tamal at the local vendors in Mexico. The locals love Torta de Tamal because bread and Tamal are two of the most popular dishes in the country.
Fun fact about the dish, Guajolota is a Nahuatl word for "turkey". But in Mexico, people often say that Torta de Tamal can make you fat like a turkey instead of referring to the actual meaning.
If you're looking to experience an authentic Mexican breakfast, then Chilaquiles is a must-try dish for you. The base for this Mexican recipe is the crunchy corn Tortilla, which is spread with traditional sauces like green Salsa and red Enchilada.
For the topping, you can add anything on top of the Tortilla. But the most popular filling in Mexico is a mix of cheese and bacon. The corn Tortilla will absorb most of the liquid sauce and cheese to create an addictive breakfast creation.
Chilaquiles is popular in Mexico because of the adaptability of the dish. Mexican locals could get creative with the toppings to create various tastes. Plus, Tortilla is the soul of Mexican cuisine, so it's understandable why it's a staple breakfast menu in Mexico.
Check out how you can make Chilaquile in different ways.
At first glance, you're probably thinking that this is just a slice of sandwich, right? Well, it's more than that. Tetelas is a popular dish in the Miztec region of Mexico. People of Miztec used corn powder to create the crust for the Tetelas.
As for the filling, you can use mashed black beans for a traditional approach. But you could also switch it up by stuffing the inside with cheese. After figuring out your filling, you can have Tetelas as it is or give it a quick pan fry.
In Mexico, locals use Tetelas at any time of the day. The crunchy crust on the outside makes the dish very similar to traditional Empanada. But the black bean filling and a light pan fry cooking method are what set it apart from Empanada.
Huevos Rancheros is an explosion of flavors that keeps you coming back for more. The amount of ingredients that go into making this dish is mind-boggling with more than 7 ingredients.
Interestingly, this dish is a reliable vegetarian Mexican recipe. You just need to leave out the eggs from the recipe, and the rest of the ingredients are plant-based products. Since it is plant-based, you can also see this as a friendly keto Mexican recipe for your diet.
If you're about to have an energetic day ahead of you, this is a perfect choice since it's light but packed full of energy.
Migas is an amazing choice to light up your old scrambled egg recipe. Originally, sheepherders were the first to create this dish. In Spain, it's a popular dish for hunters and locals of the Peninsula island.
In general, you will often have scrambled eggs with some types of bread and Spanish ingredients in Migas.
In Mexico, people replace stale bread with the staple Mexican Tortilla. The locals also utilize leftover Tortillas to add a crunchiness texture to the dish. There's also another version of Migas in Mexico City that uses Bolillos bread instead of the Tortilla.
The traditional Tamales of Mexico are made from masa (a type of corn dough). Then people use a variety of minced meat and chopped-up vegetables to fill the Tamales. The dish is often steamed before serving.
Traditionally, locals will use lard to whisk the batter to create a soft and fluffy texture, but for a modern twist, people use baking powder to get a similar result. Sometimes, people will even pair it with hot Atole and Arroz con Leche for a traditional Mexican breakfast course.
The locals often have Tamale as comfort food for both breakfast and dinner. Preparing the Tamales is a communal activity in Mexico as it requires many complicated procedures to make.
In Spanish, Mollete means "flatbread". However, Mexican locals will often use Bolillos (a type of bread with a hollow inside) to replace the traditional Spanish flatbread. They will top it with a variety of fried beans and cheese. The Molletes will be grilled until the cheese completely melts.
There is also another variation of Molletes, where you can have only cheese as the topping. In the South of Mexico, you can even have Molletes as a savory dish with bacon, ham, and mushroom as the toppings.
Bring that authentic flavor of Mexican Molletes right into your house with this guide.
The signature seashell-like of this traditional Mexican bread will impress you with its fluffiness. The locals often have Concha with something sweet like Cajeta (Caramel milk) or condensed milk. But I prefer having this bread along with a cup of Colombian coffee.
The way people make Concha is interesting, as you will need to use a specific type of yeast for the dough to rise. Only then will people use a bread stamp or knife to create the iconic look on the bread. After being baked, the bread is crunchy outside and fluffy inside.
These small muffins are a combination of cheese and egg. It's the perfect choice for your on-the-go breakfast. The good thing is you can use your muffin tray to create these delicious Mexican breakfast cups.
For an extra cheesy experience, adding small cubes of mozzarella or cheddar is a bright idea. The dairy flavor of the cheese with the creamy egg mixture makes for a great combo. You may need to have 5 or 7 cups of these breakfast cups for a complete breakfast.
Mexican scrambled egg is one of the best ways to start your day. Different from traditional scrambled eggs, the Mexican version has a much softer texture. The addition of bell pepper is a great way to create depth to the flavor.
Like any other dish in Mexico, Tortilla is consumed along with Mexican scrambled egg as a side dish. Typically, the egg will have a soft and creamy texture. But you can also add bacon bits to enhance the flavor to your liking.
Potatoes have many nutritional values. It's a reliable source of carbs with no fat and an average amount of calories. Maybe you're alert with the carb content of the potato. But the combination of Chorizo and potato on a Tortilla is still a must-try experience.
Chorizo is a special type of Iberian Peninsula sausage. It has a deep red distinct color. The Mexican version of Chorizo can be made from a variety of poultry meat and minced beef. Chorizo has distinct flavors of smoke and Mexican seasonings.
Local Mexicans will usually fry the Chorizo sausage first to get the base for the flavor. The fluffy potato will join the mix in the same pan with some native Mexican seasonings. The result is a savory and fatty dish, unlike any other Mexican breakfast.
Bring that full of flavors Papa con Chorizo right in the comfort of your home.
Quesadilla is a Mexican fried Tortilla that has cheese in the middle. However, for the breakfast version of Quesadilla, you can use a mixture of cilantro, chipotle, and Pickled Jalapeños for a savory filling. For extra protein, you can add shredded meat of any type to the Quesadilla.
The secret to making a perfect Quesadilla dish lies in the timing of the crust texture. You will need to shallow-fry the Tortilla until it becomes blister for the first step. Then you will want the outer layer to have a light golden brown color for the Tortilla to be ready.
Mexican locals have Quesadillas Fritas at any time during the day. But for me, it's a light breakfast that provides enough energy for an energetic morning.
Although you can have Enchiladas at any time in the day, I see this as a dish packed with energy and requires time to digest properly.
Creating Enchilada is simple if you're already familiarized with how to make a Tortilla. You just need to roll up the Mexican fillings with Tortilla and drizzle Enchilada sauce all over it. Then you can use your oven to handle the rest of the cooking procedure.
The Tortilla will soak up all the goodness from the Enchilada sauce, making for an addictive breakfast. Enchiladas is not a breakfast that you can rush. I recommend you sit down and spend your time enjoying this decadent breakfast.
Whenever you have a chance to go to Mexico, make sure you order Café de Olla. It's a traditional coffee in Mexico that often comes in a clay pot. The drink is popular in cold areas or rural regions of Mexico.
The ingredients of Café de Olla are what make this classic Mexican beverage special. Besides brewing freshly ground coffee, the locals put cinnamon and Piloncillo (unrefined cane sugar) to bring out more flavors. You can also add orange zest, cloves, or anise to adjust the taste.
Enjoying Café de Olla is one way for you to connect with Mexican cultures.
Perhaps you're looking for something sweet to have for your morning in Mexico. Then my recommendation for you is the Mexican version of Tres Leches oatmeal. Tres Leches is a Spanish word for "3 types of milk".
You can have Tres Leches as it is, or you can sprinkle some Mexican native nuts for a more traditional approach. It's a delicious Mexican dessert for all you out there with a sweet tooth.
This rich oatmeal breakfast will need you to have prior preparation for it. Preferably, you should soak the oatmeal overnight with the milk mixture in a fridge. It will give the oatmeal enough time to absorb all the flavor of the milk.
In Mexico, people use different names like Mole de Panza or Pancita to refer to Menudo. It's a thick Mexican soup recipe made with the cow's tripe. The red chilies powder in Menudo is the key highlight of the dish.
Menudo often appears as a hearty Mexican Christmas food, or in birthday celebrations. On these occasions, family members will gather for this heartwarming stew.
If you have no problems consuming animal intestines, then Menudo is a soup that you should try. Better yet, you can even partake in the making process of Menudo. Because in Mexican culture, Menudo is a dish that requires family members to take part in.
The cow tripe will need 4 – 7 hours to fully cook. A friendly reminder, you should prepare your taste buds because Menudo can be very spicy due to the huge amount of chili mixture in use. Commonly, you will have corn Tortilla to dip with the thick sauce of Menudo.
Fun fact: Many Mexicans consider Menudo as a good dish to cure a hangover.
Don't miss out on Menudo on your next visit to Mexico.
This wouldn't be a list of Mexican breakfast without featuring the staple Mexican Tacos. For newcomers, Taco is a corn Tortilla at the size of a hand with traditional Mexican fillings in the middle. Traditionally, the filling of Taco consists of beans, meat, and Mexican sauces.
In Mexico, Tacos appear at every corner that you turn. There is an endless variety of Tacos that you can make. It's the freedom of creating fillings that makes Tacos a favorite in many countries around the world.
In general terms, Atole is a hot Mexican drink that has milk, cinnamon, and cornflour as the main ingredients. However, this is just the base mixture because you have the freedom to add chocolate or other condiments to create your version of Atole.
Mexicans also feature Atole in many traditional days of the country, like the Day Of The Dead and Las Posadas. Locals also often have Atole as a breakfast or during dinner time on cold days.
Atole is an amazing drink to fight cold days.
In Spanish, Gordita means chubby. Mexican cuisine uses a thick Tortilla and stuffs it full of cheese and meat. In the area between Mexico and the US border, people use an old recipe that requires having masa Quebrada (a type of broken corn dough) to create the Gorditas.
You will typically encounter these Gorditas at many street vendors in Mexico. The effects that Gordita creates are similar to a regular Tortilla, but it tends to be crunchier after being deep-fried. Many people see Gorditas as a heavy breakfast as it packs a lot of calories.
It may sound weird to have a bowl of fruit for breakfast, but it's an exciting experience. Traditionally, Mexican locals will use juicy fruits like pineapple or watermelon to set the tone for the dish. Sometimes, for an amazing Mexican starter, they will incorporate various exotic fruits.
Mexican fruit salad could become your next dish to add to the list of refreshing summer dishes. The addition of lime juice and chili seasoning work wonders with the flavorful fruits. In some regions, locals will put in Chamoy and chilies powder to intensify the flavor.
To my surprise, there's a sweet Mexican recipe that combines Churros and Waffle. The dish shares a similar look to the signature waffle shape, but the batter is created using the Churros recipe. The dish is essentially a combination of the 2 cuisine cultures of France and Mexico.
You can understand why the dish receives much love from the public. The toppings of Churro waffles are often vanilla ice cream and chocolate syrups. The light sweetness of Churros makes a perfect combo with vanilla ice cream.
Start your energetic day with a sweet plate of Churro Waffles.
Breakfast Burrito needs little introduction as it is a common dish that people frequently have at any time in the day. For a quick breakfast, the Burrito only needs 3 main ingredients of Tortilla, eggs, and potato. People in Mexico often grab these Burritos as an on-the-go meal.
However, you can have many alterations to the dish. By adding bacon and a variety of meat, you will greatly increase the Burrito flavor. If you have time on your hand, a quick pan fry of the Burrito will help the rolled-up fillings to mix better and make it more appetizing.
A casserole is a word that originates from France. It means pans or bowls that are used in cooking. In general, the Mexican locals use Tortillas as the base for their casserole. As for the filling, they will use a flavorful Mexican ground beef recipe to be the key highlight of the dish.
The main idea of a traditional Mexican casserole recipe is to mix everything you have into a large pan and make a delicious meal out of it. The addition of melted cheese and bacon make for a hearty meal that you can't say no to.
Which Mexican Breakfast Will You Pick For Your Next Morning?
Now, you've already stocked up some valuable traditional Mexican dishes. You no longer have to stick to just Taco on your next Mexican breakfast. If you're looking to impress your colleagues or kids with a hearty meal in the morning, then Mexican breakfast is the way to go.
That's all I have for you. I hope you enjoy these recipes as much as I like to discover more about Mexican cuisine. You're welcome to leave your opinions on which is your favorite Mexican breakfast right in the comment section below. Your interest in the article is highly appreciated.
Nutrition Facts
1 servings per container
---
Amount Per ServingCalories263
% Daily Value *
Total Fat 14.5g

22

%
Cholesterol 327mg

110

%
Sodium 144mg

6

%
Potassium 643mg

19

%
Total Carbohydrate 21.2g

8

%

Dietary Fiber 4.4g

16

%
Sugars 7g

Protein 14.4g

29

%
---
Calcium

91

%
Iron

2

%
Vitamin D

31

%
* The % Daily Value tells you how much a nutrient in a serving of food contributes to a daily diet. 2,000 calories a day is used for general nutrition advice.