37+ Unique Malaysian Foods That You'll Crave On Ends 2023
To be honest, Malaysian food reflects the incredibly diversified culture of Malaysia so well that whenever I try any staple from that country, I can't stop giving compliments.
Malaysian delicacies often have a strong, bold, spicy, aromatic, and extra savory taste. If you eat them for the first time, you might not feel familiar with their complex and dense flavor. But once you adapt, you'll find it hard to resist.
Malaysians typically use several herbals, seafood, and other components in one dish, creating a certain uniqueness in their cuisines. If you have tasted fantastic foods in Thailand or any other Southeast Asian country, for that matter, you will find the same impressive flavor profile.
And now is the part that you've expected the most. Sit still and tighten your belt, and I will bring you on the roller coaster of these famous dishes from Malaysia!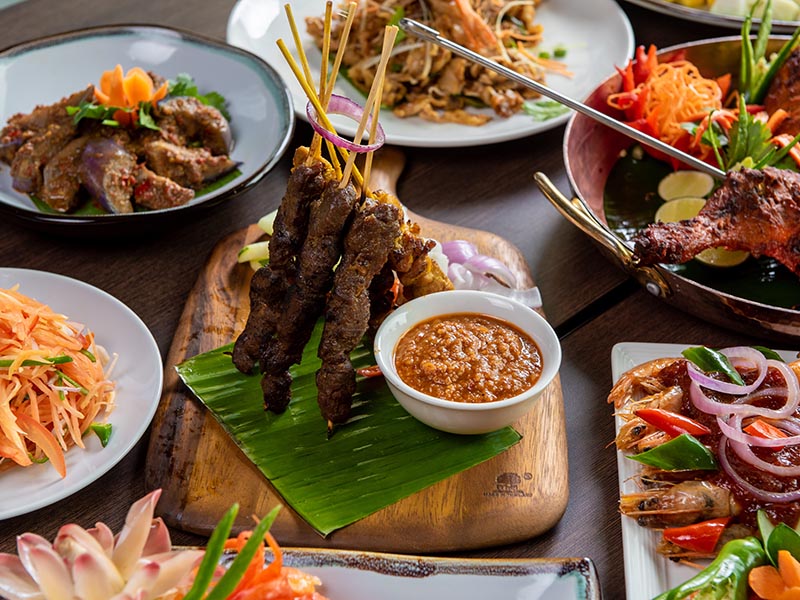 17 Desserts (Or Snacks) That Feature Malaysia Culture Perfectly
When I learned about Malaysian foods, especially Malaysian desserts, I was astonished by their diversity, creativity, and delectability. There are many more than this list, but I choose these delightful ones that will make you fall in love with only one bite.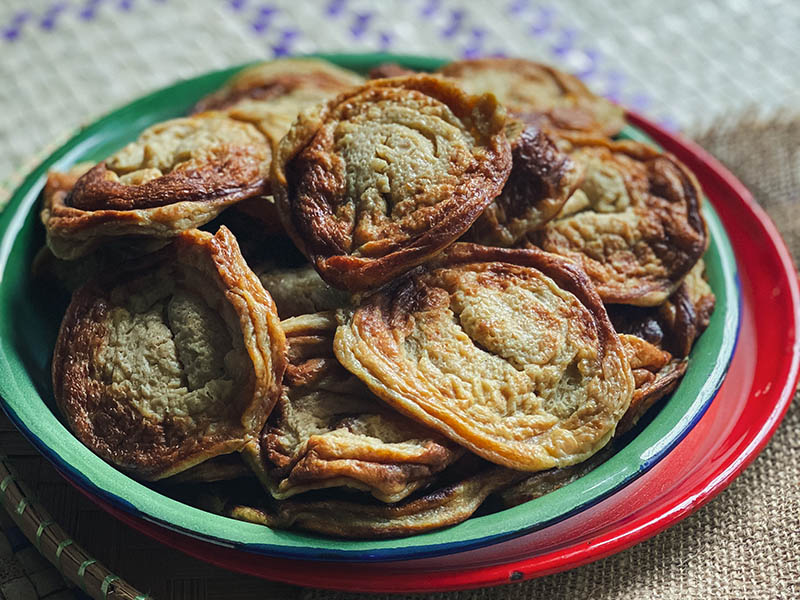 If you want a new dessert for tea time, I think Akok will be a perfect choice. It is one of the popular desserts that originated in Kelantan and Terengganu, Malaysia.
The best way to describe Akok is that it has a thin, light texture with a golden brown chewy touch on the outside. It will be eggy, sweet, and creamy if you cook it right.
Akok contains flour, eggs, sugar, coconut milk, and pandan leaves. If you don't know about pandan trees, they are tropical plants that enhance the delicacies' aroma, flavor, and color with their beautiful light green.
If you want to make it darker, you can replace the white sugar with brown sugar or palm sugar. This one will be less fluffy than the traditional Akok. You can cook Akok with an old-fashioned stove to achieve the smoky scent.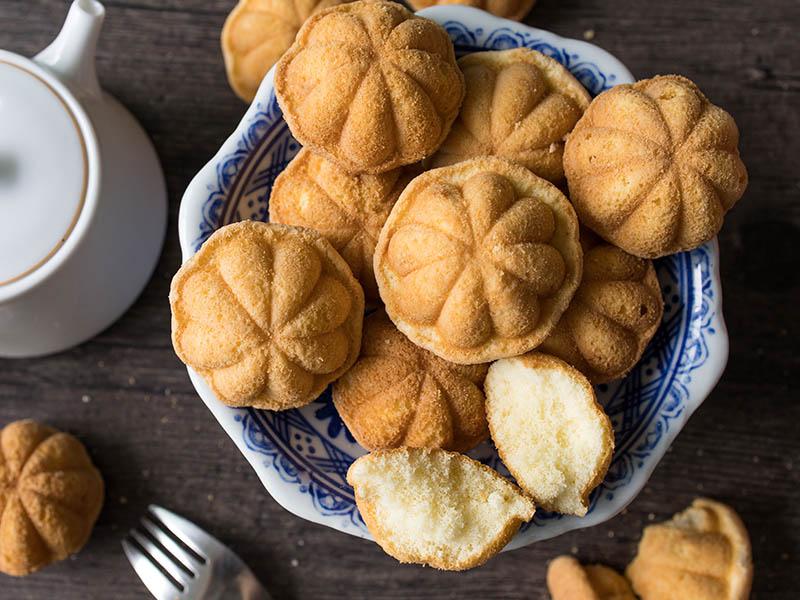 I don't know about you, but when I made the first batch of Bahulu, my family ate it all before I could have a bite! That's enough proof for its pleasant-tasting freshly baked aroma.
Bahulu (or Baulu) is a classic pastry from Malaysia with wheat flour, eggs, sugar, and baking powder. This dessert is close to French Madeleines in appearance.
Bahulu has three main versions exist: Bahulu Cermai (star-shaped), Bahulu Gulung (roll-shaped), and Bahulu Lapis (layered). Also in Indonesia, this cake (with the name Kue Bolu) are well known in West Kalimantan, particular in Pontianak, Sambas, and Singkawang.
When done right, Kuih Bahulu will give you slight crispiness as the cover and fluffy, soft, and spongy texture inside. You enjoy these little ones for snacks, desserts, breakfast, and supper.
If you want to know more about Kuih Bahulu, this guide is perfect!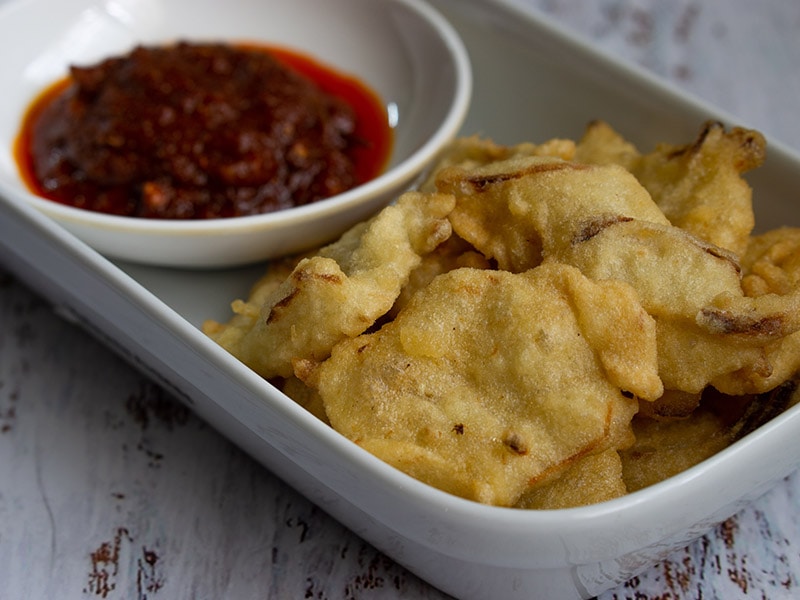 When the banana season is at its peak, Malaysians often make Jemput-Jemput for their snack times. This food is also one of the famous Malaysian snacks that you need to notice.
Jemput-Jemput or Cekodok is the classic snack you can come across down the streets. The food has its origin in Malaysia and Indonesia and gradually became popular in Singapore and Brunei.
To make a plate full of deep-fried Cekodok, you only need two key components: wheat flour and bananas. This dessert has a crunchy cover and smooth, wet, and sweet ripe banana inside. A great combination in a nutshell!
Besides, Jemput-Jemput is a versatile recipe because you can substitute the main ingredient (banana) with anchovies, prawns, onion, or maize for diversified flavors.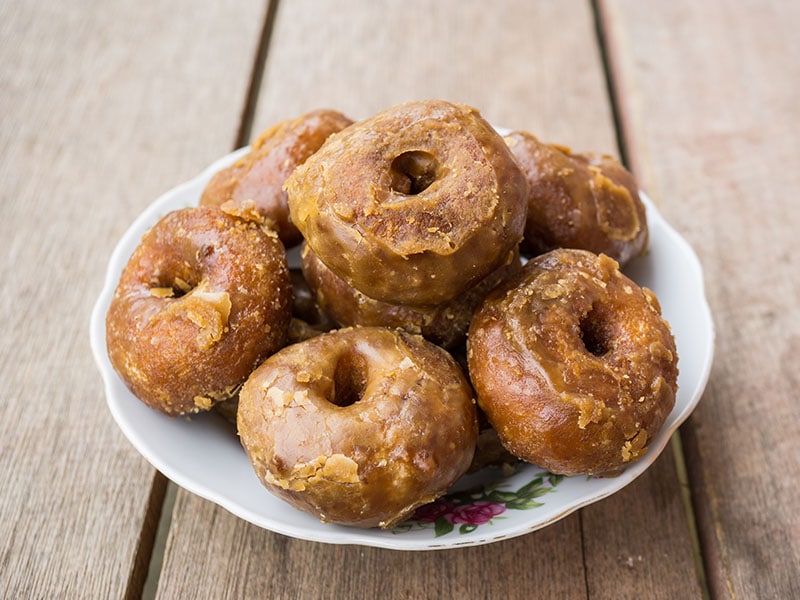 And now, please pave the way for these delightful doughnuts: Keria Gula Melaka (or Kuih Keria Melaka)! These deep-fried doughnuts consist of sweet potatoes and appear in Malacca, Malaysia.
Besides sweet potato, Keria Gula Melaka also includes flour, baking powder, salt, cooking oil, and palm sugar. Palm sugar contains less glucose than refined sugar, so it's healthier and brings a smoky hint of caramel and butterscotch to the whole dish.
I don't think anyone can say no to these delicious sweet potato bites, ranging from kids to adults. Instead of serving them as a treat, you can apply them to breakfast meals. It's flavorful either way!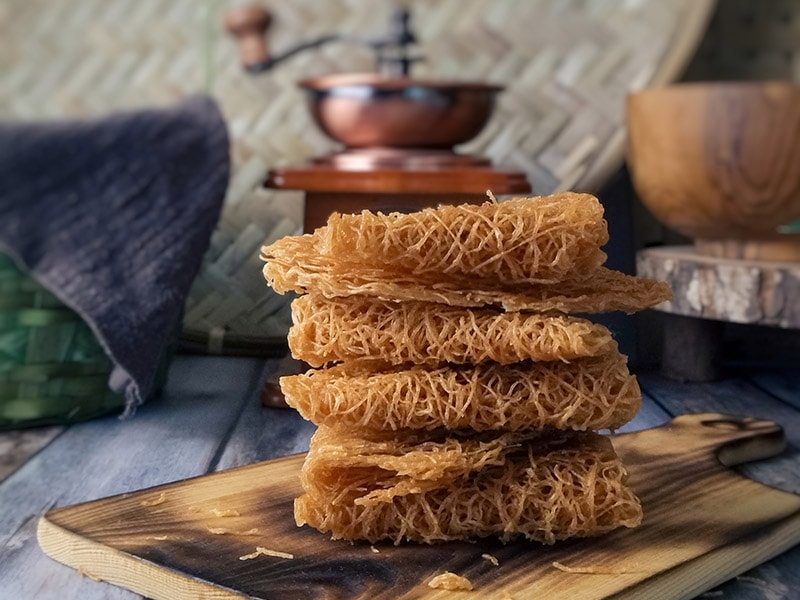 The next dessert on today's list is Kuih Karas. This dessert is like an edible bird's nest or instant noodles containing rice flour, sugar, and cooking oil. Besides, you can add optional ingredients to create the flavor as you wish.
Karas has many variants depending on each region due to the recipe's simplicity. You can find this traditional food in the state of Kota Setar District, Malaysia, or Borneo with the name Kuih Jala (Jah), and in Indonesia with the label Kue Keukarah (Karah).
The making process will require some tricks. You first whisk sugar with hot water, then pour the sugar syrup into the flour little by little. Then add water until the mixture becomes a thick liquid batter, and run it through the sieve to form the delicate pattern.
Serving this one with a cup of coffee or tea is the best choice that you can come up with. You can go for some fresh Malaysian beverages to balance the sweetness and crunchiness of karas.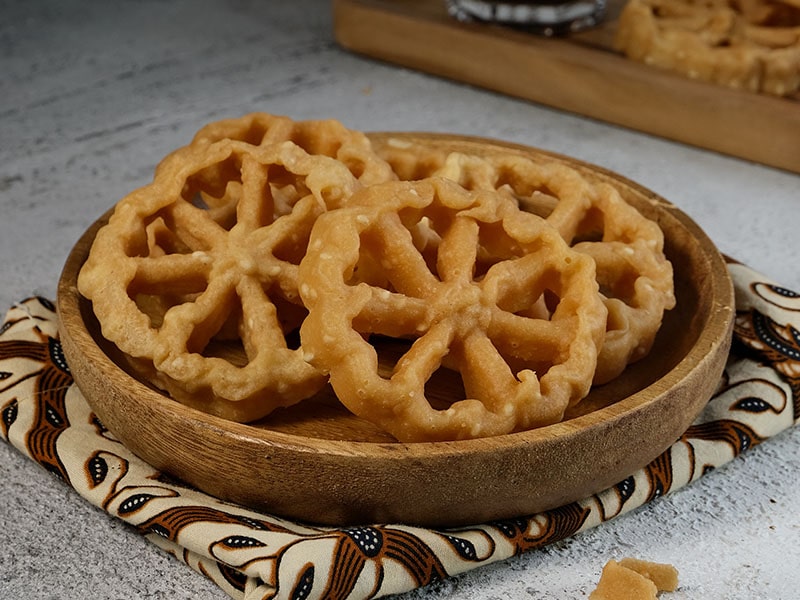 Kue Loyang (or Kue Kembang Goyang) belongs to Malaysia and Indonesia culinaries. It has many names corresponding to different countries.
You can also use other English nicknames such as rosette, honeycomb, beehive, or flower cookies. This snack covers the Asia parts with a variety of labels.
Well, the name reveals itself! Kembang Goyang features the shape of a flower that consists of some essential baking ingredients like rice flour, sugar, eggs, and baking powder. Also, coconut milk is a must-have ingredient when making Kue Kembang Goyang.
Malaysians will heat the Kembang Goyang mold along with the oil, then soak the mold into the batter, and then put it into the hot oil again. At the same time, they shake the mold well to avoid the dough sticking to the mold.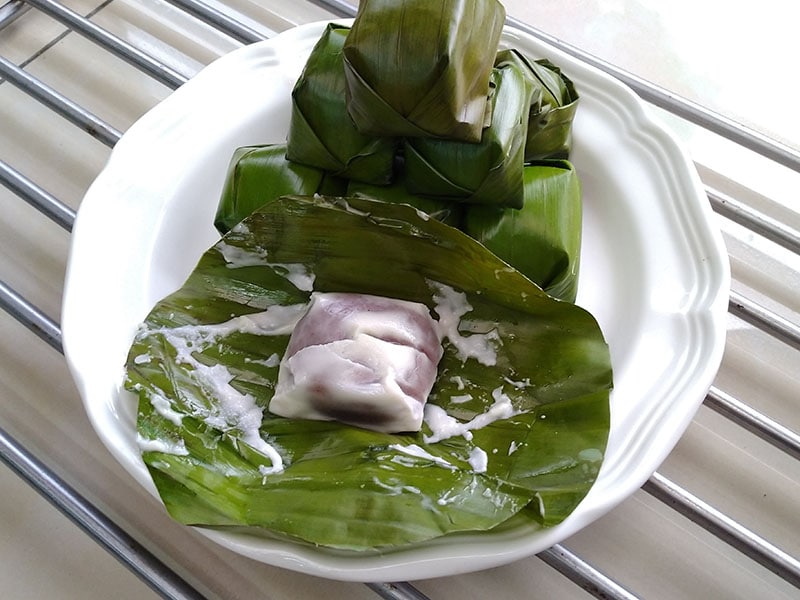 Kuih Koci (or Kue Koci/Kochi) means "Passover cake" in English. It originated in Southeast Asia, especially Indonesia, Malaysia, Singapore, and Brunei.
This dessert is a type of Kuih, which is a term including bite-sized cakes, cookies, pudding, biscuits, or pastries. Traditionally, Koci consists of glutinous rice flour, shaved coconut, and palm sugar.
With the black version of Kuih Koci, people will substitute the white glutinous rice four with black glutinous rice flour, Tepung Pulut Hitam, according to the Malay language.
The black color often refers to death, and the fillings represent resurrection. Besides, there are similar dishes to Koci like Mont Phet Htok from Myanmar or Bánh Phu Thê from Viet Nam.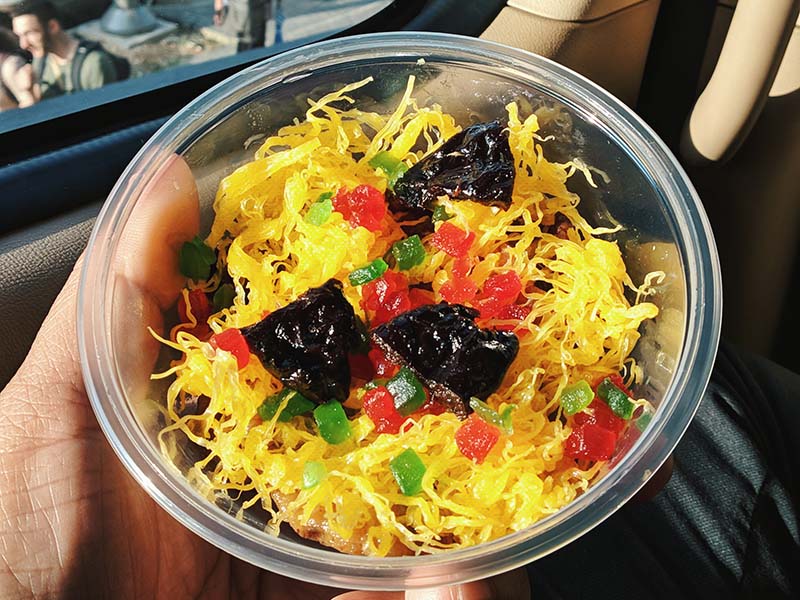 If you are a pudding fan, then Puding Raja will satisfy you in no time. Puding Raja has other alternative names, such as Pudéang Deghaje or Royal Pudding in English.
Puding Raja is a fancy dish usually served to the royal family in Pahang, Malaysia. It's an exceptionally trendy food that has gone viral throughout Southeast Asia. The treat will arouse your palate thanks to its flavor and eye-catching decoration.
The pudding contains banana, evaporated milk, prunes, candied cherries, cashew nuts, and Jala Mas, a traditional treat in Portugal. Each bite will deliver a sweet, crunchy, and nutty flavor. You can enjoy the pudding with the cold sauce made of milk and cornflour.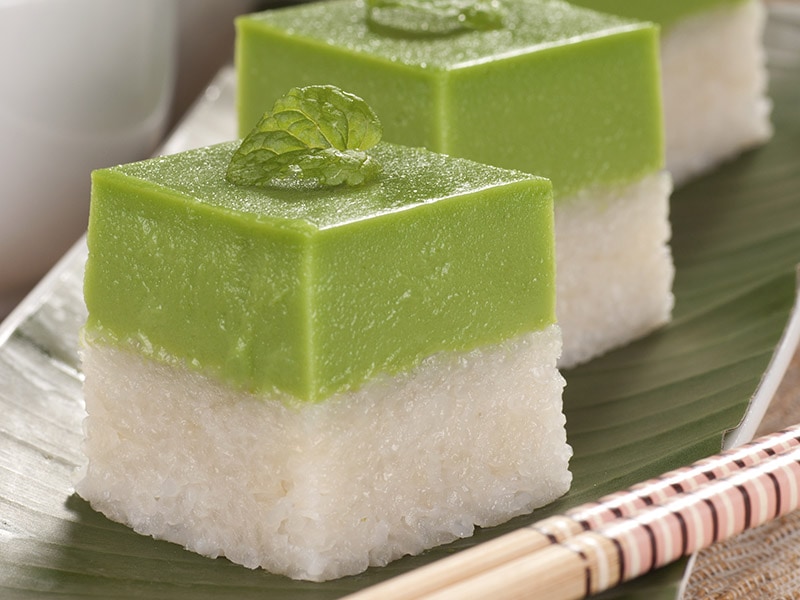 Kuih Seri Muka (Sri Muka or Putri Salat) contains glutinous rice (I recommend Thai sweet sticky rice), pandan leaves, and the vital element: coconut milk. It will bring out the creamy taste and give the whole cake a pleasant aroma.
The cake has two layers: steamed rice at the bottom and a green custard colored by pandan leaves (pandan juice). Back in 2009, Kuih Seri Muka appeared on the list of one of 100 Malaysian heritage delicacies, according to the Malaysian Department of National Heritage.
Besides, you can find this one in morning markets, cake shops, or even school canteens in Malaysia.
Another dessert on the list today is Roti Jala (Roti Kirai or Renji). It is one of the popular snacks in Malaysia and Indonesia.
Roti Jala is a masterpiece by creative Malaysian people who took inspiration from the nets while fishing. Also, this snack has the name Roti Renji, which means "rinsed bread", according to the way Malaysians make it.
It's a type of pancake including flour, eggs, turmeric, and milk. Locals often enjoy the crepes with curries (chicken curry is the best) as a replacement for rice.
Besides, you can find this snack at various Malaysian festivals, birthdays, or even weddings.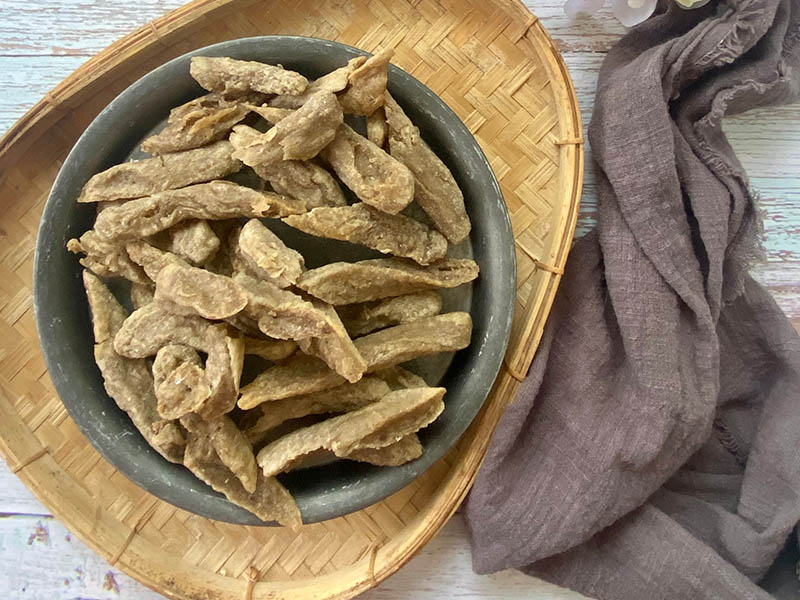 I know Malaysian cuisines are unique, but I never thought of crackers made of fish. With this in mind, I believe Keropok Lekor will amaze you with its fabulous and outstanding flavor.
The traditionally special Lekor is the specialty of the Terengganu region in Malaysia. The snack comprises fish and sago flour as the main ingredients and other optional spice blends.
Fish crackers have a grayish color, and when you eat them, they will offer a fishy taste with a soft, juicy, and chewy interior and crispy texture outside (if you choose the deep-fried method).
Regarding fish, local people use some groundfish such as herring, Ikan Tamban (sardine fish), Ikan Kerisi (threadfin breams), or Ikan Selayang (yellowfish). People often enjoy the fish hot with chili blends at Terengganu or other sauces like mayonnaise and cheese.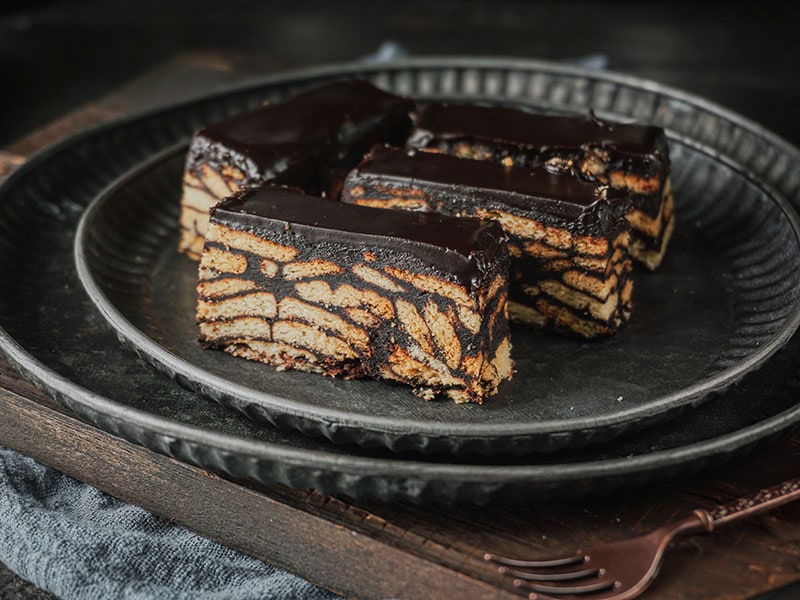 Do you want to taste the German hedgehog biscuits or English chocolate biscuit cake in the Malaysian version? Here I have the Batik cake to fulfill your needs.
Kek Batik, also known as Marie fudge cake, is famous in Brunei, Malaysia, and Singapore. It has the name "Batik" because of its Batik-like concepts from the crushed biscuits.
The cake took inspiration from Tiffin, a cake made of biscuits in Scotland, and the British introduced it to Malaysia. Then, Malaysians adjust the cake with their ingredients to create Batik.
Importantly, Batik is different from Sarawak cake, the one with colorful layers. Traditionally, the cake contains broken Marie biscuit (or Petit Beurre, French biscuit), Milo powder, cocoa powder (or chocolate powder instead), egg, butter (or margarine), and condensed milk.
People often serve Batik during special celebrations such as Christmas and Eid al-Fitr (a Muslim religious holiday).
I know Kek Batik is a cake worth trying, right?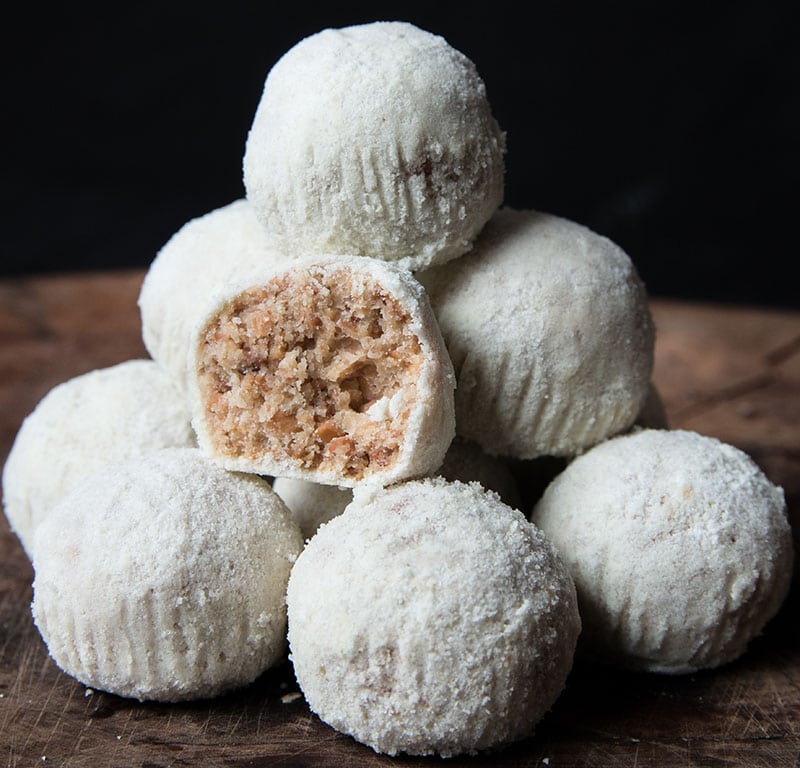 Kue Makmur (or Kuih Makmur) are small cookies usually provided during the traditional Eid al-Fitr occasion. They seemingly stemmed from Middle Eastern Ma'amoul (cookie filled with butter) by Arab merchants.
In Bahasa Malaysia, Makmur in Kue Makmur means successful, victorious, prosperous, and any words that have the same meaning to the lines. It's still unclear why people call them that, but they are tasty festive desserts.
Not only Eid al-Fitr, but Makmur also appears on other occasions such as Diwali, Christmas, and Chinese New Year.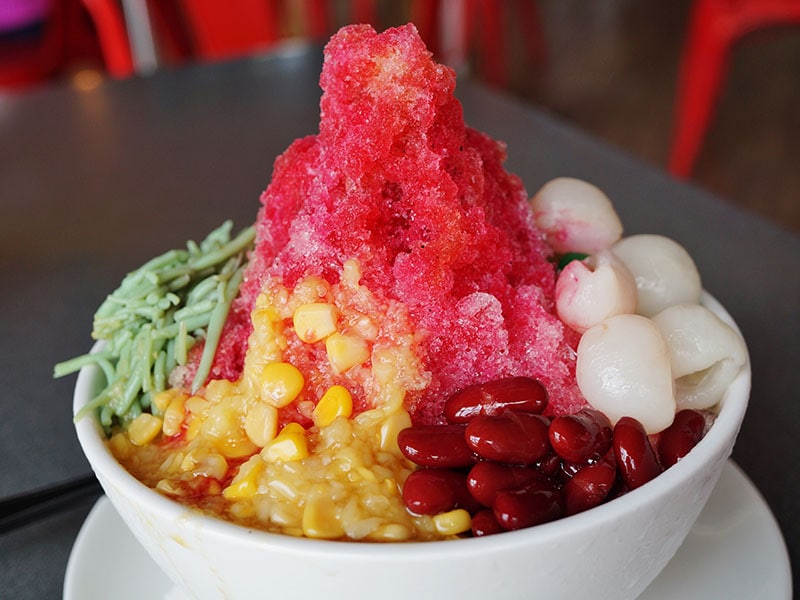 Here I introduce you to a moist soupy dessert that can beat the summer heat: Ais Kacang. This bowl dessert just officially got my kids' approval!
In Malaysia, Ais Kacang is also famous with the term Ais Batu Campur (ABC), which means "ice cube mixed". It is a bowl full of shaved ice and topped with other toppings. Also, this dessert is the most unique among Malaysian delicacies.
Traditionally, people only put red beans on the top. Still, as many variants have gone all over the globe, you can choose seaweed jellies, nuts, dried fruits, cendol, sweet corn, or syrup (palm sugar syrup or rose syrup is all flavorsome).
This must-have thirst-quenching drink will beat the summer heat with creamy, cool, fresh, chewable touch and sweet flavor. I'm sure your kids will take this colorful, frosty, and pleasant bowl for every day's snack.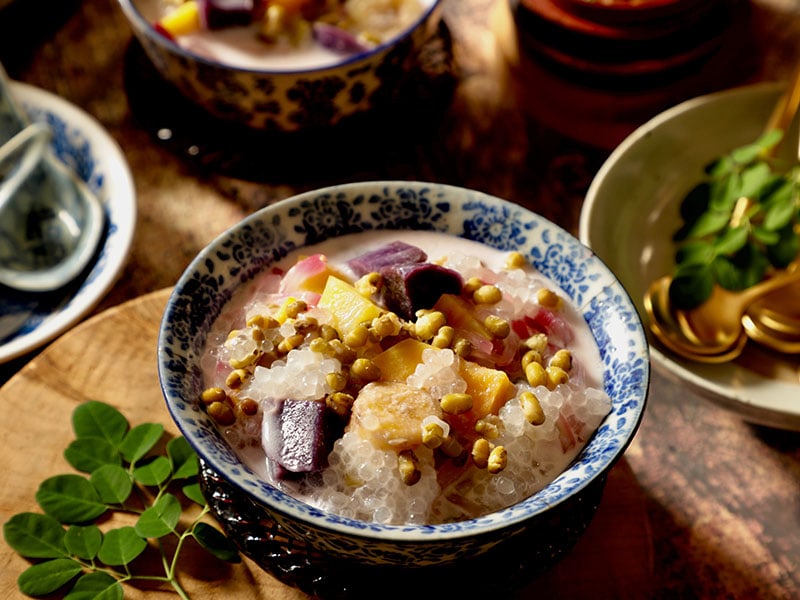 What do you think about a soupy dessert? Ain't shake your head at this, right? Bubur Cha Cha is an iconic treat bowl famous in Maritime Southeast Asia.
Bubur Cha Cha is a famous Nyonya dessert, and you can't doubt its popularity. It spreads not only over the Asian region but also in America. You are likely to stumble on this toothsome coconut dessert when browsing through the menu of many Asian cafes.
The bowl will include pearled sago, sweet potatoes (yellow, orange, or purple), and other components. Each country will have different elements, so this dessert has numerous variants.
One spoon full of toppings will give you a creamy, fatty, sweet flavor that goes well with a soft and chewy texture. You can serve it either cold or hot, but I highly recommend you choose the cold one for its freshness!
Bubur Cha Cha is a perfect dessert if you crave something sweet.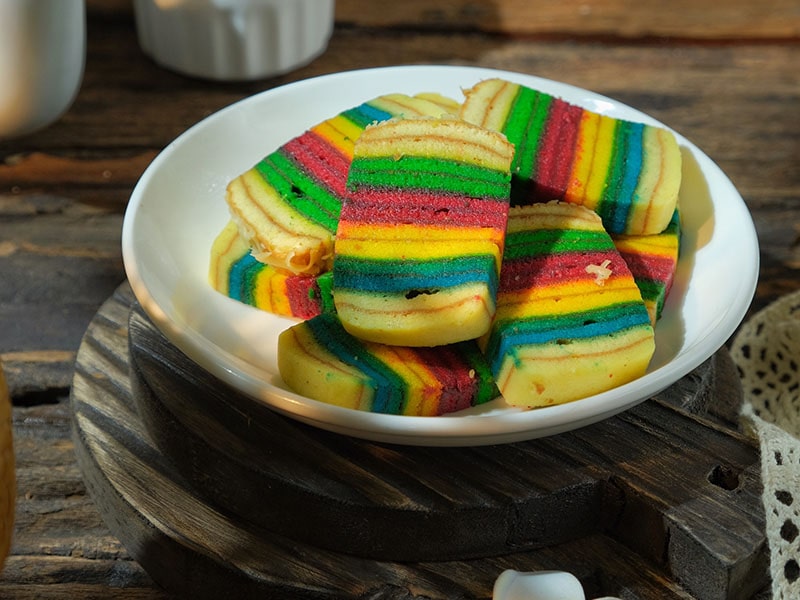 Kek Lapis Sarawak, also known as Sarawak layer cake or Kek Lapis Moden Sarawak, was first invented in Indonesia. The Betawis from Jakarta brought the cake to Sarawak between the 1970s and 1980s.
Afterward, Sarawak locals creatively made their own layer cake called Kek Lapis Sarawak by adding new ingredients to the original cake.
The cake took an idea from a European spit cake with layers of dough made by Dutch wives for the evening tea. The modern version of the Sarawak layer cake was also inspired by how Western people made their cake in the early 1980s.
Kek Lapis Sarawak has two main variations: the regular layer cake and the cake with many colorful patterns. However, no matter the cake's category, it always has at least two colors.
Because of its sophisticated look, the baker usually takes around 4-6 hours to make. Also, the process requires meticulous skill and utmost patience, so the market price of each regular Sakawak cake will range from RM15 to RM30 (3.43 to 6.83 dollars).
Malaysians will serve these colorful cakes during festivals, cultural or traditional celebrations such as Christmas, Gawai (an annual festival of Dayak people), Eid al-Fitr (Holiday of Breaking the Fast – Muslims celebrated holiday), etc.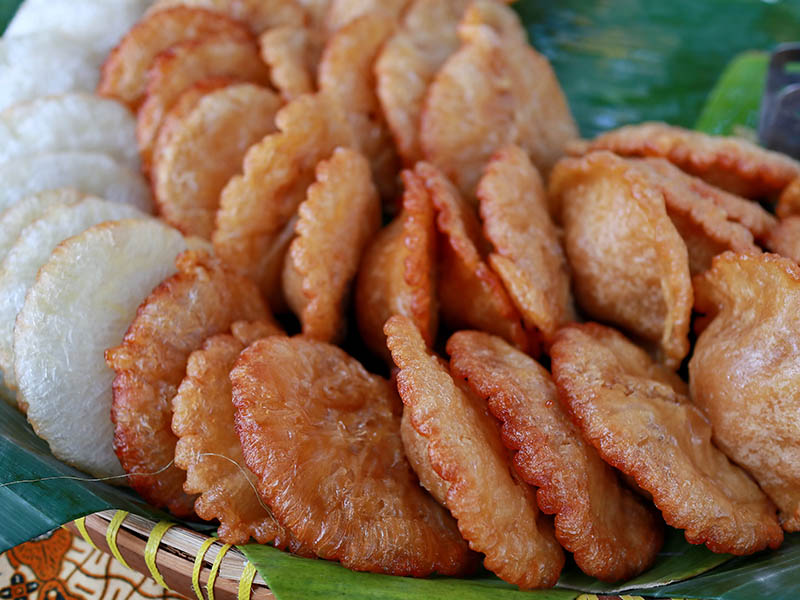 The last Malaysian snack on the list today is Pinjaram. You also will stumble upon other names, including Penyaram, Kui Telinga Tikus, or Kuih UFO.
The name of Pinjaram was inspired by Kuzhi Paniyaram, one of the unique snacks that consist of rice flour in South India.
If you have a chance to visit Sabah, the state of Malaysia, you can find Pinjaram all over the streets or in open-air markets.
21 Appealing Malaysian Main Course Staples That You Must Try
After enjoying Malaysian desserts, I will walk you through some special main course delicacies that contain an exceptional combination of sour, sweet, rich, and spicy flavors. The more you scroll down, the more surprises you get!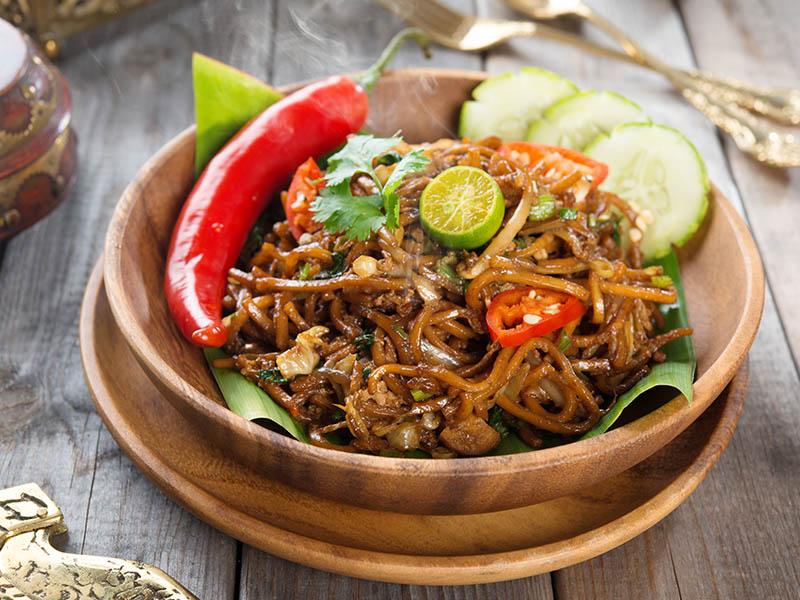 I have to admit that since the day I found out about this delicious plate of Mee Goreng Mamak, I keep munching on them seemingly without end.
Well, this noodle is one of the glorious street foods you must try at least once whenever you place your foot in Malaysia.
You can call it Mee Goreng Mamak or Mamak-style noodles. Mee means "noodles", Goreng means "fried" in Malay, and the name tells itself!
Indian Muslim cuisine was the element inspiring this noodle dish, and then Malaysians sell the dish at Mamak stalls. Mee Goreng Mamak is an excellent combination of yellow noodles from Chinese and Malay, and Indian spice blends.
Let's make Mee Goreng Mamak, the famous Malaysian street food, by yourself.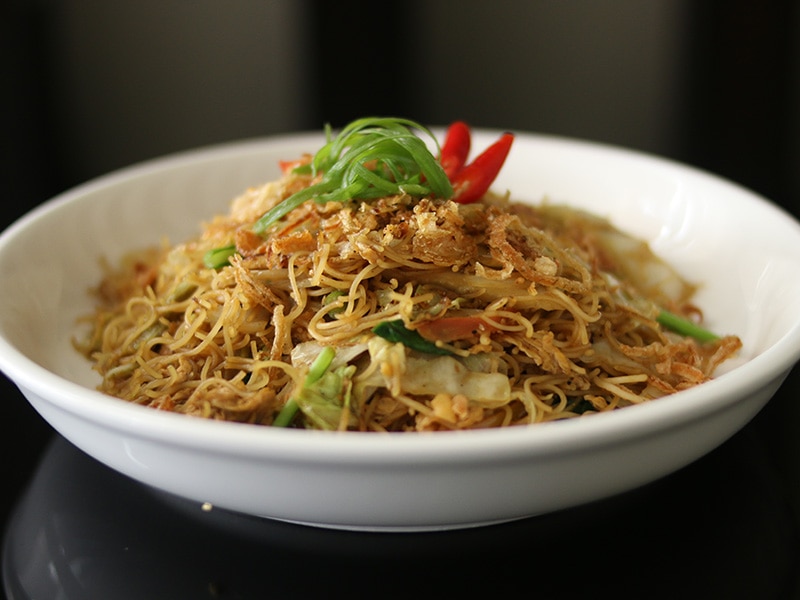 Bihun Goreng, Bee Hoon Goreng, or Mee Hoon Goreng is a stir-fried dish that appears in countless Malaysian cookbooks. It is also an extremely popular Indonesian dish.
The noodles used in this delicacy are mostly rice vermicelli. In case you don't know about this type of noodle, it has a thin form and is related to rice noodles or rice sticks.
Depending on each part of Malaysia, there will be different toppings. Besides, there are two main variations of Bihun Goreng: Bihun Goreng Utara and Northern-style fried rice vermicelli. Locals often apply the dishes to their breakfast or snack time.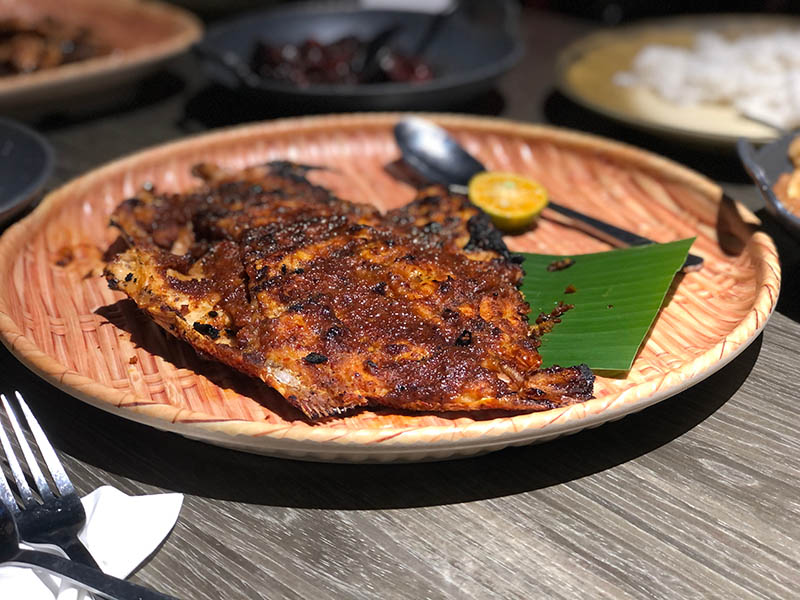 Malaysian Ikan Bakar will do the trick if you're planning to go camping and need some food that can spark off the trip. Because this dish will use grilling as the primary technique, it's just 100% perfect for outside activities.
As I mentioned, Ikan Bakar is a whole charcoal-grilled fish (or other types of seafood). People usually marinate the entire fish in advance, then use a banana leaf to wrap it, preventing it from getting stuck and sticking to the grill.
Spice blends are also so crucial that if you lack these, they won't be Ikan Bakar. The spice usually has chili pepper, sweet soy sauce, and turmeric, resulting in the super spicy flavor and the reddish-yellow dish.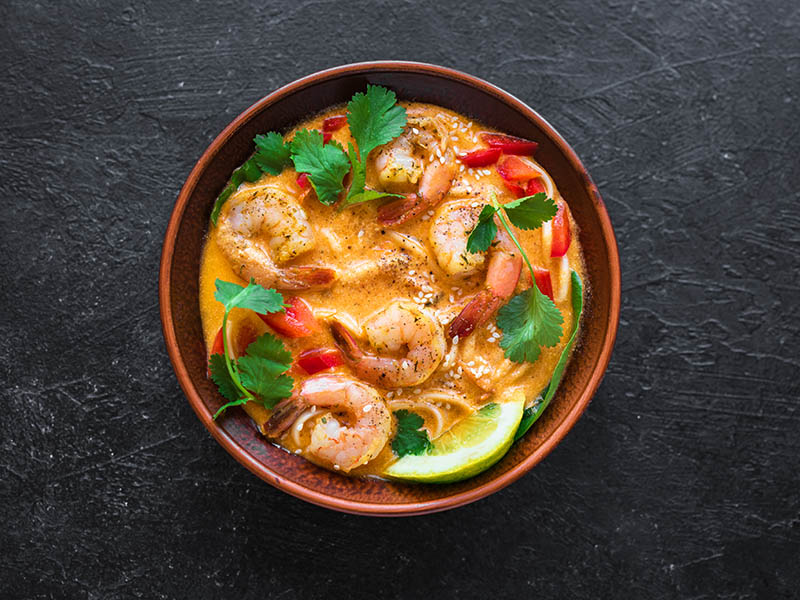 Looking at the picture, I mean, who can resist this super spicy, flavorful Laksa? Technically, it's a bowl of noodles derived from Maritime Southeast Asia and created by Peranakans.
Well, the exact origin of Laksa remains complex underground, so it has several recipes throughout Southeast Asia. However, Laksa still has two indispensable components: noodles and soup.
Traditionally, people will use thick rice noodles (Laksa noodles) or thin rice vermicelli. And the important thing that also helps build up the deliciousness of Laksa is the broth.
It consists of rich coconut milk (or coconut cream), shredded fish (mackerel), lemongrass, and other vegetables such as pineapples, mint leaves, or ginger flowers. If you're successful, the broth will deliver a tangy, spicy, earthy, and sour flavor.
Not adding Laksa to your main dishes menu is a big mistake!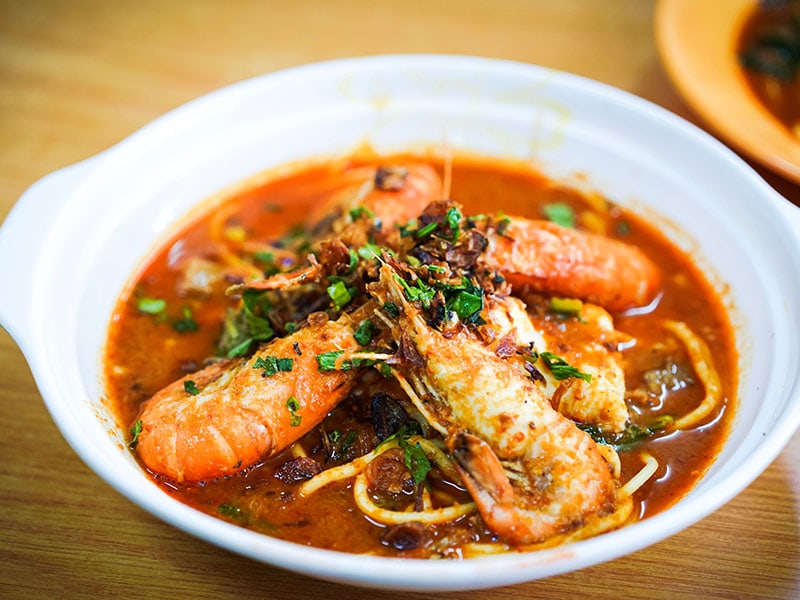 Malaysia seems to be dominant in noodles, and I have to be real honest, noodles are one of the most delicious and convenient foods. And now, may I introduce Mee Bandung Muar to lighten up your meals?
Mee Bandung Muar (Mee Bandung) is a very popular dish in Muar, Johor, Malaysia. Bandung, when translated into English, means "mixture", "combine", "doubles", or "pairs".
The delicacy uses yellow noodles, a big highlight for the whole dish, not to mention the thick and concentrated flavor from eggs, dried shrimp, onion, spices, shrimp paste, and chilies.
You can also make it fancier with prawns, meat, fishballs, shredded chicken, and other optional vegetables. It has spread over Malaysia and Singapore to satisfy all the Mee Bandung's lovers. But the unique and authentic version only appears in the Muar district.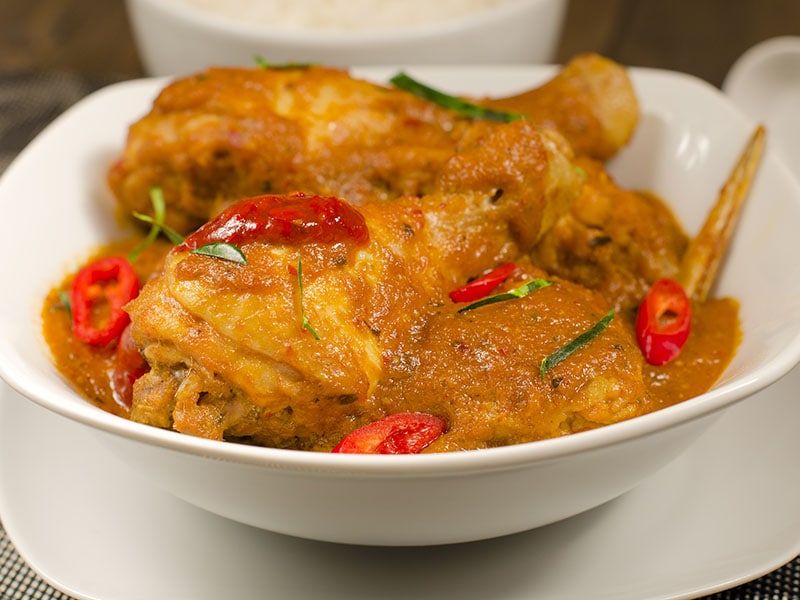 Not gonna lie, Kari Kapitan has a solid position on my go-to menu whenever I don't know what to eat. When translated into English, Kari Kapitan is a Captain's chicken curry.
This toothsome staple is prevalent on Malaysian and Indonesian dining tables. It originally belongs to Nyonya cuisine, a great combination of local Malaysian and Chinese made by the Peranakan people.
Besides, thanks to a combination of the herbs and spices of Malays and Chinese, they distribute the unique flavor and beautiful orange color to the dish.
Compared to the typical chicken curry, this one has a thicker, richer, drier base and potatoes filled with tender and juicy chicken. You can eat it alone, yet this dish can be more remarkable if you try it with Jasmine rice. Better serve hot, mates!
You can not go wrong with Kari Kapitan!
Nasi Kerabu might be less popular than other Malaysian delicacies, but trust me, this one will take a spotlight on your breakfast (or any main dishes) menu. And the most outstanding character here is the blue rice.
You can find Nasi Kerabu in the east coast states of Peninsular Malaysia, including Kelantan and Terengganu. Also, the dish has spread throughout Malaysia and even in southern Thailand with the name Khao Yam.
The blue rice gets its color from the petals of Clitoria Ternatea, Asian pigeonwings often used in natural food coloring for culinary and traditional medicine. Besides, you can turn them yellow with turmeric or just leave them plain white. Flavorful anyways!
You will eat this beautiful blue rice with dried fish or fried chicken, crackers, pickles, and other vegetables or salads. You can also enjoy the staple in Asian modern restaurants, traditional taverns, markets, and street vendors.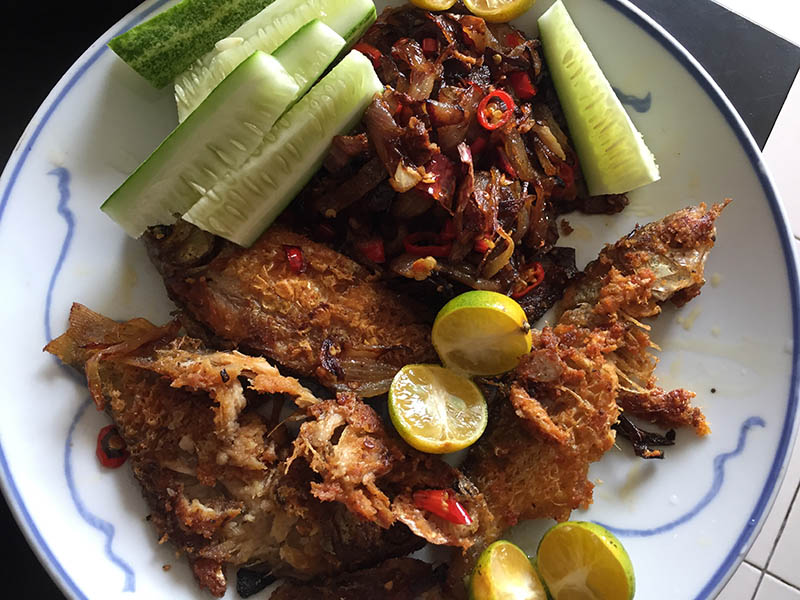 Pekasam (Pakasam or Bekasam) is literally a cooking technique used to ferment the fish mainly in Perlis, Kedah, Perak in Malay Peninsula and Sarawak in Borneo.
As you may not know, asam in Pekasam means "sour" in English, which also stands for the fermented preparation that makes the fish sour.
In the peak season, Malaysians will make a big catch of fish, then bring them to a different fermented process, and save it for the rest of the year. Malaysians usually use freshwater fish and ferment them with salt, palm sugar, toasted rice grains, and Asam Gelugur.
People often deep fry the fish to the perfect crisp and absorb them with steamed rice. Besides fish, locals also ferment beef strips, chicken, mutton, and squid eggs. They will bring the fish to the frozen stage, and after the Pekasam process, you should use them up within six months.
The fish will be tender, sour, and juicy inside yet still achieve a golden brown color with crumbling crunchy texture outside. It's hard to resist, right!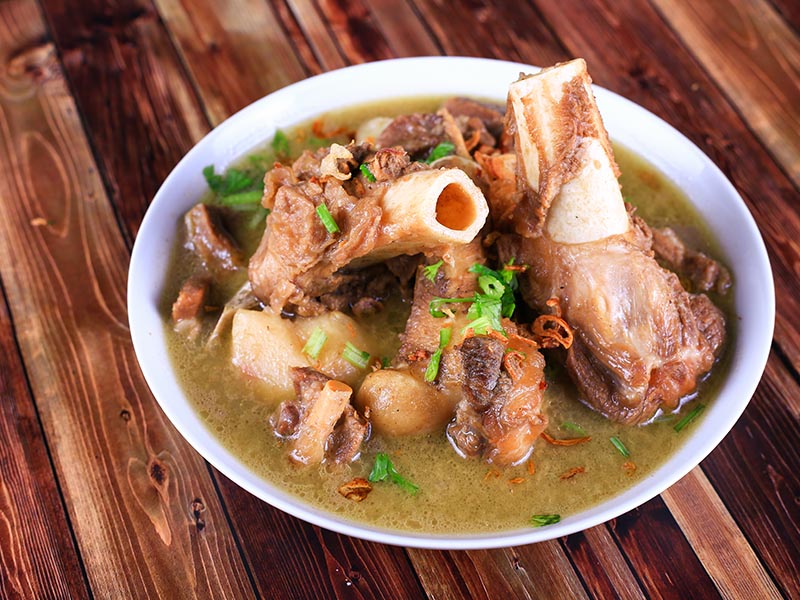 If you need something to warm your heart, you should try Sup Kambing from Southeast Asia. It's Malaysian mutton soup and is common in other regions like Brunei Darussalam, Indonesia, and Singapore.
Although Sup Kambing has achieved popularity throughout Maritime Southeast Asia, the dish seemingly belongs to Arabs and Muslim Indian people. In the 18th to 19th century, they migrated into the Malay Archipelago and introduced Sup Kambing.
Sup Kambing of Malaysia and Singapore mainly came from the Muslum Indian. Meanwhile, Sup Kambing in Indonesia presents the Dutch culture created by the Arab community.
In this dish, mutton relates to goat meat, not lamb meat as you imagined. The dish often contains goat meat with a thick, rich oil and yellowish broth.
In my opinion, Sup Kambing deserves a chef kiss, isn't it?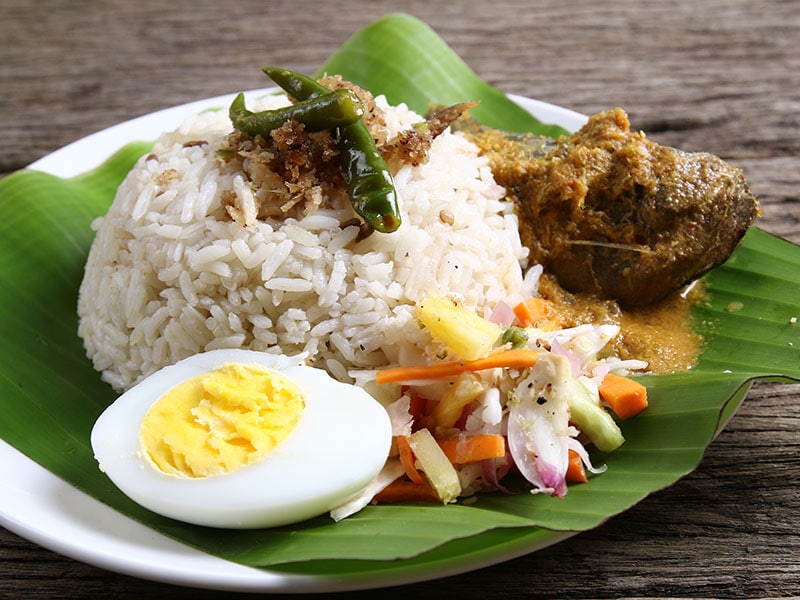 If you traveled to Malaysia and didn't try Nasi Dagang, you missed a bargain! The extraordinary thing is that Nasi Dagang doesn't use typical rice.
Instead, Malaysians steam the rice mixed well with a combination of coconut milk, lemongrass, sliced shallots, and fenugreek seeds, then serve it with fish curry. Or sometimes, they will add coconut milk while the rice reaches a moderately cooked stage.
This famous rice staple is a beloved breakfast in Peninsular Malaysia, such as Kelantan, Terengganu, some regions of Pahang, and on the east side of Johor. The dish also appears outside Malaysia, including Narathiwat, Yala, and Pattani in Southern Thailand.
Some Malaysian traders created the dish, and they usually packed this rice dish as their reserve meal while they were working. As a result, Nasi Dagang also has another name, trader's rice, which is still prevalent.
Nasi dagang is well-known with its two main variations: Nasi Dagang in Kelantan and Nasi Dagang in Terengganu.
The big difference between the two dishes is that the Kelantan one will use Beras Nasi Dagang, which is less glutinous and has a light purple color. Meanwhile, the other one will apply regular white rice.
Besides, in Kelantan, people will cook curry using typical curry powder; in Terengganu, locals will use their unique herbs and spices to make it.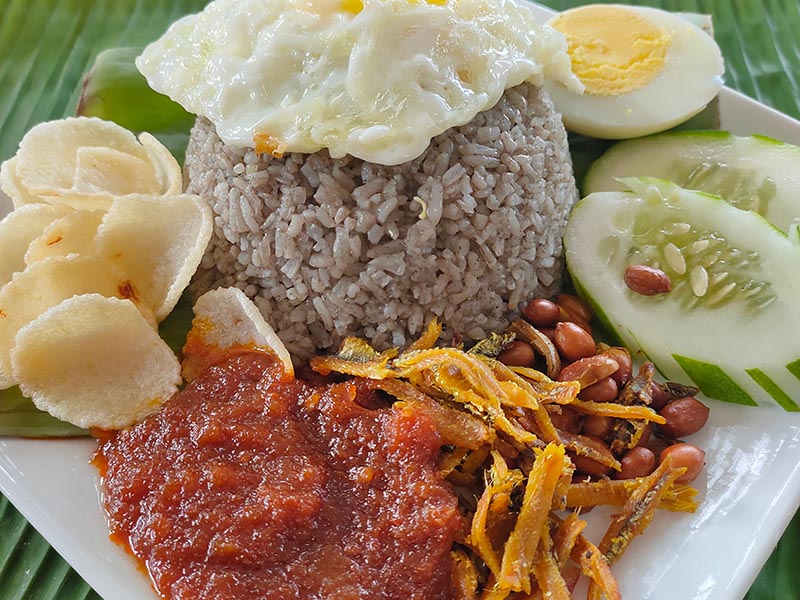 Nasi Lemuni is another popular Malaysian dish using vitex trifolia (Daun Lemuni) as the main element for enhancing the flavor and making the rice green.
Nasi Lemuni originated in North Peninsular Malaysia, especially Kedah and Penang. It's almost similar to Nasi Lemak, except for the vitex trifolia.
For those who have no idea about vitex trifolia, it's a herb that contains a variety of benefits such as supporting blood circulation, balancing hormones, and bettering digestion.
Besides vitex trifolia, this rice staple has other ingredients, including fenugreek, lemongrass, ginger, and black pepper. People often serve Nasi Lemuni with Sambal, a chili paste made of different chili peppers and other ingredients, fried chicken, boiled egg, etc.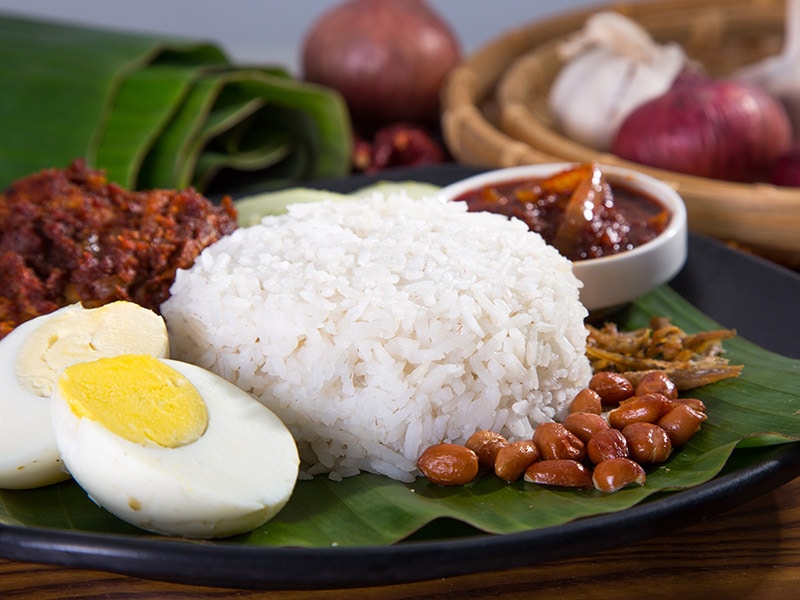 Nasi Lemak, widely known as Malaysia's national dish, is an iconic breakfast of people there every day. When you visit this country, you must try this wonderful delicacy to feel the cultural essence of Malaysia.
Although in the Malaysian language, Nasi Lemak actually indicates "fatty rice", its meaning is often "creamy" or "rich".
People took Nasi Lemak as the dish's name due to its process of soaking the rice in coconut cream (and sometimes with pandan leaves) and steaming that mixture until it turns out perfectly cooked.
With the traditional Malaysia version, Nasi Lemak includes Sambal (spicy sauce), Ikan Bilis (anchovies), one boiled egg, and peanuts. And depending on the different states of Malaysia, there will be a variety of topping options added to the food.
And if you are a vegetarian, don't worry that you can't enjoy Nasi Lemak because vendors and restaurants in some parts of Malaysia will substitute some components with vegetable toppings.
Here, I provide you with a detailed origin of Nasi Lemak.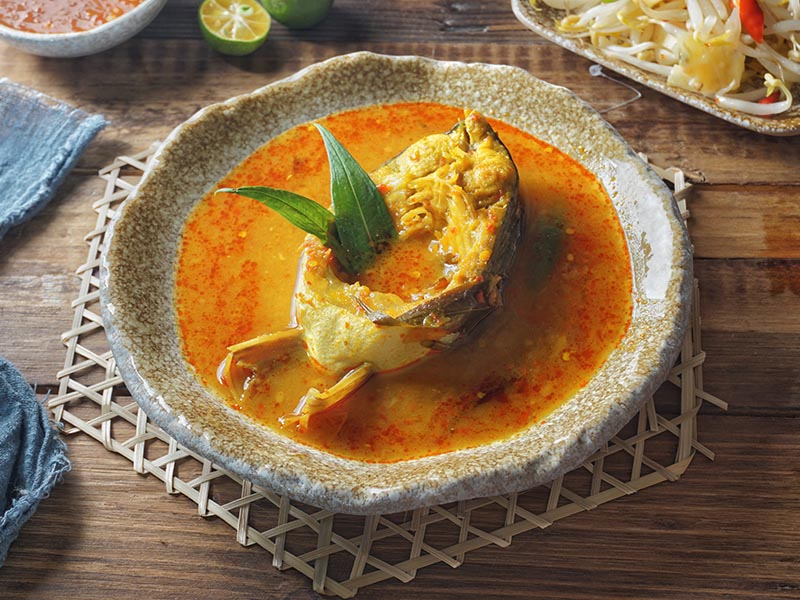 If you love durian the most on the list of diversified fruits in Malaysia, I believe you can try this delicacy without a flinch!
Patin Tempoyak consists of Tempoyak (fermented durian) and Ikan Patin, a type of catfish also known by other names like Basa fish or Pangasius. The unique thing that built up Patin Tempoyak's reputation is the Tempoyak paste, a fermented durian.
To make Tempoyak, people will leave a mixture of the fresh durian with a pinch of salt at room temperature for 3-5 days for fermentation.
Tempoyak (Asam durian or Pekasam) exists mostly in Maritime Southeast Asia, especially in Malaysia and Indonesia. It's also prevalent from Kuala Lumpur to Sarawak.
Hikayat Abdullah's book refers to Tempoyak as the staple food for Terengganu locals and the specialty of ethnic Malays. People usually describe Tempoyak as sour and salty, with a stack of durian flavor.
You can find the catfish mainly in Temerloh and Pahang. And it is a great ingredient when combined with Tempoyak. You can replace the fish with any fatty fish that can pair well with the intense fermentation of Tempoyak.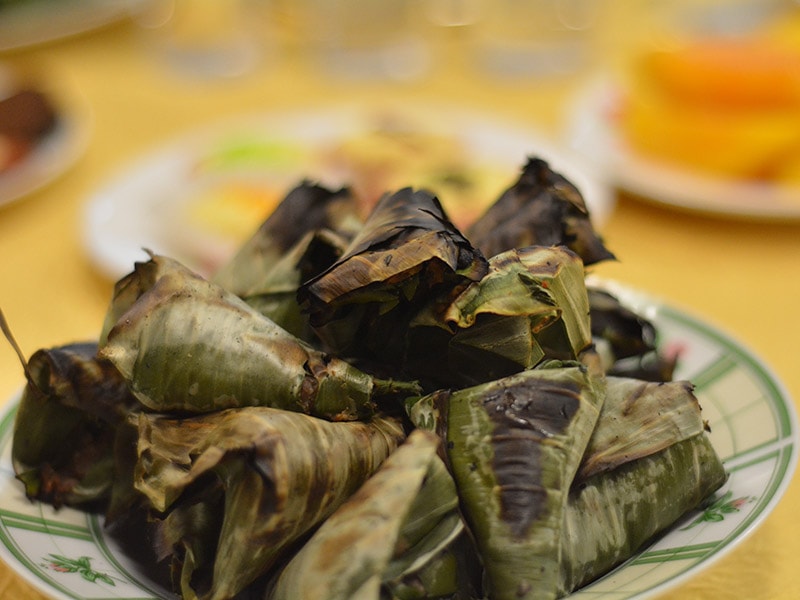 In Terengganu, on the East Coast of Peninsular Malaysia, there are a lot of traditional foods made of fish that allure tourists, and Sata is one of them. This one is also considered a type of famous Malaysian fish cake.
Owing to the abundant source of fish, people in Terengganu came up with many food ideas to take the best advantage of them.
The name "Sata" also indicates the grilling method that Terengganu locals will use bamboo sticks to skew through Sata and then grill them to perfection.
Sata has spiced fish meat (usually sardines, a small, oily fish containing high nutrients), onions, grated coconut, and optional spices as the filling, and covered with the banana leaves.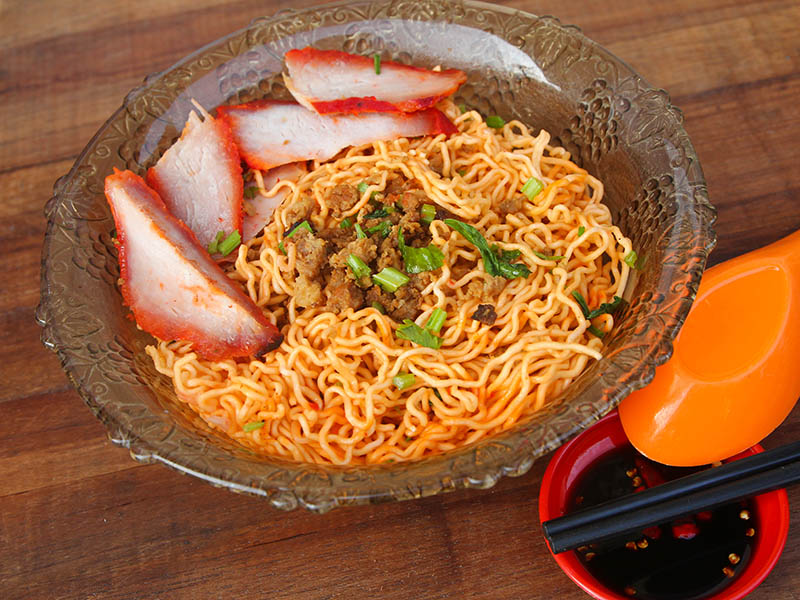 Mee Kolo (or Kolok Mee) is another delicious noodle staple coming from Malaysia; the country embraces strongly diversified cultures and races.
This noodle is well-known in Samarahan and Kuching areas in Sarawak state. It appeared around the 6th century with the name "Hakka Mee". But to be exact, Chinese merchants are people who introduced the dish to Sarawak.
And as time went by, people changed the texture as well as the form of the noodle, then the name "Mee Kolo", which means "dry noodles" in English, was passed on up to now. Although the dish has the meaning of dried noodles, it doesn't taste dry at all.
Mee Kolo doesn't have a fixed recipe. It can change from time to time depending on the place or the appetite of the person who cooks. However, a plate of Mee Kolo will usually include egg noodles, sliced pork (or minced pork), fried onions, and soy sauce.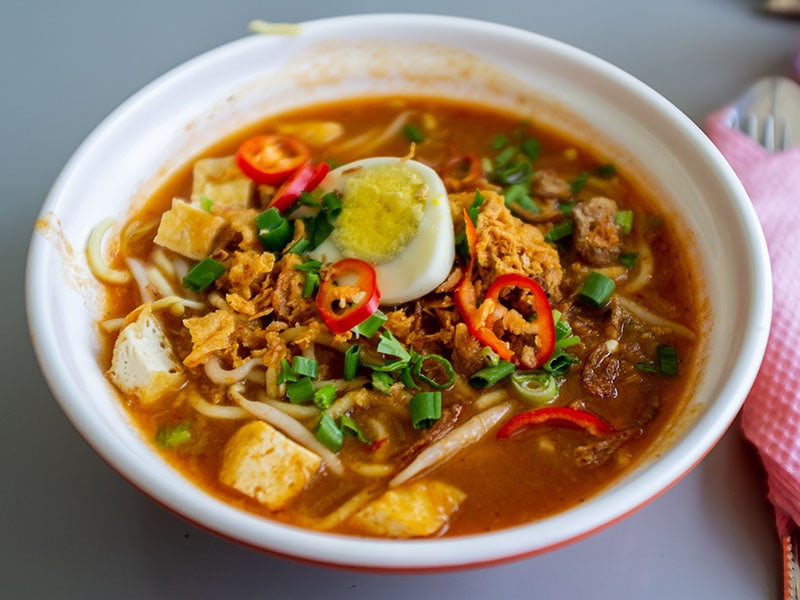 Mee Rebus is another nourishing Asian dish that visitors to Malaysia, or Maritime Southeast Asia in general, can't miss out on.
Regarding the name "Mee Rebus", it literally means "boiled noodles" in English. Mee Rebus contains yellow egg noodles and gravy as the main ingredients. Also, depending on each state in Malaysia, they can use either dried shrimp or fermented soybeans to cook the gravy.
In the old days, mobile hawkers or street vendors brought along a stove, a pot containing water, and some essential components for Mee Rebus to sell to customers.
Here is Mee Rebus with detailed information that will enhance your knowledge.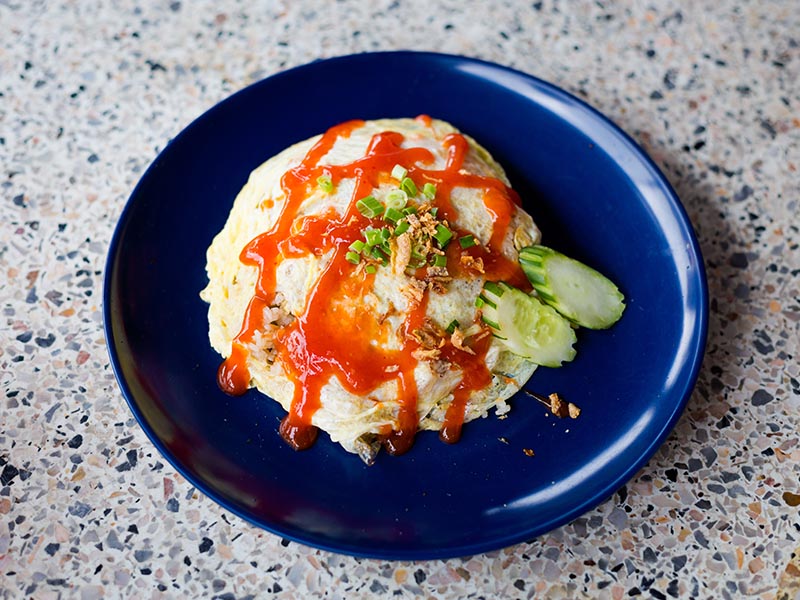 Who says Malaysia doesn't have Omelet? Let's show them Nasi Goreng Pattaya (Nasi Pattaya). This Malaysian-style Omelet might be even more delicious, fulfilling, and special than the regular one.
People make the dish by wrapping fried rice in the kitchen into an Omelet. People often enjoy it with tomato ketchup, chili sauce, or Keropok (or Krupuk, a type of cracker)
Some sources say the name itself may come from Pattaya in Thailand, but it has achieved more popularity in Malaysia compared to Thailand, where the dish hardly appears.
On the other hand, according to other information, Nasi Goreng Pattaya indeed originated in Malaysia, but people took Pattaya in the name most likely to make it more unique.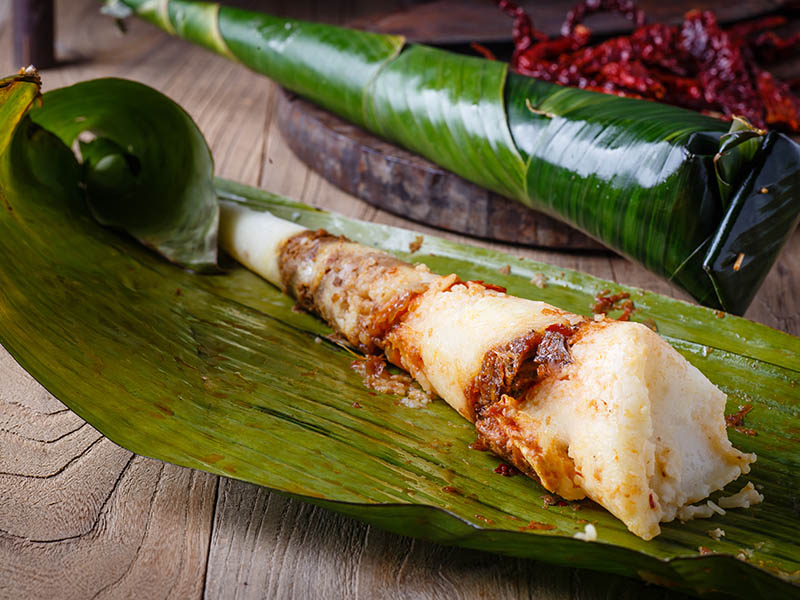 Look at the picture! This Nasi Tumpang looks like ice cream but is full of rice, eggs, beef or fish floss, chicken, thick curry, and other condiments as its ingredients.
Kelantan locals will layer each ingredient in the form of a cone shape, making it stand out above other foods.
Nasi Tumpang has its home at Kelantan, Malaysia. A long time ago, Kelantan workers or explorers often brought this delightful rice dish along with them for their main meal.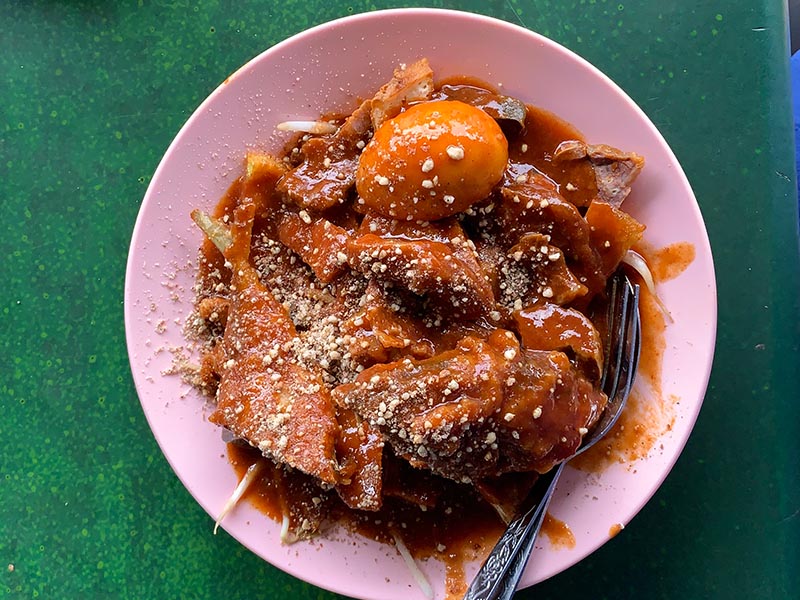 When mentioning salad, how can I forget Pasembur, a famous Malaysian plate of salad with shredded cucumber, turnip, other vegetables, and seafood (usually prawns, squid, or octopus)?
Also, to enhance the flavor, locals will add their extraordinary sweet and spicy nut sauce. The rich flavor from the sauce with a variety of toppings will be a memorable dish if you have a chance to try it.
The name of the dish, Pasembur, came from Penang in Northern Peninsular Malaysia. Besides, Rojac Mamak is another term of the dish that spreads over the rest of Malaysia.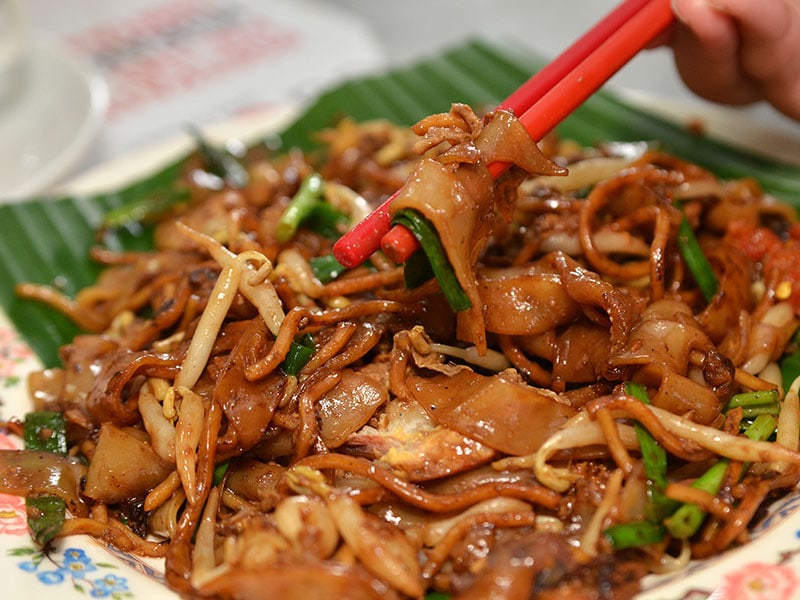 Char Kuey Teow is a unique stir-fried noodle dish belonging to Malaysians. The plate is a famous food in Penang, Malaysia, but tourists still find it in other parts of Malaysia.
In the past, people created Char Kuey Teow to serve Chinese workers in Southeast Asia. That said, the noodles of the dish also had inspiration from Chinese rice noodles.
From the 20th century, the dish started to spread over Southeast Asia, especially Malaysia and Singapore.
According to Hokkien and Teochew languages, Char means "stir-fried"; meanwhile, Kuey Teow refers to the flat rice noodles.
Locals will combine these noodles with other essential toppings such as soy sauce, Belachan (shrimp or prawn paste), bean sprouts, etc.
Besides, fishermen or farmers usually sell Char Kuey Teow in the evening to increase their revenue source. Thanks to its affordable price and high fat, it is a crazy temptation for those people who want to absorb energy at a lower price.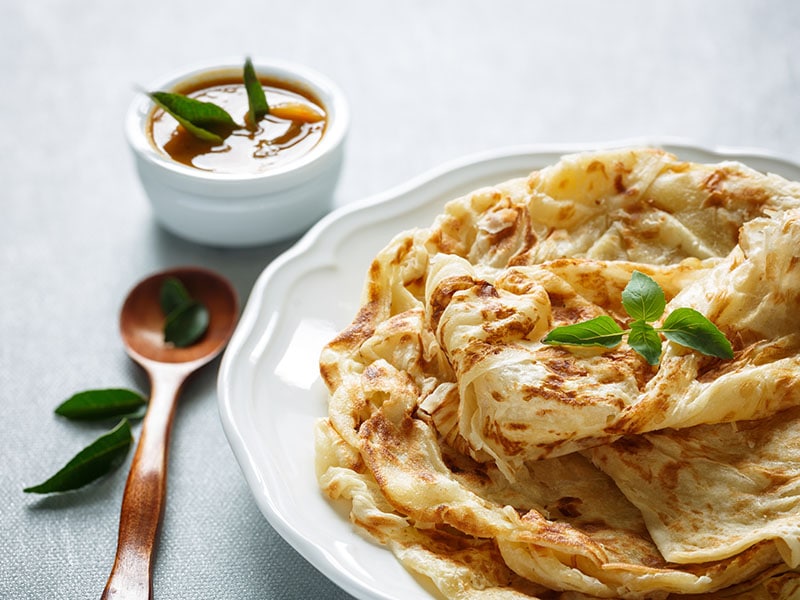 Last but not least, this traditional Malaysian flatbread will be your new favorite food for breakfast. In my opinion, it looks a bit like a pancake but with an extraordinarily wonderful flavor, and not stopping at breakfast, it can be any meal of the day.
You can call the dish Roti Canai, Roti Prata, Roti Chennai, or Roti Cane. Although it originated in India, it still has a massive fan following in several countries in Southeast Asia, especially in Malaysia, Brunei, and so on.
This bread consists of ghee, flour, and water. Sometimes, if local people want it to be sweeter, they will add condensed milk. To create flaky layers, they usually do kneadings like flattening, oiling, and folding.
Roti Canai presents a layered texture with a soft and fluffy inside combined with a bit of crispy crust. You can even peel each layer off to enjoy as an amusing snack!
Besides, people often enjoy Roti Canai alone or serve it with dal and other curries such as Kari Kapitan.
You can follow this instruction to make yourself one and appreciate the deliciousness of Roti Canai.
Hey Gastronomes! Have You Found Your Favorite Malaysian Staples Yet?
After reading my article, I believe you will fall in love with at least one plate (or more!) on the list. If you have a chance to travel to Malaysia, a country rich in diversified cultures, you have to explore their cuisines, not only foods but also drinks, fruits, and other customs.
In the comment section below, I always welcome any of your experiences with these great staples. Don't forget to spread this post with your beloved ones if you find it helpful. I highly appreciate that!
If you have some ideas or other Malaysian foods, don't hesitate to share them with me and everyone below. That will be very nice of you! Thanks a bunch!