How do you come up with luau finger food recipes? You don't need to think about this question anymore since I will provide you with the most scrumptious and impressive luau finger food recipes right now.
Finger foods are small portions of food that you can use your hands to eat. You usually find them at social events or fun parties, and these luau finger foods are more special. Luau finger food recipes certainly get the spotlight on any occasion, whether you live in Hawaii or not.
These luau finger food recipes are often pineapples, grilled foods with tropical flavors. Hawaiian food combines lots of delectable flavors, making it unique compared to other food. Keep reading this post to find out the best recipes for luau finger foods.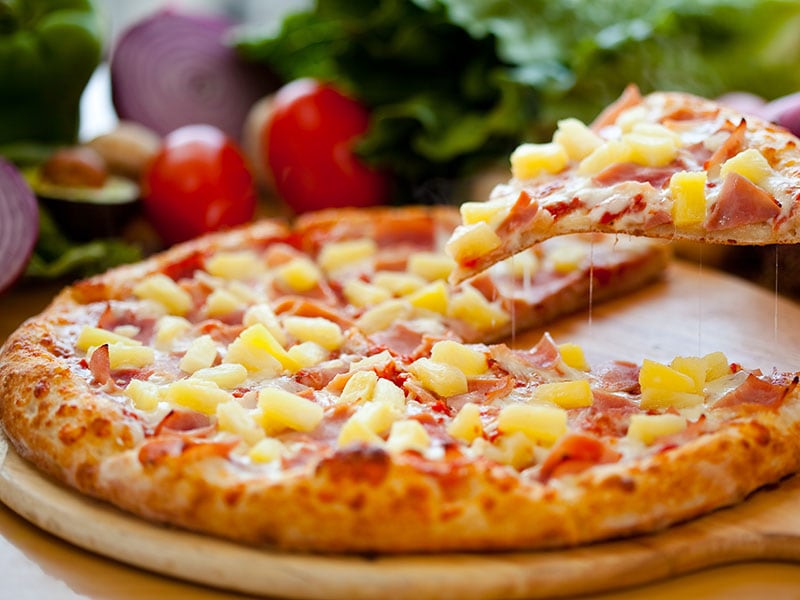 The Best Luau Finger Food Recipes That You Are Looking For
Here are the ultimate and outstanding luau finger food recipes that you cannot miss to add to your daily cooking recipes for new twists. These fabulous recipes are categorized into three groups: side dishes, main courses, and desserts as below.
Side Dishes
Hawaiian Grilled Tofu Skewers
Hawaiian Rolls
Hawaiian Banana Nut Bread
Main Courses
Hawaiian Meatballs
Hawaiian Chicken Kabobs
Hawaiian Hot Dogs With Teriyaki Aioli
Aloha Burgers
Spam Musubi
Slow Cooker Hawaiian Pulled Pork
Hawaiian Huli Huli Chicken
Hawaiian Beef Teriyaki Skewers
Hawaiian Ham And Cheese Sliders
Hawaiian Pizza
Desserts
Hawaiian Mango Bread
Hawaiian Pineapple Coconut Cookies
Hawaiian Pineapple Coconut Poke Cake
Furikake Chex Mix
Lilikoi Bars (Passion Fruit Bar)
Hawaiian Butter Mochi
Hawaiian Guava Cake
Awesome Luau Finger Side Dishes That Melt In Your Mouth
Below are the top four luau finger side dishes that are super scrumptious and incredible I picked up for you. Let's explore together to see how excellent these recipes are.
Pineapple tofu skewers are the perfect vegetarian meal. This great skewer starter recipe is simple to make in just ten minutes. Besides a grill, you can also cook these pineapple tofu skewers on a griddle or a pan based on what method is convenient for you.
You should cut pineapple, tofu, and other veggies into equal cubes to make sure they brown evenly. Drizzle some oil on a pan and flip until they are cooked on all sides. After cooking for a minute, add more marinade and a splash of water and heat until the sauce is concentrated.
Hawaiian rolls are so soft, fluffy with a perfect golden brown and a sweet, buttery flavor. These Hawaiian sweet rolls have a comforting aroma that can make your kitchen smell heavenly.
This delicious side dish is pretty straightforward to make for your family to enjoy on the weeknight dinners. You can serve these delicious sweet rolls with a bit of butter or a teaspoon of jelly or jam.
Moreover, you can also serve these Hawaiian rolls for your quick breakfast by adding a slice of bacon to these rolls. Top your rolls with melted butter if you prefer.
This scrumptious Hawaiian banana nut bread is the greatest side dish you have tasted ever and is an ideal option to add to your favorite finger food. To make this fantastic sweet bread for your luau party, you just need a few staple ingredients like mashed bananas, pineapple, and eggs.
All you need to make this banana nut bread is a whisk and a bowl. You need to combine wet ingredients first and then add dry ingredients later. Then, place the batter in two loaf pans and top with some turbinado sugar to make the bread topping crunchy.
Check your bread during the baking process. If it begins to get too brown, wrap it with foil for about 15 minutes. You can replace walnuts with pecans or macadamia nuts if desired.
Banana nut bread will sweep your whole family off their feet. You can see this video to know more:
Out-Of-This-World Finger Food Main Courses For A Luau Party
Here are the outstanding finger food main courses packed with delicious flavors out of this world. Let's discover now and add them to your favorite main dishes.
These Hawaiian meatball skewers are made with meatballs, peppers, red onion, and fresh pineapples brushed with a tasty sweet and sour sauce. This fantastic dish is so effortless and fast to make. It is the perfect way to enjoy your summer nights.
Brush your meatball skewers with barbecue sauce or homemade sauce made with pineapple juice and soy sauce. You can add a bit of rice wine vinegar and two tablespoons of cornstarch to thicken your homemade sauce.
Then, place them on the grill until slightly charred. Remember to turn and bast with the sauce occasionally. However, you can also brush the sauce after grilling if you prefer.
These Hawaiian chicken kabobs are brushed with a spicy and sweet glaze, making them more delicious for a perfect dinner. This amazing main dish is made with the skewers of chicken, pineapples, bell peppers and has a delicate smoky charred flavor by grilling.
Hawaiian chicken kabobs are not hard to make. You can serve it with salads, and feel free to choose your favorite fruits and vegetables to make great skewers. Tropical fruits like pineapples are the best choice to have the best flavors.
You can brush your skewers with olive oil before grilling to avoid sticking. Making Hawaiian chicken kabobs for your luau party is the right decision, and your guests will love them so much.
Hawaiian hot dog with teriyaki aioli is an astonishing main dish you can not miss at your luau party. With fresh pineapple and a unique, tasty sauce, this hot dog is worth giving a try, thanks to the incredibly sweet and savory flavors.
After grilling your hot dogs, add one cheese slice to each hot dog and let the cheese melt. Then, brush the inside of your hot dog buns with olive oil and put them on the grill for one to two minutes.
After that, take it out of the grill, add one hot dog into each bun, and top with chopped mango, diced tomato, grilled pineapple, and sliced red onions. Then, add a drizzle of teriyaki aioli and serve with extra dipping sauce.
Aloha burger is a juicy cheeseburger and a perfect luau finger food that you can not refuse. This amazing burger is topped with crispy bacon and grilled pineapple, making your day happier once you eat it.
This simple yet delectable sandwich recipe is effortless to make with all the staple ingredients in your pantry. Grilled pineapple and bacon in this recipe are a perfect pair. The unique addition of grilled pineapple makes your burger extra juicy and flavorful.
On the other hand, crisp bacon balances the sweetness of pineapple with its salt flavor, making your main course perfect.
You can not miss aloha burgers when celebrating a luau finger food party. You can see this video to know more:
This spam musubi is a combination of old-school Japanese dishes and Hawaiian cuisine. This amazing sushi is packed with pan-fried Spam covered in teriyaki sauce and sandwiched by fresh rice and roasted seaweed.
Spam musubi sauce used in this recipe is a teriyaki sauce made with sugar, soy sauce, and wine vinegar or mirin if you have one. Spam is fried, then teriyaki is added to the Spam to make it shiny and caramelized. This fantastic dish will surely get the spotlight at your luau party.
This slow cooker Hawaiian pulled pork is an ideal and easy main dish for a family-friendly meal. This pulled pork is incredibly moist and delicious after slow-cooking with soy sauce, pineapple juice, and ginger. This wonderful dish can help you overcome a hectic day.
The best part of pork to use in this recipe is pork shoulder, and the best sauce is a sweet and spicy marinade, making your dish full of amazing flavor.
Slow cooker Hawaiian pulled pork is perfect when sandwiched between slider buns or piled into soft bread rolls so that you can use your hand to eat them easily.
Hawaiian Huli Huli chicken will be a new twist when mentioning luau finger food recipes. This fabulous main course features sweet and spicy ginger, pineapple juice, and soy sauce flavors. In this recipe, the chicken is cooked in a teriyaki-style sauce.
Huli is the Hawaiian word for a turn since you need to rotate the chicken like a rotisserie while grilling. You have to make the marinade first, coat the chicken in the marinade, and put it in the fridge for three hours.
If you don't have a grill, you can use a large skillet for cooking your chicken for about five to seven minutes. Then, flip and cook the other side for another five to seven minutes. After the chicken is fully cooked, serve it in chopped or shredded chicken.
Hawaiian beef teriyaki skewers combine chopped onion, bell pepper, pineapple, and pieces of steak. The chunks of savory and tender steak pairing with sweet pineapples and red bell peppers give you fantastic luau finger food to show your friends.
These beef teriyaki skewers are coated with a tasty teriyaki sauce made by simmering soy sauce, minced garlic, and vinegar. After the sauce has thickened, you can add sesame seeds and marinate steak cubes in teriyaki sauce for at least one hour in the fridge.
With the excellent mix of meat and cheese, Hawaiian ham and cheese sliders are the ideal main course you are finding for your luau finger food party, or even they can be a scrumptious appetizer for a quick weeknight dinner.
This recipe requires ham, but you can use roast beef or any meat if you want. You can also add pickle slices to balance the savory flavor of ham and the buttery taste of cheese.
After assembling all the ingredients, brush the butter mixture you prepared on the top of the sandwiches. Then, bake them until the cheese has melted and your rolls have turned slightly brown.
Hawaiian ham and cheese sliders are sure to be your all-time favorite finger food. You can see this video to know more:
I believe that no one can resist this Hawaiian pizza since its flavor combination will knock your socks off. This Hawaiian pizza is so cheesy and tangy with a crunchy crust, melty cheese coating the salty bacon, and juicy pieces of fresh pineapple.
Adding pineapple to your pizza is a creative idea for an impressive main course. To make the pizza crust crunchier, you can brush some olive oil on the edges of the dough. Spread the sauce over pineapple, bacon, ham, and cheese. Then, bake and serve. Easy peasy!
Delicate Luau Finger Food Desserts That Can Amaze You
This part will show you the most fantastic luau finger food desserts that you can use to broaden your dessert menu and make for your family. Continue reading and find out about these wonderful recipes.
This Hawaiian mango bread is one of the best bread you will want to make again and again. It has tender, moist crumbs and a rich mango flavor, making it a wonderful side dish for your party. As a result, your guests will beg you to make more the next time.
This healthy and fragrant Hawaiian mango bread is also a favorite breakfast for many people. You can add some walnuts to your bread to make it more flavorful.
You can use both fresh mango and frozen mango in this recipe. For frozen mango, you should drain the excess liquid after thawing, then puree it.
The effort of making Hawaiian mango bread is worth it. You can see this video to know more:
These Hawaiian pineapple coconut cookies are full of fantastic flavors. These lovely coconut-flavored desserts will send you to the islands thanks to their fruity flavor from pineapple and coconut once you bite them.
Hawaiian pineapple coconut cookies can be topped with pecans, chopped or slivered almonds to have the best version. But this recommendation is certainly not suitable for those who suffer from nut allergies.
Hawaiian pineapple coconut poke cake is an easy vanilla cake packed with coconut cream pudding and crushed pineapple. With whipped cream and toasted macadamia as toppings, this pineapple coconut poke cake is a luscious dessert that sweet lovers will be addicted to.
These poke cakes can be filled with any flavor of mousse, caramel, custard, or pudding. You can choose your favorite flavor to make your own pineapple coconut poke cakes and invite friends and family to your finger food party.
Hawaiian pineapple coconut poke cake is so yummy, and a perfect summer treat.
This sweet-salty Hawaii snack will be a hit for luau finger food recipes. Furikake Chex mix is the combination of furikake, chips, cereals, and a butter-soy sauce.
Furikake is a Japanese seasoning mix and is widely used in Hawaii. Furikake is not only a critical ingredient in furikake Chex mix, but it is also used in various dishes like spam musubi.
Making furikake Chex mix can't be easier. You just need to mix cereal and chips on your hand and pour your butter-soy sauce syrup over the mixture.
Lilikoi bars are the perfect summer treat to cool your hot days and refresh yourself. With just a few simple ingredients, this fantastic treat is the best dessert you must have on the table at your party.
These amazing bars taste entirely different from classic lemon bars thanks to lilikoi juice – a beautiful tropical fruit. This fruit includes many seeds inside the pulp, so it would be best to use the food processor or blender to pull the pulp away from the seeds and have more juice.
You can dust your lilikoi bars with powdered sugar or top them with lilikoi glaze to make them shiny and delicious.
This Hawaiian butter mochi is inspired by Japanese mochi, but it is made in its own way to become a favorite in Hawaii. You can find this incredible dessert everywhere on this beautiful island.
Hawaiian butter mochi is chewy, soft, and dairy-free, thanks to glutinous rice flour or sweet rice flour. This flour is an essential ingredient that you cannot substitute with any flour since your mochi can change its texture.
Your luau finger food party should not miss this popular Hawaiian guava cake. In particular, you can easily find this delicious guava treat in most restaurants when you visit Hawaii.
Hawaiian guava cake is flavored with guava juice or nectar, strawberry, and topped with whipped cream cheese and guava gel glaze. These Hawaiian guava cakes have a lovely pink color that you will quickly fall in love with.
Prepare Your Luau Finger Food Party With These Striking Recipes
With these astonishing luau finger food recipes, I am sure that your party will be more successful than you expect.
Your guests are sure to love these excellent finger dishes too much and will beg you for the recipes. So what are you waiting for? Celebrate a fun finger food party using these amazing recipes next weekend and invite your friends and family to enjoy it together.
These scrumptious luau finger food recipes will send you and your guests to Hawaii and make you have the comforting feeling like you are on this beautiful island. If you see this list suits your taste, please share it with your friends and see how they feel about these fantastic recipes.
And remember to leave a comment to share your thoughts or troubles regarding these luau finger food recipes in the comment section below. I appreciate your support and enthusiasm.
Nutrition Facts
4 servings per container
---
Amount Per ServingCalories569
% Daily Value *
Total Fat 27g

42

%
Cholesterol 84mg

29

%
Sodium 948mg

40

%
Potassium 374mg

11

%
Total Carbohydrate 52.5g

18

%

Dietary Fiber 4.2g

17

%
Sugars 22.6g

Protein 31.4g

63

%
---
Calcium

294

%
Iron

4

%
Vitamin D

12

%
* The % Daily Value tells you how much a nutrient in a serving of food contributes to a daily diet. 2,000 calories a day is used for general nutrition advice.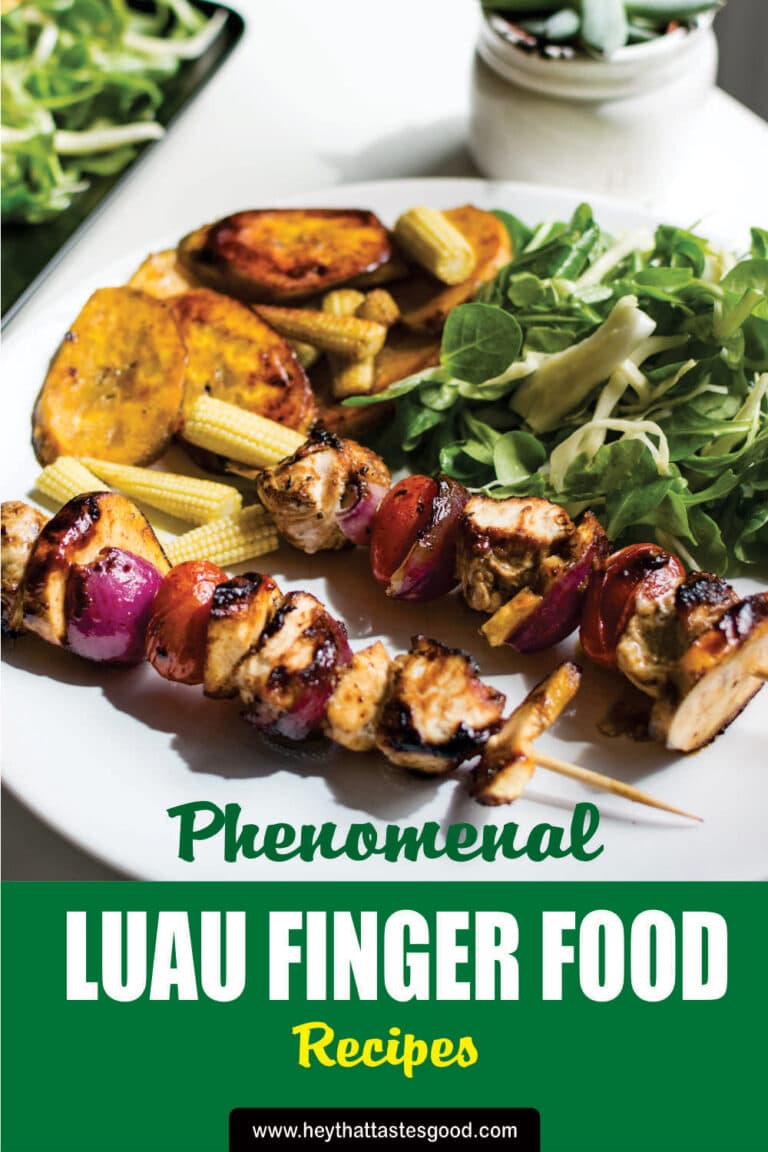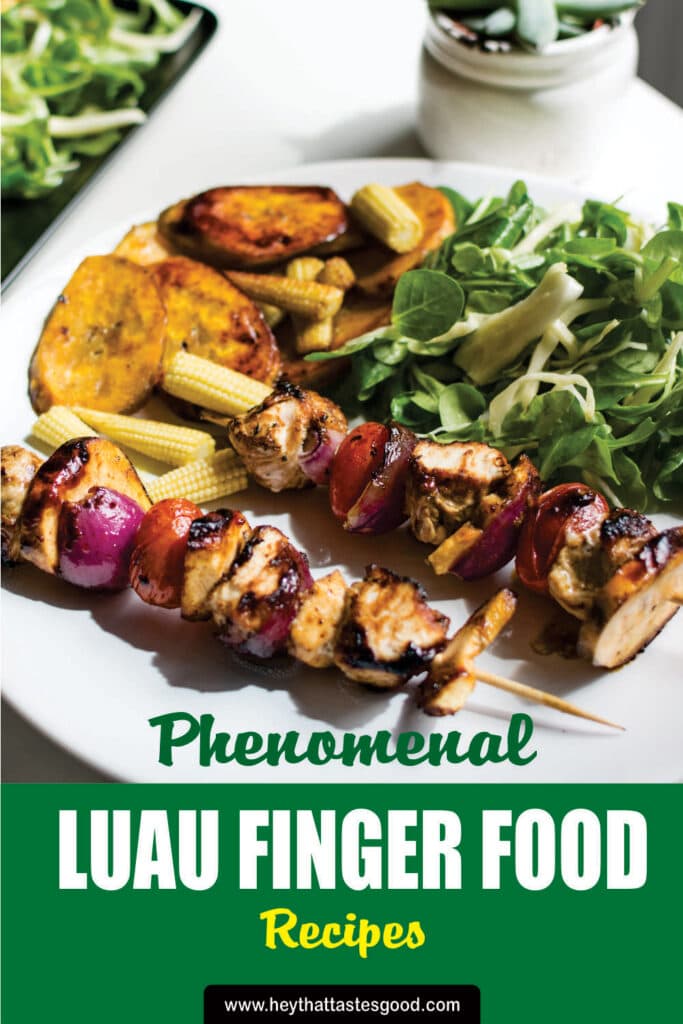 Linda Dean is a talented food blogger and cookbook author with a passion for creating simple and delicious recipes. With a focus on using wholesome ingredients and showcasing their flavors with minimal fuss, Linda's recipes have become a favorite among busy home cooks looking for quick and nutritious meals.
With years of experience in the kitchen and a love for experimenting with new ingredients and flavor combinations, Linda has honed her culinary skills and developed a signature style that is both approachable and sophisticated. Whether she's sharing a classic recipe with a twist or showcasing the latest food trends, Linda's work is always fresh, innovative, and inspiring.