21+ Best Lime Recipes To Whip Up All Year Long 2023
These lime recipes will blow your mind since you never expect that limes can be this amazing. This zesty fruit seems to add more flavors to dishes and make them more refreshing and wholesome. All foodies should give these lime dishes a try.
I know you never want to take a bite of fresh lime. But you won't be able to resist foods made with these tiny green fruits. In addition, limes pack an enormous amount of vitamin C and other nutrients that remarkably benefit your health.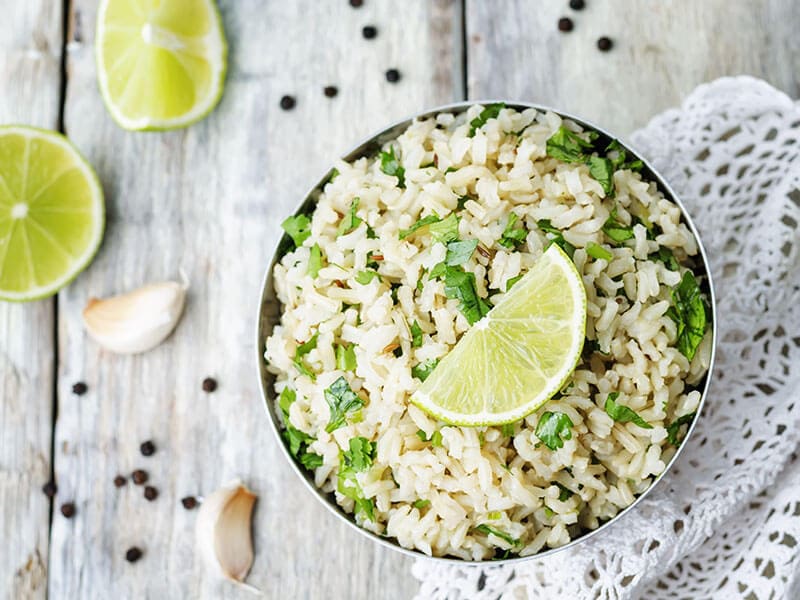 Amazing Lime Ideas That Can Blow Your Socks Off
Lime is a wonderful citrus fruit with various uses, particularly in cooking. Like lemons, limes also produce an acidic and tart flavor. Though lime fruits are frequently reserved for savory dishes, they can be a crucial ingredient in many dessert recipes.
Total time: 10 minutes (not including 2 hours of refrigerating)
The first thing that pops into my head is cilantro lime dip when mentioning lime. I have almost served lime dip for game-day parties and potlucks countless times. Aside from tortilla chips, it is also ideal to serve with any of your favorite meaty dishes.
A creamy and tangy dip is ready to dish up after you combine mayonnaise, sour cream, cilantro, and lime juice and refrigerate it for about 2 hours. Chilling the dip is necessary to give the flavors time to meld together. So be patient for a flavorsome dip.
Total time: 25 minutes
A bowl filled with pasta and colorful veggies will soon disappear from the dinner table. The freshness of greens mixed with a dreamy cilantro lime dressing will surprise you with its flavor. Cilantro lime pasta salad is a top-rate Mexican side dish in summer.
The dressing is a blend of creamy Greek yogurt, spicy cayenne, fresh lime juice, and fresh cilantro. Smoothen all of them in a food processor, let the mixture sit in the fridge, and toss with the pasta salad when you are ready to serve.
This salad is versatile, so you can get creative by adding more components to your salad bowl to suit your taste. Mix the salad with cheese or grilled chicken to make it a hearty meal.
Cilantro lime pasta salad tastes amazing and is suitable for all types of parties.
Total time: 20 minutes
Grilled corn on the cob with tangy lime, chili powder, and butter is filled with flavor and has a nicely charred cover. This recipe is perfect for summer BBQ parties and is effortless to prepare. Preheat your grill, coat the corn with the lime butter mixture, and cook for 10–12 minutes.
You can choose any type of corn to grill. But make sure to use fresh corn for a better texture. Don't peel back the husk when buying because the corn will start to dry up soon. If you want your grilled corn to be juicier, wrap it in foil and turn it often while cooking.
Total time: 15 minutes
Lime and vegetables are the perfect combo to create refreshing dishes. This tasty veggie slaw is an example. Thin jicama slices and crunchy grated carrots tossed in the tart-sweet dressing are a flavorful side course for almost anything in summer.
If you ask what jicama is, I will give you some information. Jicama is a type of root vegetable, also known as a Mexican turnip. It has light brown skin, starchy flesh, and a crispy texture. You can find this veggie in most grocery stores or farmer's markets.
Back to the recipe, after preparing jicama and carrots, place them in a bowl together with cilantro and jalapeno. That is for the slaw. To make the dressing, you'll need to whisk lime juice, honey, cumin, and salt until combined.
Total time: 25 minutes
If you are looking for a simple but delicious side dish for hectic days, give this sauteed zucchini a try. This recipe has changed the flavorless taste of fresh zucchini into a salty, mildly spicy, and acidic side dish.
Sauteing zucchini is somewhat basic. But you need to avoid these mistakes for the best outcome. Toss the zucchini with salt and other spices first. Cook the greens over high heat to keep them from getting mushy too soon.
On the other hand, using a small pan can make the zucchini not cook evenly. A larger pan will fix this problem, and your side dish will come beautifully browned. Once you perfectly cook the food, sprinkle it with chopped cilantro for garnishing.
Total time: 2 hours 35 minutes (including 2 hours of marinating time)
Juicy and charred chicken thighs will become a hit when dishing them on the table. Standing out from other recipes, these chicken thighs are satisfying because of the best marinade made with fresh limes.
What will you do with this recipe? First, juice and zest a fresh lime and mix both with olive oil, cilantro, and other spices. Place the mixture and chicken in a Ziplock bag to marinate for at least 2 hours.
All that's left is to cook the chicken on a grill pan until golden brown, and the internal temperature should reach 165°F. Use the chicken with tacos, salad, or rice. It's up to you.
These cilantro lime chicken thighs produce a strong aroma of lime juice and zest.
Total time: 30 minutes
When it's party season, and you want to impress your guests with an outstanding yet easy-to-make appetizer, tequila lime shrimp phyllo cups aren't a bad choice. This fancy-looking starter with shrimp is the crispy stuffed shells with an eye-catching look.
The wholesome flavor comes from the filling. It's pinky shrimp cooked with tequila and lime juice. The creamy and citrusy sauce balances the salty cooked shrimp. You won't be able to mistake the addictive flavor with any dishes.
You should consume the appetizer instantly after making it, or the cups may soften.
Total time: 15 minutes
These shrimp treats are a 5-star appetizer for holiday parties. Your family will fall for it when taking their first bite. The shrimp is stunning, juicy and offers an addictive taste of the cilantro, lime, and garlic mixture.
Preparing shrimp is never a challenge if you know these tricks. Peel the shrimp legs and shells along the bottom. Split the back with a knife to devein the shrimp. Though eating the vein isn't harmful, it's full of black dirt and makes your food less pretty.
Cook the shrimp for 4-5 minutes or until it's tender and pinky. After boiling, rinse it in a bowl of cold water to stop the cooking process. If you want your shrimp dish slightly chilling, place them in the fridge for some time before serving.
Total time: 1 hour 40 minutes (including 1 hour of marinating time)
This aromatic and vibrant fried rice will bring everyone running to the dinner table. The marinated chicken cubes match well with crunchy peas and umami soy sauce.
Let's choose boneless and skinless chicken thighs for the fried rice. Cut the thighs into 1-inch cubes, toss them with the cilantro lime marinade, and chill for 1 hour. Next, saute the chicken for several minutes in a skillet.
But don't saute for too long since you will heat the chicken later with the rice, peas, and sauce.
Total time: 35 minutes
This recipe should be first on your must-cook list. The simple cilantro lime rice is family-friendly and best when stuffed inside burritos or eaten with fish courses.
Sometimes you can find the package directions to cook the rice without rinsing first. It may not be wrong, but rinsing can help it become cleaner, remove a starchy residue, and enhance the texture.
Rice is bland and almost flavorless. So, you can consider simmering it with stock (or broth) to add more flavors rather than using only water. Once finish cooking, turn off the heat, and let the rice sit for another 10 minutes. This step allows the texture to become perfectly fluffy.
Cilantro lime rice is the most amazing and easiest rice dish ever.
Total time: 2 hours 40 minutes (including 2 hours of marinating time)
The citrusy lime and the spiciness of chipotle chili powder will spice your meaty chicken up. Who can refuse this moist chicken with a crispy and beautifully charred exterior? That's because it's low and slowly grilled all the way through.
For the flavorful meat, prepare the marinade from honey, garlic, lime juice, and a few more. Immerse the chicken with half of the mixture for 2–6 hours. When grilling, baste the meat with the rest of the marinade.
You will never return to any other grilled chicken version since this is the best.
Total time: 45 minutes
There are numerous ways to make chicken burrito bowls, but this recipe will become your favorite. This Mexican-inspired goody is full of protein and carbs and is perfect for an energy-packed lunch or dinner.
Filled with marinated chicken, mild black beans, sweet potatoes, and lime avocado sauce, the bowls will instantly comfort your craving stomach. What's more, you can prepare this ahead of time. When it's time to serve, simply mix everything in the bowls.
The tasty avocado sauce is the recipe secret. Thanks to Greek yogurt, lime juice, avocado, and cilantro, the sauce is incredibly smooth, creamy, and balanced with other ingredients.
Total time: 5 minutes
Summertime is the peak season for a hundred types of fruits. That is also the perfect time to assemble this summery and yummy fruit salad. A fruity salad bowl can help your body stay hydrated, feed you with nutrients, and give your taste buds pleasure.
Berries, stone fruits, mangoes, pineapples, just toss any fruit you want in a bowl to make this. Furthermore, your fruity bowl can not be complete without the dressing: Mix lime juice, chopped mint, honey, and orange juice. Then drizzle the dressing on the fruits.
Cover the salad with plastic wrap and let it chill to keep the fruits fresh longer. Only add the dressing to the salad once you're ready to eat it up, or the fruits will be mushy.
Total time: 17 minutes
You can't miss this recipe if you're obsessed with fish courses. Salmon seasoned with smoked paprika and lime juice is a kick of flavor. The food is fresh, tangy, spicy, and straightforward to prepare, even on busy weeknights.
All you will do is rub the salmon with some spices and seasonings, wrap it in foil, and finish by baking it in the oven. Plus, you can also bake some veggies with the fish. They can be asparagus, broccoli florets, etc.
Only cook the salmon until caramelized and nicely charred. Slice it into small parts, remove the skin, and add a splash of lime juice for a bolder taste.
Total time: 17 minutes
Quinoa is always my go-to ingredient in many everyday dishes. And one of them is this cilantro lime quinoa. It can be a healthy side dish for protein entrees, a burrito bowl base, or a vegan meal with peas as a topping.
You can whip up the recipe at any time of day because everything will be done as fast as lightning. After rinsing the quinoa, toast it in a saucepan to slightly dry up, pour in water, and cook until fluffy. Toasting first will improve the flavor and texture of the dish.
Cilantro lime quinoa is nutritious, gluten-free, vegan, and packed with tangy flavor.
Total time: 10 minutes
I bet you have never tried this delightful yet simple parfait before. This made-from-scratch fruit dessert is the winning mix of creamy Greek yogurt, subtle sweet honey, crumbled graham crackers, and zesty lime juice.
Prepare a small ramekin and start by layering with graham cracker crumbs, followed by the Greek yogurt and lime juice mixture. Repeat until you fill the container up. Top the parfait with fresh blackberries or any fruit you have on hand.
Total time: 5 minutes
This is the best part, a superstar drink made from lime for every outdoor BBQ party. Taking a sip of this Brazilian limeade, its light and refreshing taste will conquer your heart. You don't need to go shopping because all the ingredients are in your kitchen.
Cut limes into quarters and blend them with sugar and water in a blender until smooth. Strain the mixture with a fine mesh. Add the condensed milk and ice, then stir to combine. Your drink is ready to serve right away.
Blending the whole limes makes the drinks bitter. But you can reduce the bitterness by discarding the rinds and piths with a paring knife.
Total time: 3 hours 15 minutes (including 3 hours of the chilling time)
Don't believe that you can whip up this flavorful pie within 15 minutes? I'll show you how to create a protein-dense treat. Let's prepare the filling by whisking grated lime zest, sour cream, and condensed milk. Pour the mixture into graham cracker crust and bake for 8-10 minutes.
To distinguish key limes from the regular ones, you can base on these features. Regarding the appearance, key limes are smaller and have a pale shade of yellow. Furthermore, they tend to have more seeds and taste a little sourer than regular limes.
If it's tough for you to find key limes, replace them with lemons and Persian limes. Stay away from bottled lime juice since the flavor will greatly decrease.
Key lime pie is an unbeatable dessert to make all year round.
Total time: 20 minutes
Nothing can be a more pleasing breakfast meal than these flaky and crumbly scones alongside a warm tea cup. Made with a mix of coconut and lime, these wonderful scones are just like a dream come true, with an addictive and charming flavor.
Making scones in the morning isn't as troublesome as you think. It truly takes 10 minutes to whip up the scones and the glaze. Besides common baking ingredients, you need to prepare only two more things: lime juice and desiccated coconut.
Also, these lime and coconut scones are easy to store. Place them in an airtight container and put them on your countertop. They can still be appetizing for up to 4 days.
Total time: 30 minutes
Lime and blueberry muffins? Sound strange, but they surprisingly work. Don't think that lime will cause your sweet treats to become sour. In fact, adding the right amount of lime balances the sweetness of blueberries and makes them taste fresher.
You don't need to wait until the blueberry season to produce these lovely muffins. Both fresh and frozen fruits can work. Moreover, the muffin texture will come out soft and moist due to the Greek yogurt. Don't add fat to this recipe. Or the treats will be cakey.
Removing the muffins from the liners will be easier when the treats are totally cool than when they're still warm. Any leftover can last for a week at room temperature or for 2 months when stored in the freezer.
Total time: 50 minutes
Cream cheese lime bars are light sweet treats to snack on all summer. These cuties include a buttery crust layered with a thick, cheesy, and sweet frosting. Treat your friends with these lime bars at the next gathering; they won't stop asking you for the recipe.
Mix butter, sugar, cream cheese, and lime juice to create the frosting mixture. A few drops of green food coloring will brighten up the desserts. The baking time for these bars will take 25–30 minutes at 350°F.
Total time: 30 minutes
Can you use lime to make cookies? Yes, it's an amazing idea. You'll love these shortbread cookies full of vanilla, zesty, and sugary flavor. Other than that, there is a sweet lime glaze on top of the treats. They're unbelievably delicious.
The lime glaze consists of powdered sugar, lime juice, zest, and water. When you complete assembling the cookies, gently spread the glaze on each treat and serve immediately. Sprinkling with a little lime zest makes the snacks yummier.
Total time: 30 minutes
This sweet, tangy, and creamy lime coconut ice cream on scorching days is the ultimate way to beat the heat. Everyone, from children to grownups, will get addicted to this fantastic ice cream. It will surprise you because there are at most 3 ingredients here.
You'll only need coconut cream, lime, and coconut sugar. If you can't find coconut cream, use high-fat coconut milk instead. Make sure not to add more ingredients to this recipe, or the texture won't be as expected.
It'll be simple to make the sweet with an ice cream maker. Don't worry if you don't have one; you can try the no-churn ice cream method.
You will make this luscious lime coconut ice cream every summer.
Now You Know What To Do When Life Gives You Limes
I hope this post can inspire you to assemble delicious meals made with limes for every occasion. This tangy fruit can match almost anything from savory dishes to sweet treats. Also, you can easily purchase it all year round at any grocery store.
Thanks for stopping by to read my post. Now, leave a comment to let me know what you think about the post. If you succeed in any recipe, don't forget to tell me, too. Let's share these wonderful recipes with your beloved and see you in the upcoming post. Goodbye!