20+ Easy Lemon Curd Desserts You Must Try 2023
If you want some easy lemon curd dessert ideas, you have come to the right place. This blog suggests many easy ways to turn your lemon curd into yummy desserts. You will be amazed at how diverse lemon curd desserts can be.
Though lemon curd is the show's highlight, fruit, cake, and cream can make good accompaniments and take it to the next level. Therefore, I will introduce some incredible lemon curd desserts, and more importantly, you can make them effortlessly.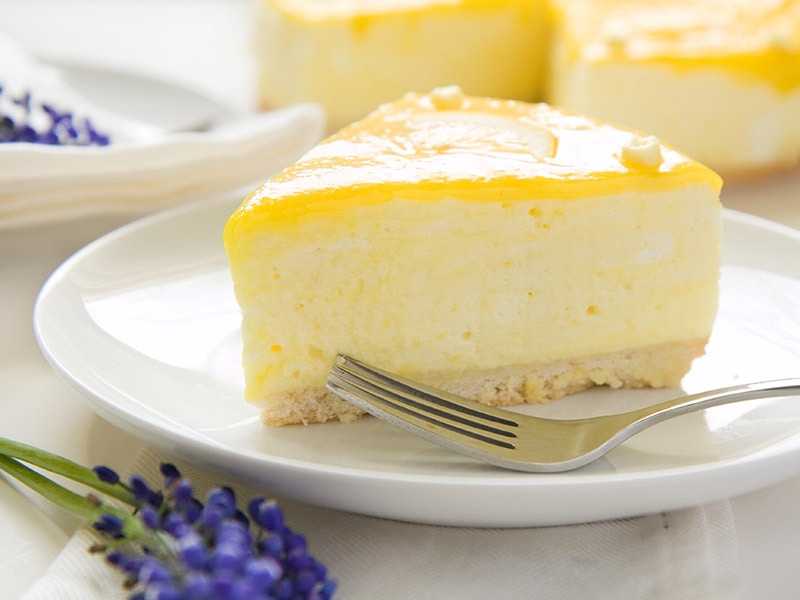 These 20+ Easy Lemon Curd Desserts Won't Fail To Delight You
You have already tried the most savory lemon desserts, but now your taste buds demand something richer and creamier? Then let's try a few amazing sweet treats with lemon curd! Scroll down now: plenty of great options are waiting to amaze you.
Total time: 1 hour 5 minutes.
The first recipe on this list is lemon cream puffs. They are light and delicious desserts for any occasion. Believe it or not, everyone will devour them in no time at all.
After baking the puffs, turn off the oven but do not take them out just yet. You should keep the door slightly open so that the puffs can rest warm inside and remain puffy. Cut each cream puff in half when it is still warm.
The lemon curd, whipped cream, and blueberries are perfect for the fillings. They create an astonishing flavor and texture for the dish. A small reminder is you should add the fillings when the puffs cool down completely to prevent melting.
Total time: 15 minutes.
It is very easy to make this easy lemon trifle. If you have limited time but still want an eye-pleasing and tasty dessert, you definitely should go for this recipe. A beautiful glass can win your heart at first sight.
You only need 3 ingredients: small cubed cakes, lemon curd, and sweetened whipped cream. Feel free to choose plain cake, pound cake, or sponge cake with whatever flavor you like.
Layer the three ingredients repeatedly in transparent glass for the most attractive outcome. You can serve it right away, but this trifle tastes best when chilled, so don't forget to refrigerate it for a couple of hours.
Total time: Around 30 minutes + at least 4 hours chilling time.
Undoubtedly, Tiramisu is one of the most popular desserts in the world. So if you are a fan of this Italian sweet treat, why don't you try its lemon curd version? I am sure it will thrill you.
The main ingredients are lemon curd, whipping cream, mascarpone cheese, and ladyfingers. The recipe is easy to follow. You will need to layer ladyfinger cookies (quickly dipped in limoncello syrup) and mascarpone-lemon curd mixture on top of each other.
All layers create a mouthwatering Tiramisu, but you cannot eat it right away. The Tiramisu needs chilling for at least 4 hours or overnight for the best taste.
Tiramisu made from lemon curd is worth trying.
Total time: 1 hour 5 minutes.
Another fabulous dessert you must try is the mini lemon curd tartlets. It satisfies all the conditions: A good use of lemon curd, an easy no-bake recipe, and delicious tastes.
The biscuits, lemon curd, and butter create a sweet and tangy flavor for the dish. This recipe requires mini tart tins, but you can substitute them with cooker cutters. After placing the biscuit mixture into the tart tins, refrigerate them for at least an hour.
Spread the lemon curd on top, and you can also use cream and berries for extra toppings. And a small reminder about the lemon curd is that you should top it less than an hour before serving to avoid soggy biscuit bases.
Total time: 1 hour 5 minutes.
Blueberry and lemon curd bread pudding is the next must-try recipe on this list. This effortless recipe calls for three main components: lemon curd, blueberries, and white bread. The fresh fruit, tart lemon curd, and soft bread create a great dessert.
Yet, any type of bread should do great in this fantastic recipe for blueberry-filled desserts, so you can use either white bread, croissants, or brioche. And one last thing: the baked pudding tastes best when served warm and topped with vanilla ice cream.
Total time: 1 hour 55 minutes.
The next recipe I want to introduce to you is the lemon bars. They are cute, easy to make, and delicious. Though the total time is a bit longer than other recipes, the chilling and baking steps take up most of the time.
The bar contains a layer of shortbread crust and a layer of lemon curd filling. You only need to mix the ingredients well, bake, and chill for the best outcome.
When you are ready to serve, sprinkle a thin layer of powdered sugar and cut it into small bars with a sharp knife. Well-sealed lemon bars can last in the fridge for 5 days.
These yellow lemon bars are so appealing and yummy.
Total time: 1 hour 15 minutes + 4 hours chilling time.
If you are a fan of cheesecake, you must try this lemon curd version. A lemon curd cheesecake is mouthwatering with a creamy and tangy flavor.
For this recipe, you need to follow two main processes: making the crust and filling. Lemon curd and meringue cookies are the toppings. After preparing the filling, pour it into the crust and bake them.
The longest part lies in the chilling time. You need to refrigerate the cake for a minimum of 4 hours. Decorate the chilled cake with lemon curd. I suggest you add the meringue cookies not long before serving so they won't get soft.
Total time: 50 minutes.
Here comes another astonishing lemon curd dessert: the lemon curd cupcakes. You will fall in love with its fluffy texture and sweet, tangy taste.
There are 3 major components in making these cupcakes: the lemon curd, the lemon cupcakes, and the lemon cream cheese frosting. Thus, if you have already made lemon curd, it saves more time.
A small tip for the lemon cream cheese frosting is using full-fat cream cheese is better than a low-fat one since the former is not too runny. Besides, cream cheese and butter should be at room temperature for about 1 or 2 hours before making the cream cheese frosting.
Who doesn't love these pretty and tasty lemon curd cupcakes?
Total time: Around 45 minutes.
A combination of semi-sweet dark chocolate and lemon curd? What a sweet dessert! These brownies can be a real treat at a party for friends or family.
Since you may have your lemon curd ready, making the brownies is not difficult at all. Preheat the oven and prepare the ingredients. Bake the brownies for around 20 to 30 minutes. You should expect them to become crusty but remain tender inside.
These tasty treats can last in the fridge for a week if you keep them in an airtight container. However, I can say people may devour them all at the party.
Total time: Around 10 minutes.
I have to admit that this is a great idea to use lemon curd in parfaits. It looks fantastic and tastes delicious. Lemon curd with fruits is always an iconic combination. This time, with the combination of vanilla yogurt and granola, they create perfect parfaits.
You may regret not finding this stunning and yummy dessert earlier because it takes a very short time to make. You only have to layer all of the ingredients in glasses or jars. No cooking, no baking. Everything is ready to serve.
Another version of lemon curd-based parfaits (using ladyfingers) is also astonishing.
Total time: 1 hour 5 minutes.
Lemon curd loaf cake is a great choice to use your lemon curd. It can be a perfect dessert or an accompaniment to an afternoon cup of tea.
In general, this recipe consists of two main parts: the lemon curd cake and the lemon curd buttercream. A small note is that you can use margarine instead of butter to make the cake. However, buttercream needs butter because margarine is much runnier.
After baking and cooling the cake, pipe the buttercream on top of the cake. A slice of soft, creamy lemon curd loaf cake is a nice treat at any time of the day.
Total time: 32 minutes + 1 hour freezing time.
Poppy seeds are packed with vitamin B1, vitamin B9, and minerals like calcium and iron. They are also a common spice and ingredients of baked goods. Therefore, there are reasons to look forward to these poppy seeds cookies with lemon curd filling.
To make this dish, you need to freeze the lemon curd for at least an hour. After mixing the ingredients for the cookie dough well, scoop out some and carefully cover the frozen lemon curd with it.
These cookies get their perfect coat from the lemon butter glaze, so make sure you do not miss this step. Properly refrigerated cookies can last up to 7 days, but frozen ones are best consumed within 2 months.
Total time: Around 45 minutes.
How can fruit tart be missing from this list? There is nothing the combination of lemon curd and fresh fruits can't solve. It is going to take care of your dessert problem. This beautiful sweet treat mooned over by kids will be a nice highlight at your children's birthday parties or a warm family meal!
If you already have lemon curd in hand, this fruit tart takes a short time to make. You only need to mix up every ingredient well and bake the crust. Before baking, I suggest you pierce small holes in the crust with a fork.
After cooling down the baked tart shells, spread lemon curd and decorate it with fruits on top. You can use strawberries, blueberries, kiwi, or whatever you prefer. Sprinkling some chopped mint at the end. Your family will love joining the decoration part.
You can't say no to this colorful and yummy fruit tart with lemon curd.
Total time: 45 minutes.
April lemon berry fool? Yes, this is a kind of traditional English dessert. If you have not tried it before, you definitely should because it is so delicious. And I am sure these lovely glasses of April lemon berry fool end your meal perfectly.
A glass of this dish has layers of lemon curd, berry compote, and whipped cream. The berry compote and whipped cream are easy to make and combine amazingly with lemon curd.
For the berry compote, you can make it from whichever type of berry you like. Honey and sliced almonds are optional toppings.
Total time: 40 minutes.
Now it's time for the flaky and tender lemon curd cookies. The cookies are easy to make, so make sure you do not miss them. They include two main parts: the cookie dough and the lemon curd.
For the cookie dough, you need to prepare unsalted butter, powdered sugar, and all-purpose flour. After mixing all these ingredients, create small balls from the dough. This next part is important: use your finger to press a shallow hollow in each ball.
When you have your baked cookie, put the lemon curd in the hollows made in advance. Don't forget to dust them with powdered sugar. You can make these cookies ahead of time and top them with lemon curd and confectioner's sugar later.
Here is another easy way to make lemon curd thumbprint cookies.
Total time: 25 minutes.
I am so excited to introduce these paleo lemon curd sandwich cookies to you right now. These adorable flower-shaped cookies have lemon curd as their center. If you want a hit to your meal, try this recipe.
In addition to the adorable appearance, this recipe is vegan and gluten-free. What's more? It takes you only 25 minutes to make these cookies. The incredible taste is mainly from lemon curd, ground almonds, arrowroot powder, and maple syrup.
Total time: Around 30 minutes + 2 hours chilling time.
Lemon curd mousse is the next must-try recipe with lemon curd. Though it is easy to make, the result will make you feel like a pro. It is one of my favorite desserts because of its light and yummy flavor.
After chilling the homemade lemon curd, whip the heavy cream and fold the chilled lemon curd into it to create the mousse. You should put the mousse into a piping bag to divide it easily.
Spread a lemon curd layer at the bottom of a glass or jar, pipe the mousse into it, and add some whipped cream on top. Blueberries and mint leaves are the best garnish. Lemon curd mousse tastes best when served chilled.
Lemon curd mousse is so refreshing and tastes incredible.
Total time: 35 minutes.
With only a few ingredients, lemon hand pies are an easy-to-make and delicious dessert. Making these pies are also fun, so why don't you turn it into a family bonding activity?
An important reminder is that lemon curd needs chilling before adding to the center of the pie crust. Remember that only one tablespoon is enough for each crust if you don't want it to leak out.
You can use the store-bought chilled pie crust to save time. I recommend consuming the pies on the same day. But if you store them in an airtight container in a fridge, they can last for 24 hours.
Total time: 1 hour 30 minutes + 3 hours 30 minutes chilling and cooling time.
You'll regret skipping this stunning blueberry lemon curd tart with an incredibly beautiful purple surface. Although this tart takes a few hours to make, it is an easy and tasty dessert and can catch someone's eyes at first sight.
Since this recipe is lower in sugar, it calls for sucanat to make the tart crust. But powdered sugar or coconut sugar are acceptable if you can't find it. You should use honey instead of sugar for the lemon curd and blueberries filling.
Here is a typical recipe for blueberry lemon curd tart.
Total time: 45 minutes.
When life gives you lemons, make a lemon curd tart with berries as instructed by this easy recipe. Even better, it is a delicious gluten-free treat that people with celiac disease can happily enjoy.
This dish is a great match of almond flour, oat flour, and lemon curd filling. Store-bought lemon curd is fine, but the homemade version makes a difference with fewer additives and less sugar.
You should expect a delightful tart with a layer of cooled lemon curd on the crust. After refrigerating the tart, garnish with colorful berries and serve.
Total time: 1 hour.
Not in the mood for fancy food with complicated instructions? This simple recipe for an amazingly delicious honey dessert will certainly smooth your ruffled feathers! More excitingly, it only calls for wholesome ingredients to make the lemon curd, such as honey and coconut oil.
The three key components to make this recipe successful are the cake, the lemon curd, and the icing. Show off your talent and thrill everyone with this delicious and stunning cake.
You can keep the leftover for up to 5 days if it is refrigerated in an airtight container. But I am afraid people will keep asking for the next slice, so I am not so sure you will have any leftovers.
Total time: 48 minutes.
Macarons are always a favored dessert for anyone, at any event. Thus, I suggest you make this French treat with lemon curd filling. It would be a nice change in taste. This recipe is not difficult, but you need to follow every step to guarantee the best result.
After piping the batter on parchment paper, don't forget to gently tap the sheet on your work surface a few times to release trapped air bubbles in the batter. Let the batter rest before baking it. The most satisfying step is adding the fillings after the baked macarons cool down.
You will fall in love with these adorable and yummy lemon curd macarons.
It's Time For Making Lemon Curd Desserts
You have gone through some easy dessert recipes with lemon curd. All of these diverse dishes are like a sweet ending to your meal. Now, are you ready to get into the kitchen and make these wonderful lemon curd desserts?
It would be great if you can comment on how these desserts turned out with you. I hope they are a big hit and light up your day. Sharing is caring, so if this blog is useful for you, don't forget to spend a few seconds sharing it. I appreciate it. See you soon!
Nutrition Facts
10 servings per container
---
Amount Per ServingCalories364
% Daily Value *
Total Fat 20.5g

31

%
Cholesterol 170mg

57

%
Sodium 144mg

6

%
Potassium 66mg

2

%
Total Carbohydrate 39.3g

13

%

Dietary Fiber 0.3g

0

%
Sugars 16.4g

Protein 7.3g

15

%
---
Calcium

69

%
Iron

1

%
Vitamin D

8

%
* The % Daily Value tells you how much a nutrient in a serving of food contributes to a daily diet. 2,000 calories a day is used for general nutrition advice.