Let's blow your worries about leftover food away, especially beef, with these ultimate leftover steak recipes. And you know what is the best about it? That these recipes not only make your tummy but also your wallet happy.
Indeed, who would think that leftover steak could be transformed from a cold piece of meat you just pulled out of the fridge into various delectable dishes? Well, get ready to be overwhelmed by 31 leftover steak recipes in this post, which will enable you to explore many cuisines worldwide, from American to Asian countries.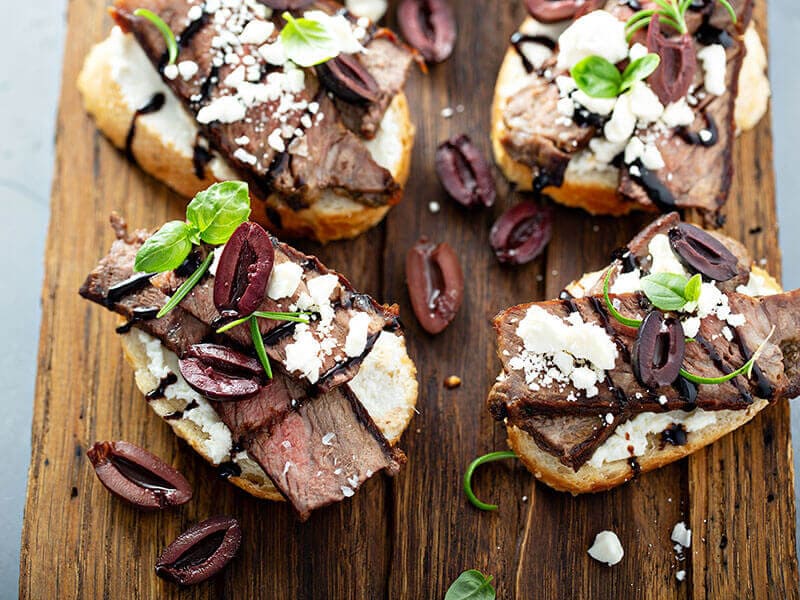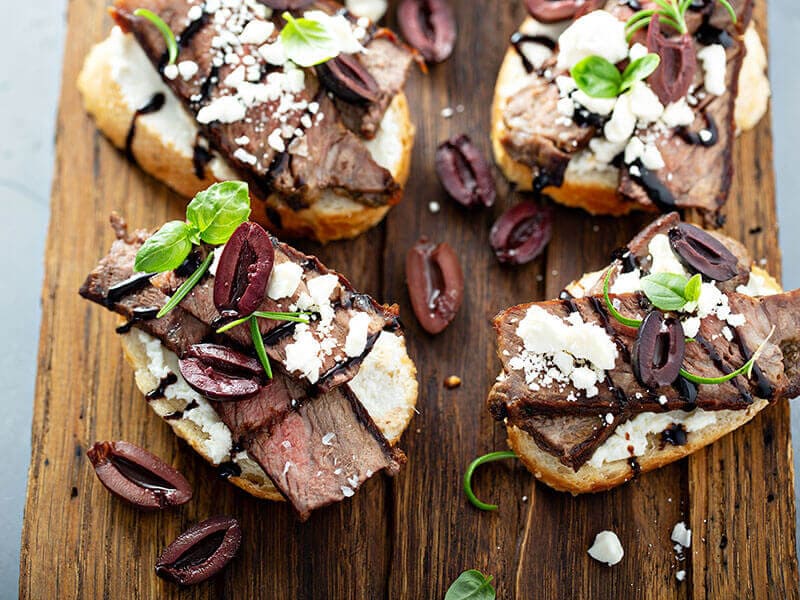 Ultimate Collection of 31 Leftover Steak Recipes Around The World
With these awesome ideas for leftover steak below, your worries about wasting food are off the table. 31 ideas will be classified into 6 main topics, and each topic is a beautiful story to tell in cooking with leftover steak.
Wrap and Roll Leftover Steak Recipes
Leftover Steak Wrap Recipes
Steak Quesadillas
Steak Fajitas
Steak Taco
Leftover Steak Roll Recipes
Cheesesteak Egg Roll
Beef Roll with Rice Papers
Steak Taquitos
Steak Burritos
Cheese Steak Chimichangas
Beef Enchiladas
Leftover Steak Soup And Stew Recipes
Steak Soup
Vegetable Beef Soup
Steak Chili
Beef Stroganoff
Fried/Stir-fried Recipes With Leftover Steak
Beef and Broccoli
Thai Beef Noodle
Steak Fried Rice
Baked Recipes With Leftover Steak
Steak Crescent Braid
Cheesesteak Pizza
Leftover Beef Pot Pie
Steak and Fries
Leftover Steak Salad Recipes
Leftover Steak Salad
Steak and Blue Cheese Salad
And More Leftover Steak Recipes
Leftover Steak Pasta
Bibimbap
Steak Omelette
Breakfast Hash
Steak Sandwich
Steak Nachos
Steak Tostadas
Steak Crostini
Steak and Quinoa Bowl
Wrap'n Roll Leftover Steak Recipes To Rock'n Roll Your Meal
You look at a bunch of leftover steaks from your party last night and sigh because you do not know what to do with them yet do not want to eat the same dish as the previous night either.
Let me handle your problem with these 9 leftover steak recipes to add little Mexican, American, and Asian vibes in every bite.
Recipes For Full-Of-Flavor Leftover Steak Wrap
Instead of reheating your leftover steak in the microwave, which may result in dry and chewy meat, these ideas will help you quickly prepare a delicious wrap with leftover steak.
Quesadilla – the most pleasing mixture of Mexican and American cuisines that are filled with cheese and meat. Grain, veggies, and steak, all in one piece of quesadilla, make them sound like a daydream dish.
Leftover steak is my optimal option to make these steak and cheese quesadillas at the lowest supermarket bill. And you do not have to reheat your steak because they will be cooked when you combine everything to cook quesadillas.
If you are into Mexican cuisine so much that you have already bought many authentic Mexican spices and you have some leftover steak in the fridge, let this recipe help you bring your steak back to life and turn it into a delicious meal.
Leftover steak fajitas is another dish wrapped in flour tortillas and filled with steaks, spices, and sauce. So I am 100% sure that you will be stunned after 1 bite with their sweet, salt, and spicy flavors.
Here is another traditional Mexican dish that you can use your leftover steak to make awesome tacos for weekday dinner. Without any special cooking skills, you can still make your family happy with these tacos.
Fresh onion, soft leftover steak, and chipotle sauce add some spiciness and create a most appetizing Mexican dish effortlessly. But if you do not like spicy, try guacamole sauce. It is also ideal for your taco night.
Watch this video to know more:
Recipes To Create Magical Rolls With Leftover Steak
Seems like cooking Mexican food is one of the best ways to handle your leftover steak without making it too tough and dried. With rolling techniques, you now have more options for making your cooked steak more delicious, which is popular in Mexico and around the world.
Cube your leftover steak and combine with cheese, then roll everything with egg roll wrappers to make the best cheesesteak egg rolls.
They might look plain, but the filling is so good that 2 or 3 rolls would never be enough for you. Golden yellow and crispy cover with the cheesy filling of cheese, cubed steak, and cubed veggies certainly become your new favorite appetizer at any party.
Here is my favorite Asian-inspired delicacy with beef and fresh vegetables. Therefore, it is not only full of taste but also very healthy.
These beef summer rolls define what perfect rolls should be. With crunchy fresh, colorful veggies like carrots, cucumbers, and herb leaves, it will make you forget that you are consuming your leftover steak. Serve them with homemade dipping sauce is a must for the best-enjoyed rolls.
I know you are a busy bee, but it does not mean that you cannot eat well. Besides steaks, you can make this recipe using your leftover pork or chicken.
You must have tortillas on hand to make these rolls. But do not worry, you can find these ready-made tortillas in the supermarket. Then, fill them up with cooked steak, onion, sauce, and spices and tightly roll. Voila! Now you have a hearty Mexican dish for your busy day right at your home.
What time is it? Time for burritos, that's right. But why does a burrito look like a taquito as they are both rolls with filling? Let me tell you why.
Burritos are larger than taquitos. That's it. The best way to tell the difference between them is just their sizes because their fillings are quite similar. I add some mushrooms to increase the mild sweetness and scrambled eggs to make my burritos stand out in this recipe.
Well, if normal burritos do not meet your tummy's needs, then how about deep-frying them to make fantastic chimichangas? And leftover steak is an ideal component for you to make chimichangas in a shorter time.
You can also air-fry them if you do not like too much oil for your dish. And both raw or cooked tortillas are totally fine for making perfect chimichangas.
Enchiladas are similar to burritos, but enchiladas are made from corn tortillas instead of flour tortillas like burritos. And you can eat enchiladas with a fork while burritos can be hand food.
Besides 2 main ingredients as leftover steak and tortilla wrappers, you have to prepare some black beans, corn, onion, shredded cheese, and spices. Do not forget to serve them with your favorite salsa to make enchiladas have a bursting flavor.
Leftover Steak For Comforting Soup And Stew Recipes
Nothing sounds and tastes better than a warm soup or stew for chilly days. That's why these 4 recipes here that cook with leftover steak can meet every demand, even from the pickiest ones.
Let's begin with the most basic one – leftover steak soup. Plus, if you are looking for a low-carb menu, this one should be pinned right now.
Leftover steak is not only easy but also quick to cook. It simply combines everything in a large pot and cooks them on the stovetop until it thickens. Remember to dice your steak into small chunks so it would be better in a soup.
Watch this video to know more:
With this vegetable beef soup recipe, you just add some colors to your brown soup, making it more appealing and healthier.
You can see a long list of ingredients here, but they are all supposed to work together to make one of the most comfortable leftover steak soups. This soup goes well with some baguette slices.
Chili with ribeye steak is a tasty and warming recipe for winter nights. Warm spices like chili powder and paprika, combined with the beefy and smoky flavor of the leftover steak, will turn this chili into a classic beef chili that everyone should try.
Plus, because chili is not complete without beans. So you can combine various beans in 1 pot to enhance the creaminess of the chili.
Beef stroganoff is a Russian stew with tender beef and a tangy, creamy sauce. And it is also a wonderful way to solve your leftover-steak problem.
Because this recipe is so simple to prepare, it has become a favorite weekend family dish for any meal. The thick sauce, which is made from sour cream, Worcestershire, and herbs to enhance the flavors, is the greatest part. Plus, beef stroganoff is normally eaten with egg noodles.
Watch this video to know more:
Save More Time With Fried/Stir-fried Leftover Steak Recipes
Rice, noodle, and veggies will be great companions for your leftover steak ideas, adding to the detectability that you could forget you are eating leftover food. Let's check it out.
Beef and broccoli is also a great idea to use leftover steak. Served with steamed rice, they have always been a favorite easy dish that many Asians love to have for dinner.
If your leftover steak is a big chunk, cut them into smaller pieces before cooking with soy sauce, onion, and broccoli. And this easy, fast, and healthy dish is ready to go in around 20 minutes.
Let's try some noodles with leftover steak with a typical Thai dish: Thai beef noodles. It is a great meal full of flavor with Asian-style sauces and veggies.
You can use various noodle kinds. In this recipe, I use Thai rice noodles as they are low in fat. Plus, veggies can be based on your preference, but the common ones are bell peppers, broccoli, peas, or onion. For more appealing and tastier, garnish them with herbs like parsley or basil.
Here is a different way to cook your leftover steak with rice that many Asians enjoy. By frying them with other veggies, and of course, with some soy sauce, you can never get bored with this leftover meat treat.
Steak fried rice is perfect for all ages. It can be a little step to introduce the Asian-style dish to your family. And I bet your rice bowl will end up empty.
Leftover steak can be turned into a new and delicious dish with a steak fried rice recipe here.
Awesome Recipes For Baked Dishes With Leftover Steak
Some of the 4 following leftover steak recipes may demand a bit of effort and time. But do not worry; the step-by-step instructions will spoon-feed you all of the information you need to create a spectacular dish.
Cheese Steak Crescent Braids is a perfect savory pastry to start. And it could be a hit in your baking career, even if you are just a starter. I use the crescent dough to make this soft and fluffy braid. In fact, bread dough or pizza dough are both acceptable.
By adding other flavors from cheese, bacon, jalapeños pepper, mushroom, or other ingredients that you like, this recipe is quite flexible for leftover steak. So let your gut tell you what you should add and stick with it.
There is no way that I can miss a pizza recipe for leftover steak ideas. Crispy pizza crust baked with garlic sauce, peppers, onion, and the steak from the night before is ideal for making your weekend exceptional.
No one can say no to pizza, which is why this dish is sure to be a favorite with your family. Every bite is brimming with delectable flavors that make your mouth water. And there is no guilt in adding as much cheese as you want.
Savory steak pot pie is another great way to upgrade your leftover steak to another goodness. To save time, you can get store-bought pie crust instead of making it at home.
Cut your steak into small bites, as well as the vegetables. Place the dough over the mixture of beef and veggies before baking. And after 25 minutes in the oven, you can enjoy your free day with this super tasty pie with a bunch of happiness.
Steak and fries are excellent combos to refresh your leftover steak and frozen fries.
All you have to do is just put ingredients together and bake in the oven for around 20 minutes until your fries are cooked. Moreover, adding cheese sauce or gravy will make your steak fries more flavorful and juicy.
Salad Recipes With Leftover Steak For Your Healthy Diet
Whenever I talk about salad, I talk about fresh veggies that are packed with numerous nutrients. Now, by adding some leftover steak, you will have fulfilling salad dishes that everyone wants to chow down.
What do you need for a perfect summer starter? A bowl of salad will tell you how. In this recipe, leftover steak, veggies, and the lime vinaigrette will be used to refresh your hot days.
The important thing is that your leftover steak must be sliced thinly so that the vinaigrette can be absorbed well into your meat. Combine with lettuce, beans, corn, bell peppers, tomatoes, and avocado; your leftover salad is full of colors and flavors.
Another great way to use up leftover meat is to make steak salad with blue cheese. It would be a quick and healthy meal that tastes great and helps you stay in shape.
Mix leftover steak, avocado, blue cheese, and basil balsamic sauce to blend the flavors in a large bowl. You can regulate the components according to your preferences. If you do not like blue cheese, feta or goat cheese are fine. Or use another mild aromatic herb if basil is too strong for you.
Other Amazing Leftover Steak Recipes To Clean Up Your Fridge
Still cannot figure out what to cook with your leftover steak? How about these 9 recipes? I guarantee at least one of them would satisfy your stomach.
23. Leftover Steak Pasta
This rich and flavorful spaghetti is an option for reviving your leftover prime rib. And I have one reason that I am sure you will enjoy it: no one will know it is made from leftover steak after serving it.
The steak is still tender; coming with mushroom gravy and beef broth will make your pasta plate look like a high-class dish in a restaurant.
Those who have been to Korea or are big fans of Korean food must know this dish. Bibimbap seems like one of the most well-known dishes in every Korean restaurant.
With cooked steak, rice, and veggies, you can enjoy bibimbap at home without any trouble. The most authentic bibimbap requires many ingredients, but feel free to make it based on what you have on hand and your taste.
With eggs and any leftovers in your fridge (like steak, cheese, and greens), they can create a delicious meal to please every member of your family.
A steak omelette is an ideal brunch that you would love to have for the weekend as you do not have to wake up early to prepare and cook. Everything in your pantry and fridge can shine in one pan with this recipe. Slice your steak thin before cooking with eggs, cheese, and veggies.
Looking for a healthy breakfast for your family that comes with your leftover steak last night? Let's check this breakfast hash recipe to start the new day with full energy.
With veggies, eggs, and steak, breakfast hash turns your normal breakfast into a wonderful meal. Leftover vegetables are one of the perfect ways to pair with this steak dish. Soft and still juicy leftover beef is topped with the runny yolk egg, making the dish more entertaining.
Your children are returning to school, and you are stressed out about what dish you should cook for them to bring to school. These leftover steak sandwiches could be the best idea for your situation.
With steak, onion, mushrooms and peppers, and a hint of cheese, I bet every schooldays of your kids is a fun day as they have these cheesy sandwiches with them. And not only your kids, everyone else would be so surprised with this delicious sandwich.
Watch this video to know more:
Steak nachos full of leftover steak, beans, cheese, avocado, lettuce, and herb, served with special salsa, is the iconic Tex-Mex recipe that you should not ignore.
If you want something hearty and easy for your game day, this recipe will fulfill your needs. Steak nachos are an ideal starter to increase your craving.
Beef tostadas is a crispy dish that can be topped with your leftover steak, cheese, and veggies. First of all, make sure your steak will be shredded.
Starting with spreading refried beans on a crunchy tostada, then you can add your shredded leftover steak, fresh lettuce, tomatoes, and onion. Serving them with sales for the best flavors.
Steak crostini with sauce is another tender and creamy dish that you can use your leftover steak to make. Though they look small, every bite is full of surprise with crispy bread topped with steak, cheese with the drizzle of horseradish sauce.
So do you want to make it for a stunning steak appetizer for your next gathering? Do not hesitate; just give it a shot. You will not regret it.
Leftover steak and quinoa is a light and straightforward treat that will fit your healthy eating habit. In less than 20 minutes, tasty steak, quinoa, and other ingredients are ready to serve on one plate.
By using sour-and-sweet dressing, you can add various tastes to your dish. And it can be served warm or cold, so it is ideal for a lunchbox as well.
Wasting Leftover Steak Should Be Seen As A Crime
And I believe no one wants to be a kitchen criminal by throwing away a delicious dish like steak. Indeed, there are many ways to make your leftover steak become a beautiful treat, and these 31 recipes are examples.
However, you have to ensure that your leftover meat does not stay too long in the fridge for your safe consumption. So keep in mind that 3 to 4 days is the best time range to store them in the refrigerator.
Final word, if you love these brilliant ideas to cook with leftover steak, let's give it a shot, then come back here to share your experience. Your rating and share are also so meaningful to me. Thank you and enjoy.
Nutrition Facts
6 servings per container
---
Amount Per ServingCalories455
% Daily Value *
Total Fat 25.9g

39

%
Cholesterol 101mg

34

%
Sodium 762mg

32

%
Potassium 319mg

10

%
Total Carbohydrate 24.6g

8

%

Dietary Fiber 2.6g

8

%
Sugars 1.4g

Protein 34.4g

68

%
---
* The % Daily Value tells you how much a nutrient in a serving of food contributes to a daily diet. 2,000 calories a day is used for general nutrition advice.