Leftover shrimp recipes provide surprisingly high values to any dinner. Thus, you will regret missing them out from your dining menu. Shrimp that was leftover from the previous supper is a more versatile foodstuff than you think.
Although the leftover shrimp might appear drier and harder, I guarantee my recommended recipes will repurpose the ingredient, turning it into truly enjoyable dishes for your family. Treasure these recipes, as you will not have leftover shrimp that often.
If you have never tried to play around with leftover shrimp, here are 21 colorful and exciting leftover shrimp recipes for your amazement. There is no need for fancy ingredients or special cooking methods! All you need is a pen to take note of my guide below.
Without further ado, let's dive right into it!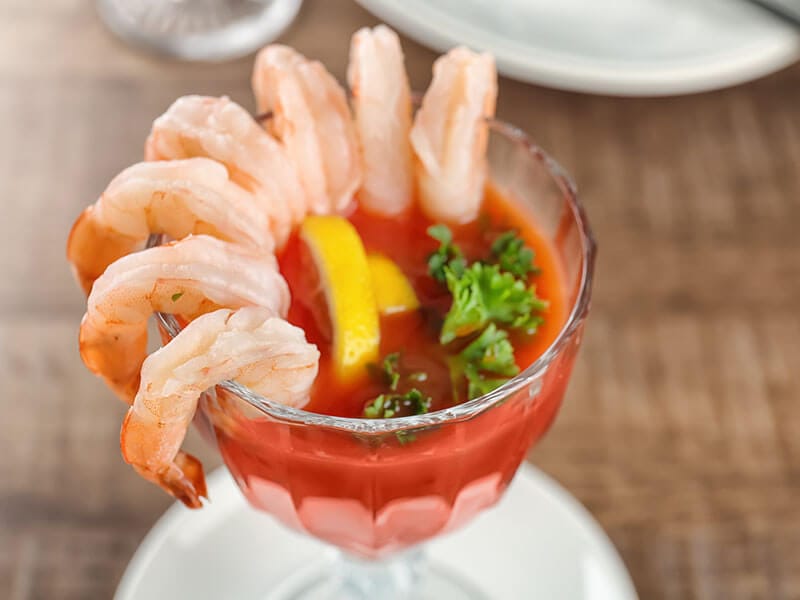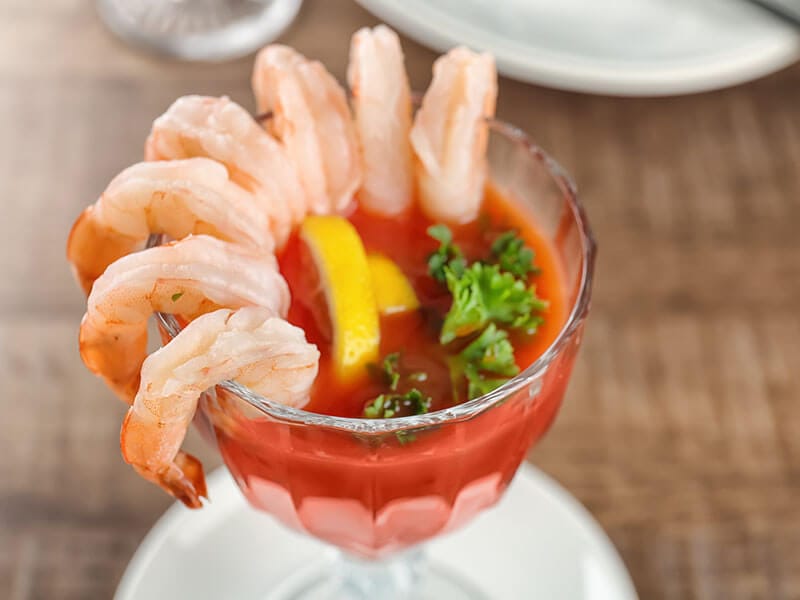 Please Your Taste With The Best 21 Leftover Shrimp Recipes
All my suggested leftover shrimp recipes are in one place below. Before jumping into the details, it is beneficial for you to have a brief look over them!
7 Simple Stir-Fry Dishes
Stir-Fry Shrimp
Pad Thai
Fry Shrimp Rice
Garlic Shrimp Spaghetti
Shrimp Alfredo
Cajun Shrimp
Butter Stir Shrimp
6 Aromatic Baked Dishes
Crispy Baked Shrimp
Margarita Grilled Shrimp
Foil Baked Shrimp
Cheesy Garlic Shrimp
Bacon-Wrapped Shrimp
Baked Coconut Shrimp
4 Nourishing Salad Dishes
Shrimp Cocktail
Cilantro-Lime Shrimp Salad
Avocado Shrimp Salad
Lettuce Shrimp Salad
2 Comforting Soup Dishes
Shrimp Chowder
Coconut Shrimp Curry
2 Savory Dip Dishes
Garlic Shrimp Dip
Louisiana Shrimp Dip
7 Simple Stir-Fry Dishes With Leftover Shrimp
Let's see how your leftover shrimp can warm your meal up and blow your mind just by simple cooking steps!
Everyone enjoys a healthy stir-fry dish, and this Stir-Fry Shrimp recipe is no exception! Almost every stir-fry recipe is highly adaptable to suit your tastes and the availability of ingredients!
This dish is straightforward to prepare and takes less than 30 minutes to make from scratch. All it takes is cooking shrimp and vegetables in a delicious and flavorful garlic sauce giving the recipe multiple health benefits. To make this dish your own, simply change the ingredients and seasonings to fit your taste preference.
Serve this simple dish with a combination of soy sauce, sesame oil, and brown sugar. You will find it irresistible to stop after the first try.
This incredible Pad Thai dish is simple and takes less than 30 minutes to put together.
There are a lot of fresh ingredients in this dish, including rice noodles and chicken. There are also leftover shrimp, tofu, cilantro, bean sprouts, peanuts, and scrambled eggs.
With a quick trip to the grocery store, you can make this amazing chicken and shrimp dish whose taste rivals the best Thai restaurants in the world. Thanks to the slippery noodles, the iconic sweet-salty flavors, peanuts, and lime, Thai cuisine is everyone's favorite for a very good reason!
Have you ever found yourself with leftover shrimp and rice in the refrigerator since last night? The best method to use up them is to create this delicious Fry Shrimp Rice.
You may think fried rice is so familiar and boring. However, this 15-minute dish can easily take you aback from the first bite.
Fresh rice tends to get mushy when fried. That is why refrigerated leftover rice works best for this kind of dish. Combining with dried-up leftover shrimp makes the pair the perfect choice for frying recipes.
Feel free to customize this recipe by adding and mixing up various components to your likings.
Learn to generate this famous Chinese takeout dish right at home with the following tutorial.
This Garlic Shrimp Spaghetti is going to be your new go-to one-pot dinner. It will blow your taste senses away and instantly become a favorite from the first mouthful.
You are going to adore preparing shrimp since it cooks quickly and is a crowd pleaser! Even the children enjoy it regardless of how it is prepared.
Blend these spicy garlic shrimps in creamy white wine sauce and angel hair pasta to generate the most heavenly taste ever!
Plus, the whole process of preparing this recipe at home only takes 30 minutes, which is so simple and delicious!
Succulent shrimp flavored with butter and garlic sizzle in a delicious cream sauce, mixed freshly cooked pasta, turn this dish into the dream of all pasta lovers!
This simple Shrimp Alfredo pasta dish is ideal for both a quick weekday meal and a delectable treat for your guests! Flavorful, creamy garlic sauce covers tender shrimp and noodles.
Guys! I guarantee that you will never find a better Shrimp Alfredo recipe than this recommended version. It is creamy, cheesy, and flavorful but not too decadent.
This Shrimp Alfredo is perfect on its own. However, I prefer grilling some chicken to accompany the recipe. You can follow my idea or play with your preferences. Anything is permissible.
A handy hint is that a "pinch" of nutmeg is the smallest quantity that fits between your index and middle finger. Nutmeg adds a nutty sweetness to Alfredo sauce, complementing this dish's rich taste.
Making Cajun Shrimp is as simple as putting a little salt and pepper on the recipe. It yields four servings but is easily doubled or tripled in case you are in the mood for more Cajun-style food.
You should choose green peppers, onions, and corn as vegetables, but any frying greens probably work fine! When frying the shrimp, be sure to cook them in a single layer to cook evenly. Overcrowding the pan increases the risk of steaming and overcooking, resulting in sad leathery shrimp.
Cooking one batch of shrimp at a time may seem time-consuming, but it takes only a short time to cook. All that is left to do is wait until the shrimp is pink and opaque. Simply spoon it into serving plates, garnish with parsley, and dig in!
Enjoy this straightforward instruction on how to make this spicy Cajun Shrimp.
This dish is a must-try for anybody who has leftover shrimp on hand and likes the buttery aroma. In fact, butter and garlic are two of life's greatest joys. When combining these two elements in a magnificent shrimp skillet, the result is nothing short of divine.
Toss these succulent leftover shrimp into a pasta dish or a bowl of rice for dinner, or serve them as a fast appetizer.
Every great entrée requires an equally amazing bread, correct? Serve slices of handmade French bread or a plate of cheese garlic breadsticks to mop up the last drops of this Butter Stir Shrimp.
Fulfill Your Oven With 6 Aromatic Leftover Shrimp Baked Dishes
Do you fancy something that can call your family members to the dinner table in a blink? The following six aromatic baked dishes with leftover shrimp will certainly help you take care of that!
Cooking leftover shrimp in garlic butter sauce and topping it with golden crispy parmesan breadcrumbs are an amazing way to generate hearty baked dishes. With a simple preparation process, you can easily pull off this "Magical Baked Shrimp" recipe.
You can serve these Crispy Baked Shrimps as a quick appetizer or sheet pan supper. Instead of butter, you can use heart-healthy olive oil.
These baked shrimps receive short 30-minute marination before they are lightly dusted with bread pieces to infuse them with taste and give them some crunchiness.
Accompany the dish with your beloved salad, or use them as the focal point in your meal. Both ways are wonderful to enjoy this aromatic dish.
Margarita Grilled Shrimp is a must-try dish, especially if you love grilled shrimp. You can prepare this recipe using tiny appetizer-sized skewers, bigger meal-sized skewers, and even without skewers at all. Count in a few easy sides for shrimp, and you will have an utterly delicious meal!
You cannot go wrong by grilling up this simple Margarita Grilled Shrimp dish throughout summer. This grilled shrimp meal with margaritas is seasoned in a tangy, sweet, and spicy sauce that guarantees to fill your mouth with heavenly tastes.
Follow this guide to wow your family with this must-try Margarita Grilled Shrimp.
Do not consider too much while preparing this quick-baked shrimp dish on the grill or in the oven. This recipe is 100% low-fuss and requires little cleanup effort. This is another brilliant idea whose taste will transport you directly to Louisiana.
Its preparation process is quick and simple yet demands some concentration. If you overcook shrimp by just a brief moment or two, your dish may rapidly go from nicely cooked to harsh and rubbery.
This supper guarantees to be your family's next big hit. Each individual wrapping and baking shrimp scampi is so appealing and adorable there will hardly be any leftovers after dining time.
If someone advises you to throw leftover shrimp from the last meal into the trash bin, surprise him or her with this Cheesy Garlic Shrimp Bread. All you need to do is take a slice of bread, put leftover shrimp on, and bake everything with a cheesy garlic sauce on top.
Your family members will fall in love with each delectable, crispy bread slice infused with the fragrant flavor of garlic butter and enhanced by the addition of leftover shrimp.
When you are tired of the same old breakfast meals or bored with ordinary choices like omelet sandwiches, hamburgers, hot dogs, this recipe is a wonderful idea that ticks all your desires.
Bacon-Wrapped Shrimp is a quick and simple treat for New Year's Eve, Christmas, and other holiday occasions. To me, there is nothing more satisfying than this bacon-wrapped shrimp!
This easy shrimp dish combines sweet and spicy flavors together for a maximum taste. Simply wrap the shrimp in bacon, secure it with toothpicks, place it on a baking sheet, and put it in the oven.
This dish will never stay long on your table! Accompanying this amazing plate with extra sauce and creamy guacamole guarantees the dish vanished in less than ten minutes, with everyone begging for more!
Shrimp has long been a favorite in my family, owing to its taste and ease of preparation. Moreover, with shrimp recipes, I have the freedom to make my own last-minute meals. These Baked Shrimp with coconut flakiness is no exception, which turns out flawlessly every single time.
Baking is a better approach in most cases, thanks to its straightforward process and health benefits. That is why baking shrimp in coconut is a wonderful idea, compared to other cooking methods like frying.
Leftover shrimps coated with a crispy and savory-sweet coconut batter produce the most irresistible flavor ever. Plus, they are gluten-free, low-carb, and genuinely comparable (if not superior) to their oily fried restaurant equivalents.
4 Salad Bowls For A Refreshing Start To The New Day
These healthy salad bowls mixed with leftover shrimp can prevent your stomach from feeling oily and heavy because of your previous dinner.
Learn how to create this ideal Shrimp Cocktail right in your kitchen by making your cocktail sauce and boiling shrimps until they are soft, juicy, and delectable.
Believe it or not, many restaurants use frozen shrimps that have been precooked, shelled, and deveined for various frozen shrimp recipes, including these Shrimp Cocktails. Leaving aside the quality concerns, thawing the previously cooked frozen shrimps poses many difficulties. That is why I highly suggest using up your leftover shrimps, as they are capable of producing more miracles than you can imagine.
There are tons of ways to enjoy this Shrimp Cocktail recipe. Besides dipping and spoon eating, you can even use a fork to consume various ingredients of these salad bowls in a single strike!
Isn't this Cilantro-Lime Shrimp Salad stunning? Is there anything better than diving straight into a salad dish with all mouth-watering ingredients? You will also adore the cilantro-lime dressing, as it is so vibrant and lovely.
Light and refreshing, this delicious shrimp salad does not need much cooking. All you need to do is utilize the leftover shrimp, then toss it into the colorful mixture of avocados, tomatoes, red onions, cilantro, chopped jalapenos, and a drizzle of olive oil. Then, make the salad dressing with freshly pressed lime juice and cilantro.
This whole process is simple to prepare and requires only a few minutes of your schedule. If you are searching for a low-calorie dinner or side dish that is still satisfying, look no further than this Cilantro-Lime Shrimp Salad.
Why would you serve an avocado salad with shrimp? Well, tossing shrimp to the avocado salad makes the dish more substantial and hearty, thanks to the added protein. Magically, that is all you need to do to prepare this Avocado Shrimp Salad.
This salad is a traditional summer meal that you can enjoy on any day or occasion. It is a cool and refreshing way to repurpose leftover shrimp, turning it into a nourishing salad bowl brimming with avocados and mayonnaise.
Besides the two main ingredients above, adding green onion, fresh dill, and a splash of citrus in the form of lime juice to amp up the salad's taste, making it extra special.
This salad would taste even better when the shrimps are seasoned with cajun spices, which provides an additional mouth-watering layer of flavor. Altogether, this simple yet extremely delicious shrimp salad is the ideal meal prep for lunch and supper.
Make this Avocado Shrimp Salad from scratch with this famous Natashas Kitchen's tutorial.
Add grated Parmesan cheese, toasted pine nuts, cooked shrimp, croutons, and your favorite Caesar dressing to romaine lettuce, and you have got yourself a hearty main-dish salad.
This delectable Lettuce Shrimp Salad is simple to prepare and makes an excellent main course option during warm days. Combining chilled, fresh shrimp with creamy Greek yogurt, topped with baby spinach leaves, makes a delicious and elegant dish that you can enjoy in a get-together with friends.
This shrimp salad also makes an excellent filler for a mouth-watering sandwich, easily fitting into a sandwich pocket between two multigrain rolls or in a lettuce wrap for a healthy alternative. Potato chips make a great salty-crunchy side dish to enjoy alongside Lettuce Shrimp Salad.
If you have any leftover cooked shrimp, you may make this salad by mixing it with lettuce and fresh tomatoes and dressing it with mayonnaise.
Comfort Your Soul By 2 Leftover Shrimp Soups
In case you are feeling under the weather, why not try these soup recipes out? Not only do they warm your stomach on chilly days, but they also provide you a great boost of energy.
This creamy, delicious Shrimp Chowder dish is simple to prepare and pleasant to eat. There is no better feeling than seeing your family eating this cozy soup with the same enthusiasm as I do.
You can repurpose the leftover shrimp stock having cooked the night before and refrigerated. Then, combine leftover shrimp with delicious corn kernels to yield the most appealing taste ever! Additionally, do not forget the bacon! Make sure you top your comforting soup with crispy bacon pieces!
The best part is that you can adjust the heat level by adjusting the amount of paprika utilized according to your preference. However, I recommend using a bit more paprika since the smokiness is the real star of this soup!
Enjoy the easy preparation of Shrimp Chowder with this instruction.
Coconut Shrimp Curry is one of many meals you can prepare in a short amount of time on any weekday. Simple, but oh, very fulfilling! And like me, this shrimp curry becomes extremely handy if you have a bag of leftover shrimp and coconut milk available on hand.
This 25-minute Coconut Shrimp Curry is brimming with exciting flavor from the shrimp and coconut curry sauce. Despite the short preparation, this spicy shrimp curry comes together with a taste like it has been slow-cooked for hours!
This soup pairs nicely with hot cooked rice and a pinch of fresh cilantro. Altogether, its revitalizing taste is ideal for work and school lunches!
2 Shrimp Dips That Go Well With Your Slices Of Bread
Last but not least, the best two dip recipes featuring leftover shrimp can empty your rice bowl in a blink.
Is it possible to prepare this shrimp dip in advance? Yes, of course, especially for your holiday occasions. Holidays always come with a hectic schedule and a whirlwind of activity, making you suffocated if you have to prepare meals for the occasion.
Don't worry, as with Garlic Shrimp Dip, you can accomplish the cooking task and place the dish on the table in about 30 minutes.
Garlic Shrimp Dip is spicy, garlicky, cheesy, and extremely creamy, making it an ideal solution for a New Year's Eve party or Game Day celebration!
Serve this crowd-pleasing dip recipe hot and bubbling with tortilla chips. You can taste the lemon zest in this rich, creamy soup, which also has a hint of old bay flavor, herbs, and spicy sauce.
There is nothing better than a good, hearty Louisiana Shrimp Dip! Seasoned with bell peppers, sour cream, and cream cheese, this dip is brimming with juicy shrimp and Creole seasonings like paprika, onion, and cayenne pepper.
This dish is the ideal appetizer for gatherings and is certain to delight a crowd. With a few minutes to put together, Louisiana Shrimp Dip will quickly become a big hit that you will turn to every once in a while!
Start Cooking Dishes Before Wasting Leftover Shrimp
Don't miss out on these miraculous leftover shrimp recipes by throwing the ingredient into the trash bin without any consideration. From now on, you have 21 ideas from my article to wake up your creativity in your own kitchen space.
I hope the recommended list above can not only alleviate those times when you deal with past meals' leftovers but also inspire you to take action in the kitchen right away.
Do not hesitate to let me know other recipes or share your experience when trying one of my suggestions. Cooking is a journey of learning and improving. Good luck to all! And thanks for reading!
Nutrition Facts
4 servings per container
---
Amount Per ServingCalories338
% Daily Value *
Total Fat 8.4g

13

%
Cholesterol 88mg

30

%
Sodium 541mg

23

%
Potassium 253mg

8

%
Total Carbohydrate 44.8g

15

%

Dietary Fiber 2g

8

%
Sugars 2.2g

Protein 20.7g

40

%
---
Calcium

117

%
Iron

3

%
Vitamin D

4

%
* The % Daily Value tells you how much a nutrient in a serving of food contributes to a daily diet. 2,000 calories a day is used for general nutrition advice.