13+ Astonishing Leftover Ribs Recipes 2023
These leftover ribs recipes are ideal for the day after a special occasion such as a large barbecue party, where you purchase a considerable amount of ribs but cannot devour them all at once.
Instead of eating the same dull, reheated dishes from last night, you can utilize this extraordinary ingredient to turn those original meals into something fresh and delectable.
After experiencing the beauty of these recipes, you will realize there is little difference between raw ribs and leftover ribs in the dish's flavor. In other words, leftover grilled, roasted, or steamed ribs taste as delicious as fresh ones.
Not only are these leftover ribs easy and quick to pull off, but they also come with various options, ranging from soups to sandwiches, to make an even better dinner the second time around.
So, without further ado, let's put on your oven mitts and join me in the kitchen with the following 13+ leftover ribs recipes.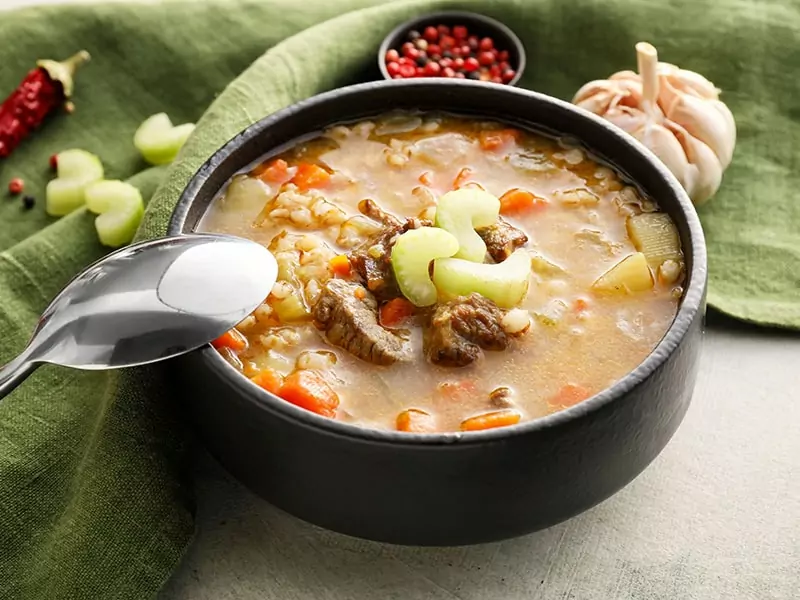 Full Compilation Of 13+ Astonishing Leftover Ribs Recipes For Meat Cravers
I understand that some meat cravers have very hectic schedules. It is why I always prepare a complete compilation of my recommended recipes before tossing in the details. Feel free to go over my list of 13+ astonishing leftover ribs recipes that can make you drool!
7 Succulent Leftover Ribs Sandwich Recipes
Leftover BBQ Pork Ribs Tacos
Leftover BBQ Pork Ribs Sandwich
Leftover Prime Ribs French Dip
Leftover Prime Ribs Philly Cheesesteak
Leftover Prime Ribs Sandwich
Leftover Prime Ribs Tostada
Leftover Ribs Quesadillas
7 Nourishing Leftover Ribs Soup Recipes
Leftover Baby Back Ribs Soup
Leftover BBQ Pork Ribs With Cheesy Grits
Leftover Pork Ribs And Rice Cake
Leftover Prime Ribs Barley Soup
Leftover Prime Ribs Chili
Leftover Prime Ribs Pho
Leftover Prime Ribs Soup
7 Succulent Leftover Ribs Sandwich Recipes
Sandwich has long been a popular way of eating by layering up all your preferred ingredients together. Leftover ribs are indeed one of the elements you cannot miss out in this classic category. Let's unveil seven succulent leftover ribs sandwich recipes right below!
Your midweek evenings have just become a whole lot better with these impeccable tacos. They are a brilliant way to revive your leftover pork into a better-than-original dish. This recipe is excellent for every palate, ranging from spicy to salty.
Since you utilize leftover ribs, preparing these Mexican treats is fast and easy as the meat is already cooked. So, cooking an after-work meal is no longer a big deal.
To further reinvigorate your remaining ribs, make sure to select your favorite toppings for the treats, such as cabbage and shredded carrot. Also, never forget the sauce for tacos. For this recipe, you should go with something sweet and tangy to balance out your cooked ribs.
Let's wow your family with these special tacos. These simple treats with leftover BBQ pork ribs will definitely leave them speechless with their moist and delectable taste!
This Leftover BBQ Pork Ribs Sandwich is not only a delicious way to revitalize your five-star cooked ribs with the creamy barbecue sauce but also a cozy reminiscence of wonderful summer days.
Making this recipe reminds me of the good times where I could vividly smell the smokey taste from my neighbors' BBQ-ing those delectable ribs. These summer smells were delightful.
Besides the nostalgic values, I guarantee the saucy taste of this flavor-packed hot sandwich will knock you off your feet right from the first bite. It is so filling and hearty that you will feel as if you have ordered lunch at a posh restaurant.
To maximize this recipe's flavor, pair the sandwich with baked beans and coleslaw. They are great accompaniments to elevate your dining experience with the dish!
Following holiday dinners, I always end up finding new ways to utilize leftover ribs, especially prime ribs. One of my favorite solutions is this quick and easy Leftover Prime Ribs French Dip.
This appealing recipe is brimming with cooked ribs and homemade Au Jus sauce, making it the ultimate treat for meat lovers. The combination of juicy ribs and a French dip sandwich topped with this beef stock-based sauce will leave you speechless.
Additionally, preparing this delectable sandwich recipe is a piece of cake with the use of leftover ribs. Yet, it turns out to be a very crowd-pleasing dish, ideal for a substantial lunch or supper.
Philly Cheesesteak is not only the holy grail of warm sandwiches but also a flavorful way to repurpose your leftover prime ribs. The use of delicate vegetables and tons of swiss cheese will elevate your yesterday's ribs to an extraordinary hoagie today.
This incredible Leftover Prime Ribs Philly Cheesesteak is a wonderful option for a great morning, as it is quick to assemble and contains all your preferred ingredients inside. It is also suitable for your next Super Bowl party as a hearty treat to all your meat-loving guests!
Let's try out this recipe in your kitchen. It only takes a few minutes to assemble a complete sandwich. Yet, the food will wow your family and friends with its meaty and genuine Philadelphia taste!
With a few minutes on hand, you can jump straight to the kitchen and assemble this genuine Leftover Prime Ribs Philly Cheesesteak.
If Leftover BBQ Pork Ribs Sandwich are unique for its smoky flavor (and a bit of summer reminiscence), this Leftover Prime Ribs Sandwich has a more sophisticated taste profile from a plethora of ingredients.
This open-face sandwich is also a convenient way to revive your remaining prime ribs into a flavor-bursting dish. Nobody will suspect they are eating leftovers, as this dish is too delicious.
With this recipe on hand, you will have more confidence in shaking up your leftover prime ribs after a big holiday meal. Just a few familiar steps in assembling sandwiches and some basic ingredients, you can generate a sweet and delectable meal for your entire family!
Enjoy the sophisticated taste profile from a plethora of ingredients in this Leftover Prime Ribs Sandwich!
This Tex-Mex fusion Tostada will turn your leftover prime ribs into a crispy and flavorful treat with tortillas, ideal for packing a punch at your next family gathering. Its striking look will capture your attention right from the first moment.
Not only is it tasty, but the treat is also healthy with multiple layers of fresh vegetables and delicate leftover prime ribs. You will feel its delectable flavor and soft, creamy texture in every mouthful.
In addition to fresh Mexican spices, the bright taste of excellent pico de gallo perfectly complements your cooked ribs, bringing them to life! If preferred, serve this Leftover Prime Ribs Tostada as an appetizer or as part of a family dinner with a drizzle of sour cream.
If you wish to enjoy a new twist on traditional quesadillas, it is a refreshing idea to wrap your leftover smoked ribs and melted cheese into those soft tortillas. The tender and cheesy flavor of these Tex-Mex treats guarantees to be a big hit on your supper menu.
These piquant and tempting quesadillas are also a great way to use up any remaining ribs in your fridge, turning them into a decadent and fulfilling meal.
Putting these quesadillas together is super quick and simple. Witnessing the meat pulled from your fall-off-the-bone leftover ribs is the beginning signal of a delicious meal. Toss in some guacamole and sour cream to complete the dish!
I am so in love with the refreshing idea of wrapping your leftover smoked ribs and melted cheese into those soft tortillas to form the lovely quesadillas.
7 Nourishing Leftover Ribs Soup Recipes
When it comes to healing your stomach during chilly winter days, nothing surpasses a cozy homemade soup. It gets even better as you can use soup as a method to repurpose your leftover ribs. Here are seven nourishing recipes to do just that!
This recipe has been my go-to option whenever I have leftover baby back ribs. You cannot go wrong with combining baby back ribs with soups. These cooked ribs are so soft, delicious and impart a distinct flavor to your dish in an extraordinary way.
What I love about this recipe is that I can allow the soup to simmer throughout the day. Its enticing fragrance will travel all over the house until the hot soup is piping hot and ready to serve on the table.
All in all, this mild soup will cuddle your stomach with a smoky flavor and a hint of sweetness. It makes an ideal warm dish for nighttime camping, where you can enjoy its delectable taste with a sparking fire in front of you, shooting stars overhead, and a glass of chilled Riesling on hand!
These savory, creamy, cheesy grits can effortlessly please a crowd by revitalizing your leftover BBQ pork ribs into a delectable dinner! Its rich flavor will quench your hunger pains like no other recipe. Have faith in me! Once you have tried this dish, you will never forget it!
What's wonderful about this recipe is that all the hard work has already been done from the moment you utilize leftover ribs. Thus, all you have to do is prepare the grits, which require only a few minutes.
The decadent cheese sauce accompanies nicely with the simmering cooked ribs, filling your tummy with unmistakable Southern flavors. The last sprinkle of chopped parsley and black pepper will elevate the tanginess of your meal.
Impress your family by emptying those leftover ribs from the fridge to make this cheesy recipe. I guarantee they will want to take up the bowl and lick it clean until the last drop (just like you do with your plate).
Since rice cake promotes wealth year after year, this Korean-originated recipe is often served as one of the most significant traditional foods during the Spring Festival. What makes this dish special is how it blends rice cakes with your leftover pork ribs and tender veggies so beautifully.
This recipe is undoubtedly my favorite way to enjoy cooked ribs at weekend dinner. The soft and semi-chewy rice cakes pair interestingly with the savory cooked ribs to form an excellent and nutritious dish.
Try to serve this Leftover Pork Ribs And Rice Cake as supper, and you will notice the most bizarre dining atmosphere ever! It can be the quietest meal as everyone's face will be buried in their plate, enjoying the ribs and rice cakes!
Normally, I classify recipes using leftover ingredients as "leftover rescue recipes". Yet, this Leftover Prime Ribs Barley Soup is a special case. The way it transforms your leftover meat into a delectable and healthy dish earns the title "leftover luxury recipe" in my heart.
Not only satisfying, but this Barley Soup is also healthy thanks to the use of delicate veggies and a well-seasoned red wine broth. Once you put those leftover prime ribs in, all ingredients come together harmoniously and unify the flavors.
Consume this hearty soup with a crusty piece of bread for a substantial dinner. I am sure everyone will enjoy this way of enjoying the soup. If you want to share this cozy dish with your friends, don't hesitate to display this gem at large parties or special events!
With this creative recipe, you can easily transform your flavorful leftover prime rib into a casual game-day chili. With a delicate foundation brimming with tomatoes and other veggies, this spicy soup is the pinnacle of comforting food that you want to enjoy when cheering for your team.
The beefy taste of your remaining ribs blends well with other chili spices, generating a hearty meal that is certain to delight a huge crowd at any potluck dinner or holiday occasion.
Cooking this chili is surprisingly easy. The whole process is pretty similar to how you pull off the classic chili. Its taste will waft through your entire house with a pleasant fragrance. Once you finish cooking, your family might have arrived neatly at the table, ready to enjoy your treat!
Give this Leftover Prime Ribs Chili a try to delight a huge crowd at any potluck dinners or holiday occasions.
This classic Vietnamese recipe repurposes your leftover prime rib into a delectable noodle soup. With a trademark broth that is light but flavorful, this Leftover Prime Ribs Pho is one of the world's best soup dishes.
Pho is the first item you seek upon arrival in Vietnam and the last thing you remember when coming back to your country. This is why learning this recipe is helpful, not only to provide you an authentic taste of this iconic soup at home but also a great way to use up leftover ribs.
Leftover Prime Ribs Pho is undoubtedly addicting, as each mouthful leaves you yearning for more!
By combining your leftover prime ribs with a broth of various fresh veggies, noodles, and essential seasonings, you can generate this flavorful soup ideal for chilly days. When you enjoy a hot bowl of this delicious stew, you won't even notice you are eating leftovers!
The use of tender veggies such as carrots and potatoes is great, as their natural sweetness significantly enhances the aroma of your cozy soup.
So, roll to your kitchen and generate this hearty dish right away for your evening. There is nothing more soothing and warm than slurping up this Leftover Prime Ribs Soup. It will surely satisfy you from the inside out.
Are There More Creative Ways To Revitalize Leftover Ribs?
Leftover ribs recipes are the true saviors in using up your five-star cooked meat, preventing it from being wasted. My suggested list of 13+ astonishing options covers two broad categories of sandwich and soup, representing both hearty and healthy dishes.
However, I am sure there are more creative recipes that I have not touched on in my writing. I look forward to seeing your contribution in the comment part about those uncovered dishes. And as usual, thanks for reading!
Nutrition Facts
8 servings per container
---
Amount Per ServingCalories265
% Daily Value *
Total Fat 11.2g

17

%
Cholesterol 14mg

5

%
Sodium 612mg

26

%
Potassium 278mg

8

%
Total Carbohydrate 37g

13

%

Dietary Fiber 5.3g

20

%
Sugars 12.4g

Protein 6.9g

12

%
---
* The % Daily Value tells you how much a nutrient in a serving of food contributes to a daily diet. 2,000 calories a day is used for general nutrition advice.