Why reheat the same heavily seasoned meat when you can make them better with these leftover prime rib recipes? They are nothing like the extravagant juicy roast you had the night before. Instead, they are much easier to make but still so delicious in their own ways.
From soups to sandwiches, these dishes taste so good no one will believe they are made from leftovers. And you can find various side dishes to go with these prime rib delicacies for breakfast, a light lunch, or a hearty dinner. Check this list out to discover the magic.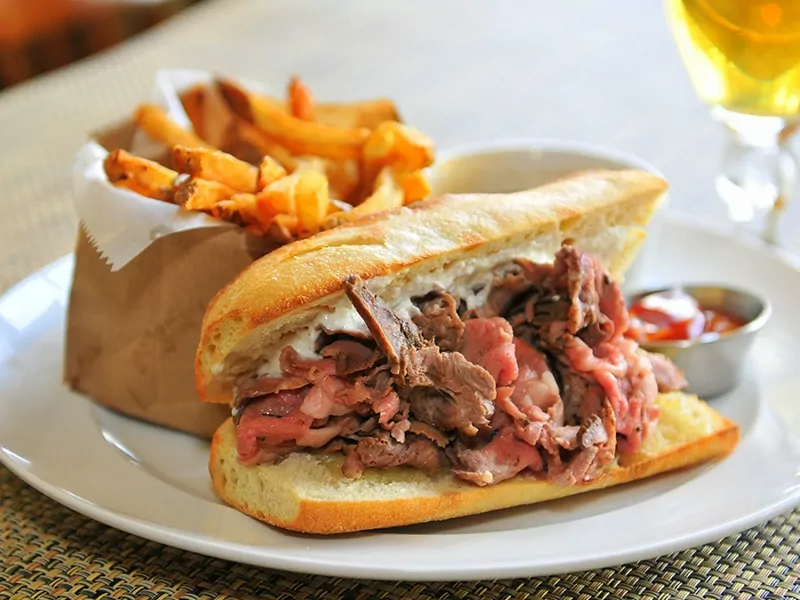 15 Best Leftover Prime Rib Recipes You Can Easily Make
Leftover prime rib is surprisingly versatile. It can also appear in casual dishes and instantly take them to the next level. Here are some dishes you can put it in: soup & stew, bread dishes, fried dishes, and other dishes.
Leftover Prime Rib In Soup & Stew
Beef Barley Soup With Leftover Prime Rib
Leftover Prime Rib Chili
Prime Rib Stew
Leftover Prime Rib In Sandwich Dishes
Leftover Prime Rib Sandwich
Prime Rib Burger
Prime Rib French Dip Sandwich
Philly Cheesesteak Sandwich
Leftover Prime Rib In Sauteed Dishes
Leftover Prime Rib Beef Stroganoff
Leftover Prime Rib Hash
Penne Pasta With Leftover Prime Rib
Leftover Prime Rib In Other Dishes
Prime Rib Philly Cheesesteak Pockets
Leftover Prime Rib Fried Rice
Prime Rib Pizza
Leftover Prime Rib Pot Pie
Prime Rib Tacos
Cozy Up With These 3 Leftover Prime Rib Soup & Stew Recipes
You may find yourself not wanting to eat prime rib as a fancy and heavy main course again. Try turning it into a soul-warming soup or stew to keep yourself toasty in the cold instead.
Keep yourself warm this winter with a hearty bowl of beef barley soup. Leftover prime rib is cooked alongside aromatic herbs, rustic vegetables, and some red wine. It's so simple yet so unbelievably delicious.
You can already tell from the ingredients, but this soup is packed full of flavors and texture. From the tender, savory beef, crunchy vegetables to the robust red wine broth, everything works in great harmony with one another. You can hardly even tell that the main ingredient is leftovers.
Rich and heart-warming, this chili is one of the best ways to bring your leftover rib to life. Slice the meat into small cubes and cook it to a flavorful perfection with green chiles, various veggies, and seasonings. This is what homemade dishes are all about.
There is great flexibility with this recipe. You can make it using a crockpot, slow-cooker, or even in the oven. The recipe works with leftover roast beef, steak, ground beef, or ground turkey. Anything that you haven't used from your holiday dinner can be reinvented entirely.
A simple one-pot prime rib chili recipe to make on cold days. You can see this video to know more:
A hot and steamy pot of stew is always a welcomed dinner during winter. However, you need to be patient because this stew takes time to cook, hence its flavorful taste. All ingredients are given hours to simmer and blend into one another, creating a perfectly hearty dish.
This stew will be enough to feed the whole family. It's filled with so many vegetables like carrots, onions, celery, potatoes, and fresh herbs for an aromatic note. Combining with the darkly sweet red wine and the tender prime rib, everyone will be clearing up their bowls in no time.
4 Easy And Casual Ways To Use Leftover Prime Rib In Sandwich Dishes
Prime rib doesn't always have to go into heavy main courses. Sometimes it could simply just be assembled along with other veggies and a soft bread, drenched in a delicious sauce, and still taste like the greatest thing ever. Here are some ways to make that happen.
If you're lazy or too busy, this sandwich is a great way to use up your leftover steak. It's satisfying enough when eaten as cold bread filled with tender meat and fresh veggies. Heat it in the broiler with caramelized onions for a more flavorful taste.
Sandwiches are pretty customizable, so you can use whatever you like for the ingredients. Play around with different sauces and cheese for various flavors. A classic pairing is horseradish sauce and Parmesan cheese. It will instantly brighten the whole dish with a distinctive tangy taste.
Transform your leftover prime rib into a sandwich and two other delicious dishes. You can see this video to know more:
Burgers are a traditional dish made from ground beef, but you can always use prime rib for a juicier dish. Topped with caramelized onions and loads of seasonings, this prime rib burger will have your mouth watering just by smelling its scent.
Another great thing about this burger is how easy it is. Once your prime rib is prepared, just grab some buns and stack up the ingredients. It should take you less than thirty minutes to put together a couple of flavorful and filling burgers.
The main thing that separates French dip sandwiches from other types is a dipping sauce called Au Jus. It's basically a juice that leaks from beef during the cooking process made more flavorful with extra seasonings.
Crispy bread like baguette or hoagie rolls is often used to make this sandwich. Since the meat will be soaked in the Au Jus juice, these types of bread will be able to remain crunchy and not get too soggy. Give this recipe a try if you're looking for a brand new way to enjoy sandwiches.
Everything you need to know to make a juicy and flavorful French dip sandwich. You can see this video to know more:
A typical Philly cheesesteak sandwich is usually made with thin strips of ribeye steaks, caramelized onions, and gooey cheese. However, you can still make this infamous Philly street food from leftover prime rib with no problem.
This sandwich is a great fit for all your casual dinners and exciting game nights. It's incredibly filling with so many ingredients stuffed in a simple sandwich bun. Make a few of these as you bond with your friends while feeling the cheese-soaked meat and veggies dancing in your mouth.
Top 3 Most Delicious Sauteed Dishes Featuring Leftover Prime Rib
You need no more than one pan and thirty minutes to put these dishes together. Effortlessly good, they are the ideal choices for all your casual and quick meals.
Beef stroganoff is a classic Russian dish made by sautéing thin slices of beef with vegetables and herbs in a savory sauce. The cut usually used for this dish is rib eye, but prime rib is still a great choice because it is quite similar in texture with an even more intense flavor.
These tender slices of beef drenched in a creamy and flavorful gravy sauce are nothing short of heaven. If you have never had this before, you should definitely give it a try. It's usually eaten with egg noodles for a hearty main course, but you can choose any type of pasta you prefer.
Prime rib stroganoff made simple and familiar with these instructions
Hash often consists of meat, potatoes, other vegetables and is topped with a gorgeous sunny side up. Beyond that, it's generally quite flexible, and you can use whatever extra ingredient you like to create an appetizing and filling dish for breakfast.
This dish gives you an incredible mixture of flavors and textures. The tender meat meshes perfectly well with the crunchy potatoes, making each bite incredibly juicy and savory. The unexpected highlight is the runny egg yolks that fill the plate with a lovely creamy taste.
Enjoy a quick and lovely breakfast with this prime rib hash recipe.
Prime rib pasta is never a bad idea. Only taking around thirty minutes and simple cooking methods, this flavorful dish is one of the quickest ways for you to make the best of your leftover prime rib.
Pretty much any pasta recipe would pair marvelously with prime rib. If you're looking for something a bit warm and savory, try a mixture of red wine, mushroom, and garlic. More classic sauces made with things like heavy cream or tomatoes will also be fantastic.
5 Other Leftover Prime Rib Recipes You Should Definitely Try
Here are a few other dishes you can also make using leftover prime rib. They are already pretty good and flavorful, but adding prime rib into the ingredients just takes them to a whole other level.
This is a spin-off recipe of the original Philly cheesesteak. Those who love a warming and savory stuffed pastry will surely love this dish. It's made the same way you would make other pastry pockets, but with a mouth-watering cheesy prime rib filling instead.
These pastries will steal your heart from very first sight with their golden appearance. The exterior is deliciously crispy, while the inside melts with an irresistible combination of gooey cheese and tender meat. They will make fantastic snack foods or appetizers on your next game day.
Fried rice is perhaps the easiest way to make use of any leftover foods. The method is straightforward, and it completely masks any undesirable texture or flavor. What's even better is it only mainly uses basic ingredients and still leaves room for you to get as creative as you want.
This is a dish you can eat anytime you want. Whether you want some brunch, a light lunch, or a quick dinner, this savory dish is the ideal choice. It's flavorful and filling enough to keep you full but still so easy that you don't even need to think twice before making it.
Turning leftover prime rib into a pizza topping may sound crazy at first, but hey, don't knock it 'till you've tried it. This pizza makes a fantastic main course with loads and loads of meat, tomatoes, and onion scattered all over, drenched in delicious melted cheese.
Even though it looks like a handful, this pizza only takes less than an hour to put together. Most of the cooking happens inside the oven, so you only need to prepare the ingredients, fry the onion, and make an additional sauce to drizzle over. It's that simple.
Treat your loved ones to a heart-warming dish with this prime rib pot pie. It's a savory pastry that is deliciously crispy on the outside but bursts with juicy and tender meat once you cut into it. This contrast in texture is one of the reasons why everybody loves this pie so much.
Steaming hot out of the oven, this pot pie is the ultimate comfort dish for many. The filling's ingredients are entirely adjustable, so you can make it with all the familiar foods that you like. It's a great appetizer or even a main course for all your weeknight family dinners.
Prime rib normally doesn't go in tacos, but if you have some leftovers on hand, might as well give it a try. Just slice up the reheated meat, grab some tortillas, and fill it up with all your favorite veggies. Make a creamy dressing or salsa to tie it all together, and your dish is done.
This recipe is about as flexible as it gets. You can use your regular favorite taco combination or switch it up with some avocados and horseradish sauce. Whatever you choose, it's impossible to go wrong.
Old Prime Rib, New Dishes!
Who knew there was more than one way to eat prime rib? Everybody loves a good roasted dish for the holidays, but don't let that stop you from branching out. You can put it in soups, tacos, pasta, and even pizza.
Don't be too worried about the meat not tasting as good anymore. These recipes will bring new life to your prime rib with their flavorful ingredients. Take full advantage of your leftovers and get flexible with this delectable food. Don't forget to update me on how everything turned out.
Nutrition Facts
8 servings per container
---
Amount Per ServingCalories257
% Daily Value *
Total Fat 14.4g

22

%
Cholesterol 39mg

13

%
Sodium 1234mg

52

%
Potassium 378mg

11

%
Total Carbohydrate 15.4g

5

%

Dietary Fiber 3.1g

12

%
Sugars 4.1g

Protein 14.4g

29

%
---
Calcium

35

%
Iron

2

%
Vitamin D

104

%
* The % Daily Value tells you how much a nutrient in a serving of food contributes to a daily diet. 2,000 calories a day is used for general nutrition advice.