Are you finding some leftover pork recipes? I have plenty for you. There are many ways to reuse refrigerated and frozen cooked pork to make some delicious dishes. You don't have to bother about wasting it.
These 30 recipes will make you forget about the fact that you're eating leftover pork. How amazing they are! Take your remaining pork out of the fridge or freezer now and read through these ideas to choose your favorite recipe for today's meal.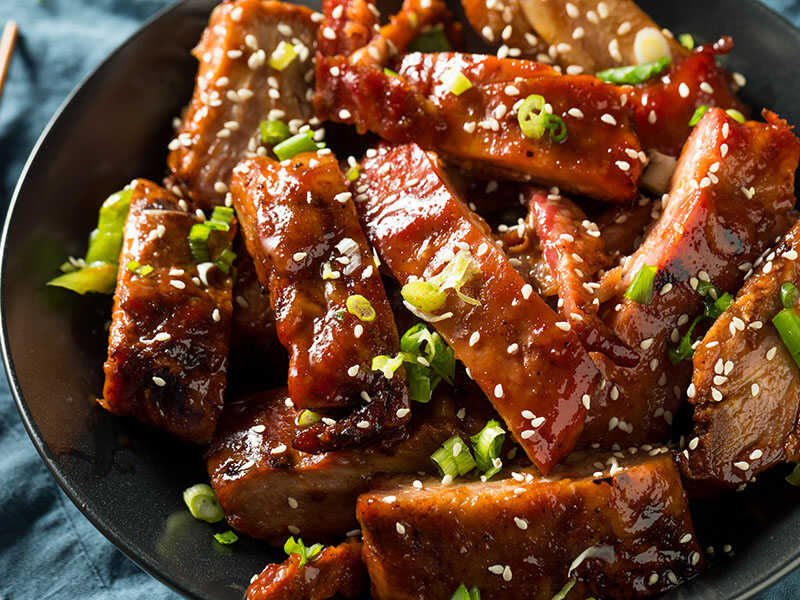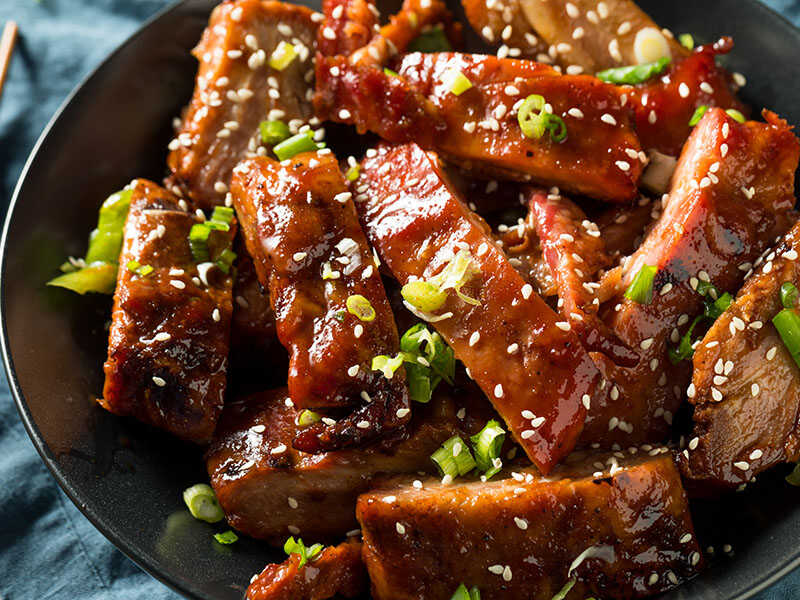 30 Mouth-Watering Leftover Pork Recipes You Must Try
Uneaten pork can be used to cook a lot of delicious dishes. Read the descriptions and find yourself a suitable recipe to serve today.
Let's begin with a beautiful dish from Russian cuisine. It is starchy, saucy, and flavorful with noodles, mushrooms, and leftover pork.
The sauce is creamy and greasy with sour cream. Tomato sauce and wine are used to create a tangy and acidic flavor. The broth adds some sweetness. Perfect! This simple recipe is suitable for serving in everyday meals.
This is another amazing dish from unfinished pork that you can enjoy with white rice. Pork stir fry is hot, saucy, and savory. You can make sweet and sour sauce or teriyaki sauce, or whatever you like. Everything will work with this easy and versatile recipe.
This dish is tastier with some veggies. If you want more flavors and aroma, add some eggs or sesame seeds. These two ingredients are my top choice for this dish.
Cook this easy Chinese-style uneaten pork stir fry dish today!
Unfinished pork, pre-cooked rice, and eggs are three things that you always have in your kitchen. Luckily, there is a way to use them to make a very delicious dish for breakfast. It takes no time at all.
Pork fried rice is sweet, garlicky and savory. Some veggies are added to make the dish more flavorful. You can drizzle some soy sauce to intensify the flavor.
In this recipe, you can use either pulled pork or roasted pork, depending on what is available in your kitchen. This Cuban casserole dish is cheesy, creamy, and meaty. But you don't have to be afraid that it is too rich. Add some tangy pickles to balance the flavor.
This hearty dish is ideal for serving in weeknight meals. You should eat it along with some salads or roasted vegetables.
Are you a fan of potatoes? If yes, try pork and potato hash. This is the best way to use up your uneaten pork. It certainly tastes more delicious when being cooked with your favorite vegetable.
This dish is creamy, meaty, and sweet. Worcestershire and Tabasco sauces add some heat and depth to it. Serve it along with salads and cornbread for a fulfilling and flavorful meal. This dish tastes best when hot, so remember to eat it immediately after cooking.
Have uneaten pulled pork in your fridge? Never miss this delicious Italian ragu to serve with your favorite pasta or polenta. This recipe will make you forget that you are eating leftovers.
Red wine, tomato paste, and herbs create a creamy texture and wonderful citrus and herby aroma to the dish. It tastes meaty, buttery, and tangy, which are everything that you could ask for in a ragu.
Use up your unfinished pulled pork by making this tasty pulled pork ragu:
Pull pork chili is an amazing spicy dish that you should never miss. And it is also a great way to use up unfinished pulled pork. Just put everything in the slow cooker or stovetop. The result will make you satisfied.
This dish is spicy, salty, and meaty. It also has an attractive scent that you do want to smell if you are hungry. Make sure that you garnish it with green onion and coriander. Serve it along with salads, cornbread, nachos, or white rice.
Macaroni and cheese is a very delicious dish. Americans love it. So what does it have to do with uneaten pulled pork? Well, mac and cheese is a versatile dish. You can add any topping that you want, and leftover pulled pork is among the best choices.
Pulled pork mac and cheese is rich, creamy, cheesy, and meaty. BBQ sauce adds some sweet, tangy, and salty notes. In case you want more heat, use candied jalapeno.
Of course, pork tacos must not be absent from this list. There is nothing better than turning uneaten pork into a whole new delicious and inexpensive taco dish. To enjoy a true Mexican meal, serve it alongside pico de gallo.
Just like other tacos, leftover pork tacos are full of flavors. The corn tortillas are soft and starchy.
The stuffing is made from diced or chopped pork and veggies. This is also a great recipe to cook using leftover ribs. Lime juice and chili peppers add some heat and acidity to every taste. Add more cheese if you like.
This amazing leftover pork tacos recipe will make your day.
This savory recipe is also a great way to use up unfinished pork. Pork noodle casserole is also cheesy and buttery, which promises to bring you a comforting dish. Add sour cream if you want it to be richer and creamier.
Serve pork noodle casserole with some salad and bread. Its delicious flavor will make you cannot stop eating.
If you come up with the idea of making fried rice, look back at the fridge to see if there are any ham and mixed frozen vegetables. If you have both, perfect, let's make this ham fried rice with a mixed vegetable blend.
This colorful rice dish contains veggies and chopped ham. It is starchy, salty, and slightly garlicky. To get a more delicious taste, serve it with fried eggs.
Are you craving Mexican quesadillas? Why not make it with the remaining pork in your fridge? This quick and easy recipe will help you to do that in a short amount of time.
The tortillas are browned as crispy. And the stuffing inside is meaty, juicy, cheesy, and rich. It is also packed with a lot of veggies, making the quesadillas more healthy and refreshing. You can use pickled peppers to add some tanginess and fresh peppers to heat them up.
Do you crave a warm and comforting dish for winter nights? While there is some roasted remaining pork in your fridge, you can make a perfect stew for your dinner tonight. It is best to serve alongside salads and bread.
In pork stew, pork roast is not the only star. Pork gravy creates the thickness of the stew. Potatoes and peas add some starchiness. Tomatoes, peppers, and onions add more flavors and aroma. Everything combined together creates a mouth-watering dish.
This is another dish for potato lovers. Potatoes are so versatile, and so is leftover pork. This leftover pork soup is sweet and savory. Potatoes make it thicker. And it is as delicious as those that use fresh pork.
It is best to enjoy this soup on a cold winter day. Its warmth will make you chilled out.
Have you ever thought of using uneaten pulled pork to make salads? It is absolutely possible.
Uneaten pulled pork salad tastes more refreshing and delicious than you think. Don't wait to make it.
This salad is meatier than other salads because of pulled pork. But this new flavor of salad is remarkable. You will not find it anywhere else. BBQ sauce also has a tangy note. Vinegar adds an acidic taste to the salad.
What else can you do with your uneaten pulled pork? The answer is sliders. They are saucy, salty, and meaty with pulled pork and sauce.
The soft, sweet, and fluffy Hawaiian buns cover the pulled pork, finishing the flavorful sliders. These sliders take you just 15 minutes, which is ideal for a busy day.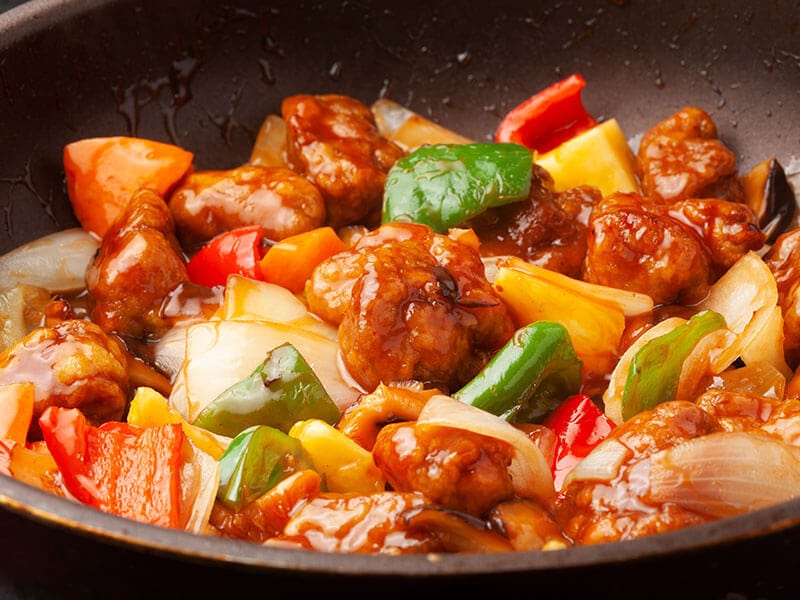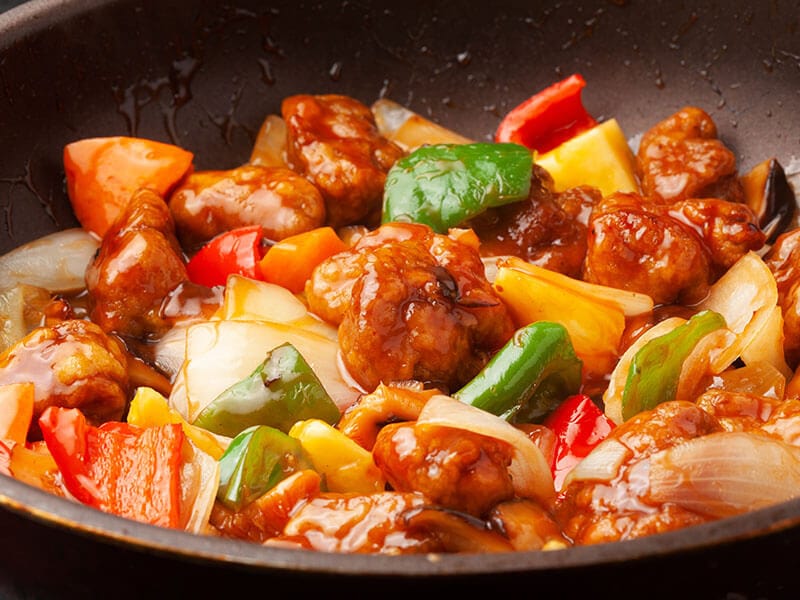 This is perfect for serving with white rice or noodles, the sweet and sour tastes combined with the starchy and meaty flavor making it the go-to option for lunchtime. Unfinished pork is particularly suitable for this recipe because you can save a lot of time for preparation.
If you want it to be sweeter than sour or vice versa, just adjust the amount of pineapple juice and sugar.
Are you a fan of cabbage? Try this ham and casserole dish. It is ideal for serving with white rice.
The tender ham and veggies are cooked in white wine and butter or margarine. Then they are seasoned with salt and pepper.
This dish is very flavorful. It is both savory, tangy, and buttery. You should never miss it.
You can use your uneaten pulled pork to make this authentic Mexican dish. You don't have to do much, because the oven already takes the main task. Red enchilada sauce is used for this recipe. It is earthy, spicy, and mild-sweet.
When combined with tortillas, cheese, and pulled pork, it boosts the flavor to a new level. Every bite is soft, saucy, cheesy, and spicy. Pulled pork enchiladas are a must-try recipe to make the most out of pulled pork leftovers.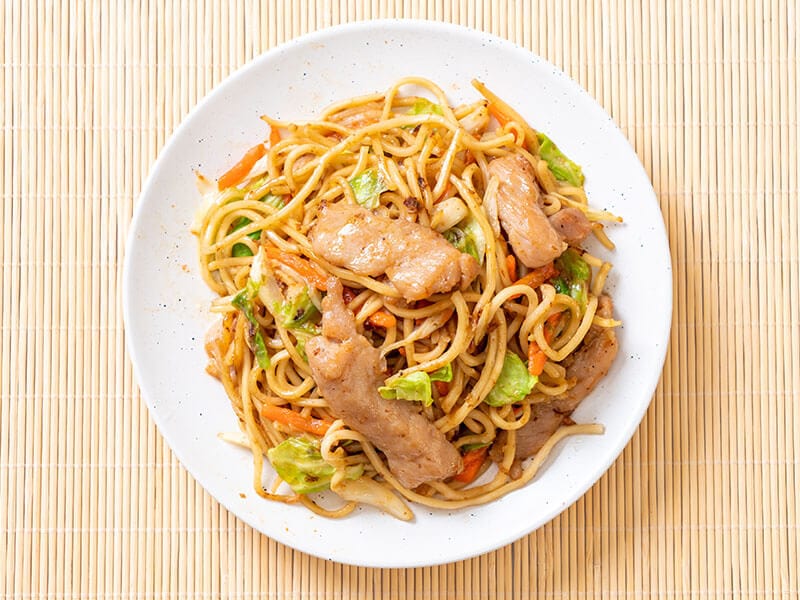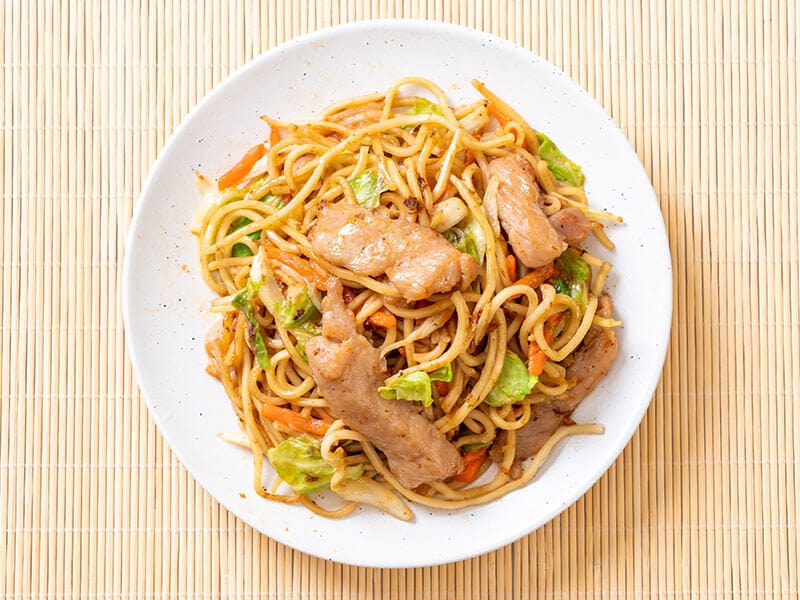 Making an Asian meal with uneaten pork is a wonderful way to go if you have some egg noodles in your kitchen. This delectable Chinese-style dish from leftover pork will be just as delicious as take-out.
The savory sauce, crunchy veggies, and chewy noodle strands pair well with some roasted pork. You can adjust the spiciness and also the amount of sodium. Using tamari instead of soy sauce is a healthier option.
Learn how to make these stir-fried pork noodles from a Chinese chef. Watch this video to know more:
Don't know what to cook for a cold day? I have an idea for you. That is leftover pork corn stew. This hot, savory, and spicy dish will heat your mouth and stomach. You won't feel cold anymore.
What I love about this stew over the others is that the savory flavor is balanced out by a sweet note from the tiny yellow corn. You should absolutely serve it with some bread. This combo is simply the best.
Tamale pie is a classic dish that Americans love. Your family will be amazed when they see that you can reuse pulled pork to cook the appetizing tamale tamale pie.
This tamale pie is soft, salty and tangy. It is a great idea to serve it for breakfast. Never miss this tasty recipe. You can add some cream cheese to make it richer and more flavorful.
Once you have leftover pork, never or order pork nachos from the restaurant. You can BBQ pork nachos right at home. Its taste is just as delicious.
Looking at how beautiful this dish is, I just want to say that it is full of flavors. Tender pork, crunchy tortilla chips, savory BBQ sauce, and creamy cheese combined together, making the whole dish taste more delicious than ever.
You often end your holiday with some uneaten ham. Fortunately, you can use it to make delicious ham and cheese scones to enjoy the next day.
The ham is diced and mixed with scallions, cheese, butter, and other dairies. Then the mixture is baked until the exterior becomes crispy. Every bite is savory, mouth-melting, cheesy, and heavenly tasty.
This creamy, rich, and flavorsome potato-based casserole is perfect for cooking with unfinished ham in your kitchen. Casseroles are always simple to make, and so is this ham and potato delight. Mixing and baking are two easy steps that you need.
Besides ham and cheese, potatoes are crucial in this dish. It adds a lightly sweet flavor and starchy texture to the dish, which sets it aside from other casserole recipes.
If you have unfinished ham in your kitchen, make these ham and cheese biscuits for a quick and low-cost breakfast. I can assure you that they taste as good as take-out.
These biscuits are packed with a bunch of flavors. They are rich, cheesy, and mouth-melting tender. To make them, you just need very simple ingredients that are always available in your kitchen. Add ham and cheese biscuit recipe to your breakfast ideas now!
Want sandwiches instead of sliders? There they are. Pulled pork sandwiches will satisfy you. These meaty, juicy, starchy, and savory sandwiches are everything you need for a quick, flavorful, and fulfilling meal. If you have uneaten pork, this recipe is everything you need.
In addition to pork, these sandwiches are topped with veggies and sauce. Use horseradish sauce for a spicy taste. For a tangy and acidic flavor, combine apple butter and red wine vinegar.
Having uneaten roasted pork? Try making this Cuban roasted pork sandwich.
Who doesn't have cooked rice in the fridge? I have a great idea for you to use up your unfinished ham and rice. That is to make this tasty cheesy ham and rice casserole.
You need to do nothing except for mixing everything together in a dish and baking it. The result will be a creamy, cheesy, meaty, and starchy casserole, which is perfect for serving family meals.
29. Ham And Vegetable Medley
How about pairing uneaten ham with vegetables? Yes, it is absolutely possible. It will make a fresh and savory dish to go with white rice. You should give it a try!
A lot of veggies are used to make the dish full of flavors and textures. Eggs add some sweetness. Soy sauce is a must-have condiment that provides a savory taste. Everything is well-combined, which creates a fulfilling and appealing dish.
This is another breakfast dish that you must not miss when having some remaining ham in the kitchen. Making these colorful and flavorful ham and cheese muffins is an excellent way to start your day.
These savory muffins are made by combining ham, milk, cheese, and other ingredients. Then, the mixture is cooped into tins and baked. The muffins will come out wholesome, soft, rich, and tender.
Leftover Pork Is No Longer A Big Deal With These 30 Delicious Recipes
Leftover pork recipes are numerous. From now on, you don't have to worry about the chance of wasting it. With uneaten pulled pork, roasted pork, or any type of cooked pork, you can make some delicious dishes to serve in weekday meals.
Unfinished pork is inevitable and often frustrates you because you don't know what to do with it. But there is always a solution. I believe that as long as it is well-cooked, you can enjoy it as much as fresh pork. What is your choice for today's meal? Let me know in the comment section. Don't forget to take some pictures and share them with me.
Nutrition Facts
2 servings per container
---
Amount Per ServingCalories337
% Daily Value *
Total Fat 18.1g

28

%
Cholesterol 88mg

30

%
Sodium 1121mg

47

%
Potassium 309mg

9

%
Total Carbohydrate 5.6g

2

%

Dietary Fiber 1g

4

%
Sugars 2.2g

Protein 33.1g

66

%
---
Calcium

45

%
Iron

4

%
Vitamin D

208

%
* The % Daily Value tells you how much a nutrient in a serving of food contributes to a daily diet. 2,000 calories a day is used for general nutrition advice.