Are you craving some easy leftover pasta recipes? Congratulations, you have reached the right place! Sometimes, after a party or a holiday's meal, there is a lot of leftover pasta that you may not know how to deal with. Just store it properly and make it into another dish!
By repurposing the leftover pasta, you can create a beautiful and tasty dish with a bit more preparation and ingredients. And I will show you how by listing here the most impactful recipe to make with the leftovers!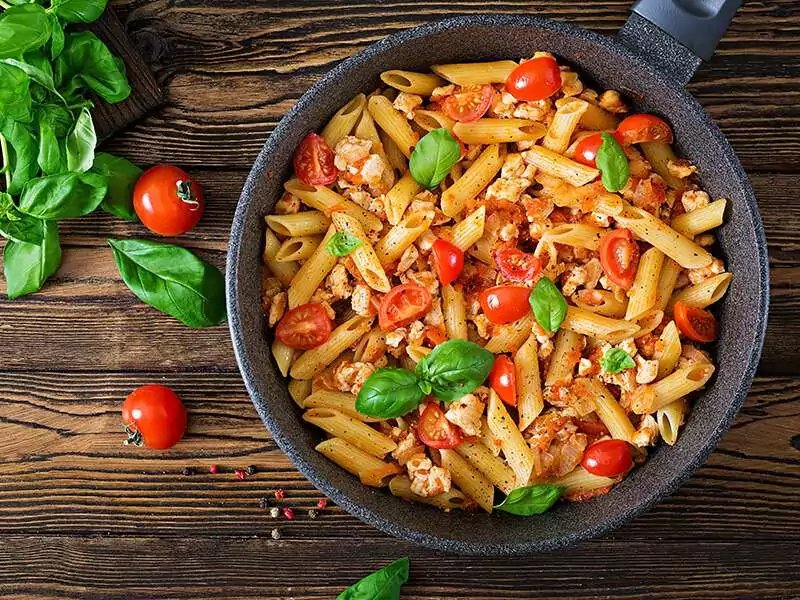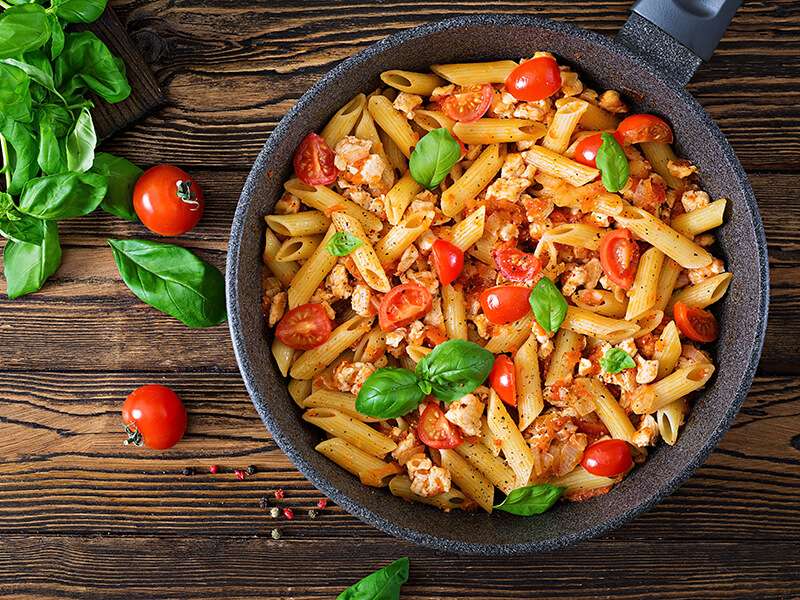 20 Delicious Recipes For Reusing Leftover Pasta
The recipes that I include below are divided by their main pasta: macaroni and spaghetti. In other recipes, you can modify the main pasta due to which leftover pasta type you may have when you want to renew it.
Macaroni
Mac And Cheese Balls
Mac And Cheese Soup
Mac And Cheese Muffins
Spaghetti
Spaghetti Salad
Spaghetti Casserole
Spaghetti Pie
Spaghetti Sandwich
Instant Noodle Cups
Pasta Frittata
Spaghetti And Meatball Panini
Rotini
Leftover Salad
Pulled Pork Pasta
Tortellini
Easy Tortellini Soup
Ham And Cheese Tortellini
Others (Pasta In General)
Veggie Lo Mein
Pasta Chips
Pizza Pasta Casserole
Peanut Pasta Salad
Pasta Fritters
Mie Goreng (Indonesian Stir-fried Noodles)
So, what are you waiting for? Grab your leftover pasta and get started!
Ultimate Recipes To Reuse Your Leftover Macaroni
Mac and cheese is such a common dish to tell! Guess that I don't need to describe how famous it is to you, huh? It is usually left unfinished in a meal since some recipes are too greasy. How about making use of them for other fascinating dishes?
The leftover mac and cheese can turn into delicious fried balls with the crispy outer layer and the creamy, super cheesy filling inside. They may take you a while to prepare, but they're fun to make, so you can have your kids join a hand.
These balls will be a great snack while watching films at home or in get-togethers. Remember to serve them with some dipping sauce such as marinara or tomato sauce, and your guests will finish them up in a second!
You can always reuse your mac and cheese to make a flavorsome pasta-based soup. Mac and cheese soup tastes supremely rich and creamy. You can make it more cheesy to your likings by adding more while cooking it. It is the best to enjoy on those rainy days!
You don't have to toss away the leftover mac and cheese anymore. This soup recipe is easy to apply with the most basic components and can be done in around half an hour! So why are you hesitating?
Muffins are always family-friendly. Everyone loves muffins! You can create a new version of muffins with eggs, ham, and more cheese. The best thing is that you can be creative by modifying the ingredients to get your unique version!
Mac and cheese muffins have a beautiful golden brown color and a crispy outer layer. The filling is soft, super milky with salty ham. If you don't want the dish to be greasy, you don't have to add more cheese during the preparation. Have fun with the muffins!
You can learn more recipes from leftover mac and cheese in this video!
These 7 Best Leftover Spaghetti Will Amaze You!
It's enough for the mac and cheese; now it's time for leftover spaghetti to shine! The following recipes will never disappoint you! Just make them someday, and you'll see!
This salad recipe makes use of your leftover spaghetti to be the main pasta in the dish. The exploding taste includes every flavor that you can imagine! It is refreshing, sour, savory, smoky, and sometimes sweet. It tastes so natural with a lot of veggies and herbs.
This recipe makes for a spectacular cold pasta dish, so you can have it as a quick breakfast since it can be made and stored the night before. How can it be more convenient?
Your unfinished spaghetti can live a whole new life with this exquisite pasta casserole recipe. It is not even complicated at all! With just some more additional ingredients, the casserole will be super cheesy and savory that can please anyone's taste!
Just grab all the necessary ingredients in your fridge and make this exciting spaghetti casserole! I'm sure that everyone will love it when it is served!
This recipe is just like the baked spaghetti dish since they have the same flavor, texture as well as cooking method. If you do it right, the spaghetti pie will taste amazing with a crunchy outer layer and very gooey toppings.
Spaghetti pie should be served with some tomato sauces or any sauce to your likings since the natural moisture of spaghetti might be drained out during the baking process. Why don't you try this recipe and tell me how you feel!
Make your children a yummy, cheesy spaghetti pie with these very quick steps!
The spaghetti sandwich may sound unusual at first, but it is an exciting way to use up the leftover spaghetti! The meaty, juicy, cheesy filling inside is combined with the crispy, golden brown slices of sandwich outside to create a perfect meal.
You may have eaten bunches of sandwiches in your life, but this spaghetti version may be at another level. It's the combination of the two main dishes that both include starch, and it tastes delicious! If you are a starch lover, I'm sure that you'll love it!
These instant noodle cups are super easy to make at any time, anywhere. The recipe highly recommends you use spaghetti as the main pasta. You can create a lot of versions because these instant noodle cups are adjustable.
All you have to do is arrange your favorite veggies, sauces, pasta, and additives in a microwave-safe cup or container, then store them in the fridge until serving. When you want to eat them, just pour boiling water into the cup like how you usually cook instant noodles!
The taste may vary depending on what you put inside the cup. This is a versatile recipe that is easy to prepare and store for the following meals. So, what are you waiting for? Grab the leftover spaghetti and make your own noodle cups now!
Watch this video to know more:
Any other pasta should not replace the spaghetti in this recipe because the final shape of the frittata depends a lot on the main pasta. You just need some more components such as eggs, your favorite veggies, and basic spices, then it's good to go!
If you follow the recipe strictly, the final dish will be worth it! The golden-brown, crispy, little burnt edges and cheesy, gooey, pleasant filling inside mix together and give birth to a fantastic, unique taste! These recipes can fit the portion of a four-member family.
This recipe is one of the most impactful ways to revive all the old things! Spaghetti and meatballs are always the best combination when it comes to spaghetti dishes. And they will be more fantastic when they become the filling of a panini!
Panini is a type of sandwich that is super easy and fun to make. With the two crispy pieces of bread and the juicy, savory filling inside, this spaghetti and meatball panini will be your most favorite sandwich recipe ever! It's really worth your attempt, so just make it now!
More Exciting Recipes From Leftover Rotini
Rotini is also a common type of pasta around the world. The twisted shape of rotini is unique with delicious taste. Come and see some recipes that use the old rotini pasta as the main ingredients!
11. Leftovers Salad
Making salad from last night's rotini is basically the simplest thing to do! What you need to do is just mix all the available ingredients to your likings and serve! It is a great pasta side dish to delight your main course on the table.
The recipes vary in taste since they may consist of different components. But it often contains at least one ground meat (chicken, beef, etc.), some veggies, and optional cheese. These suit well together, creating a harmonious and flavorful mixture.
12. Pulled Pork Rotini
This tasty recipe with unfinished pulled pork is the master of leftovers. Why am I saying so? Because most of this dish's ingredients prefer cooked foods to uncooked ones! So note this down immediately and prepare it for your next meal!
The rotini is perfect when being combined with aromatic components like onion and garlic, with the cheese and cream also. The outcome will undoubtedly be creamy and really rich, but not too greasy since the veggies help balance the whole dish.
How About Using Tortellini To Remake A Dish?
Have you ever tasted a dish with second-day tortellini as the main ingredient? If you haven't, take a quick look at the following recipes to make yourself a delightful dish with tortellini that is left behind from your last meal!
The tortellini soup is among these spectacular vegetarian options with pasta for you to cook on those busy days. The soup is not only super nutritious with lots of healthy ingredients. It is also a tasty dish to reuse the cheese tortellini in your fridge.
Cooked with herbs and vegetable broth, this soup is fragrant and pleasant to consume. It has a gooey texture and cheesy taste with additional cheese. It may be a little bit greasy for some people, but cheese lovers should not miss this recipe!
Another wonderful recipe to deal with your cooked or frozen tortellini! The salty ham can go well with the cheese and the main component – tortellini pasta, which might also be filled with cheese inside. It's delicious to serve at a family dinner!
If you want a dish that is a little bit different from others, why don't you use this recipe and wow your family members? I'm sure that you will not be disappointed!
Other Brilliant Recipes Calling For Leftover Pasta
These recipes call for a specific type of pasta; however, you can always substitute the main pasta for another one depending on whatever you like or have.
Lo mein is a delicious noodle dish from China that usually includes veggies and some ground meat like beef or pork. You can recreate this recipe by repurposing any leftover pasta from your previous dish. Spaghetti may be the best one to use.
The sauces are the key element for this dish to get the signature flavor of traditional lo mein. I highly recommend you to use the sauces that originate from Asian cuisine to ensure the same taste as the traditional lo mein. You can also adjust the additives to your likings.
Want to cook this famous Chinese dish from leftovers? Consider this recipe!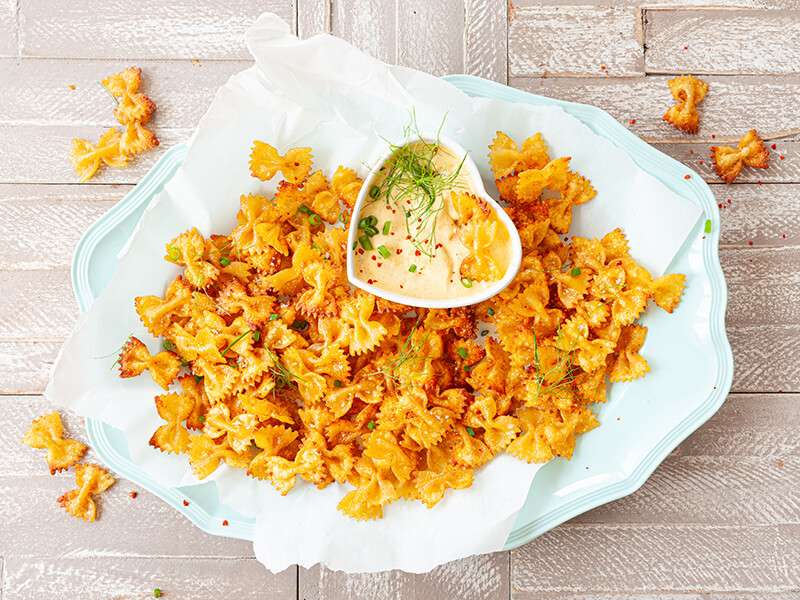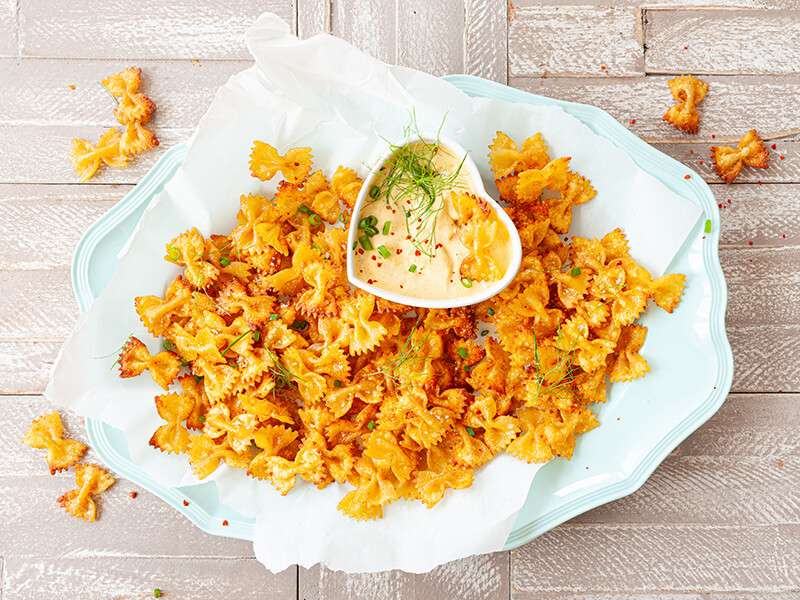 Looking for a real snack recipe to use up your pasta? Then you should never let this pasta chip recipe go! The pasta that you didn't finish up can easily turn into super crunchy chips by deep-frying or air-frying. It is best to serve as popcorn on a late movie night or at parties.
The recipe can be applied to any pasta you have, but the bow-tie pasta is the most common type. It will give you a cute-looking and super crispy snack. And I'm pretty sure that you can't stop with just a bite! A delectable treat is waiting for you!
Pizza is undoubtedly the American all-time favorite fast food! And the pizza made of pasta is even double the tastiness! The leftover pasta will be revived into a new shape and taste with the addition of savory ground meat, cheese, pepperoni, and some veggies.
This is a splendid recipe for a complete pizza pasta casserole. It can be a fun snack to have while chit-chatting or even a main dish for a casual family dinner. And your kids will definitely love it! Why don't you make this delicious dish tonight?
This is the most detailed instruction video for making pizza pasta casserole!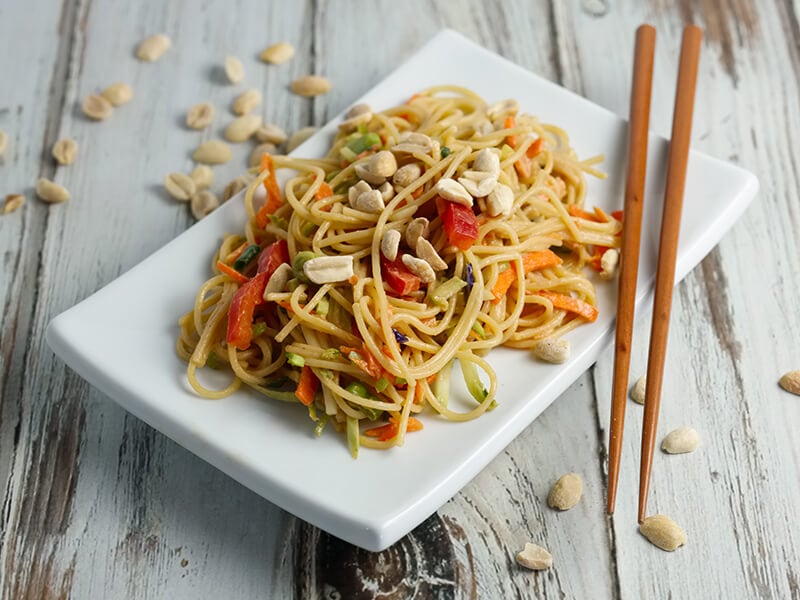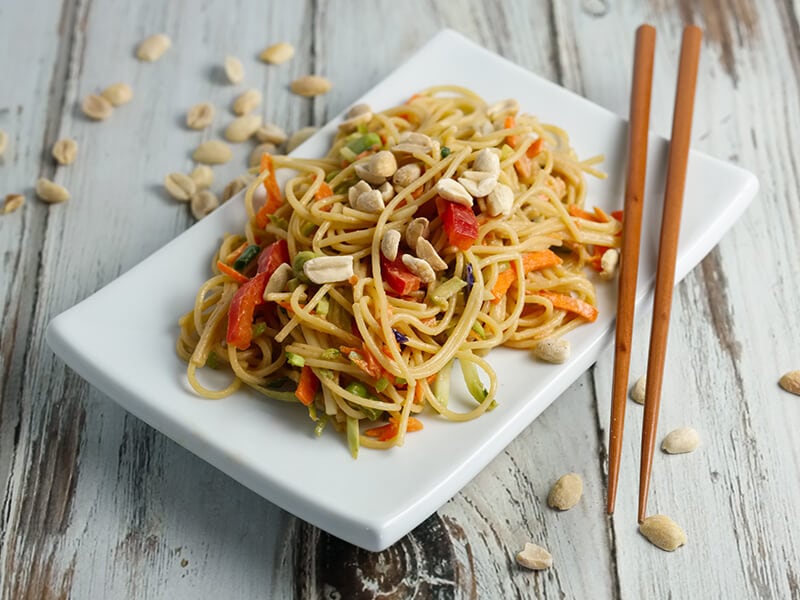 If you have been fed up with those greasy and fatty pasta recipes, here comes a fresher and lighter recipe only for you! This salad with an impressive peanut dressing will be a delightful appetizer made with pasta or side dish for a hearty meal.
This salad recipe is vegan-friendly, so it is safe to be served at a party or get-together that includes vegetarians. The pasta and veggies together create a flavorful mixture, with the special dressing made of soy sauce, sriracha sauce, and many more ingredients.
Looking for a dish to balance out your intense main course? This peanut pasta salad is 100% that one!
These fritters are just like the smaller version of pancakes that are made from pasta! You can make use of any leftover pasta you have in hand for this recipe. It takes only around 20 minutes to create a complete dish.
The mixture of pasta fritters including eggs and cheese will be fried in a hot pan until they get the crunchy, beautiful golden-brown outer layer. When you take a bite, the first thing to feel is the crispness outside, then the soft and moist filling inside.
You can always make this recipe from the leftover pasta for a quick but delicious breakfast to serve your children before they go to school!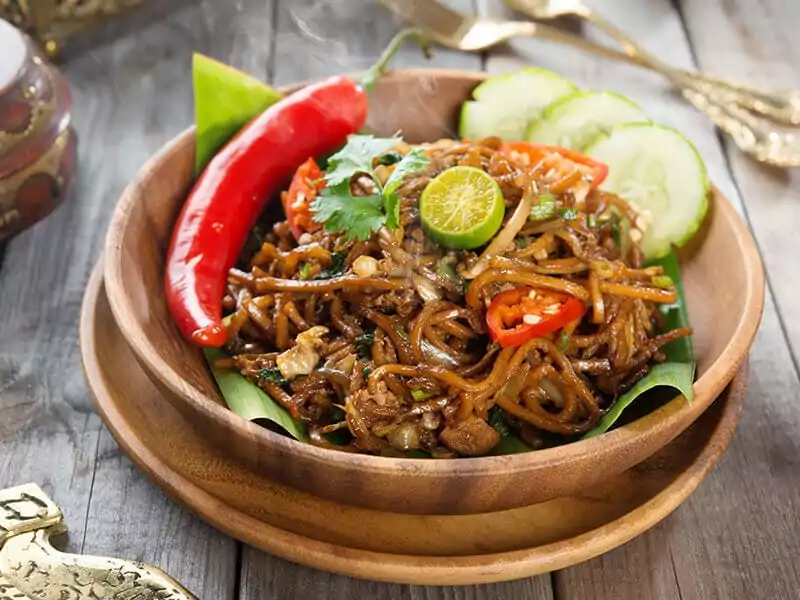 This special dish from Indonesian cuisine can be recreated using some types of pasta or noodles you have in the kitchen. You can add your favorite veggies, and seafood or ground meat to join with the pasta!
The savory taste of this dish is enhanced by the signature sauce made of traditional sauces from Indonesia, but you can substitute them with basic ones like soy or hoisin sauce to replicate the sauce's flavor. This is a great choice for your family dinner!
Is Your Favorite Leftover Pasta Dish Listed Above?
Is there any pasta recipe that catches your attention at the first sight and you just want to get into the kitchen and make it immediately? My favorite is the pasta chips! I really love the crunchy texture of the chips that I can enjoy as a fun snack while watching films at home!
I guess there are many more recipes and methods to deal with the leftover pasta, but I hope you have jotted down at least one recipe from the above list in your cooking notebook! They are effortless and fun to make!
Share with me your feelings and concerns (if any) by leaving something under this post! There is always a friendly comment section waving for you! Can't wait to hear your sharings!
Nutrition Facts
8 servings per container
---
Amount Per ServingCalories345
% Daily Value *
Total Fat 23.6g

36

%
Cholesterol 8mg

3

%
Sodium 451mg

19

%
Potassium 212mg

7

%
Total Carbohydrate 28g

10

%

Dietary Fiber 5.4g

20

%
Sugars 2.7g

Protein 8.5g

16

%
---
* The % Daily Value tells you how much a nutrient in a serving of food contributes to a daily diet. 2,000 calories a day is used for general nutrition advice.