Today I will introduce you to the best leftover meatloaf recipes, which will magically turn the leftovers into a dazzling meal.
After a big family dinner, it is often to have some leftover meatloaf. With a good meatloaf recipe, I believe you can easily make an outstanding dish out of that leftover.
Leftover meatloaf is versatile; you can use it for almost anything, from spaghetti to tacos. These recipes I show you today will give you much inspiration and help you out of the headache of creating easy meals that everyone loves.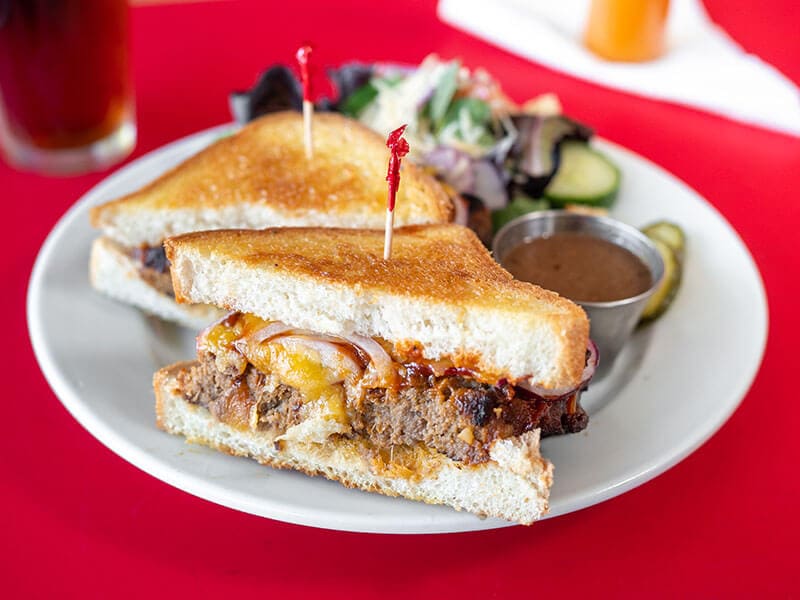 Best 16 Leftover Meatloaf Recipes For An Exploding Meal
Here are my favorite picks for the 16 best recipes for leftover meatloaf. I hope you will find the recipe that fits your needs. Now, let's find out what is on my list!
Baked Dishes:
Meatloaf Shepherd's Pie
Meatloaf Quiche
Meatloaf -Stuffed Peppers
Meatloaf Pizza
Meatloaf Casserole
Meatloaf Burgers
Grill Dishes:
Grilled Meatloaf Sandwich
Meatloaf Grilled Cheese Sandwich
Fry And Stir Fry Dishes:
Fried Rice with Meatloaf
Leftover Fried Meatloaf
Meatloaf Spring Rolls (Meatloaf Lumpiang Shanghai)
Meatloaf Hash
Other Recipes:
Leftover Meatloaf Pasta
Meatloaf Chili
Meatloaf Tacos
Leftover Meatloaf Soup
For more details, all you need to do is scroll down!
Top 6 Tasty Ideas To Bake Your Leftover Meatloaf
Baking is one of my favorite ways of cooking, and I also apply it to leftover meatloaf. Now, let's have a look at these baking recipes to make your cooked meatloaf great again.
The delicious flavors of the meat and gravy filling, combined with the creamy mashed potatoes, make this become the ultimate comfort dish.
To save time and money, use leftover meatloaf instead of slicing and browning beef for a meat pie. Remember to repurpose the leftovers to create a completely new dinner that your family will enjoy.
Serve with a crisp green salad or a broccoli and bacon salad to complement this robust entrée.
Hurry up! Try this marvelous meatloaf shepherd's pie. You will love it.
Next on the list, meatloaf quiche is one of my favorite ideas for breakfast, or actually, I love to have it anytime in the day if I have a chance!
A delicious egg custard baked in a flaky pie crust shell is known as quiche. You can, of course, make a crustless quiche as well! Quiche filling is made up of buttery milk and cream.
And this time, I will use the leftover meatloaf to make it. Whisk eggs and milk until smooth, then pour it over the chopped meatloaf and cheese chunks. What a rich combination.
I love using cheese chunks rather than grated cheese because it tastes better. Also, the diced cheese was amazing!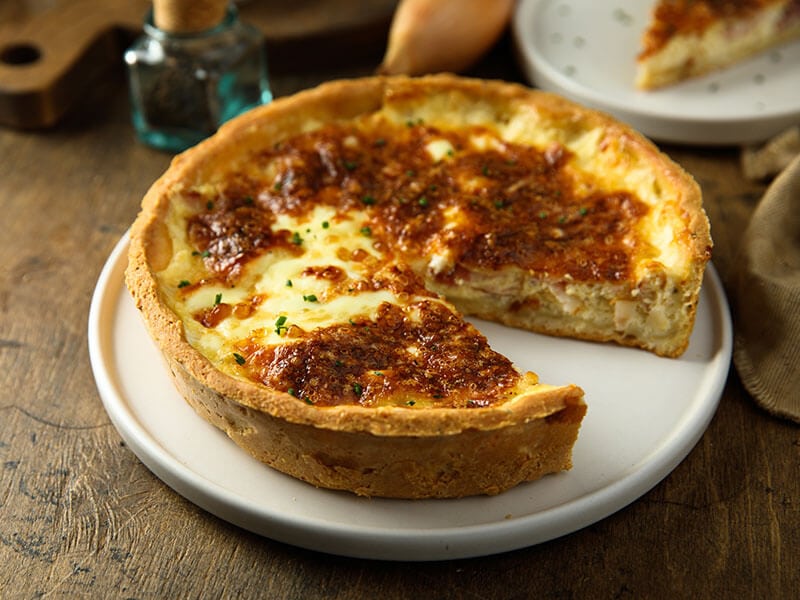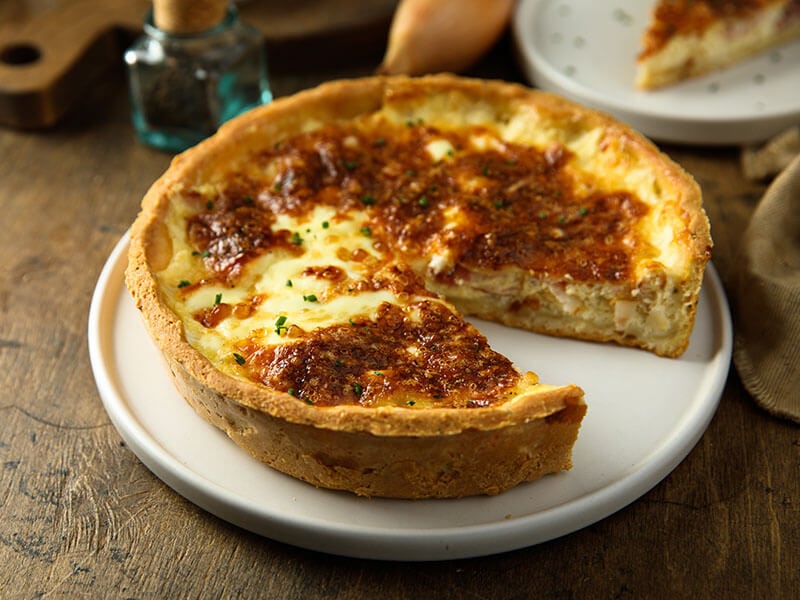 I found out that meat and bell peppers go well together, so that is why I will combine them with my leftover meatloaf. I'm sure your family will clamor for these meatloaf stuffed peppers with a delicious, nutritious stuffing!
Green, yellow, orange, red, or any other color you can think of! The color of the fruit varies as it ripens, as does the flavor.
Green peppers are the sourest, while red peppers are the sweetest. But, in my opinion, the yellow and orange ones are the best. Both regular and baby bell peppers will work in this recipe. However, the cooking time will need to be adjusted.
Do not waste your leftover meatloaf; use it for these meatloaf-stuffed peppers!
Whatever the toppings are, pizza is always delicious. But with a meatloaf chunk, I'm sure it makes the pizza even more phenomenal.
Moreover, I enjoy using fresh mozzarella cheese. Because of how it melts, browns, and bubbles during baking, it is the greatest cheese for cooking pizzas, in my opinion.
Do you agree with me that using meatloaf as a pizza topping is a brilliant idea? If not, you should try this pizza real quick and will love it at a first bite.
After enjoying a typical meatloaf, you should try this unconventional method to use up your leftovers. Meatloaf casserole with cheesy mashed potatoes!
The creamy mashed potato topping, which is enriched with garlic, butter, and chives, will be a hit with your family.
Add some cheese and bake it, and you have a complete supper that will have your family gushing and asking for more.
I have always been a huge fan of burgers, and this meatloaf burger is not an exception. I love the way the natural sweet taste from roasted garlic and onion strings is nicely wrapped inside two tender burger buns.
The whole experience is perfectly ended with a touch of ketchup and juicy slices of meatloaf. For double goodness, just double the meat. It will blow your mind!
Let's Check Out These 2 Tasty Grill Recipes
I believe the grill is the most attractive, sexy type of cooking ever. So why not use it to refresh your meatloaf, right?
This recipe might be the easiest! Just slide your meatloaf, put it between your favorite bread, and you have a nice sandwich dish for yourself.
This grilled sandwich will be tastier with mustard, ketchup, or mayonnaise. However, my best favorite is apple butter; the butter adds a slight sweet sauciness that will make the sandwich stand out from the bland ketchup.
This Meatloaf recipe is another creative idea to upgrade your traditional meatloaf sandwiches by turning your slices of meatloaf into grilled cheese sandwiches.
All you need is meatloaf leftovers, your favorite cheese, bread, and apple butter (my favorite one!). This excellent combo contains the sweet-savory meatloaf and the gentle creamy cheese. What a brilliant idea!
4 Special Fry And Stir Fry Recipes To Use Up Leftovers
Want those crispy textures from fried food? This fry section right here is the part that you are looking for. Scroll down and treat yourself with the yummiest fry ideas below.
When you have leftover meatloaf and rice, don't waste time thinking and just throw them together in a wok (or pan), then you will get a delicious meal.
All you need is to heat the wok and toss in the rice, meatloaf, and vegetables. Don't forget to season it with a little bit of MSG; it is a secret to making this dish more special!
The crazy-delicious dish made in a wok is like a hot party with the tasty star – meatloaf. Carrots and peas bring a delightful color and turn the savory party into an unforgettable one. Make sure with one spoon, you get all the ingredients, the taste will blow your mind.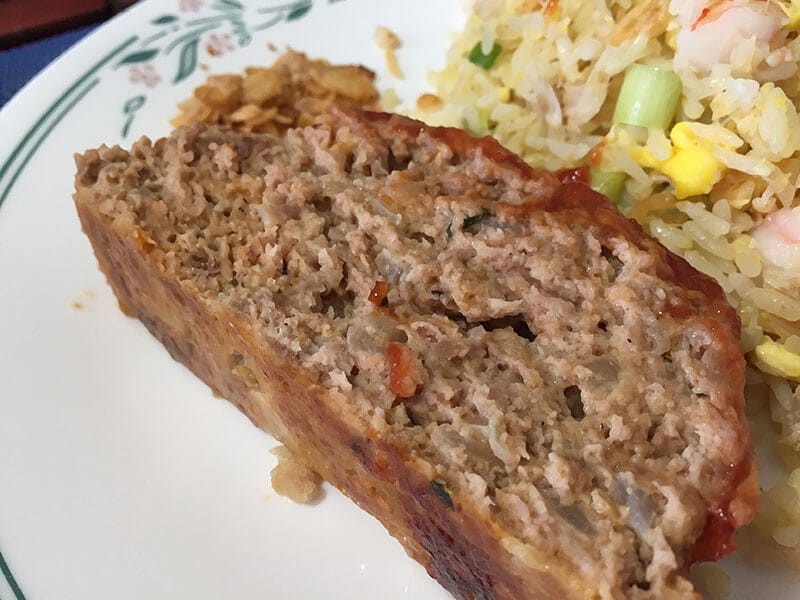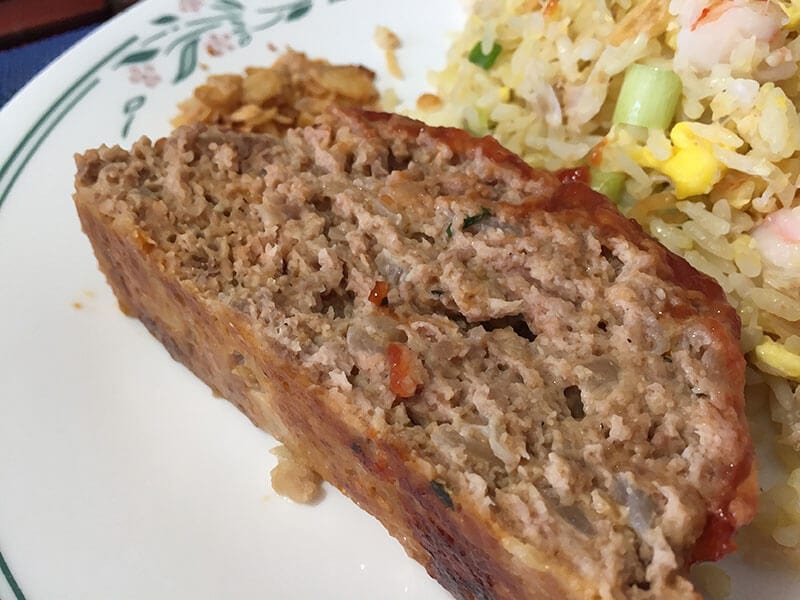 Turn your leftover meatloaf into this beautiful and crispy fried meatloaf. You can fry these slices of meatloaf in peanut oil to create a nice nutty flavor.
Chicken broth is an outstanding option to enhance the taste of the mushroom gravy. When frying the meatloaf, remember to flip them after 1 minute (or when you see the golden brown color) to avoid overcooking.
I adore this dish because after you unveil the crispy cover, the juicy, well-cooked meat inside will welcome you with the most luscious embrace. The recipe is quick and easy to clean out the fridge but still have a good meal.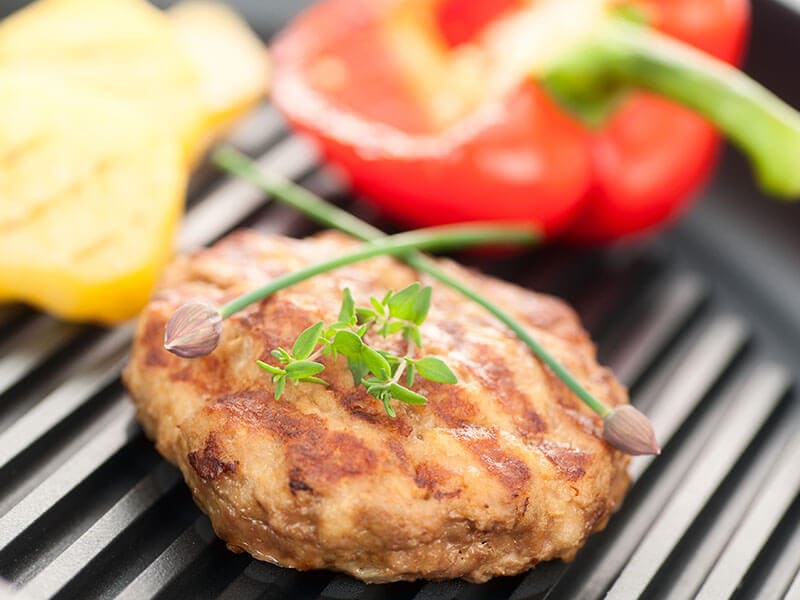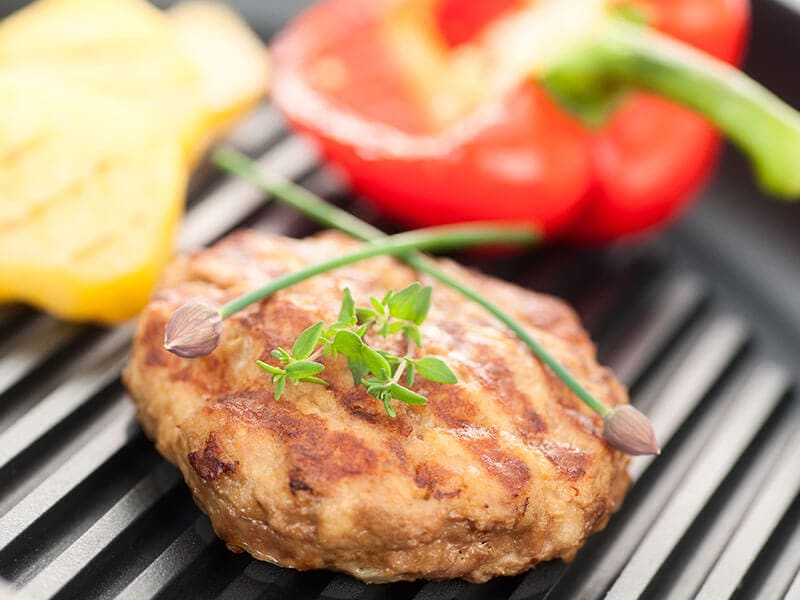 Let's take the leftover meatloaf to a whole new level – meatloaf egg rolls. What an excellent combination of a well-loved Filipino side dish and American flavors!
Small cheese sticks will melt in your mouth through every bite – such a creamy experience. You will need to drain the excess oil to enjoy the crispy dish perfectly.
I guarantee it's going to feel extremely good after you try this dish, even though you may want to make more meatloaf in the future just to make these special spring rolls purposely.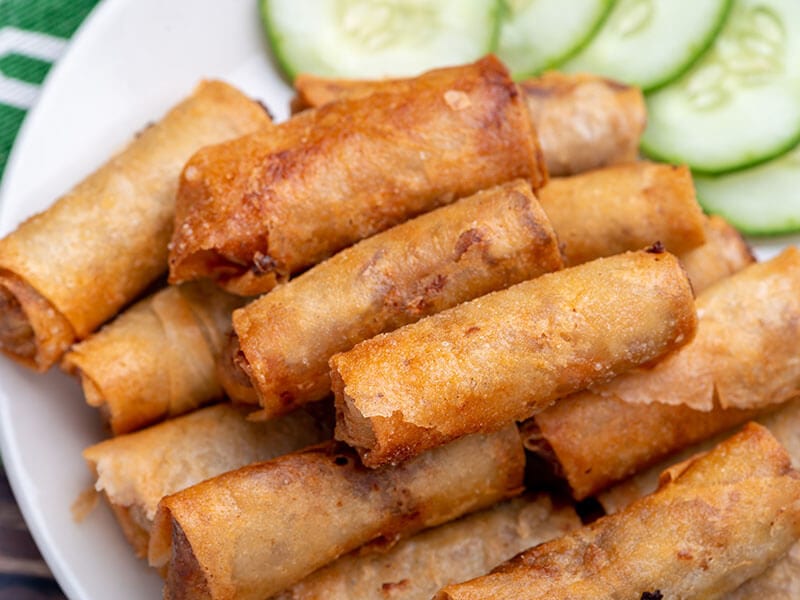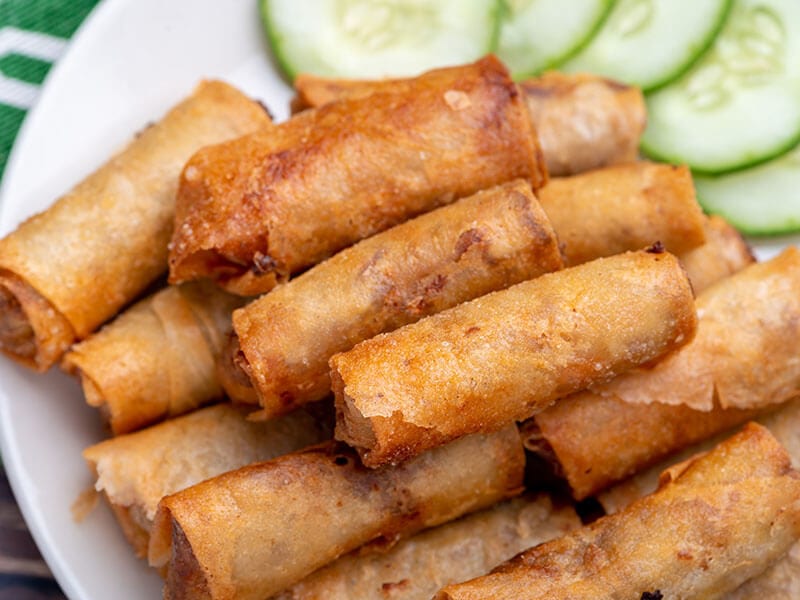 Take your leftover meatloaf to a whole new level by making these lovely meatloaf spring rolls.
I am confident to say this meatloaf hash recipe with potatoes transforms your boring leftover meatloaf into a seriously fantastic one-skillet dish!
Bacon and leftover meatloaf are perfect with spices like peppers and garlic. This combination results in a delightful breakfast dish!
Serve this magnificent dish right away after removing the lid. The half-cooked egg yolk is rich, and trust me, your family will love it!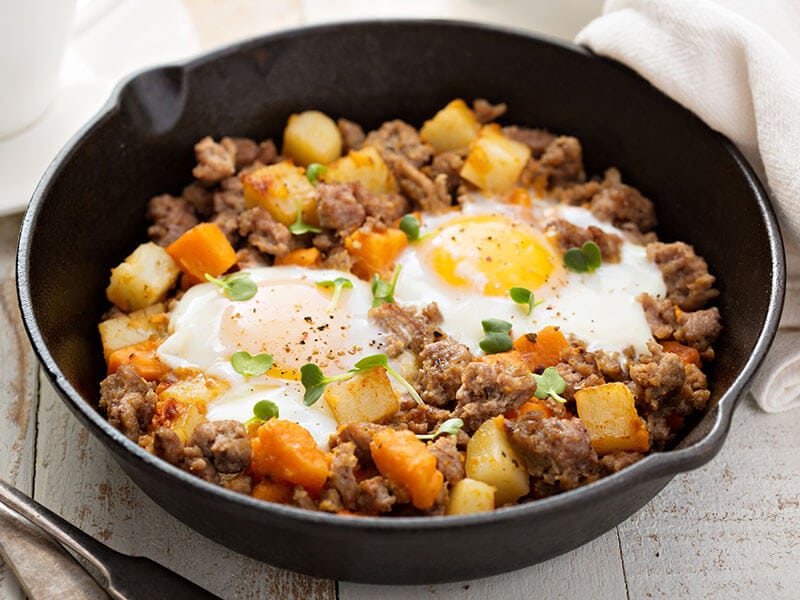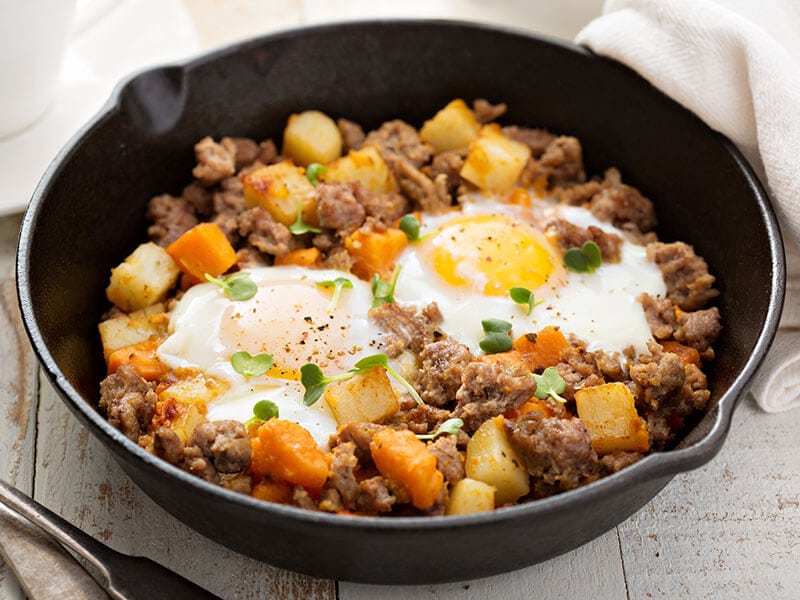 Whet Your Appetite With Other Amazing Leftover Meatloaf Suggestions
One of the things that I love most about cooking is the diversity of it. That also applies in these recipes for leftover meatloaf. Let's dig in!
Leftover Meatloaf Pasta is a simple pasta recipe for you. You don't have to be a MasterChef to make this fantastic dish.
Everything you need is to dice the meatloaf and cook it with tomato sauce. Then, toss some tomatoes and mushrooms. Pour that amazing sauce over your pasta and enjoy this savory dish.
The pasta is drenched in the sauce and a slide of rich cheese, giving you the flavorful experience that you have never had before. I am still overwhelmed when reminiscing about this breathtaking experience.
You already used meatloaf for an Asian and Italian dish, now let's try the Mexican recipe by turning the leftover meatloaf into a chili hotpot.
This recipe is fantastic and suitable to invite some friends and have a Latin feast or just for your late-night craving. The flavor of this chili hotpot is unique because the meat is already well-seasoned.
The star of this recipe is the tomato sauce which is flavored with chili powder and chipotle powder. The sauce gives me a straightforward warm feeling running through my body.
Give this hot and intense meatloaf chili a try. It is worth trying. You can see this video to know more:
One more Mexican dish that can use your leftover meatloaf to create. The classic Mexican toppings such as guacamole or sour cream taste very significant when combined with meatloaf.
Therefore, using cooked meatloaf as the taco filling is just a brilliant idea. Just mix your meatloaf bits with fried beans, and that it's for some tacos.
I am not a fan of pungent flavor but if you are, sneak some chopped onions and cilantro on top to awaken the whole flavor in one bite.
This Leftover meatloaf soup has a bold flavor from simmering chicken broth and meatloaf. Then, potatoes and carrots give the soup a tender and savory-sweet taste.
Green beans also add an incredible texture while eating the soup. Perfume the soup with fresh dill, parsley, and chopped escarole. You can smell the excellent scent now, right?
Though this is a leftover recipe, I'm sure there will be nothing left after you take your first taste.
Make Your Leftover Meatloaf Great Again!
If you are finding some great ways to re-cook your leftover meatloaf, I hope this list meets your needs.
Trust me; instead of throwing your leftovers away, you should try the recommended recipes to make the leftovers great again.
You can also share these recipes with your friends if they have trouble finding some tasty ideas for their leftover meatloaf.
Don't hesitate and let me know if you have other brilliant ideas for these meatloaves. I would love to discover new recipes.
Nutrition Facts
4 servings per container
---
Amount Per ServingCalories421
% Daily Value *
Total Fat 13.9g

20

%
Cholesterol 25mg

9

%
Sodium 1168mg

49

%
Potassium 880mg

26

%
Total Carbohydrate 60.4g

20

%

Dietary Fiber 3.9g

12

%
Sugars 7.8g

Protein 15.1g

30

%
---
* The % Daily Value tells you how much a nutrient in a serving of food contributes to a daily diet. 2,000 calories a day is used for general nutrition advice.