Can't find any leftover meatball recipes that are pleasant to your taste? I will show you the list with the recipes having fewer ingredients than most other ones so that you can effortlessly follow. They are promisingly the best recipes that you've ever encountered!
The leftover meatballs from last night's party may be hard to reuse, but now you can make them into something completely different from your first dish and wow your family, with my meatball recipe list!
So, are you ready with these incredible recipes? Scroll down for more!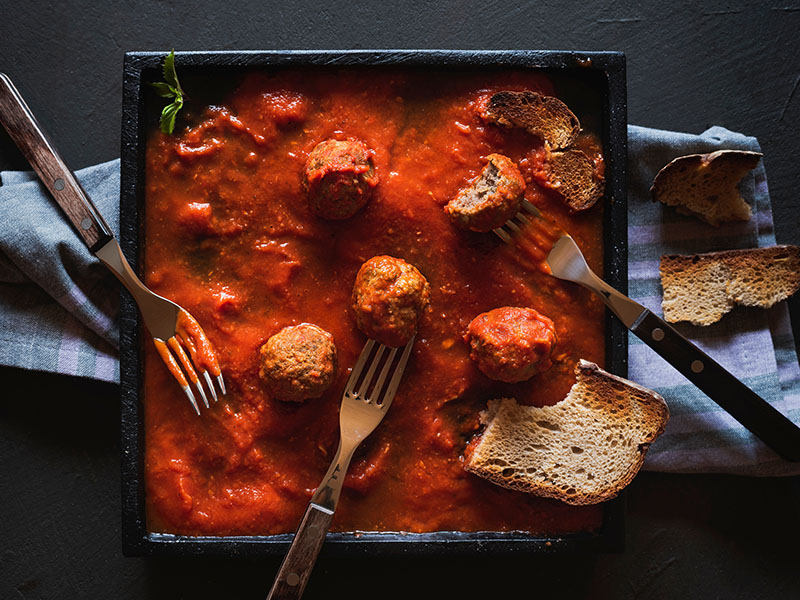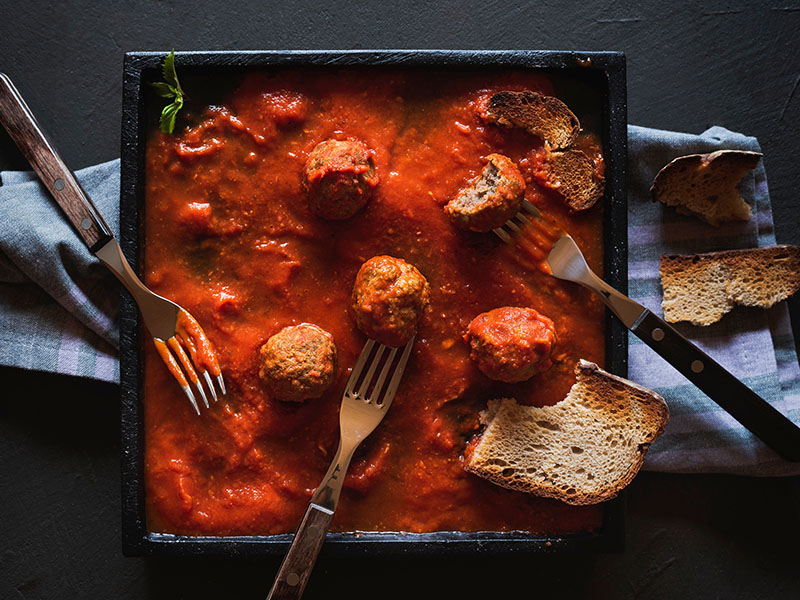 15+ Amazing Recipes To Deal With Your Leftover Meatballs
This list contains the most basic recipes that use leftover meatballs as a crucial component. I have divided them into appetizer and main dish categories. Let's take a glance at them!
Appetizers
Cheesy Meatball Biscuit Bombs
Baked Spaghetti And Meatball Cups
Pork Meatball Lettuce Wraps
Cranberry Meatballs
French Onion Meatballs
Instant Pot BBQ Meatballs
Side Dishes
Vegetable Meatball Soup
Pineapple BBQ Meatballs
Instant Pot Sweet And Sour Meatballs
Main Courses
Meatball Smash Grilled Cheese
Meatball Pizza
Meatball Pasta
Meatball Salad
Dump And Bake Meatball Casserole
Meatball Lasagna Cups
Meatball Sliders
Meatball Sub
Are you curious about these dishes? Discover these recipes in the following sections!
What Is The Type Of Food Called Meatball?
Meatballs are a typical dish in several cuisines around the world. They usually include ground meat, such as beef, chicken, pork, etc., mixed with other ingredients and spices, then rolled into round balls in different sizes.
Meatballs have a lot of variations. The other components can be eggs, bread crumbs, onions, carrots, butter, garlic, etc., based on where they come from. They are often consumed in Europe, Asia, and the Americas.
Leftover meatballs are usually discarded because they are rotten quickly after being cooked. However, when you store them properly, they can be reused for other dishes. Thereby, you will avoid wasting your food.
Best 6 Appetizer Recipes For Your Leftover Meatballs
You can make use of your meatballs into fascinating appetizers for your kids! They will surely love and consume these dishes right away!
These biscuit bombs may look complicated at first glance but trust me, you can make them in a second! You just need to prepare an outer layer, then use it to wrap the meatballs and bake all of them. Make some marinara dipping sauce to serve with the biscuit bombs.
The crunchy crust outside and the soft, flavorful meat in the center make this dish an impressive one that can surprise anyone who tastes it! The children may love this appetizer, and you can let them have some of it before the main course is served.
This dish made from leftover pasta and meatballs is not only delectable but also looks beautiful with the shape of cute little bird nets. The crust made of spaghetti is baked properly and becomes super crispy and savory, covering the juicy centered meat inside.
It's also fun to prepare and you can let your children join a hand before baking! Have fun with this lovely and family-friendly recipe!
If you're still confused, this instruction video may help you do the meatball cups!
Meatballs wrapped in lettuce are not complicated to do with these detailed instructions and the most basic ingredients that you can find at any grocery store or supermarket!
The soft, juicy flavor of meatballs and the refreshing taste of lettuce as a veggie combine and create the best mixture taste! So, will you make this delightful recipe someday?
The juicy meatballs, the sweet and sour cranberry sauce, and the spicy chili sauce – all together makes the best meatball appetizer ever! The dish will undoubtedly create an exploding flavor in your mouth!
It is usually served at parties and holidays such as Christmas Eve, maybe because of its convenience and beautiful appearance with a nice color from the cranberry sauce. I'm sure that this will be a great dish from leftovers on your dinner table!
You're about to cook for a get-together but can't choose any recipe for the appetizer? How about this French onion meatballs recipe? I'm sure that it will be a great dish at the beginning of your party.
The white, thick sauce including sliced onions and mushrooms, boosts the flavor and makes this dish special! This is my favorite recipe for small parties with my close friends, and we always eat up this dish at lightning speed!
With some frozen meatballs in the freezer and the typical sauces available in your pantry, this BBQ meatballs dish is super quick to prepare with an instant pot. It only takes you 10 to 15 minutes to complete and serve right away!
The combination of the sauces makes its flavor so unique! It tastes sweet, sour, savory, and spicy in just one dish! Can you believe that?
Let's find out how they cook meatballs with instant pot in this short video!
3 Scrumptious Side Dishes With Leftover Meatballs
You have gone just through the meatball recipes of appetizers and main course, now it's time for the side dishes to shine! Missing a supportive role for the meal tonight? Then, read this section and you may find something to make.
What can you do with meatballs and veggies? Just combine all of them to get a perfect soup as a side for your main course and make your family members surprised!
This hearty soup has a versatile texture based on the included ingredients, together with a flavorful taste. If you are craving for a quick and convenient recipe to make, how about this amazing one?
This Hawaiian version of BBQ meatballs can always be served over rice for a nice, savory meal. The dense barbecue sauce with pineapple chunks are mixed together to bring a tasty flavor and special vibe to the dish that has your family enjoy it time and time again.
If you are finding something to eat with rice, I believe this meatball recipe is the best! With some pre-made ingredients, this dish just takes a short time to accomplish. The outcome won't let you down for sure!
This recipe requires an instant pot, or a pressure cooker, to make the dish. It tastes pretty like the pineapple BBQ meatballs because it also includes pineapple chunks in the recipe. But what makes it unique is how it is made and the sauces inside.
The soy sauce is the secret weapon of this delightful instant pot side dish. It brings the signature salty, umami taste to the meatballs and boosts the dish's flavors a lot. With the tomato sauce and sometimes the Worcestershire sauce, these meatball recipes will wake all of your senses!
It can be served over rice for a complete meal. Make this savory, delicious side dish now and tell me how you feel!
8 Excellent Main Courses With Your Leftover Meatballs
Here come the main dishes from leftover meatballs to serve for your dinner! You'll be surprised by what your meatballs can do! You can make use of them to create a brand new dish on the table! Check out these fantastic recipes!
What do you think about turning your leftover meatballs and spaghetti into sandwich filling? It sounds complicated but not that hard if you know the right way to do it! This satisfying sandwich recipe tastes so garlicky and cheesy from the very first bite!
The crispness and juiciness of this dish, with two kinds of famous cheese on top, will enlighten your day immediately! 15 minutes for the preparation and it's ready to serve.
This dish is fantastic with any leftover meatballs you may have! The pizza recipe tastes delicious including flavorful, delightful toppings with fresh cheese and marinara sauce.
This Italian-American combination makes your pizza version more special. The crispy, garlicky crust combined with the savory, juicy meatballs and many sauces inside is going to blow your mind away!
If you and your family are so into pizza, why not make this recipe? The result will amaze you and you will want to make it again and again in the future!
Leftover meatballs from spaghetti can be included in a perfect pizza recipe!
Leftover pasta and meatballs can be mixed and turn into a delicious dish with the two most essential foods to tell! The cheesy taste from the topped cheese adds more flavors to the pasta, so it becomes more prosperous and fattier.
Make your own pasta with this ultimate recipe, and I'm sure that you won't be disappointed! It is a convenient main course to make for your dinner.
The usual salad recipe can taste unique with leftover meatballs. There are many variations of meatball salad, but here I provide you with the ones from Italy and Mexico. These two recipes just require a few essential ingredients.
These mixtures will be a great dish on your dinner table. It is not just some bland salad with only veggies, but a flavorful and tasty one with impressive dressings, and also good for your health, too! So what are you waiting for?
This casserole recipe is one of the best ways to deal with your leftovers! You just need to combine all of the ingredients and bake them. Voila! The best cheesy dish for family's night is ready to serve!
I bet that dump and bake meatball casserole is not only a special yummy main dish but also becomes your favorite recipe to deal with those leftovers!
Meatball lasagna cups are a perfect and appealing dish to cook for a buffet party. They are made into small cups with a meatball as the center, covered by lasagna pieces. With the Parmesan and Mozzarella on top, this dish tastes super cheesy and savory.
This is a great option if you have more time to prepare for your party. It will surely surprise your guests and friends!
The sliders with leftover meatballs will be the best sliders you've ever made! The ingredients come together as layers and nicely blend themselves in one bite. They are served like tiny little sandwiches and can easily be distributed to anyone at the dinner or party.
Why don't you choose this recipe for the weekends? Your kids will love them a lot for sure!
Making these meatball sliders can't be easier with this quick instruction video!
This 20-minute recipe is coming to save the date! The meatball sub is a common dish in American cuisine and can be used in any day meal. It is super cheesy, mouthwatering, and loaded with meat.
If you're using frozen meatballs, give them plenty of time to absorb the sauce's flavor before serving. Enjoy this basic but wonderful meatball recipe!
Create Yourself New Recipes To Cook Leftover Meatballs!
The above recipes are not all! There are many more ways to reuse your meatballs; you can even make your own recipes with everything you are having in the kitchen! Don't discard leftovers next time. Instead, turn them into something else!
What do you think about my recommendations? Do you find them helpful? Share your thoughts by leaving some words in the comment sections, and if you have any concerns, don't hesitate to ask me! I promise to reply to you as soon as possible! See you later!
Nutrition Facts
16 servings per container
---
Amount Per ServingCalories129
% Daily Value *
Total Fat 8.1g

13

%
Cholesterol 24mg

8

%
Sodium 349mg

15

%
Potassium 41mg

2

%
Total Carbohydrate 6.9g

2

%

Dietary Fiber 1.2g

4

%
Sugars 2.6g

Protein 10.3g

20

%
---
* The % Daily Value tells you how much a nutrient in a serving of food contributes to a daily diet. 2,000 calories a day is used for general nutrition advice.