26 Best Leftover Lobster Recipes For You To Try In 2023
Are you upset because you have no idea about the best leftover lobster recipes? Do not worry! There are a large number of fantastic recipes that call for leftover lobster. Since you have stored it carefully, it will taste amazing with these suggested recipes.
There are different ingredients that leftover lobster can pair well with, ranging from appetizers to main dishes, even dipping sauces. You will never have a hard time when thinking about some cooking ideas with your leftover lobster anymore.
Let's open the whole new world of leftover lobster recipes that are waiting for you to try!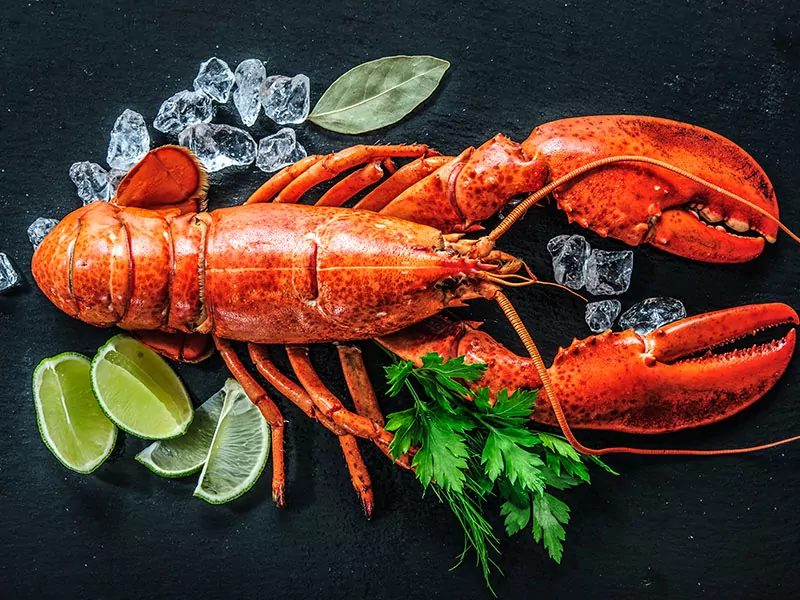 Mind-Blowing With These 26 Best Leftover Lobster Recipes!
Do you believe it? There are 26 amazing recipes that call for leftover lobster and still counting! Save those recipes in your cookbook, and do not waste more time thinking about what to do with your leftover lobster any longer. Let's see what these recipes are!
Pasta
Spicy Lobster Pasta
Lobster Linguine
Lobster Ravioli
Salad
Lobster Cobb Salad
Lobster, Corn, And Potato Salad
Lobster Macaroni Salad
Lobster Roll Salad
Soup
Lobster Chowder
Lobster And Corn Chowder
Nova Scotia Lobster Chowder
Roll And Pizza
Brown Butter Lobster Roll
Lobster Roll With Mayonnaise
Lobster Sliders
Lobster White Sauce Pizza
Lobster Pizza With Spinach And Gouda Cheese
Cake
Lobster And Shrimp Cake
Lobster Mac And Cheese Pie
Lobster Pot Pie
Risotto
Butter Poached Lobster Risotto
Creamy Lobster Asparagus Risotto
Dip
Hot Cheesy Lobster Dip
Baked Lobster And Brie Dip
Others
Baked Lobster Tails
Lobster Tacos
Lobster Quesadilla With Mango Salsa
Lobster Wontons
Lobster And Pasta? An Amazing Combination You Can't Deny!
You can see tons of lobster with pasta dishes in many country's cuisines. The subtly fishy and sweet taste of lobster goes very well with pasta and creamy sauces. Try these pasta recipes with your leftover lobster when you have time!
Seafood like clams, shrimp, and crab are added to pasta recipes very frequently. Seafood pasta can be a perfect main dish for family dinners or any parties.
Spicy lobster pasta is also a must-try recipe as it tastes creamy, sweet, savory with a perfect amount of heat and aromatic smell. Take your leftover pasta out of the refrigerator and try to make this mouth-watering spicy lobster pasta now!
You want to make this creamy lobster linguine, but you think it might be difficult for a cooking amateur? No, it is entirely not! Since it is often served in overpriced restaurants, it is surprisingly easy to make.
Do you wonder why lobster linguine has a pink sauce? It is a mixture of tomato pureé and heavy cream. Lobster Linguine brings an aromatic odor with a creamy, sweet-savory taste for a perfect dinner.
You can also top your lobster linguine with extra shredded Parmesan cheese for a more creamy taste.
Lobster ravioli requires more effort than the two pasta recipes above since you have to roll the filling carefully inside the pasta dough. However, the result will be worth your try!
Thanks to its buttery and burst flavor, it can be your secret weapon to serve on special occasions or essential dinners. Brown butter is usually used in lobster ravioli, but the cream sauce does not taste any less delicious.
How About Making Some Salads With Leftover Lobster?
Adding leftover lobster in a refreshing salad to start a new day healthily is also an excellent idea. Below are some mouth-watering lobster salads. Check them out!
Cobb salad is a type of salad that is perfect for serving at a big party. The reason is that you will separate all of the ingredients before serving, and people will be able to choose their own desired ingredients for their salad.
Lobster cobb salad usually consists of pre-cooked lobster, fresh avocado, sweet corn, and hard-boiled eggs. Besides the diverse ingredients, lobster cobb salad also tastes good, depending on how good the dressing is!
Despite the diverse ingredients of a lobster cobb salad, this kind of salad contains some simple elements, including cooked lobster, corn, and potato. However, the sweet taste of corn and mild potato match perfectly and add a plus point to this salad.
People usually add fresh herbs to enhance the dish's smell, and it is usually tarragon. Since the ingredients are simple and the recipe is easy and quick to make, this dish would be your best choice when not having much spare time to cook.
Because lobster macaroni salad only consists of some basic ingredients like a cooked lobster, macaroni, and lettuce, you can add some of your favorite shredded vegetables to it. Shredded carrot or summer squash is recommended.
However, do not add strong and robust flavor veggies such as onions or bell peppers because they will overpower lobster's delicate flavor. The mayonnaise and lime juice dressing of this salad is kind of basic but tasty.
If you are a huge fan of rolls, do not ignore this recipe! Lobster roll salad is flavorful and low in carbs, so it is suitable for people who are sticking to a balanced diet.
You can also add celery leaves, scallions, or tarragon to upgrade the distinct flavor of your own leftover lobster roll salad.
Leftover Lobster Soup Is Perfect For A Cold And Rainy Day!
Leftover lobster is also added to various types of soups, and chowder is one of the most popular types I will talk about. Short on to discover some tasty leftover lobster chowder for a rainy day!
Winter is a season for eating warm soups, right? Let's warm your hungry tummy with lobster chowder before starting your main meal!
The critical success of lobster chowder is adding onion to enhance the sweetness of this soup. Also, you can flavor your lobster chowder with fresh and aromatic herbs to enrich its smell.
Make your own fantastic chowder with leftover lobster and have a warm and cozy dinner. You can see this video to know more:
Lobster and corn chowder is lighter than any other creamy chowder. The sweet flavor of lobster and corn will satisfy your stomach at the very first bite.
Do you know how people usually enjoy lobster and corn chowder? They eat it warm in summer while drinking iced beer. Try this way to enjoy your leftover lobster and corn chowder. I'm sure it will be a great flavor experience.
Unlike lobster chowder and lobster and corn chowder, Nova Scotia lobster chowder's main ingredients are lobster and potatoes. Another standout point is that it tastes creamy and subtly tart, not sweet.
Nova Scotia lobster chowder is considered Canadian cuisine, with a thick and creamy texture added with various dairy ingredients. Thyme leaves and onions used in this chowder also add an aromatic smell to them.
5 Excellent Lobster Roll And Lobster Pizza Recipes You Must Try!
Leftover lobster is also used to fill in soft and fluffy bread to make a tasty lobster roll and lobster pizza. Let's take a look at five different kinds of lobster rolls and pizzas!
Brown butter lobster roll is one of the most significant kinds of the lobster roll. You can use your cooked lobster to make a delicious filling.
In this recipe, the brown butter is made by cooking powdered milk with unsalted butter until it turns walnut color. Then, drown your leftover lobster in this delicious sauce and add lemon juice to enhance the flavor. The taste will be fantastic!
Explore more useful tips when making brown butter lobster rolls by following this instruction!
Instead of butter, this New England's classic lobster roll is added with mayonnaise. The filling will taste subtly sweet from lobster, creamy from mayo, and slightly sour from lemon juice. All of the flavors create a wonderful mixture that you can't resist.
The recipe is rapid and easy; it just takes you under 20 minutes. So, it is convenient and time-saving to have a lobster roll with mayonnaise for breakfast made with your leftover lobster.
If you are going to serve many guests at your upcoming party or family reunion, consider this recipe! The reason is that you can make various portions simultaneously with Hawaiian rolls using your pre-cooked lobster.
Extra tips: Top your lobster sliders with shredded Gruyere cheese or Mozzarella cheese and broil it in the oven for more flavor. Serve lobster sliders with lime wedges and fresh lime juice; just make the dish fresh and tastier.
Do you love to eat pizza but do not enjoy the tomato-based sauce? Come to white sauce or lemon-garlic sauce pizza! Lobster pizza is made with tasty cheeses, including Mozzarella, Fortin, and Parmesan cheese.
Also, lobster pizza gives an aromatic smell as it is added with fresh herbs like parsley and chives. Lobster white sauce pizza is the best choice to serve your family members at dinner.
Are you wondering how to add more green notes to your pizza? Go for this recipe! Lobster pizza with spinach and Gouda cheese may remind you of lobster alfredo, but it is even tastier.
Sweet lobster pairing with fresh spinach and the buttery, nutty flavor of Gouda cheese is a flavor explosion! The mushrooms somehow distinguish the dish from other pizzas with their unique taste.
Lobster Cake Recipe? Strange But Straightforward!
Do you want to try some crunchy and warm cakes that are made with your leftover lobster? Take a look at these recipes!
Having lobster and shrimp cakes as a succulent seafood appetizer to start a party is such an excellent idea! Those crispy and fiery lobster and shrimp cakes that are baked well in the oven or fried on the skillet will satisfy your guests.
Do you wonder what sauce goes with lobster and shrimp cake? Yogurt with dill sauce would be the best pairing of this cake, but lemon aioli is not less delicious. On top of that, people also make a special green onion sauce to top the cake.
Grab your favorite light and crisp white wine to pair with lobster and shrimp cake right now!
I have to say that lobster matches with mac and cheese. Since we have lobster mac and cheese salad, lobster mac and cheese pie is also a must-try.
How could you resist the cheesy lobster mac and cheese pie with a golden brown and crunchy exterior? You can freely add some smoked cheddar cheese or smoked bacon to upgrade this dish.
Lobster pot pie is a straightforward recipe. However, you can make it creatively by adding your favorite vegetables. Potatoes and carrots are the two most recommended extras.
The base is creamy and slightly spicy with pepper flakes or cayenne powder and comes along with the fluffy and buttery pastry on top. People also usually add tarragon to enhance the whole dish's flavor.
Making Italian Risotto With Leftover Lobster Is Not A Bad Idea!
Let's go to the main dish! It is time to explore some risotto recipes that call for your leftover lobster!
If you are Italian or live in any city in Italy, I'm sure that you have seen this recipe regularly in many restaurants. However, today, I will introduce the easy and quick homemade butter-poached lobster risotto to expand your menu.
Butter poached lobster risotto is a perfect Italian dish for a special occasion that can surprise your guests with its excellent taste. Prepare a glass of tasty champagne to serve with butter-poached lobster risotto to complete a romantic dinner!
There are many different versions of lobster risotto, and creamy lobster asparagus risotto is considered one of the tastiest risotto.
The grassy but delicious asparagus goes very well with creamy lobster risotto. Take your leftover lobster out now and carry out this recipe. It takes time, but it's worth it. Enjoying your risotto with a glass of wine will bring the best flavor experience.
Leftover Lobster Is Also Used In Some Tasty Dipping Sauces
Have you ever heard of dipping sauces that are made with leftover lobster? Sounds fascinating, right? Check them now!
Do not forget this hot cheesy lobster dip to impress your friends or family members whenever you have a crowd over for dinner.
The delectable dip made with cream cheese is topped with potato chips, but you can also pair it with crackers or crispbread. You will fall in love with the sweet lobster with slightly tart sour cream and mayonnaise. The flavor goes well with crispy chips or bread!
The baked lobster Brie dip tastes further from hot cheesy lobster dip since the Brie cheese is used instead of Gruyere cheese. Brie cheese has a distinct flavor: fruity, earthy, nutty, grassy, and mushroom-like.
It is also added with spinach, which makes it different from other lobster dips. You can eat baked lobster and Brie dip with toast or crispy bread. Although there is also mozzarella cheese in the recipe, it does not overwhelm the flavor of leftover lobster.
Others Recipes That Call For Leftover Lobster You Must Try!
Apart from the recipes above, here are four more other recipes that call for your leftover lobster. All of the recipes are excellent and deserve a try!
This is the easiest but tastiest way to recook your leftover lobster. Although it is easy to cook, you will impress your beloved ones or family with this recipe. You can use your frozen lobster tails for baking them; leaving the claws for making soup is perfect.
There is a little reminder; you should better defrost your frozen leftover lobster tails before baking them. You can top them with fresh herbs to upgrade the aromatic smell and serve them with lime wedges at your decadent dinner.
Let's see how to effectively prepare and bake your leftover lobster tails with butter and fresh herbs!
Cooked lobster is also used to make delicious lobster tacos, the favorite taco dish of people living in New England.
Since many lobster salads consist of fresh avocado, filling lobster tacos with guacamole creates a perfect combination of flavors. You can also top your delicious leftover lobster tacos with mango habanero sauce to make it tastier.
It's time to visit Mexico! Quesadillas are a portion of popular street food in Mexico. It is regularly made with beef or chicken, but substitute beef and chicken for lobster is also the best idea.
The rich and buttery lobster quesadillas taste even tastier when being topped with sweet mango salsa. Give this recipe a try and enjoy it as a snack in the middle of the day.
This is a fried-style of wontons, a traditional Chinese cuisine. While the traditional fillings of wontons are usually beef or pork, let's make a little exciting change with your leftover lobster.
These fried pockets of delightfulness and deliciousness are perfect for serving your guests as a luscious lobster appetizer. You can dip lobster wontons in tartar sauce or Greek yogurt sauce with minced fresh herbs.
Give Those Excellent Leftover Lobster Recipes A Try!
I have mentioned 26 excellent recipes that call for your leftover recipes. Both cooked and frozen lobster are acceptable. Remember that it would be better to thaw your frozen lobster before cooking to have the best results.
Try these recipes and share the results with me. I would be grateful to see them! Do not forget to like and share this post if it is fascinating before leaving the site.
Nutrition Facts
4 servings per container
---
Amount Per ServingCalories451
% Daily Value *
Total Fat 11.9g

17

%
Cholesterol 15mg

5

%
Sodium 53mg

3

%
Potassium 143mg

5

%
Total Carbohydrate 56.3g

19

%

Dietary Fiber 3.4g

12

%
Sugars 5.2g

Protein 28.3g

57

%
---
Calcium

16

%
Iron

3

%
Vitamin D

4

%
* The % Daily Value tells you how much a nutrient in a serving of food contributes to a daily diet. 2,000 calories a day is used for general nutrition advice.