Leftover ground beef recipes are solid evidence of how versatile this basic ingredient is. The possibilities are limitless. It may be the star of hamburgers, meatballs, or meatloaf. It also serves as a side dish in a casserole and is unquestionably capable of anchoring a chili or being stacked into a lasagna.
Not only is leftover ground beef very adaptable, but it can also generate fulfilling and family-friendly dishes. Plus, the material is cheap and easy to process in creating hearty recipes.
If you are looking for a fresh twist on traditional ground beef dishes, look no further than my list of 40+ leftover ground beef recipes. These dishes will transform your leftover ground beef into a culinary marvel.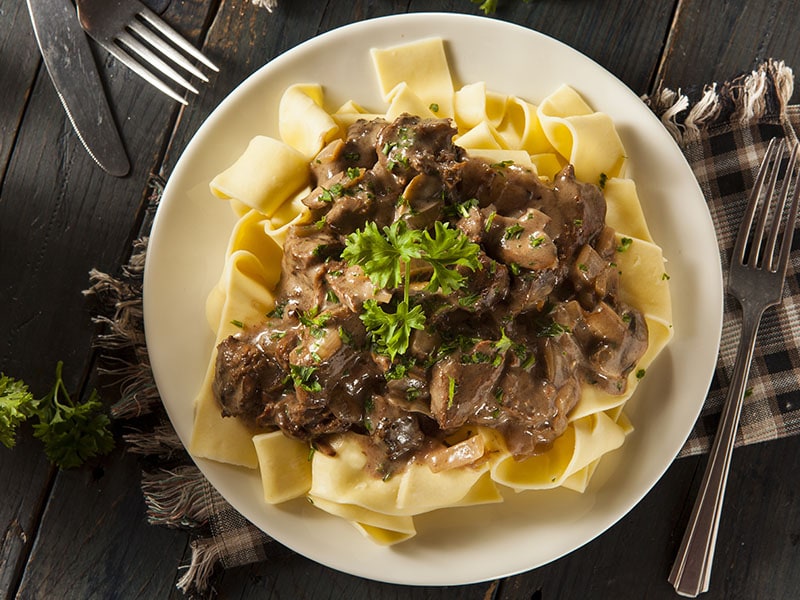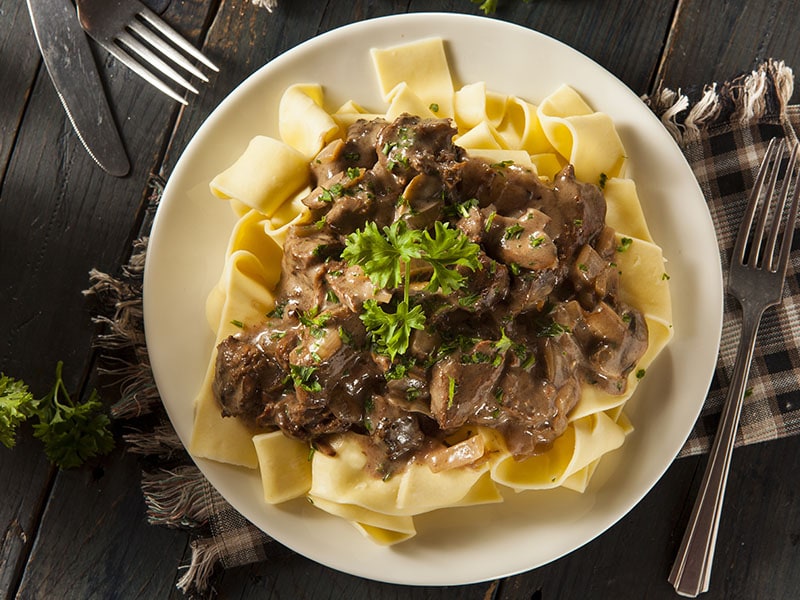 Complete List Of 40+ Amazing Leftover Ground Beef Recipes
As always, let's have a brief look over all 40+ amazing leftover ground beef recipes in my list above.
8 Hearty Soups With Leftover Ground Beef
Beef And Pepperoni Soup
Beef Stew With Cheddar Biscuits
Beef, Black Bean And Jalapeno Chili
Cabbage Roll Soup
Gnocchi Soup
Hamburger Stew
Lasagna Soup
Stuffed Pepper Soup
7 Cheesy Mexican Dishes With Leftover Ground Beef
Ground Beef Enchiladas
Ground Beef Lasagna
Ground Beef Quesadillas
Ground Beef Quesaritos
Ground Beef Tacos
Loaded Sheet Pan Nachos
Zucchini Burrito Boats
7 Yummy Pasta Dishes With Leftover Ground Beef
Ground Beef Bolognese
Ground Beef Goulash
Ground Beef Manicotti
Ground Beef Ravioli
Ground Beef Stroganoff
Spaghetti And Meatballs
Vegetable Beef Ragu
7 Delectable Casserole Recipes With Leftover Ground Beef
Cheesy Chili Hash Brown Bake
Chiles Rellenos Casserole
Chili Mac Casserole
Cowboy Casserole
Ground Beef Casserole
Meatloaf Casserole
Taco Cornbread Casserole
5 Appealing Meatball Recipes With Leftover Ground Beef
Cocktail Meatballs
Keto Meatballs
Meatball Shakshuka
Porcupine Meatballs
Swedish Meatballs
4 Staple Burger Recipes With Leftover Ground Beef
Chipotle Beef Burgers
Fajita Burger Wraps
Ground Beef And Mushroom Burgers
Gyro Burgers With Tahini Sauce
3 Nutritious Stuffing Recipes With Leftover Ground Beef
Chili-Baked Potatoes
Stuffed Cabbage Rolls
Stuffed Peppers
9 Hearty Soups With Leftover Ground Beef
Soups are always a great opener to a full meal, aren't they? And no idea can be greater than making hearty soups with your available ground beef. Here are nine suggestions for you to try!
If you want to spice things up for chilly winter evenings, consider adding this Beef And Pepperoni Soup to your supper menu right away. Not only is it delectable, but this recipe is also a convenient choice to repurpose your leftover ground beef!
However, ground beef is just one half of this recipe. To achieve the full cheesy taste of this soup, you must include pepperoni and parmesan cheese in its ingredient list. You will fall in love with this soup right from the first spoon. There is nothing satisfying than the hearty combination of beef and cheese in a cozy soup.
Serve this substantial soup with garlic bread, cornbread, or oyster crackers and call it a meal! If you are planning to surprise your family with this recipe, expect to see no leftovers after your dinner!
This Beef Stew is an absolute comfort dish topped with homemade cheddar biscuits. With this recipe, you can prepare everything ahead of time and bake it just before dining time.
You will love its soothing taste blending nicely with the tender meat, flavorful vegetables, and crispy biscuits, making it the perfect choice for busy days or family gathering occasions. The ideal way to consume this recipe is to dip the biscuits in the stew.
This Chili recipe featuring beef, black bean, and jalapenos is a classic that requires no fancy ingredients at all! It is just the sort of chili that every family loves to enjoy on a cold winter night!
Besides repurposing leftover ground beef, you get to play around with colorful toppings of your preference, including scallions, yellow onions, avocados, guacamole, fresh jalapenos, sour cream, and a wide collection of shredded cheese (cheddar, Monterey Jack, fontina, etc.)
If you expect the next few days to be extremely busy, a good action plan for your meal is to prepare this recipe in advance and store it in the refrigerator. When the time comes, you can feel relief as your hearty bowl of Beef, Black Bean And Jalapeno Chili is almost ready!
This recipe of Cabbage Roll Soup has all the same cozy tastes as traditional cabbage rolls but requires much less effort! You can put this soup together in a blink without compromising the robust and satisfying flavor.
The combination of lean ground beef, cabbage, green chile, tomato sauce, and a burst of cilantro makes the perfect option for your hectic evening. Accompanying this cabbage roll soup with crusty bread or a green salad makes a full and healthy meal.
Gnocchi Soup is an efficient way to combine your preferred ground beef with flavorful spices, veggies, and hearty gnocchi. Not only is it delectable, but this soup is also straightforward to make for your family!
Feel free to use your creativity in making toppings with bacon and cheese. Grated parmesan or mozzarella cheese sprinkling on top of the soup is a good practice to try. Serve this creamy soup with salads or homemade bread and call it a complete meal!
Another option of pure comfort food in a bowl is this popular Hamburger Stew, which has survived the test of time for centuries. This one-pot dish is brimming with ground beef, veggies, macaroni, and potatoes, making it a nutritious and fulfilling meal for a chilly dinner.
Besides the main ingredients mentioned above, you can elevate the dish's flavor with a generous amount of garlic, oregano, thyme, bay leaf, and crushed red pepper flakes.
This fast and family-friendly Hamburger Stew is a perfect dish on its own. However, feel free to enjoy it with garlic bread, drop biscuits, corn muffins, and wedge salad.
With this soup recipe, all the classic tastes of lasagna come together in a pleasant meal-in-a-bowl. It has a similar flavor to lasagna, yet in the soup form, which is pretty amazing to me. Your family will enjoy this soup, especially when the winter is around the corner, as it is incredibly yummy and comforting!
All you need to pull this nutritious recipe together is a single pot with simple ingredients, making the preparation process so simple. Warm up your family with this comforting soup on chilly winter nights, and do not expect to see any leftovers.
Enjoy this illustrative tutorial to generate the hearty Lasagna Soup right at home!
This soup recipe has all the components of a traditional stuffed pepper dish, which requires no unique ingredients. If you have a well-stocked pantry, you may already have some of this on hand.
Unlike the traditional recipe that asks for laborious efforts in filling each bell pepper, this hearty soup is a great option to get rid of those tedious preparations. Plus, it is an even better option to make good use of all your leftover ground beef.
This Stuffed Pepper Soup is delicious when eaten alone, or you can enjoy it with crusty bread, cornbread, or a salad. You can also substitute tiny pasta or other grains such as quinoa or farro for the rice.
7 Cheesy Mexican Dishes With Leftover Ground Beef
I am super fascinated with Mexican cuisine, owing to its wide variation and distinct flavor. Plus, they have a handful of recipes that can repurpose my leftover ground beef into marvels. Need evidence? Here are seven cheesy Mexican dishes I often make when my leftover ground beef is piling up.
These straightforward Ground Beef Enchiladas are the ideal option for substantial dinners with their satisfying beefiness and cheesiness baked and wrapped in flour tortillas.
Although this dish is perfect on its own, you can freely play around with various toppings to make your dinner extra special. No matter what toppings you use, the dish is always tasty with all the saucy fillings and colorful garnish, all of which are coated in an irresistible homemade enchilada sauce.
The best part about these enchiladas is that they cook quickly! From beginning to end, you can get this plate on the table in less than an hour! That is quite an accomplishment for homemade beef enchiladas! Your guests will love the food so much that they believe you have spent hours in the kitchen preparing it!
This skillet Ground Beef Lasagna is a healthy, fulfilling, delicious and quick entrée for any Italian dinner. The recipe tells the wonderful story of pasta, ricotta, ground beef, and plenty of cheese, yielding the greatest taste you can ever imagine from a lasagna dish.
What I love about this recipe is that you do not need to boil noodles or spend hours cooking over the stove. It simply gets rid of all the intensive labor involved with traditional lasagna dishes.
Yet, the result is far from your expectation with its super hearty and comforting taste, accompanied with a savory sauce, gooey cheese, and layers of al dente noodles.
If enchiladas and lasagna are famous for their cheesy taste and comfortable preparation process, Quesadillas are the quickest solution for your dinner when it comes to leftover ground beef. You can pull this recipe off in 15 minutes.
Not only is it fast to make, but the dish also shares the super cheesy flavor of its Mexican culinary "amigos". Quesadillas are absolutely tempting with their well-seasoned ground beef, gooey cheese, and a crispy golden brown surface. How can anyone turn this food down, right?
To make your quesadillas more robust to handle various delectable toppings, I suggest using flour tortillas over corn tortillas. These flour pals are also heartier and more flexible, making your dining experience more comfortable.
Ground Beef Quesaritos are another Mexican "amigos" I want you to note down. In essence, they are one of the largest rice burritos encased in a quesadilla that you can find out there. I only have three phrases to describe their taste: meaty, cheesy, and loaded with cheese.
If you are familiar with Taco Bell stores, you would have heard about this recipe before. The dish will fill your mouth with heavenly and cheesy flavors. All its delightful ingredients, including your leftover ground beef, are contained inside two tortillas layered together (just like a quesadilla).
It is the unique structure of Quesaritos that gives them the cheesy taste inside and crunchy texture from the outside tortillas. From now on, forget about leaving the house to visit the drive-through. Simply prepare these amazing Ground Beef Quesaritos right in your kitchen!
These simple Ground Beef Tacos are ideal for those hectic weeknights with all your preferred taco toppings in one bite. Not only is it delectable, but the recipe is also adaptable and easy.
It is not an exaggeration when I use "adaptable" and "easy" to describe this recipe. When you lack the energy to prepare dinner, think of Ground Beef Tacos! When you want to play around with various ingredients, think of Ground Beef Tacos also!
To elevate these tacos' taste to a whole new level, make sure to sauté minced garlic with chopped onions and bell peppers in a pan before tossing your leftover ground beef in. That is how you generate the heavenly taste of these yummy tacos!
Learn to make the best Ground Beef Tacos right here with this illustration.
Let's use leftover ground beef and various veggies to build your own Loaded Sheet Pan Nachos and wow your relatives! If you are hosting a party, these nachos will undoubtedly be the highlight of the event.
Start by choosing a fairly thick tortilla chip to be the base of your dish. Then, prepare all your desired toppings, put them on the base, and prepare to surprise your guests!
You can either roll these nachos in advance with your topping preference or present these ingredients in separate plates and allow your guests to use their creativity in stuffing the food.
If Quesaritos are the biggest burrito you can find out there, these Zucchini Burrito Boats are the healthiest and yummiest option for your family dinner. This tasty ground beef dish is keto-friendly and low-carb, guaranteeing you a guilt-free eating experience!
What makes this recipe different from other Mexican food is the use of zucchini in substitution for tortillas. It is also the secret of how Zucchini Burrito Boats are so healthy.
This recipe is not only a great way to repurpose leftover ground beef but also a brilliant method to increase your vegetable intake, with various ingredients acting as the toppings. Seriously, whatever greens you love, you can add to this recipe.
Uncover the beauty of Zucchini Burrito Boats by learning from this simple instruction.
7 Yummy Pasta Dishes With Leftover Ground Beef
If you are a fan of pasta recipes, you must not miss out on the following seven suggestions. They are great ways to enjoy your leftover ground beef in yummy dishes.
Grab your corkscrew and buckle in as I am about to dive deep into one splendid Italian dish, which is Ground Beef Bolognese Sauce. This sauce is bold, hearty, and very straightforward to make and enjoy. However, its preparation requires an extended and steady simmer to build the flavors over time.
The term "Bolognese" simply means "in the manner of Bologna", referring to a tomato-based, hearty pasta sauce that originated in Bologna, the capital of Emilia-Romagna in Italy.
Serve this Ground Beef Bolognese Sauce over a pasta noodle of your choice and top it generously with freshly grated Parmesan cheese. And, don't forget to match it with your favorite wine!
Originated in medieval Hungary, Ground Beef Goulash was a popular dish cooked by cowboys and herders in the region. Our version inherits the substantial taste of the original recipe, yet more flavorful with onions, paprika, and tomato to season the ground beef.
Additionally, the whole preparation process takes place in a single skillet, which is a big plus to me! This recipe of hearty ground beef and soft pasta is an excellent choice for hectic weeknights. However, feel free to surprise your guests at potlucks and parties since it is also a true crowd-pleaser.
Wow your family by making this Ground Beef Goulash at your next gathering!
Ground Beef Manicotti is arguably the most exquisite of the traditional Italian baked pasta besides lasagna, baked ziti, and stuffed shells. The term "manicotti" refers to long spaghetti tubes filled with a cheesy and meaty filling and baked until soft.
The most remarkable thing about this Ground Beef Manicotti dish is that you can prepare everything in advance to avoid the evening rush. Simply boil the cheesy, meaty pasta and top the dish with a homemade sauce.
Serve this pasta dish in the same manner as you would do with lasagna or baked ziti. What I mean is to enjoy it with a simple salad or garlic bread. These sides will help you clear the plate in no time!
Ground Beef Ravioli is a family-friendly dinner brimming with taco ingredients. Surprise your family with this recipe, and everyone will be giddy with anticipation from the first bite.
You may think that making handmade Italian ravioli with ground beef and cheese filling is a tough job to handle due to its many stages. However, it is far from the truth. The whole process is easy and enjoyable. Try preparing the dish with your children. It will be a fun time together!
A nice tip is to make these delectable pieces of pasta in advance. They will be handy when you are too busy or when unexpected company arrives. Just remove them from the freezer, boil them in salted water for a few minutes, and coat them with a delectable sauce.
To make the recipe all-rounded for a delectable dinner, all you need is a tossed salad with Italian dressing and some crusty bread, followed by an Italian dessert of your choice!
To sum up in one sentence, this Ground Beef Stroganoff is a recipe with succulent beef pieces and mushrooms coated in a sour cream sauce and served over egg noodles. Surprisingly, this comfort meal takes less than an hour to prepare and will stick to your ribs!
Although the recipe is traditionally enjoyed with egg noodles, it may also be served with rice or even mashed potatoes! If you are serving beef stroganoff with a side dish, consider sautéed cabbage or roasted asparagus.
Spaghetti and meatballs in red tomato sauce are a traditional Italian dish that will always stay in style. Besides being an ideal option for Sunday dinners, this beautiful Italian classic is also a joyful meal with leftover meatballs.
With my suggested recipe, you will only need around 15 minutes to prepare this amazing dish from scratch. To call it a complete meal, you can consider enjoying the dish with a simple salad or some garlic bread. This recipe is without a doubt the finest spaghetti meatball dish you have ever tasted!
This Vegetable Beef Ragu is both nutritious and fulfilling, as well as fast and delectable. With this recipe, you will have tender beef pieces, luscious tomatoes, and robust veggies coming together and finishing in a light cream sauce.
This homemade beef ragu is the finest recipe for warming your spirit and stomach during chilly days. With only a few pantry ingredients and some patience, you can pull off this dish in a blink!
Cook pasta in a separate dish and drizzle with enough sauce. Then, garnish with your preferred cheese. The finest cheese options are romano, parmesan, and asiago!
7 Delectable Casserole Recipes With Leftover Ground Beef
The next seven delectable casserole recipes will knock you off your feet at the perfect taste that leftover ground beef can generate. They are true crowd-pleasing dishes that will satisfy your whole family.
What makes Chili recipes so appealing is that you can combine all your favorite ingredients in a single dish quickly. This Cheesy Chili Hash Brown Bake is no exception, as it comes together in a flash!
Thus, give this recipe a chance and play around with it in your kitchen. You will no longer see your leftover ground beef in the fridge anymore! Plus, your kids will always ask you to make it for them more often!
To me, there is nothing more refreshing at the end of a long day than to enjoy a quick and easy chili like this! If you are not a fan of beef, feel free to use ground pork or shredded chicken.
Chiles Rellenos Casserole is a Mexican delicacy brimming with poblano pepper flavor in each juicy mouthful. Such a smokey flavor blends in perfectly with all the cheese and ground beef you toss in the recipe, yielding a unique taste that allures you to sprint to the kitchen to make it more often!
With little effort, you can generate this delicious and family-friendly dinner. You can even double the recipe and serve it for supper one night and freeze the remaining portion for a later date. That is how you got yourself two delectable meals without the stress and mess associated with the hectic schedule.
Pair this Chiles Rellenos Casserole with your preferred toppings that make your heart sings, such as olives, cheese, or jalapenos. It will surely delight you and your beloved family!
Chili Mac Casserole is the iconic mashup of my two favorite things. The first one is chili, and the other ingredient is macaroni and cheese! It is even better to enjoy these two ingredients with the finest sauce made of ground beef, beans, and other tomato-based ingredients.
You can enjoy Chili Mac whenever you want, as it is super easy to pull off in just 30 minutes. For me, I usually serve it at potlucks to my guests! My preference is to garnish the dish with some jalapenos or cilantro leaves!
Your company will go wild over this spicy spaghetti dish, owing to its exceptional taste. Plus, you get the chance to use up all your leftover ground beef!
Cowboy Casserole, also known as Tater Tot Casserole, is the ideal evening meal featuring ground beef, veggies coated in a creamy sauce and topped with golden tater tots. If you want to add some more flavors, feel free to add a can of green beans. This meal is extremely cheap and comes together in a matter of minutes!
The lovely thing about a casserole is that after combining everything together, you can put it in the freezer rather than placing it in the oven right away. That is the power of ahead-of-time preparation!
Discover the secret to make this casserole from a true cowboy! You can see this video to know more:
Congratulations! You have just discovered your new favorite Ground Beef Casserole that requires just 20 minutes of hands-on time. This recipe is a substantial and comforting dish, brimming with rice, frozen vegetables, tomato sauce, onions, and ground beef. Bake it until bubbling, and call the dish a complete meal!
If you want to give this dish a Tex-Mex twist, add some pinto beans, taco seasonings, and a Tex-Mex cheese mix.
In addition, this recipe is an excellent make-ahead choice for busy families. All you need to do is prepare it over the weekend and freeze it until the night before serving.
Serve the dish with delectable garlic bread. If you have time, try a more time-consuming layered salad, followed by a piece of strawberry cheesecake pie or some peach cobbler for dessert!
Meatloaf casserole is a Southern interpretation of the traditional shepherd's pie. You can make this recipe with leftover meatloaf or fresh ground beef, Worcestershire sauce, and tomato paste.
Plus, this amazing dish lets you enjoy bacon, cheese, and creamy mashed potato topping brimming with garlic, butter, and chives.
Follow this recipe's simple instructions to generate a fulfilling dinner for your entire family in less than an hour. Trust me when I say "simple", as there is no need to flip a hot meatloaf out of a loaf pan.
Spicy, cheesy, and straightforward are three adjectives I can use to sum up this Taco Cornbread Casserole. This recipe is literally a whole dinner in itself! It provides variety and introduces excitement to your meal without the need for any side plates.
To me, the best thing about this dish is not its delectable taste but its quick and easy preparation. You only need a handful of common ingredients to generate a dish brimming with authentic Mexican spiciness in less than 40 minutes.
This fresh take on tacos will surely be a big hit in your family! Perfect the meal with a bottle of margaritas and turn it into a true party!
5 Appealing Meatball Recipes With Leftover Ground Beef
Turning leftover ground beef into bite-sized meatballs! Isn't that a wonderful idea for a meal? Below are five appealing meatball recipes that will surely elevate your dining experiences to a whole new level.
If you are a fan of meatballs, you must try out these excellent, handmade Cocktail Meatballs prepared with delectable ingredients. They are the perfect appetizer featuring lean ground beef (or sirloin), grape jelly, and chili sauce.
Traditionally, you will find this recipe served on a toothpick at various parties, thanks to their yummy taste and simple preparation.
All you need to do is combine ground beef with breadcrumbs, an egg, and season the mixture with salt, pepper, basil, and oregano in a bowl. Then, put everything in the crockpot before going to work, resting assured that they will be ready when you return!
Without breadcrumbs or flour, these Keto Meatballs are moist, soft, juicy, and extremely healthy. Try it, and you will understand why this recipe is ideal for meal prep or a perfect appetizer to start your main course.
Not only is it healthy and delectable, but these Keto Meatballs are also adaptable and straightforward. Besides using up your leftover ground beef, make sure to include parmesan cheese as this ingredient helps hold the meatballs together better, without the assistance of flour.
Consider serving these fine, gluten-free Keto Meatballs with marinara sauce and zucchini noodles, as they go particularly well together.
Shakshuka is an egg dish cooked in tomato sauce and seasoned with Middle Eastern spices. When you add to the dish some Italian meatballs, which are also cooked in a basic tomato sauce, you generate this wonderful Meatball Shakshuka with a smokey, spicy kick!
This recipe is a great chance to repurpose your leftover ground beef, turning the ingredient into delicious meatballs. Then, toss those meatballs into the Shakshuka dish to have a more substantial meal!
The entire preparation is surprisingly simple with the use of a single pan. Yet, the final result is so yummy that it would delight everyone in your family! Remember to serve this Middle Eastern dish with crusty bread to sop up the sauce!
Here is another unique meatball option that you can try at home right away with your leftover ground beef: Porcupine Meatballs. Despite the unusual name, this recipe is so enjoyable and brimming with heavenly taste.
Uncooked rice and ground beef are two main ingredients contributing to the creation of Porcupine Meatballs. The entire cooking process takes place in the oven. The way long-grain white rice bursting out of the cooked meatballs resembles the image of porcupine quills, which is why this dish has a very figurative name.
Porcupine Meatballs are a truly refreshing way to enjoy your meal, especially with those lovers of beef and rice. Serve them with mashed potatoes or over a bed of simple homemade red sauce for a hearty supper!
Explore step-by-step how Porcupine Meatballs come together with this tutorial!
These meatballs are one of the simplest and most delectable Swedish dishes to vary your dinner routine. Unlike their Italian counterparts, Swedish meatballs are lightly flavored and cooked in a creamy sauce, ideal for spooning over mashed potatoes or egg noodles.
If you have been to the IKEA food court, there is a high chance that you have enjoyed this marvelous dish before! Now, with this recipe, you can replicate the unique flavor of these tiny ground beef meatballs encased in a creamy sauce right at home!
Serve them with beautiful tiny skewers as a potluck dessert at your next holiday gathering, and teach your guests the true Swedish name of these meatballs: köttbullar. Trust me! They will not realize that it is the only Swedish word you know!
4 Staple Burger Recipes With Leftover Ground Beef
Ground beef, both new and leftover, is probably the most popular ingredient for making burgers. So, if you have some of the materials on hand, you can start making the following burger recipes out of them.
These Chipotle Beef Burgers are grilled juicy burgers covered with smokey chipotle sauce, ranch dressing, cheese, tomato, and lettuce. They are also infused with cumin and topped with a spicy sauce. Altogether, these ingredients elevate the burgers' taste to a whole new height!
You can freely use any kind of leftover ground beef you have on hand for this recipe. However, a short tip on making an excellent Chipotle Beef Burger is to utilize at least 80% lean beef. This tip guarantees your burgers to be a smashing success!
Compared to normal burgers, these Fajita Burger Wraps with juicy ground beef, nourishing vegetables, and crispy shells are quicker to prepare. Plus, they certainly taste better with all the fajita spices. This recipe will open your eyes to a whole new universe of burger possibilities!
There are various ways to prepare this dish: you can cook it in a skillet or grill the food to infuse a wonderful smoky taste to every bite! If you fancy a vegetarian version, feel free to substitute black beans for ground beef! However, for the sake of this article, I urge you not to, as you want to use up all the leftover meat in your fridge, right?
Like most burgers, cheese plays an indispensable role in yielding their iconic flavor. These Fajita Burger Wraps are no exception. Make sure to add several pieces of pepper jack cheese. When melted, the cheese melts and helps to keep everything together!
What if you want to reduce the fat content in your burgers without sacrificing the juicy flavor of your ground beef? The answer is simple: add mushrooms to the game. These Ground Beef And Mushroom Burgers are surely a healthy way to brighten up your days.
Besides diced mushrooms, this dish is also famous for its ponzu sauce, which is a citrus-based sauce made from vinegar, mirin, seaweed, and fish flakes. It is an incredible way to add more savory depth to your beef and mushrooms.
38. Gyro Burgers With Tahini Sauce
If you are searching for a refreshing way to serve and enjoy burgers, look no further than these Gyro Burgers With Tahini Sauce. In case you didn't know, Tahini sauce is a combination of garlic and grinding sesame seeds to form a smooth and nutty paste. The sauce adds irresistible creaminess and tangs to anything it touches.
Pairing that amazing sauce with all ingredients in your Gyro Burgers makes the ideal Mediterranean-inspired dinner.
You can elevate the dish's flavor to higher levels by seasoning ground beef with strong spices and then sandwich the filling inside a pita pocket (instead of the traditional sesame bread) with lettuce, red onion, feta cheese, and tomato.
3 Nutritious Stuffing Recipes With Leftover Ground Beef
I want to dedicate the last section of leftover ground beef recipes to the nutritious stuffing category. These last dishes will guarantee you not only delectable but also healthy meals.
With Chili-Topped Potatoes, you can not only transform simple baked potatoes but also repurpose leftover ground beef into a whole meal! Trust me when I say this recipe will quickly become the new favorite dinner choice in your family!
There are two components in this dish: the baked potatoes and the chili top. The baked potatoes are filled with common and nourishing ingredients, such as sweet potatoes, chopped fresh cilantro, sliced onions, diced avocado, and jalapenos. One preparation tip here is to cut the potatoes in half to shorten your processing time in half.
Also, you get to enjoy a spicy chili made with corn that tops the potatoes. The taste from combining this chili top with fluffy baked potatoes guarantees to be heavenly and mouth-watering! To make the dish even better, enjoy it with cornbread, corn muffins, or a salad.
If you are a keen traveler to many countries, you probably have encountered many varieties of cabbage rolls, especially across Europe and Asia.
These Stuffed Cabbage Rolls are one of them, inspired by a traditional Polish meal called "gobki". With this recipe, you will have parboiled cabbage leaves enclosing a ground beef filling with onions and brown rice.
Serve these rolls with a green salad mixed with sliced mushrooms and cherry or grape tomatoes, as well as a vinaigrette salad dressing. Any brownies or a unique kind of bar cookie will also work well as dessert.
Peppers are indeed the ideal vessel for stuffing with seasoned ground beef, substantial rice, slightly sweet tomatoes, and mozzarella cheese! They are sturdy enough to maintain the form in the oven. Plus, their taste is mild enough when pairing with almost everything!
Not only are they tasty, but they are also colorful and simple to prepare. Nothing fancy or complex here. All you should do is stuff the peppers and cook them until they are soft and delectable.
However, stuffed peppers are a dish suitable for a Sunday evening when you have more time to invest in the kitchen. The recipe requires a bit of preparation time! Yet, it will be a hearty meal and look stunning on your table.
Leftover Ground Beef – No.1 Versatile Ingredient!
Leftover ground beef recipes are a vast world, aren't they? I can still go on elaborating about many more recipes utilizing this versatile leftover ingredient. However, I would love to stop right there at number 40+ and let you contribute more in the comment section below.
Have you tried any of my suggested recipes? Drop a few lines below, and we can interact more! Thanks for reading!
Nutrition Facts
10 servings per container
---
Amount Per ServingCalories130
% Daily Value *
Total Fat 4.9g

7

%
Cholesterol 39mg

13

%
Sodium 521mg

22

%
Potassium 84mg

3

%
Total Carbohydrate 8.3g

3

%

Dietary Fiber 2.5g

8

%
Sugars 4.7g

Protein 14g

29

%
---
Calcium

47

%
Iron

3

%
Vitamin D

25

%
* The % Daily Value tells you how much a nutrient in a serving of food contributes to a daily diet. 2,000 calories a day is used for general nutrition advice.