Best 20+ Leftover Fish Recipes For You To Try 2023
The best leftover fish recipes? They are actually not out of this world. So, get rid of the idea of reheating your fish for dinner. It's the worst thing ever! Besides making your fish overcooked, it also makes your fish lose some essential nutrients.
Sounds bad, right? But don't hurry to throw your leftover fish away. Not only can my collection below help you to keep your fish for dinner, but also make them even more scrumptious!
Are you ready for this discovering journey? Yes? Let's go now!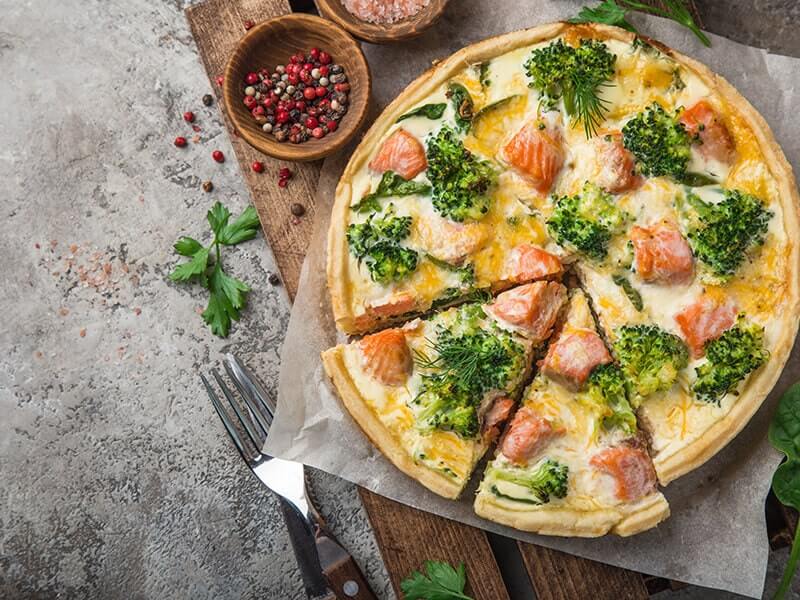 22 Best Leftover Fish Recipes To Save Your Meal
There are various ways to serve your leftover fish as an appetizing and fantastic dish. From appetizers to side dishes and main courses, your leftover fish will come back with another more impressive appearance!
Appetizers
Salmon Dip
Fish Pate
Salmon Chowder
Italian Fish Soup
Fish Summer Rolls
Main Dishes
Leftover Fish Recipes With Salad
Leftover Salmon Salad
Salmon Nicoise Salad
Salmon Caesar Salad
Leftover Fish Recipes With Cheese
Leftover Fish Frittata
Leftover Salmon Pasta
Fish Cakes
Salmon Quiche
Fish Quesadillas
Fish Sandwich
Fish Casserole
Leftover Fish Recipes Without Cheese
Salmon Fried-Rice
Salmon Sushi Bowls
Fish Pie
Fish Tacos
Fish Curry
Salmon BLTs Sandwich
Sweet Potato Salmon Cake
Still be suspicious? Here is my evidence!
Make Your Savory Appetizers With 5 Best Leftover Fish Recipes
I used to be anti-fish as this food is easy to put in my trash the next day if my family cannot eat them all. But everything just changed when I found many fantastic appetizer recipes with this seafood. And, of course, they are so delicious and satisfying!
Salmon dip will be my first recommendation for you. Why? Because it is an easy-to-prepare dish to use all leftover salmon you have. For the simplest salmon dip version, you just need salmon, cheese, salt, and other herbs.
If you want to bake the dip to have a smoky taste, go for it. If not, mix all the ingredients together and mash them up. That's all! Serve them with chips. This is the most authentic way.
You may sometimes mistake pate with rillettes. Well, it can be said that rillettes is kind of another form of pate. However, the pate texture is more smooth than the rillettes. With rillettes, salmon will be put into the blender until completely pureed.
So, if you prefer a creamier texture, fish pate will be your best pick. This appetizer is easy and doesn't require any specific kind of leftover fish. Whatever fish you have in your fridge, use them. It will not make you disappointed!
I'm sure your kids will love the fish chowder you cooked today. No one would think this high-class crockpot seafood dish uses the leftover fish from their party yesterday since it tastes as good as a takeaway from a 3-star restaurant!
It's delicious, comforting, and never enough! You will never stop eating until there is nothing left. And feel free to use leftover shrimp in this delicacy. It can make you push up the sweetness without any sugar.
Italian fish soup used to be considered as the Poor Man soup since Italians usually use all of their leftover fish to make it. However, it doesn't mean that this is a bad treat. Instead, it's warm and delicious enough for your craving belly.
I love the way Italians add white wine into this soup; that's maybe the reason why I almost get "drunk" every time I make it. Don't forget to add some chili flakes or black pepper to your soup. A little spicy taste will make it even better.
Note: Italian fish soup is rich enough to be served as a main dish as well.
Fish summer rolls are inspired by the famous Vietnamese summer rolls. A classic summer roll often has vegetables, meat, shrimps, and herbs. However, it also comes up in different variations with different ingredients.
If you have any fish left over, these summer rolls are absolutely a good recipe. This cold-serving appetizer is suitable for summer. Eat them with any sauce you like, or try to make this roll's authentic dipping sauce – "fish sauce."
It's easy to have a fascinating summer roll from your leftovers!
Save Your Food With 17 Best Leftover Fish Recipes Of Main Dishes
I bet all of you are waiting for some delicious main courses for using your leftover fish. Don't worry. I definitely can give you the best answers! Quickly scroll down to get the information!
3 Best Leftover Fish Main Dishes With Fresh Salad
Let's make magic to your boring overnight fish and turn them into restaurant-class salad main dishes by these simple recipes below. I bet my top picks today can help you to resolve all of your trouble!
Set all your canned fish aside for other busy days. It's time to use your leftover salmon! This salad is an excellent beginning for your weekend morning. It can also be an ideal side dish for your breakfast with sandwiches and omelets.
Leftover fish salad is full of nutrients and refreshing energies. Just a few minutes to mix it up, you will have a perfect side dish for your meal. In addition, you can serve this salad as an appetizer too. Life is never so hard when it comes to leftover fish salad.
Watch this video to know more:
If you are looking for a both elegant and satisfying side dish, Nicoise salad is waiting for you. This bunch of joy also has another name, known as " Nice's salad," as it originates from Nice, a city of France.
Although the authentic one uses tuna as the main fish, salmon is never out of trend with the tenderness it brings to the salad. You don't need to cook the leftover salmon. Arranging it with boiled egg and other vegetables is all you need to do for a divinely "Nice's salad."
Note: If your leftover salmon is frozen, defrost it in the fridge and then blanch it with warm water before serving.
I'm sure that almost all of you have heard about this salad before. But maybe just some of you have already tried it. This salad named after the Roman king actually did not originate from Rome. It's named after Italian chef Caesar Cardini.
Initially, anchovies were one of the main ingredients. However, since salmon is much easier to find, the salmon Caesar salad is made popularly among home cooks. With olive oil, garlic, mustard, Parmesan cheese and toast, this salad is a "home salad" you can make any time.
Leftover Fish Recipes With Cheese – A Surprise For Cheese Lovers
Cheese is an indispensable ingredient in almost all of my recipes. This ingredient can be paired well with a lot of food. Therefore, I will introduce you to 7 of my most favorite main courses for leftover fish with cheese inside first!
Not only is French cuisine famous for its sophistication, elegance, and dedication, but also its variety in regions and cooking methods. Frittata is a kind of omelet, but it is also made with additional ingredients, such as meats, vegetables, and cheese.
I just found the salmon frittata recipes once I tried to find solutions for my leftover salmon. And it's just as stunning as the original ones! The sourness and light sweetness are combined to perfection.
Leftover salmon frittata is definitely a dish you need to make for your loved ones!
Grilled, baked, smoked, … whatever kinds of cooked salmon you have in your fridge, leftover salmon pasta is always the way to go. This dish is a satisfying delicacy you can have on a busy day overloaded with a ton of tasks. It's simple and does not take so much of your time.
As your salmon has been cooked already, you only need to boil your pasta, then coat them with parmesan cheese, cream, and dill dressing. Remember to add some lemon zest for some citrus flavor to balance the creaminess.
Fries and cheese are two things that will make you don't want to run away from your kitchen. Interestingly, a fish cake is also a lovely Hanukkah starter delicacy! You can use leftover fish with a fried mixture of breadcrumbs, cheese (optional), chives, and other condiments.
The breadcrumbs will create a crispy outer for the cake and make it tastier in each of your bites. Of course, if you don't have breadcrumbs, mashed potatoes will be the perfect substitute.
Watch this video to know more:
How can anyone refuse this beautiful treat? I fell in love with this traditional French delicacy when I was a little girl. And it seems like every French-rooted person is proud of their country's cuisine. My mother, who is half-French, is no exception.
She is almost good at every French dish. And well, she is a leftover-recycling genius too! Salmon quiche is her strength. Thanks to her, our family has never known the thing called "leftover salmon." This dish is just so warm, so hearty, and full of flavors.
All I want for a summer dinner is these crispy quesadillas. Salmon quesadillas is an alternative version to use up all of my leftover fish. Rather than beef or chicken, salmon brings a softer and more tender texture to your quesadillas.
With the creaminess of cheese, spiciness of chipotle peppers filled inside a thin layer of crispy crust, salmon quesadillas is an incredibly magical treat you will not want to miss like Cinderella didn't want to miss her destined evening party.
I love fish sandwiches so much. It's absolutely my priority when I have any leftover fish in the fridge. This dish is regularly served as my breakfast because of its convenience and flavorfulness.
Whether you have the broken leftover ones or the firm ones, you can be sure that you will never miss out on this savory treat. Remember to do more than one. Maybe your friends will like them too.
Watch this video to know more:
Fish casserole or fish noodle casserole, no matter which name you call it, this is my cherished treasure. I love to have this warm and cheesy treat on all of my boring and lonely rainy days because it makes me feel like home.
The smell of cheese always makes me remember my mother's cozy kitchen. And I usually end my day with a round belly full of fish casserole. This dish is enough for a hearty meal. You don't even need to look for any side dish or appetizer.
Leftover Fish Recipes Without Cheese – Fresh Main Course For Your Gatherings
Now, it's your turn, non-cheese fans! I promise that these fish leftover main dish recipes below, sooner or later, will be added to your limited menu.
Let me tell you, Asian cuisine is so healthy. It is filled with plenty of fresh vegetables, fish, and a smaller amount of meat than we are. And they are also excellent in turning the leftovers into new and healthy dishes.
Salmon fried rice will not only allow you to take advantage of your leftover salmon, but also your leftover steamed rice. Prepare peas, garlic, rice, and flake your salmon into small species. Stir them in a pan with vegetable oil, and season with soy sauce.
This rice is absolutely a legend!
I often joke with my father: "Philadelphia sushi? Do you want the big one or the little one?" And he said: "Of course, the big one makes more sense for a full dinner!"
Salmon sushi bowl is just like the huge version of Philadelphia sushi roll. The toppings are diverse but so stunning and nutritious. If you are a sushi lover, I'm sure that you will love this one too. This is the most intriguing meal ever!
Fish pie is an amazing classic treat from England, deeply cemented with the traditions of this beautiful country. It also has another name, called "fisherman's pie". Despite its name, it's served on every meal of every British, including the British Royal Family.
I recommend that you should serve it in your family gatherings. Don't eat alone. Fish pie is a good connectors – Its hot, creamy, and homey smell is somethings you cannot resist.
Watch this video to know more:
I bet you are thinking of it too. You have quesadillas, and tacos are just obvious! Like tacos, this iconic Mexican food can make your day with all the fish left in your fridge.
You can expect a tasty and comforting dish for your family or friend gatherings. And this item is never an unwelcome guest at an outdoor party or a picnic.
Yes! My favorite! Fish curry is just so good! You can make any kind of curry you want. Indian curry, Thai curry, Vietnamese curry, … all of them are the best way to save your leftovers from being thrown in the trash.
Plus, enjoying this dish with bread is my biggest suggestion. Remember, bread with crispy outer is the best choice! And the soft and sweet one should not be considered.
BLT is the shortened form of bacon, lettuce, and tomato. And this BLT sandwich will astound you because all of the components for it are likely already in your refrigerator. Besides, this recipe makes you forget that you are using leftover salmon to make it as well.
Cooked salmon, some fresh veggies, bacon, and some sauces sandwiched between 2 crunchy slices of bread is truly your day saver. Why? Because you don't need any special skills to make this fancy-looking sandwich yet still enjoy them at the finest.
Cheese-free fans, I have a surprise for you: Sweet potato salmon cakes! You know what? This fish cake still works well with even sweet potatoes. The absence of cheese is nothing when the natural sweetness of sweet potatoes is all you will love.
These sweet potato fish cakes are just as delicious as the regular ones. Give them a try. The final results will deserve all of your efforts!
What Are The Best Solutions For Your Leftover Fish?
There are more things you can do with your leftover fish than you have ever thought. Your leftover fish is a versatile ingredient that can be a part of savory and amazing recipes. If you save all of my collections of recipes above, you won't need to worry about the leftovers.
I would be very happy if you found your best recipes from my list today. Appetizers, side dishes, or main course? I'm really curious about your selection!
Right now, don't forget to let me know about your decision. And if you find my post helpful, share it with the person who needs it too. Sharing is the greatest thing ever!
Nutrition Facts
4 servings per container
---
Amount Per ServingCalories684
% Daily Value *
Total Fat 20.6g

31

%
Cholesterol 36mg

12

%
Sodium 423mg

18

%
Potassium 428mg

13

%
Total Carbohydrate 99.6g

33

%

Dietary Fiber 7.1g

29

%
Sugars 7.8g

Protein 22.6g

44

%
---
* The % Daily Value tells you how much a nutrient in a serving of food contributes to a daily diet. 2,000 calories a day is used for general nutrition advice.