23 Best Leftover Corned Beef Recipes For Every Meal 2023
Keeping some fabulous leftover corned beef recipes on hand is extra beneficial when St. Patrick's Day celebration comes around. There's more than one way to savor these cuts of salt-brined brisket, most of which are too good to pass up.
When the holiday feast is over, rather than let those leftovers go to waste, I've got some easy and delicious ideas to give your corned beef a makeover that you'll love to eat the second time around.
From indulgent casseroles to savory soups and tasty sandwiches, leftover corned beef might just be what you need to jazz up your menu. Since the beef is cooked, it won't take much time or effort to become a new tempting dish on your table.
Read on to find wonderful recipes for your next meals!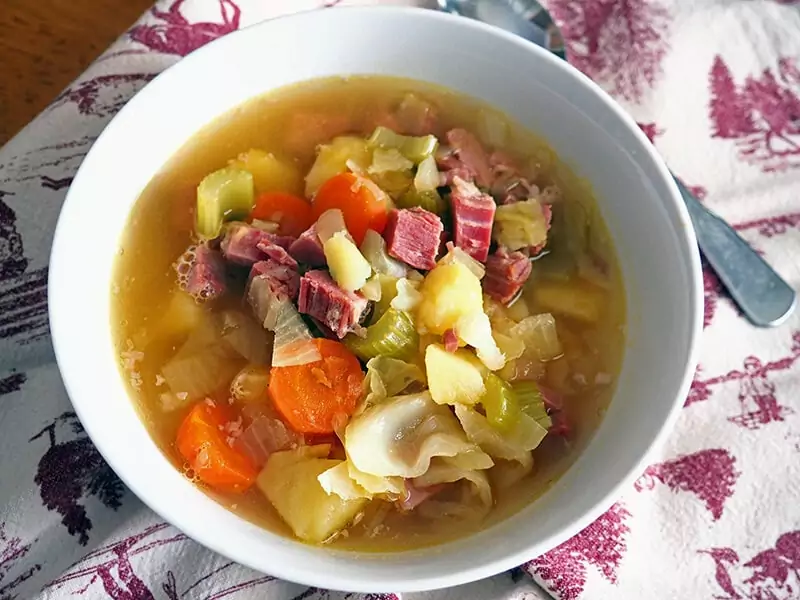 What Are The Best Leftover Corned Beef Recipes To Make?
Whether you're figuring out what's in your Reuben sandwich or discovering the best way to make use of those leftover foods from the previous St. Patrick's Day, here're the most creative recipes to put a spin on the leftover corned beef.
Leftover Corned Beef Main Dishes
1. Corned Beef Quesadilla
2. Corned Beef Fried Rice
3. Corned Beef Omelet
4. Irish Corned Beef Sandwich
5. Irish Egg Roll
6. Reuben Calzone
7. Reuben Pizza
8. Slow Cooker Guinness Corned Beef
9. Spaghetti With Corned Beef
Leftover Corned Beef Hash
10. Corned Beef Hash
11. Corned Beef Hash Egg Cup
12. Corned Beef Hash Quiche
Leftover Corned Beef Casseroles
13. Corned Beef And Cabbage Casserole
14. Corned Beef And Noodle Casserole
15. Corned Beef Shepherd's Pie
16. Reuben Strata
Leftover Corned Beef Soups
17. Corned Beef And Cabbage Soup
18. Irish Potato And Corned Beef Chowder
19. Sinabawang Corned Beef
Other Leftover Corned Beef Recipes
20. Corned Beef Slider
21. Low-Card Reuben Wrap
22. Reuben Dip
23. Reuben Mac & Cheese
23 Most Mouth-Watering Recipes For Leftover Corned Beef
Chewy, tender, and balanced in flavor, corned meat would still taste out of this world even the day after. Instead of letting food go to waste, these appetizing leftover corned beef recipes are sure to please your palate with a new flavor.
Easy And Scrumptious Leftover Corned Beef Main Dishes
Corned beef hits the dining table with its meaty, salty, and spiced flavor, which is why it's the star of many delicious main dishes. Spice up your dinner menu with these flavorsome leftover corned beef recipes.
Got a great deal of extra corned beef from last night's party? Into the tortilla it goes! Cheesy quesadillas are a timeless favorite when it comes to repurposing all sorts of leftovers. Add a few popular sides for corned beef, and you will have a quick yet nutritious meal.
This corned beef quesadilla takes minutes to get ready. Sprinkle the tortillas with the classic ingredients of a Reuben, such as Swiss cheese, corned beef, sauerkraut, and fry to perfect on both sides. Don't be shy with the Thousand Island dressing, and it's too good to skimp!
Remember to make some sides for this quesadilla. In this recipe, I use sauerkraut. However, if you don't have any on hand, the quesadilla will still turn out incredible with regular cabbages. Then, take a big bite and savor the complex flavors melting on your tongue.
Fried rice is the perfect canvas for corned beef to be the star of the show. This Asian-inspired delight is easy to make yet boasts tons of umami flavor. You only need a handful of simple ingredients such as rice, corned beef, eggs, garlic, and soy sauce.
With all chopped up and stirred together, this meal is so scrumptious; no one will notice it's made from leftovers. If you love an extra appearance, top the plate with a sunny-side-up egg. When the yolk runs through the rice, it's a sight for sore eyes.
As with other rice dishes, this bad boy is best served hot and straight off the stove. Besides corned beef, it's safe to say that fried rice is the scapegoat for any kind of extra food in your fridge, such as leftover chickens or extra ham from last night.
A tried-and-true breakfast staple to kick off the day in the best way possible, a corned beef omelet is a firm family favorite. It tastes great and is one of the quickest ways to bring breakfast to the table without any hassle.
The key to making this omelet work is by sautéing the leftover corned beef with onions and garlic. Then, wrap it in soft eggs alongside some parmesan cheese and flip to cook both sides evenly. You'll know it's ready to go when the top is golden, and the omelet is set.
Visually, this corned beef omelet is so beautiful to look at. The egg wraps are soft and fluffy, while the filling is juicy and savory. Some country-style toasts and a hot cup of tea are perfect for accompanying the omelet.
You won't believe how easy it is to whip up a corned beef omelet. See it right here!
A deli classic sandwich that tastes better than the grocery deli counter? Count me in! There's a lot going on in this mouth-watering recipe: tons of leftover corned beef, creamy coleslaw, good-quality Swiss cheese, pickles, and a drizzle of Russian dressing to finish.
All of which are piled up between two slices of toasted rye bread. The corned beef lends itself to a hearty, rich flavor and tender texture, which goes down beautifully with the creamy and crunchy coleslaw.
There's no denying the crazy convenience of this sandwich. It's quick and easy to put together, not to mention you have full control to cater the ingredients and suit your taste. When you're pressed on time for dinner, this can be the best sandwich of all.
As a national culinary heritage in Ireland, the Irish egg roll is the perfect way to make the most out of those leftover corned beef from Saint Patrick's Day. At first glance, it looks so delicious; no one can resist taking a bite or two.
Traditional Irish egg rolls are made by wrapping a crunchy egg roll around a mix of corned beef, chopped cabbages, and carrots. A good Irish egg roll requires some creamy dipping sauce. Prepare a parsley cream sauce or gravy, and you're all set to enjoy the meal.
A well-kept trick to mastering these rolls is to apply a bit of egg wash around the wrappers and wrap them as tightly as possible. It's rather hard to stop eating this out-of-this-world egg dish until the plate is totally clean.
Classic Reuben sandwich filling and an Italian buttery puff pastry. When the two combine, it's a wonderful hand-held dinner that you'll be making all week. Golden, crispy on the outside, and juicy, bursting in flavors in the center, this sandwich is the best of both worlds.
For this recipe, an enclosed pizza pocket is filled to the brim with Swiss cheese, corned beef, and sauerkraut. Thanks to the sealed edges, all the good stuff stays inside during the baking so that you won't miss out on any flavor.
It's such a cinch to double and even triple the portion, especially when you've got less than an hour of prep time and lots of leftover corned beef to work with. Serve this sandwich with a side of salad, and it's a win for everyone!
Let's hear it from the chef to find out how to bring Reuben calzone to life! You can see this video to know more:
Let's face it! Is there anyone who doesn't have an affair with pizza? With a total of five ingredients and less than 20 minutes to prepare, Reuben pizza is a satisfying meal to instantly curb your craving.
This homemade pizza recipe plays to all the classic flavors of a standard Reuben sandwich. It has corned beef, Swiss cheese, sauerkraut, and a mix of vegetable toppings of your choice. Pop it in the oven for roughly 10 minutes, and it's ready for your indulgence.
A great thing about making your own pizza from scratch is that you can easily customize the toppings. Crunchy, cheesy, and rich in flavor, this ever-popular Reuben pizza hits the spot every time.
Yes, you heard that right! Slow cooker Guinness corned beef stew is an exotic combination of Irish stout beer, corned beef, and loads of vegetables. In fact, the addition of Guinness is quite common in Irish cuisine, which brings a hearty and tangy hint to the dish.
For those who don't feel like standing next to a hot stove all day, this slow cooker meal is a godsend. Just put the whole thing in your slow cooker and return in three hours to an aromatic, tender, and extremely flavorful result.
If you're skeptical about the booze, don't fret. The alcohol cooks off, leaving behind only a fabulous, bold flavor. To get the most flavors, the trick is to be generous with the spices and herbs. This recipe alone is enough to please the whole family.
This dinner recipe is so fancy and elegant; no one will ever realize it's made with leftover corned beef. A simple, tasty spaghetti sauce is simmered with chunky corned beef to create a hearty topping that suits all kinds of pasta.
With the spaghetti on the platter, gently spoon the sauce over it, and finish off with some chopped parsley and grated cheese. Just so you get all the nutrients for the day, don't forget some veggies such as mushrooms and bell peppers.
It's safe to say that corned beef spaghetti is a wonderful recipe to have on hand, especially when you're preparing dinner on a budget. While it's still warm, grab the fork and dig in!
Crowd-Pleasing Leftover Corned Beef Hash Recipe Ideas
Got loads of leftover corned beef from last night's shared meal? Let's see what you can do to turn these extras into a new meal that still tastes good.
Delicious in its simplicity, the corned beef hash is easily something you can never go wrong with. Ready in 15 minutes, this classic breakfast recipe is meant to turn those salty, rich extras into a hearty, homey meal as if it took hours of cooking.
To recreate this treat, all you need to do is sauté the onions, add the chopped corned beef and boiled potatoes, and let the mixture sizzle away until crispy and browned. The end result is a flavorful, tender, and subtly sweet dish. So good!
One thing I love about corned beef hash is how versatile it is. Basically, you can toss in any sort of vegetable that you have on hand and create your own version. To feed more people, serve it alongside some baked beans, peas, or broccoli.
It's no secret that kids love breakfast muffins. This grab-and-go recipe is a snap to make and perfect for sharing around as a pick-me-up snack. Prepping is minimal, and the muffin is loaded with so many nutrients to fuel your family up for the day.
Typically, these egg cups are cooked in a muffin pan, making it easy to scale up the portion in no time. Toss in the extra corned beef, onions, buttery leek, delicious cheddar cheese, and mix till they're combined. Then, cook them until the edges are golden brown.
For a final touch, don't forget a drizzle of creamy sauce and parsley before putting them on the table. These little scrumptious breakfast muffins are too good; you'll want to make them for breakfast and brunch all week.
Transform leftover corned beef into breakfast with this quick tutorial!
Simple, tasty, and healthy, what's not to love about corned beef hash quiche? A flaky pie crust shell encasing a savory filling of eggs, corned beef hash, garlic powder, cheese, and onions is just what you need to jazz up your regular weekly menu.
As it crisps up in the oven, the tart is so satisfying with contrast in texture. Crunchy on the outside yet bursting in creaminess in the middle, this tongue-tingling treat is sure to please your palate.
Typically, corned beef quiche is a breakfast staple. The meal offers tons of nutrients without being heavy on your stomach, making it a go-to when you've got some extra corned beef hash from the day before.
Delectable Leftover Corned Beef Casseroles For Dinner
It's no secret that casserole is the perfect scapegoat for those leftover corned beef. Rich, hearty, and chockful of flavors, here are the greatest casserole recipes to give your leftover a delicious twist.
Whether it be weeknight dinners or family gatherings, a big pot of corned beef and cabbage casserole is guaranteed the centerpiece of the table. Tender chunks of corned beef are layered with cabbages, potatoes, carrots and slathered in a creamy cheese sauce.
Every bite is packed with a complex blending of flavor that feels like dancing across your tongue. For an extra layer of flavor, don't be shy to toss in some horseradish cream and let all the ingredients simmer away in an instant pot.
If you've got some leftovers from this big pot, make sure to cover it tightly and stash it in the refrigerator for next meals. However, given how delicious the casserole is, there'll be hardly any leftovers.
In those chaotic days when you simply are not in the mood for cooking, an easy and indulgent fix like corned beef and noodle casserole might come right in to save the day. Just 40 minutes of baking and dinner's good to go.
The firm, fluffy noodles pair well with the soft and tender texture of corned beef, so you should take time and savor it. A can of cream, some mushrooms, noodles, cheese, and corned beef are everything you need to bring this dish to life.
For added color, toss some steamed peas or veggies that you desire into the pot. Since this one-pot recipe is a full meal on its own, you can serve it as a standalone meal even without any side.
Essentially a casserole dish, corned beef shepherd's pie is the perfect way to give your leftovers a makeover. The recipe consists of three layers: well-seasoned cooked beef at the bottom, a mixture of vegetables, and topped with creamy mashed potatoes.
As you can tell, this one-pot recipe has all the flavors to make up a wonderful meal. Mushy, creamy, and absolutely satisfying, it's the comfort food for a chilly winter night and any other time of the year.
Besides using up your leftovers, shepherd's pie also does you a favor by saving up cooking time since all ingredients are tossed into a single pot. A simple side of crunchy salad will be a great balance to the starches in the dish.
With this guide, corned beef shepherd's pie is such a cinch to make!
For folks who are unfamiliar with the dish "strata," it's essentially a layered, slow-baked egg casserole with bread and lots of heartiness. In this recipe, rye bread, corned beef, Swiss cheese, and sauerkraut are layered atop each other before an egg and milk mixture is poured in.
If you love Reuben strata, chances are, you'll appreciate this eggy casserole. Since all the ingredients are baked together, the flavors just meld to deliver a gooey, creamy, tangy mouthfeel. In other words, it's a true flavor bomb!
What's even better, Reuben strata can be made in advance, so you don't have to be in a rush dishing it up for breakfast. Delicious as it is, this crowd-pleasure is something people will go crazy over in a potluck.
Soul-Warming Leftover Corned Beef Soups For Dreary Days
A piping bowlful of soup is just what it takes to fill your stomach and uplift your mood instantly. With these leftover corned beef soup recipes on hand, it's a breeze to get through the toughest of days.
Nothing warms your stomach quite like a pipping bowlful of soup. The meaty, balanced flavor of corned beef truly shines through in this dish. Then, a combination of bell peppers, cabbages, and potatoes adds up to the heavenly flavor that's simply irresistible.
Most folks tend to let the mixture simmer on the stove for a few minutes, then put the whole thing into a slow cooker and let it take care of the rest. A dollop of cream could be a lovely addition to this rustic dish.
You can relish the soup as a standalone meal, but it's best paired with some crusty slices of Irish soda bread. The next time you're throwing a St. Patrick's Day party, this delish corned beef soup surely deserves a big spot on your table.
Treat yourself to the indulgent corned beef and cabbage soup following this easy tutorial!
You can see this video to know more:
If you haven't ventured into the world of potato chowder yet, you're missing out. Potato and corned beef chowder is comfort food at its best. Essentially, the base for this recipe is like baked potato chowder, except it's corned beef mixed with shredded cabbages.
Visually, it's a bowlful of pure heaven. Toss in some onions, thymes, and fennel seeds for a delicious twist if you want. To balance out the creaminess, whip up a side of crunchy salad while the chowder simmers away.
As you take a bite, you'll realize this chowder is chockful of flavors. It's also simple to elevate the look with a bit of sprout on top. Hearty, creamy, and rich, it's something to look forward to when it gets cold outside.
If Sinabawang corned beef doesn't sound familiar to you, that's because it is a staple of Filipino cuisine. In a nutshell, it's a decadent stew starring corned beef as the main attraction. It's a cinch to make and is a delightful way to give the leftovers a makeover.
A classic Sinabawang corned beef calls for cubed potatoes, corned beef, onions, parsley, and garlic. Locals often use canned corned beef, but leftovers also work great in this recipe. The nice, balanced taste and the flavorsome broth will please your appetite.
There're really nothing much fancy about Sinabawang corned beef. In fact, it's a budget-friendly, quick fix that you can whip up anytime, be it breakfast or dinner. It's best served warm with some crusty bread on the side.
Other Leftover Corned Beef Recipes To Try At Home
Instead of letting food go to waste, make use of last night's leftover corned beef with these side dish and appetizer recipes and treat your family to a wonderful meal.
No doubt, sliders win the award for the most crowd-pleasing party food ever. This mini burger doesn't skimp on the flavors and requires very little effort to make. It's the kind of festive appetizer that makes the St. Patrick's Day celebration unforgettable.
There's not much cooking involved in this recipe, most of it because you've already cooked the corned beef. Just assemble the brisket slices, coleslaw, and a spread of mustard between two buns, and your sliders are ready to serve.
For a big Irish recipe, you'll want to relish it with a glass of Guinness or simply have it with a mixture of vegetables on the side. Simple yet chockful of flavors, each bite will have you going crazy for it.
Get the party started in style with this corned beef slider recipe right here!
Before you know it, March is just around the corner, and it's time to get creative with those extra corned beef in your fridge. These low-carb Reuben wraps are tongue-tingling, easy to make, and a healthy version of the classic sandwich.
Toss away the bun! In this recipe, we're using cabbage leaves. Top them with a couple of corned beef slices, Swiss cheese, sauerkraut, and wrap it all up in a burrito style. Dip it into a Thousand Island dressing, and you'll gobble it down to the last bit.
If you're sticking to a health-conscious diet, this low-carb recipe is a good one to have on hand. It's luscious, soft, creamy, and absolutely guilt-free. With just 30 minutes in the oven, the meal is ready to serve.
Who would've thought leftover corned beef could be transformed into a crowd-pleasing appetizer suitable for all potlucks? In essence, Reuben dip is filled to the brim with all the flavors of a standard Reuben sandwich. It's cheesy, gooey, and tastes like pure bliss.
This appetizer consists of melted Swiss cheese, chopped corned beef, and plenty of sauerkraut. Altogether, it's the kind of starter that everyone gravitates towards at a party. From prepping to the table, the dip takes no more than 30 minutes to come together.
There're endless ways to enjoy this creamy Reuben dip. Pita chips, crackers, and toasted rye bread are some of the best matches to scoop it off till the last bite. The only thing that you need to think about is making enough for the whole family.
Rich, cheesy, and warm, Reuben mac and cheese is the ultimate comfort food to cure those dreary days. As its name implies, this dish is a blend of baked mac and cheese along with all the classic ingredients that we love in a Reuben sandwich.
The best way to describe how it taste is like an orchestra of flavor melting across your tongue. If you're a big sweet tooth, drizzle it with some balsamic syrup and dip it in a Russian dressing. Trust me. You won't want to eat it another way.
From start to finish, this indulgent delight takes less than an hour to pull together. Some might even say it's the best of both worlds combined on one plate. You can also make it beforehand and reheat the mac and cheese before serving.
Get some tips and tricks for making Reuben mac n cheese right now! You can see this video to know more:
Use Every Bit And Savor Every Bite!
Corned beef isn't like ordinary roast beef. It's salty, meaty, and spiced, all at once without being overwhelming. There's no way you should let such a wonderful ingredient go to waste, and there're plenty of incredible ways to turn it into a scrumptious meal one more time.
Whether you just threw a St. Patrick's Day party or are dealing with lots of extra from the previous family gathering, I hope you have a good idea of what to make with the leftovers.
By adding spices, herbs, and vegetables, it's a doddle to give the briskets a new flavor profile. When cooked successfully, I bet your family won't even notice it's not a new cut of beef on the table.
Did I miss something? If your favorite leftover corned beef isn't on the list, please let me know, and I'll make an addition right away. Now, grab your apron, and it's time to get creative!
Nutrition Facts
4 servings per container
---
Amount Per ServingCalories503
% Daily Value *
Total Fat 24.5g

37

%
Cholesterol 119mg

40

%
Sodium 1440mg

60

%
Potassium 74mg

3

%
Total Carbohydrate 30g

10

%

Dietary Fiber 1.5g

4

%
Sugars 2.2g

Protein 41.3g

82

%
---
Calcium

529

%
Iron

5

%
Vitamin D

27

%
* The % Daily Value tells you how much a nutrient in a serving of food contributes to a daily diet. 2,000 calories a day is used for general nutrition advice.