Say goodbye to your food-wasting days with the leftover cornbread recipes from this list. Throw away all your worries about old bread being stale and plain. These recipes are full of exciting flavors and fun new twists on familiar dishes.
Cornbread is adored by many for its delicate sweetness and tender texture. Even as leftovers, it is still full of delightful flavors that pairs wonderfully with other ingredients. Check out these recipes for how you can reinvent leftover cornbread.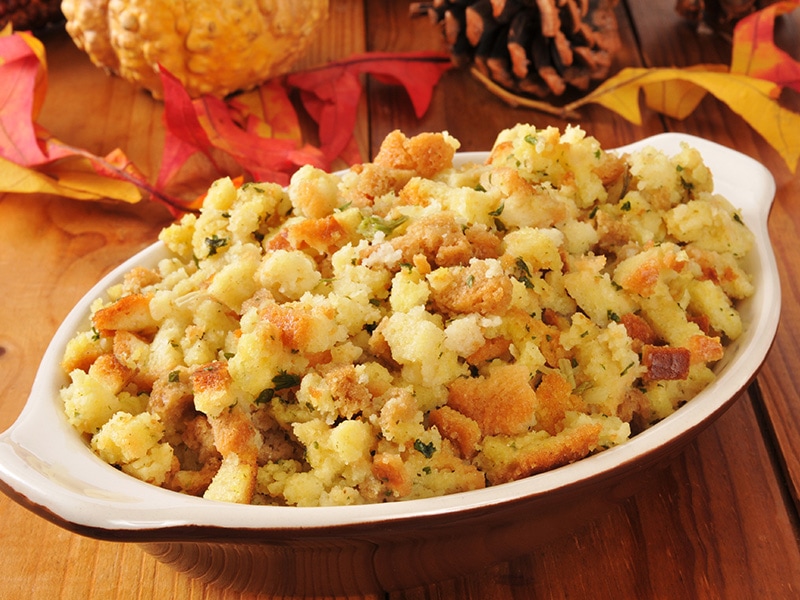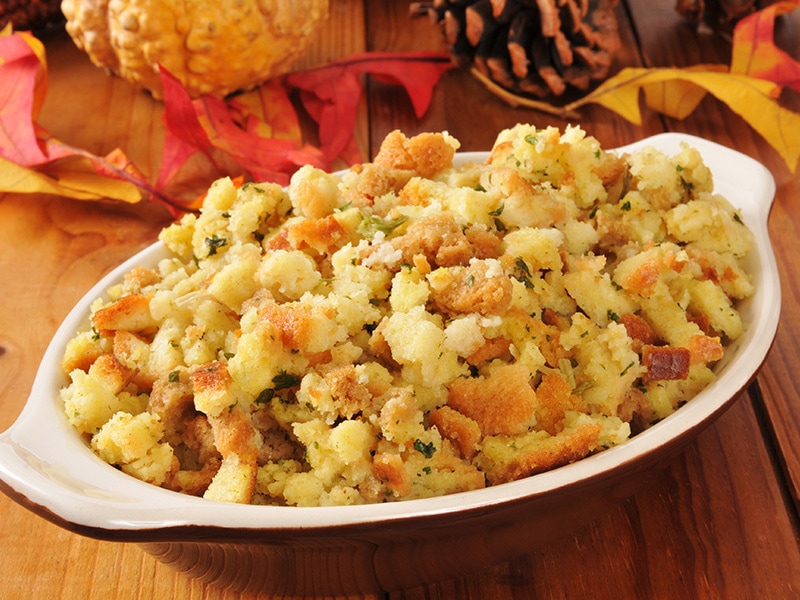 Top 20 Easy And Amazing Leftover Cornbread Recipes
Cornbread as leftovers can be surprisingly versatile. You can use it as toppings & add-ons, stuffings & fillings for baked dishes, or even as the main ingredient in certain recipes.
Leftover Cornbread Used As Toppings & Add-Ons
Cornbread Croutons
Fried Cornbread and Eggs
Kale Salad with Cornbread Croutons
Chili with Cornbread Croutons
Cornbread Buttermilk Soup
Leftover Cornbread Used As Stuffings & Fillings
Cornbread Crab Cakes
Cornbread Casserole
Cornbread Breakfast Casserole
Cornbread Strata
Cornbread Sausage Quiche
Cornbread Chicken Bake
Cornbread Pudding
Cornbread Stuffing
Roasted Chicken with Cornbread Stuffing
Apple-Cornbread Stuffed Pork Loin
Cornbread Dressing
Cornbread Stuffing Waffles
Leftover Cornbread Used As The Main Ingredient
Cornbread Salad
Cornbread French Toast
Cornbread Panzanella
5 Quick And Effortless Ways To Use Leftover Cornbread As Toppings & Add-Ons
The simplest way to use cornbread leftovers is to probably slice them up into smaller bits to subtly transform the flavor and texture of some dishes. It's quick, easy, and you don't even need to change any part of a recipe to do so.
Croutons are little bread cubes that are seasoned with herbs and spices then baked to be more crispy. This is the easiest way to make use of your leftover cornbread because it doesn't require a lot of ingredients or effort.
These croutons can be added to almost anything for some extra crunchiness. Many like to use them as toppings for salads, soups, and chilis. You should keep the flavoring as simple as possible, so they don't overwhelm the food they are paired with.
Scrambled eggs can get boring sometimes, so why not make the most of your leftover cornbread and add some texture to the dish? Fried cornbread is deliciously crunchy, which stands out nicely against the soft and tender eggs.
Cornbread is pretty simple in flavor, so it will pair well with almost anything. You can add it alongside some other tasteful toppings like cheese, hot sauce, jalapenos, or green chilis. It's a simple yet efficient way to renew your breakfast meal and turn it into something more exciting.
Bring some greens into your diet with this easy and simple kale salad recipe. Kale is an amazing source of nutrition, containing high levels of vitamins and minerals that are great for boosting your immune system.
Strips of kale soaked in dressings are deliciously creamy and tender. Adding croutons to the mix gives the overall dish a much more exciting texture and makes eating salad way more fun. It's the perfect side dish for all your indoor and outdoor summer feasts.
Everybody loves a good spicy bowl of chili for some warmth when winter comes around. And these occasional cornbread croutons are one of the best pairings to improve your chili. They add amazing texture and make it so much more filling and satisfying.
There are endless ways to make chili, with different ingredient combinations for you to try out. The taste can range from a mild simmer of aromas to intense hotness. No matter what you choose, croutons are always a great addition because of how complementary in flavor they are.
Buttermilk is a fermented drink that is thicker than regular milk. It has a distinctively rich and creamy taste with a slightly sour undertone. This dish using buttermilk may seem strange at first, but once you taste it, you will change your mind.
The soup can be eaten cold and hot, so it's a lovely treat regardless of the weather. Its tangy and creamy taste is an excellent base for any other extra ingredient. The added cornbread brings a special crispness to the dish, making it much more wholesome and filling.
Transform These 12 Dishes Immediately With Leftover Cornbread Stuffings & Fillings
The following dishes are proof of how versatile cornbread can be. Their minimal sweetness turns out to be quite flexible and easy to pair with most dishes. Take a look at this list, and you might find your favorite dish there.
Take your crab cake recipe to the next level by adding some cornbread crumbles into the ingredients. It adds a little extra sweetness and crunchiness to the moist and dense cakes, making them so much more exciting to enjoy.
Crab cakes make a great appetizer because of how delicate yet tasteful they are. The lightly sweet and salty flavor is more than enough to keep you company until the main course arrives. Dip them in some creamy sauces, and your meal is off to a great start.
Make crispy and delightful cornbread crab cakes with just a few simple steps. You can see this video to know more:
There's no reason why you shouldn't take full advantage of your leftover cornbread and turn it into a massive dish for the whole family. This casserole recipe is filled with sweet and savory flavors that will leave everyone fully satisfied.
You can make cornbread casserole for any occasion. It's not only a hearty treat for a cozy night in but also works just as great for bigger holiday parties. You can even use any uneaten bits for breakfast or a light meal the next day.
Make your busy mornings a whole easier with this make-ahead breakfast meal. You can put this casserole together the night before and reheat it the following day. It's also a quick and easy way to take full advantage of your leftover cornbread.
This recipe uses regular ingredients that you would eat for breakfast like eggs, cheese, sausage, and bacon so you don't have to think too much about the preparation. Just gather the foods and leave the hard work to your oven.
Strata is a casserole variant, eaten mainly for brunch or breakfast. It has similar cooking methods to casserole but contains simpler ingredients, mainly cornbread, eggs, cheese, and optional added meat or vegetables.
This recipe is a great way to make use of not only your leftover cornbread but also any veggies, sausage, or cheese you may have lying around. The overall combination isn't at all stale or unappetizing, however. On the contrary, it's an incredible burst of bold and vibrant flavors.
This is another recipe that will brighten up your breakfasts and brunches. Quiche is a delightful French tart made mainly of eggs, cheese, and other optional foods. This recipe adds sausage and cornbread to the mix, giving it a delectable sweet and savory flavor.
Even though it may look complicated, this quiche isn't at all difficult to put together since most of the work is already done by the oven. You just need to gather the ingredients and let them bake to golden perfection for a delightful breakfast or side dish.
Cornbread and chicken is a match made in heaven. They are lightly sweet in very different ways but still complement each other nicely. This easy casserole recipe combines those two with loads of cheese to create a huge plate of goodness you won't be able to stop eating.
You can enjoy this creamy and hearty chicken bake at any time of the day. It's an ideal main course for busy weeknights when you just need something warm to fill you up. The dish is massive, so any leftover can be used as breakfast or lunch for the next day.
Despite the simple name, this dish is incredibly versatile. It can be sweet or savory, or a mixture of both, depending on the other ingredients and toppings you choose. Sweet dishes make delightful summer desserts, while savory options are great for cozy Thanksgiving dinners.
Cornbread is already mildly sweet, so sweeter versions of this pudding would only need to include the usual ingredients and some sugary toppings like syrup or fruits. As for savory choices, you can add bacon or sausage along with some of your favorite veggies.
Much like dressing, stuffing also makes a frequent appearance in the kitchen during Thanksgiving. However, instead of being eaten separately, stuffing is mixed with others for extra flavors and textures.
Cornbread stuffing will fill your dishes up in brand-new and amazing ways. The cornbread is subtly sweet but still manages to shine amongst the other ingredients. Its light and crumbly texture gives the overall dish a much more interesting taste.
Your Thanksgiving dinner will no longer be repetitive with this recipe. It's incredible just how a slight change in the recipe can transform an entire recipe. This cornbread stuffing may not seem like anything special, but it will make the dish infinitely more interesting.
The cornbread will add a light sweetness to the dish without overwhelming the overall taste. As the chicken is quite tender and juicy, the crunchy stuffing will provide an entertaining contrast. Drizzle some gravy over the dish, and your guests won't be able to stop munching on it.
Enjoy pork loin in a brand new way with this recipe. It's flavorful and filling enough to feed an entire crowd, so don't hesitate to put it on your dining table for a successful holiday party.
Even though the tenderloin itself is pretty good, the stuffing is truly the star of the show here. It's a mixture of apples, cornbread, onion, and herbs that will keep the meat juicy and infused with versatile flavors. From fruity, savory to aromatic, it's an absolute flavor festivity.
Bring a brand new side dish to your Thanksgiving and Christmas dinners. This crumbly mixture of cornbread croutons, sage, onion, and spices will make a great companion alongside an extravagant roasted Turkey.
Everything about this dish comes together very easily. Leftover cornbread is prepared and baked until it is crispy and golden in less than fifteen minutes. You can even prepare the ingredients the day before and get straight to baking the next day.
Making cornbread dressing has never been easier with this recipe
Stuffings are so simple and easy to make that it's easy to go overboard sometimes. If you have any left from Thanksgiving, don't throw them out just yet. You can easily turn them into a delightful stack of waffles for breakfast the following day.
These waffles are light and airy but so incredibly crispy at the same time. The stuffings make them a lot more filling and flavorful than regular waffles. You can also combine them with other leftover foods like turkey or roasted veggies.
5 Creative Dishes With Leftover Cornbread As The Main Ingredient
Who knew cornbread could be the main star in anything other than a dessert? These recipes featuring leftover cornbread will blow you away by how familiar yet refreshing they are. On top of that, they are also incredibly easy to make.
A big and heavy bowl of cornbread salad will be the center of attention at all your summer potlucks. It's colorful, vibrant, and packed with nothing but good ingredients. Everyone will want a piece of this delectable dish as soon as it arrives.
This dish is filled with chunks of cornbread and layers of bacon, fresh veggies, and cheese. The cornbread's sweetness really balances out the tangy taste of the dressing and cheese, giving you a harmonious mixture that no one can resist.
A heart-melting cornbread salad recipe you can make any time. You can see this video to know more:
This French toast may not taste exactly the same as the original version, but I am sure you will still love it anyway. Made from leftover cornbread, it's slightly more crumbly but still very buttery with an added sweet undertone.
Despite the basic difference, cornbread French toast still makes a great base for all your favorite toppings. You can keep it sweet with some simple maple syrup and cream cheese, or even roll it over a pumpkin egg batter for a more flavorful treat.
Panzanella itself is a recipe meant for stale bread. It's a classic Italian salad featuring leftover bread, tomatoes, basil, and onions. This recipe makes a slight adjustment and uses leftover cornbread instead.
This salad may look simple, but it has an incredible versatility of flavors and textures. The tomatoes are juicy and sweet, while the other veggies are slightly tangy. The cornbread adds a distinctive mild sweetness and crunchiness that make the salad so much more entertaining.
A brief guide for how you can use leftover cornbread to make panzanella
You can see this video to know more:
Don't Miss Out On Good Food!
Any food lover out there will tell you that wasting food is not good. If you have been having doubts about reusing cornbread, let this article change your mind. All it takes is the right recipes and a little bit of creativity to bring new life to a seemingly old dish.
Leftover cornbread is incredibly diverse. You can find it on most well-loved recipes like casseroles, salad, waffles, and many more. There is no limit to what recipe it can appear in. Just give it a shot, and I guarantee you will discover an unexpected new favorite dish.
Nutrition Facts
2 servings per container
---
Amount Per ServingCalories481
% Daily Value *
Total Fat 15.8g

24

%
Cholesterol 226mg

76

%
Sodium 1246mg

52

%
Potassium 289mg

9

%
Total Carbohydrate 67.5g

23

%

Dietary Fiber 0.1g

0

%
Sugars 0.9g

Protein 16.7g

32

%
---
Calcium

404

%
Iron

5

%
Vitamin D

15

%
* The % Daily Value tells you how much a nutrient in a serving of food contributes to a daily diet. 2,000 calories a day is used for general nutrition advice.