Suppose you are looking for the best leftover chili recipes. Well, you are in the right place!
Chili is no longer a strange dish to many people. It is a spicy stew or soup with a tangy and savory taste of food that you can barely forget when you give it a try.
As a quick look, you can quickly see that the list has three main sections of appetizer, main course, and side dish. Just like that, you can easily pick up a suitable recipe for yourself and make a delicious meal to enjoy.
So why wait? Let's go check to add some fantastic recipes to reuse your leftover chili.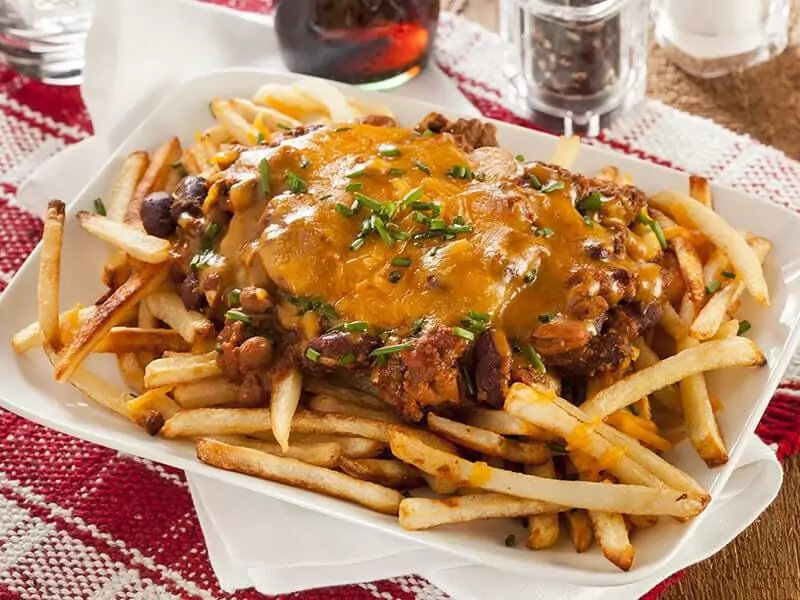 Impressive Ideas For The Best Leftover Chili Recipes Are Right Here
I guess you don't want to wait for any minutes; I have listed the best recipes from leftover chili. Now, let's dig in.
Appetizer:
Chili Cheese Fries
Chili Empanadas
Baked Chili Nachos
Chili Cheese Tater Tots
Chili Cheese Dip
Main Course:
Chili and Vegetable Combo
Chili Stuffed Peppers
Chili Stuffed Spaghetti Squash
Chili Cheese Zucchini Boats
Chili Potato Casserole
Vegan Chili Taco
Full Meaty Combo
Chili Dog Pizza
Chili Cheese Brown
Hot Dog Chili
Chili Frito Pie
Chili Cheese Burritos
Chili Lasagna
Chili and Cornbread Casserole
Grilled Cheese Chili Sandwich
Chili Macaroni
Sounds interesting yet? Scroll down for a better look!
5 Delightful Appetizer Recommendations Made of Leftover Chili
I would like to introduce you to some incredible appetizer ideas that you can make from leftover chili. They are savory and excitingly crispy so that you can have a perfect snack to enjoy at lunch or dinner.
Suppose you have some frozen fries in the fridge and are wondering what to make with these fries. So this recipe is the one that you can use up both leftover chili and fries in one dish.
In addition, you can cook the dish effortlessly. Just cover the chili onto the fries, add some extra cheese to enhance the texture, then you can enjoy a perfect snack in just a couple of minutes. Plus, the taste is a big surprise of crispy fries and juicy chili in just a single dish.
Here comes a fantastic leftover chili idea for you to utilize the food. These savory chili empanadas are super crispy and delightful that you can enjoy as a snack or a luscious appetizer too.
Empanada pastries are very popular in many Latino countries that you can effortlessly run into on the local street. The people love the dish because it is so delicious with a hint of a tangy and hot taste of chili paste.
Nachos are no longer a strange dish to anyone. These crispy snacks are the most-liked street dish in Mexico. You can easily run into them on every local street. Plus, you will enjoy the dish more delightfully, accompanied by chili.
The overall taste is excellent; you can indulge in a perfect portion of crispy nachos and savory beef chili paste in every single bite. Sounds amazing yet? Let's make some of these for dinner!
You'd better try this succulent chili cheese nachos right away!
A fan of tater tots should note this one right away! A combination of crispy tater tots mixes with a juicy and savory beef chili sauce that press up the overall taste a thousand times.
Place the chili on a bowl or a casserole, line on some tater tots and cheese to spot up everything gently. The first impression of the pie is splendid; you can taste a bit of salty, sweet, spicy, and incredibly crispy tater fries to cover up the mushy texture.
Besides delightful chili appetizers or savory chili main dishes, chili cheese dip is also a tasty dish you can make from leftover chili. Boost a lot of cheese into the chili sauce, stir well, and add some greens into the mixture; then, you can have a fantastic dipping sauce to enjoy.
The sauce taste is splendid thanks to the beef chili that enhances the dish texture and a savory impression for the overall view.
Let's Make Some Tasty Main Dishes For Dinner With Leftover Chili
Stay tuned; you are about to create a fantastic chili dinner with these beautiful main dish ideas. They are effortless to make; therefore, you can try to make some at any time.
Some Delightful Chili and Vegetables Combo That You May Love
Turning leftover chili into a delicious dish to accompany numerous vegetable-based sides is a good idea. You can eat the dish without feeling bored because these veggie combinations have balanced the whole taste.
Here comes another fantastic leftover chili recipe that you can create a tasty meal as the main dish. By stuffing these residue chilies into the bell peppers, add some cheese as your preference, then you can enjoy a delicious dish in a few minutes.
Plus, it is good to know that these beautiful chili stuffed peppers are gluten-free dishes, making them suitable for your healthy diet.
How to make delicious chili stuffed peppers for lunch. It's effortless to make!
This stuffing chili is a beautiful recipe that attracts many people's hearts. The dish is a bit sweeter and creamier than regular chili and has a thicker consistency.
Spaghetti squash seems to be a unique feature that gives the dish an exciting look. You can stuff the leftover chili into the spaghetti squash or make a Cincinnati-style spaghetti too. Both methods are so delightful and delicious that you have to figure it out by yourself.
Check out this recipe to make a luscious appetizer for a dinner party. The dish is a complete package of convenient preparation and healthy food in a single dish so that you can enjoy the cooking time better.
From the first taste, you can quickly tell how delicious these chili boats are. With a juicy flavor of beef chili, a delightful texture of zucchini, and especially a creamy cheese taste will blow your mind. To be honest, there is nothing to complain about about the dish at all.
Do not throw away leftover chili yet! I have an excellent idea to save it up. This chili potato casserole is super convenient and delicious, and you can find it very easy to make.
Firstly, you need to pick up a casserole to place all the leftover chili and chopped potatoes. Then add some cheese as an additional flavor and some green veggie on the top and bring it to bake. I promise that the dish's taste is very savory and amazing that you love so much.
Sick of meaty tacos? So how about combining some veggies to your tacos menu with any leftover chili in your fridge?
These vegetarian-friendly tacos are all you need for a light taco party. By adding some sour cream or herbs on top, let these tacos impress your guests and make them ask for more.
Turning leftover chili into fantastic chili tacos. How great is that?
Turning Leftover Chili Into Brilliant Savory Meaty Dishes
Here are the meaty dishes that meat lovers can happily enjoy to their heart's content. However, they can be a little too rich and heavy, so having them with a few nice side dishes for chili will go a long way to improving your experience. Otherwise, you should eat the following dishes in moderation.
Crave some pizza for dinner? Stay still; this unique chili dog pizza is something tasty that can refresh a typical taste.
The American-styled pizza is a great thing that you can effortlessly make in just a few minutes. Reheat your leftover chili in the microwave and add it to the pizza foundation. Plus, don't forget to add cheese; this feature is a significant element to create a delicious pizza.
Let's head to the US with numerous signature cuisines you can not miss. This chili cheese brown is a fascinating breakfast with a high protein content that you can make for your family.
The dish is an ideal method to save the leftover chili as well. Add hash brown patty, maybe some veggies, then cook well until the whole thing is fusion. From just one bite, you can quickly tell how flavorful the dish is.
Crave some hot dogs for lunch? Stay still and make sure that you keep the leftover chili because you are about to create a delicious hot dog chili.
Hot dog chili is very popular in many cuisines that you can quickly wrap for breakfast, lunch, or dinner. The dish can be served as a tasty main course or a quick and convenient snack.
Its taste is savory with chili sauce, succulent sausage, and buttery bun—what an excellent idea for you to enjoy your meal.
Another excellent way to reserve leftover chili is to create a beautiful chili Frito pie. If you can not finish the whole dish, storing the casserole in the fridge for the following time won't be a big deal at all.
Making a fantastic chili Frito pie is effortless. All you have to do is lining all the ingredients into a casserole and bake it for a few minutes. Just like that, an aromatic and savory dish is ready to serve.
You can nearly find variations of beef chili in Mexican cuisine, and this beautiful burrito is an example. By switching regular burrito fillings like smoked chicken, pulled pork, or shredded beef, this version of chili seems to be juicier and brings a delightful taste.
When you take a bite, a moist texture of chili sauce is the first thing that stuns you. Honestly, I prefer this condition of the beef filling; it gives the general view a savory easy-going experience that many people like to have.
How to make savory chili cheese burritos from leftover chili! Super easy for your cooking time.
This one seems like an exciting addition for someone who craves Italian food. A slightly sweet taste of ground meat and melted cheese is exquisite stuffing ingredients to enhance the dish texture gently.
Honestly, cheese is a magical element that sticks the dish flavor together. It increases the lasagna taste and gives it an attractive look that no one can deny. Making lasagna is straightforward; you just have to line all the ingredients and bring the baking pan to bake.
Cornbread casserole seems to have a more pungent taste of spicy than the chicken pot pie so that the dish fits someone who admires its unique press.
In addition, making a good lunch of chili casserole is simple. You can quickly handle it by placing all the ingredients into the container. So just stick with the recipes, and then you have a delicious meal to enjoy.
A tip to save your leftover chili is to turn it into a beautiful chili grilled cheese sandwich. Honestly, this brilliant sandwich recipe is a combination of well-known American dishes, chili paste, and sandwiches.
As a first look, you can quickly tell how fascinating the grilled cheese is. Its stuffing is an excellent exposure of melted cheese and chili. So when you take a bite, a savory taste and a creamy filling are what the dish reminds you of.
You can use this beautiful chili macaroni for burger stuffing, or eat it with some crispy nachos is not a bad idea. You can also save your leftover chili without wasting a single piece of it.
The combination of creamy macaroni and chili sauce is brilliant. These two ingredients merge perfectly and give a rich taste of creamy, buttery, sweet, salty, and spicy for diners. The dish is suitable whenever you are busy and crave a quick meal in just a few minutes.
Take Care Of Your Beloved People With These Leftover Chili Ideas!
Using these leftover chili recipes is a great way to save your residue food and create a fantastic meal for your dearest person right away.
After a long working day, nothing is better than a lovely dinner gathering around and enjoying delicious food. Plus, I believe that this is an excellent way to bond in a relationship as well.
So pick up your cooking tools and create beautiful dishes immediately! Besides, if you like one of these, leave a like and share with friends to know many tasty leftover chili recipes!
Nutrition Facts
6 servings per container
---
Amount Per ServingCalories226
% Daily Value *
Total Fat 10.9g

17

%
Cholesterol 33mg

11

%
Sodium 1035mg

44

%
Potassium 700mg

20

%
Total Carbohydrate 24.4g

9

%

Dietary Fiber 7.2g

29

%
Sugars 7.6g

Protein 11.5g

23

%
---
Calcium

140

%
Iron

5

%
Vitamin D

1

%
* The % Daily Value tells you how much a nutrient in a serving of food contributes to a daily diet. 2,000 calories a day is used for general nutrition advice.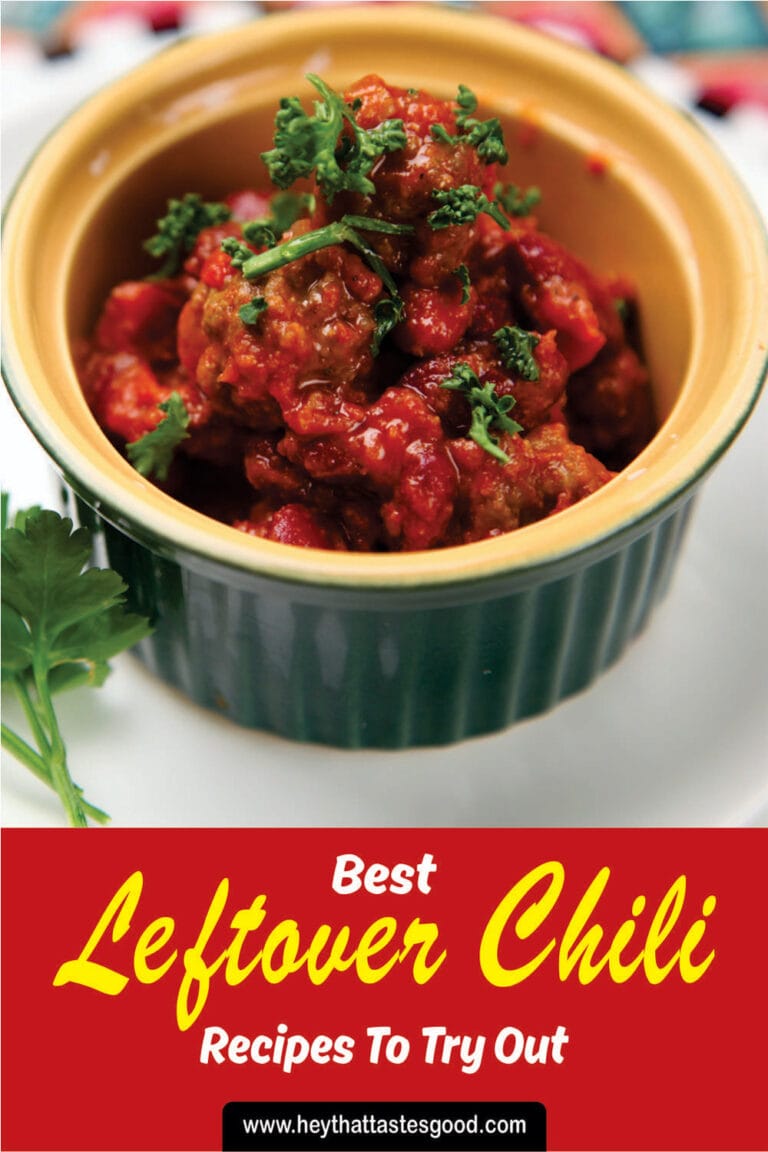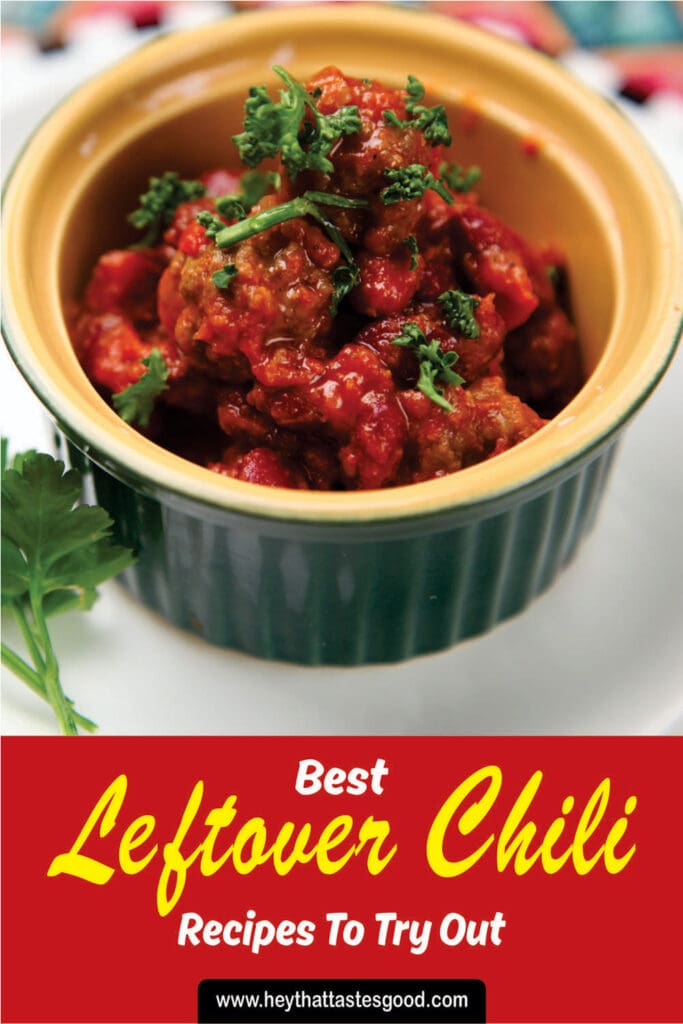 Linda Dean is a talented food blogger and cookbook author with a passion for creating simple and delicious recipes. With a focus on using wholesome ingredients and showcasing their flavors with minimal fuss, Linda's recipes have become a favorite among busy home cooks looking for quick and nutritious meals.
With years of experience in the kitchen and a love for experimenting with new ingredients and flavor combinations, Linda has honed her culinary skills and developed a signature style that is both approachable and sophisticated. Whether she's sharing a classic recipe with a twist or showcasing the latest food trends, Linda's work is always fresh, innovative, and inspiring.