20+ Easy Leftover Bread Recipes To Expand Your Menu 2023
This post is for you if you need some easy leftover bread recipes since it is easy to have leftover bread since you usually buy or make a batch of them! Stay tuned and explore the quick and straightforward leftover bread recipes!
Various easy but delicious recipes call for leftover bread, ranging from savory to sweet food. Most of these recipes do not require any hard work and much time to do. You can also make them in advance and serve them later.
What are you waiting for? Let's dive into the article!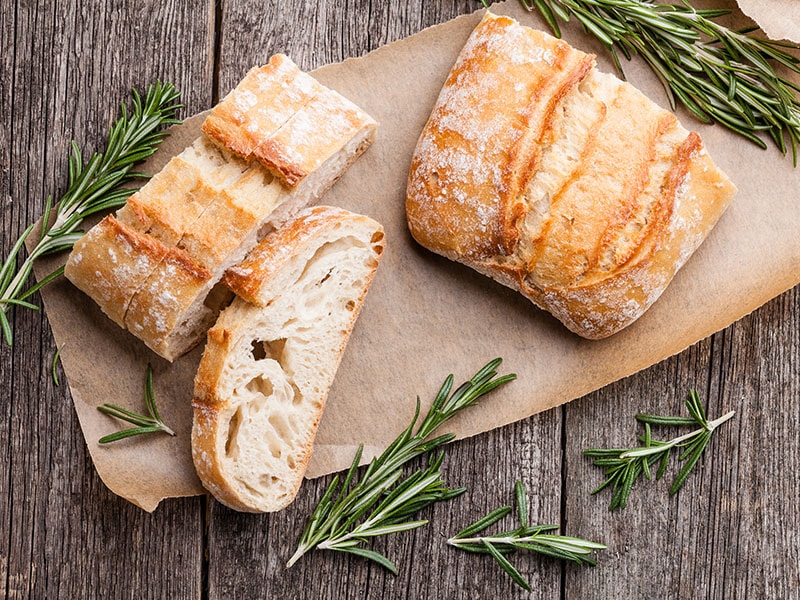 Don't Miss These Easy Leftover Leftover Bread Recipes!
Below are the diverse recipes that are quick and easy to make with leftover bread. Let's get ready to be mind-blown with these recipes!
Casserole And Bread Pudding
Ham And Cheese Savory Bread Pudding
Classic Bread Pudding
Banana Bread Pudding
Pumpkin Bread Pudding
Toffee-Pear Crisp Bread Pudding
Butterscotch-Pecan Bread Pudding
Caramel Apple Bread Pudding
Overnight Blueberry French Toast Casserole
Sausage Bread Casserole
Panzanella
Roasted Courgette Panzanella
Grilled Peach Panzanella
Tuscan Tomato Panzanella
Citrus And Feta Panzanella
Octopus Panzanella
Soup
French Onion Soup
Pappa Al Pomodoro
Tuscan Ribollita Soup
Others
Leftover Bread Croutons
Breadcrumbs
Irish Gur Cake
Leftover Bread And Cheese Patties
Cinnamon French Toast Sticks
9 Leftover Bread Pudding And Casserole Recipe You Must Try!
Leftover bread is often used to make puddings since they are quick and easy to make, even for cooking amateurs. Let's take a look at these amazing pudding recipes cooked with leftover bread!
Wake up late and need to cook something simple and quick? What do you think about having ham and cheese savory bread pudding for brunch? You cannot see this recipe elsewhere because it is a real treat.
Although this pudding is a recipe using stale bread as the main ingredient, the bread tastes amazingly crunchy after you cook it well. The smoked and salty flavor of ham combined with hot cheesy bread pudding is perfect for a lazy day!
This is the traditional version of any different bread puddings. You can only make it with leftover bread to bring out the perfect pudding sweet course. People usually serve it on special occasions or family reunions.
You can serve this comforting treat with a big scoop of vanilla ice cream on top to create a hot and cold flavor combination. If you are a huge fan of sweet cakes, feel free to add extra honey to enhance the sweetness of your bread pudding.
What do you think about having bread pudding with mouth-watering vanilla bourbon sauce?
This decadent bread pudding can be a perfect banana dessert served with avocado toast and poached eggs. The flavor is incredible with the sweetness of fresh banana, the aromatic cinnamon, combined with melted butter.
You can also turn your fresh banana bread pudding into a banana foster bread pudding with a distinct flavor. As the recipe is time-saving, banana bread pudding can be made in advance and frozen for eating later.
How about making this dessert for a meal in fall and Halloween night because pumpkin reminds everybody of this occasion? Eating pumpkin bread pudding on a Thanksgiving morning is also an excellent idea!
Bake a large sheet of it and serve it with slightly sweetened whipped cream and salted caramel sauce. Craving something crunchy? Add toasted pecans to your pudding!
Pear crisp is a popular dessert but have you ever heard of toffee-pear crisp bread pudding? It is the combination of pea crisp with bread pudding when you have a surplus of leftover bread and do not know how to use it.
Toffee-pear crisp has a sweet taste and a crunchy texture. The distinct flavor of toffee also makes it tastier. The cinnamon also gives the dish a pleasing aroma. You can eat it with a big scoop of vanilla ice cream. I'm sure even your kids will love it.
Although butterscotch is quite similar to toffee, butterscotch-pecan bread pudding distinguishes itself with its dense and tender texture. Compared to toffee, the butterscotch chips used in this recipe are softer.
You can enjoy this delectable pecan treat with salted caramel sauce to balance the sweetness of it. It also pairs well with whipped cream. Grab your leftover bread and make this delicious recipe to serve your beloved ones!
Here is another excellent dessert for you to try. You will not be able to resist this caramel apple bread pudding because of its flavorful and fascinating texture.
Caramel apple bread pudding is warm, sticky, and has a burst custard flavor. The sweet taste and dense flesh of the apple also play a vital role in the dish. Also, the caramel apple bread pudding is soft at the bottom and crunchy on top.
Start with a dessert to satisfy your sweet tooth. Do not throw your stale and sturdy French toast away. You can use it to make a mouth-watering dessert called overnight blueberry French toast casserole.
You will make it the night before, and you can eat your tasty overnight blueberry toast casserole the morning after. If you are fond of blueberries, you can drizzle your casserole with extra blueberry sauce and enjoy it.
This overnight blueberry French toast casserole is perfect for a crowd or a weekend treat.
Sausage bread casserole is a type of breakfast casserole. You can make it in advance and have it for breakfast. Cut your leftover bread into cubes and mix it with eggs, milk, cheese, and sausages. Then, bake it, and you have had your tasty meal.
The sausage bread casserole is tender at the bottom, and the top is crunchy after being baked. It is also a kid-friendly dish so that you can prepare sausage bread casserole for your kid's lunch box besides the main dish.
How About Adding These Delicious Panzanellas To Your Menu?
Panzanella is a Tuscan salad mainly made of chopped stale bread soaked in dressing and other vegetables. People usually eat Panzanella in summer as it is fresh and yummy. Below are some Panzanella recipes which are different from the original recipe.
It is ideal for adding Courgette (or zucchini) since its peak season is in summer. The slightly smoked Courgette works very well in this salad. Besides parsley, you can also add your other favorite aromatic herbs, and oregano is an example.
Since Panzanella recipes call for day-old bread, you still need to roast or grill the bread before making this salad. Roasted courgette Panzanella should be eaten right after serving because it is easy to turn soggy and mushy.
Despite the deliciousness, making Panzanella with roasted or grilled Courgette is also quick and easy!
Are you getting sick of those ordinary and green salads to serve at your weekend barbecue? Grilled peach Panzanella will be your savior. Try to make this recipe and impress your family and friends at the upcoming reunion.
Grilled Peach Panzanella is flavorful. Tender-grilled peach, crispy chopped bread combined with cheese and aromatic herbs create a perfect salad. It is also acceptable to add ripe tomato and roasted nuts to enrich the flavor.
This is the original Italian Panzanella salad which consists of stale bread, cucumbers, onions, and tomatoes. The dressing is quite simple, including red wine or white wine vinegar and extra virgin olive oil.
Besides, the flavor is light since it is seasoned with Kosher salt and pepper only. Therefore, it is a perfect side dish to serve with rich and burst flavored food, such as grilled marinated chicken or garlic butter rib-eye steak.
Citrus and Feta Panzanella are perfect for eating clean people because it only contains leftover bread, grapefruits, orange, and cheese. The salad dressing ingredients and seasoning spices are also good for your health.
However, it will not cause you and your guest to get bored, thanks to its colorfulness. Fresh herbs like parsley and basil chopped leaves are also added to enhance the salad's odor. Remember to soak sliced onions in water if they are too harsh to eat.
Shout out to seafood lovers! You will love the tough but tender, especially chewy texture of octopus combined with the crunchy leftover bread and other fresh and delicious ingredients.
Octopus Panzanella has a slight tart and sweet taste. This incredible seafood-based appetizer also brings an aromatic smell thanks to the fresh herbs added. Since Panzanella is versatile, you can add paprika or cayenne powder to make it spicier.
Leftover Bread Can Also Be Used As A Soup's Crucial Ingredient
Although soup is a low and slow-cooked dish, you will see the rich and dense outcome is worth your spending time. Give these mouth-watering soup recipes a try when you have time!
French onion soup is rich and intensely flavorful. The unique point of this soup is that it is served with a slice of bread on top with melted cheese. The secret key of French onion soup is the caramelized onion that adds sweetness to the broth.
Although it takes time to make, you can make it in advance to serve later. However, remember to separate the broth and the bread to prevent it from turning soggy. Do not forget to flavor your French onion soup with bay leaves or thyme.
The best idea to welcome a cold winter is eating this warm and rich French onion soup!
Pappa Al Pomodoro is a Tuscan tomato soup. The ingredients are simple. The main ingredients are just red tomatoes, basil, and leftover bread. Also, the recipe is straightforward and effortless.
It can be a light vegan lunch or an appetizer. You must know that the flavor of this soup depends on the quality of the olive oil; choose the high-quality one for a tastier soup! Some people also prefer adding wine to reach their favorite flavor of the soup.
Tuscan Ribollita soup is also known as Ribollita Toscana. Unlike Pappa Al Pomodoro, this soup contains various ingredients, including veggies like cabbage and carrots. The recipe also calls for canned Cannellini beans.
The Tuscan Ribolita soup is versatile, so you can make it at the weekend with all of your leftover veggies and bread. The bread soaks up with the burst, and pungent Ribollita soup will gradually melt in your mouth that you can't resist.
It's Time To Explore The 5 Other Recipes Using Leftover Bread!
In addition to the excellent and diversified leftover bread preparations, below are some other recipes that you should carry out.
Instead of reheating your leftover bread by roasting or baking them once again, you can make these crunchy and delicious croutons to top the soups that I have mentioned above.
You can use any kind of bread to make croutons. Through a straightforward cooking process, the croutons will be crispy and golden brown. They taste subtly salty with a beautiful odor thanks to the fresh herbs, including basil, thyme, or parsley.
The homemade leftover bread croutons are even tastier than the store-bought ones!
Breadcrumbs are usually used to top the dessert or coat something before frying in order to give out the best crumble texture. You won't have to put in an effort to make these breadcrumbs from your leftover bread. It is done in a wink!
Every kind of bread is acceptable, even gluten-free bread, but the rustic one is preferred to have a better crispy texture. If your leftover bread is frozen, don't forget to defrost it. Moreover, you can make a surplus of breadcrumbs for long-term usings.
It's time to satisfy your sweet tooth! Irish Gur cake is also known as Chester square, Sinkers, or Donkey's Gudge. There are two thick slices of pasty outside the sweet and dense filling.
The filling of Gur cake usually consists of leftover bread and sultanas. The cake gives a fragrant smell from nutmeg, cinnamon, and ginger. The honey and golden syrup also add a sweet taste to it.
These crispy leftover bread and cheese patties are usually served as an appetizer or breakfast. It would be better to use hard cheese such as Feta or goat cheese for the best crumble texture outcome.
The time needed for frying a patty is under 5 minutes. There is no doubt to say that it can be done in a wink, right? Chopped scallions and parsley are also added to make the patties more fragrant and mouth-watering.
Cinnamon French toast sticks are something you can eat with your fingers on the hustle and bustle working day. Fortunately, this recipe gives the best result if you use stale bread. It is a great chance to clean your leftover bread containers!
Cinnamon French Toast sticks are crunchy and buttery. They are coated with icing sugar that is sweet enough to be eaten alone. You can also dip them in maple syrup to satisfy your sweet tooth.
Would You Give These Amazing Recipes A Try?
Stop wasting your food. Numerous recipes call for leftover bread; some are even tastier if using leftover bread instead of the fresh one. I hope that you will have various ideas for cooking your old-day bread after reading my recommendations.
Before leaving the site, do not forget to like and share this article to support and encourage me to come back with other helpful information and fascinating recipes. When you try the recipes listed below, comment below to share your results and flavor experiences with me.
Nutrition Facts
12 servings per container
---
Amount Per ServingCalories158
% Daily Value *
Total Fat 5.8g

8

%
Cholesterol 71mg

24

%
Sodium 123mg

6

%
Potassium 83mg

3

%
Total Carbohydrate 22.7g

8

%

Dietary Fiber 2.5g

8

%
Sugars 14.9g

Protein 4.8g

8

%
---
* The % Daily Value tells you how much a nutrient in a serving of food contributes to a daily diet. 2,000 calories a day is used for general nutrition advice.