22 Best Ladyfinger Desserts To Swoon Over 2023
Ladyfinger desserts are usually a big hit in my family. Whenever I gave a decadent makeover to the well-beloved tiramisu, like swapping in the berries for a "berrymisu" or turning it into an ice cream cake, my family always loved to indulge a bit more than usual.
Ladyfingers are delicious on their own, yet when it goes into a slightly more complex dessert, it without fail creates a wow factor.
The sponge cookies are ideal for dunking and contribute to the soft and fluffy cakes as everyone often dreams about desserts. So, yes, these cookies are ideal for making desserts, but the list will go beyond the tiramisu that you are familiar with!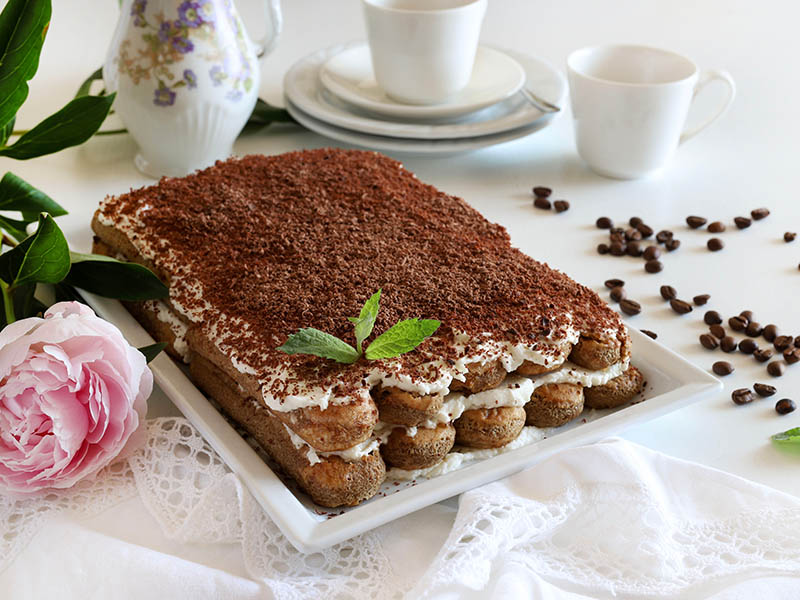 22 Easy And Irresistibly Delicious Lady Finger Desserts
Ladyfingers are always quintessential in the Italian tiramisu. However, they are also highly versatile to go into icebox cake, truffles, cupcakes, tortes, and more. Let's scroll down to explore your options!
Total time: 20 minutes (plus 4 hours of chilling time).
Tiramisu is already a rich treat you can never have enough of, but this fruity version in the form of a spectacular strawberry dessert enriched with white chocolate will be even more tempting.
Instead of using dark chocolate and coffee in the coffee-flavored Italian dessert, this light and creamy tiramisu is bursting with fresh and juicy strawberries and buttery and rich white chocolates.
The liquor used to soak the Savoiardi cookies is just enough to provide a nice balance of flavors, yet you can adjust according to your preferences.
Serve the tiramisu in a transparent dish or glass bowl to show off the luscious layer beneath. The creamy texture and the elegant, festive look will always get compliments.
This egg-less and alcohol-free adaptation of tiramisu is rich and refreshing at the same time.
Total time: 55 minutes (plus 5 hours of freezing time).
Creamy, cool, and sinfully sweet, this ladyfinger ice cream cake is sure to chill out a hot day. No baking is required; thus, you can surprise the crowd with your faux baking skills when bringing out this tasty dessert.
In this tiramisu, the Italian ladyfingers – Savoiardi, are soaked in coffee syrup to give them bold flavors that delight any coffee lover.
The creamy and rich Mascarpone ice cream layered with these ladyfingers is sure to tickle everyone's taste buds. It's truly amazing how the soft and flavorful ladyfingers contrast with the creamy ice cream.
Dust a bit of cocoa powder on top of the cake as you'll get that chocolate-y taste that complements all the sweetness beneath.
Total time: 1 hour and 20 minutes.
If you're not in the mood to portion each cake to everyone, these individual parfaits will get your back! These parfaits deliver all the flavors that a traditional tiramisu has to offer, yet the twist lies in the crunchy texture of the ladyfinger crumbles.
Inside these charming glasses are layers of crunchy espresso-soaked ladyfinger crumble, Mascarpone, and rich dark chocolate pudding.
This recipe uses Mascarpone instead of the regular cream cheese, which lends the parfaits a light, mild, and delicate flavor and texture. A sprinkle of cocoa dust, as always, will make everything pop and make this variation more like a classic tiramisu.
These 10-minute luscious parfaits will melt in your mouth right from the first bite.
Total time: 25 minutes (plus 6 hours of refrigerating time).
If you are a fan of both lemon cheesecake and Italian tiramisu, you will love this interesting cross between the two with a distinctive lemony flavor.
Like the classic tiramisu, this no-bake cake consists of layers of soaked ladyfingers and creamy filling. Yet, instead of dunking these sponge cookies into a nice espresso, dip them in the lemon syrup for bright, tangy, and refreshing flavors.
It's a breeze to put the fantastic lemon-filled dessert together within 25 minutes, and the rest you have to wait for is the freezing for it to set. As a true crowd-pleaser, the cake is ideal for preparing a day in advance.
Wait for everyone to take a bite, as they'll soon find out that the combination of lemony and sweet flavors is nothing short of divine.
Total time: 20 minutes (plus 6 hours of chilling time).
This no-bake tiramisu is the ultimate fall dessert for your football watch parties or Thanksgiving dinners. As a decadent dessert overflowing with pumpkin essence, it will give your palate a refreshing experience.
The texture is the same as the classic tiramisu – light and fluffy – but this luscious pumpkin tiramisu is bound to refresh your taste buds with its unique flavor. The pumpkin pie spice also introduces some spicy warmth so that the cake better fits with the autumn theme.
Like many tiramisus on this list, allow this pumpkin to sit in the fridge overnight. It's best to make the cake a day before your get-together.
Total time: 1 hour and 15 minutes.
Eclairs are traditional French pastries made of choux dough, filled with cream and coated with a thin layer of flavored icing. They indeed require some effort to make, yet in these recipes, you'll only need to prep the pudding and do some smearing.
The normally mild flavors of these ladyfingers are made fancier by the chocolate and vanilla pudding sitting in between. Top them up with whipped cream to complete the dessert.
These tasty puffs are a perfect treat for any occasion, from game-day parties and baby showers to after-dinner sweet cravings. Yet, you should not prep them too far in advance, as they will become a soggy patch if stored in the fridge.
So easy-to-make and satisfying, these mini eclairs from ladyfingers are the rightful way to end your meal.
Total time: 20 minutes.
Add a little sunshine to any random day with this light, lemony, and melt-in-your-mouth torte. It is as delicious as it looks! 5 simple ingredients and 20 of your hands-on time are all it takes to make this dessert.
This torte is marvelous on its own, but you may want to dust some powdered sugar and put some twisted lemon slices on top to create a show-stopper for your next party.
Ladyfinger lemon torte can last up to 2 months when frozen. Make sure you allow your freshly-baked torte to cool down completely before wrapping the surface with foil and tossing it into the freezer.
Total time: 20 minutes.
The beauty of ladyfinger-based desserts is that they usually involve no baking. This banana tiramisu also belongs to this league! It's a delicious twist to the classic Italian dessert by adding the sweet banana into the mix.
The silkiness of tiramisu matches perfectly with the sweet banana slices. Like the original version, this dessert starts with layers of crispy lady fingers with nice mascarpone filling but with banana slices in between. Soon, a buttery banana sweet treat will be yours to enjoy!
Bananas are easy to turn brown when exposed to the air. Therefore, brush some lemon juice on the slices before serving to keep the amazing look for longer.
Total time: 20 minutes (plus 12 hours of chilling time).
This decadent limoncello tiramisu only calls for seven ingredients and is easy to make. It's less about cooking and more of an assembly job to create this real treat. The less enjoyable part is waiting for the cake to set, which takes at least 4 hours.
The no-bake Italian cake has the sponge biscuits (ladyfingers) dunked in limoncello liqueur and then layered with lemon mascarpone cream. The secret to this recipe? The lemony flavor is the star of the show, so you want to let it shine in the harmony of all the flavors.
For this, use juice from fresh lemon instead of the lemon bottles. The sharp and tangy taste will contrast wonderfully with cream cheese and cookies in the mixture.
Forget about the long and seemingly demanding name; this boozy tiramisu is not tricky to whip up!
Total time: 20 minutes.
Semifreddo is an Italian word that translates to half-cold or half-dozen. It is a class of frozen desserts that resembles ice cream.
This semifreddo tiramisu hits the spot when you both want all the flavors of the classic tiramisu and a cold treat! Cut the cake open, so the smooth and creamy exterior can reveal the irresistible, strongly coffee-soaked and brandy-spiked ladyfingers.
Remember not to go overboard when dipping the ladyfingers into the brew, as they only need to stay there for a few seconds to achieve the bold flavor.
There is not much expertise required to make this type of dessert, at least for this semifreddo tiramisu here (which only takes 20 minutes). It is fantastic for last-minute desserts or any lazy weekday meals.
Total time: 15 minutes.
Here's another exciting take on the classic tiramisu! The good news is that it only takes 15 minutes to whip up this stunningly decadent but easy dessert.
These Baileys tiramisu trifles have delicate ladyfingers dunked in the mix of brewed coffee and Baileys, layered with creamy Mascarpone, and dusted with cocoa powder.
Normally, tiramisu recipes use the sweet Italian wine – marsala – to give the dessert's distinctive taste. However, the soul of this rendition is Baileys liqueur, which infuses the Irish whiskey and coffee flavor to the dunked ladyfingers.
If you're a chocolate lover, feel free to add chocolate curls or crushed Oreos on top for a more stunning look. Whenever Bailey is unavailable, you substitute it with dark rum or Kahlua, as the soaked cookies will taste just as amazing.
Total time: 1 hour and 15 minutes.
This dessert is surprisingly simple to make but easily steals the spotlight in your next get-together.
Because it's an "icebox" cake (a.k.a no-bake cake), all you have to do is assemble and let them chill in the fridge. This cake often consists of layers of wafers, cream, fruits, nuts, and any of your favorite mix-ins.
This shortcake is fresh and delectable to taste with layers of ladyfingers, a creamy filling of sugar cream cheese, whipped cream, and fresh strawberries. And finally, the crumbs of graham crackers give the cake an elegant look.
For the ultimate dessert, you should go for fresh berries. The frozen ones lack the brightness and the nice texture for the cake. You can keep this icebox cake in the fridge for 2-3 days, yet make sure to cover saran wrap to prevent it from drying out.
This light and fully tiramisu reveals layers of flavors with soft cookies, creamy filling, and fresh berries.
Total time: 30 minutes.
Don't be intimidated by its fancy look, as this charlotte is easy to put together and effortlessly becomes a big hit at your next party!
Crispy lady fingers have quite a different duty in this decadent dessert full of fall flavors. No more sitting between the layers of Mascarpone cheese in tiramisu; they now form a sturdy towering to hold the savory pumpkin filling at heart.
This recipe uses cream cheese as a base, but you can use ricotta cheese instead. You won't get the firm layer at the bottom of the pie as with cream cheese, but you can cut down on the calorie intake!
Total time: 20 minutes (plus 4 hours of chilling).
You can find plenty of desirable qualities in this wonderful dessert with grapes and many other fruits: creamy texture, check; diverse and delicate flavors, check; a cooling sensation that sets you free from a sweltering summer day, check!
The refreshing mixture of three types of berries balances out the richness of ladyfingers and fluffy, creamy mass. This way, you never feel it's too rich or too indulging. Throw in some peppermint leaves on top so you will have a rightful dessert hailing the arrival of the summer.
Swap in cinnamon, tangerines, grapes, and pomegranates, which deliver all the wintry flavors if you're prepping this dessert for Christmas night!
Total time: 1 hour.
Filled with tiramisu cream and topped with a whipped Mascarpone frosting, these adorable cupcakes are light, fluffy, and delicious that you can't stop at just one bite. Finally, decorate them with chocolate chard and cocoa powder for a stunning finish.
This recipe requires making your own ladyfingers so they can fit in the jumbo muffin liner, which sounds exciting for an enthusiast cook! However, if you're not a diehard from-scratch baker, feel free to jump over this step and use premade ladyfingers at the bakery store instead.
All the satisfaction from the classic tiramisu is packed in these lovely cupcakes.
Total time: 15 minutes.
You can call it 15-minute tiramisu, as it takes only a quarter-hour to put the cake together, and the rest is left for the freezing. Perfect for when you want something quick, less fussy to end your dinner meal satisfactorily.
This torte is ultra-moist in texture and is flavored with chocolate and hints of cocoa and hazelnut from Nutella spread. As a result, it has a darker yellow hue than the lemony torte.
The beauty of this torte is its simplicity. There are literally two main steps. One is when you whip up tiramisu cream with cream, pudding, and whipped topping.
Another step is to arrange the ingredients in layers against each other, starting with ladyfingers as a base. Some dust of grated chocolate added before serving will complete this rich, fool-proof treat.
Total time: 1 hour (plus 4 hours of chilling time).
This matcha tiramisu is a nice cross between Japanese and Italian cuisine! It is definitely a bold and interesting take on classic tiramisu you need to try.
The hardest part of this memorable matcha recipe for the sweet course is the whisking and folding of the cream and mascarpone mixture. Yet, if your tiramisu is your family's go-to homemade dessert, this should not be a problem.
The matcha-soaked ladyfingers boast bold flavors, and when paired with creamy and fluffy mascarpone mustard filling, it creates a refreshing contrast.
How the tiramisu turns out relies heavily on the ingredients. If you're new to matcha, I recommend paying more for a quality brand. Cheaply-priced matcha often has a yellowish hue and is awfully bitter to taste.
The intense flavor of matcha and the rich, creamy Mascarpone contrast nicely in this matcha tiramisu.
Total time: 25 minutes (plus 1 hour of cooling time).
Bienmesabe is a popular sweet dessert from the Canary Islands, with the name translating to "it tastes good to me" in Spanish.
The recipe in this list is a streamlined version. If you're not familiar with this dessert yet, you can still nail it without much effort. Since this list is on the no-bake trend, this Venezuelan dessert should require no baking to mingle!
This Bienmesabe is rich, light, and moist, with layers of ladyfingers, coconut cream, and a meringue topping. Light and lush, this dessert should be a nice way to end your meal and easily satisfy the souls and bellies of everyone.
In the recipe, the Savoiardi cookies are treated much in the same way as they would with tiramisu. You'll need to lightly dunk them in the rum syrup for a bust of flavors before arranging them neatly at the base of the pan.
Total time: 40 minutes.
These minion cupcakes are fun to make and eat. Definitely a big hit at your kids' birthday party! You can use cupcakes from a boxed cake mix or store-bought cupcakes to avoid the hassle. After all, the fun lies in assembling these adorable cartoon characters.
The Savoiardi cookies are coated with melted candy, which is sure to satisfy any sweet craving. It takes a bit of creativity to bring out multiple Minions figures with frosting and drawing. Your kiddos would be happy to lend a helping hand here.
Total time: 15 minutes (plus 2 hours of chilling time).
Truffles are little balls of joy. The bite-sized treat is packed with savory goodness (as rich and creamy as the classic tiramisu) and perfect for when you want bite-sized desserts. The truffles in this recipe are garnished with cocoa powder for a finished look.
Yet, if you want to amp up the chocolate-ty flavor, feel free to coat these balls in melted chocolate. These truffles are a real treat for any occasion or look amazingly in a pretty tin as a gift for Christmas or birthdays.
You can still enjoy all the tiramisu flavors in these adorable truffles.
Total time: 20 minutes.
Here is another twist on the popular tiramisu for a dreamy summer celebration! Like its close cousin strawberries, blueberries can also brighten the tiramisu flavor.
The harmony of creamy Mascarpone, light crunch of sponge cookies, and tangy berries make for an irresistible festive treat. The grated white chocolates and whipped cream topping only elevate everything to the next level.
To achieve the stunningly fluffy texture, crisp ladyfingers must stay in the desert overnight. If you want to speed things up, soak these sponges caked in milky, but very lightly. Don't let them hang out in the milk any longer than a few seconds, or you'll get a mushy paste.
Total time: 25 minutes.
This decadent no-churn ice cream with coffee-soaked ladyfingers and Mascarpone should be another perfect summer treat.
For a more intense chocolatey flavor, you can choose to dust the cocoa powder in between the ice cream layers as in this must-have Mascarpone dessert recipe. Yet, if you don't want the powder to steal the show of your tiramisu cream, only sprinkle some on top of the cold treat.
Here is a tip for soaking ladyfingers. Don't let them linger for more than 2 seconds in the coffee. They will become soggy and brick-hard after freezing, which you don't want for your ice cream.
The Right Bite Of Ladyfinger Desserts Can Turn Your Day Around
Ladyfingers are amazing ingredients that you can use in plenty of ways. Their simple taste and soft but not mushy texture are perfect for various dessert recipes. When you need something soul-satisfying, ladyfinger desserts will definitely do the trick!
Let me know if you've tried any of these recipes by leaving a comment. As always, if you find this list helpful for other cooks and bakers, feel free to hit the like and share button. Happy cooking!
Nutrition Facts
10 servings per container
---
Amount Per ServingCalories375
% Daily Value *
Total Fat 26.4g

40

%
Cholesterol 139mg

47

%
Sodium 63mg

3

%
Potassium 66mg

2

%
Total Carbohydrate 26.7g

9

%

Dietary Fiber 0.4g

0

%
Sugars 10.4g

Protein 3.3g

6

%
---
* The % Daily Value tells you how much a nutrient in a serving of food contributes to a daily diet. 2,000 calories a day is used for general nutrition advice.