These easy kielbasa appetizers can guarantee the success of your party. The guests will look forward to the following dishes if you can rock the starter part. Best of all, anyone can cook these finger foods to perfection.
A little heat from peppers and the meat's sweetness of kielbasa will mesmerize you from the first bite. Often, you don't need much seasonings and prep work to whip up some lovely sausage entrees for your family. Therefore, using this ingredient in your appetizers won't be a bad idea.
From glazed kielbasa bites and dip and sliders, there are many options for your hors d'oeuvre. Make the best choice depending on the time and ingredients you have on hand.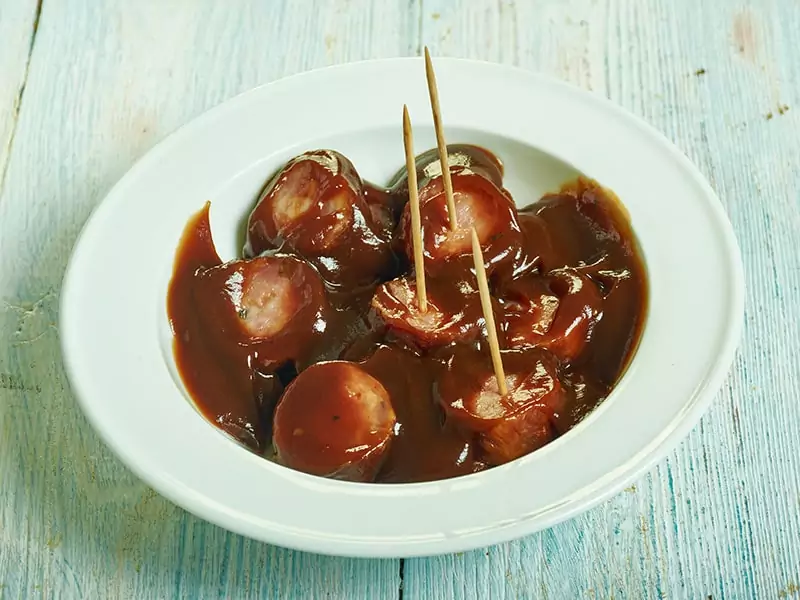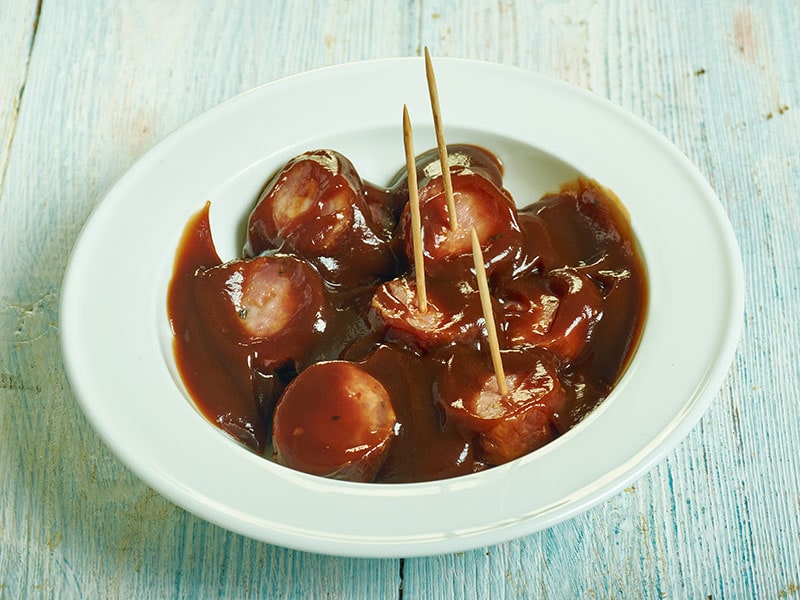 These Easy Kielbasa Appetizers Will Ease Your Party Burden
The appetizer sets the tone for your party and eases the hungry stomachs. That's why you will sometimes stress out about how to make it perfect. But worry no more because these easy kielbasa appetizers will be your great ally.
Total time: 4 hours and 10 minutes
Crock-pot 3-ingredient kielbasa bites are perfect for last-minute appetizers. This dish is easy to make with a handful of pantry ingredients. And remember to have toothpicks ready on the side for your guest's convenience.
For your information, kielbasa is a type of sausage in Poland and vital to this country's cuisine and culture. The unique thing about kielbasa is its intense garlic flavor and savory taste. It's already flavorful, so you usually don't need more ingredients to complement it.
For prep work, make sure to slice the kielbasa into bite-sized pieces. Whisk apricot preserves and Dijon mustard until they combine. Then pour the mixture into the sausages and cook in a crock pot over low heat. Come back after 4 hours, and your gorgeous cocktail picks are all set.
Total time: 25 times
It will be remiss not to mention these glazed pineapple kielbasa bites in this list. The combination of pineapple and kielbasa is a match made from heaven. This sweet-and-salty duo will dance in your mouth once it hits the palate.
Even though this recipe cooks with canned pineapple chunks, fresh and ripe fruits are preferable for a yummier result. If you use canned pineapple, ensure to save the juice to make the glaze. 
And one more note, the toothpicks can get scorched during cooking and may affect the overall look, so be extra careful. Also, do not use colored toothpicks because they can change the pineapple's color.
Try these glazed pineapple kielbasa bites and be the party's star.
Total time: 22 minutes (including 5 minutes of cooling time)
Here comes another tasty yet simple appetizer: Everything Bagel Seasoning kielbasa bites. With simplicity in mind, this appetizer only includes a few components that you can easily get your hands on.
1 to 2 teaspoons of seasonings are enough and do not overshadow the taste of kielbasa and crescent roll. Cooling is crucial to keep the dough intact with the kielbasa slices. Therefore, let the bites chill for at least 5 minutes after removing them from the heat source.
Ketchup or stone-ground mustard are classic condiments to serve with these flavorful bites. Prepare a small bowl of these sauces alongside these finger foods when you're ready to sink your teeth into them.
Total time: 4 hours and 30 minutes
This bourbon-glazed kielbasa will be a hit at your party or an easy crock-pot breakfast item for your next morning. The sweet-and-salty combo of the Polish sausage, apricot preserves, and maple syrup is hard to resist, not to mention that a kick of bourbon whisky hits the right note.
If you mind the alcohol element, leave the bourbon out and replace it with apple juice. However, this beverage's smoky caramel and vanilla flavor are necessary for a unique nuance to your dish. The maple syrup also goes well with the apricot preserves, bringing out a sweet and tangy glaze.
The process is so easy that anyone can rock this recipe. All you have to do is combine bourbon whisky, maple syrup, and apricot preserves and mix it with kielbasa. Then let the ingredients simmer for 4 hours. This recipe is for eight servings, so make a bigger batch if necessary.
Total time: 50 minutes
The smell and taste of these bacon-wrapped kielbasa bites are unbelievable. Serve this meaty appetizer fresh off the oven and count how many people get hooked on its aroma.
This meaty bomb is a perfect blend of sweet from the brown sugar, savory from the bacon, and a little heat from chili peppers. The sweet and spicy mustard glaze will put the perfect end note to the flavor's party.
To make the glaze, stir mustard, maple syrup, and chili powder until combined. Brush the sauce on both sides of the bacon. After removing the bites from the oven, remember to drain excess oil.
You don't need to be a pro chef to master these bacon-wrapped kielbasa bites.
Total time: 35 minutes
If you look for easy party food, these kielbasa cups with keto BBQ bacon will satisfy you. The recipe is easy to pull off with several pantry ingredients such as kielbasa, fathead dough, BBQ sauce, and bacon. And you don't need to serve this finger food with toothpicks on the side.
These cups are rich and tender inside with a perfect crispy outside. Plus, they require no oil. To add more heat to the sausage, combine chopped jalapenos or Cajun seasoning in the mix. If kielbasa is not to your liking, any smoked sausage will do.
Make this inviting keto-friendly appetizer ahead of time and rewarm it before serving for less party stress. You can prepare the cups three days in advance and refrigerate them for later use. When ready to serve, reheat them in the microwave until warm.
Total time: 30 minutes
The spicy kielbasa dip will be your new addiction on game days. Enjoy the spicy addicted sauce loaded with cream cheese, mayonnaise, and jalapeno pepper. And don't forget to dive deep to find the precious savory kielbasa.
The heat is what makes this dipping stand out. Eliminate all seeds and ribs if you are low on spicy food tolerance. In contrast, you can dice the peppers with ribs and seeds for the extra heat.
Bake the kielbasa dip at 375°F for 15 – 20 minutes until the cheesy edges turn golden brown and bubble. You will love this thick and creamy dip with savory kielbasa hidden inside. A sliced sourdough baguette will be an excellent accompaniment to go with it.
Total time: 40 minutes (including 10 minutes of cooling time)
At first glance, these cheesy kielbasa and sauerkraut bombs may resemble the "bagel seasoning kielbasa bites" above. But don't worry; they are two completely different dishes. This kielbasa appetizer has more diverse ingredients and textures.
The presence of sauerkraut, fermented raw cabbage, makes this dish more special. You have to saute sauerkraut with brown sugar and caraway seed for about 5 – 10 minutes before placing it on pizza dough.
The salty kielbasa melds beautifully with the sweet-and-spicy wholegrain mustard. Plus, stringy cheese and crunchy sauerkraut add textures to every bite.
Allow these delicious gems to cool for about 5 – 10 minutes prior to serving with toothpicks because the inside is super hot.
Total time: About 1 hour and 30 minutes (including 10 – 15 minutes of cooling time)
Whether you host a Super Bowl night at home or a friend gathering, this crock-pot sweet chili BBQ kielbasa will highlight the event. The trio of salty-spicy-sweet flavor is the selling point of these tasty sausage-based appetizers.
Slice your sausage diagonally to help them get more sauce and add an exciting touch to the presentation. But if you're short on time, cut them into bite-sized pieces as usual. As for the sauce mixture, combine sweet chili sauce and BBQ sauce.
This recipe can be done with either high or low temperature settings. Remember that you will cook this dish for 1.5 to 2 hours on high or 3 hours on low.
Notably, you can double the ingredients for more servings. The cooking time will extend for one more hour, or you can finish after the sausages are hot enough.
Total time: 15 minutes
Add this "kielbasa with mustard dip" recipe to your appetizer menu. The flavor of kielbasa and mustard will burst when it hits your palate. This yummy appetizer tastes good when fresh off the oven and even at room temperature.
There are few ingredients on the table so focus more on their quality. Choose a good olive oil to fry your sausage. Don't forget horseradish, Kosher salt, and black pepper to taste.
Cut the kielbasa diagonally and fry them over medium-high heat for 5 – 6 minutes. In the meantime, prepare the dip by combining mayo, Dijon mustard, wholegrain mustard, and other ingredients. Place the crispy kielbasa on the skewers with the dipping on the side.
Total time: 25 minutes
Experience the culinary interference between the East and the West with this kielbasa summer roll. I'm sure people will love these piece-of-cake summer treats as they feature a combination of Polish sausage and Asian ingredients, like vermicelli, rice paper, or fish sauce.
Spring rolls are famous in Vietnam. You can find them anywhere, from street vendors to fancy restaurants. Usually, shrimp or pork are the main ingredients, but with this recipe, you will use kielbasa. As its names suggest, you just need to roll up all the ingredients and serve.
The dipping sauce is also a combination of the two cultures. It is a blend of fish sauce, mustard, rice vinegar, and a kick of heat from sriracha. This appetizer brings a new air to usual party food and encourages you to enjoy more veggies on the party table.
Total time: 55 minutes
The baked candied kielbasa is a classic move for party day, but I'm sure people never get bored of it. Few will say no to this sweet and spicy appetizer with roasted savory kielbasa, chili sauce, and fresh green scallions.
The alcohol element of beer brings out the unique flavor of this appetizer. However, replace it with water if desired. In contrast, brown sugar is necessary to create a perfect candied effect with chili and BBQ sauce.
You can save the leftovers under cold storage for 3 – 4 days as long as you don't forget to reheat them in the microwave before use. In addition, place a layer of aluminum foil under the baking dish so you can clean up easier.
Make yourself a batch of candied kielbasa because it is a perfect appetizer for any event or gathering.
Utilize These Kielbasa Appetizers For A Stress-Free Party
Party appetizers aren't a time to try out the super-complicated recipes. If you don't think you can handle elaborate dishes, stick with the simple and easy-making starters. Kielbasa-based ones come in handy because they don't need added ingredients or complicated steps.
Thanks to the above recipes, preparing appetizers will no longer cause you any anxiety. Follow the tutorial closely, and I'm sure your hors d'oeuvre will be a big hit. If you haven't made any of them before, give it a go at your subsequent gatherings.
What do you think about this article? Please tell me your thoughts, and remember to bookmark these round-up kielbasa appetizer recipes. Or you can introduce it to anyone who is in need. Stay tuned to learn more awesome content. Thank you.
Nutrition Facts
12 servings per container
---
Amount Per ServingCalories242
% Daily Value *
Total Fat 13.8g

20

%
Cholesterol 53mg

18

%
Sodium 1036mg

44

%
Potassium 35mg

1

%
Total Carbohydrate 20.7g

7

%

Dietary Fiber 0.4g

0

%
Sugars 11.7g

Protein 10.6g

20

%
---
* The % Daily Value tells you how much a nutrient in a serving of food contributes to a daily diet. 2,000 calories a day is used for general nutrition advice.