You will be surprised how many Japanese vegetarian recipes are created by simply leaving out or replacing one meat-based ingredient from their regular versions. Based on this principle alone, there are countless treats to experiment with.
At the same time, almost all Japanese salads are already vegetarian-friendly. Hence, all you have to do is pick out one or more dishes you like. In this article, I'm excited to present the top 24 meat-free recipes that you can make right in your kitchen.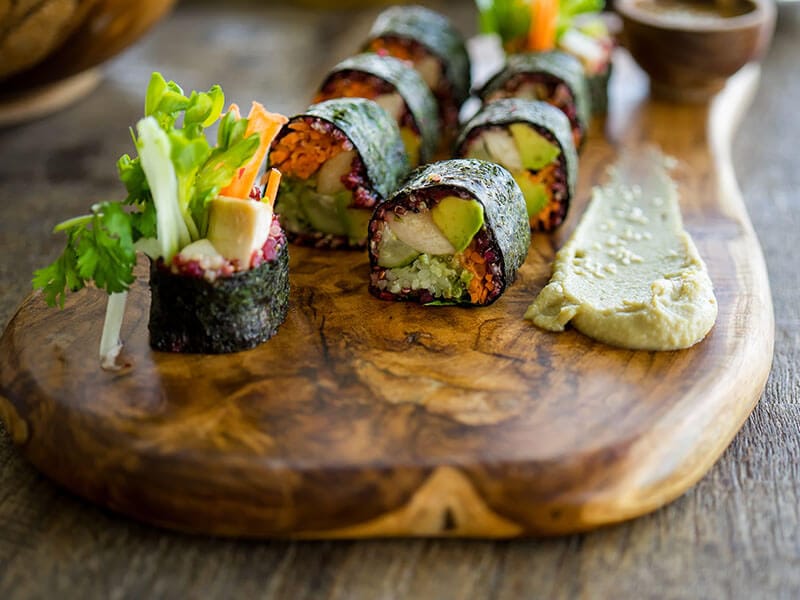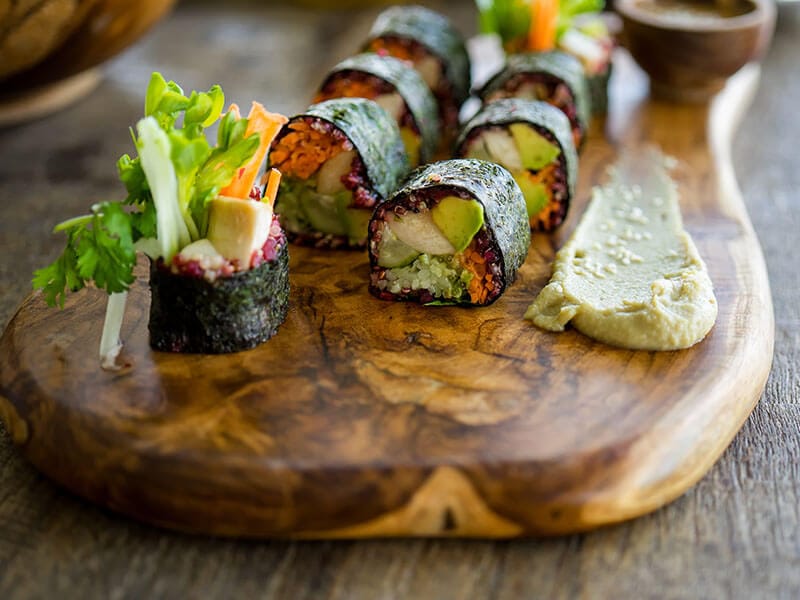 Grasp A Unique Culinary Experience Through These Japanese Vegetarian Recipes
Those who have tried making Japanese food before may find some recipes in this article familiar. For others, if you have never cooked these dishes before, no worries. I picked the simplest, easiest recipes for you. Check them out!
Total time: 10 minutes
Sunomono is a type of traditional delights in Japan served as an appetizer or side dish in a typical meal. It uses only cucumbers, spices, and a condiment, so you can be confident it's a hundred percent vegetarian.
Taking only 10 minutes to make, Sunomono is an easy option for your meals on busy days. If you can find Japanese cucumber, it's great; otherwise, you can use any type of cucumber available.
On top of that, this Japanese cucumber salad has a crunchy texture, a tangy flavor, and offers a refreshing mouthfeel.
Total time: About 30 minutes
This vegan cream stew takes a very high place among all Japanese vegetarian dishes on my list of favorite recipes. It's very tasty, easy to make, and versatile.
The vegetables in this stew are super soft, while the soup is creamy and flavor-rich thanks to butter and milk. You can have it on any day, eating the stew alone or with rice depending on your preference.
Another great thing about this recipe is that it allows you to use any veggies you like, such as potatoes, carrots, corn, broccoli, mushrooms, etc.
Total time: 1 hour
Nasu Dengaku, or miso-glazed eggplants, is a recipe you may want to invest some extra time and effort into preparation as well as cooking. It's not difficult to make this delicious Japanese-origin side dish, but to make it look appetizing is another thing.
First of all, you should use medium-sized black plum eggplants, not thin and small ones. Secondly, the eggplants will cry after being salted, so use some paper towels to dry them. These two factors help you ensure the best texture for the final result.
Apart from those important tips, other things to keep in mind include cooking at the right temperature and duration as well as glazing the eggplant in the period between baking and serving, which will help you enhance the dish's appearance.
Check out what a medium-sized eggplant looks like and how to make this delish treat.
Total time: 40 minutes
Whether you're following a meat-based or vegetarian diet, filling your stomach is a must. That's why I have put this Japan's rice-based dish so high on this list. Takikomi Gohan is also easy to make and takes less time if you have leftover rice.
The rice in this Japanese mixed rice is partly tender and crispy, while the mushrooms are chewy and the carrots are a little crunchy. The soy sauce adds a strong umami taste to the dish, which is brought out with some extra sake.
If you want a high-quality lunch box or a quick dinner, vegan Takikomi Gohan can't go wrong.
Total time: 10 minutes
Those who seek a delightful appetizer in Japanese cuisine should look no further than this vegetarian summer soup. Japanese summer vegetable Miso soup is not only meat-free but also delicious and can be served with rice.
It's worth noting that you don't have to follow the list of veggies in the ingredient list strictly. You can freely replace them with your favorite types of vegetables because the dish is really versatile.
Basically, you need to cut the vegetables into bite-sized pieces and cook them in water with dashi powder. Simmer the mixture until the vegetables become tender and ready to eat. Lastly, add the miso paste and stir gently to dissolve the paste completely.
Total time: 35 minutes
There are more than 20 ingredients in traditional Okonomiyaki, but most are already plant-based. To make it completely meat-free, you only need to omit the Bonito flakes and use vegan bacon instead of real meat.
The strongest flavor you will taste when taking a bite of this healthy food from Japan is savoriness. But there's also sweetness and umami flavor from multiple sauces and the smoky flavor of dashi stock.
Okonomiyaki is great for a snack in the afternoon or a nutritious breakfast on a day when you have leftover veggies in the fridge.
Besides shiitake mushrooms, you can add Oyster mushrooms like this Okonomiyaki instruction.
Total time: 20 minutes
Do you realize how popular and important bread is in Western cuisine? Udon plays the same role in Japan.
Just like how many recipes can be developed around bread, there are countless ways to cook this Japanese noodle. Therefore, it's not hard for me to find and bring this yummy Yaki Udon to you.
Don't turn away from this dish just because it seems to involve many ingredients and unfamiliar cooking techniques. In fact, vegetarian Yaki Udon is super easy to make and should take you no more than half an hour.
Specifically, you first need to cut vegetables into bite-sized pieces and cook the Udon noodles following the manufacturer's instructions. Then stir fry veggies and add the noodles; finish the process with sesame oil before serving.
Total time: 25 minutes
Tempura is most commonly known as a seafood-, vegetable-, or sushi-based dish in Japan. That said, a vegetarian will benefit from this toothsome Japanese snack made with sweet potato. That delicious starchy vegetable offers a different experience.
While seafood is chewy, vegetables are crunchy, and sushi is thick, sweet potatoes are soft, starchy, and slightly sweet. They are paired with the crispy, salty outer layer of batter, creating a complete burst of flavors.
Not only a snack, but sweet potato tempura can also double as an appetizer before the main course is served.
Total time: 20 minutes
Souffle pancakes are among the loveliest Japanese-style options for breakfast. But vegetarian pancakes are very different from regular ones regarding texture and flavor.
Instead of an airy, fluffy texture, the vegetarian version is denser, heavier, and has a flavor of soy milk. You should not expect it to taste anything like the regular version, but it's still delicious and good-smelling.
It's worth noting that the vegetarian batter doesn't use eggs, meaning it can't raise and stand like the egg-included recipe. It will help if you have some ring molds to hold the batter while cooking.
Total time: 40 minutes
First of all, if you're worried this dish is not vegetarian because it has cheese, you don't have to. Certain types of cheese are vegetarian-friendly, including the Mozzarella cheese used in this recipe. Other than that, all the ingredients are plant-based.
Whole Kabocha gratin is the perfect dish to pick from Japanese cuisine for your meal on a cold day. Remember to serve it hot so you can fully enjoy the creamy texture and the sweet taste of Kabocha (Japanese winter squash).
Total time: 35 minutes
The beauty of Onigiri is that you don't have to be an amazing chef from Japan to make this rice-based dish. You can make vegetarian Japanese rice balls any day as long as you have rice and Nori (dried seaweed sheets).
To strictly follow your vegetarian diet, replace meat-based fillings with vegan tuna salad, Wakame seaweed salad, mushrooms, kimchi, or pickled vegetables.
Also, if there's leftover rice in your kitchen, you can save some time compared with this recipe by skipping the rice-cooking step.
If you crave mushrooms, see how to make mushroom Onigiri.
Total time: 45 minutes (including cooling time)
Soba is a type of Japanese noodle that's often served cold. Hence, the majority of the time required for this recipe is spent on waiting for the dish to cool down before serving.
Another thing you will notice in this recipe is that all of its steps are about cooking the noodles and preparing the sesame seed sauce. It means you can add any type of greens you want: broccoli florets required by the recipe, or mushrooms, tomato, edamame, and cabbage.
About the vegetables, you should remember to pre-cook them before mixing them with Soba noodles; don't eat them raw.
Total time: 30 minutes
If you want to use only vegetables in your meal but are not a fan of Japanese veggie mixes, why not try this yummy appetizer and side dish? Even better, it's extremely fun and straightforward.
The whole process can be summarized into three key steps: making the batter, dipping the veggie pieces in the batter, and frying them. After 30 minutes, you will enjoy bite-sized pieces of crunchy vegetables wrapped in a crispy flour-based outer layer.
Keep in mind that the fried pieces are very mild in flavor, even plain. You need to dip them in the sauce to get the complete taste of this dish, so don't skip the sauce. It includes soy sauce, mirin (rice wine), maple syrup, and water or vegetable stock.
You can make Tempura from far more types of vegetables like this cook does.
Total time: 40 minutes
In Japanese, Gyoza means dumplings. Traditionally, they are made by wrapping a mixture of pork and vegetables in thin dough wrappers. However, you can replace pork with tofu to adapt these delish dumplings to a vegetarian diet.
With that in mind, those who love Japanese treats made with tofu must love this dish so much. The steamed-fried wrappers are a little crispy and quite chewy on the outside. On the inside, the filling is refreshing, featuring the flavor of cabbage, mushrooms, onion, or any kind of veggie of your choice.
Total time: 30 minutes
Nori rolls are small pieces of food consisting of flavored white rice and fillings, both of which are wrapped in seaweed. However, the recipe I want to show you here doesn't contain rice or meat filling; it involves only vegetables and seaweed.
These mouthwatering veggie Nori rolls can be your new good friends for a light lunch or an appetizer. They are simple to make and versatile since any veggies can be used.
If you go with avocado, cucumber, and sprouts, you don't need to do any pre-cook. On the other hand, when you choose carrots or asparagus, consider boiling them a little bit. It helps with the overall texture and flavor of the dish.
Try a different take on vegetarian Nori rolls with this recipe.
Total time: 1 hour and 30 minutes
Shiraae is a cold tofu dish including seasoned vegetables and featuring a savory, sweet flavor. Due to the nature of this dish, you can enjoy Shiraae as a meal starter, side dish, or a complete light meal.
The step taking the most time in this recipe is when you have to let the tofu chill in the fridge. It helps drain the ingredient so your salad won't be soaked in liquid.
Plus, for this recipe, you should choose medium-firm tofu. Silken tofu is too soft and won't maintain the texture when mixed with veggies, while firm tofu is not easy to mix well with other ingredients.
Total time: 1 hour and 25 minutes (including chilling time)
The only difference between the vegan version and the regular version of Japanese potato salad is the absence of bacon.
Other than that, you still get the mashed potato, which is smooth, thick, super starchy, and a little salty. There's also a crunchy texture from cucumber and onion. The treat is perfected with the creamy, tangy, and slightly sweet taste of Japanese mayonnaise.
This vegetarian Japanese potato salad can be served as an appetizer before the main course. It is also awesome if you are looking for a light meal.
Total time: About 40 minutes
Not only vegetarian, but this glazed Kabocha squash dish is also a wonderful Japanese gluten-free option for those who can't digest gluten normally.
Kabocha's flavor is somewhat between pumpkin and sweet potato. So if you like one of these two vegetables, you will love Kabocha. Apart from that, when tasting this treat, you will also recognize the tastes of vinegar, coconut, Monk fruit, and sesame seeds.
In this recipe, you will leave the skin of the Kabocha on. While this may seem unusual, the skin provides an interesting mouthfeel in addition to the main tender texture of the dish.
Kabocha skin is also nutritious, rich in fiber, vitamin B, vitamin C, iron, and other nutrients.
Total time: 20 minutes
Inari sushi, or "fox" sushi, is nothing like the conventional sushi you often see. This vegetarian sushi delicacy is fundamentally a ball of sushi rice wrapped in Aburaage (deep-fried bean curd pouches).
This type of sushi is quite simple and super quick to make, provided that you have canned Aburaage to use instantly. All left to do is mix sushi rice with sesame seeds and stuff it in the tofu pouches.
Inari sushi is best served with miso soup. But you can eat it alone if you have limited time or don't need another dish to balance the dry and liquid food.
Don't know how to prepare sushi rice? This Inarizushi instruction video will help you.
Total time: 1 hour and 45 minutes (including the resing time)
I highly recommend you try this spicy salad whenever you have spare time at the weekend. While it takes more time to make than the other dishes on this list, the salad is flavor-rich and fun to eat.
It has the crunchiness of breadcrumbs, smoothness of avocado, crispiness of cucumber, etc. Also, its spiciness makes this salad the perfect candidate for those craving some hot-flavored foods.
On top of that, I include this recipe in this article because it introduces vegetarian imitation crab sticks made from hearts of palm. You can apply this ingredient to other vegetarian dishes if you like.
Total time: 34 minutes
Do you love mushrooms? If the answer is yes, this Japanese ramen could be your new best friend. It has Baby portobello mushrooms and Gourmet mushrooms, not to mention you can add any other type of mushroom you like, and the dish is still delicious.
Note that there's Sriracha chili sauce in this recipe, but you can leave it out if you don't want a bowl of spicy food.
With this vegetarian ramen, you can quickly fill your stomach in the morning, noon, or evening because it's highly nutritious, thanks to a lot of veggie toppings and noodles.
To diversify the dish for different days, check out this useful guide for vegetarian Ramen.
Total time: About 25 minutes
So far, if you are intimidated by all the long ingredient lists for Japanese vegetarian dishes, you can lay back with this one. It involves only four ingredients: zucchini, ginger, sesame oil, and soy sauce.
By following the recipe closely, you will get a bowl of caramel-colored zucchini. It's a combination of the soft and crunchy texture of the flesh and skin, respectively.
First, chop the zucchini into equal pieces, then mix them with ginger and soy sauce. Next, fry the zucchini pieces in a large skillet at medium heat. Remember not to stir them: you should let them sit then flip them after 3 to 4 minutes to get a nice char.
Once you've got the nice caramel color on the surface of the zucchini pieces, stir them, and add the sauce.
Total time: 15 minutes
This cold silken tofu salad offers you one of the easiest, tastiest starter dishes for your meal. Or, if you are suffering a hot day, this refreshing tofu treat will be your savior.
An important part of this salad is the Ume plum vinegar or umeboshi vinegar. It contributes a salty, tangy flavor to the dish.
In terms of the tofu, you can choose firm, medium-firm, or soft type, depending on your preference. Personally, I will opt for the softest type because it's the most delicious though it's hard to cut into cubes without ruining its shape.
Total time: 40 minutes
Teriyaki sauce is a classic Japanese ingredient, and it adds a lot of flavor to mild tofu. Sticky Teriyaki tofu carries the tangy and sweet tastes of the sauce while coming with a crispy-soft, smooth, sticky texture.
It takes little effort to cook this dish. However, you need to drain the tofu by pressing it for 15 to 20 minutes before frying it. It helps you fry it more easily and faster. Also, to save time, mix the Teriyaki sauce as you are frying tofu.
You can be flexible with the shape of the tofu pieces. Check out another shape in this video.
Let's Savor Japanese Vegetarian Meals
What's your favorite vegetarian dish from the list above? Do you like the crunchy cucumber salad, the sticky Teriyaki tofu, or the savory Okonomiyaki? Regardless, I'm sure you will have a delicious plant-based meal with these recipes.
I hope these recipes will go a long way with you and make a difference in your daily cuisine journey. If you find information about Japanese vegetarian dishes here useful, share the article with others and spread your go-vegan spirit.
Nutrition Facts
2 servings per container
---
Amount Per ServingCalories89
% Daily Value *
Total Fat 0.8g

0

%
Sodium 87mg

4

%
Potassium 19mg

1

%
Total Carbohydrate 19g

7

%

Dietary Fiber 6.2g

24

%
Sugars 6.1g

Protein 0.8g

0

%
---
* The % Daily Value tells you how much a nutrient in a serving of food contributes to a daily diet. 2,000 calories a day is used for general nutrition advice.