Italian soup recipes will be a fantastic option to warm your cold day. Not only can they be served as an appetizer, but they are also an excellent choice for tasty main courses. But be careful, since a warm bowl of Italian soup can steal your heart with wonderful flavors.
If you have worked for a long day and want to make a delicious and quick dinner for yourself today, cooking Italian soups for your cozy night is a great idea. These comforting Italian dishes just take a few minutes to prepare, but they will comfort you and save your bad day.
Most of these Italian soups are made of essential ingredients like other soups, but they are extraordinary with various and fabulous flavors that don't let you down. Keep reading this post to explore the best Italian soup recipes that can fill you up.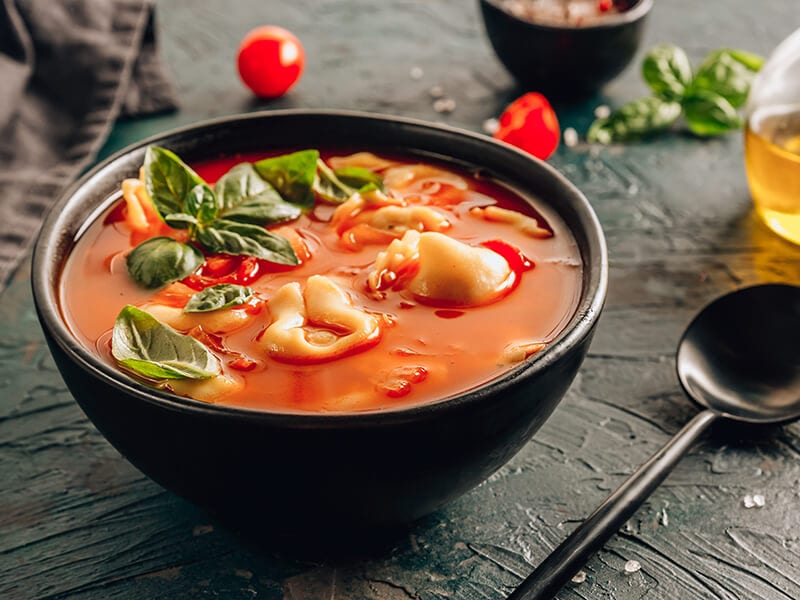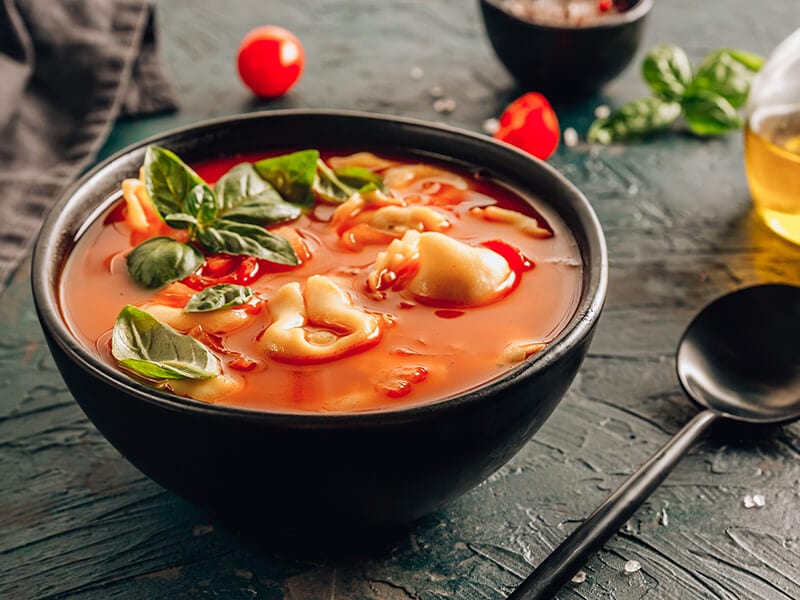 A Wonderful List Of Italian Soup Recipes That You Should Save
These Italian soup recipes below are the best dishes you are finding with full of fancy flavors matching any meal, from chicken soups to vegan soups. These awesome Italian soups in this post are categorized into healthy diets: keto, gluten-free, vegan, vegetarian, and others.
Keto
Italian Sausage Soup
Italian Wedding Soup
Olive Oil Garden Zuppa Toscana Soup
Italian Parmesan Sausage Soup
Creamy Garlic Butter Tuscan Shrimp
Lasagna Soup
Gluten-free
Italian Sausage And Gnocchi Soup
Minestrone
Creamy White Bean And Spinach Soup
Stuffed Pepper Soup
Vegan
Lentil Pasta Fagioli Soup
Hearty Italian White Bean Basil Soup
Ribollita (Italian Cabbage And Bean Soup)
Creamy Quinoa Coconut Soup
Spicy Black Bean Soup
Creamy Vegan Tortellini Soup
Vegetarian
Pappa Al Pomodoro (Tuscan Bread Soup)
Orzo Vegetable Soup
Pasta E Ceci (Pasta With Chickpeas)
Other Delicious Italian Soups
Tuscan Sausage Potato Soup
Chicken Gnocchi Soup
Tuscan Ravioli Soup
Outstanding Italian Soups For Keto Diet You Should Know
Are you eating a keto diet? I ask this question because these fantastic soups are the best choice for people on a keto diet. Have you tried these delicious soups? If not, let's explore these wonderful recipes below and add them to your cooking recipes for your everyday meals.
You will love to serve this creamy and warm Italian sausage soup on a cold night. If you have ever tried this fantastic soup, you might add this soup to your favorite recipes after trying cooking this recipe.
A bowl of keto Italian sausage soup will warm you up and heal your soul whenever you have a bad day. A low-carb Italian sausage soup with parmesan cheese as a topping will make you fall in love once you try it. Add chickpea pasta or parsnips to your soup to keep you on keto.
This hearty Italian wedding soup will impress you by being full of meatballs and vegetables in broth with a light texture but a filling main dish.
You might raise a question about the name of this soup related to weddings. You would be wrong if you thought this soup to be served at weddings since this unique name is based on the way the ingredients "marry in flavor" once it cooks.
Besides this specialty, this soup has many delicious flavors from pork meatballs and fresh vegetables that you can't refuse. You can also replace pork with chicken in making meatballs for your preference, or you can eliminate the amount of parmesan cheese for your healthy diet.
This keto Italian wedding soup recipe will not let you regret making it.
This low-carb recipe is an excellent soup with a creamy texture and rich flavors. It is ideal for serving this delicious soup in colder months. This keto Zuppa Toscana soup is made of cauliflower, bacon, sausage, and kale.
Traditionally, this Zuppa Toscana soup is made with potatoes, but you need to use cauliflower instead of potato if you are on a keto diet.
This amazing soup consists of fibrous veggies and heavy cream, so this low-carb soup is pretty filling and delicious for your chilly night. This tasty Zuppa Toscana soup recipe is super easy to make and fits into your keto diet.
This parmesan sausage soup consists of two to three veggies and cooked sausages, which gives you the creamy flavor and the taste of the bone broth. This is an easy and delicious dinner that you should consider when choosing cooking recipes for your meal tonight.
This amazing soup is made with parmesan, a delicious cheese that everyone from children to adults loves to eat. You can opt for the veggies you want to use in this yummy soup. Green beans and cauliflower rice are low-carb veggies that I highly recommend you use.
If you are craving shrimp and find a shrimp soup fitting your keto diet, this creamy garlic butter Tuscan shrimp soup is the best choice for you. This delicious, healthy soup is cooked with parmesan cheese and other fantastic spices and herbs.
When cooking this soup, the incredible flavors will make your kitchen smell so lovely. This is an excellent option for your delicious dinner. This tasty soup is super easy to prepare and pretty delicious. You can serve this creamy shrimp soup with zucchini noodles to make it a great filling.
This low-carb soup is made from chicken broth base and tomatoes with creamy parmesan cheeses, garlic, and juicy Italian sausage. If you are eating the keto diet, you need to change some ingredients to fit your diet. This delicious soup is ideal for serving on colder days.
Imagine that you are eating a warm bowl of lasagna soup in cold weather. It will be a wonderful feeling. Not only does lasagna soup have incredible flavors, but it also brings many health benefits to your body, such as protecting your skin and supporting your heart health.
Try making your keto lasagna soup tonight following this excellent recipe!
Gluten-free Italian Soup Recipes That Can Amaze Anyone
It will be a waste if you don't know these wonderful gluten-free soups. A gluten-free diet can bring you many health benefits, especially if you have celiac disease. Let me show you the best Italian soups for a gluten-free diet.
A warm bowl of chicken gnocchi soup with outstanding flavors is a perfect choice for a quick dinner on a weeknight. This amazing soup is packed with pillowy gnocchi, tons of vegetables and is full of tender chicken.
You can enjoy this fantastic main dish with a big salad or hot sandwich for a filling dinner. This gluten-free version of chicken gnocchi soup seems healthier than the original without the shortage of rich flavors. This easy creamy soup is sure to comfort you at the end of the day.
Minestrone is an appetizing soup made with pasta, beans, and vegetables. This excellent soup has many variations developed over time. Depending on your diet, you can use gluten-free pasta to make a gluten-free minestrone.
This delicious soup is so amazing that it can make you addicted once you have tried just once. The base for minestrone is a mixture of vegetable broth, roasted tomatoes, and late summer vegetables.
Besides, these ingredients like white beans, zucchini, kale, or spinach make your soup perfect with tons of incredible flavors that you expect to enjoy at dinner with your family.
This gluten-free white bean and spinach soup will surely be a new twist for your weeknight meals with a refreshing taste and delicate flavors. This awesome soup includes everything to make it a nourishing and filling meal.
You can easily make this creamy, healthy, high-protein soup without any effort by simmering super greens like white beans, spinach, and carrots. The result is a beautiful and hearty soup with subtle, earthy, and soothing flavors that will be your family favorite.
The longer you stew this soup, the better flavors it gets. This perfect gluten-free recipe with a creamy texture is worth repeating in your weeknight meal rotation.
Stuffed pepper soup can be seen as one of the most delicious soups that you can not miss. This excellent soup is based on nourishing bone broth and made with chicken, spicy sausage, ground turkey or ground beef, and other nutrient-rich vegetables.
This fantastic soup is so flavorful and filling that it is ideal for your perfect dinner. Moreover, you will love this stuffed pepper soup since it is easy to make with simple, fresh ingredients and some pantry staples.
Great Vegan Italian Soups That You Want To Enjoy Many Times
These vegan Italian soups are super healthy and delicious. That's why people here always search for vegan soups. How many Italian soups do you know? Keep reading these tasty soups below to expand your cooking recipes.
This lentil pasta Fagioli soup is a healthy option for your meal made in just one pot. It is ready for you to eat in under 30 minutes with essential ingredients that you can easily find. This pasta and bean soup is a traditional Italian soup with fabulous flavors for a perfect dinner.
Besides a gluten-free main dish, this soup is vegan, high protein, tasty, and incredibly filling. I'm sure that this fantastic soup can heal your soul and make your day happy.
To keep the soup dairy-free, you should use beans instead of adding cream or cheese to your recipe. You can drizzle some olive oil and serve with bread for a filling meal.
This white bean basil soup will help your kitchen smell absolutely incredible from Italian herbs and fresh basil. This soup is pretty hearty since white beans are high in protein, and the rice is hearty. If you are a fan of healthy lifestyles, you must save this recipe for your everyday meals.
This easy vegetable soup is made with excellent veggies like white beans, tomatoes, and vegetable broth. The combination of these ingredients creates a fantastic white bean soup with fabulous flavors. You can substitute any element if you need to fit your diet.
This hot soup is a mixture of great vegetables packed with stale crusty bread and parmesan cheese. You can find these ingredients everywhere, and the cooking method is also straightforward.
Like other vegan soups, this tasty soup is made by simmering the vegetables over low heat. The longer you cook it, the more beautifully it gets in flavor. It would be a great idea to make this Italian cabbage and bean soup to serve for your cozy dinner in cold weather.
Why don't you make vegan ribollita for your dinner tonight?
This coconut lentil soup is flavored with coconut milk, garlic, ginger, and herbs and a healthy and simple meal that just takes 30 minutes to prepare. This amazing soup is loaded with lentils and tons of excellent veggies, so it brings your body fiber, folate, potassium, and protein.
This coconut lentil soup is a comfort dish that can steal your heart with creamy and rich flavors from coconut milk. If you love coconut flavor, you can not skip this recipe. Once you have tried this creamy yellow soup, you will surely want to make it on repeat to serve for your warm dinner.
This spicy black bean soup will satisfy your craving with incredible flavors from essential ingredients, such as corn, black beans, and great veggies. This soup can be served with bread to make it filling. You can experiment with different ingredients or spices to get your favorite one.
This delicious soup is an ideal choice to have on a cozy night. Try making it for your family tonight since you might forget this recipe after reading this post for a few days. I believe that all members of your family will love to eat this amazing soup.
This healthy vegan tortellini soup is made with cashew butter instead of cream to make it creamy and thick. If you are finding an excellent tortellini soup recipe for your vegan diet, this healthiest version is for you.
This creamy vegan tortellini soup is easy and quick to make for even novice home cooks. Its rich, creamy texture and fantastic flavors create a perfect dinner for fall that no one can resist.
Stunning Italian Soups Recipes For A Vegetarian Diet That Leave You Craving For More
If you are looking for delicious soups fitting a vegetarian diet, you are in the right place. I will show you everything you expect in this part.
This Tuscan tomato bread soup is made from simple ingredients: regular Italian bread varieties, tomato, garlic, and basil. You can serve this healthy soup with fresh basil and olive oil. These seasonings will make your soup more flavorful.
The way of cooking Tuscan tomato bread soup is also simple as the ingredients. It is quick to make a bowl of warm tomato bread soup for your perfect and filling meals. Thanks to its fantastic flavors and nutrients, this soup is an excellent vegan lunch or dinner.
You will regret not making pappa al Pomodoro soon after knowing this easy recipe.
This orzo vegetarian is one of the best Italian soups to warm up your night. This awesome soup is a wonderful option for vegetarians to diversify their cooking recipes. Orzo is a short type of pasta that is quickly cooked for six to eight minutes.
This pasta is pretty suitable to combine in vegetable soups with the provision of protein and fiber. This incredible soup is packed with seven different vegetables for a perfect meal with lots of flavors and nutrition. Give orzo vegetable soup a try for your dinner tonight.
This vegetarian dish is a lovely combination of mouth-watering pasta soup with ingredients like tomato and chickpea. It is ideal for serving this wonderful chickpea soup for a cozy vegetarian dinner or lunch. The amazing flavors and texture of this soup will not disappoint you.
Once you simmer this pasta e Ceci, your kitchen will fill up with tons of creamy, herby, and tangy flavors. It is recommended to use roasted tomatoes to have the best result and the sweetness you expect in your soup without simmering for hours.
Other Delicious Italian Soups That You'll Regret Not Knowing Soon
If you are not on any diet, this part is for you since these awesome Italian soups below do not fit those on a diet. Let's check it out.
This Tuscan sausage potato soup is an excellent soup recommendation for chilly fall nights. The creamy and perfect texture and wonderful flavors make an irresistible Tuscan sausage potato soup.
It will be an excellent idea to make this amazing soup for busy weeknights or a lazy weekend dinner. If you are a fan of Italian soups and spicy flavors, you should save this recipe immediately since it has everything you need.
This chicken gnocchi soup is surprisingly quick to make in less than 30 minutes for your nutritious, delicious, and creamy main course. This fantastic soup is loaded with parmesan, Italian spices, and fluffy fresh gnocchi dumplings.
This excellent soup is the ultimate dish to make on a Sunday evening. This comfort food will fill your house with fabulous flavors and make you feel relaxed and happy after a busy week.
How about cooking chicken gnocchi soup for your family tonight?
Tuscan ravioli soup is incredibly easy to make with ingredients on your hand, like fresh spinach, Italian sausage, tomatoes, and cheesy ravioli. I believe that this hearty and satisfying soup can steal the heart of your whole family.
A warm bowl of Tuscan ravioli soup will improve your feeling after a hard day. This creamy and filling soup will impress you the first time you try it. Don't procrastinate to cook this delicious soup for your family on today's chilly night.
Have You Found Your Favorite Italian Soup Recipes?
These Italian soup recipes above are the best recipes that I have picked up for you. They are perfect on their own, but this doesn't mean you can make any twist in these recipes. Perhaps you will get better soups than the original. Try making incredible Italian soups for your meals.
If you want to celebrate an elegant dinner party at your house, these Italian soups are an ideal choice for you. These soups have a delicate and light flavor, so they are suitable to serve as appetizers, or you can enjoy them as your main dishes.
Should you have other ideas or recommendations about Italian soup recipes, feel free to let me know your thoughts in the comment section. Don't forget to introduce this post to your family and friends, so you guys can help each other.