Indonesian fruits are always somewhat appealing and delicious. If you have an opportunity to visit Indonesia, you need to give them a try. They are fresh, cheap, yet healthy, and easy to find!
Indonesia has only two seasons: the dry one and the monsoon. Due to the country's hot and humid climate, the fruits are also influenced, resulting in floral and tropical-themed fruits.
Some fruits can also be a part of wonderful Indonesian delicacies or adapt to many cooking techniques. Now, no more chit-chatting! Let's come with me to the list today right away!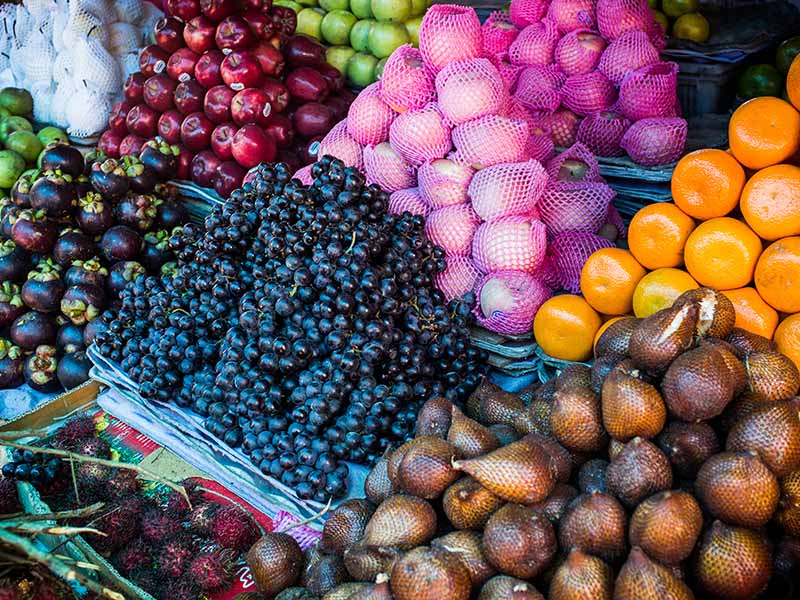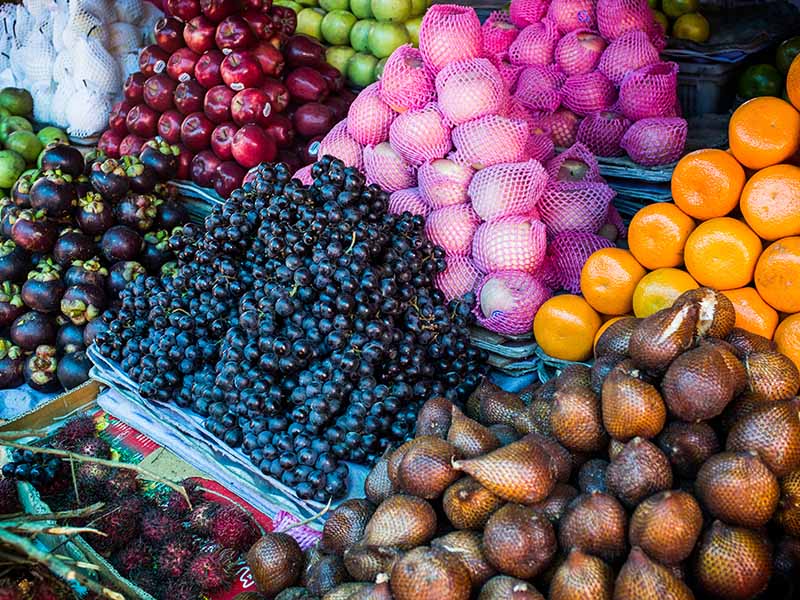 7 Outstanding Indonesian Fruits In Green That You Need To Try
Although I put the fruits into the green category, they still range in their colors from yellowish-green to brownish-green. Among such fruits is durian, the king of the fruit that will surely melt your heart.
1. Breadfruit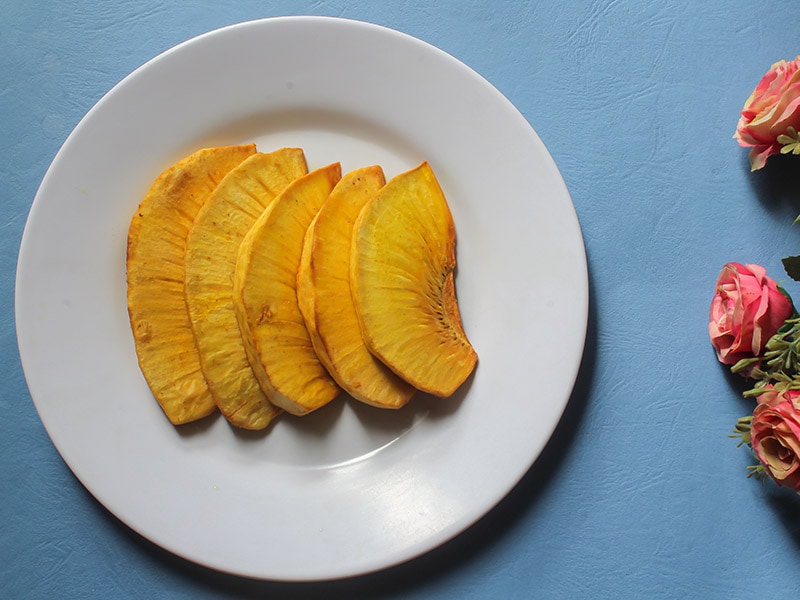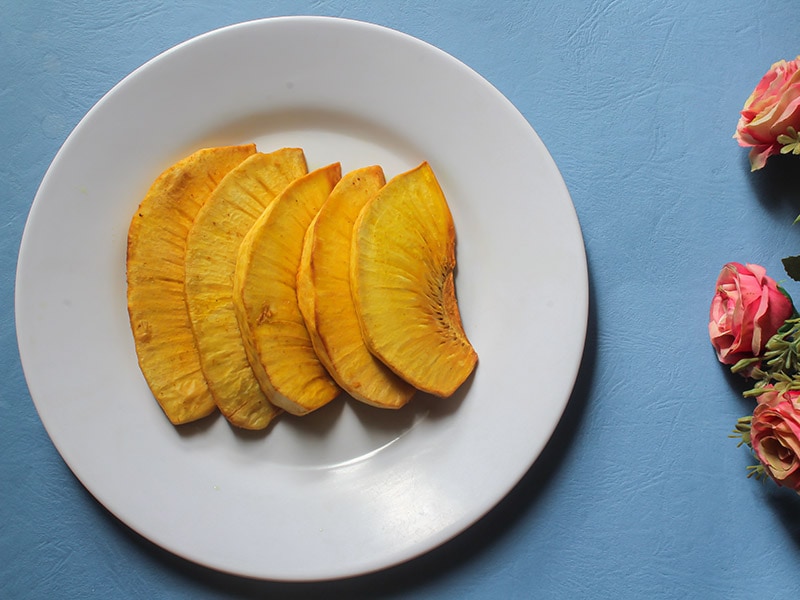 Breadfruit is a fantastic fruit embraced in the tropical climate of Indonesia. It's derived from the Maluku Islands, Indonesia, and other places, such as New Guinea and the Philippines.
Usually, people are more familiar with the name "breadfruit" than its scientific name Artocarpus altilis. Breadfruit has the same family as jackfruit, which is the Moraceae family.
Breadfruit tree often grows up to 26m (85 feet). The fruit comes out the size of a football or grapefruit (10-30cm wide), and it typically has a thorn and bumpy skin of green or yellow-brown color.
The pulp is usually starchy and fibrous, but the more it's ripe, the softer it becomes. Breadfruit also has a typical creamy flavor and aromatic odor. The number of seeds will depend on each breadfruit. Some have many seeds, while others don't have any.
Breadfruit is a beautiful element in some countries' cuisines. It can adapt to many types of cooking, including boiling, frying, baking, or roasting. People say cooked breadfruit tastes the same as potato, so you can make fried breadfruit to replace the regular French fries.
Nutrients: Protein, fiber, vitamin C, B5, etc.
Season: Available all year round.
How to eat: Use a knife to remove the skin by slicing it away, cutting the fruit in half, and removing the core. Furthermore, you can enjoy fresh fruit or make breadfruit fritters with it.
2. Guava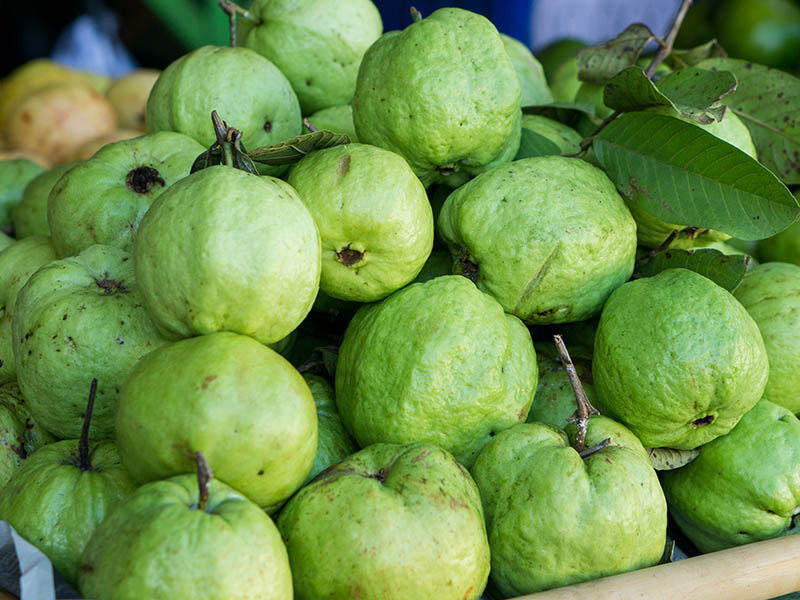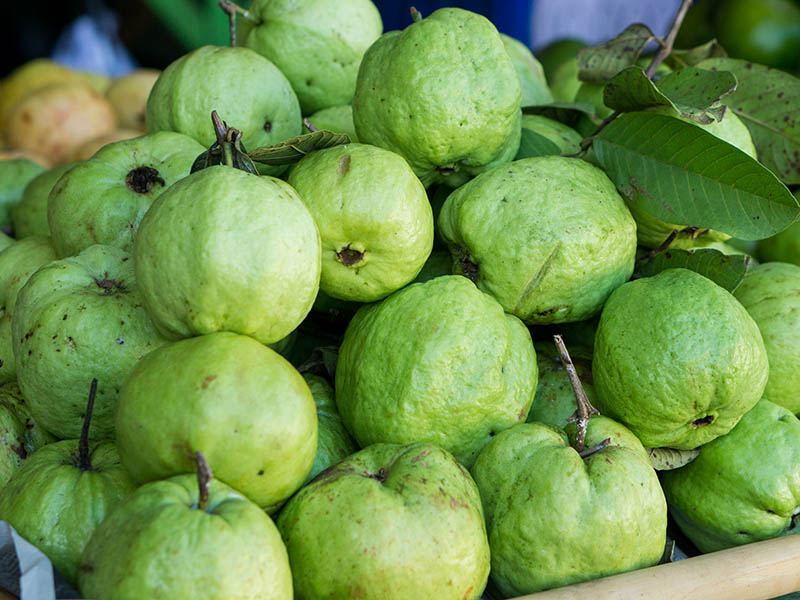 Although guava has its roots in Mexico and America, it has also gained significant popularity in Southeast Asia, especially Indonesia, which is one of the countries that produced the most guavas in 2019.
Guava fruit measures up to 4-12 cm in length and is round to pear-shaped. It has bumpy skin with green color even upon reaching maturity. Besides, guava also features a yellow or maroon color.
Guava flesh has two primary colors (which also present two main types of fruit): white and red. Guava also has a sweet and sour taste, though it will sometimes be tart if you consume the skin.
Nutrients: Vitamin C, B, fiber, potassium, and antioxidants.
Season: November to April.
How to eat: You can eat the whole guava after washing it carefully. Guava can also be strained into juice or used in many dishes.
3. Kedondong (Ambarella)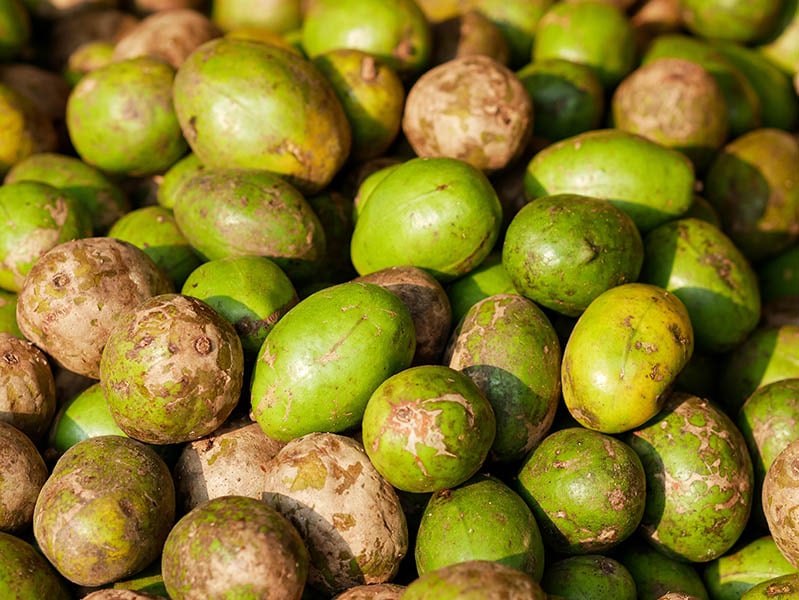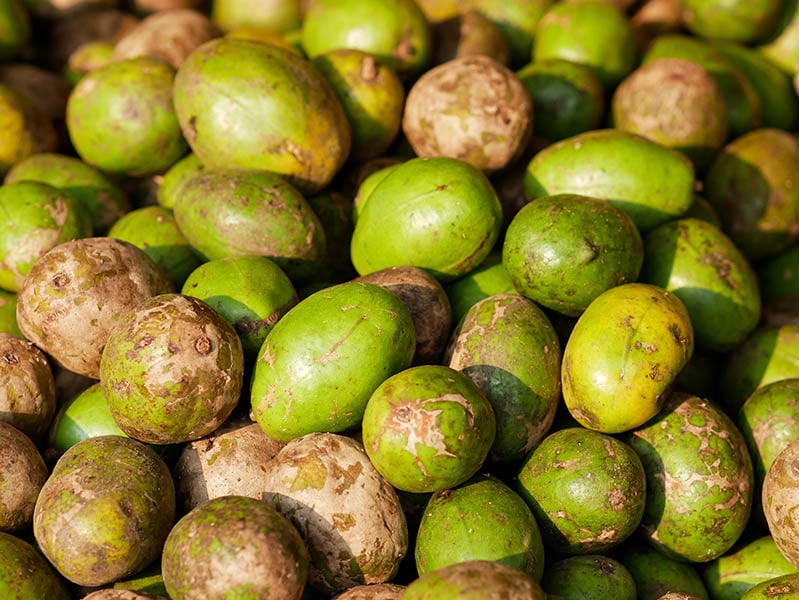 Ambarella, or Spondias Dulcis, is a native fruit to Polynesia and Melanesia. It has spread over many tropical regions since the late 18th century. Its other names are June plum, golden apple, and wi. Meanwhile, in Indonesia, locals call it "Kedondong".
The fruit is oval and small with 6-9cm in length and appears in dangling clusters of 12 fruits (or more). The skin is thin, covering hard flesh with green or golden yellow when it matures.
Kedondong has a unique texture with crunchiness and a bit of juiciness. Also, the fruit will provide you with a combo of sweetness and a slight tartness, like a mix of mango and pineapple.
Nutrients: Vitamin A, C, energy, protein, calcium, etc.
Season: In Indonesia, ambarella is in season from fall to winter.
How to eat: Remove the skin, cut the fruit like cutting apples, and discard the seed. In Indonesia, locals eat the fruit with shrimp paste or use it to make Rujak (fruit salad with flavorful dressing).
4. Durian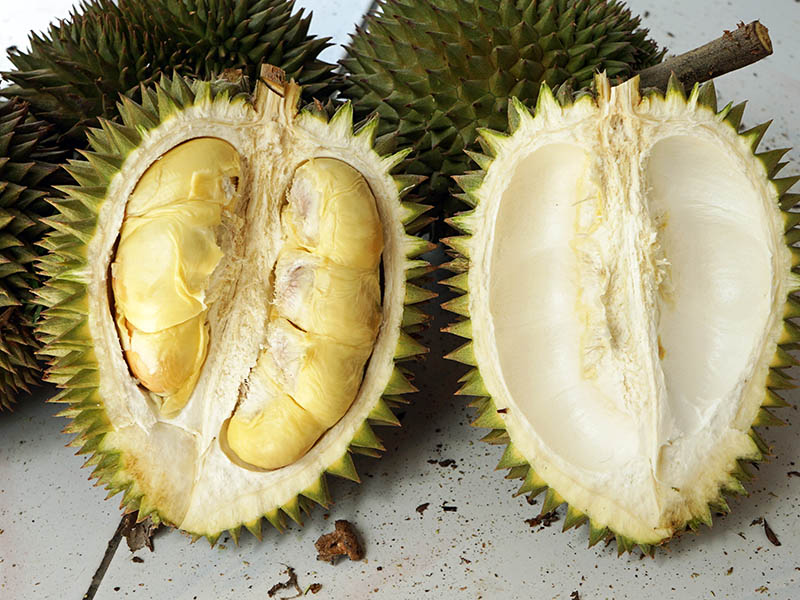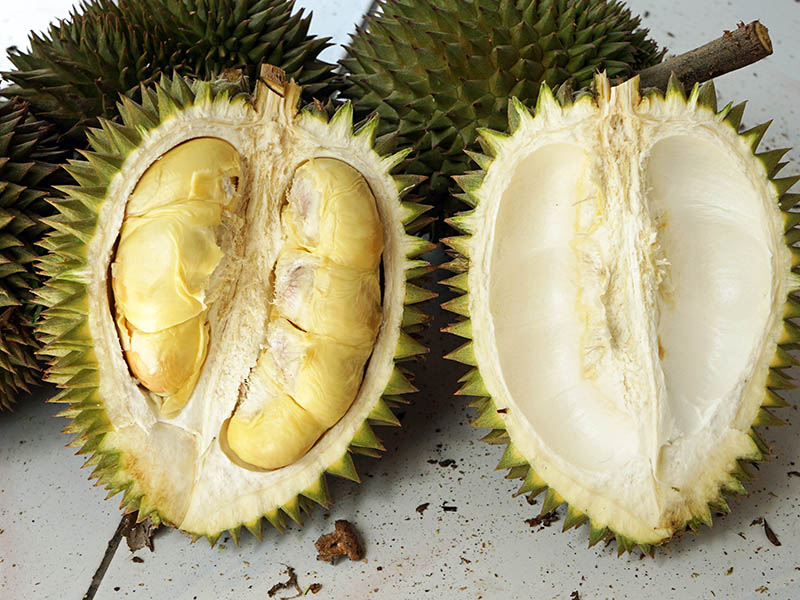 Durian or Durio Zibethinus is a unique fruit in Borneo, Sumatra of Indonesia, and other countries in Southeast Asia. Besides, durian is recognized as the national fruit of Indonesia.
Tangkahan in Sumatra, Sulawesi, Bali, and Ambon in Maluku are some outstanding areas in Indonesia where you can find the most quality and delicious durian. Besides, durian has more than 103 variations that appear throughout the country.
Durian is famous for the nickname "King of Fruit", a couple with Mangosteen, "Queen of Fruit". As if they were born to offset each other: durian has a heaty characteristic, while mangosteen tends to be a cooling fruit.
This fruit will range from oval to round with a hard and thorn skin. Usually, durian will have green or brown colors, and the inner flesh will vary from pale yellow to red. The flesh provides a creamy, custard-like texture and rich and sweet flavor.
Regarding its smell, personally, I like this characteristic. But most people find it too uncomfortably intense or smelly like rotten onions.
Nutrients: Fiber, vitamin C, and vitamin B.
Season: The main durian harvest in Sumatra is from October to February. There is another minor crop from June to September.
How to eat: Remove the peel and serve the pulp as soon as possible. With durian, you can make many traditional Indonesian dishes, such as durian with sticky rice or durian chips.
5. Bali Pomelo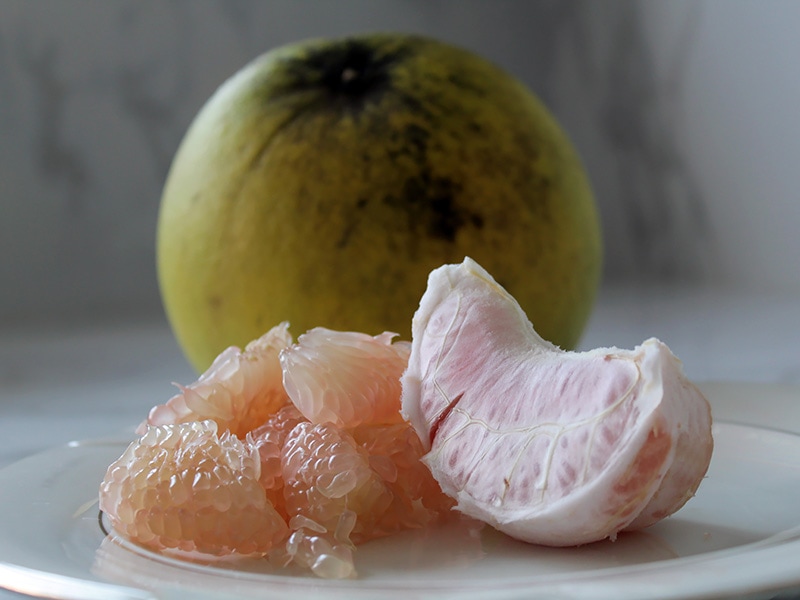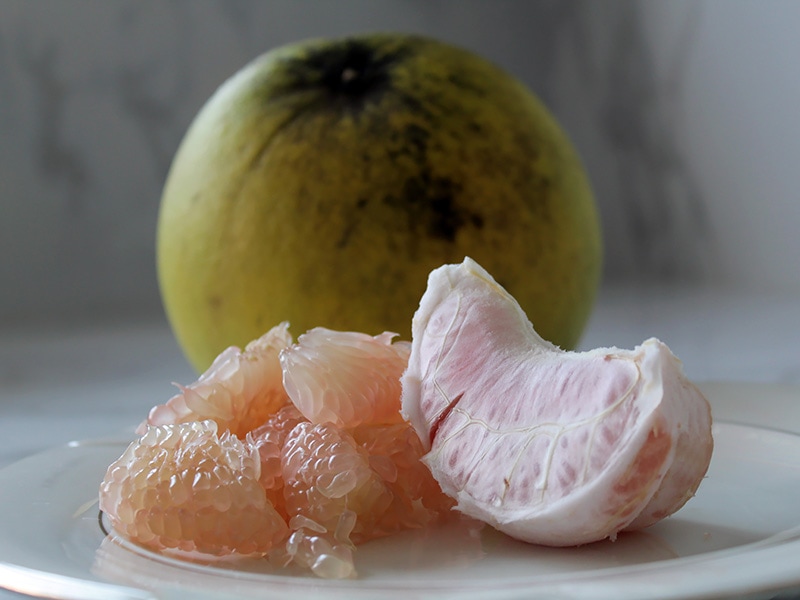 Let me introduce you to an essential element from the Rutaceae family: pomelo. In Indonesia, pomelo grows predominantly in Bali, attracting every tourist's attention. Therefore, locals gave it the name Bali pomelo or Jeruk Bali.
However, you can still find other Bali pomelo types with various names like Jeruk Delima, Jeruk Gulung, Jeruk Lemo-Gula, etc.
Pomelo is as large as a football with a round and oval shape. Its thick skin can vary from green to yellow during its maturity stage. When you peel the fruit with a knife, you will see a dense, spongy, and white pith surrounding the pinkish flesh.
The fruit can have many segments of flesh. Besides, each pomelo type comes with its own number of seeds (zero or numerous seeds). Pomelo Bali also has a unique flavor with a combination of sweet-sour and tart taste.
Nutrients: Vitamin C, fiber, and energy.
Season: All year-round.
How to eat: Remove the thick rind and eat the pulp, or you can apply many types of cooking such as juices, fruit salads, and drinks. One Indonesian specialty with it is Rujak.
6. Coconut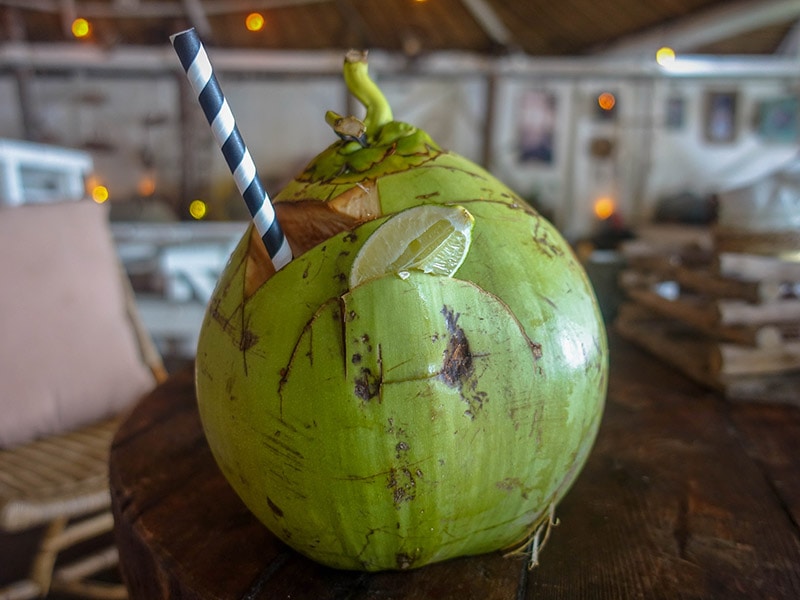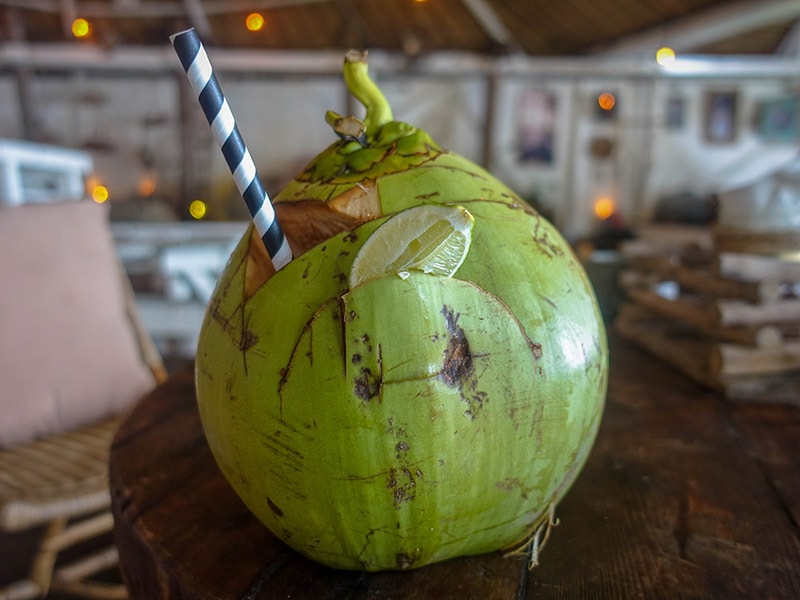 If you don't know, Indonesia is the largest tropical coconut producer worldwide, and the country also exports coconut items to 6 continents. Especially, Riau province in Sumetra island is the promised land where coconut trees grow the most.
Coconut is a special tree that is associated with Indonesian daily life. You can easily find traditional coconut-based foods in every household throughout the country, including Nasi Uduk (coconut milk rice) and Soto Betawi (noodles with coconut milk soup).
Coconut is an edible fruit coming from the coconut palm (Cocos nucifera) of the Arecaceae family. The coconut tree often rises to a height of 25 meters and can bear under 30 fruits yearly (some bear up to 75 fruits).
Technically, it's a drupe despite having "nut" in its name. And just like many other drupe types, coconut has three parts: endocarp, mesocarp, and exocarp.
The fruit is usually in the form of a round or oval shape with 12-18 inches long and 6-8 inches wide. When ripe, coconut tends to be browner and bigger, while the young one is smaller and features a lighter color.
It has a polished and shiny skin varying from yellowish green to yellowish-brown color. This hard shell encloses a thick fibrous husk containing white meat and liquid (coconut water).
Nutrients: Fiber, protein, fiber, copper, etc.
Season: All year-round.
How to eat: You should enjoy fresh coconuts by cutting the coconut fruit in half (or on the top of the fruit if you want to enjoy the water part), then use a spoon to scrape off the meat. Besides, coconut is a vital ingredient in Indonesian cuisines.
7. Jackfruit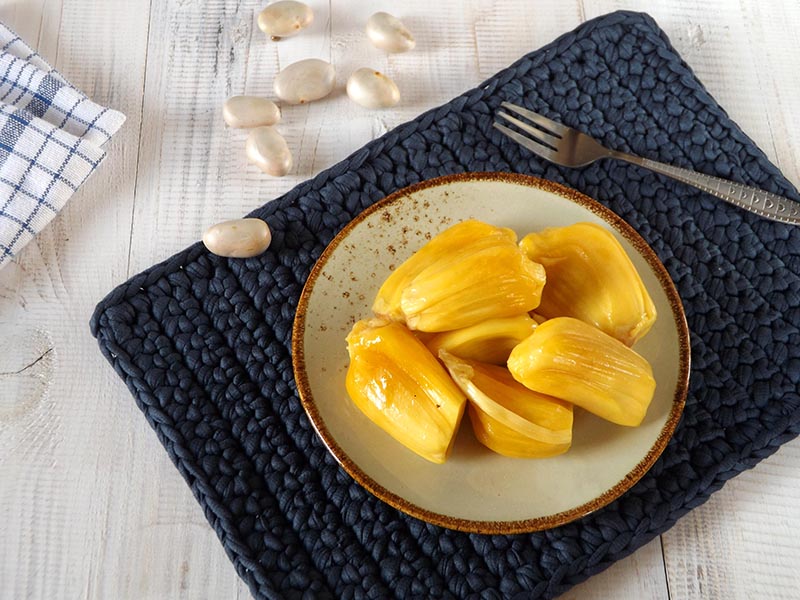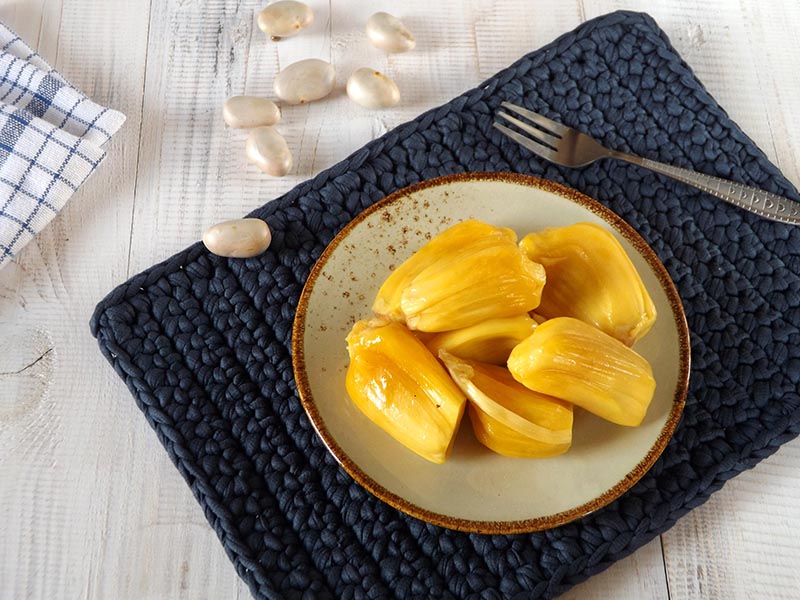 Besides the name jackfruit, you will stumble upon jack tree, jakfruit, jack, or jak. It's a common fruit in Malaysia, Indonesia, Vietnam, and Thailand; the fruit also makes its presence in South India.
Usually, a standard jackfruit tree can reach up to 15 – 20 meters in height. The fruit is sizable, often between 10 and 25 kilograms in weight. Like durian, jackfruit has an intense aroma. Yet it is not smelly and has a sweet flora scent.
The jackfruit skin is like rough armor covering multiple fleshy bulbs inside. The pulp of the young jackfruit will have a bright yellow with crunchy consistency. Meanwhile, the perfectly ripe one will be softer or almost like durian texture, depending on variations.
You may be shocked knowing the fruit can have up to 100 – 500 seeds. A thin and glossy coat will surround each seed. Both seed coats and seeds are edible and appear in many delicious dishes.
Jackfruit also appears in many Indonesian culinary delights, such as Es Campur (sweet dessert) or Kripik Nangka (jackfruit cracker).
Nutrients: Vitamin C, B6, protein, calcium, iron, etc.
Season: March to June and April to September.
How to eat: Use a knife to make a cut that's enough to split the fruit. Then remove the white stem in the middle and enjoy the flesh bulbs. You can also boil the seeds and eat them.
If you want to know what Indonesian jackfruit tastes like, this will be the perfect answer.
4 Yellow Fruits From Indonesia That'll Boost Your Mood
Now I will introduce you to some lovely fruits with yellow covers. These fruits are not only beautiful and easy to find but also contain a bunch of benefits that can support your health.
8. Star Fruit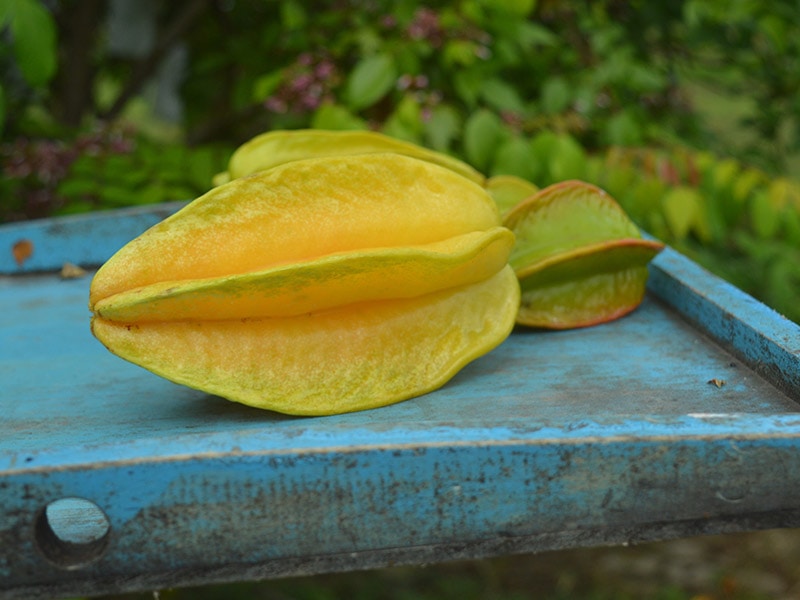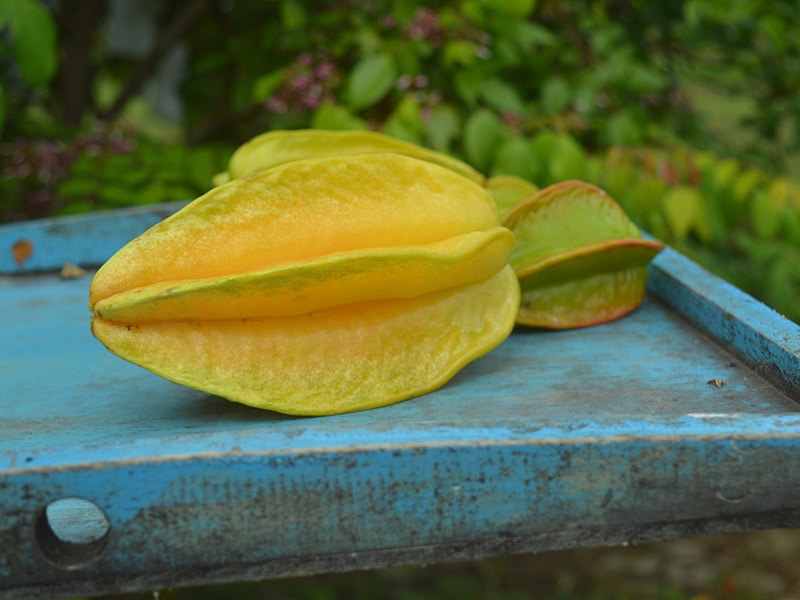 In Indonesia, star fruit is famous with the name "Belimbing". Star fruit is also associated with many places, such as Southeast Asia, the United States, South Pacific, etc.
Still, you can find the most delicious star fruit in eastern Java, Sumatera, and Lampung. The fruit features a waxy skin with a color that can change from green to orange and yellow when it's ripe.
Normally, the star fruit length will be about 5-15 cm (2-6 in). It usually has five to six ridges, making the fruit more like a star in the cross-section. Each star fruit typically consists of 10-12 tiny brown seeds.
The inner pulp has clear meat ranging from light yellow to dark yellow. People say star fruit tastes like a combination of apple, grape, or pear fruits.
Regarding the flavor, star fruit will be divided into two main categories: the small sour-tart one and the larger sweet one. In Indonesia, a famous sweet cultivar is Demak.
Nutrients: Protein, fiber, vitamin C, B5, and copper.
Season: October to December.
How to eat: Wash the fruits thoroughly and eat the whole fruit. Also, you can add it to your salad and turn it into beverages.
9. Gandaria (Plum Mango)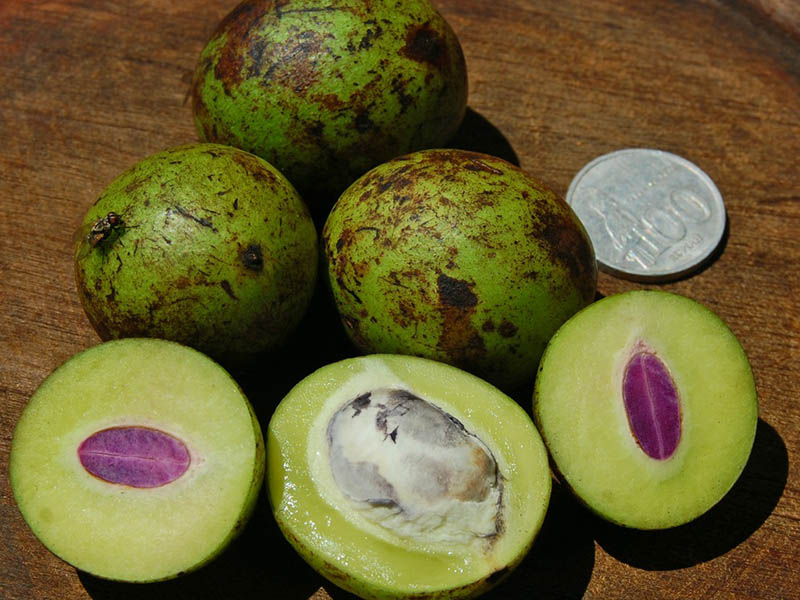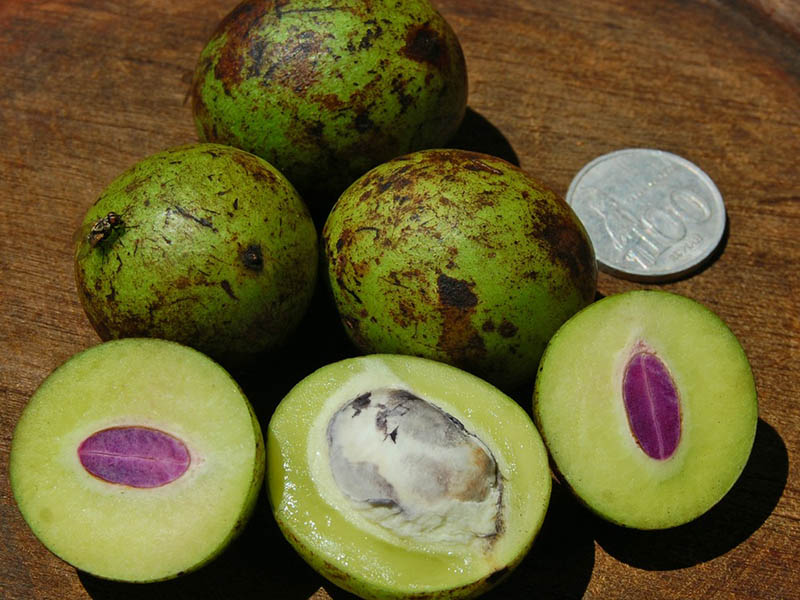 Gandaria stemmed from West Java and Sumatra in Indonesia. It's also a widely cultivated fruit in Thailand, Malaysia, Laos, and other countries.
You can use other names like Bouea macrophylla, mango plum, or plum mango when talking about gandaria. The fruit is classified in the same family as mango and cashew, the Anacardiaceae family.
Gandaria is an evergreen tree that bears round or oval fruit in season. The fruit ranges from 2-5 cm wide and has edible skin fluctuating from green with some dark spots to orange and yellow.
Some say gandaria tastes like mango, an excellent combination of sweet and sour flavor. Like the skin, the pulp inside also changes its color as it matures. When ripe, gandaria has a soft and a bit fibrous texture.
Nutrients: Vitamin C, fiber, calcium, iron, etc.
Season: March to June.
How to eat: You can eat the whole gandaria after washing it carefully. People often apply the fruit to cuisines such as pickles or Sambal (chili sauce).
10. Banana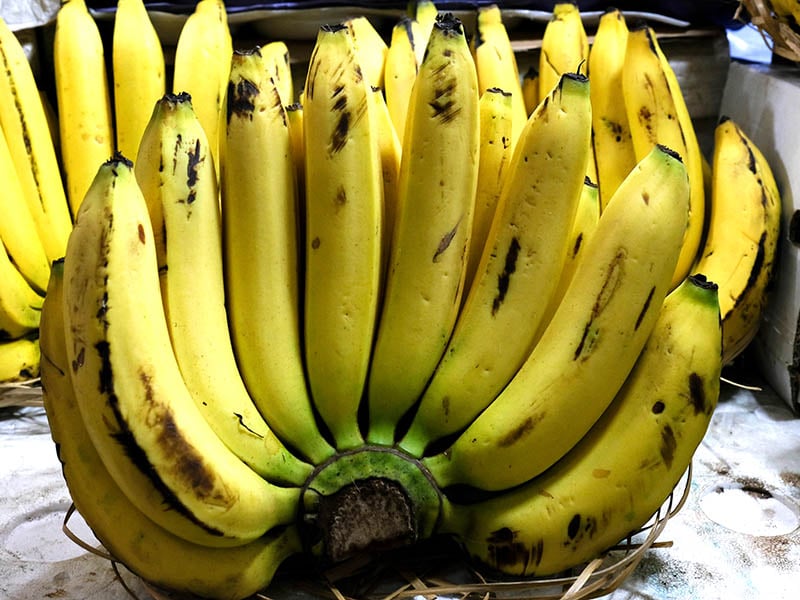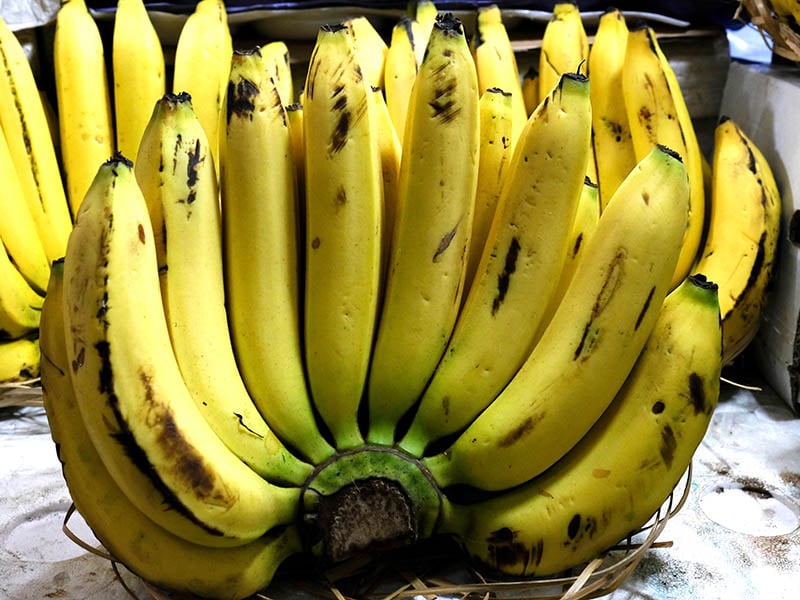 Like many countries, Indonesia also produces a lot of bananas, one of the most important fruits in the world. Banana is not only a handy snack but also a significant element in other main dishes, including breakfast or dessert.
Besides, people consider "banana" a soft, sweet dessert, the ones in the Cavendish group. On the other hand, "plantains" refers to the ones with a firmer texture that usually requires cooking before consumption.
In Indonesia, there are some famous types suitable for raw consumption, including Pisang Ambon Kuning, Pisang Ambon Hijau, or Pisang Barangan. On the other side, some popular ones needed to be cooked before eating are Pisang Kepok, Pisang Raja Bulu, etc.
Each variant's thick skin will range from green, yellow, red, purple, or brown. But almost all banana types tend to have slightly curved lengthy shapes (similar to cucumber).
The flesh inside is often soft and starchy with a sweet flavor. Sometimes, if you eat the unripe one, it delivers more tartness than sweetness.
Nutrients: Fiber, vitamin C, B6, antioxidants, protein, etc.
Season: All year round in Indonesia.
How to eat: Peel the fruit from the stem and enjoy the flesh. Besides, bananas also appear in many foods, like banana chips or Pisang Goreng (deep frying banana fritters).
11. Langsat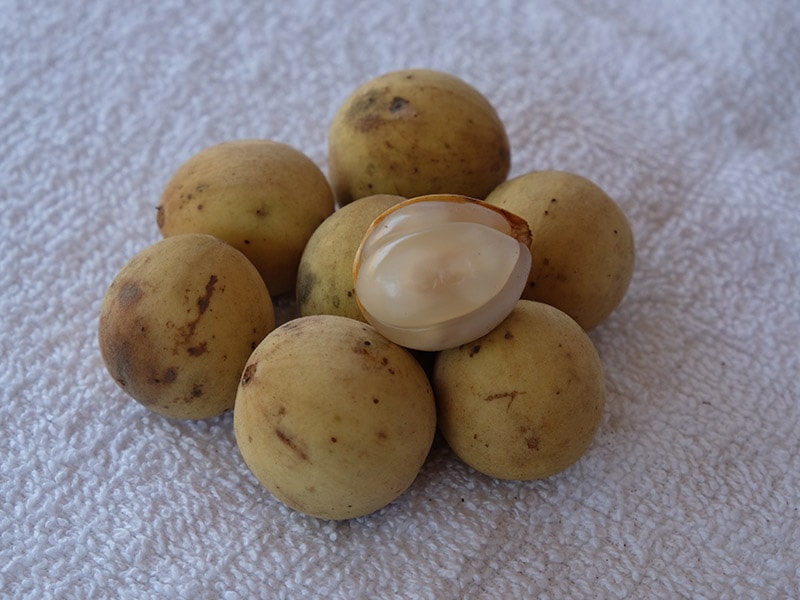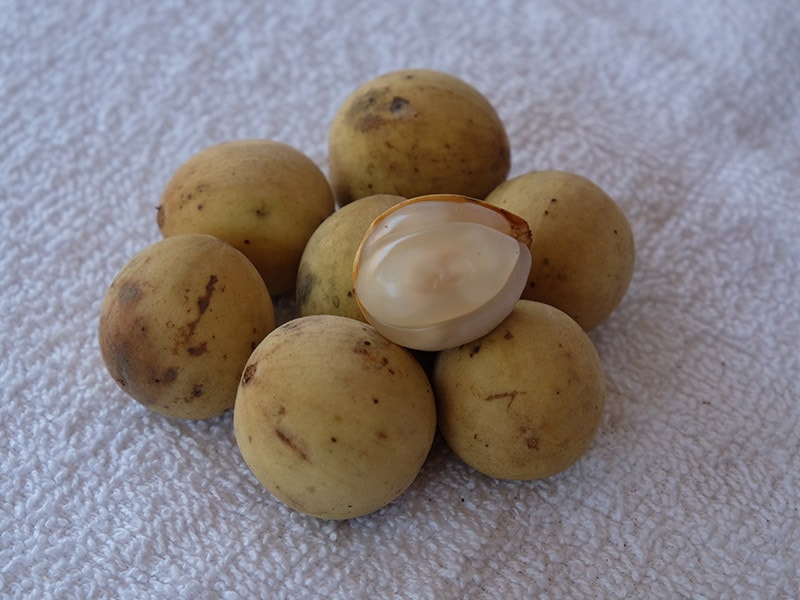 Langsat is an indigenous fruit in Java, Sumatra, and Borneo. It also has gained popularity in other countries such as Laos, Myanmar, Cambodia, the USA, etc.
You might come across several terms of langsat depending on where it's cultivated. In Indonesia, locals named it Kokosan, Pisitan, duku, Pijietan, and Bijitan.
Although the fruit has many variations, the two well-known types are duku and langsat. The duku ones are usually large with thick and brownish skin. Meanwhile, langsat is in the egg-shaped form with a thin skin.
When cooking langsat, you will see the ooze of sap from the fruit. On the other hand, duku won't exude any of that white liquid if you cook it.
However, both of them have brownish-yellow skin with fuzzy hair. The inner pulp is translucent white covering the small seeds. It offers you a sweet-sour taste with a watery texture.
Nutrients: Vitamin A, fiber, protein, calcium, etc.
Season: Available throughout the year.
How to eat: You can use a knife or teeth to crack the shell in half and pull the pulp into your mouth. Also, you can cook duku with several cooking techniques.
4 Indonesian Fruits In Brown To Enrich Your Fruit Collection
In this category, sapodilla is my favorite, but that does not mean others are not tasty. However, some fruits may be hard to find outside Indonesia, so just save up and get a ticket to the country and enjoy the fruits.
12. Salak (Snake Fruit)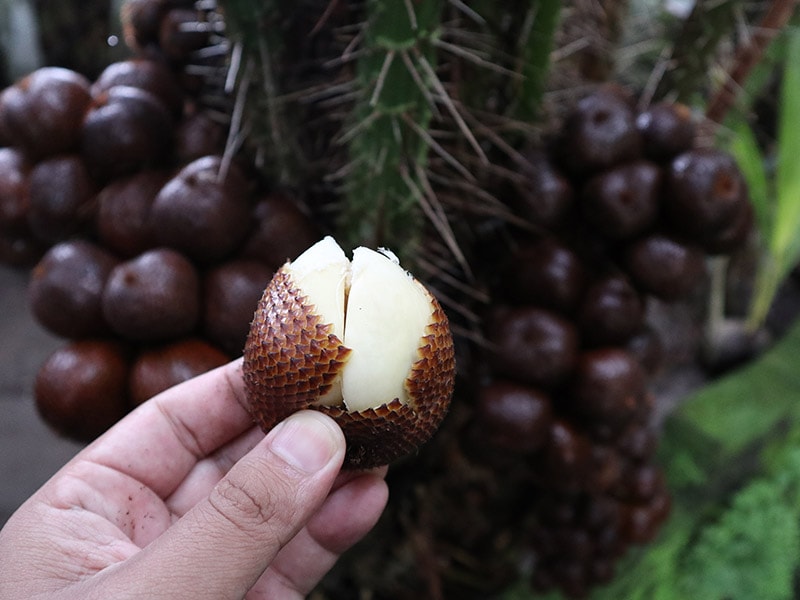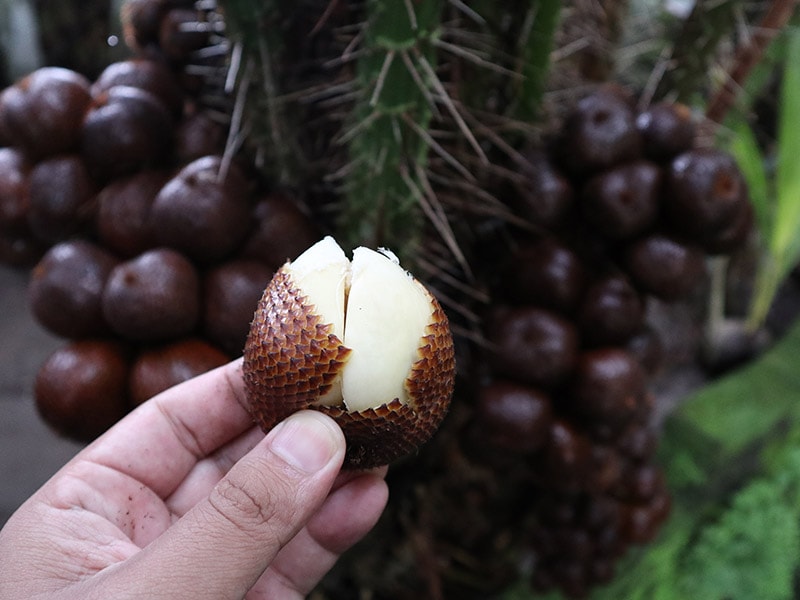 Salak (or snake fruit) originated in Java and Sumatra, the two famous islands in Indonesia. However, you can also find Salak in other regions of Indonesia, such as Bali, Lombok, Maluku, Timor, and Sulawesi.
Salak in Indonesia has more than 30 variations, but the two famous categories include Salak Pondoh in Yogyakarta, Java, and Salak Bali from Sibetan, Bali.
Salak Pondoh usually features a strong aroma, dry and brittle texture, and natural sweet even before reaching full maturity.
Meanwhile, Salak from Bali can be divided again into 15 variants, which are wet and crisp. Its flavor will range from super sweet to sour, depending on each one. The most expensive of them is Salak Gula Pasir (sugar Salak), which is famous for its perfect sweetness.
Salak also has the name "snake fruit" because of its scaly skin. The pulp inside usually contains two or three segments, each with a relatively large seed that can't be consumed.
Nutrients: Fiber, vitamin A, C, protein, iron, calcium, etc.
Season: All year round in Indonesia. However, the peak season usually happens from December to February.
How to eat: Remove the skin by peeling it off by hand, then enjoy the flesh without seeds.
Let's deepen your knowledge of Salak, the amazing fruit native to Indonesia!
13. Kepel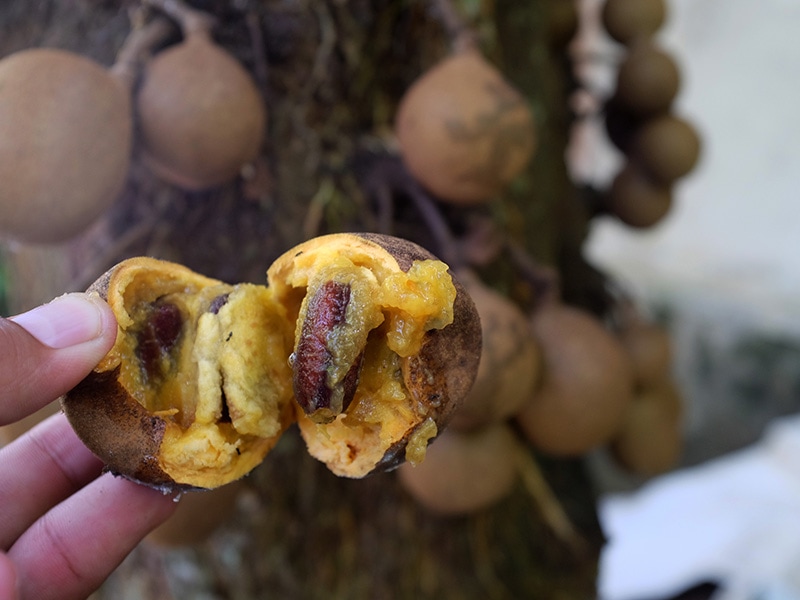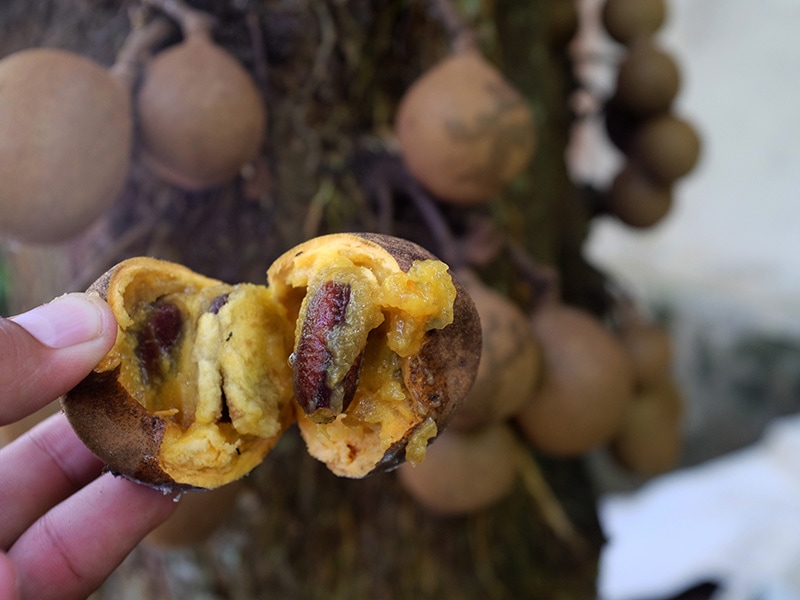 Kepel is a super rare fruit that you can only find in Java, Indonesia. Indonesia locals call Kepel by different terms: Burahol, Kepel apple, or Keppel fruit. It is an evergreen tree that comes from the Annonaceae family.
Kepel fruit is often small and has an oval shape of 3-4 cm in length. The fruit is covered with green to yellowish-brown skin up to its ripening stage. The pulp inside often has a rich and silky texture with 4-6 brown seeds.
It's believed to have the same spicy flavor as mango. Besides, Kepel gives out an aromatic odor with a unique tropical and floral flavor.
Traditionally, people in Indonesia use this fruit as an oral rinse or deodorant. There was a local superstition saying that misfortune would befall people who grew the species, resulting in the scarce number of Kepel.
Nutrients: Rich in Vitamin C and A.
Season: Available throughout the year in Indonesia.
How to eat: Remove the skin and seeds before consuming fresh fruit.
14. Sapodilla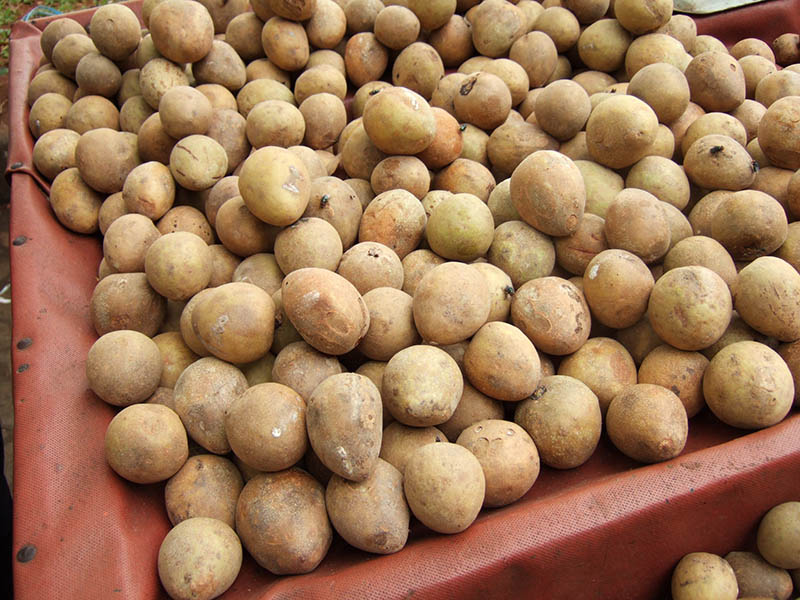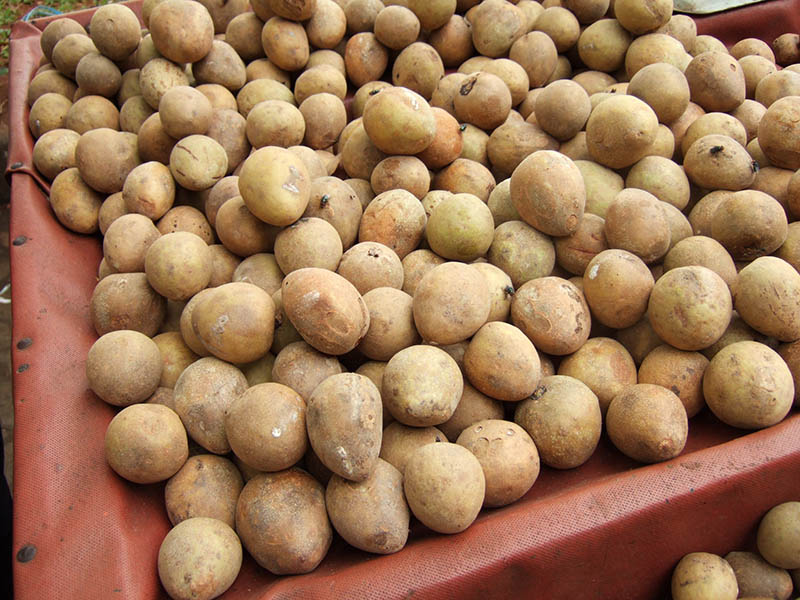 Although Sapodilla is a native fruit in the Philippines, it's also produced widely in other parts of Southeast Asia, such as Indonesia, Malaysia, Vietnam, etc.
Sapodilla has other common terms: Sawo, Sapote, Naseberry, Nispero, and Chicle. Also, there is some English, including Bully tree, Marmalade palm, and Chiku.
The average height of the tree usually ranges from 9-15m, but some can rise up to 30m. Sapodilla is a round or oval fruit with a typical light brown skin and a smooth touch.
Underneath that skin is the sandy brown pulp (pale yellow, reddish-brown, or dark brown), usually containing 1-6 black and glossy seeds. But some fruits can have up to 12 seeds.
Sapodilla presents a natural sweetness with a pear-like texture. Also, it spreads out the musky aroma as soon as cutting the fruit in half.
Nutrients: Rich in fiber, vitamin C, and copper (a mineral to make new blood cells and improve the brain and immune system).
Season: September to May.
How to eat: Remove the inedible skin and seeds, cut them whatever you want, and then enjoy the flesh.
15. Longan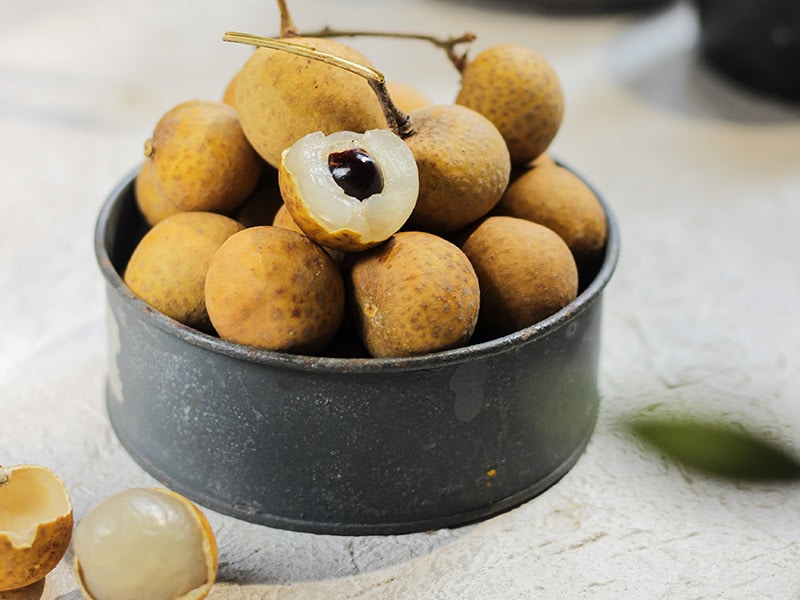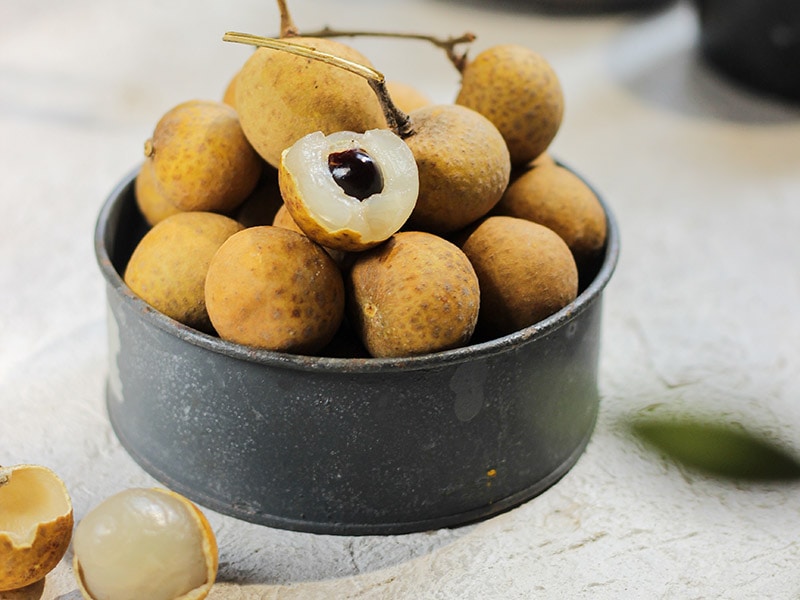 Lengkeng, or Longan, is a tropical Asian fruit of the Sapindaceae family (like lychee and rambutan). The fruit stemmed from China, and is popular in many Asian nations.
According to the Cantonese language, longan means "dragon eye", which also tells the appearance of the fruit: the translucent flesh covering the black seed, creating a pupil-like look.
Longan size is around 1-3cm wide, ranging from round to oval in shape. The fruit is covered in a thin, brittle shell with tiny hair. Besides, shell color will fluctuate from green, light brown, or yellowish-brown.
The translucent meat inside is firm, aqueous, and juicy, surrounding the black and glossy inedible seed. Overall, longan will give a faint odor with a naturally sweet and tropical taste.
Nutrients: Vitamin C, potassium, protein, fiber.
Season: Late summer through winter.
How to eat: Cracking the shell using fingernails or teeth, enjoy the flesh and discard the seed.
Other Wonderful Indonesian Fruits That You Can't Miss
The last section will have a delightful fruit basket full of an Indonesian atmosphere. I have all kinds of delicious fruits from red to purple or black that can meet your demand in the blink of an eye.
16. Matoa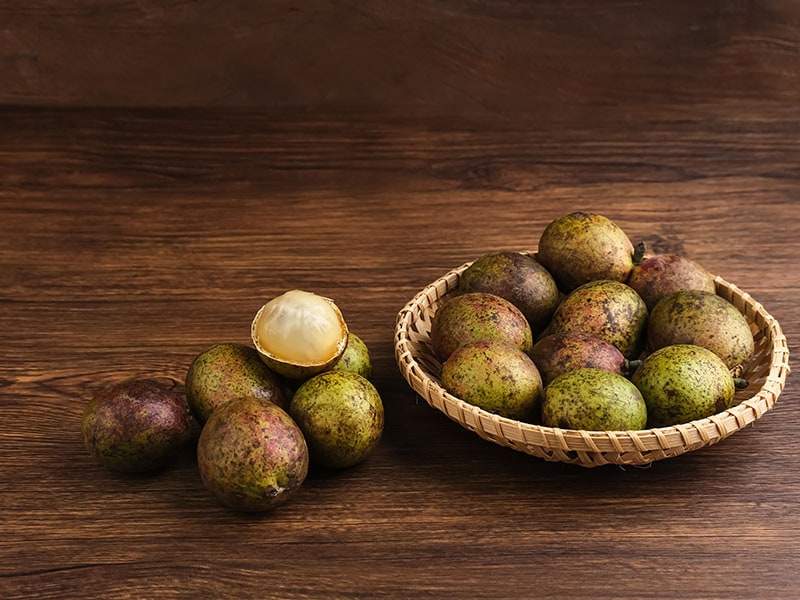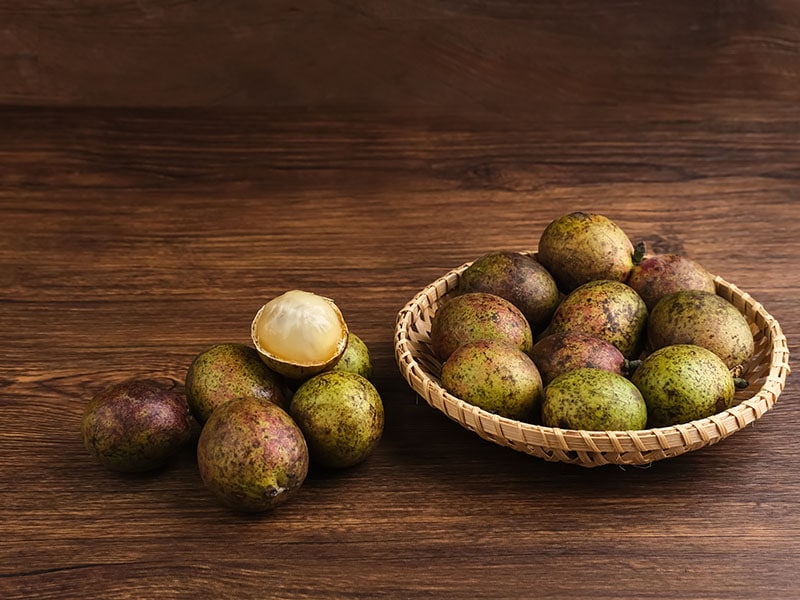 Besides the scientific name Pometia pinnata, Matoa has other titles, such as Taun tree, island lychee, Tava, and Pacific lychee. Matoa belongs to the Sapindaceae family, meaning it's a relative of lychee fruit (a reason for its alternative names).
Although the fruit has its root in West Papua, Indonesia, you can still find it easily in other areas, including Borneo, Sulawesi, Java, and Maluku. It might be hard for you to search for fruit other than in these places.
Matoa usually has an egg shape varying from 5-7 cm in length and 3 cm in width. The fruit can range from green and yellow to red, brown, and purple, depending on its ripening stage. Besides, people describe the translucent inner pulp as lychee, mangosteen, or longan.
Locals in Papua often split the fruit into Matoa Kelapa (coconut Matoa) and Matoa Papeda. Matoa Kelepa is a big fruit (around 2-3.5cm wide) with thicker, drier, and chewier pulp. Meanwhile, the latter tends to be smaller (1.5-2cm wide), offering a sticky and moist texture.
Nutrients: Antioxidants, vitamin C, E, minerals, etc.
Season: During the monsoon season (November to March) in Indonesia.
How to eat: Better eat raw by cracking the peel and pulling the flesh inside. Or you can use it to make syrup and other drinks.
This tutorial will provide you with the best way to enjoy Matoa.
17. Java Plum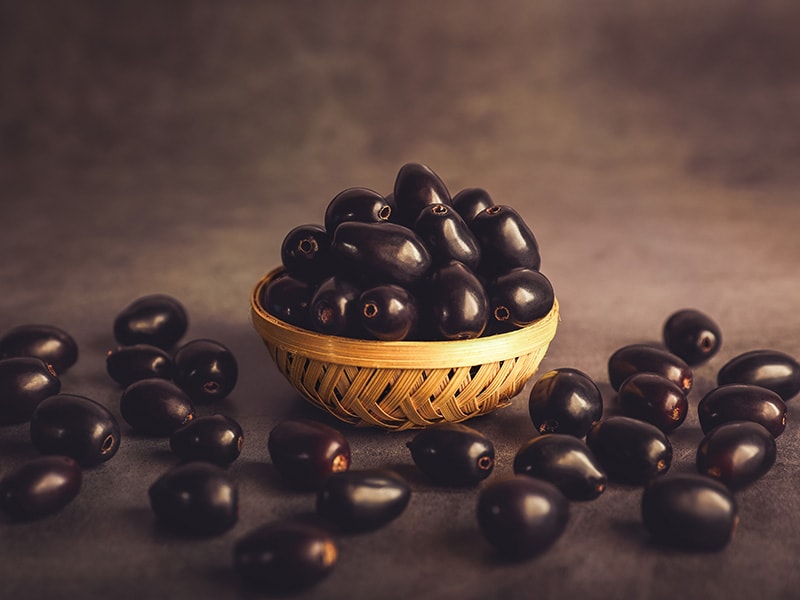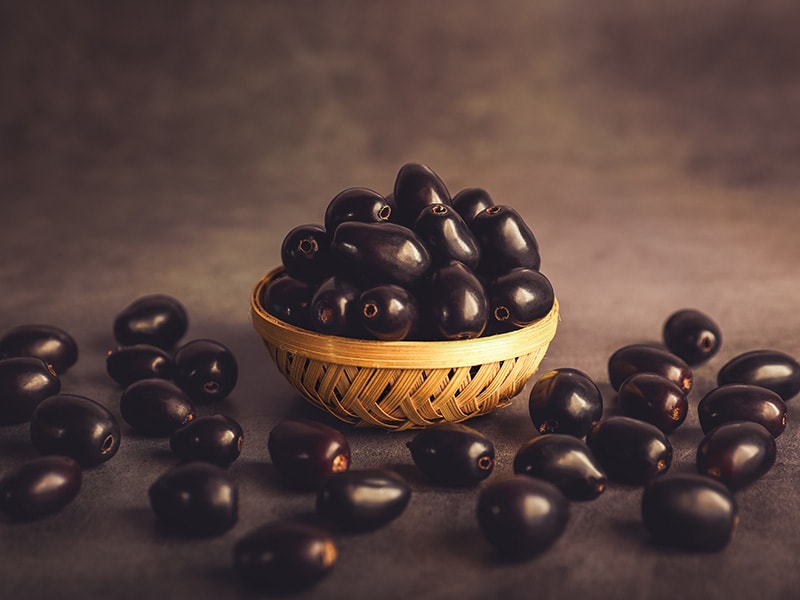 Southeast Asia is home to the amazing black fruit Java plum. Besides the scientific name Syzygium cumini, it also has other names, such as Jamun, black plum, Jambolan, etc.
If you have a chance to visit Indonesia, you should come to the southern Bukit region on Bali island, where vendors and roadside stalls sell Java plum with a chili mix.
Java plum trees can grow up to 30m and come from the Myrtaceae family. The fruit is usually oval with a green color when it's unripe and gradually transfers from pink, red, to black as the final maturity stage.
The fruit delivers a sweet-sour taste, a perfect ingredient to create jam or sauces. Each Java plum often contains one edible seed, but in some cases, the fruit can have up to 4-5 seeds or even zero seeds.
Nutrients: Protein and vitamin C.
Season: May to June. Remember that the fruit doesn't have a long shelf life.
How to eat: You can consume it raw or apply it to juice, salad, syrup, etc.
18. Passion Fruit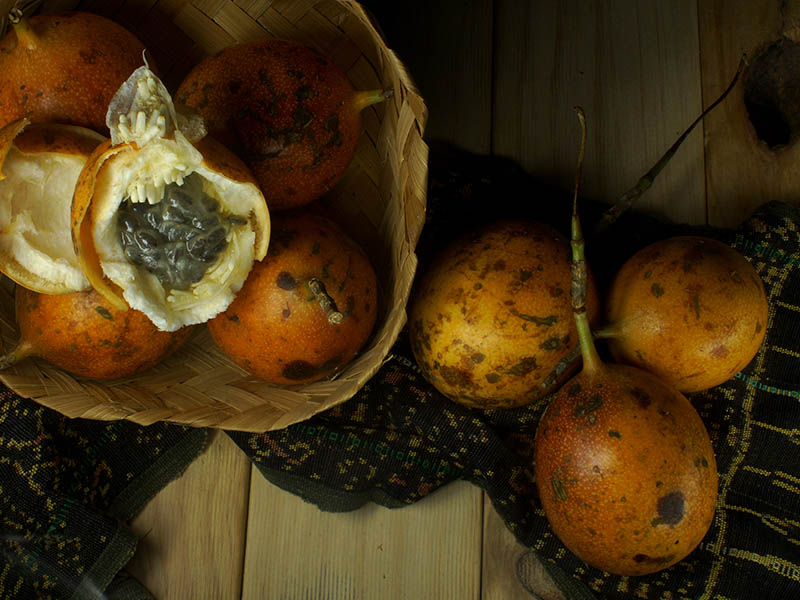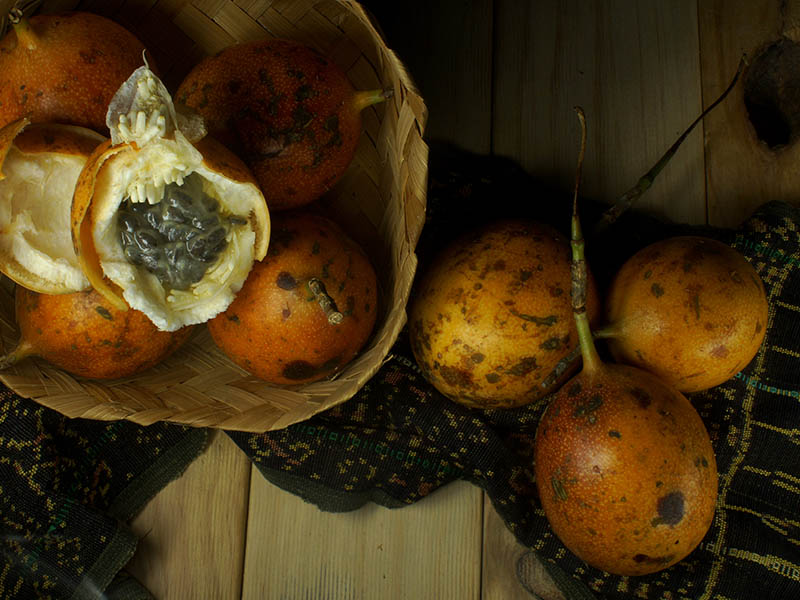 Regarding Markisa's origin, although the fruit hailed from southern Brazil, it is also widely grown in other parts of Southeast Asia, including Indonesia.
Markisa, or passion fruit, is a type of vine that extends well in tropical or subtropical climates. The fruit is round or oval; its color often varies from bright yellow to dark purple depending on the maturity and variations.
Inside the passion fruit is yellow flesh containing numerous edible seeds. The meat has a juicy and soft consistency with the flavor ranging from sour to sweet, adding a tinge of tartness.
In Indonesia, two main variants require different usages: Edulis and Flavicarpa (yellow passion fruit). About the first one, locals usually consume it raw with a spoon. Meanwhile, they utilize the juice of the second type to make syrup for delicious Indonesian beverages and treats.
Nutrients: Fiber, vitamin C, A, iron, etc.
Season: November to April.
How to eat: You cut the fruit in half and enjoy it with a spoon. Or you can use the juice to make syrup, jam, etc.
19. Dragon Fruit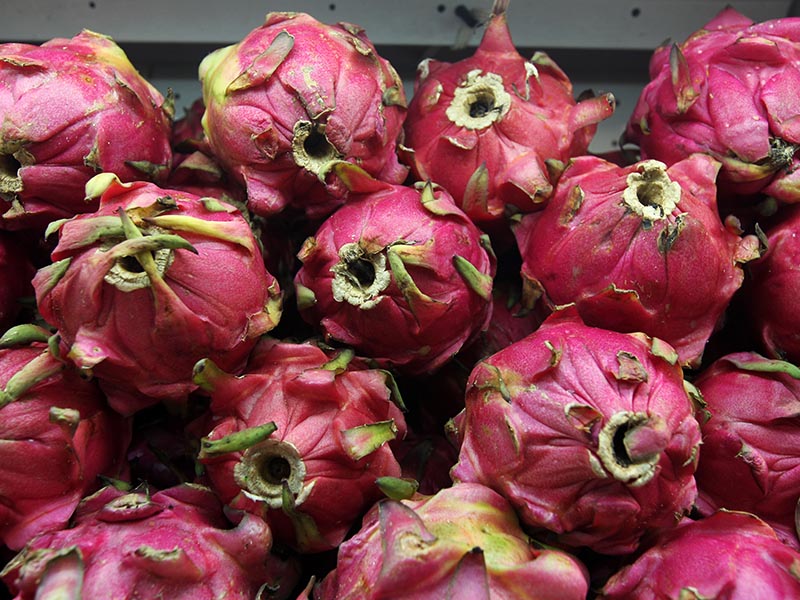 Dragon fruit, or Pitaya, a tropical fruit indigenous to southern Mexico and Central America, has become popular in Indonesia since its introduction in 2000. Its local name is "Buah Naga".
Dragon fruit, also known as strawberry pear, is one of many members of the Stenocereus family. Its appearance has bendable thorns on the leather-like shell, making it look like dragon skin. The fruit offers white flesh with countless edible black seeds inside.
There are two main categories of dragon fruit: sour and sweet. Both types are used in various dragon fruit-based dishes. But the sour one is more popular in the Americas and presents an intense taste and watery pulp.
Meanwhile, the sweet dragon fruit, Selenicereus, has three types: Pitaya Blanca with pink shell and white meat, Pitaya Amarilla with yellow skin covering the white flesh, and the most popular one in Indonesia – Pitaya Roja with red color in both flesh and skin.
Nutrients: Protein, fiber, iron, vitamin C, etc.
Season: The peak season of dragon fruit in Indonesia is November to March.
How to eat: The best way to enjoy dragon fruit is to cut the fruit in half and use a spoon to scoop out the flesh.
If you want to be more knowledgeable about dragon fruits from Indonesia, this is all you need!
20. Rambutan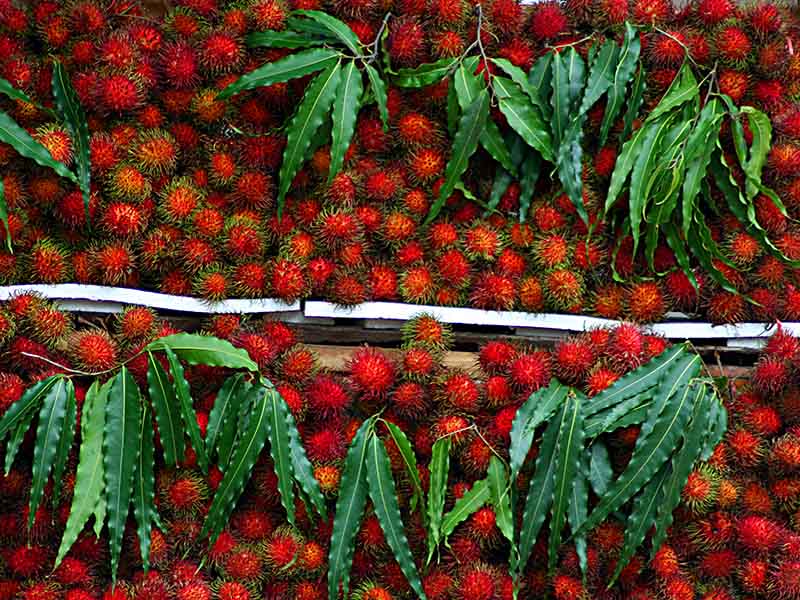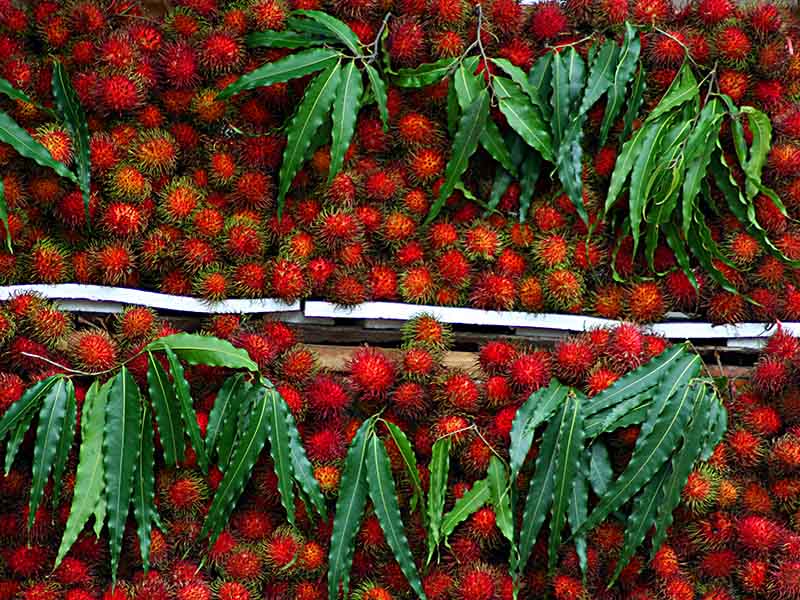 Rambutan is one of the most famous fruits in Indonesia. Like many popular fruits in Indonesia, Rambutan came from the west of Indonesia, including Java, Sumatra, and Kalimantan.
In Indonesia, there are 22 types of rambutan throughout the country. Some famous types including Rapiah, Lebak Bulus, Binjai, Cimacan, etc.
Depending on each type of rambutan and the ripening stage, the color will alter from green to red, orange, yellow, or even a combination of those colors. Rambutan is usually in round or oval form and has the size of a golf ball.
The rough skin filled with hairy, bendable spines covers the translucent flesh varying from pale pink to white. Each fruit will contain one inedible seed. When consumed, rambutan will deliver a sour-sweet and tropical flavor.
Nutrients: Vitamin C, fiber, minerals, copper, etc.
Season: December to February.
How to eat: Split the skin by using your teeth or knife. Besides, people also use rambutan to make salads, desserts, etc.
21. Rose Apple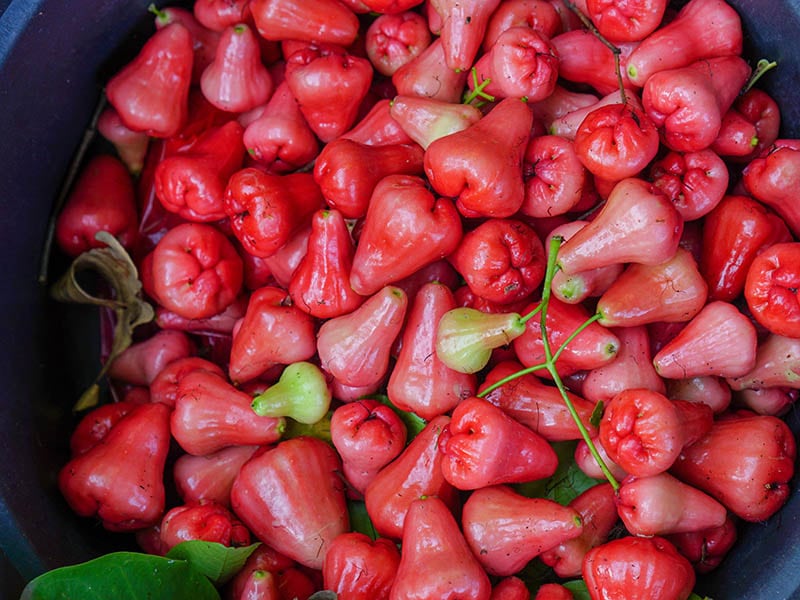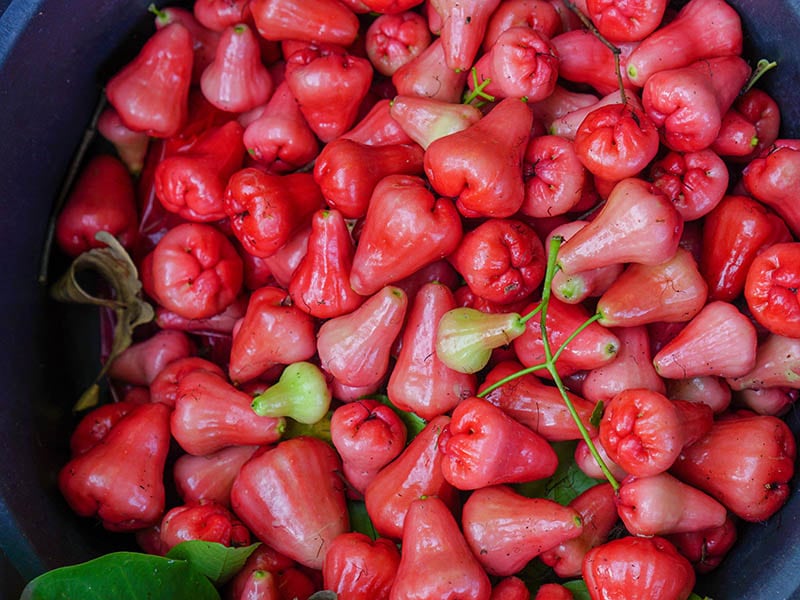 Jambu Air (the local name for rose apples) grows mainly in the Greater Sunda Islands, including Borneo, Java, Sulawesi, and Sumatra. This tropical tree is a member of the Myrtaceae family.
Besides Jambu Air, the fruit has many other names, such as wax apple, Java apple, wax Jambu, and Semerang rose apple.
Jambu Air fruit usually ranges from 4-6 cm in length. This small, round fruit strongly resembles a bell shape. The fruit has a thin skin with waxy and glossy characteristics.
The skin color comes in various shades: green, white, pink, or purple. Besides, the black one is the most expensive one with the name "Black Pearl/ Diamond ".
The outer appearance of the fruit, when fully mature, looks like an apple (a rose-colored appearance, to be exact). The white pulp inside is spongy and crisp, often with 1-2 small seeds. Some describe Jambu Air's flavor as snow pear or watermelon.
Nutrients: Vitamin A, vitamin C, calcium, potassium, and iron.
Season: Jambu Air usually appears in the spring and the late fall through winter.
How to eat: Wash the fruit carefully and eat the whole (or remove the core). Besides, people use rose apples to make pickles, salad, etc.
22. Mangosteen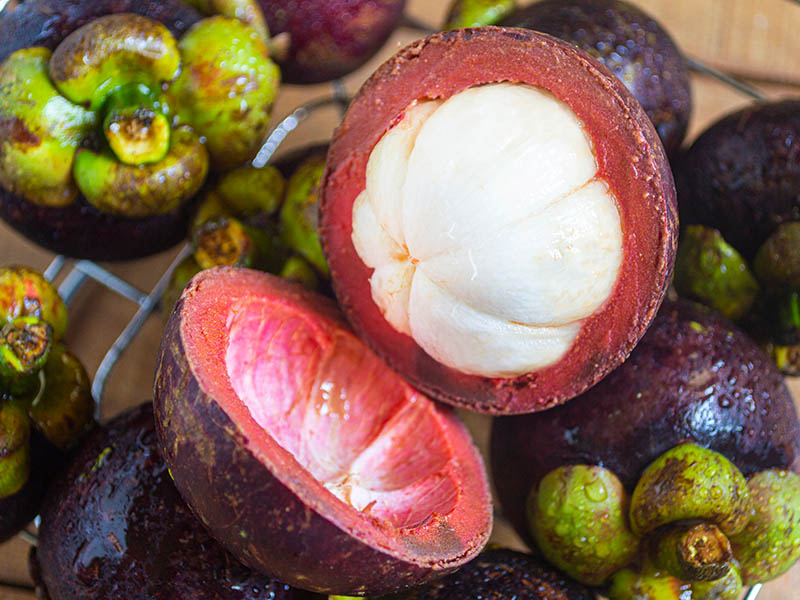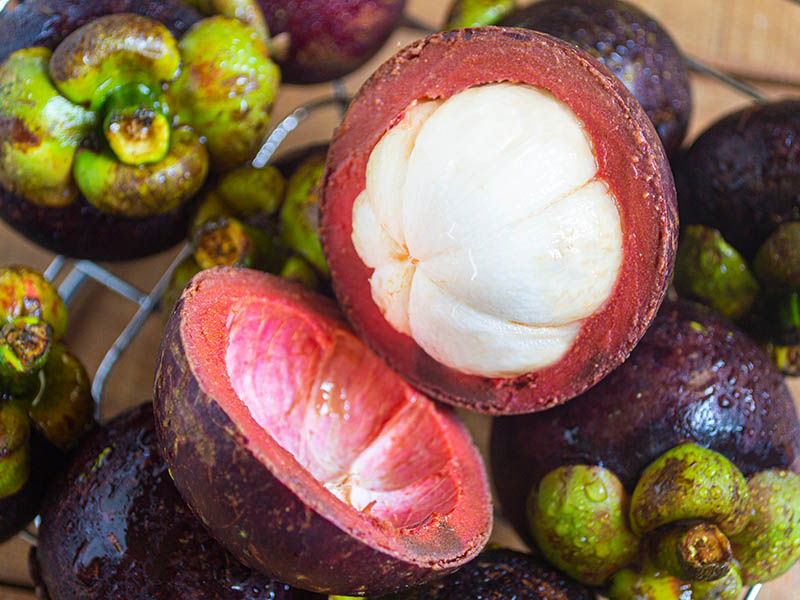 Mangosteen, or purple mangosteen, is a prominent local in Indonesia, especially from Sumatra, Java, Tenggara, South Kalimantan, and South Sulawesi. Besides, mangosteen also primarily grows in other parts of Southeast Asia.
Mangosteen looks like a small tangerine whose term has the form of the crown, making its nickname "Queen of Fruit" more vivid and reasonable.
The fruit usually has a thick and firm shell varying from green to red. When reaching the perfect ripe stage, mangosteen will wear a beautiful dark purple rind. The white flesh has a super juicy, fibrous, and chewy texture. It's usually divided into 4-8 segments.
Mangosteen features a sweet-sour taste that helps you won't get bored quickly when enjoying the fruit. Its seeds resemble almonds both in size and shape.
Nutrients: A rich source of fiber and antioxidants.
Season: The harvesting season is from September to April.
How to eat: Use a sharp knife to cut mangosteen enough to crack the peel, then enjoy the white flesh.
Do you want to understand more about Indonesian mangosteens?
So, Have You Taken Any Fruits From Indonesia In Your Pocket Yet?
In a nutshell, some fruit on the list will be straightforward for you to find in the Asia market, but others will require you to take a step to Indonesia to enjoy it. Just like Indonesian delicacies, Indonesian fruits are something that will remind you of the beautiful country.
As usual, I would appreciate it if you could share the post widely with anyone who still has no clue about fruits from Indonesia. Besides, don't forget to leave your comments in the comment box below and let me know your thoughts.