I know you love to consume these best individual appetizers all by yourself. Therefore, you must go through this article to spark some incredible ideas. You will soon realize how easy it is to recreate these dishes at home.
Although you may want to have all these appetizers for yourself, it will be better to make various portions to treat everyone in your family. So buckle up to produce delicious individual entrees for your upcoming meal course.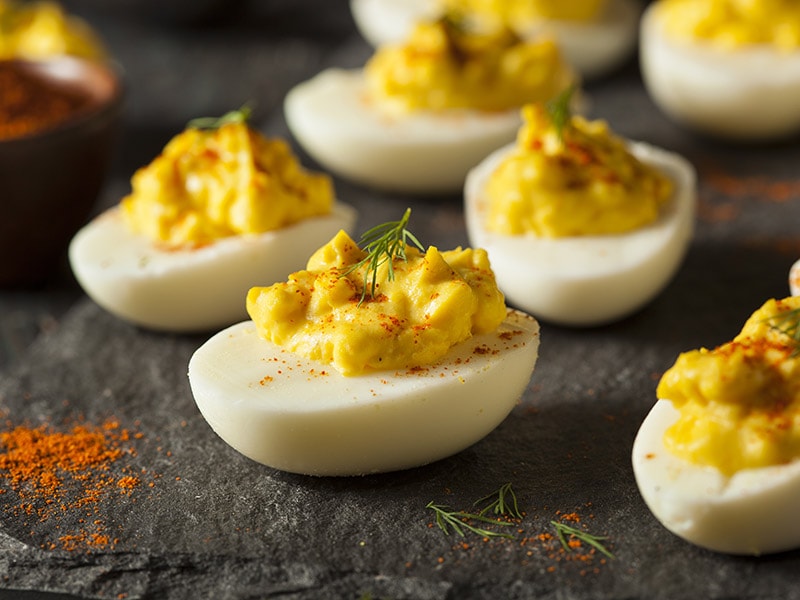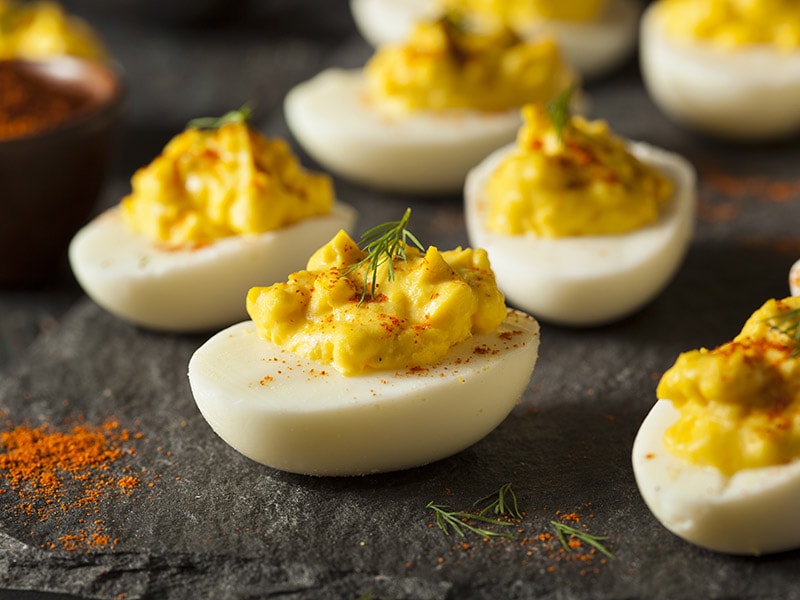 27 Tasty Starters To Serve Individually From Your Home
Whether you plan to make these starters for yourself or to treat everyone individually, these recipes will satisfy all your demands. So sit back and start enjoying all the incredible dishes this article offers.
Total time: 30 minutes.
Salad is a solid option to serve in individual bowls for consumption. To give you a new take on salad specialties, I'd like to introduce you to antipasto salad cups. The recipe comes in each bowl, making it ideal for customizing the flavor to each person's preference.
The antipasto salad is a tasty combination of mozzarella cheese balls with pepperoni slices, cherry tomatoes, and flavorful salami. The salad cup also requires pickled vegetables to diversify the tastes and textures.
Toss the ingredients evenly in your mixing bowl before distributing the salad to each small bowl. Don't forget to sprinkle in some herbs for a refreshing experience. Antipasto salad is also colorful, thanks to the harmonious inclusion of vegetables and meat products.
Total time: 5 minutes.
Charcuterie is a French term to refer to pork products in France. One popular way to enjoy pork by yourself is to make these simple yet delicious charcuterie cones. For many people, the fancy look of these cones can already trigger their taste buds.
Traditionally, people use a piece of stiff paper to shape it into a cone and serve as a container for other elements. Usually, you will see breadsticks or crackers paired with various edible flowers for a touch of herbal taste.
In addition, people also include a variety of shapes and sizes of hard cheese cubes. Furthermore, the dish has the unique freshness of seasonal fruit served on a skewer. For the final ingredient, you may use your choice of cured meat to add a salty taste to the charcuterie cones.
Create these beautiful charcuterie cones for an appealing entree.
Total time: 30 minutes
If you love strawberries like me and want to add this fruit to your appetizer collection, you must try the strawberry spinach salad. The strawberry delicacy is a fruity experience with incredible dressing to take the salad to another level.
Of course, you want fresh strawberries and spinach leaves in the recipe to combine with mozzarella. Top the vegetable and fruit with nutty, toasty almond slices to elevate the dish's texture. It's easy to create the topping as you only need to coat the almond with sugar.
As for the decadent dressing, I suggest utilizing poppy seeds to give the sauce a nutty profile. For the most spectacular spinach appetizer, you should blend the spices first before gradually infusing the mixture with oil and poppy seed. Complete your salad by mixing it with the veggies.
Total time: 25 minutes.
Any big fans of Italian cuisine will instantly know about prosciutto, a type of Italian cured ham that possesses an exquisite profile when cooked. For a quick Italian appetizer to consume by yourself, nothing is better than wrapping breadsticks with slices of prosciutto to enjoy.
Simply grab a couple of breadsticks to start wrapping them with the prosciutto. I love mixing parmesan cheese and cayenne pepper to sprinkle over the prosciutto for extra cheesy and spicy flavors.
Once baked, the breadsticks have an intriguing crispy texture to accompany the delicately salty and sweet prosciutto. These breadsticks are quick and cost little effort to create in the kitchen.
Total time: 10 minutes.
Caprese skewers are a fun way to enjoy cheese with refreshing vegetables. Instead of making a salad, I love piercing these Caprese ingredients to enjoy at the beginning of every meal. These skewers bring a unique experience to consuming a salad.
For convenience, I recommend using toothpicks to skewer the little mozzarella balls. Follow that up with a fresh basil leaf and a cherry tomato. These salad skewers are incomplete without a drizzle of balsamic glaze to bring a sweet and tangy taste to the dish.
Skip regular Caprese salad and make these cute skewers instead.
Total time: 45 minutes.
Let's have a blast with an ultimate dish using chorizo sausage and shrimp. This shrimp entree comes in skewers, making it perfect for serving individual personnel.
If you're new to chorizo, it's a Mexican sausage with a wide range of variations across the country. Typically, the sausage offers a pleasant smoky and salty taste when cooked. For the shrimps, you want to toss them around with a spicy condiments mixture.
Skewer the chorizo and shrimp interchangeably before grilling them over an open fire. Don't forget to flip the kebab occasionally to prevent burning. It should take around 5 minutes to cook through the shrimp.
Total time: 25 minutes.
The spongy texture of the crescent dough is the main selling point of these raspberry brie bites. The entree dish comes together in no time and only calls for three ingredients to create. If you love simple recipes, this straightforward brie dish is a must-try appetizer.
Commonly, people tend to cut the crescent dough into triangle pieces before using a muffin mold to shape the dish. For each cut of crescent dough, you want to sprinkle a decent amount of brie cheese for a milky sweet flavor to accompany the tartness of raspberry jam.
The brie bites should spend some time in the oven until the dough turns golden brown and the cheese begins to bubble. For the best experience, you should serve these brie bites while they are warm.
Total time: 40 minutes.
A cheeseburger to start a meal is the wildest dream for many people. However, you also want to reserve space in your tummy to enjoy the main course. To meet those demands, I have these lovely bites packed with cheeseburger ingredients for you to enjoy.
Instead of burger buns, you only make bite-sized pieces of the burger filling to consume in one go. First, people bake bacon strips to get beautiful crispiness. Next, materialize some mini patties in your kitchen by combining ground beef with simple seasonings.
For the base of the burger, I suggest grabbing some store-bought crispy potatoes to be the base. Proceed to top the crunchy potatoes with beef patties, American cheese, and crispy bacon strips.
Serve these mini bites for a good old explosion of American cheeseburger taste at the beginning of every meal.
Learn how you can materialize wonderful burger taste in just one skewer.
Total time: 25 minutes.
For many, blue cheese is a stimulating experience that pairs well with almost any dish. Therefore, I'd like to offer an exotic starter by stuffing blue cheese in strawberries. It may sound strange, but the unique delicacy is worth the shot on your next meal.
For starters, I prioritize simmering the balsamic vinegar until it reaches a thick consistency. While at it, you may multitask by whisking cream cheese and blue cheese until smooth. Remember to carve out the strawberry content to make space for the cheese filling.
Refrigerate the stuffed strawberries and sprinkle them with crushed pecan nuts when served. I enjoy the creamy and salty cheese taste with a splash of thick vinegar.
Total time: 20 minutes.
Let's head back to Italian cuisine to uncover Bruschetta, an appetizer that serves slices of toasted bread with a refreshing tomato mixture. The Italian tomato sauce resembles Mexican salsa, a dipping condiment of tomato chunks and herbs.
The bread is easy to handle in this recipe as you simply bake them with a splash of olive oil to get a golden brown color with a crispy texture. Therefore, you must make a proper Bruschetta tomato dipping sauce to pair with the bread.
Traditionally, people infuse olive oil with garlic to create an aromatic profile. Next, you want to include chopped tomatoes, basils, and balsamic vinegar in the concoction. Stir and scoop the dipping sauce over the broiled bread for serving.
Total time: 50 minutes.
Mac n cheese is everyone's favorite comfort food, no matter the occasion, but you can also turn it into a kid's top choice side dish or entree to treat the family. One bite into these mini mac n cheese pieces and your mouth will dance in joy from the rich cheesy flavor.
Like regular mac n cheese, you start the recipe by preparing cooked pasta and cheese sauce. However, things begin to turn when you introduce eggs and a sprinkle of breadcrumbs into the mixture.
Transfer the mac n cheese to the oven to bake until the outer shell becomes golden brown. Garnish the creative pasta entree with parsley. All you have to do now is to enjoy the bites warm and let the iconic mac n cheese flavor indulge your taste buds.
Elevate your mac n cheese to another notch by turning it into bite-sized pieces.
Total time: 30 minutes.
Let's admit it, Mexican foods are everyone's favorite to have for a hearty meal. These taco cups not only deliver the Mexican spirit into your house but also provide an option for a low-carb specialty.
To keep the dish simple, I prioritize using melted cheese as the base for the taco cup. Ideally, you may utilize a muffin mold to shape the dish. You want to include browned ground beef with a topping of avocado, tomatoes, and sour cream in the taco cup.
Enjoy your beautiful taco creation right after you finish assembling it. I recommend seasoning the ground beef with taco seasoning for a flavorful beef filling while you saute it.
Total time: 10 minutes (excluding 2 hours of refrigerating).
Cheese lovers will go crazy for these fantastic mini cheese ball bites. In addition, the cheese ball bites offer a terrific cheesy explosion in one bite, making it a perfect food choice for parties or family gatherings.
Instead of sticking with one type of cheese, I highly recommend a combination of cream cheese with cheddar, dried fruits, and herbs to diversify the taste profile. Shape the cheese into miniature balls and allow them to rest in the refrigerator.
After waking these cheese balls from their slumber, you want to coat them with bacon or nuts (maybe both if you like). Keep these cheese balls refrigerated until you're ready to serve them. The best way is to skewer the cheese ball with pretzel sticks to enjoy.
Total time: 20 minutes.
Deviled eggs are a classic to serve as an individual appetizer. The dish is a part of many countries' cultures, which locals often feature during special occasions. I don't know why but deviled eggs are highly adaptable for any appetizer requirement that you may have.
Most standard deviled eggs require you to work with hard-boiled eggs. To form a smooth concoction, people mix the cooked yolk with spices like mayonnaise, apple cider vinegar, and mustard. Remember, you must also prepare the halved egg white to contain the yolk filling.
Assemble the deviled eggs by piping the yolk back into the egg white halves. Sprinkle paprika over the deviled eggs to spice up the heat. Besides, the deviled eggs can last for a couple of days for later consumption.
Discover the various approaches you can have to deviled eggs.
Total time: 1 hour 30 minutes.
Potato skins offer incredible crunchy texture when baked and provide various customization methods. For a mini version to devour in one bite, I suggest using little Dutch potatoes for the best result.
First, you want to bake the little potatoes to cook their fluffy inner content. After around 20 minutes, cut the potatoes in half and carve out the tender potato meat. Return the potato skin to the oven to bake until crispy.
Fill the potato skins with bacon and cheese before letting the oven melt the cheese completely. The result is a cheesy and crispy potato skin that is perfect to start any party.
Total time: 44 minutes.
Beef Wellington is a splendid British dish that combines crispy pastry with juice steak. However, you may want a bite-sized version of beef Wellington to save some room in your stomach for the main dish.
I advise using cubed tenderloins for the best tender and juicy meat texture. As for the pastry wrapping, you should turn to store-bought puff pastry to reduce the preparation time. Furthermore, you want to arrange the beef cubes in the pastry and top it with Boursin cheese.
This type of soft cheese provides these juicy steak hors d'oeuvres with a perfectly buttery flavor. Of course, you must include some mushrooms between the golden brown pastry and juicy beef for an authentic experience.
Total time: 25 minutes (excluding the chilling time).
BLT is the initial character that represents the main ingredients of a sandwich: bacon, lettuce, and tomatoes. The BLT bites are the smaller version of regular-size sandwiches.
For the BLT bite version, you should go for cherry tomatoes. In addition, you also need to carve out the inside of the cherry tomatoes. The rest comes to the filling consisting of crumbled bacon, mayonnaise, and parmesan cheese.
As you may notice, the BLT bites don't have to include all the necessary ingredients that make up a standard BLT. Commonly, people tend to fill the cherry tomatoes with creamy bacon filling and refrigerate them before serving.
BLT bite is a simple yet tasty treat to begin your meal.
Total time: 30 minutes.
Who wouldn't want a cheesy and hearty slider to begin their meal, such as these fantastic Hawaiian roll sliders? A nice thing about this recipe is that it doesn't take long to prepare. Suppose that you need an elegant sandwich for teatime, it will rise to the occasion nicely.
If you're not counting the condiments, these sliders only call for Hawaiian rolls, Havarti cheese, and black forest ham. Thanks to the addition of Havarti cheese, the sliders have a mild buttery flavor to accompany the beautiful smokiness of ham.
However, you may want to bring the dish to another notch with a decadent glaze. A combination of butter, poppy seeds, and mustard should do the job wonderfully. In addition, you may add a splash of Worcestershire sauce to enhance the sour and sweet flavors.
Total time: 35 minutes.
Jalapeno popper is a Mexican savory treat that easily pleases a crowd of people. But to make the dish even better for individual consumption, I like to place the popper's filling over some mushroom caps for an interesting little twist.
You don't have to worry about the spiciness of these poppers, as the Jalapeno only has a mild spiciness and a subtle sweetness. After removing the stem of each mushroom, fill the cap with a concoction of cream cheese with bacon, cheese, and Jalapeno peppers.
Top the surface with shredded cheese and bake the dish. Typically, the Bella mushrooms provide a meaty texture with an earthy note to accompany the flavorful, creamy filling.
Total time: 1 hour 10 minutes.
Popcorn chicken is an iconic choice to get the crowd going by serving it. Each crunchy chicken piece has the size of a standard popcorn, hence the name popcorn chicken. Every bite of the popcorn chicken explodes in your mouth with incredible goodness.
For the best outcome, I suggest using chicken thigh for its succulent texture. Marinate the chicken in buttermilk, garlic, and basil to infuse the meat with various base flavors. Next, it's time to crush some potato chips to coat around the marinated chicken pieces.
Instead of drowning the popcorn chicken in greasy oil, it's better to bake them. Remember to turn the chicken pieces when you're halfway through the cooking time. Garnish with some parsley, and your crunchy popcorn chicken is ready for serving.
Start your hearty with a blast by serving popcorn chicken at home.
Total time: 15 minutes.
Dipping sauce is essential to start any meal with wonderful tastes. You may try out this seven-layer dip cup for an individual serving. It will provide you with various experiences while enjoying crispy chips the next time.
First, you need to find a cup with a deep bottom to stuff all types of ingredients. Commonly, you should follow an order of refried beans, sour cream, and guacamole. Continue to follow it up with salsa (Mexican tomato dip), cheddar cheese, and tomato pieces.
Use bacon-flavored onion for the final layer to get a crunchy texture. In addition, you may sprinkle the seven-layer dip with some cilantro for garnish. Refrigerate the dip to keep it fresh for serving.
Total time: 40 minutes.
Right out of the gate, I can already tell that you think it's crazy to combine bacon and chocolate. The exotic combination is a huge hit in American cuisine as people can't get enough of the ingredients' crunchy texture and sweet umami flavors.
Making these chocolate-covered bacon strips at home is straightforward because you only need to prepare four ingredients. The critical point is to bake the bacon strips until they become crispy. While you wait, melt semi-sweet chocolate with shortening (fat) until it becomes smooth.
Dip the crispy bacon strip into the chocolate and wait for them to dry. For some decoration patterns, I recommend drizzling some melted white chocolate over the strips to make the dish more standout.
Total time: 20 minutes.
Tomato fritter is a peculiar delicacy yet offers a great flavor profile. Interestingly, the entree is a common dish in Turkish cuisine. These terrific tomato starter delights come in the shape of a bite-sized circular disk, allowing you the chance to experience all the flavors in one go.
You must discard the seeds and drain out any excess liquid from the tomatoes to prevent a runny batter mixture. The fritter concoction should consist of eggs, crumbled feta cheese, and flour. Remember, you may add more flour whenever the batter becomes too watery.
Drop the batter into hot oil bit by bit and fry for around half a minute on each side until golden brown. The fritters provide a crunchy experience with a splash of sweetness from the tomato pieces.
Greek-style tomato fritter is a new option to include in your list of entrees.
Total time: 15 minutes.
You're in the right place for a fresh and healthy cucumber appetizer to serve in individual pieces. These mini cucumbers with smoked salmon toppings make for a great opener to a wonderful time at the dinner table.
As I mentioned above, the entree calls for a couple of crunchy cucumber slices to be the base. For the creamy topping, mix the cream cheese with Greek yogurt, minced dill, and a splash of lemon juice for a harmonious concoction.
Assemble the starter by placing a small piece of smoked salmon over the cucumber slices. Continue to top it with your cream cheese blend to finish your cooking. To save more time, you may prepare the lemon cream mixture ahead and store it in the refrigerator.
Total time: 20 minutes.
At first glance, you may think these watermelon cubes are desserts for your tummy, but they are a really exciting entree. In addition, this wonderful watermelon recipe for appetizers is an exotic experience for any guest as I'm sure few people have tasted something like this before.
Aside from the cubed watermelon, you want to incorporate feta cheese, salted cucumber, and mint leaves. Carve out the top of the watermelon cubes so you may fit the unique cucumber cheese filling. Make sure you squeeze the cucumber slices to extract any excess moisture.
Total time: 20 minutes (excluding 4 hours of refrigerating).
Mozzarella balls are milky and cheesy to have by themselves, but I have a better way to elevate the ingredient by soaking it in a terrific concoction. It's a simple dish yet achieves amazing effects as you serve it to your guest.
Don't forget to toss the beautiful white mozzarella balls in a bowl with garlic, sun-dried tomatoes, and finely chopped bell peppers. Furthermore, you may include some basil and olive oil to enhance the aroma of this mouth-watering mozzarella appetizer.
For a touch of heat, sprinkle some chili flakes for the best effect. After tossing all the elements thoroughly, refrigerate the concoction for at least 4 hours before serving. For a beautiful presentation, I suggest skewering the mozzarella balls with the sun-dried tomato pieces.
Make your mozzarella balls delicious by infusing them with simple condiments.
Total time: 5 minutes (excluding the infusing time).
All good things must come to a close, but I want to leave you with a pleasant marinated olive recipe to try out at home. You can prepare the entree a couple of days ahead to infuse the olive with a combination of citrusy, garlicky, and herbal fragrant.
Along with the olive, place the garlic, herbs, and spices at the bottom of your container. Gradually pour in olive oil to cover the olive completely. Seal the jar and let it marinate in the refrigerator for at least two days.
Before serving the olives, allow them to cool down to room temperature. Depending on your liking, you may eat the olive directly or place it over a cracker to enjoy.
Individual Appetizers To Enjoy In One Bite Are Incredibly Diverse
It doesn't matter what recipe you decide to settle with because I know the result will be your mouth tingle in joy. So next time you want to make entrees for yourself or divide the dish evenly between family members, you can always turn to this article for some ideas.
Feel free to leave your opinion in the comment section so I may learn more from your experience. In addition, you may share the post with people you know to enlighten them with different cooking ideas for a hearty meal.