22+ No-Fail Indian Side Dishes To Make At Home In 2023
How about making some Indian side dishes? Don't be concerned about how hard it is to create a portion of these toothsome delights. Trust me; it is much easier than you think, and your loved ones will drool just by hearing the appealing smell from your kitchen.
Growing up and not having much time to have a proper meal with your family might be the saddest thing. With some of my suggested Indian delicacies today, you will have more side dish options for what to serve in your next family get-together.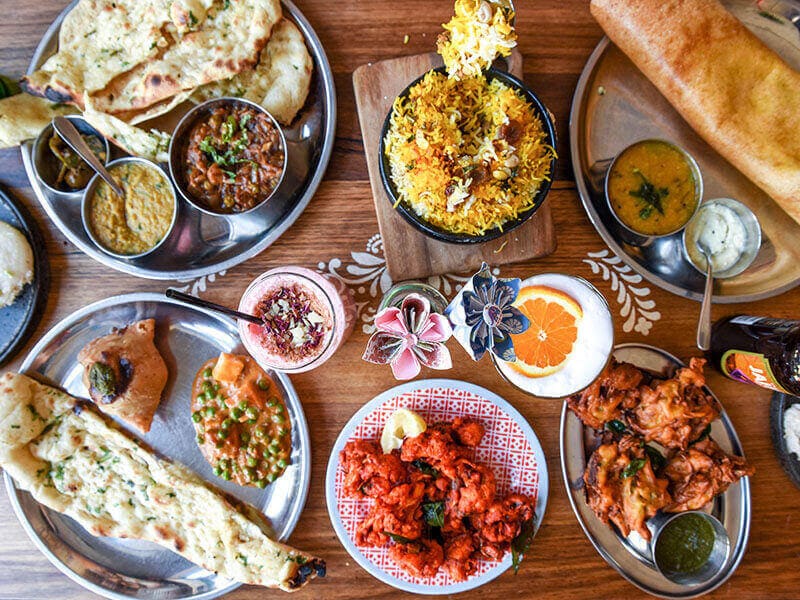 Done With No Effort, These Indian Side Delights Are Fascinating!
I agree that you might find there are a lot of Indian spices/condiments that you need to prepare before cooking Indian foods. Trust me, you will discover that every effort is worth it.
Otherwise, I will offer you various exciting recipes from easy to complex so that you can have more choices to choose from. No further ado; roll up your sleeves and make some food!
Total making time: No more than 30 minutes.
If you love the crispness of a fried treat but would rather skip the fussy recipes, this easy-fried Puri/Poori will satisfy your desires.
My referred Puri recipe is the most basic one since you might ask for an easy start. You can eat these alone as a quick Indian snack or as a side dish besides hearty curries.
You can also serve this recipe as an Indian-inspired breakfast treat by making the Puri dough beforehand and keeping it in airtight containers for a few days. Or else, freezing the rolled Puris and thawing it just right before frying is also reasonable.
The most uncomplicated Puri-making instruction for you to follow is right here!
Total making time: About 35 minutes or more than 1 hour.
Wheat flour, salt, water, and oil (or butter) are indeed everything you need to create a batch of this favorable Indian bread. Can you believe it? In short, you just toss everything together and knead the dough until it has a smooth surface and more pliable texture.
You'll only need 3 to 4 minutes for kneading, so it'll be much easier to accomplish than some other Western-style bread you have known. After doing the kneading, let your Chapati dough rest for a while before moving on to the other steps of cooking.
If you have the requested ingredients in your pantry, it might signify that you should make some Chapati right away. The key to having your Chapati incredibly soft later is using high flame when processing your bread on the pan.
Total making time: Up to 13 hours 20 minutes (including 12 hours for oven-broiling, if you prefer this method).
Papadums have quite a lot of names in India; you can find people calling them Papad, Papadums, or Poppadoms. They are all the same treat and can all stand for the culinary culture of India.
Curries, hearty main dishes, and salsas may all be terrific companions for your Papadums. Further notably, there are various processing methods for Papadums you can consider sun-baking, deep-frying, or pan-searing to get a crispy cracker/flatbread.
Of course, deep-frying the rolled dough helps you shorten the cooking time, but if you want to have your treat less greasy and healthy, try sun-baking or oven-broiling. Your Papadums will be much healthier, but it takes a longer time. The good thing takes time, doesn't it?
Wondering how to make Papadums? Click here to know more!
Total making time: Up to 4 hours 12 minutes.
As you might have noticed, Naan is a kind of leavened flatbread, different from the previously mentioned Chapati. This iconic Indian recipe is so prevalent and versatile that you might see people recommend it anywhere.
Now, you can make some at home! Since this is leavened bread, you have to let the dough rest for a while so that it can rise/proof beautifully. Never skip this step (although it is pretty time-consuming), or your Naan will be a bit sloppy and less attractive.
Traditionally, local people bake this Naan bread inside a tandoori clay oven, but a cast-iron skillet is the best utensil to make Naan in your kitchen. You should flip the side of your flatbread every 30 seconds or 1 minute. Don't forget, or you will burn your food.
Total making time: From 20 to 55 minutes.
Rice always takes an essential role in any Asian meal as a balancing starch base. This signature and easy Asian dish are pretty varied in Indian gastronomy. Local people often mix the rice with spices, and in this case, they use turmeric.
Although the traditional use for rice in these mixed rice dishes is basmati rice, you can opt for other rice kinds such as brown or white rice.
On hectic workdays, making a cozy pot of Haldi Chawal in water with a drizzle of olive oil and some garlic infused for a fulfilling side dish is not a terrible idea.
Total making time: About 30 minutes.
It has a similar bright yellow appearance to turmeric rice,yet, this Chitrana is a distinguished side dish with rice and different ingredients. This lemon-infused dish will give a great punch of India's mild pungent spices to your taste buds and a game-changing citrusy taste of lemon.
Both lemon juice and zest are utilized, so you can surely expect a mouthful of mild sourness and acidity. If the concept of this delicacy is still quite odd to you, there is no way else but to try cooking it once to verify. Don't wait anymore, and whip some up as soon as possible!
Total making time: From 15 minutes to 1 hour 15 minutes.
The harmonized combination of rice and vegetables makes this dish a perfectly nutritious side dish in a bowl. Basmati rice is the most recommended rice type to use for this treat, and you should soak it for 10 minutes before cooking to be cooked more evenly.
More importantly, whenever you don't have much time for preparing food, this vegetable Biryani is a nice instant pot-compatible side dish to go for. The outcome will be pretty bold and aromatic, thanks to the existence of various spices. How tasty!
Quick, easy, and straightforward! Let's learn to make Vegetable Biryani now!
Total making time: Only around 10 minutes.
Although Raita is more famous under the name Indian yogurt condiment in English, it can still play a role as a refreshing Indian salad or dip.
To define, Raita is an aromatic and delicious medley of chopped/grated fresh cucumber with yogurt and salt to taste. If you follow a vegan diet, you can change the dairy-based yogurt into the soya-based/plant-based ones.
Standing out against the background of this relatively light dish are the cumin seeds for garnishing. Cumin seeds have distinctly warm, earthy notes and scents with a touch of sweetness. All of these make the overall Raita more memorable.
Total making time: Around 30 minutes.
There are two main ways to make Gobi Roast, one on the stovetop and one inside the oven. No matter which way you prefer, the results of both of them are absolutely delicious.
Since there is nothing else besides cauliflower and plant-based spices used, this is another vegan-friendly option for your side dish. The additional ingredients like raisins or garlic are all optional; you can choose to have them or not, depending on your preferences.
Simply serve this humble dish with some rice or with the suggested Chapati recipe. I promise they are "best friends" and you won't do anything wrong.
Total making time: From 30 minutes to 1 hour 15 minutes.
Yes, Plum Chutney is simply a sauce, but you should never underestimate its role in any Indian meal. Assembling this sweet yet a little robust sauce with simple Parathas or hot rice to create a quick Indian lunch box is a great way to go.
Furthermore, this non-dairy sauce is a refrigerator/freezer-friendly dish, so you can make a big batch, separate it into sterilized glass jars and keep them for later use within 3 months.
It can last for a longer time (up to 6 months) in the freezer, and you just need to defrost it for a while. Notably, I suggest making this Plum Chutney in an instant pot as you save nearly half of the cooking time.
Total cooking time: Around 20 minutes.
Give this Pineapple/Ananas Pachadi a chance if you are not a fan of plum. Pineapple typically offers a more robust sweet-tart flavor compared to plum. So, if you want to experience something that has more contrast in taste, leave this dish a place on your dinner table.
If you're interested in Indian food, you'll know that the dishes in Southern and Northern India are different. The Pacadi is indeed a kind of Raita featured in South Indian cuisine, and this pineapple variation is one of the most favorite ones. It can also include yogurt like the regular Raita, but you can choose to change it into curd.
Fresh, grated coconut, mustard, and cumin seeds are all essential inside your portion of Pacadi. They harmonize with each other well and make your condiment a perfect tangy sauce base.
Believe me, this dish tastes exceptionally refreshing. You can eat it with white rice and feel satisfied already.
Within only 3 minutes, you will know briefly how to make Ananas Pachadi!
Total making time: Approximately 40 minutes.
With their mild beany taste combined with the slight sweetness and a hint of acidity from spinach, chickpeas offer you an exciting taste experience when eating Chana Saag. You can choose any side dish to pair with this curry: Naan, rice, or Chapati, basically anything.
Aside from that, the rich and creamy base is also essential to your food, so you should choose between dairy products or coconut milk. Both options work pretty well, so you can pick any of them, depending on your diet.
Total making time: Around 12 minutes to 1 hour 5 minutes (excluding 1 hour for chilling).
Also calling for cucumbers, but Kachumber is not Raita. Basically, Raita has a yogurt base, and Kachumber doesn't require it. You can still add some if you wish, but it is unnecessary.
About the English name of this dish, people often call it Indian cucumber salad. Many variations of this delicacy call for cucumber and mixed veggies, while others consist of various native fruits in India.
Cooking is all about creating and personalization; therefore, you can add any twist you wish to your dish. In my two suggested Kachumber today, they all need cucumbers with various fragrant spices/herbs (cilantro, for example). You add other things to your salad if you like it.
Total making time: Around 1 hour 15 minutes.
For a comforting, homey side, try Brinjal Bhaji or Aubergine curry. This is another flavorsome Indian curry for you to add to your foodie list, and I'm sure the way to make it is effortless.
The aubergine for this curry is baked/roasted until seared a bit before adding to the pot, so your dish will surely deliver tongue-tingling smoky scents. Once you have a mouthful of this dish, the robust flavors from chilis and ginger will rush to your mouth.
Whipping up a portion of Brinjal Bhaji has never been this easy!
Total making time: From 20 to 40 minutes.
Finally, let's turn to a soupy Indian delight that you can have for any time of the week (because it takes almost no time to assemble). The term "rasam" means " juice " in the Telugu and Tamil languages, referring to the juice from tamarinds and tomatoes in this dish.
You may know the difference between this South Indian delicacy and North Indian one is the use of various spices. But the true heroes are the richness of Ghee and the light sweet-tart taste of tamarind.
It is best to enjoy Rasam when it is still hot, and remember to prepare a bowl of hot rice. They taste superb together.
Total making time: From 20 to 45 minutes.
Even those who think they hate potatoes will love this Bombay Potato recipe. Jeera Aloo or Aloo Sabzi is the more popular name for this dish in its hometown, India, while Bombay Potato is how English names this delight.
Visually, this dish might look precisely like stir-fried potatoes with spices, yet, it is actually a kind of dry curry. Your potatoes won't burn even if your dish is a no-sauce dish because your root veggie is parboiled before being pan-fried with loads of spices.
Your Bombay Aloo can last for a week in the fridge, so I suggest you make it in your upcoming meal prep. Some most recommended companions for this Bombay Aloo are Naan, rice, or even a Taco filling.
Total making time: Up to 2 hours 15 minutes.
Malai Kofta basically means "meatballs and clotted cream" in English, typically including no meat in most varieties. Instead, these balls are made of Paneer and mashed potatoes. The idea to make this dish is to cook these cheese-filled balls in tomatoes-based gravy.
You should fry the Kofta so that the exteriors turn golden brown and firmer to prevent them from falling off after a time in the pot. If you want to reduce the greasy feeling when eating, you can replace deep-frying them with a sizzling oil or an air fryer machine.
Total making time: From 10 to 18 minutes.
Only have some onions left? I have your back; how about making some onion fritters? Fritters sound more like a snack rather than a side dish, but you can be amazed by how harmonizing the combination of curries and these crunchy treats is.
My tip for you to have your whole batch of Onion Bhajis crispy is that you must slice the onion evenly/finely. When you coat the liquid, spiced batter outside the onion slices, it can cover your vegetable well and let all the pieces have the same time to cook through.
In case you are not a fan of oily food, you can make this side dish with an air fryer. The leftover Onion Bhajis can stay in the fridge (inside a freezer bag) for a month, so you shouldn't waste them. Within 3 to 5 minutes, your treat is hot again.
Total making time: Only about 35 minutes.
For those who love to make snacks at home, the idea to make Pakora batter is surprisingly versatile. Not only do they go well with corn, like my suggestion here, but you can also try them with other vegetables later.
Rice flour is the key leading to the crispiness of your Corn Fritters; however, you can change into refined/corn flour if you have no other choice or cannot find any of the rice flour. After assembling all the ingredients together, next is the frying step.
When deep-frying the Corn Pakoras, never forget to turn on high heat! The boiling oil helps your treat cook faster and receive the most desired crust.
A way to make corn fritters with an air fryer? Check it out now!
Total making time: About 1 hour.
Since I haven't mentioned any side dish using cabbage on this list, then here is what you might have been waiting for. Filled with spices (chile, cumin seeds, and asafetida), I guarantee you there is nothing less than perfect from this delight.
Before putting your food tray into the oven, ensure that you have preheated the oven to 350 degrees F. It is not a waste-of-time move as it helps your dish cook evenly.
This dish is pretty prevalent in India, and there is no exact root for it. However, as long as the dish still tastes good, costs less, and is easy to make, it can still be famous all around.
Total making time: Approximately 20 minutes to 1 hour.
Is it spicy? A bit. Is it pungent? Still, a bit. Then, is it tasty? Absolutely! This Keema/Qeema is a perfect meaty curry for anyone to make in a short time since every step to make it is effortless. Even with protein, you can have anything of choice.
Remember to cook the minced meat on medium heat until it turns a bit more brown. After that, you need to turn the heat to lower mode for the juices from your protein to exude and infuse evenly into the gravy later.
Maintaining low heat is the key to receiving the best Keema. It might take a bit of time to wait until the gravy thickens, so you can start rebaking some Naan or toasting some bread slices.
Tea spilling alert! This is how Indian people prepare their authentic Keema.
Total making time: About 45 minutes.
You'll never want instant food if you know how to make this rich and hearty curry yourself. Palak Paneer is an ideal suggestion using cottage cheese for those who cannot eat the spicy treat. Furthermore, the curry is loaded with veggies, so it will be a bit healthier.
It still consists of Indian hot spices such as Garam Masala, but the amount is less than the other curry recipes. Paneer or Indian cottage cheese generally offers a lovely mild and creamy taste already, yet it can taste much better after you pan-seared it with oil/Ghee.
Actually, pan-frying is not a must to process your Paneer; you can choose to soak the Paneer cubes a bit in hot water. My recommended Palak Paneer recipes for you are vegetarian-friendly; however, you can change Paneer into extra-firm tofu to make it vegan.
Total making time: From 35 minutes to 1 hour 40 minutes.
Mentioning Samosa, you might immediately think of a famous dessert belonging to Indian cuisine. However, today I will show you how to bring them onto your dinner/lunch table on the side of rich curries.
Today, you need peas, potatoes, and carrots for the main fillings in my two referred recipes. The natural sweetness and juice from these veggies contribute a lot to the success of this dish. Furthermore, you also have two options to process this delight.
You can deep-fry them in hot oil or bake them in the oven. Both ways are good, and you can choose any of them. Another use for these crunchy Samosas pieces is to serve them at your weekend backyard party. They are a finger-licking good treat that no one can resist.
Are You Ready To Cook Some Indian Side Delights?
When you see Indian foods on the menu, you know you're in for a warm, filling meal. Whether you prefer less complicated/time-consuming or heartier side dishes, this post has everything you need to complement your feast.
You'll find many excellent recommendations above, and if you have tried/tested them out already, please leave your review below and let me know what you think.
Alternatively, do feel free to offer any other good delicacies you have in mind so that I can broaden my today's menu. I really appreciate any help you can provide.
Nutrition Facts
10 servings per container
---
Amount Per ServingCalories107
% Daily Value *
Total Fat 2.7g

4

%
Cholesterol 6mg

2

%
Sodium 700mg

30

%
Potassium 1mg

1

%
Total Carbohydrate 17.4g

6

%
Protein 3.3g

6

%
---
* The % Daily Value tells you how much a nutrient in a serving of food contributes to a daily diet. 2,000 calories a day is used for general nutrition advice.