20 Easy Indian Appetizers To Try 2023
Searching for easy Indian appetizers to try at home can be quite time-consuming. India is a land full of tasty and exceptional cuisine, and sometimes there are too many recipes that you don't know what to begin with.
Cast aside your worries forever because after reading this amazing post, you will have more than 20 ideas about the most simple and delicious Indian dishes. You can choose accordingly what ingredients and methods suit you best with this article.
Before knowing all about these 21 wonderful Indian appetizers, let's get the first clue about their names, shall we?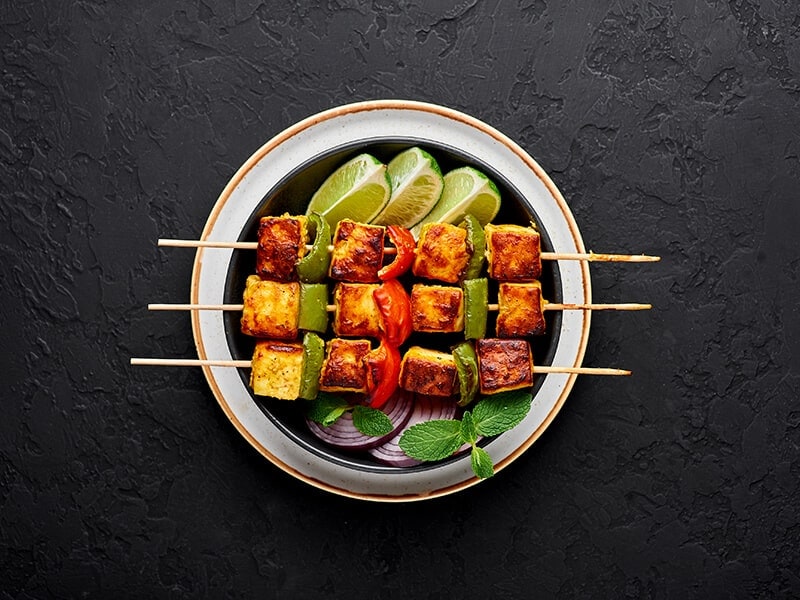 21 Stunning And Easy Indian Appetizers
You will have a wide variety of options when it comes to Indian appetizers. Therefore, I have classified the food in this post into 6 different parts for your convenience.
The parts are divided based on their main ingredients:
Chicken Recipes:
Indian Masala Chicken Wings (Indian Spiced Chicken Wings)
Chicken Pakora (Indian Chicken Fritters)
Indian Chicken Lollipop
Chicken Seekh Kebab/Kabab (Indian Cooked Chicken On Skewers)
Potato Recipes:
Jeera Aloo (Cumin Potatoes)
Aloo Chaat (Spicy Potato Snack)
Indian Ground Beef Potato Chops
Onion Recipes:
Crispy Onion Pakoda (Spiced Onion Fritters)
Masoor Dal (Indian Onion Lentil Dip)
Bhaji (Spicy Indian-Style Onion Rings)
Vegetable Samosa (Indian Triangular Vegetable Pastry)
Matar Chaat (Mushy Onion White Peas)
Cheese Recipes:
Cheese Golgappa (Stuffed Cheese Balls)
Paneer Tikka (Marinated Paneer Cheese In Spiced Gravy)
Fried Paneer Cheese Pakora (Paneer Cheese Fritters)
Mushroom Recipes:
Tandoori Stuffed Mushroom Tikka (Marinated Mushrooms In Clay Oven)
Garlic Mushroom Appetizer
Instant Pot Cream of Mushroom Soup
Prawn/Shrimp Recipes:
Indian Fried prawns
Malvani Shrimp Fry
Tandoori Prawns/Shrimps (Indian Grilled Prawns/Shrimps)
Mouthwatering Indian Chicken Appetizers That You Must Try
What could be better than opening your menu with these marvelous chicken starting recipes from India? They have been carefully selected, so don't be surprised when they're gone within several minutes!
When it comes to the masala, there are a lot of spices and herbs included in the recipe. Chicken wings are one of the best parts of a chicken's body, but when incorporated in those seasonings, they've reached a new level of deliciousness.
Making Indian masala chicken wings isn't tricky at all. It's fun to make, easy to enjoy, and absolutely suited to be served right at the beginning of any meal. You just need to marinate those wings and spend about half an hour finishing the wonderful dish!
This version of Indian chicken is insanely crispy! They are undoubtedly an excellent appetizer for your children. And believe it or not, it only takes a relatively short time to make these addictive fritters!
The recipe only calls for very basic ingredients, so don't skip any of them if you want to obtain the authentic Indian flavor. When making this incredible food, please keep in mind not to turn the mixture into a super watery paste.
Wait, is this appetizer a hybrid chicken and lollipop? It could be indeed because you will have to turn all the magnificent chicken wings into lollipop shapes. This is a very interesting Indian dish, isn't it?
The steps required to make these exceptional lollipops are incredibly simple, and you don't need to have any modern kitchen equipment to complete them. Marinade the chicken lollipops, coat them in the batter, deep fry, and there you go!
Wait, what kind of mouthwatering food is this? You can tell just from the look that chicken seekh kabab is an extremely succulent skewer appetizer, right? That is true because once eating, one bite of this phenomenal chicken is never enough for me!
And the recipe for Indian chicken kabab is nowhere near hard! You will form the chicken paste, mold it along the skewers and cook them until golden brown. You can enjoy this amazing appetizer on its own or serve it with rice and salad.
Whip Up These Marvelous Indian Potato Recipes Right At Your Home
These Indian potato dishes are totally appetizer hacks! Under 1 hour and a handful of ingredients are all you need to "sacrifice" in order to achieve these heavenly appetizers!
Why not turn your meals into remarkable memories with this stunning potato dish from India? If you love spicy and pungent food, jeera aloo is your to-go appetizer. It bursts with all ranges of flavor and looks amazing also.
In order to make this marvelous dish, you will have to cut and saute the potatoes. If you want the potatoes to have extra golden brown lines, grill them in your oven. You will need to spend only 20-25 minutes to finish the whole process.
Wanna turn regular potatoes into something super exciting? Then come to this very dish of India! Crispy aloo poori chaat is a very popular street food in India. You can either serve it as an appetizer, snack, or a light meal.
The key ingredients to provoke the flavors of this supreme dish are chilies, tamarind chutney, and coriander leaves. There are many ways to make aloo chaats, such as mash or fry diced potatoes. Whichever version you prefer, it is always super mouthwatering.
What could be better than a fancy side dish full of Indian flavors that could act as an appetizer? These meat and spice-stuffed potatoes feature a charming looking, cheerful characteristic, and incredibly yummy flavor!
Shaping mashed potatoes is full of enjoyment because you can literally turn them into balls, cylinders, or anything that you want. To make the texture crunchier, people often add breadcrumbs as the final coating of Indian potato chops.
Some Exquisite Yet Super Simple Indian Onion To Open Your Meal With
Indian cuisine is famous for its onion dishes, isn't it? Onion is an essential food source in this country, and if you love that taste, welcome to the wonderland of Indian onion appetizers!
Are you afraid that consuming too much oil is bad for your health but still want to enjoy crunchy food? And love the taste of onions? You've come to the very right place because not only does crispy onion pakoda meet those needs, but it is also brilliant.
You can use an air fryer as a kitchen hack in this recipe. It's super convenient, quick, and beneficial to your health. Try to adjust the timing according to the instructions so as to get the best of your onion slices.
Learn to create this astounding onion appetizer at home with this authentic Indian instruction.
This lovely dip turns out to be one of the best Indian curried ones I've ever eaten. Indian lentil dip is almost effortless to make, while it can still easily win your guests' hearts. Don't be surprised if this dish has gone out in just a few seconds, then!
Lentils add a nutty kick to the dip, while curry powder brings a perfect spicy taste to the mixture. All the other ingredients blend beautifully with onions, and the appetizer tastes almost out of heaven.
A hot plate of crispy onion rings is not only straightforward to do but also looks phenomenal and tastes astounding. These rings are perfect for serving as a snack or as a starter for any Indian party.
Making spicy Indian-style onion rings is not time-consuming at all! All you have to do is make the batter and dip the beautiful, yummy rings into it. Then deep-fry to finish this crispy dish in a saucepan or in an air fryer.
Want to succeed in frying Indian onion rings at home? Then dive into this amazing recipe right away!
I can't wait to cook a very decent meal and make a big batch of this triangle-shaped crunchy cake as the meal starter! No matter how many vegetable samosa I make, they will all go away after a very short while!
If you're a vegan and in love with Indian food at the same time, vegetable samosa is a really great choice for you. It is loaded up with terrific spices and healthy fibers. You can either fry or bake this mouthwatering treat, according to your personal preference.
Even a beginner-level chef can create this Indian appetizer, but matar chaat is a very exquisite and worth trying dish! It is often sold by street vendors in India, and the Indians love eating matar chaat all the time!
Besides onions and white peas, you will prepare several simple vegetables and condiments for this extraordinary chaat. Matar chaat is both vegan and gluten-free, yet it is packed with a lot of good nutrients. I recommend that you enjoy the chaat while it's still hot.
Stunning Indian Appetizer Recipes From Cheeses That Beginners Can Try
Cheesy recipes are all fabulous, no matter where their origins come from. Nevertheless, these easy Indian appetizers have their unique characteristics and can not be mistaken with other dishes around the world!
If you are a fan of cheesy and super speedy food, you shouldn't miss out on this magnificent cheese golgappa. The recipe is such a breeze to complete, yet you can impress anyone with your cooking skills by serving this mouthwatering treat.
The type of cheese usually used to create the chewy, milky feeling of this golgappa is mozzarella cheese. There are many varieties of this well-known Indian dish, such as cheese golgappa puri (deep-fried bread) and cheese golgappa pakora (spiced fritters).
At first sight, I thought paneer tikka was a bunch of BBQ skewers. It turns out that those delectable little squares are paneer cheese cubes – an extraordinary and very delicious version of Indian cottage cheese.
From children to the elderly, everyone would welcome this incredible appetizer with open arms. It's cheesy, infused with spices, and full of umami taste. And another great thing is that it only costs you about half an hour to create these gorgeous cheese skewers!
Here is another fantastic creation from Indian paneer cheese. Instead of baking, people often fry in paneer cheese pakora recipes. You can switch to an air fryer if you want to reduce oil intake.
To make the outer layer extra crispy, you can either mix chickpea flour or breadcrumbs with water and other seasonings. You can eat these milky, creamy cheese fritters on their own or dip them with other sauces.
Astounding Mushroom Dishes To Begin Your Meal In India
Mushrooms are already very yummy and juicy on their own, but when incorporated into amazing recipes, they turn out to be perfect. And Indian mushroom appetizers are almost effortless to do!
Have you ever eaten any Asian food cooked with a tandoor before? Mushrooms are already very delightful if served alone, but the tandoor even gives them an extra smoky, juicy, and sweet flavor.
Don't have a tandoor at home? Don't worry because you can still imitate the traditional tandoori stuffed mushroom tikka recipes with a regular oven or gas cooker. You just need to leave mushrooms in the marinade for a while and cook them later.
Curious about how to make tandoori stuffed mushroom tikka? Wait no more and get to know all the details right now!
There are two versions for you to choose with Indian-style garlic mushroom: vegan and non-vegan. The non-vegan garlic mushrooms contain eggs and mayonnaise sauce. Nevertheless, no matter what version you choose, the appetizer is still terrific.
To infuse a deep flavor and make the mushrooms more watery, you need to add a handful of spices and herbs! After cooking the garlic mushrooms, I suggest that you sprinkle some fresh garnishes on top to add a green pop to the tasty dish.
This incredible mushroom soup is like a magic pill to heal your soul! This easy soup from India can warm up your body in a unique way that no other soup can!
You may be wondering: Why use an instant pot? It's ok if you use a regular pot for this recipe, but with an instant pot, everything turns out to be much faster and more convenient. You can opt for a pressure cooker instead to achieve a similar result.
You can handle instant pot mushroom soup better by having a look at this incredible instruction.
Terrific Options From Shrimps And Prawns When It Comes To Easy Indian Appetizers
Do you want some flavorful appetizers using seafood? You've come to the right place because down here, I will present to you the most magnificent yet basic Indian appetizers that contain shrimp and prawns.
Fried prawns are a very popular dish in most countries. Kids go crazy for this appetizer, but the secret is that these beautiful golden brown prawns are just deep-fried sea creatures that have been coated in a special batter!
The Indian version for this batter consists of chili powder, ginger, and turmeric powder. Indians just love to put this combo in most of their cuisines, right? When about to serve, you can squeeze some juice from a lemon to give a perfect citrus kick to the prawns.
20. Malvani Shrimp Fry
Wait, what food sounds super exciting like this? This Malvani dish is actually a restaurant-quality appetizer using shrimp, which explains why this dish has such an enticing appearance and flavor!
And here is the best part: you can totally whip Malvani shrimp fry up in your own kitchen in no time! You can pair it with bite-sized bread to impress your guests at the start of your decent meal even more.
If you're having a party and wanna throw something cheerful to start eating, I suggest you try making the exceptional tandoori prawns/shrimps. They are the star of every meal, and it's hard to resist the charming presence of this delightful dish!
Like fried prawns, you will need to marinate this tandoori dish first. The herbs and spices included in this recipe can not be simpler, and you are going to add some salt and lime juice to create a wonderful flavor balance.
You will know the ultimate method of making tandoori prawns with this informative clip.
Will You Try All Of These Fabulous Indian Appetizers?
Which Indian food do you like best from the list above? Which one leaves the most impression on you? If I were you, I wouldn't hesitate to try all of the stunning Indian appetizers in this post because they are super basic yet tasty.
I hope you will successfully create a homemade "Indian restaurant" with the amazing dishes provided above. If you have any idea or easier Indian appetizers to make at home, please let me know by commenting. Enjoy eating wonderful Indian food!
Nutrition Facts
3 servings per container
---
Amount Per ServingCalories157
% Daily Value *
Total Fat 3g

5

%
Cholesterol 48mg

16

%
Sodium 322mg

14

%
Potassium 419mg

12

%
Total Carbohydrate 11.3g

4

%

Dietary Fiber 2.1g

8

%
Sugars 1.4g

Protein 20.5g

40

%
---
* The % Daily Value tells you how much a nutrient in a serving of food contributes to a daily diet. 2,000 calories a day is used for general nutrition advice.