30+ Amazing Hot Lunch Ideas 2023
These hot lunch ideas below will diversify your cooking list with the best nutrition quality. I truly believe that putting much effort on a beautiful hot lunch will provide good energy to finish the unaccomplished tasks of the day.
As a quick scheme, the delicious hot lunch dishes provide five categories, including beef, chicken, pork, seafood, and vegetarian dishes. Therefore, it gives a better look for specific requirements.
In addition, the list is diverse of many cultural cuisines that are very famous and delicious in every single bite. Check out now because you are about to know something delightful.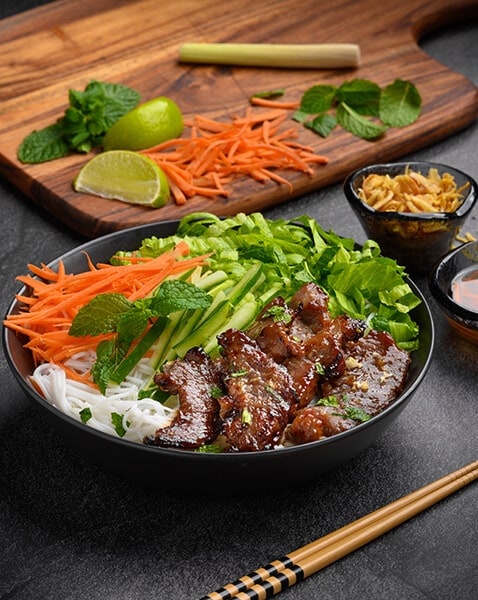 31 Tasty Hot Lunch Ideas To Reenergize Your Day
Lunch will decide the efficiency of the rest of your working day. So, hurry up, let's check out these fantastic recipes.
Beef:
Slow Cooker Roast Beef Sandwich
Vietnamese Spicy Beef Noodle Soup (Bun Bo Hue)
Chili Dog
Homemade Lasagna
Air Fryer Mozzarella Meatballs
Cowboy Casserole
Chicken:
Lemon Chicken Skewers
Fajita Chicken Burrito Bowl
Japanese Chicken Ramen
Panera Frontega Chicken Panini
Summer Chicken Tacos
Chicken Quesadillas
Buffalo Chicken Pizza
Pork:
Japanese Pork Cutlet (Tonkatsu)
Vietnamese Grilled Pork with Vermicelli
Pork Medallions with Mushroom Gravy
Oven-Baked Ribs with BBQ Sauce
Honey Garlic Pork
Seafood:
Salmon Avocado Salad
Hawaii Garlic Shrimp
Shrimp Pasta with Spicy Tomato Sauce
Crab Stuffed Mushrooms
Scallops Pasta in Creamy White Wine Sauce
Fisherman's Stewed Seafood
Vegetarian:
Korean Rice Bowl
Mushroom Fettuccine Alfredo in Creamy Sauce
Cheese Bake Broccoli Gnocchi
Sweet Potato and Cauliflower Curry
Veggie Quesadillas
Ramen Noodles Stir-Fry
Baked Eggplant Parmesan
Sounds curious yet? Let's go find out!
6 Tasty Hot Lunch Recommendations for Beef Lovers
Beef is considered an average meat consumption when you want to make a succulent lunch for yourself or anyone. I believe some of these may come in handy.
A beef sandwich is a perfect hot meal idea for lunch rushers. It seems to be a typical office man's top choice when picking something to eat on the afternoon break.
Plus, it takes no difficulty to get some of these at any fast-food store at the corner of the street for a quick and convenient lunch.
Moreover, you can still make this delicious recipe with leftover roast beef from last night. Thus, nothing can compare with this lovely sandwich when it merges with the buttery buns versus the sweet and sour pickles.
For any Asian cuisine lover, this fantastic beef noodle soup is a fascinating dish you have to try on any occasion. This noodle soup originates in Vietnam and has widely traveled to many countries and enchants many people's hearts.
You can find these noodle soups at many Asian restaurants. The overall taste is a bit spicy, fusion with an earthy and savory flavor. Hence, you can add extra luscious toppings like pork sausage, beef slices, and a press of herb flavor. Trust me; it's worth it.
Here comes a popular lunch pick of many people. The chili dog is a typical American fast food that has a long history since the old days. The dish is famous for its convenience and delicious in a small hot dog that takes a significant role in many cuisines.
Besides sandwiches or burgers, the beautiful chili dog has its unique feature in the chili sauce. The beefy sauce has a sweet, tangy, and garlicky taste, combined with the buttery bun and sausage. And when you enjoy it with the mustard sauce, it's a whole lot fantastic.
Lasagna is a national Italian best-loved dish with pasta, cheese, and tomato sauce in a single bowl. This excellent pasta variation has a long history and conquers the pickiest diners' hearts.
In general, lasagna is a straightforward dish that you can easily make at any time for any meal. All you have to do is line the lasagna noodle, tomato sauce, and cheese layer on layer until it reaches the top. Then bring it to the oven and bake for a couple of minutes.
Meatballs are no longer a strange dish to many people. It is the most-liked food with ground beef in many countries and seems to be the best method to cook meat.
You can cook the meatballs in just a few minutes without making any problems or facing any complex preparations. In addition, by using the air fryer for cooking, you can shorten the cooking duration to enjoy your succulent lunch quicker and still retain the dish flavor.
Making a casserole is a brilliant cooking method using a massive bowl for cooking your food better than ever. It does not only make the ingredient well-cooked but also retains the whole dish's nutrients as well.
I believe that you have heard plenty of casserole recipes. However, this fantastic cowboy variation is something that you should try out. The beef foundation is enhanced with extra cheese and vegetables to ensure you enjoy your lunch the best.
Watch this video to know more:
A Couple Of Aromatic Hot Lunch Ideas With Savory Chicken
Chicken is supposed to be a type of safe meat that can suit the pickiest diner. Honestly, you can make plenty of succulent recipes from the great beef. The following list is seven tasty chicken recipes for you to check out!
BBQ skewers for lunch, how fancy is that? The dish is surprisingly effortless to make. Thus you can have a full meal to energize the rest of the day. Moreover, you can cook these chicken skewers with an air fryer if no barbeque grill is available.
To increase the dish's juiciness and beautiful appearance, you can marinate these chicken breasts with some sweet and creamy sauce to expose the food flavor entirely. It is more delightful to add extra vegetables to spot up the look and balance the full flavor.
Let's make a high-quality rice bowl dish with a diverse range of healthy ingredients for lunch. Besides breakfast or dinner, the afternoon meal should be paid more attention to. Therefore, this beautiful fajita chicken bowl can be a bright candidate for this situation.
As a first look, you can easily observe how fancy the rice bowl is. It combines a diversity of color with a savory chicken breast that merges with the rest of the vegetables. Overall, the dish is an excellent source of healthy nutrients that is good for your body.
OMG! This Fascinating Chicken Bowl Is All I Need For Lunch!
Please stop by to give this succulent chicken ramen a try. I guarantee that the Japanese noodle soup will fill up your craving stomach and provide it with a beautiful treat.
Honestly, I like ramen noodles which are thicker and chewier than other regular noodles. The broth is a fantastic feature that decides if the dish is successful or not. As a first taste, you can feel how light and earthy the soup is. I promise this is the best ramen variation to try out.
Want some updated version from the usual copycat recipe from Panera Bread? These excellent Frontega paninis are the answer for you. They are Italian sandwiches with unique local bread and are toasted until they get brown grill marks on both sides.
There are plenty of fillings that match this delectable panini recipe perfectly. For example, this fabulous Frontega chicken has a signature smoky taste, pressed with caramelized onion, tomato, and cheese that delightfully raises the sandwich's wonderful flavor.
Taco is a well-known dish originated by Mexican people that have successfully widened in every corner of the street and taken a significant role in many people's hearts. I believe that this beautiful dish is a delightful idea to make for lunch too.
You can eat five of them on the road without feeling bored with crispy pan-fried tortillas and some smoked chicken. In addition, the other significant feature is salsa, a beautiful Mexican sauce that you should use to highlight the dish gently.
Craving for Mexican food? Let's fill up the stomach with some savory quesadillas. This wonderful dish is likely the taco sibling that technically has the same ingredients but a different look.
At first sight, you can assume that it is like a flat version of taco and is a bit similar to pizza. Well, the appearance does not matter because the flavor is something that enchants you if you have already tried it.
Well, pizza is a safe choice when you can not figure out what to have for lunch or any meal. You can order it from the store or make a luscious one right at your place with this delicious recipe. Trust me; it takes like 20 minutes without taking any pressure.
In addition, the buffalo sauce seems to be a perfect sauce that can match many dishes. Mixing the sauce with chicken wings, meatballs, and pizza is not a bad idea. To enhance the texture, add extra chicken and cheese to have a great deal for lunch.
Savory Hot Pork Dishes To Change Up The Ordinary Lunch
In general, you can make many pork dishes from just a small cut of pork. Pan-fry, bake, or grill are all the best methods to cook it. If you feel bored of the regular recipes, then check out the list below.
Now let's move on to some pork dishes that are essential for a hot lunch as well. This savory Japanese pork cutlet is a great deal that you can eat with almost everything. Rice, noodles, or sandwiches are all excellent combinations to go with.
You can taste how crispy the pork is from the outside and tender inside as a first bite. That seems to be a fantastic expectation that a dish should be. Moreover, to spice up its taste, the chef will provide a unique sweet and sour sauce that merges perfectly together.
Here comes a traditional Vietnamese dish that you may fall in love with. The local's recipe has a unique method to marinate their pork chop that surprisingly goes well with the entire cuisine.
The top-notch feature that provides good grilled pork vermicelli is the fish sauce. It gives the general taste a fusion of sweet, sour, and salty in a full mouth. In addition, crushed peanuts and carrot pickles are also significant and contribute to an excellent dish.
This Is My Favorite Pork Recipe In The Entire List. I Can Eat It The Whole Day!
This recipe uses a slow-cooked method to deal with pork tenderloin. In general, the dish is a quick lunch that you can make effortlessly and provide enough nutrients in a single meal.
The pork section has an incredibly tender texture so that it can match with any recipe. Slice the meat up and cook it with chicken broth to marinate out. Then add some mushroom, seasonings and let it simmer for a couple of minutes until the sauce gets thicker to use.
Keep reading because you are about to see something interesting. Making a barbecue is never more manageable when you know that you can bake it. The meat tenderness is surprisingly cooked well and retains the best appearance.
To nail this BBQ dish, you should check out the recipe attached in the link. It is a helpful and clever method to make an excellent marinating sauce successfully. Plus, make sure that you check the temperature to avoid over-cook your beautiful BBQ dish.
Hot lunch comes up with a fascinating look as well as a delicious flavor. This excellent honey garlic pork is a great deal to enjoy for lunch when it provides a savory taste and a pleasing appearance.
Honestly, the dish is super simple to make with the ingredients always available in your kitchen. The pork's sweetness and saltiness go well with a mild rice bowl. Honestly, you can see how balanced and delicious the whole dish is.
6 Special Hot Lunch Treats For Seafood Lovers To Dig In
Pick up your skillet weapon seafood lover because you are about to be treated well with a bunch of beautiful recipes.
How about some healthy salad to gently balance the whole dining table. It is effortless to make and brings along a significant number of nutritional values. In addition, this wonderful salad seems to be an excellent deal for dietary supplements.
Salmon isa rich source of omega-3 fatty acids and vitamin B12 vital for your physical health. Plus, avocado is a good remedy for lowering bad cholesterol. Hence, you can fully enjoy a tasty salad and a healthy meal in just a single dish.
If you are a seafood lover, it is essential to check out this beautiful Hawaii shrimp right away. The shrimp dish is prevalent in every corner of Hawaiian street food. You can order some of these at almost all local restaurants.
A fascinating feature of the dish seems to be the shrimp and the excellent garlic sauce. It is an amazing fusion of buttery, creamy, and garlicky taste combined with fresh shrimp or prawns from the sea. I believe that the seafood will go well with white rice and many dishes.
Watch this video to know more:
Another brilliant idea to enjoy fresh shrimp seems to be pasta. Besides the bolognese beef sauce, it is also great to eat Italian food in an upgraded version. Spicy, buttery combined with sweet and sour are all the beautiful features that the dish brings along.
It takes just a few minutes to make this hot lunch. The one that you should put more effort into is the tomato sauce. You can recreate an amazing spicy flavor and adjust the seasoning to fuse all the ingredients with a classic Italian dressing.
If you want something handier and more convenient to eat for lunch, these succulent crab stuffed mushrooms are the appropriate dish that will surprisingly fit your order.
The young generation loves the dish. It is a perfect snack or even a main dish that you can put in your kid's lunch box to provide the meal healthier and more diversifying. Plus, the mushroom cups retain flaked crabs and cheese, so you can feel how creamy they are.
Here comes an extra pasta recipe that may stun the diner expectation away. It is so beautiful and delicious with the cream sauce that exposes a gentle hint of white wine. As a first bite, you can feel how aroma and luscious the dish is.
The dish cooking duration requires just a couple of minutes, so you can try to make it and enjoy a better lunch. Or else, it can be stored in the fridge for a few days, reheated with the oven to indulge the meal at any time.
When it comes to seafood, you can never skip its succulent stew dishes. The fisherman style is a simple way to cook with a unique recipe that will enchant the diners.
In general, the ingredients consist of mussels, shrimps, squids, or anything available in your fridge. The sauce is the fascinating part of the dish, so you can ask for some slices of baguette or a bowl of white rice to enjoy.
Some Unforgettable Hot Lunches With Tasty Vegetarian Ideas
In my perspective, a wealthy menu should not just include the whole meat dishes. It ought to provide some vegetables to balance the dining meal and give the eater the best experience.
If you have no idea what to make for lunch, then consider this one. It is a traditional Korean dish that is convenient, delicious, and effortless to cook.
The rice bowl combines plenty of vegetables, including cucumbers, carrots, spinach, and especially kimchi. Moreover, the vegetarian version is more wealthy when it has a beautiful sunny side up fried egg on the top. Then lunch is ready to serve.
Fettuccine alfredo is a traditional Italian pasta thicker in size than spaghetti and has a creamier sauce. Parmesan is regularly used in the recipe so that it can provide the wealthiest condition for the sauce.
In my opinion, fettuccine is an incredible pasta. Surprisingly, it gives the diner a chewier experience from the dish. Then when the creamy sauce comes up, you can feel how fantastic the whole thing goes well together.
Let's bake some gnocchi for lunch. As the name shows up, I believe that it is no longer a strange dish at all. The most-liked gnocchi is a traditional Italian dish made of potatoes that have a small dumpling shape.
Gnocchi can go well with tomato sauce or just cheese. Adding some crispy broccoli and extra vegetables, you can have a portion of beautiful food for lunch.
Curry seems to be a perfect dish that you can make effortlessly. It is gluten-free, vegetarian, and provides many healthy nutrients for your physical health. Moreover, you can store it in the fridge for many days and use it whenever you want.
When it comes to curry, technically, you can add any of your favorite ingredients that are available to surround you. Just a few preparations, lunch will be served hot and steamy. Get yourself a bowl of white rice. It suits the curry.
This curry will take you by surprise as they are so delicious and easy to make.
The famous Mexican quesadilla is so delicious that I have to put it on the list more than once. You certainly can add any best-loved ingredients inside the tortillas. I like just cheese, onion, and some minced bell pepper, simple and super quick to make.
In addition, how can a quesadilla be successful without salsa and cream cheese? These side dishes are essential that provide the best experience a quesadilla could be.
As a ramen lover, I would like to introduce you to another succulent ramen noodle that is also delicious and requires just a few minutes to make.
If you are bored of noodle soup, then stir-frying is the best thing that you should try. As I have mentioned, this wonderful dish is straightforward. And it is super convenient for a lazy meal as well.
Eggplant is a beautiful vegetable that retains many healthy nutrients such as fiber, manganese, copper, and many vitamins. So, you should check out the link for a lovely eggplant recipe.
Prepare a casserole and turn the heat on because it's about to make something great. The dish requires a lot of cheese as it is a significant feature for a successful bake dish. As a result, you can see how cheesy and crispy on the edge the eggplants are.
Have A Good Time Enjoying Your Meal!
Providing a good lunch is a wise investment in a productive working day. You must eat well to have total energy to run up the rest of the day continually.
In addition, to spice up the meal with joy and relax, ask a friend or a family member to eat with you. It would create bonds and give you guys a better connection as well.
With various tasty recipes from beef, chicken, pork, seafood to vegetarian dishes, these succulent hot lunch suggestions are something you can certainly try on. Simple and delicious is the summing description for them all.
If you like it, leave some support and like. Moreover, enjoy your dining time!
Nutrition Facts
6 servings per container
---
Amount Per ServingCalories214
% Daily Value *
Total Fat 9.3g

14

%
Cholesterol 109mg

37

%
Sodium 337mg

15

%
Potassium 354mg

11

%
Total Carbohydrate 2g

1

%

Dietary Fiber 0.4g

0

%
Sugars 0.3g

Protein 29.6g

58

%
---
Calcium

26

%
Iron

15

%
Vitamin D

3

%
* The % Daily Value tells you how much a nutrient in a serving of food contributes to a daily diet. 2,000 calories a day is used for general nutrition advice.