22+ Luscious Honey Desserts To Satisfy Your Taste Buds 2023
Do honey desserts taste better than sugared ones? Does using honey affect the texture of the sweet treats? Stop worrying because this post provides you with excellent honey dessert recipes. Without a doubt, these final courses are perfect in every way.
Everyone knows honey has been a natural sweetener for a very long time. Besides the delicious taste, it also includes tons of nutrients that benefit your health. Therefore, making desserts with honey is a brilliant idea to please your sweet tooth.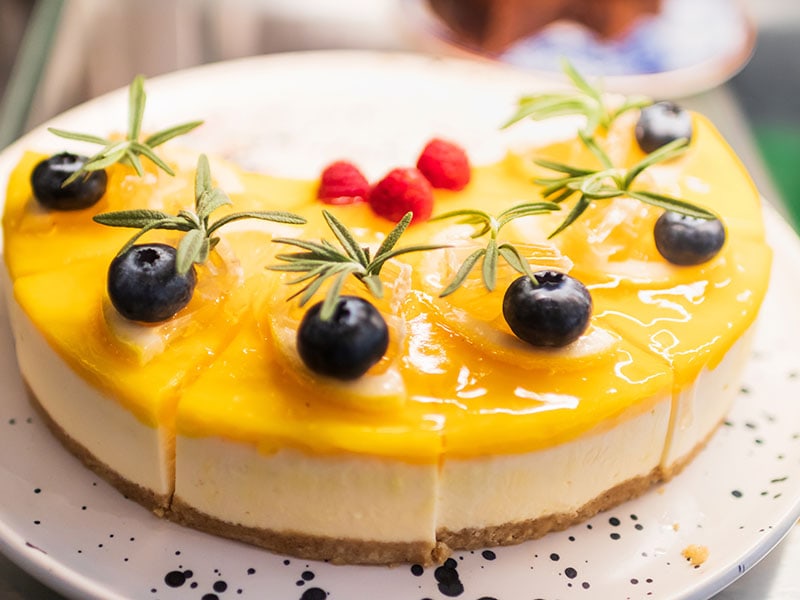 Honey Dessert Recipes You Will Make Again And Again
All the honey desserts below are the perfect sweet treats for your potlucks, weeknight dinners, tea parties, etc. Open this collection and prepare your favorite recipe when your sweet tooth strikes.
Total time: 8 minutes (not including the chilling time)
If you feel unsatisfied with store-bought fudge, which is overwhelmingly sweet and rock hard, let these honey-sweet treats comfort you. With this recipe, you can whip up a perfect snack that reaches your desired consistency and meets your personal taste.
Try to look for raw honey, which has a cloudy, thick texture and a pleasing sweetness in farmers' markets. It can create a perfect taste for your loveable fudge. Be aware that in supermarkets, most products are processed honey, not the raw type.
Peanut butter and honey fudge is one of the easiest and fastest treats.
Total time: 40 minutes (including 30 minutes of the chilling time)
Most chocolate bars are full of refined sugar, but these ones are not. Including flaxseed meals, protein powder, and peanut butter, the snacks are healthy and rich in flavor. Make the bars on the weekends and store them in the fridge, so you can eat them anytime.
In a pinch, they can serve as a handy high-protein breakfast as well. There is no need to spend time baking them, not to mention their excellent shelf life. Plus, the rich taste of these chocolate bars is more than enough to help you start your day on a high note.
Total time: 1 hour
Cookies are always the best dessert to serve on every occasion. Made from familiar pantry ingredients, these brown sugar honey shortbread cookies are crisp and buttery. Nothing is more wonderful than enjoying a warm tea cup alongside these yummy honey cookies.
Traditional shortbread cookies are native to Scotland and are prepared with flour, butter, and sugar. These shortbread cookies have a unique taste due to the combo of honey and brown sugar. Plus, they are dusted with some granulated sugar on top for an alluring look.
You can eat these lovely cookies for a light breakfast, brunch, or dessert. Also, these cute cookies are suitable for gift-giving to your friends, co-workers, or neighbors.
Total time: 1 hour (including 30 minutes of chilling time)
Making sandwiches from cookies? Fascinating. Honey cookie sandwiches are outstanding due to the subtly sweet flavor and crumbly, soft texture. All you'll do is mix everything together, form the cookie shape, bake for 8–10 minutes, and spread the filling.
Note that the baking time might vary based on your cookie size. You should use runny honey to easily combine it with the dough. If your honey is set, microwave it for a few seconds.
Assembling these sandwiches is pretty simple. Spread the filling on one side of the cookie and top it with another. You can use jam or fruit preserves in any flavor you desire for the filling.
Total time: 20 minutes
This easy honey fritter recipe should be added to your must-cook dessert list. Besides the addictive flavors, honey fritters are frequently served at Beltane, the Gaelic May Day festival. Beltane means bright fire and is celebrated annually on May 1st.
Let's talk about the fried honey fritters. Their exterior is golden and crispy, while the heart inside is fluffy and tender. The mix of honey, cinnamon, nutmeg, and cloves takes the cakes to the next level. Try it! I'm sure you'll get obsessed with this traditional food.
There are a few notes for a perfect outcome. The dessert needs to be deep-fried, so you should choose neutral-tasting vegetable oil and use a thermometer to ensure the oil isn't overly hot. To serve the treat, prepare a bowl and mix runny honey and nutmeg for dipping.
Honey fritters are deep-fried doughnuts filled with honey flavor.
Total time: 40 minutes
Mini treats such as cupcakes can give you the energy you need when feeling exhausted. These cupcakes include all your favorite ingredients: cocoa powder, coffee, heavy whipping cream, raspberry preserves, and honey.
The sweet course produces a rich, sweet-tart, and earthy flavor that makes you fall for it. To enhance the taste and the visual aspect of the desserts, you can top them with some fresh raspberries and drizzle them with some chocolate shavings before serving.
If you want to freeze unfrosted cupcakes, store them in an airtight container. This way, you can help your colorful raspberry desserts stay for a month. Meanwhile, frosted cupcakes can last for three days at room temperature.
Total time: 25 minutes
You'll get addicted to this dessert since it is double in honey. It includes a tender, moist cake topped with a super creamy and honey-coated frosting. I don't know if sweets can make you happy, but you'll be on cloud nine after trying these.
Before preparing the honey frosting, soften your cream cheese and butter first. Next, mix both with sugar icing and honey with a stand mixer until smooth. Place the frosting in a piping bag and pipe on the cooled cupcakes.
Total time: 55 minutes (not including the chilling time)
You'll love this salted honey pie if you're a fan of caramel desserts. Like in a classic yummy pie, there are a buttery, golden brown pie crust and a tempting filling. Despite including honey and sugar, a sprinkle of sea salt keeps the treat from being overly sweet.
Either a store-bought or homemade crust is acceptable for this recipe. On busy days, a premade crust can cut down your prep time. For the honey, you can buy high-quality honey from your local farms or select products from reputable brands.
Note these tips when preparing the filling. The cornstarch easily clumps up if it is exposed to heat before dissolving. Hence, sift the cornstarch first and stir all the ingredients well before bringing the mixture to a boil.
Total time: 1 hour 5 minutes
Honey almond cake is perfect to conclude a meal. The soft and moist cake is delicious and loaded with nutty flavor due to the combo of almond meal, almond extract, and slivered almonds. On top of that, the treat is super aromatic with a splash of rose water.
Remember that the yummier your dessert tastes, the more high-quality the ingredients are. Hence, look for organic and raw honey. Some commercial products may negatively affect the taste and texture of the sweet course.
There is good news for you. The honey almond cake can benefit your health because it contains a high level of antioxidants, protein, and healthy fats. Plus, you can serve the dessert as a birthday cake. Everyone will get obsessed with its amazing lusciousness.
Honey almond cake will be your go-to dessert at every get-together.
Total time: 1 hour 20 minutes (not including the cooling time)
Looking for an eye-catching dessert to serve a crowd? Honey apple pie is never a bad option. The final course is flavorful in the sweetness of honey, the crunchy fresh apples, and the warmth of spices.
To make the filling, you will need to gather flour, sugar, cinnamon, ginger, and apples. Use honey crisp apples, peel, and cut them into ⅓ -½ inch slices. To assemble a lattice pie crust, cut the dough into 1-inch strips and weave them in an over-and-under pattern.
Total time: 25 minutes
When peaches come into season in the summer, it's the perfect time to make an elegant and flavorful treat like this rustic honey peach galette. Honey, fresh peaches, and turbinado sugar contribute to the rich, juicy, and gooey taste.
This tasty peach galette is effortless to make. First, spread the pie dough on a baking sheet, place the peach filling, and fold over the fruit. Next, gently brush the dough with egg wash for a nice-looking crust and bake for 15-20 minutes.
Drizzle some honey on top to complete the dessert. You can top the galette with whipped cream or vanilla ice cream. Now, invite more friends to come and enjoy the tempting sweet course.
Total time: 25 minutes (not including the chilling time)
Your family will quickly become fans of the chocolate honey fig walnut truffles since they are decadent, bitter-sweet, and toothsome. Standing out from store-bought confectionery, these fruit and nut-filled treats are made from a special recipe.
The secret of mouthwatering truffles is the rich and jammy dried fig filling. Stay away from hard dried fruits. If possible, you should pick California dried mission figs. They are a perfect fit for this recipe.
The truffles can last for 7 days on your countertop. But make sure you place them in an airtight container. Aside from being an after-dinner treat, they can be a lovely gift for every occasion.
Total time: 11 minutes
Honey banana grilled cheese sandwich is a quick-to-make but toothsome dessert. As soon as you take the first bite, the sandwich leaves a comforting mouthfeel of the melty grilled cheese, the crunchy bread, and the slightly sweet ripe bananas.
Also, this quick and delicious sweet course is a healthy breakfast when you're on a tight schedule. Grab some slices of bread, spread butter, top them with banana, cheese, and honey, then cook for a few minutes on a skillet. What a simple recipe to whip up!
Total time: 25 minutes (not including the waiting time)
Although there are no dairy products, flour, or baking powder, these coconut sweet treats are soft and chewy on the inside while the outer part is still crispy. In addition, the delicate saltiness of sea salt balances the bitter, sweet taste of dark chocolate and honey.
For preparing chocolate dipping, set a bowl over a saucepan of simmering water, add the chocolate to the bowl, and stir until completely melted. Take the bowl off the heat, wait for the chocolate to cool down, then stir a few more times.
Coat the bottoms of the macaroons with the chocolate mixture, set aside for about an hour, and serve. To store leftovers, keep them in an airtight container and place them on your counter.
You won't be able to resist these toothsome honey coconut macaroons.
Total time: 1 hour 25 minutes
Who doesn't love spongy banana bread? Thanks to honey, this wonderful banana dessert is moister and tastier than any ready-made one you can find. It will never fail to please your guests at family reunions or tea parties.
Overripe bananas are the best for this recipe. That's because they're sweeter, softer, and more aromatic. Also, using raw honey can improve the taste of the bread. Consuming high-quality and raw honey can bring you many surprising health benefits.
Honey is a high source of antioxidants that keep your body from cell injury caused by free radicals. Compared to sugar, the sweet food made by bees is better at aiding the digestive system and is packed with tons of nutrients like calcium, magnesium, zinc, etc.
Total time: 50 minutes
It's a good idea to treat your guests with these delightsome honey Bourbon apple crisps. After the first bite, the taste will go beyond your expectations due to the apple filling and flavorful toppings.
The tart apples, sweet honey, and smokey Bourbon are the stars of this recipe. Besides, the apple crisps have extra flavors thanks to cinnamon, nutmeg, and whipping cream.
As for the fruit filling, Granny Smith apples are a good fit for the recipe due to their perfect sharpness and strong acidity. For the best final result, you should peel off the skin and cut the fruit into thin slices.
Total time: 35 minutes
Honey scones with calamansi are the ideal match for your breakfast, brunch, or dessert after a heavy meal. Those homemade scones are incredibly golden brown and flaky, mixed with the sweet-sour flavor of circuit fruits.
Calamansi, or calamondin, is a type of Philippine lime and a hybrid between a kumquat and a mandarin orange. The fruits are famous for their natural sourness without a bitter aftertaste and are perfect for making refreshing beverages, marinades, or desserts, as in this case.
You can purchase the fruit in most Asian grocery stores. Don't worry if you can't find them, it's acceptable to use regular lemon for this recipe, though the taste may alter a bit. Combine and stir calamansi juice with sugar. That's all you'll do to create the yummy glaze for the scones.
Total time: 8 minutes (not including the chilling time)
Add this creamy Italian sweet treat to your dessert menu if you're sick of refined sugar-filled desserts! Besides its milky taste and custard-like flavor, almond honey panna cotta is simple to prepare in less than 10 minutes.
Because the treat needs a little time to completely set, you can make the panna cotta 2 or 3 days in advance and store it in the fridge. Some extra toppings, such as nuts or toffee crumbs, can turn your lovely sweet into a luxurious and delightful final dish.
If you make the panna cotta in tin molds or ceramic ramekins, you can try these tricks to remove the treat effortlessly. Prepare a plate and fill it with warm or hot water. Allow the mold to sit for about 20 seconds in the water, carefully flip it onto a serving plate, and shake it slightly.
Total time: 1 hour (not including the chilling time)
This cheesecake is a must-try for those who are looking for a low-fat, sugar-free, and low-calorie dessert. You'll be pleasantly surprised after checking the ingredients for this recipe. You only need Greek yogurt, cheese, honey, walnuts, and other common baking ingredients.
Stick to this guide when making the cheesecake filling. Begin by combining yogurt and cheese until smooth. Place a strainer lined with cheesecloth and pour the mixture over the strainer in a bowl. Cover it with plastic wrap and keep it refrigerated overnight.
The next day, remove the excess liquid in the bowl, combine the mixture with the other components, and fill in the prepared crust. When you want to serve it, evaluate the taste by drizzling it with some honey, and topping it with crushed walnuts, or fresh fruits.
Honey Greek yogurt cheesecake is a true dessert for honey lovers.
Total time: 45 minutes (not including the chilling time)
Nothing is more satisfying than enjoying a chilled and honeyed dessert during the dog days of summer. No doubt about this. The frozen honey mousse will blow your mind with its light, smooth, and melt-in-your-mouth texture.
I bet this is one of the easiest mousse recipes you have ever tried since it merely contains 4 ingredients: eggs, heavy cream, kosher salt, and honey. Serve the mousse in glasses or mason jars, garnished with juicy berries, and drizzle with honey. So tempting!
Total time: 20 minutes (not including the chilling time)
Whisky and honey mousse is truly excellent to bring to dinner parties. The mousse is a kick of flavor with the fruity raspberries, the rich double cream, and the good-tasting whisky. It's always an excellent idea to serve some shortbread biscuits alongside this wholesome mousse.
Chill the whisky and honey mousse for at least 1 hour before eating. Plus, you can prepare the dessert ahead of time for up to 8 hours and store it in the refrigerator. For decorating, crumble the mousse with biscuit crumbs and top with fresh berries.
Total time: 35 minutes (not including the chilling time)
If you're still wondering which honey treat can impress everyone at the next dinner party, this mind-blowing recipe should be your first choice. S'mores parfaits will steal your show with the heavenly good taste of all their combined ingredients.
For newcomers, s'mores are a popular treat made with toasted marshmallows, chocolate, and graham crackers. They are also exactly what is included in these awesome layered parfaits. Believe me, this dessert is a real charm.
If you know these tips, your homemade marshmallow can be as fluffy as you wish. Stir water, honey, and sugar in a saucepan. Use a candy thermometer to make sure the heat is over medium-high. Adding a little cream of tartar when whipping eggs can help enhance the texture.
Total time: 20 minutes (not including the chilling time)
A yummy yogurt dessert with honey and fruits? I bet this combination is unbeatable. As you wish, this recipe substitutes refined sugar with honey. Besides, juicy fruits make the parfait naturally sweet, healthy, and full of nutrients.
To make the dessert low in fat and create the creamiest texture, choose light strained Greek yogurt rather than a regular one. It's best to use thyme honey for a strong aromatic fragrance. As for the fruits, they can be raspberries, mangos, pineapples, etc.
You should consume the yogurt treat on the same day it was made. The granola will lose the crunchiness and become soggy the next day. You can prepare the yogurt cream 1-2 days ahead and remember to stir it with a spoon before combining it with others.
Your family will fall for the deliciousness of yogurt parfaits with honey and fruits.
Nothing Can Stop You From Eating These Yummy Honey Treats
Honey provides a floral and pleasantly sweet flavor for all the desserts. Moreover, the liquid made by bees provides many health benefits that sugar can't. I'm sure with this collection, you'll never run out of ideas for luscious dinner desserts.
Don't forget to share the post to let more honey lovers know about these amazing recipes. I would love to read your feedback, so remember to rate and review the treats you like the most in the comment sections below. Thank you for always supporting me!
Nutrition Facts
8 servings per container
---
Amount Per ServingCalories324
% Daily Value *
Total Fat 16.3g

25

%
Sodium 21mg

1

%
Potassium 1mg

1

%
Total Carbohydrate 38.3g

13

%

Dietary Fiber 2g

8

%
Sugars 34.1g

Protein 10.1g

20

%
---
* The % Daily Value tells you how much a nutrient in a serving of food contributes to a daily diet. 2,000 calories a day is used for general nutrition advice.