Have Hanukkah appetizers long been your problem every time the festive season comes? Or have you had a chance to eat a few Jewish starters and now want to find more recipes? This article will meet all your problems or wishes within an hour of reading.
While others briefly describe the dish with a few lead sentences, this post will give you more than just the name and ingredient list. In addition, it guides you on how to make these delicacies in detail and tips to achieve 100% of the dish's deliciousness.
So stay in my post and discover tons of recipes. It is all yours, my friends!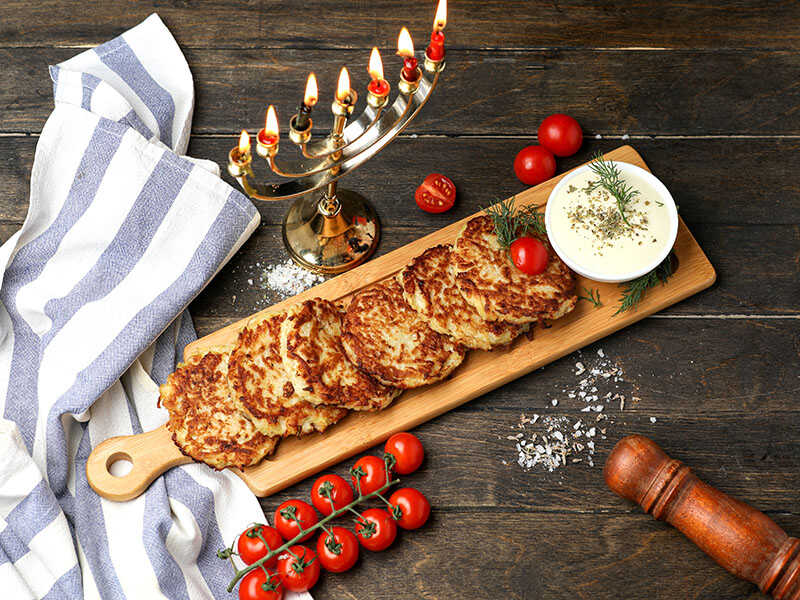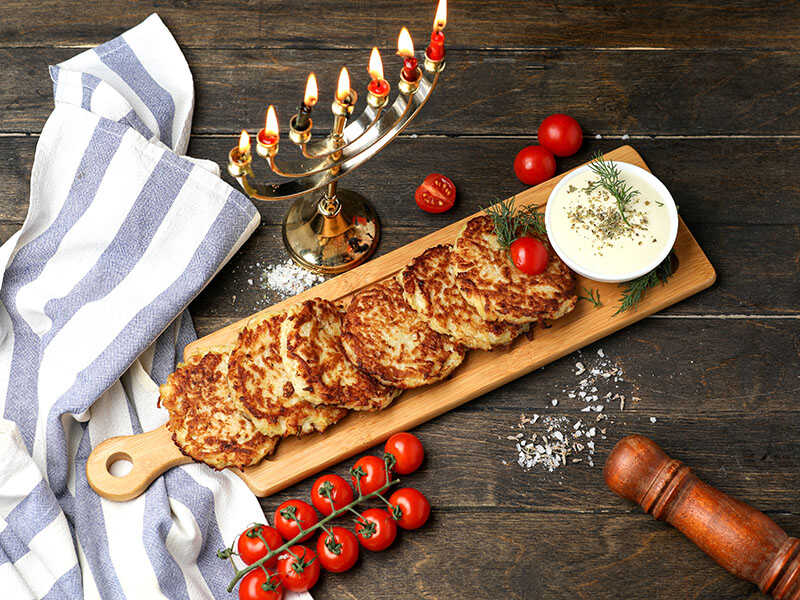 Discover Numerous Easy Starters For Your Festival of Lights
If you find appetizers for the festival of lights, you should stay with me. Because this post is not a random compilation of recipes, but it is a carefully selected list. Many people have been successful at cooking these foods.
And I know for sure you will be the next to succeed. So stay in and dig through the list to reach your goals!
Total Time: 1 hour 20 minutes
Babaganoush is a delightful Levantine appetizer. It has a similar texture to hummus, but instead of chickpea, it calls for roasted eggplants.
To prepare the dip, roast eggplant and garlic until soft, which takes almost all of your total cooking time. After that, the rest steps will be easy with only peeling and scooping eggplants and blending all the ingredients. Then garnish with herbs and enjoy.
Once finished, the babaganoush will have a unique ivory white color of eggplant meat. And it tastes somewhat earthy instead of the nutty tone you found in regular hummus. In addition, pairing it with pita bread will make up the perfect starter for the Hanukkah festival.
Let's quickly home-make Hanukkah babaganoush with tips to choose the right eggplants!
Total Time: 55 minutes
Israeli cheese bourekas contain spinach, feta cheese, and flavorful seasoning. Once baked, they will have a crispy golden-brown crust and a cheesy interior. Interestingly, you can serve these flaky puff pastry bites for the after-meal sweet course during Hanukkah as well.
If you want to make bourekas ahead of time, you can place fresh unbaked ones into the freezer, but ensure no egg wash brushing. When needed, continuously follow the remaining steps and bake for extra five to seven minutes for thawing and cooking.
Best of all, this appetizer is customizable. You can freely change anything, from shape to filling or even the toppings. For instance, you can customize the entree in any form you prefer: triangles or circles.
And feel free to put any favorite filling to finish your unique bourekas. These can be ground meat or vegetables. All is your choice and preference.
Total Time: 10 minutes
Guacamole is a traditional Mexican appetizer made of avocado, lime juice, and other fresh veggies and herbs. Also, this dip recipe contains ground cumin, which adds smoky flavor to your creamy food and makes your appetizer more special.
Besides, since the avocado is a good or bad dish determiner, you must choose the perfectly ripe one. In common, you should use your palm and gently squeeze the avocado to check. If the fruit yields modestly, it is perfect to use.
A better way to check is to pull the stem at the top to see underneath. You better seek green underneath instead of brown if you do not want to buy the wrong overripe avocado.
Let's explore how to make the best-ever guacamole in 3 easy ways!
Total Time: 40 minutes
Fried pickles are a tastier version of regular ones. They are crispy on the outside yet soft on the inside, and salty pickles cut through these textures. Imagine dipping one in the prepared buttermilk ranch dip; there is a perfect flavor bursting in your mouth.
The dip is the first thing to handle when making this appetizer. Once done, keep it in the refrigerator for the best cool dip. After that, make the crumb and egg mixtures, coat your dried pickle slices in these two mixtures, and form batter around each.
Then sprinkle these pancakes with oil and bake both sides until golden brown. These finished ones will go well with vodka or any of your favorite beverages.
Total Time: 60 minutes
Chopped liver is a hearty appetizer served with crusty bread or crackers. It comprises chicken liver, hard-boiled eggs, sauteed onions, and some additional fat. After well combined, the result is a rich and funky dish with the sweetness of the onion and buttery fat.
When talking about fat, there are plenty of options. But the most common Jewish dish is chicken fat, also understood as schmaltz in Ashkenazi Jewish food. Besides, goose fat is also the original choice to consider.
But if you think of duck fat or vegetable oil as an alternative, you might be disappointed. While the duck fat's strong flavor overshadows your chopped liver, the vegetable oil will add absolutely nothing but oil. After all, chicken fat is the perfect option.
Total Time: 3 hours 48 minutes (including 2 hours of resting time)
Meat knishes are Jewish dumplings stuffed with meat, potatoes, sauerkraut, kasha (roasted buckwheat groats), and onion. Traditionally, people cook this appetizer by baking technique, but sometimes they also fry them. Either way, this dish is always delicious to everyone.
Besides, the delicacy is also easy to make. All you have to do is make the knish dough and meat filling by using a food processor. Then assemble them and bake.
The finished goods are golden square knishes with a crispy crust and sweet yet buttery meat filling. And the taste will be better when paired with sharp deli-style mustard.
In addition, you can utilize leftovers for omelets or stuffed baked veggies. These should be a good choice for breakfast. So do not throw the after-party knishes but save them for later.
Total Time: 35 minutes
This cauliflower creation is a flavorful creamy-based soup providing a warm and delicate experience to your Hanukkah holiday. It is a rich soup with a tangy and sweet flavor of sauteed onion and garlic.
Besides, the milk, cheese, and vegetable stock also contribute to the dense and creamy texture of the soup. Thus, you will find it more flavorful and lasts longer than other thin ones when scooping.
Once cooked, this starter has a specially beautiful milky yellow color. Then add some garlicky roasted chickpeas, sauteed cauliflower, and thyme. Together create a perfect and neat beauty for a Hanukkah dish.
Do you need quicker cooking instructions for creamy cauliflower soup? Here is the deal!
Total Time: 40 minutes
As the name says it all, these meatballs have a balance between sweet and sour flavors. When served with toothpicks on them, these go-to meatball treats will jumpstart your Hanukkah party with a blast of incredible flavors.
Besides, meatball-making is simple to follow with only three main steps, including preparing, frying, and simmering.
First, make the sauce with sauteed onion, lemon juice, vinegar, and other seasonings under low heat. At the same time, form balls from the ground chicken mixture.
Then fry the meatballs until brown in a large skillet. Not only does this frying step help your balls stay in form, but it also helps add more flavor to them.
Finally, add these balls to the sauce and simmer until cooked and thick. Remember to garnish some cilantro and serve hot immediately for the best tasty flavor.
Total Time: 2 hours 30 minutes (including 30 minutes of refrigerating time)
Matzo balls are one type of Jewish dumplings made from matzo meal, egg, and water. Usually, people serve this delight as a warm and comforting soup on Hanukkah days.
To complete the delicacy, you must properly prepare its two components: chicken soup and matzo balls. The chicken soup cannot be any easier. Throw chopped vegetables, chicken, chicken stock, and herbs into a large pot and let it cook for 2 hours. That's it!
Meanwhile, a matzo ball requires a little more effort. But rest assured because these balls are much easier to make than other pastry recipes. You only need to do some mixing, refrigerating, and cooking before putting matzo balls in the soup to complete the appetizer.
Total Time: 3 hours 30 minutes (including 2 hours of refrigerating time)
Rugelach is a Jewish cookie infused with jam, nuts, or chocolate. However, instead of a cookie appearance, this food has a pastry look with a buttery and flaky texture. That makes it the perfect appetizer to start the holiday.
This recipe will fill your rugelach with spicy and sweet red pepper jelly. Not only does it enhance your savory dish, but it also creates a beautiful vibrant red color as the cookie highlights. Besides, cream cheese is a crucial part of this delight for an additional creamy taste.
If you want to make the appetizer in advance, feel free to do it. Once formed, freeze rugelach on sheet pans until solid and remove them to a freezer bag. You can save it for as long as two months.
Total Time: 10 minutes
Everything bagel party dip is a creamy appetizer made with everything bagel spice, cream cheese, and sour cream. After folding and seasoning well, these ingredients will create a mouthwatering dish with a cheesy, nutty, and sweet flavor.
For easier preparation, you should soften cream cheese properly. If you use 8-ounce cream cheese, microwave unwrapped cheese at high temperature for fifteen seconds. And increase ten seconds more with each additional 8-ounce cheese you use.
Let's discover this untroublesome everything bagel party dip!
Total Time: 45 minutes
Your Hanukkah will not be complete without potato latkes, also known as potato pancakes. These fried foods contain grated potatoes, eggs, flour, and some seasonings. Once fried, they feature a crispy texture and buttery flavor in each bite you take.
Usually, people serve these latkes with sour cream, applesauce, or both at once. But if you want your dish fancier, top them with caviar, gravlax (graved salmon), or smoked salmon. Or, alter the sour cream to Crème Fraiche. That will make your latkes look more expensive and formal to guests.
However, the potato latkes are sometimes not fully cooked due to the thickness of the middle section. Therefore, the trick is to shuffle these pancakes around a bit. That will ensure they are evenly cooked from inside to outside.
Total Time: 25 minutes
Roasted red pepper hummus is a healthy appetizer for everyone, including vegan and gluten-free people. This delight contains several classic ingredients: chickpeas, garlic, olive oil, and roasted red pepper (of course).
Puree all prepared ingredients in a blender or food processor until the combination reaches the expected creamy texture. Then garnish your hummus bowl with roasted sesame, reserved chickpeas, and paprika. They will create highlights for your creamy dip.
For the best visual, place the hummus bowl in the middle of a large plate and arrange some crackers or bread around it. Some popular options are naan bread, sourdough, and pita bread. Or, serve fruit and veggies if you wish for a 100% gluten-free dish.
Total Time: 5 minutes
Honey tahini yogurt dip is one of the quickest and healthiest dishes in the world. It includes simple and healthful ingredients like yogurt, tahini, cinnamon, honey, and salt. And the highlight is how easy it is to cook this delicacy. Even your kids can make it – just with a bowl and spoon!
Mix all the ingredients until well blended. Then pop out some pomegranate arils to top on the dip for a bit of fancy.
Besides eating fresh, you can match this dip with apple slices. Also, bananas and strawberries should be on your options list. All of them will add nutrients and savory flavor to your dip.
Total Time: 30 minutes
Fish cakes are convenient and fun to make. Just grab a cod or any of your favorite white fish for the recipe. Better yet, the fish cake is perfect to take advantage of leftover fish by turning them into a delightful and savory appetizer.
After preparing all the ingredients, stir them well to make patties and fry them to complete the meal. Remember, fish cakes should release on their own during frying, so don't try to flip them by force since it will ruin their shape.
So if they get stuck, please wait until they self-release. Your patience will help prevent the fish cakes from breaking.
And if you want a hearty appetizer, you can set fish cakes in accompaniment with salad, cocktail, or ice cream to enjoy. These fresh and tangy dishes will enhance the appetizer goodness and stimulate your taste buds.
Total Time: 55 minutes
This yummy mini quiche recipe is what you will especially not only have one but four versions to try. With just a few easy-to-find ingredients, you will have a crispy dough filled with egg, cheese, bacon, and veggies.
About the cooking process, you just need to make the muffin cups, place prepared fillings, and pour egg mixture into them. Then bake until golden brown, wait for them to slightly cool down, and serve warm.
In addition, you can make this dish more delicious with a few simple steps. For example, shredded cheese will make the muffin texture more beautiful.
Also, place the boiled spinach between two towels or paper towels to eliminate the moisture. This technique prevents the quiche from being soggy.
Let's figure out the best way to make mini quiche four ways as a professional!
Total Time: 30 minutes
This fancy crab starter will be a joy for parties or intimate get-togethers. It only involves a mushroom base stuffed with a creamy and cheesy filling, yet the resulting taste will be as rich and irresistible as any restaurant-grade food.
When getting a bite, you will explore a crispy crust along with the earthy mushroom juice. It harmonizes with the sweet crab and the fatty cream cheese. All create a distinctly charming flavor that you cannot find anywhere.
For an appetizer treat, you should use small to medium sizes of mushrooms. Therefore, cremini and button mushrooms are suitable ones for stuffing. But between these two, cremini mushrooms are the better, thanks to their nice brownish and meaty flavor.
Total Time: 1 hour 10 minutes (including 1 hour of chilling time)
If you are into the red bell pepper flavor, roasted red bell pepper dip should be at the top of your list. Not only is it bold in bell pepper taste, but this dip is also handy to make. Specifically, it only requires four ingredients and one piece of equipment to accomplish the appetizer.
All you need to do is blend minced garlic, mayonnaise, and roasted bell peppers in the food processor until well mixed. Then pour into a bowl, and stir in fresh pepper and balsamic vinegar before chilling for an hour.
After the dip is ready, you plate it with carrots, celery, or jicama. Also, you can arrange it with some tortilla chips and breadsticks. These sides will work well with this creamy and tangy dip.
Total Time: 25 minutes
Tostones, also known as patacones, are twice-fried slices of green plantain (a type of bananas), mainly found in the Caribbean and Latin American cuisine. Best of all, the scrumptious air fryer side recipe gives you a healthier version of tostones, since it uses little to no oil.
Before baking the plantain, you must handle them first by peeling the fruit lengthwise and slicing the flesh into 1-inch thick pieces. Then fry for the first time with olive oil. Once done, smash these pieces and dip them in seasoned water for the second frying time.
When serving on a plate, sprinkle some salt and drizzle with oil for extra flavor. Or, you can spend some time making extra dipping sauce for the dish. Other savory toppings like mayo-ketchup or chimichurri will also fit with this delicacy.
Let's keep up with these healthy air fryer tostones!
Total Time: 35 minutes
Roasted beet hummus is a perfect dip to place on the table, especially with its beautiful pinky appearance, thanks to the presence of beetroot. Not only does beet contribute to the color, but it also benefits hummus consumption with its high nitrate content, helping lower blood pressure.
When dipping in the beet hummus, you find a basic nutty taste of chickpea followed by tangy and fresh flavors of lemon and garlic. Not stopping there, the beet showing highlights an additionally earthy and subtle sweet taste to the hummus.
All create a one-of-a-kind appetizer to enjoy with veggies, crackers, chips, and toast or sometimes even eat directly as it is.
Total Time: 13 minutes
The shrimp cocktail is a quick yet delectable appetizer for any occasion if you lack time. Simply get some frozen or fresh shrimp and a few more ingredients for the sauce in the market. Then you will have a friendly fare to treat your family on Hanukkah days.
Boil water with spices and herbs in a pot to cook shrimp. Once cooked, transfer shrimp to the prepared ice bath for 5-10 minutes, pat shrimp dry, and let it chill until served.
For the best experience, put the chilled shrimp on a plate with lemon wedges and place the cocktail sauce next to it for dipping purposes. Then garnish fresh parsley for a fancy hors d'oeuvre highlighting shrimp's deliciousness.
In addition, you can make the cocktail sauce yourself if desired. Combine ketchup, horseradish, Worcestershire sauce, hot sauce, and lemon juice in the correct proportions. Then mix them well, and you have a cup of dipping sauce with an attractive bright red color.
Total Time: 1 hour
Flaming hot latkes will be a big hit at your upcoming light festival. Unlike normal latkes, they contain loads of cayenne powder (hot chili pepper) and powdered cheddar cheese, which make up a vibrant red and perfect texture without any egg.
When taking a flaming hot latke, you explore the crunchy piece filled with spicy and cheesy taste. Then along with homemade cool ranch sour cream topping, your eating experience will explode with flavors.
Notably, your finger may turn red after having these latkes, but that is also the highlight of the appetizer. You will lick your fingers and taste their best until the very end. So should we call this dish a finger-licking appetizer since it is a matter of fact?
Start Your Hanukkah With Numerous Delicious Appetizers
All done! You deserve long applause for your hard work. And I know you have many recipes in your cookbook by now. Am I right? Keep practicing to test their fit with everyone in the family until Hanukkah comes. That will reward you with the most impressive appetizer in town.
If you have cooked any, come back to this post and leave a review in the comment box. So our community can conquer Jewish dishes together!
Plus, hit the thumb-up button to let me know you love my sharing. In addition, if you think my post can be a great help to someone on your friend list, do not delay but share it. Your small actions will make an impact on the community!
Thank you, and take care!
Nutrition Facts
12 servings per container
---
Amount Per ServingCalories200
% Daily Value *
Total Fat 9.7g

14

%
Cholesterol 41mg

14

%
Sodium 75mg

4

%
Potassium 644mg

19

%
Total Carbohydrate 25.7g

9

%

Dietary Fiber 3.9g

12

%
Sugars 2.2g

Protein 4.2g

8

%
---
Calcium

22

%
Iron

1

%
Vitamin D

4

%
* The % Daily Value tells you how much a nutrient in a serving of food contributes to a daily diet. 2,000 calories a day is used for general nutrition advice.