Not many guava recipes are available, and it's such a shame. If you love the fruit as much as I do, give these recipes a try. Quick, easy, and toothsome, there's no reason to say no to them.
In addition, the fruit is jam-packed with many essential nutrients such as antioxidants, fiber, and vitamin C. The leaves can also be used to make tea, and the peel is edible as well. What's not to love about this amazing fruit?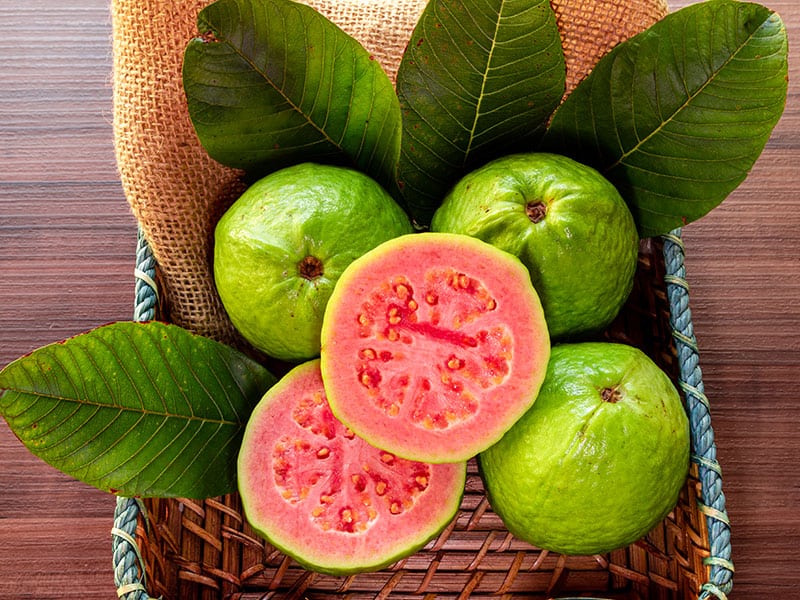 18 Superb Recipes With Guava That Makes You Drool
Don't be shy; I know you are craving some guavas now. That said, stop with the talking and let's put on your cooking apron and knock up the following recipes. From savory dishes to desserts and drinks, the list below has them all.
Savory Recipes With Guava
Amrood Ki Sabzi (guava curry)
Guava and Cheese Empanadas
Puerto Rican Guava and Cream Cheese Dip
Guava BBQ Chicken
Amrud Ki Chutney (guava chutney)
Sweet Recipes With Guava
Guava Sorbet
Tropical Guava Bars
Mantecaditos Con Guayaba (shortbread almond cookies with guava)
Pineapple-guava Sweet Bread
Mini lime-guava Cheesecakes
Guava Cheese
Pineapple Guava Ice Cream
Mexican Guava Charlotte
Beverage Recipes With Guava
Hawaiian Pog
Agua de Guayaba (guava juice)
Guava Smoothie
Guava Atole
Guava Iced Tea
Are you ready for some guava actions? Come on!
Lip-Smacking Savory Recipes With Guava You Cannot Miss
Surprise, surprise! Guava is not a dessert-only ingredient. With a complex flavor profile, it would be such a waste to use it in just cakes. If you are curious, keep reading to see what savory dishes you can make with this lovely fruit.
When someone mentions curry, my nose tickles a little. Don't get me wrong; I am obsessed with curry, and I can enjoy it all year round without problems. But the spicy part sometimes stops me – until my friend introduced this special curry to me.
It's the pride of Goa, amrood ki sabzi, a fantastic curry made with guava. Much to my astonishment, the sweetness of guava is not overpowered by other spices but instead helps balance all the flavors, ensuring that the result goes easy on your tongue.
Empanada has many variations, but you won't believe there's one made with guava paste. It is called empanadas de guayaba y queso, which means "guava and cheese empanadas". And here is a nice version from Spain.
Indeed, you don't have to travel all the way to Spain to get your hands on these. It's pretty straightforward to whip up these delectable guys at home, and you will love how the tangy cream cheese hits your palate all of a sudden.
Let's make these guava and cheese empanadas for your family. You can see this video to know more:
Guava paste is a versatile ingredient, and it takes kindly to many exotic flavors. It is sweet like the fruit, but you will be surprised to know that they go hand in hand with many savory components, too, and this dip is a typical example.
And here goes another thing about this dip with cream cheese that makes your jaws drop to the ground: It contains garlic! The sweet and savory combo is finished with sour cream and honey and served with crackers. Trust me; it won't last long on the table.
Get over fried and roasted chicken, these barbecue thighs are the real deal, and they are perfect just when the days are longer. Indeed, the secret that makes them stand out is no other than guava paste.
In this recipe, the flavorful marinade is made with pink-fleshed fruit paste, tomato paste, Worcestershire sauce, apple cider vinegar, and laced with rum. Brush the chicken thighs with the mixture and bake until crisp and golden. Yummy!
Also known as amrud ki chutney, guava chutney is an excellent accompaniment for roti or rice. Watch out, this chutney is not for the faint of heart, and that includes the spicy eaters as well.
One of the ingredients that make up the savory condiment is green chili, which is fiery like a rocket (about 10,000 to 15,000 Scoville units!). Its flavor is wonderfully deepened with guava along with other coriander, ginger, cumin, and garlic greens.
Guava Desserts That Go Beyond Your Wildest Dreams
I know that I have a thing with words, but I mean it this time. These desserts will steal the spotlight on every dinner table, not just with their stunning look but also with their unique flavors. In other words, it's more than what you can imagine.
Here's a great intro dessert for those who have not heard of guava. It's an ideal dessert for any BBQ party, and people will ask you two questions: whether they can have some more and how they can make it.
If they asked you the latter, here's the simple answer. Luscious guavas are brought to a boil and simmered until tender. Blend the mixture and strain, then add a splash of lemon juice to taste. Freeze and serve.
Whenever I have to prepare some desserts for a potluck party, I always go with cookie bars. They are quick, straightforward, and yield many servings at a time. Besides old-fashioned chocolate or lemon bars, these are my favorite, too.
Guava is one of the fruits I like most, no cap. It has beautiful pink flesh, and the taste is an absolute delight. For this recipe, you'll start with the guava filling, which is sandwiched by the crispy shortbread crust, and sprinkled with oats and shredded coconut.
You can see this video to know more:
Mantecaditos are a cookie staple during holidays, especially Christmas. These shortbread cookies are pretty similar to polvorones (Mexican wedding cookies) for the shape and the use of ingredients, and they have my whole heart for their unparalleled deliciousness.
Unlike polvorones, mantecaditos are more open to options, and mantecaditos con guayaba is the best of its kind. As you bite into the crumbly treat, you will be greeted with sweet, tangy notes of guava complemented by the nutty flavor from almonds.
Contrary to a common misconception, this quick bread is not made with pineapple and guava but with pineapple guava. Yes, it exists – pineapple guava, or feijoa, is a far distant cousin of guava. It has a distinctive taste, and the flesh is also yellow instead of pink.
Feijoa has an aromatic flavor, and it is a mashup between a pear and a pineapple. Therefore, it's a brilliant idea to sneak the fruit into this bread. Sweet and incredibly moist, you'll love to have it for breakfast, snacks, or any time of the day.
These party-ready treats look sumptuous, and they only cost you half an hour to assemble. The recipe calls for guava paste, an essential element that brings many Cuban desserts to life.
With sweet, floral undercurrents reminiscent of a great escape to the tropics, guava paste is perfectly paired with zesty lime for an unforgettable flavor contrast. If you can't find Maria cookies to make the crust, graham crackers should be an excellent substitution.
Can you guess what these red cubes are? Well, if you tell me that they are jellos, unfortunately, you are wrong. They are goiabada, also known as guava cheese or guava paste, a famous delicacy originating from Goa.
With a texture that's somewhere between chewy and bouncy, it's difficult to have just one bite. The fruity confectionery melts gently on your tongue, leaving a soft lemony finish. Make sure that you use ripe guavas instead of raw ones, which are kind of sour.
Guava cheese will make your mouth water relentlessly. You can see this video to know more:
Summer is the perfect time for cold beverages and ice cream. When talking about the latter, it is no surprise that chocolate and vanilla flavors spring to your mind – but aren't those ways too dull?
That said, let's switch things up with this ice cream, featuring the two summer fruits, pineapple, and guava. With an intricate balance between the sweet and tangy flavors, I'm not sure if you can't stop after the first spoonful.
Such a pretty name for a cake, and such a sight for sore eyes – don't you agree?. The cake's full appellation is Charlotte Russe, or Russian Charlotte, named after the French chef Marie-Antoine Carême's ex-employer, George IV.
Charlotte is, in fact, an icebox cake, which is no stranger to American cuisine. The cake is made up of alternate layers of Maria cookies and cream cheese and topped with guava sauce. Since most of it is cookies, warm the knife before cutting to make a clean slice.
Beverages Made With Guava – Instant Gratification!
Cheers to guava, a superfruit loaded with various nutrients and flavors. It is used in many drinks, from the traditional Hawaiian pog used to be all the rage to the modern classic strawberry guava smoothie inspired by Starbucks.
Channel the Aloha State with this refreshing beverage invented in 1971 by a food product consultant working for Haleakala Dairy on Maui. The drink also left behind a childhood legacy: the game of milk caps, which was very popular with children during the 1990s.
Here, the word "pog" turns out to be an acronym, which stands for passion fruit, orange, and guava. They are three tropical fruits with refreshing flavors, making you feel as if you are wandering through a luscious orchard during a summer afternoon.
Agua de guayaba is a prevalent drink in Mexico during the hot summer, and it is also known as guava water or guava juice. Although the story behind its invention is still a big question, one thing for sure is that it tastes fantastic.
To make agua de guayaba, you will start blending guavas with water until a smooth pulp is formed. Strain the pulp into a pitcher, then add more water and sugar, and stir well. Serve with ice.
Who doesn't love smoothies, especially when the searing heat makes everyone sweat like pigs? And you will love smoothie even more when it's made with guava and frozen strawberries.
The two fruits are inseparable, and they always manage to bring out the best of each other. Take a sip and relish the exquisite tropical sweetness bursting in your mouth. Don't you feel like lounging on the sandy beaches with sunshine kissing your skin?
Atole, or atolli, is a traditional drink made with hot corn and masa. The Mexican beverage is usually enjoyed with tamales, and they are prevalent during the Day of the Dead and the holiday season.
Atole has many variations, and fruits can be used as sweeteners instead of sugar. In this recipe, guava is used, yielding a lovely aroma when cooked, and it is perfect against the warm undertones of cinnamon. Due to the thick consistency, it is very hot – take it easy.
You can see this video to know more:
With this iced tea recipe, you don't have to worry about queuing in long lines in Starbucks anymore. Oh, and not to mention that they intentionally write people's names wrong – I know it's a marketing tactic, but I just don't like the idea.
But really, I have to thank Starbucks for giving me the inspiration to make this thirst-quenching refreshment. You can use black tea like how it is traditionally made or tweak it to your likings with white tea, chilled tea, or lemonade. Don't forget the syrup.
The Guava Goodness Is Unreal!
All that talking about guava recipes has made my stomach growl already. Lucky me, I happen to have some guavas in the fridge waiting to turn into tasty dishes. If you were me, what would you make? A hearty curry or a refreshing pog?
If you had the answer in your mind, let's not wait any longer. Rush immediately to the kitchen and make some delicious guava dishes to treat your friends. As usual, don't forget to share your results with other readers and me in the comments below.
Nutrition Facts
10 servings per container
---
Amount Per ServingCalories137
% Daily Value *
Total Fat 8g

13

%
Cholesterol 33mg

11

%
Sodium 178mg

8

%
Potassium 43mg

2

%
Total Carbohydrate 13.4g

5

%

Dietary Fiber 0.6g

0

%
Sugars 1.2g

Protein 3.1g

6

%
---
Calcium

12

%
Iron

1

%
Vitamin D

2

%
* The % Daily Value tells you how much a nutrient in a serving of food contributes to a daily diet. 2,000 calories a day is used for general nutrition advice.