31+ Easy Ground Beef Recipes For Upcoming Gathering 2023
It is not complicated to find easy ground beef recipes. This task becomes more accessible with this interesting post on your hand. Let's take advantage of it effectively to bring beautiful dishes to your loved ones.
Please do not skip any section in this article since you can miss essential information. I hope you can pick your favorite choices and are successful with these treats. It's time to turn ground beef into many delectable dishes.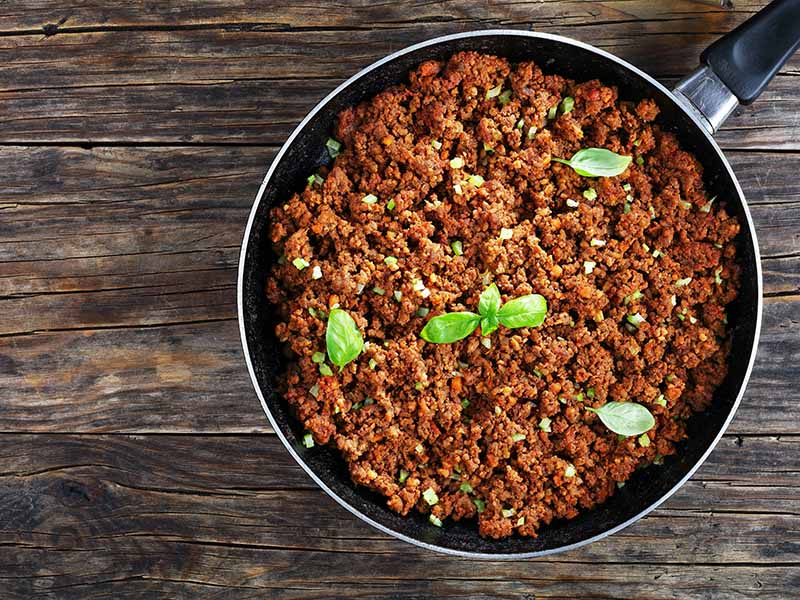 How To Make Delicious Dishes From Ground Beef?
This section will show practical ways to create delectable foods from ground beef in your kitchen. Please keep your eyes on it to get the best results.
Total time: Around 55 minutes
Shepherd's pie is a popular dish in many places with minced meat and mashed potato. Usually, chefs will use lamb or beef to create this delicacy. Both cooked and freshly minced meat are suitable for this food.
You can find cheese in several variations of shepherd's pie. It's simple to prepare a healthy recipe using dairy-free mashed potatoes. I am sure you won't be able to stop chewing when you eat the mix of rich beef and creamy, smooth potatoes.
Restaurants often serve this excellent dish with a bit of gravy on top or fresh salad. If you do not have much time at the party, you can make this food beforehand and bake it when the guests start coming.
Learn the proper ways to make Irish shepherd's pie right now.
Total time: Around 30 minutes
Steamed rice, vegetable stir-fry, and beef pot stickers are an ideal combo to fill your hungry stomach quickly. Typically, I make this treat with pork and cabbage, but I'll use ground beef and carrots instead.
The tender and yummy beef is wrapped in a wonton wrapper with onion, carrot, cornstarch, soy sauce, and more. Hence, you'll find the signature umami flavor when enjoying this mouthwatering food.
After frying in canola or vegetable oil, the sides of the stickers have a characteristic brown color. The flavor of this recipe becomes richer when cooked with sesame oil, water, and soy sauce at medium-low heat.
Total time: About 35 minutes
Do you have any ideas about mixing creamy tomato basil soup, baked potato fries, or cucumber tomato salad? I think you should trust Italian meatball subs since this recipe can go well with these mentioned dishes.
This recipe is an explosion of flavor! You'll be speechless as you bite the buttery and crispy toasted sub rolls with tender meatballs, melted mozzarella, and the pleasant taste of the marinara sauce. All will blend and dissolve slowly in your mouth.
Both frozen and fresh meatballs work for this dish. Besides hoagie or submarine rolls, hot dog buns are a viable alternative you can consider. Remember to top the dish with grated Parmesan cheese or fresh herbs for decoration.
Total time: About 1 hour 30 minutes
It's hard to keep your mouth from watering when you see the appealing lasagna. It captivates you with its eye-catching red and white colors and soft, moist texture. It's simple as you only need 3 kinds of cheese and ground beef to get a delicious dish.
Ricotta, Parmesan, and mozzarella are 3 types of cheese you must have in your kitchen if you want to make this wonderful recipe. When it comes to classic lasagna, it is impossible not to mention the rich flavor of tomato sauce.
One important thing you must do before layering lasagna is to coat the surface of the baking dish with cooking spray to prevent it from sticking. In addition, you need to use aluminum foil to cover the lasagna when baking it.
Get into the kitchen to prepare delicious lasagna with ground beef instantly.
Total time: About 30 minutes
I got a chance to enjoy the rich and savory Thai basil beef on my previous trip to Thailand. Nevertheless, I learned local tutorials to make this delicious food at home with some essential steps and ingredients.
The spicy and flavorful dish is packed with the characteristic taste of the fish sauce and dark soy sauce. And basil is the recipe's star because fresh basil leaves give the dish a fresh touch and unique seductive aroma.
If you don't have much time, let's go to the supermarket and bring store-bought ground beef to your home. In contrast, you can spend a little more time in the kitchen turning beef into minced meat for this tasty delicacy.
Why don't you try this fantastic recipe with plain rice or noodles? Usually, Thai people will put Thai-style fried eggs on top when serving this dish.
Total time: About 45 minutes
Burritos are a traditional Mexican dish, and this recipe has existed for thousands of years. This wonderful dish was born from the Mesoamerican culture's habit of wrapping foods with tortillas.
This recipe has a crispy exterior and a cheesy, warm interior. The tortillas will retain their firmness and freshness when removing watery filling and vegetables such as lettuce, salsa, and tomatoes.
You can reduce the amount of rice and cheese for smaller burritos. Instead of white rice and refried beans, you can use brown rice or black beans as alternatives. Of course, don't forget to serve the burritos with guacamole, sour cream, or salsa for the best result.
Total time: About 40 minutes
Do you know how to utilize the tender ziti pasta in your kitchen? Making a delectable dish with this ingredient, spaghetti sauce, ground beef, ricotta cheese, and a bit of mozzarella cheese is an ideal suggestion you should not miss.
This tasty ricotta cheese recipe is a fantastic candidate for a crowded party. If you are planning to host potlucks, picnics, or parties, you can make this food ahead of time and freeze it until the gathering happens.
To create a harmonious flavor dish, I recommend adding a little sugar to the ricotta mixture. Plus, a spicy touch from red pepper flakes will awaken your taste buds in no time.
Total time: About 35 minutes
If you have ground beef, rice, tomato paste, and sauce, please go to the store and purchase bell pepper to make fantastic unstuffed peppers for your family dinner.
Occasionally, I try to make this excellent dish with ground lamb, turkey, or chicken to change the taste. If you like veggies' delicate and fresh taste, feel free to add peas, beans, or mushrooms to this recipe.
Apart from the tomato paste, spaghetti sauce also works perfectly in this recipe. I like sweet foods, so I usually use red and orange bell peppers. You can use green if you need a bit of bitterness.
Check the right instructions to make unstuffed pepper now!
Total time: About 1 hour 15 minutes
Chipotle peanut butter bacon burger is a familiar dish on the menu of many restaurants. The burger comprises ground beef, hamburger bun, bacon, and Mexican blend cheese. Also, the appealing and sweet taste of peanut butter bacon sauce is the soul of this treat.
The flavor of this sauce may remind you of bacon jam with the enchanting sweetness of brown sugar and peanut butter. And the chipotle chiles and adobo sauce will create the perfect balance with the sauce's sweetness.
Total time: About 40 minutes
It's time to satisfy your ground beef cravings by going to the kitchen and making delectable meatloaf muffins with this recipe. This dish is a fantastic choice for a healthy lunch and convenient dinner.
This wonderful dish is a well-combined blend of ground beef, veggies, bread crumbs, fresh herbs, and seasonings. In particular, it is full of umami flavor with the presence of Worcestershire sauce and tomato paste.
Using chicken stock instead of milk, you'll have a delectable treat with perfect moisture and non-dairy products. I often use metal or silicone muffin pans for making this treat. Do not forget to spread cooking spray on muffin tins before using.
Total time: About 45 minutes
Empanada is a baked or fried dish made up of pastry and filling. This recipe is a popular dish in Spanish, Latin America, Southern European, and Iberian-influenced cultures. Its name is derived from "empanar" which means "enbreaded " in Spanish.
In terms of appearance, the golden-brown color of these air fryer dinner delights will leave an indelible impression on your mind. You'll love the crispy empanada dough and the rich flavor of seasoned ground beef filling immediately.
In case you want to store the uncooked air fryer empanadas, you can freely freeze it without worrying about anything. When baking the dish, do not leave them overlap since this can cause them to cook unevenly.
Total time: About 25 minutes
Instant pot taco pasta catches your eyes with golden brown pasta, yellow corn, a dark shade of black beans, and a green hue of chiles. I usually add taco seasoning to the dish to get Southwestern-inspired flavor.
Cooking the dish in an instant pot makes the ingredient soft and absorbs the seasonings evenly. You can beautify this treat by adding cilantro, cheddar cheese, lime wedge, and sour cream.
Total time: About 2 hours 30 minutes
The deep and rich hamburger stew is a familiar dish on a family's cold days. This excellent food is a collection of ground beef and veggies. The mix of them brings a tasty stew with dense consistency.
Before combining veggies and beef in the same pot, you should saute the veggies to enhance the flavor. After adding broth to the pot, you should cook it on low heat to prevent burning. For serving, people often enjoy this stew with beer bread or breadsticks.
Make a rich and warm hamburger stew with ground beef right now.
Total time: About 55 minutes
The cheeseburger and fries casserole may remind you of your childhood with crinkle-cut French fries. You have a creamy and cheesy casserole when you put these yellow fries in a baking dish with ground beef, cheese, and cheddar cheese soup.
The prominent umami flavor of Worcestershire sauce will stimulate your taste buds immediately. Even better, do not forget to add the burger toppings like mustard, ketchup, and Sriracha to make the dish more appealing.
Total time: About 30 minutes
Beef and broccoli are great culinary companions. Their combination always creates incredibly delicious dishes. Ground beef and broccoli stir fry are one of the masterpieces created from this fantastic fusion.
This dish is a rich source of protein and fiber that you should take advantage of for good health. The soft beef and slightly crunchy broccoli will give you a pleasant mouthfeel. Please satisfy your hunger with the combo of this treat and brown or white rice.
Total time: About 40 minutes
Until now, I still cannot forget the nutty and hearty flavor of chili sloppy joes with creamy cheddar cheese and crispy corn chips. The chili is the best combination of meaty ground beef, spicy paprika, and other spices.
Let's start cooking beef with spices, beans, and tomatoes to make yummy and rich chili. To finish this treat, add corn chips and cheese onto the chili and bake until the cheese has melted. Before eating, you can decorate it with jalapeno, sour cream, or green onions.
Total time: Around 22 minutes
Give your mouth a good mouthfeel by making a Lipton onion soup burger for breakfast or brunch. This is a dense, succulent, and flavorful recipe. Hence, you will be unable to say no to this fantastic treat.
The tender and smoky beef will stimulate the tip of your tongue at the first bite. Typically, I use beef stock for this burger, but you can replace it with water.
You can try adding Worcestershire sauce to the recipe to get the beef with a deep flavor. Also, it becomes better with the addition of caramelized onions if you desire. In some cases, add black pepper and red pepper flakes for a bit of heat.
Total time: About 45 minutes
Perhaps, you are no longer a stranger to soft and flavorful meatballs. Nevertheless, instead of frying the meatballs, I'll teach you how to make baked meatballs for a healthier meal. This versatile recipe goes well with many sauces and dishes.
Italian marinara sauce, Swedish cream sauce, and spaghetti are suitable options to serve with these tasty meatballs. You can dive into the cheesy taste of Parmesan, the sour-sweet taste of Worcestershire sauce, and aromatic herbs.
In case you can't purchase fresh parsley or basil, it is possible to use dried Italian seasonings instead. I often use gluten-free Panko to make a gluten-free version of this recipe. If you are a spicy food lover, raise the amount of crushed red pepper flakes for a hotter taste.
Let's explore how to make delicious meatballs with ground beef.
Total time: Around 30 minutes
I guarantee you'll fall in love with this wonderful ground sausage dish at first sight. It grabs your attention thanks to the distinctive yellow color of elbow pasta and the seductive aroma. You'll go crazy over the creamy and moist texture of cheese and cream in this food.
In particular, ground beef plays an essential role in this recipe. Its rich and meaty flavor will create a balance for the taste of the delicacy. It is acceptable to replace pork sausage with extra ground beef for extra beef flavor.
The use of mustard is free according to your preference. In case you like to enjoy the sweet flavor, please use honey mustard. Spicy or Dijon mustard gives the dish a more complex taste.
Total time: About 45 minutes
Please utilize chili leftovers on your hand to prepare a tasty chili cornbread casserole. They can create a culinary masterpiece with the chili's mild heat and the cornbread's delicate sweetness.
Besides the 2 mentioned components, this recipe calls for the sharp taste of cheddar cheese, tender ground beef, and crispy fried onions. And it looks more eye-catching with decorative additions like sour cream and green onions.
This recipe has plenty of protein due to the use of ground beef. Wow, it's hard to resist the intense appeal of creamy and cheesy casserole. Plus, the yellow shade is another plus point of this treat.
Total time: About 45 minutes
Taco stuffed shells are a straightforward, convenient, and delicious dish I would like to mention on this excellent list. It looks yummy with seasoned ground beef, salsa, cheddar, and Monterey Jack cheese in pasta shells.
It gets a fresh twist from the minced jalapenos and diced tomatoes on top. To reduce the spiciness, you can replace the jalapenos with serrano. Furthermore, I recommend using homemade taco seasoning for the best flavor.
What foods can you serve with delicious taco stuffed shells? This delectable dish works best when paired with lemonade, avocado dip, salsa, soups, or salads.
Do not ignore the instructions to prepare an excellent taco stuffed shell now.
Total time: About 40 minutes
You'll have a soft and delicate pie after combining lean ground beef, shredded cheddar cheese, Bisquick mix, and milk. Ground beef's rich flavor and tenderness will blend with creamy and aromatic cheese.
After baking, you'll be captivated by the bright yellow of this cheeseburger pie. The meat brings a highlight to the food with a few small red spots. I often poke a knife into the center of the pie to test it. If the knife is clean, this treat is ready to serve.
To enhance the dish's quality, I highly recommend adding crumbled bacon, avocado, mushrooms, fried onions, or other toppings of choice on top of the pie.
Total time: About 55 minutes
Stuffed cabbage rolls are a classic dish with cooked cabbage leaves wrapped around the fillings. Usually, people use meat and grains for their fillings. You can come across steamed or baked versions that are consumed with sauce.
In this recipe, I mix ground beef with cabbage, tomatoes, tomato soup, and beef broth to create a hearty and rich recipe. For serving, this dish is the ideal companion with rice, pasta, dinner rolls, or bread.
It's convenient as you can make this dish beforehand and serve it after reheating. You can freeze the stuffed cabbage rolls, but I do not recommend it since the veggies will be mushy and watery when defrosted.
Total time: About 15 minutes
Korean beef or bulgogi is a familiar and popular food in Korea, and Korean beef and rice is a famous recipe in the land of kimchi and many other surrounding areas. The beef gets the umami and warm taste when cooked with soy sauce and ginger.
The yummy meat pairs well with rice and some green onions on top. The veggie will accentuate the look of the dish. Many Koreans love this combo for lunch or dinner. You can also freeze the beef blend for later use.
Total time: About 30 minutes
With just about 30 minutes, you have a super flavorful dish for dinner or lunch. This delectable food can please your family members or guests. It is loaded with ground beef, rice, and vegetables.
First, prepare a beef mix by cooking ground beef, corns, carrots, and spices in a skillet for about 6 to 8 minutes. After making scrambled eggs, you continue to add cooked rice and ground beef into the pan and stir with soy sauce and sesame.
If you want to enjoy fried rice later, you can keep the dish in a freezer bag and store it in the freezer. When you want to serve this treat, let's thaw it in the fridge overnight and reheat it before using it.
It is simple to get delicious fried rice with ground beef with the directions.
Total time: About 25 minutes
Taco is a traditional recipe in Mexican cuisine. It is made up of corn or wheat-based tortilla and filling on top. Its filling is diverse with pork, beef, chicken, seafood, and vegetables. Plus, it becomes more beautiful with onion, tomatoes, or salsa.
In this section, I will introduce the tacos recipe filled with ground beef and some veggies. In addition, if you have taco seasoning on hand, you should not miss this fantastic recipe.
Taco seasoning is a flavorful combination of chili powder, Mexican oregano, cumin, and garlic powder. A bit of heat from pepper will tickle your taste buds. The seasonings will penetrate the ground beef evenly and bring a rich flavor to the meat.
You can add some color to the tacos by adding toppings like tomatoes, shredded lettuce, red onions, or sour cream.
You absolutely should not let the beef dry after adding the sauce. Before filling the tortilla with ground beef, please place the tortilla in the microwave to heat it. For deeper taste, you can add onions to the mix.
Total time: About 30 minutes
I always have a special place in my heart for warm and rich soups using ground beef. And this creamy beef taco soup is one of them. Aside from ground beef, this nutty soup is made from taco seasonings, cheese, cream, and spices.
Aside from its enticing taste, it's also a keto-friendly ground beef dish with only 5.5 grams of net carbs. Meanwhile, this dish is a rich source of healthy fat, thanks to heavy cream, beef, and cheese.
There are many ways to serve this wonderful dish. Typically, I mix it with salads, tortilla chips, cheese crisps, and cheese quesadilla. The wonderful dish will taste the best when you use freshly grated cheese.
Total time: About 4 hours 10 minutes
Bolognese sauce is one of the masterpieces of traditional Italian cuisine. This dense and rich recipe takes a long time to cook (4 hours), so let's make it on weekends or holidays when you have a lot of free time.
The slow cooking for a long time makes the meat tender, and the ingredients blend together to create a wonderful texture for the sauce. Plus, this excellent recipe makes a strong impression on guests thanks to the deep red color.
I use ground beef, pork, and Italian unsmoked bacon in this recipe, but you can skip the pork if you are not a pork consumer. You can feel a bit of liqueur taste with the use of white wine in this recipe.
Total time: About 12 minutes
A cheeseburger salad is an ideal choice if you are following a healthy and low-carb diet. It looks fresh and eye-catching with ground beef, green lettuce, red tomatoes, and red onions. Also, a bit of shredded cheese will give you a good mouthfeel.
When enjoying tender ground beef, you'll be mesmerized by its rich flavor as it is flavored by pepper, salt, cayenne pepper, and onion powder. The dish is most effective thanks to the special sauce with ketchup, mayonnaise, and vinegar.
If you have fresh veggies in your fridge like spinach, arugula, or kale, you can add them to salad recipes to enhance the freshness. Even better, you can make this fantastic salad ahead of time and serve it afterward.
Discover the tutorials to create an excellent cheeseburger salad.
Total time: Around 27 minutes
Wow! I love the beautiful appearance of this pizza with its eye-catching golden brown color and colorful toppings and sauce. Ground beef, sauces, mozzarella, and gouda cheese are the things that must be on hand to make this delicious pizza.
You'll be immersed in the tenderness and light crunch of the pizza crust. The signature flavors of steak seasoning, ketchup, and mustard will awaken your taste buds at the first bite. Furthermore, you can add bacon or taco sauce for a new breeze.
You must bake pizza quickly and at high heat for the best performance. Please remember to add a layer of cooking spray on the pizza pan surface to avoid the dough sticking into the pan while baking.
Total time: About 45 minutes
If you are craving creamy and cheesy casserole, the delicious cowboy casserole will help satisfy your cravings. This recipe includes ground beef filling and potato topping. The topping gives the dish an excellent crunch.
The delicate and mildly sweet taste of corn will bring a pleasant feeling when enjoying this delicious casserole. The thick and smooth consistency of the treat comes from the cheese and creaminess of mushroom soup.
In addition to cream of mushroom soup, you can use cream of celery or cream of chicken soup as the perfect alternatives. You can bake the tater tots beforehand to increase the crunch of them before adding to the dish.
Total time: About 30 minutes
Let warm your body on the cold days with a bowl of lasagna soup. Its simplicity allows you to complete it in about 30 minutes with some simple ingredients like ground beef, mozzarella cheese, heavy cream, and more. This recipe is also one of my favorite ways to make use of leftover ground beef.
It has a complex flavor with many spices used. They blend together to create a rich and enticing overall taste. For noodles, I prefer to use Mafalda noodles for this excellent soup.
To bring additional kicks, you can add mushrooms, spinach, jalapenos, or other vegetables to the dish. Remember to add beef broth to the recipe to accentuate the flavor.
Show Me Your Foods With Ground Beef!
I have tried making these simple ground beef recipes, and I have had massive success. Hence, you absolutely do it and get excellent results like me. Do not hesitate anymore! Let's give these incredible recipes a shot!
This article's valuable knowledge can reach many other people thanks to your sharings. Therefore, do not forget to do it! Furthermore, I'm delighted to see your contributions and feedback in the comment section. Thanks a lot!