Looking for grape desserts to make this fall? Well, you have plenty of options. Grapes – one of the best fall fruits – are addictingly sweet and juicy, and slightly tart.
Nevertheless, these fruits are so amazing that limiting their use to only juices or jelly will be a waste. When the fall comes, and you can get your hands on the sweetest and juiciest grapes, let's use them in a whole new way – desserts.
Spoiler alert! You're not going to throw in some grapes on your cake for a pop of color. Baking with grapes is funnier and brings out the best flavors. Ahead are 22 sweet ways to use these dazzling fall jewels!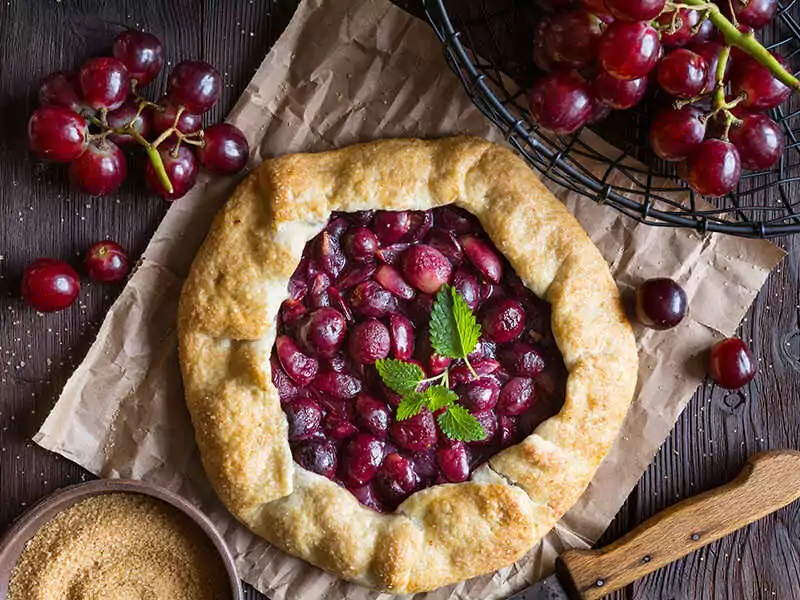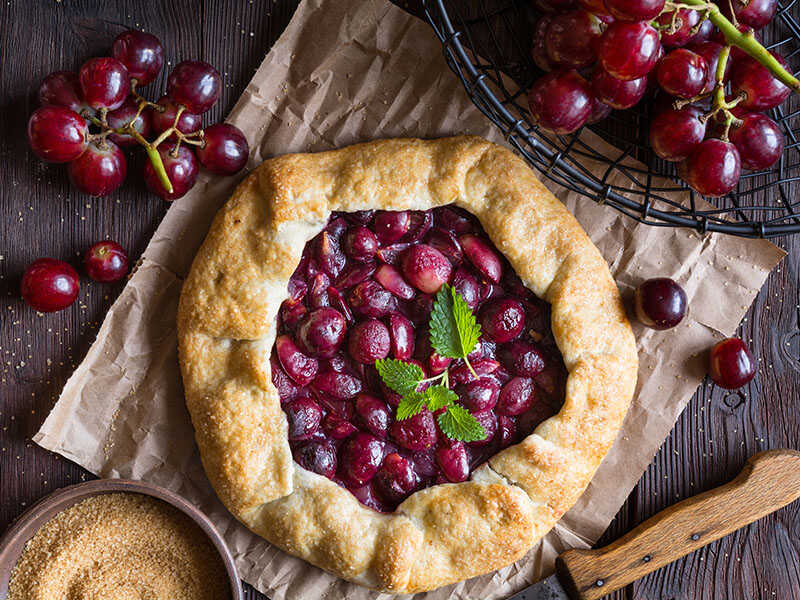 22 Grape Desserts For Everyone To Fall In Love With The Fall Fruit!
Grapes can be used in all manner of things. Yet, desserts, especially the ones you will have to bake the fruits, are one of the best ways to appreciate its juicy and sweet goodness. From oil cake, tart, and crumble to sorbet, there are plenty of ways to slip the fruits into your desserts.
Total time: 45 minutes
Olive cakes are fast and foolproof to make. They often have an incredibly moist and tender texture, providing a backdrop for seasonal fruits to shine.
This olive cake, for example, showcases the flavors of red grapes. Olive oil also plays a major role here (and, therefore, the name). It makes the cake ultra rich and flavorful.
This olive oil cake baked with red grapes is more about the ingredients than your baking skills. As long as you use a quality bottle of olive oil and red grapes at their prime, it only takes some mixing and baking to whip out a transcendent cake.
Total time: 30 minutes + 30 minutes of chilling time
The secret to this richly flavored dessert with Mascarpone cheese: roasted grape and honey! Roasting these plumb fruits really enhances their flavors. The grapes will be caramelized graciously in the oven and release a sticky, sweet juice.
When combined with honey, this juice becomes a delicious syrup that goes perfectly well on the tart. With each bite, you'll get a little bit of everything: crunchy crust, creamy bed of Mascarpone cream cheese, and juicy roasted grapes. What not to love?
Total time: 10 minutes + 1 hour of refrigerating time
It's always a good idea to have a dessert that you can prep ahead, toss in the fridge, and take out once ready to serve. This fruity fall salad fits the bill; it only takes 10 minutes for the prepping and 1 hour of chilling time. Plus, this refreshing dish can double as a side, too.
This grape salad uses seedless red grapes tossed in a rich cream cheese mixture. Also, brown sugar and pecans are sprinkled on top to add extra sweetness and texture.
Serve this grape salad as a refreshing dessert at your next potlucks or summer picnics. Everyone cannot help but scoop out the last bit in the bowl.
Whip up this creamy grape salad with pecans to bring to the next potluck.
Total time: 2 hours
This galette has a double dose of fall flavors: pear and concord grape. These fruits, together with rosemary and toasted pecans, are wrapped up in a flaky crust. While the puff pastry is a great shortcut to making a galette, you know a homemade dough is better (and more satisfying).
The best part is that the sweet treat takes only 45 minutes to bake until golden brown all over. Once it's ready, serve with a scoop of vanilla ice cream on top for the ultimate indulgence.
Total time: 40 minutes + freezing time
Concord grapes are plump fruits that don't need much preparation. For example, look at this easy recipe to see how you can turn them into an irresistible dessert with yogurt and honey.
Just 3 ingredients being used means less mess and also less elbow grease involved. Full-fat Greek yogurt is mixed with the grapes at a 1:1 ratio, offering a nice backdrop for all the fruity flavors to shine. Plus, it also provides more nutrients and vitamins than regular yogurt.
After pureeing the grapes, take a further step and strain out the skin and seeds. You'll only need the liquid extract for the dessert.
Because there are only a few ingredients in use, seek out quality grapes. Use other varieties if you wish, but put an emphasis on the flavors. The richer the taste, the better your yogurt.
Total time: 45 minutes + 12 hours of chilling time
Sorbet is typically made from sweetened water flavored with fruit juice or puree. No dairy or eggs are in use, so this refreshing treat is a perfect choice for those looking for dairy-free frozen desserts.
This sorbet is sweetened with Concord grapes and a touch of honey. The sweet, fruity flavor is dominant here, which is nicely complemented by the herby and floral rosemary.
If you're whipping up sorbet for the first time, chances are you're skeptical about the last ingredient – black peppercorn. It does more than leave black specks in your sorbet. The little spicy kick amplifies the fruit's flavors.
Total time: 1 hour and 10 minutes
This crumble is basically peanut butter crumble topping sitting over grape filling baked to perfection. The filling might take a bit extra time to make, however. You'll need to remove the seeds and thicken the juicy grape juice.
But, I promise everything will be well worth it in the end. The hardest part is to refrain from digging in until this crumble is cool enough and ready to serve.
So, let this grape crumble cool for half an hour before enjoying it. This dessert is guaranteed to be a big hit, and everyone will enjoy every last bit of it.
Total time: 1 hour
Put a twist on the classic cornbread by scattering flour-covered Concord grapes into the batter. You'll have a buttery, honey cornbread packed with fall flavors.
The bread has crispy, buttery edges and a soft center. Meanwhile, the long baking time gives the grapes a jam-like texture and enhances their sweetness. You'll love the rosemary-infused whip cream, which makes cornbread extra rich and decadent.
The cream is basically heavy cream infused with rosemary sprigs, chilled, strained, and whipped. Make sure to plan ahead and make this whipped cream first, as it needs time for the herb to infuse the flavor into the cream.
Concord grapes work best with this cornbread. Yet, if they're unavailable, substitute them with other small and seedless varieties.
Total time: 2 hours and 30 minutes + 3 hours of cooling time
When talking about the best grapes for creating stunning sweet treats with fruits, Concord grapes are often the first thing that comes to mind. The distinctive flavors of this early fall fruit are celebrated in this pie.
The flaky, buttery crust reveals tons of fresh and juicy grapes inside. There are not many things to add to this fruity filling apart from sugar for extra sweetness and lemon juice for a punch of flavor.
Although the filling is simmered for a while to thicken, it will still release moisture when baked.
Hence, make some small slits to allow the moisture to escape, or the pie will become soggy. This flavorful grape pie takes a couple of hours to make, but all good things take time, don't they?
The buttery pie crust captures all the fall flavors in this Concord grape pie.
Total time: 1 hour and 30 minutes
Whether you're a fan of walnut buttercream or plump grapes, you're in for a real treat. This moist cake is filled with grape jam, topped with a luscious peanut butter frosting, and finally garnished with fresh grapes and figs.
If you have any leftover jam, it can last up to one week when refrigerated. This means that you can use it for another fresh batch of cupcakes if you want.
Seedless Concord grapes are used here, saving you a bit of time because you won't have to deal with the seeds. The fruit is cooked with lemon juice and sugar until thickened before being pureed for a silky smooth texture.
You can sub in a different grape variety here, but the consistency of the jam might vary a bit. If it's not as reduced as desired, cornstarch and some water will be a quick fix.
Total time: 1 hour and 30 minutes
Torta Bertolini, or Bertolini for short, is a fall dessert staple of the northern Italian town of Crema. It's simply a vanilla-flavored cake studded with sweet and juicy Concord grapes.
There are two layers of grapes: in the middle and on top of the cake. These fruits are first lightly coated with flour before adding to the cake. This coating will absorb the moisture disgorged by grapes as they bake.
The type of grape used is all that matters here. You can substitute Concord with similarly sweet and tart grapes such as Thomcord. If you can't find any, use blueberries and blackberries instead.
Total time: 45 minutes
This Polenta is a country-style, rustic cake with a dense texture and good structure. It's also incredibly moist and rich, thanks to the olive oil.
The flour mixture is made of a few pastry ingredients and is slightly flavored with vanilla. Polenta, which is yellow cornmeal, gives this cake a flavorsome grittiness.
This means the cake is a blank canvas for the grape's flavors to shine. Placing lots of red grapes on the cake and slipping it into the oven and you'll have the best grape cake you've ever made in no time.
The baking time will help intensify the sweetness of the fruit and bring out a flavorful, decadent treat. This take on Polenta cake uses honey instead of refined sugar. Plus, the choice of whole-wheat flour also makes this cake healthier to savor.
Total time: 1 hour 5 minutes + 1 hour of refrigerating time
There is so much to love about this delight, from the flaky crust to the ambrosian vanilla bean ice cream and Concord grape jam. You can serve it as a sweet dessert or a nice sandwich for tea time.
While the grape jam filling in this recipe takes a bit of effort, it's guaranteed to outshine their store-bought counterparts. It's tart and sweet in equal parts, and the flavors are deepened thanks to the time the fruits are simmered over the heat.
Here is the only tip for baking with grapes: Make sure to create a few vents so that the moisture can escape from the sandwiches. Fresh Concord grapes work best in this recipe. However, high-quality grape jam or jelly is a nice substitute when the fruit is off-season.
Total time: 40 minutes
Focaccia is a classic Italian yeasted flatbread, flavored with olive oil, and topped with herbs, veggies, or even fruits.
For this refreshing recipe with flatbread, top fresh grapes over oiled pizza dough, add sugar and rosemary, then slip the whole bread into the oven. Roasting Concord grapes tightens up the fruit texture and concentrates the natural sweetness.
The result is a Focaccia with a golden brown crust, scattered with juicy and plump grapes. The best part? The juice oozing out from the baked grapes will seep into the bread, so every bite is extra tempting and delicious.
Grape Focaccia is one of the best ways to enjoy sweet, juicy grapes.
Total time: 55 minutes
This rustic crostata has simple yet sensational flavors. It starts with a fluffy, crumbly crust, which is topped off with a juicy and sweet filling of Concord grapes and crunchy, toasted almonds.
The extra virgin olive oil imparts a distinctive flavor to the crust and sets it above a shortbread crust you normally get. There's also a hint of rosemary, which is subtle enough to complement the grape filling.
One small note for you, the dough here is quite delicate, so be gentle when folding it to avoid tearing it apart.
Total time: 1 hour and 30 minutes
Here comes a recipe to celebrate red grapes, which are no less delicious than their purplish cousin to bake with. The best part about red grapes is that they are widely available year-round. So, you only need to pick up the freshest for your dessert.
This take on the classic American dessert is bursting with addictingly sweet and juicy flavors and a subtle touch of cinnamon spice. Unlike the Concord grapes, this variety will call for some cornstarch, so it won't become too watery when baked.
The result is a filling that is a cross between grape jam, juice, and wine; just bake and see it for yourself. To save time, use store-bought pastry as a shortcut to this delicious baked good.
Total time: 1 hour 15 minutes + 30 minutes of cooling time
This rustic tart is a nice way to say farewell to summer and welcome the grape-harvesting season. Pick up the freshest and plumpest grapes from the vine and roast them nicely to add a magically complex and tannic flavor to the tart.
Almond is the co-star in this delightful treat, and it complements the fruit pretty well. Its subtle flavors are way better than almond extract.
The crust of this tart is a simple, quick-to-make pastry. There are no fancy ingredients here; just use flour, unsalted butter, sugar, salt, etc. Add allspice to introduce some warmth, which will make the crust anything but ordinary.
Total time: 15 minutes + chilling and freezing time
This gourmet sorbet can be a light refreshment to end your romantic night. Black or red grapes work wonders here. You can always swap in a light, fruity rose or full-bodied red wine when sparkling shiraz is unavailable.
The fruity liquor elevates the sweetness of grapes in this refreshing sorbet. Grapes are pureed and strained to remove skin and seeds. Use only juice here, as any solid part that makes it to the sorbet will ruin the texture.
While grapes are quite sweet, you'll still need to add sugar into the mix. Freezing the sorbet will dial down the sweet flavors, so it's important to make your sorbet a bit sweeter before slipping it into the ice cream machine.
This black grape sorbet with goat cheese mousse is a delectable dessert for your next dinner!
Total time: 30 minutes
These elegant bites will fit the bill if you feel a bit fancy for your dinner night. Plus, everyone will relish having their own cheesecake.
These mini cheesecakes boast a restaurant-quality look, but it's fail-proof and takes no more than half an hour to make (thanks to the pre-made cheesecake). Just top it with champagne grape compote for an indulgent treat everyone will swoon over.
For the grape compote, reduce the mixture of sugar, champagne, honey, lemon juice, and grapes until the liquid sticks to the spoon.
Allow it to cool before you assemble the cheesecake and serve. Use a pretty platter to give the impression that it comes from a restaurant.
Total time: 50 minutes + 1 hour of cooling time
A straight-up apple pie is what you'll turn to celebrate fall. However, this grape apple pie hits the right spot when you crave all the fall flavors but want something a bit unusual!
Grape and apples are an unexpectedly wonderful combination. The sweetness of the grape helps play up the apple's flavor. Besides the fruits, nutmegs also go into the filling for the extra crunch.
In addition, this recipe uses frozen pie crust for a quick dessert. There's not much left to do for the crust: just prick the bottom of your pie crust, and use a cookie cutter to create your favorite shape on the second pie crust. As simple as that!
Total time: About 1 hour 20 minutes
Clafoutis, also spelled as clafouti, is a classic French dessert. It is traditionally made of black cherries in a quick batter and then baked and enjoyed with cream.
Apart from black cherries, you can top this dessert with various summer fruits or whatever seasonal fruits catch your eyes. The fall jewels – grapes – also work like a charm here.
Unlike many treats on this list, you'll need to use a grape variety that is both sweet and tart. The little acidic zing prevents your Clafoutis from becoming cloying. If you use sweet grapes, a fresh squeeze of lemon juice will help balance out the sweetness.
Despite the fancy name, this dessert is not demanding to whip up. Roast the grapes first. While waiting for them to cool, whisk flour and sugar egg from the batter and add almond extract, rum, and cream to boost the flavor. The rest is about assembling the Clafoutis and sending it to the oven.
Try this puffy and golden brown grape clafouti for your next dinner.
Total time: 1 hour and 30 minutes
Last but not least, if you want to stray a bit from sweet desserts, this alluring dish with goat cheese is the way to go.
With goat cheese (and onion) entering the scene, this tart gears slightly toward a savory side. You can serve it for brunch, as an appetizer, and as desserts. It's the most versatile dish on this compilation.
In this recipe, grapes are roasted with red wine to bring out the best flavors. Goat cheese is the foundation of the crust, but you'll also need some cream cheese to tone down chevre's flavors.
Caramelized onions, for many people, are an unexpected addition to the tart. It turns out that this element adds savoriness and sweetness to balance the rich cheese.
You'll Love Baking With These Fall Jewels!
When it comes to grape desserts, think beyond a bowl of creamy salad. There are tons of indulgent treats starring these fall jewels you can make.
Cold desserts like sorbet or yogurt capture all the sweetness and fleeting aromas of grapes. Meanwhile, baked goodies such as grape galette, Mascarpone tart, or pie allow you to enjoy both the juicy flesh and awesome flavors.
Please consider leaving a review below if you're making any of these grape desserts. I hope you love these ideas and can turn them into a staple in your dessert rotation. Browse this website for more interesting cooking ideas, and don't forget to share this list!
Nutrition Facts
8 servings per container
---
Amount Per ServingCalories339
% Daily Value *
Total Fat 13.7g

20

%
Cholesterol 79mg

27

%
Sodium 255mg

11

%
Potassium 306mg

9

%
Total Carbohydrate 50.8g

17

%

Dietary Fiber 1.3g

4

%
Sugars 29g

Protein 5.4g

10

%
---
Calcium

94

%
Iron

2

%
Vitamin D

18

%
* The % Daily Value tells you how much a nutrient in a serving of food contributes to a daily diet. 2,000 calories a day is used for general nutrition advice.