The diversity and appeal of German side dishes will leave you in awe. From classic potato-based sides to healthy salads and hearty meatballs, this country will never run out of options.
Although the main course should always take center stage, these authentic sides are so tasty that they might even outshine your main dishes.
So if you're looking for some simple yet delicious side dishes, you have come to the right place! Now, take a look at this handy checklist below, and let's get cooking!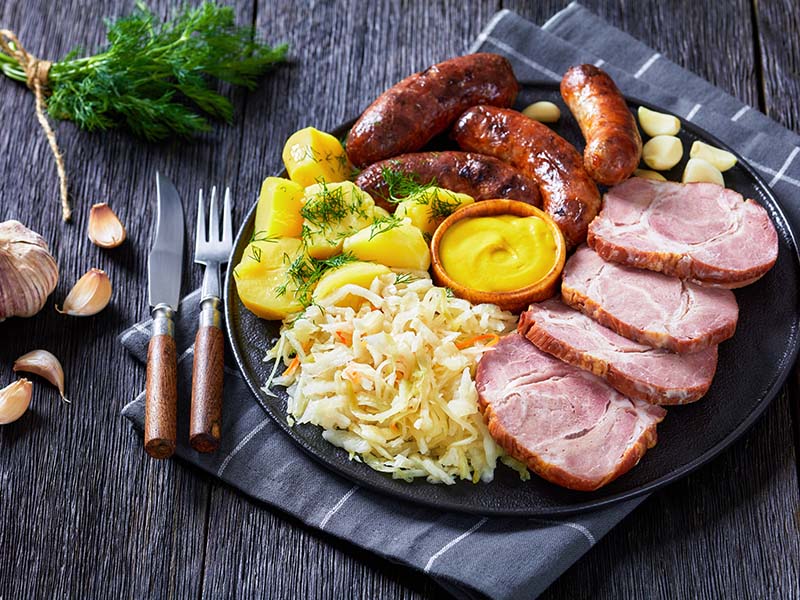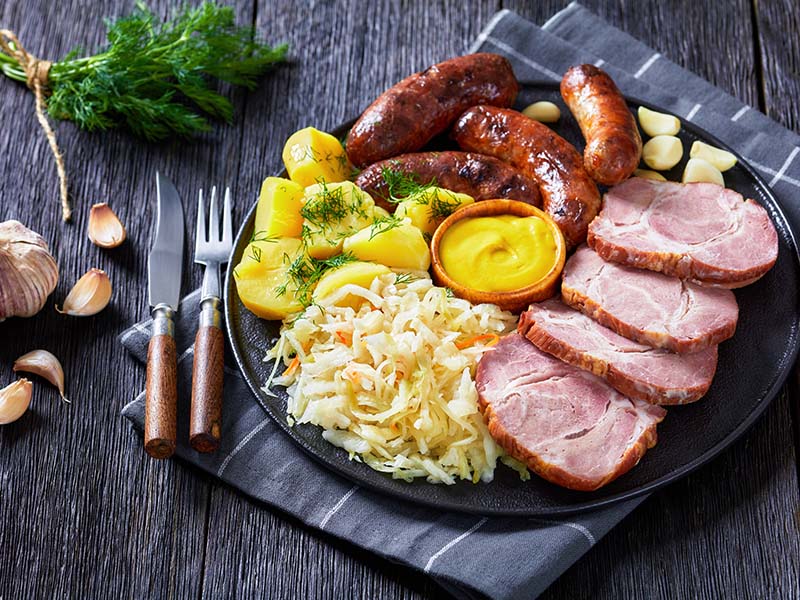 Here Is How To Make 25 Most Iconic German Side Dishes!
As I mentioned earlier, there are countless side dishes in Germany that can blow your mind. In this section, I will help you learn about the most popular ones. Take a look and find out what they are!
Not only is Salzkartoffeln a delicious German side dish on its own, but it is also a base for many flavorful potato sides on this list. So if you want to become a German cuisine master, you must know the recipe for this dish like the back of your hand.
Salzkartoffeln is peeled potatoes that have been cooked in salted water. For added taste, some locals add salted butter and parsley while boiling. Remember to use firm potatoes so they can keep their forms.
If you leave the skin on, this dish will be called Pellkartoffeln instead. Pellkartoffeln has a more natural taste, but it takes longer to clean and prepare.
This tutorial will help you master Salzkartoffeln!
Thüringer Klöße is a Thuringian simple potato dumpling dish made with shredded raw potatoes, mashed boiled potatoes, and crispy bread cubes. This dish used to be a filling meal for the poor in German, but now anyone can enjoy it anywhere.
These classic Thuringian potato dumplings go well with a wide range of traditional German dishes like Sauerbraten (roasted marinated meat) or Sauerkraut. You can also enjoy the potato dumplings on their own as a hearty snack.
Thüringer Klöße is so popular that there is even a museum dedicated to this dish in Germany. This museum is called the Thuringian Dumpling Museum and is located in Heuchelheim, a municipality in the district of Gießen.
Originated in the 18th century, Himmel und Erde is another German potato side that works well with meaty dishes. This dish got its name from the ancient term for potatoes, Erdapfel.
This heavenly dish contains mashed potatoes with apple sauce on top. Today, this iconic dish has several regional variants, but nothing can surpass the original recipe.
You can pair Himmel und Erde with any dish you like, but it tastes best with blood sausages. This tasty combo is called Himmel, Erde, and Höllen, meaning "Heaven, Earth, and Hell".
Here is another variation of potato dumplings that you would love: Kartoffelklöße! To make these lovely dumplings, you will need raw potatoes or cooked potatoes (sometimes both), starch, eggs, and herbs. Some locals include stuffings like ham, croutons, or Sauerkraut.
Kartoffelklöße pairs very well with meat and gravy. You can find this dish in any restaurant across the nation, particularly in Bavaria, Thuringia, and the Rhineland.
The Germans usually pair Kartoffelklöße with braised or roasted meat dishes. It also works well with braised red cabbage, Sauerkraut, or different sauces.
Here is how you can make the perfect Kartoffelklöße!
Potatoes and bacon, who can say no to that? This mouth-watering German recipe calls for diced or sliced potatoes, bacon, onions, and fresh herbs. This dish is a local favorite side dish for fish, sausages, and fried eggs.
If you're planning on making this dish at home, remember to pan-fry the potatoes, not deep-fried. This will make them crispy on the outside and soft on the inside. You can also order this dish at a German restaurant for cheap.
Kartoffelpuffer is not only a restaurant mainstay, but it is also one of the most common street snacks in Germany. These delicious pan-fried potato discs contain grated raw potatoes, eggs, and starch.
This versatile dish can be served as a side dish with grilled meats, sausages, and stews, or as a main course with fruit preserves, sour cream, and applesauce. Many German restaurants also serve this dish during breakfast or brunch with a poached egg on top.
Germans usually enjoy this popular traditional snack at the local weekly markets, Christmas markets, or at Karneval or Fasching.
As you might have noticed, this dish does not have a German name. The people here just use the original French name since this dish was brought to Germany directly from Paris.
While Kartoffelsalat is the best pairing with Bratwurst, Pommes Frites is the go-to German side for Schnitzel. Besides being an excellent side dish, this potato dish is also a street-food staple.
Since French fries are such a typical dish, I bet you have already made them at least once before. However, knowing how to make perfectly crispy yet creamy fries is no easy task, so be sure to practice a lot if you're a big fan of deep-fried meat dishes.
Check out this Pommes Frites tutorial and elevate your cooking skill!
Since I have mentioned applesauce so many times in the previous dishes, perhaps I should also give you a recipe for this healthy German side dish.
To make Apfelmus, you will need to cook cored apples with sugar and spices until they become soft. Once cooked and cooled, mash them into a purée, and you're good to go!
You can pair this applesauce with other German sweet treats like Kaiserschmarrn (scrambled pancake). But savory dishes like potato pancakes are also a suitable accompaniment.
If you're looking for the perfect German side dish for Bratwurst and other German sausages, Kartoffelsalat is the best option. The best version of Kartoffelsalat is Schwäbischer Kartoffelsalat from the South of Swabia.
With unique ingredients like beef broth and vinegar, this German potato salad is a fine addition alongside short ribs at the dinner table. The salad is also a great way to alter your familiar mayo-based mixture in the United States.
The traditional version of this recipe calls for strong beef broth, but nowadays, many German families substitute it with vegetable stock or chicken stock. Kartoffelsalat usually tastes better the longer it stays in the fridge, so I recommend preparing it a day ahead.
Have leftover potatoes? Don't let them go to waste; just mash them up with some vegetables and meat and make some Kroketten!
Kroketten, often called Croquette, is breaded and deep-fried mashed potatoes. This hearty side dish is very popular in German restaurants. A frozen version of this dish is also available in the local supermarkets.
In other countries, Croquette might come with thick sauces and meaty fillings. However, the Germans only use simple seasonings and eat them plain.
Serviettenknödel, also known as Semmelknödel, is the most versatile and popular dumpling variety. Made out of stale bread, milk, eggs, and softened onions, Serviettenknödel is one of the most important Christmas dishes in Germany.
The name Serviettenknödel actually means "napkin dumplings". This name is derived from its traditional cooking method: wrapped and steamed in a cloth napkin. Nowadays, locals prefer using aluminum foil and plastic wrap.
Obatzda, or beer cheese dip, is a beer garden staple in Germany. This simple spread contains different cheeses, onion, paprika, and a touch of wheat beer.
Pretzels dipped in Obatzda are among the best starters in Germany. This combo is a ubiquitous treat during Oktoberfest parties and a typical side dish for a Christmas potluck in Germany.
Besides Pretzels, you can also spread it over toasted bread or loaded sandwiches. The rich yet well-balanced taste of this cheesy dip works well with almost every traditional main dishes in Germany.
If you want to make Obatzda at home, here is a recipe for you!
Every country has its own meatball recipe, and Germany is no exception. Unlike the American version with red tomato sauce and the Swedish version with thick brown gravy, German meatballs come with a white creamy caper sauce.
Made from butter, cream, capers, and caper juice, this unique sauce is the soul of the classic dish. The Germans often pair these delicious meatballs with spaghetti, salads, or potatoes.
The dish is named after Königsberg, Germany (now Kaliningrad, Russia), and is one of the centerpieces of ancient East Prussian cuisine. Königsberger Klopse usually comes with beets, cooked potatoes, or even rice.
Originated in Swabia, Spätzle is special egg pasta made from wheat, eggs, milk, and salt. Locals often serve this buttered pasta as a side dish with different toppings. Plus, it is also the base ingredient for many dishes, like Käsespätzle (Spaetzle with cheese and onions).
The sizes and shapes of Spätzler range from long and lean to short and chubby. The people in Swabia often make the pasta by squeezing dough through the holes of a strainer or colander and boiling it.
Although this side dish with cabbage as a main ingredient is a German creation, it actually originated in China. After Genghis Khan and the Mongolian tribes brought this dish to Europe, it eventually became an essential dish for the Germans in cold months.
Instead of using rice wine like the Chinese, the Germans used salt to ferment the cabbage. This tangy and pungent side dish is commonly served with a variety of meat dishes. It also appears in casseroles and sandwiches.
If you're not a fan of Sauerkraut, you can save your cabbage for this recipe. This veggie side dish is made out of sautéed red cabbage, shredded apple, and onion. Locals make this dish by soaking these ingredients in dark red wine and reducing it to make a thick and flavorful sauce.
Similar to Sauerkraut, this dish works well with meat-based dishes or even pasta. Although it is not as well-known as its Chinese cousin, Rotkohl is still a typical side dish in everyday meals.
Check out this easy Rotkohl tutorial and learn how to make it at home!
This light German salad is made out of thinly sliced cucumbers, red/purple onions, sour cream, and vinegar. Similar to any other salad dishes, Gurkensalat goes well with many German meat-based dishes. For example, it is considered the best German side dish for Rouladen.
If you want to make Gurkensalat at home, remember to refrigerate the mixture for at least 4 hours and serve it cold. The longer you wait, the more flavorful it will be.
Here's another German side dish for those on a vegan diet: Leipziger Allerlei. It can be either a side dish or a main course, depending on your hunger.
Originated from Leipzig, this dish comprises a variety of vegetables along with morel mushrooms, crawfish tails, and bread dumplings. Once everything is coated in the signature thick and buttery sauce, you will be surprised at how addicting this dish can be.
The dish can be made using brown butter, thickened with roux, Mettwurst instead of crabs, toasted breadcrumbs, and so on. Overall, there are numerous ways to enjoy this healthy dish.
Since green beans, or bohnen, is one of the most common vegetables in Germany, it should come as no surprise that it is incorporated in so many local recipes. This simple dish is often made with green beans with thick white cream sauce.
For those who don't like cream sauce, you can also make it with browned butter and delicious German cheeses. Other recipes might call for butter-fried breadcrumbs. Overall, there are several ways to cook this delicious side.
Let's spice up these green beans with some bacon! This German veggie dish is high in fiber and low in calories or carbohydrates, making it the ideal dish for your low-carb diet.
Green beans and smoky bacon are the two most prominent components in Speckbohnen. Crisp-tender green beans and savory bacon bits coated in a sweet and sour sauce with butter, onions, and vinegar, now doesn't that sound appetizing?
Pretzel is a worldwide famous pastry that originated in Germany. The unique thing about this delicious delicacy is its knotted shape made by intertwining a long piece of dough.
Pretzels come in two varieties: hard-baked Pretzels that can last a long time and soft Pretzels that should be eaten immediately. Traditionally, this pastry only comes with salt. But nowadays, it can contain cheese, nuts, chocolate, or caramel.
The Germans usually eat this treat plain as a snack, but you can also pair it with some cheese sauce to make a crowd-pleasing appetizer.
If you want to make your own soft Pretzel, take a look at this!
Let's move on to bread now; a bit of carb won't hurt anyone! Vollkornbrot, sometimes known as German whole rye bread, is a dense, dark, and earthy bread.
This bread is made with a structurally different gluten composition called einkorn. This ingredient makes Vollkornbrot tastier and easier to digest, even for those with gluten-related issues.
Vollkornbrot is often eaten with jam, butter, or other bread spread for breakfast. Locals also love to eat this delicious bread with meaty dishes, particularly the ones with thick sauces.
Besides Vollkornbrot, Bauernbrot is also a typical bread that many Germans enjoy. Bauernbrot has a thick texture and a slightly sour flavor since it mainly contains rye.
Like Vollkornbrot and any other German bread, this pastry pairs amazingly well with bread spread and meat-based dishes. Many locals also serve it alongside hot stews and soups. You can often find this bread in the south of Germany, especially at the local farms.
Who can resist these tempting sweet-sour mustard cucumbers? The Berlin delicacy is called Senfgurken, with Senf meaning "mustard" and Gurken meaning "cucumbers".
Unlike the traditional dill pickles sold in supermarkets in the United States, Senfgurken has a spicy undertone from the mustard seed. These pickled cucumber slices are super crunchy yet incredibly juicy and soft. Overall, it is a fantastic side for your main German dishes.
Senfgurken is widely available in German supermarkets; however, it is difficult to find in foreign countries. So if you want to give it a try, check out the recipe above and DIY your own jar of German pickles!
Cabbage rolls are a typical dish all throughout the world, including in Germany. Kohlrouladen can be served as a side dish, but it can also become a hearty meal on its alone when paired with mashed potatoes or Spaetzle.
This nutritious, substantial, and tasty German dish has been passed down through the generations and is always a hit at the dinner table.
Kohlrouladen is often made with beef, spices, and of course, cabbages. Some locals will combine pork and beef to enhance its flavor. This ultimate comfort food also comes with a tangy sauce.
Get Ready For Your German Feast!
If you're throwing a German-themed party or planning your own Ocktoberfest, these German side dishes will add authenticity to your celebration and offer your guests a taste of Germany.
Of course, the main dishes should still be the star of the show. However, if you pair them with a good side dish, your feast will be filling and complete. So be sure to be well-prepared with both your mains and sides.
If you enjoy reading this article, be sure to give it a thumbs up and share it with all your friends and loved ones. Also, let me know which Hungarian dishes you look forward to the most in the comment section below. Thank you, everyone; stay safe and see you all next time!
Nutrition Facts
4 servings per container
---
Amount Per ServingCalories95
% Daily Value *
Total Fat 6.2g

10

%
Cholesterol 13mg

5

%
Sodium 311mg

13

%
Potassium 312mg

9

%
Total Carbohydrate 9.2g

3

%

Dietary Fiber 1.2g

4

%
Sugars 3.7g

Protein 2.3g

4

%
---
* The % Daily Value tells you how much a nutrient in a serving of food contributes to a daily diet. 2,000 calories a day is used for general nutrition advice.