Similar to many other European countries, German appetizers have always been a significant part of the cuisine and culture of this beautiful nation.
If you've visited Germany or dined with your German friends, you may have come across several delectable local appetizers. Some of the dishes in this list might be unfamiliar to you, but the beauty of learning about a new culture is exploring new things.
So what are you waiting for? Take a look at the gorgeous traditional dishes below and note them down for your next German-themed dinner party.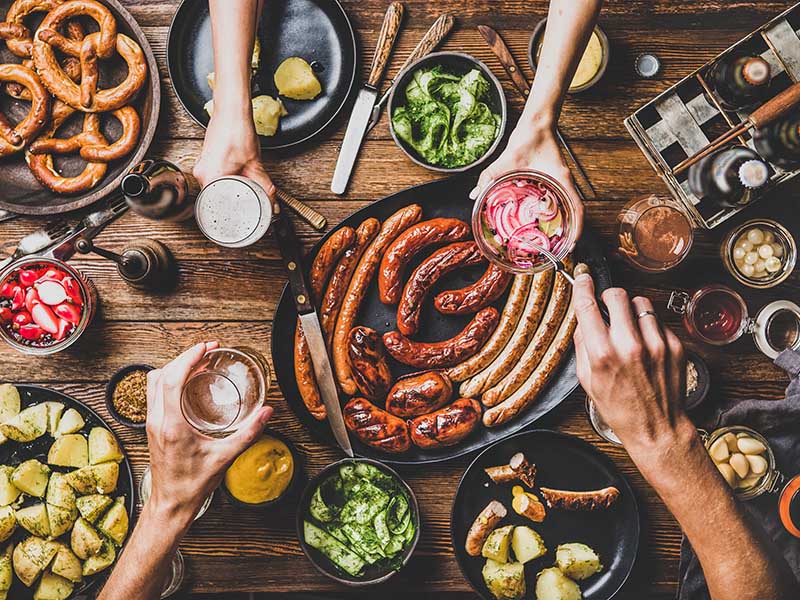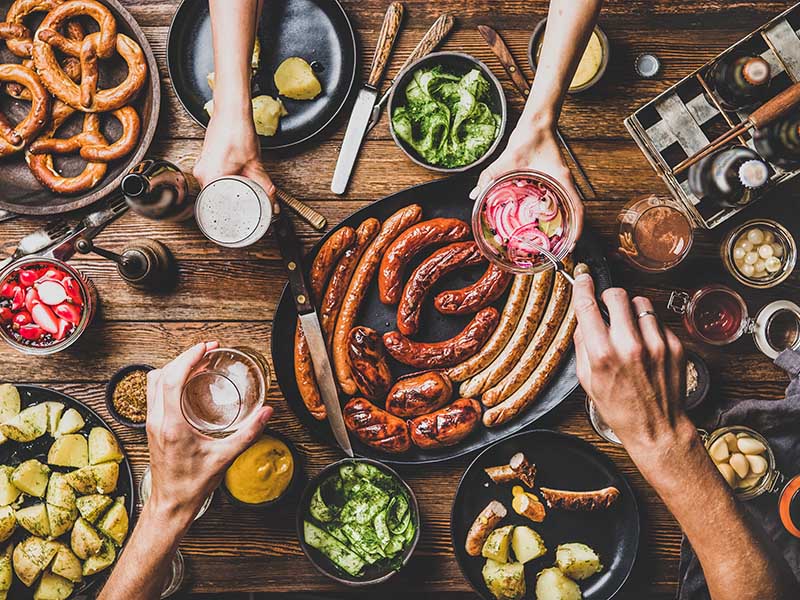 Start Your Meals Like A Local With These Delicious German Appetizers
Let's jump right to it! Here are over 20 well-known and well-loved simple appetizers that you can explore during your trip to Germany or cook at home. Don't miss out on any of them!
Cooking time: Ready in 30 minutes.
If you ask the locals about the most iconic dishes in Germany, most of them will bring up the name of this iconic pastry. Pretzels are commonly served as street snacks, but the Germans also like to pair them with beer cheese sauce and eat them as an appetizer.
Pretzels are available in two types: hard-baked Pretzels that can last very long and soft Pretzels that should be consumed immediately.
The perfect German soft Pretzel has to be thick in the middle and thin at the ends. Its texture is akin to bread, pillowy, and light. This pastry is traditionally seasoned with only salt, but now many street vendors also flavor it with cheese, almonds, chocolate, or caramel.
You can't call yourself a German cuisine master if you don't know how to make Pretzels!
Cooking time: Ready in 35 minutes.
Limburger is a semisoft, surface-ripened cheese with a pungent smell, creamy texture, and flavorful taste.
This cheese was initially offered at markets in Limbourg, in the Belgian province of Liège. Nowadays, it has become a nationwide famous cheese, and an essential ingredient in many delicious dishes, the most popular one is this cheese salad appetizer.
Limburger cheese salad usually comes with onion rings and a tart vinaigrette dressing. Locals love to eat this dish with Bavarian soft Pretzels or rye bread.
Cooking time: Ready in about 10 minutes.
Here is another cheesy appetizer that you can prepare for your German dinner party: German Cheese Board, also known as a charcuterie board. This board is like a buffet of different cheeses like Brie, Camembert, Gruyere, and many more.
To make the platter look more eye-catching, the locals also include many delicious German side orders like Pretzels, Bratwurst sausage, and Sauerkraut.
The best part of this dish is that it is customizable. You can take note of your guests' diet and incorporate their favorite sides to your charcuterie board. Overall, it is a fantastic dish to eat as a group.
Cooking time: Ready in 1 hour and 10 minutes.
Obatzda consists of a creamy concoction of soft, ripe, and yummy German cheeses along with onion, paprika, and a touch of wheat beer. Dipping foods in Obatzda might be the easiest way to infuse your food with real German taste.
As I mentioned earlier, the Germans often pair this rich and harmonized cheese spread with Pretzels. This combo is considered one of the best German appetizers for Oktoberfest or any holiday buffet. Some locals might also add Obatzda to their sandwich or use it on toasted bread.
Here is how you can make the perfect Obatzda for Oktoberfest!
Cooking time: Ready in 1 hour.
Fried potatoes have always been the most well-known and well-loved starters in European countries, so I bet you can already tell how famous Bratkartoffeln is in Germany.
Made with pan-fried diced potatoes, bacon, onions, and fresh herbs, this dish is so simple to make yet so addicting. Many German restaurants also serve Bratkartoffeln with sausages, fried eggs, and fish to create a filling meal.
Cooking time: Ready in 25 minutes.
Looking for a taste of home? Kartoffelpuffer is the perfect dish for you! Every German is familiar with this dish from their youth.
These golden pancakes can be found almost anywhere in this country, from the local street stalls to fancy restaurants. The Germans also sell this phenomenal German street food at local weekly and Christmas markets.
Crispy on the outside yet fluffy on the inside, Kartoffelpuffer is truly addicting. Locals usually serve it with a variety of toppings as well as soups and salads. The most common toppings are apple sauce, sour cream, and fruit preserves.
Cooking time: Ready in about 10 minutes.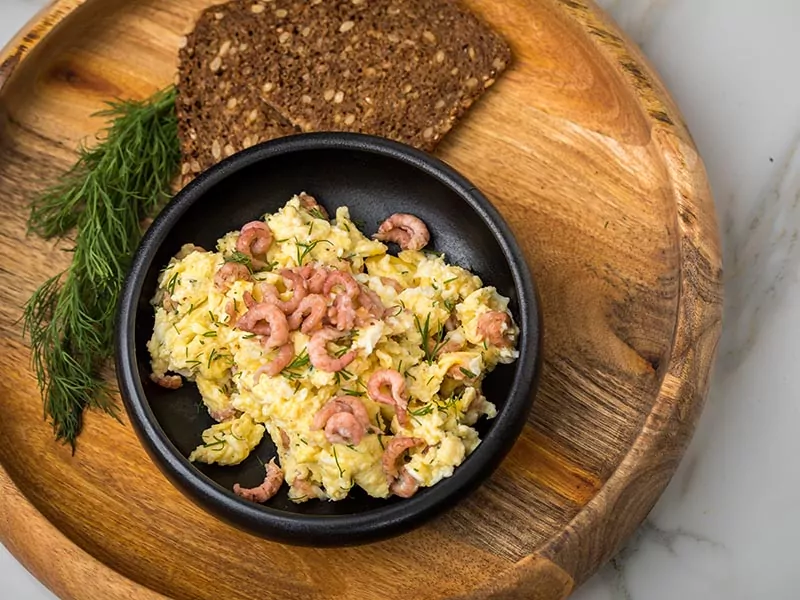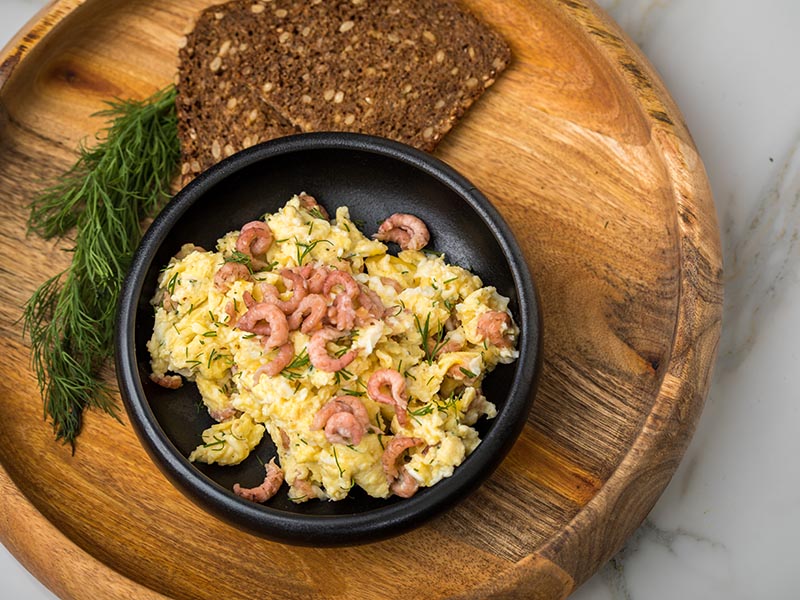 Not only is Rührei mit Krabben a typical appetizer in Germany, but it is also one of the most well-known sandwiches in Germany.
As you can tell from its name, the key ingredients for this dish are eggs and shrimp. Besides them, this recipe also calls for bread, butter, and chives.
To make this appetizer, you will need to place cooked shrimps on one half of a buttered bread slice and scramble eggs on the other half. Then, top the eggs with chives, and you're good to go!
Cooking time: Ready in 30 minutes.
Sauerkraut is made from raw cabbage that has been coarsely chopped and fermented for two to six weeks. The sour flavor of Sauerkraut works well as a topping, filler, side dish, or even a meal in and of itself.
Since Sauerkraut is such a versatile ingredient, you may find it in a wide variety of dishes, and Sauerkraut balls are one of them. Even those who aren't fans of Sauerkraut will enjoy these delectable delights.
The acidic Sauerkraut, the smoky Bratwurst, and rich cream cheese all combine to make these irresistible bite-sized balls. You can also pair them with a creamy dip to make it even more delectable. Overall, they are the perfect snack for summer get-togethers or daily family meals.
Cooking time: Ready in 40 minutes.
Yes, there are even more Sauerkraut appetizers to drool over. The fermented cabbage gives this German soup a distinct acidic and savory taste.
With the addition of caramelized onions, bacon, meatballs and caraway seeds, this soup is incredibly hearty and comforting.
Locals usually serve it a dinner starter with crusty bread or salad. However, this soup is so delicious that you might forget to save your stomach for the main course and just devour it bowl after bowl.
Check out this Sauerkrautsuppe tutorial and make it for your family!
Cooking time: Ready in 1 hour and 20 minutes (at most).
Germany is famed for its limitless types of sausages, so you can often spot this ingredient in many traditional German dishes like stews, soups, and even salads.
The first sausage-based dish I want to introduce today is sausage salad or Wurstsalat. This stunning gluten-free starter is made with thinly sliced Regensburger wurst sausage mixed with onions, olive oil, vinegar, and spices.
Originated in Bavaria, Wurstsalat has quickly become a standard entree across the nation. Locals usually pair it with pickles, beets, bread rolls, and butter.
Cooking time: Ready in 25 minutes.
The second sausage-based appetizer in this section is Beer Brat Bites. While Wurstsalat uses Regensburger wurst as the main ingredient, this recipe calls for Bratwurst – the most popular type of sausage in Germany.
These bite-sized beer-braised sausages make a terrific appetizer for parties or family gatherings. Not only are they easy and cheap to make, but they are also tasty enough to hold everyone's attention while allowing the main meals to shine.
Beer Brat Bites can be served on its own or with cheese spread on the side. Either way, it will be show-stoppers.
Cooking time: Ready in 45 minutes.
If you think Sweden has the best meatballs in the world, this dish will make you reconsider. This ultimate German comfort food contains ground meat, onions, parsley, and Worcestershire sauce.
Although most countries eat meatballs with pasta, this mouth-watering appetizer using meatballs is typically served on a bed of bacon Sauerkraut and covered with a mustard gravy sauce. The meatball is already delicious, but the velvety gravy elevates it to new heights.
Cooking time: Ready in 10 minutes.
Beer radish is a crunchy, acidic appetizer that goes well with beer, Pretzels, or bread. During Oktoberfest, you will often catch sight of German locals stealing pieces of their friends' Pretzels to eat with this veggie dish.
To make this dish, you will need to season Daikon radish with salt and pepper and set aside for 30 minutes to marinate. The salty flavor of juicy soaked radish pairs perfectly with a cup of refreshing German beer.
Cooking time: Ready in 50 minutes.
When the holiday season comes, you can find this dish on the locals' dining tables next to roasted duck, goose, and many other German Christmas dishes.
This German potato salad contains boiled potatoes, onions, and vinaigrette. The broth is also one of the key ingredients in this dish. The best choice is strong beef broth, but you can also use chicken or vegetable stock if you like.
Kartoffelsalat tastes excellent, whether it's hot or cold. But if you like it cold, I recommend making it a day ahead of time since it tastes better the longer it sits in the fridge.
Cooking time: Ready in 15 minutes.
The main ingredient of this healthy salad is herring, a tiny fish that lives primarily in the North Pacific. Apart from the pickled red herring, this traditional German recipe also calls for various vegetables like red beets, apples, onions, and pickles.
The sweet taste and tenderness of herring flesh work very well with the veggies and creamy, acidic sauce. Meanwhile, the red beets give the salad a lovely pink tint that makes it stand out.
The locals usually spread this salad all over toasted bread and serve this combo as a light breakfast or appetizer. You can often see it during New Year's Eve in Germany since the people here believe Roter Heringssalat can bring them fortune and prosperity in the new year.
Cooking time: Ready in 10 minutes.
This stunning dip will magically transform all of your appetizers in just a few easy steps. Creamy, flavorful, and simple to make, smoked trout dip is definitely a must-have item on every German dining table.
Made from shredded smoked trout, cream cheese, paprika, and capers, this creamy and flavorful dip can complement almost any dish, whether it's toasted bread, crackers, or fresh vegetable sticks.
This smoked trout dip recipe will blow your minds and tastebuds!
Cooking time: Ready in 20 minutes.
Everyone knows pickled vegetables, but have you ever heard of pickled eggs? This unusual yet tempting dish is Soleier, or German pickled eggs. Almost any local pub or eatery has a jar full of this delicacy.
To make these unique and flavorful eggs, locals will marinate them in a liquid with various seasonings for about 3 days. Some recipes also add raw beet to the liquid to give the eggs a vibrant magenta hue.
You can simply eat Soleier whole or sliced with oil & vinegar or rémoulade sauce. However, the ideal way to eat them requires some extra steps.
You need to slice the eggs in half, remove the yolks, and add mustard, oil, and vinegar to the hollowed egg whites. Then, eat the yolks and follow quickly with the filled egg whites. Soleier will taste amazing when paired with a cold beer.
Cooking time: Ready in 1 hour (at most).
If you're looking for the ideal vegan appetizer, this is one of your best choices! Although most countries make their coleslaw with mayonnaise, the Germans prefer mixing it with vinegar to make it more refreshing and healthy.
The vinegar not only helps soften the fresh shredded cabbage while maintaining its crunchiness, but it also enhances the flavor of the veggie. Some locals even add onions or apples to make it more fun to eat.
It is easier to make Krautsalat than you think; this will prove it!
Cooking time: Ready in 2 hours and 35 minutes (at most).
First created by Ashkenazi Jews, this Jewish fish-based appetizer has made its way into German cuisine. This dish is typically served hot before the main course by Ashkenazi Jewish households.
Gefilte fish (Yiddish for "stuffed fish") is prepared by mixing ground whitefish with matzo meal, eggs, onions, and various spices. Locals will shape this mixture into a patty or ball and boil it in fish stock with carrots and onions.
The Germans often prepare Gefilte fish for Shabbat. However, you can also find it during many Jewish holidays like Passover and Rosh Hashanah.
Cooking time: Ready in 3 days and 20 minutes (at most).
Rollmops is an interesting German appetizer and drinking food. It is made by wrapping pickled herring fillets around various ingredients like gherkins or onion rings and secured with a small skewer.
Unlike Gefilte fish and other hot appetizers, Rollmops is an appetizer usually served cold, sometimes with a side of bread. Locals also love to pair with alcohol. In fact, it was one of the most popular dishes in Berlin pubs around the 19th century.
The dish is also enjoyed in many parts of Germany, England, and Poland. Its popularity often peaks during Christmas time.
Cooking time: Ready in 45-50 minutes.
Labskaus is a traditional Northen German dish made with mashed potatoes, minced beef, and beets. Besides those essential ingredients, fried eggs, pickles, and Rollmops are also crucial in this filling appetizer.
Despite its look, Labskaus does not contain raw meat. The red color actually comes from beet juice.
Originated in the 16th century, Labskaus was usually eaten by sailors, seamen, and the less fortunate as the dish was relatively inexpensive compared to the food at that time. Nowadays, you can find this almost anywhere in Germany, particularly in Hamburg, Bremen, Lübeck.
Let's learn a few more things about Labskaus and how to make it!
Cooking time: Ready in 45 minutes.
Leberknödelsuppe might not be as familiar to foreigners as the other appetizer in this list, but it is still one of the best German dishes out there.
Leberknödelsuppe is basically a dumpling soup with beef liver, bread, bacon, and eggs. The broth for this dish is made from savory beef stock, with a wide variety of herbs to give the dish more flavor.
Despite its unfamiliar flavor, this soup is ubiquitous in Germany, Austria, and the Czech Republic.
Cooking time: Ready in 40 minutes (at most).
Muscheln Rheinische Art originated from the Rhine region and quickly became one of German cuisine's best traditional mussel dishes.
This exquisite seafood starting course is made from North Sea mussels, Rhine white wine, vegetable stock, and mustard. It usually comes with wheat bread and a side of butter.
Since this dish is so popular, there are many other varieties of this dish, including one where German beer is used as a replacement for white wine.
What Have You Learned?
Now that you have reached the end of this article, I hope I have successfully inspired you to try out these delectable dishes and learn more about German cuisine.
Of course, the best place to eat German foods is in Germany. But if you don't have the chance to travel to this country, feel free to check out the links I gave you and create a lovely German meal for your family or guests.
Please like and share this article with your friends if you enjoyed reading it. Also, leave a comment below if you have any further concerns about German cuisine culture. Thank you so much for your support. Have a nice day, and I will see you all soon!
Nutrition Facts
4 servings per container
---
Amount Per ServingCalories188
% Daily Value *
Total Fat 16.9g

25

%
Cholesterol 49mg

17

%
Sodium 441mg

19

%
Potassium 107mg

4

%
Total Carbohydrate 2.7g

1

%

Dietary Fiber 0.6g

0

%
Sugars 0.9g

Protein 6.4g

12

%
---
* The % Daily Value tells you how much a nutrient in a serving of food contributes to a daily diet. 2,000 calories a day is used for general nutrition advice.