22 Easy Fruit Appetizers Your Guests Will Enjoy 2023
These easy fruit appetizers are the best way to embrace seasonal produce. With these recipes, you can effortlessly turn the freshest, tastiest fruits into wow-inspiring appetizers that any crowd will love.
Fruit appetizers are scrumptious and perfect for any occasion. Plus, they are not only a cinch to whip up, and your guests will also feel good about eating healthy food.
This list encompasses various fruits from various seasons, from spring fruits like grapes and summer favorites, such as waterlemon or peaches, to fall treats like pears. Depending on what's available in the season, scroll down to select the best recipes for your next celebration!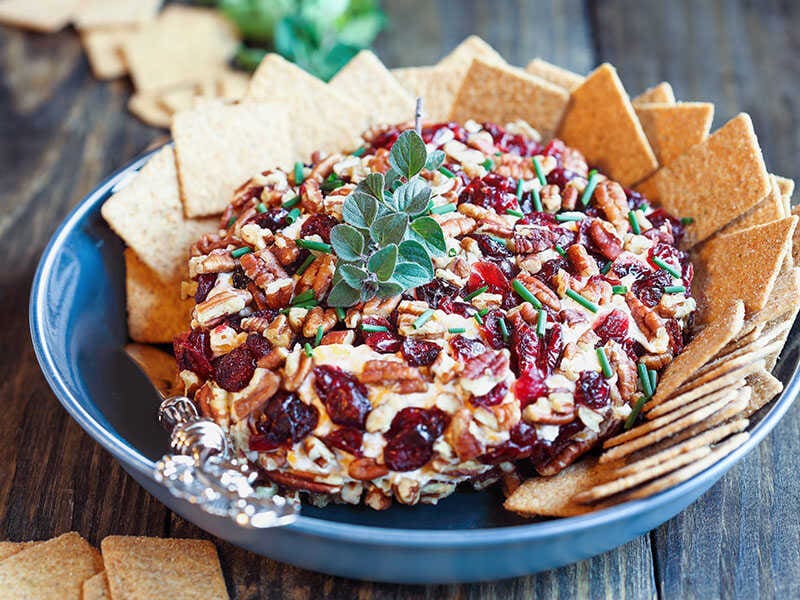 22 Easy Fruit Appetizers That Are Bursting With Flavors
You've got plenty of options to turn fresh fruits into fancy and tasty appetizers, from salsa, crostini, and fruit cups, to cheese balls. Head down to this compilation to pick out easy fruit appetizers that all your guests will enjoy!
Total time: 30 minutes
If you think tomatoes hog all the salsa glory, this fruity version will make you think twice. The colorful bowl is brimming with diced kiwi, mango, and strawberry for the ultimate refreshing treat.
The light and fresh flavors of the fruits are well complemented by the sweet-and-tangy dressing made of lemon and honey. All the elements combine for an ideal appetizer for a backyard BBQ or any occasion.
This fruit salsa can be served with effortless tortilla cooking ideas as a side dish. The only tip is to dice the fruits into small chunks so you can easily scoop them up with the flour chips.
This fruit salsa is one of the best ways to highlight the freshness and juiciness of seasonal fruits.
Total time: 15 minutes
Sweet and savory in one punch, this magnificent Brie creation is best served with a cocktail while supper is still on the way. Although the recipes involve baking, everything is quite straightforward to put together.
Just load fig jam, Brie cheese, and pear on the toasted flatbread and bake for a few minutes for the cheese to melt. Finish off with chopped nuts, fresh rosemary, and a drizzle of honey for a flavor boost.
The autumn gift – pears – takes center stage on this crostini. Yet, this recipe is super versatile, so you can swap in apples or whatever fresh fruits available to celebrate their seasons.
Total time: 30 minutes
Peach is a prime candidate for fixing numerous summery treats and, in this case, an appetizer to complete your seasonal celebration. I wouldn't highly recommend this recipe when peaches are not at their prime, as the fresh, juicy fruits make a huge difference in taste.
This bruschetta is more of an assembly job. Once the baguette is roasted to crispy perfection, top the goat cheese mix, a peach wedge, and then garnishes for a crowd-pleasing appetizer. Everything will come together in no more than half an hour.
Rosemary-infused honey is added once the bruschetta is assembled to balance out the richness of the goat cheese mixture. Rest assured that it's simple and quick to make.
Total time: 30 minutes + 1 hour of chilling time
Soft, creamy, sweet, and savory all at the same time, this cheese ball is a perfect accompaniment with crispy crackers, crunchy veggies, or crostini (or all of them, and let your guests make the decision!).
This festive cheese ball has sharp Cheddar and cream cheese as the key ingredients. There is also mayonnaise going into the mixture to make it more spreadable.
Plus, a few flavor enhancers such as garlic powder, dijon mustard, and a splash of brandy help balance the cheese's richness. Once all the ingredients are combined into a ball, leave it to chill in the fridge for 1 hour or more so the texture can firm up nicely.
The best part is that you can make these cheese balls up to 5 days ahead. When you're ready to serve, roll them into the cranberries, pecans, and parsley, and you're all set.
Total time: 15 minutes
You can call this the healthiest pizza you've ever made! People don't use any bread dough but rather feature watermelons in the appetizer to bring a refreshing summer vibe to this creation.
It's so delicious that even by only slicing and cutting them into wedges, then topping off with crumbles of Feta cheese, olives, and balsamic glaze, you can have a nice appetizer for your gathering.
The hardest part about these pizzas should be cutting the fruit. The trick is always using a sharp knife to have a clean, perfect cut. Start cutting the watermelon in half. With each half, cut a 1-inch-thick slice until you're done. It shouldn't be tricky at all.
This quick-to-make watermelon pizza is cool and refreshing for summer!
6. Strawberry Peach Bruschetta
Total time: 20 minutes
If you've already fired up the grill for your backyard BBQ, throw some pieces of bread to whip up this colorful Italian-inspired appetizer utilizing easy-to-find ingredients around you.
Grilling bread is one of the keys to the best bruschetta, as the bread will come out better and perfectly crunchy this way. Just make sure to brush it with some olive oil for extra flavor and crispiness.
While tomatoes normally capture the spotlight in a bruschetta, fresh produce like strawberries and peaches takes the stage in this recipe.
And don't forget to add some ricotta cheese between the bread and fruit-and-tomato mixture. This creamy spread lends the savory creaminess that complements the sweet fruits. Plus, it helps prevent them from slipping away from the bread base.
Total time: 15 minutes
While your guests are waiting for those juicy meat kabobs on the grill, you may want to treat them to these refreshing kabobs first. This food-on-the-stick doesn't call for much elbow grease and gets ready in a snap.
Cut strawberries, cantaloupe, and pineapple into bite-sized chunks before threading all the fruits together. If you don't have time, your kiddos will love to help you assemble these delightful kabobs.
The fluffy marshmallow dip is everything here! While it only consists of two ingredients, the sweetness and creaminess take the flavors of the fruits to a new height.
Total time: 33 minutes
Here comes the jewel of the winter – the pomegranate. The sweetness and slight tartness of the fruits goes pretty well with goat cheese's slight tang and richness.
This recipe also blends some cream cheese with the chevre to bring down the tang and also make the mixture more spreadable. A drizzle or two of sweet honey right before serving will help tie everything together.
The hardest part? Make sure you know how to cut this winter's fruit to perfectly get all the arils out! I bet you can do it!
Total time: 20 minutes
Soft, plump, and large dates are an ideal vessel for holding luscious goat cheese filling and crunchy nuts. You'll have an easier time removing the pits and stuffing the toppings inside.
This recipe uses Medjool dates with a rich and caramel-like taste that complements the tangy goat cheese exceedingly well. Walnuts or pistachios (or both) are also added for extra flavors and crunch.
These stuffed dates are vegan-friendly and gluten-free, so they would be an option for more people on your guest list.
Everyone can't get enough of these addictively delicious goat cheese stuffed dates.
Total time: 15 minutes
There's no better time of year to whip up this fruity app than when the blueberry season is in its full swing. Fresh blueberry, apricot jam, honey, and goat cheese join forces to bring out an arresting and scrumptious flatbread that everyone loves to have a second helping.
The goat cheese and summer berries are the co-stars here! Their flavors are nicely bound by the natural sweetness of honey and apricot jam.
Once everything is baked to perfection, you'll end up with a pie with melting cheese and juicy berries that are hard to resist. Fresh mint will lend a finishing touch to the whole thing and brighten the pie's flavors.
Total time: 18 minutes
The crisp and sweet Honeycrisp or Pink Lady apples offer a counterpoint to the creamy Brie cheese on this crostini. Meanwhile, the toasted walnuts add extra crunch on top, Cayenne pepper lends a subtle spicy kick, and honey for more sweetness.
Brie cheese is soft, so the ultimate trick is to slice the cheese when it's still cold. If you feel the cheese is too runny, let it hang out in the freezer for a few minutes before cutting.
This crostini is already amazing with apples and Brie. Yet, whenever I'm in the mood for something savory, I also throw some prosciutto on top of the apple slices. It turns out even more amazing!
Total time: 5 minutes
If there's one thing that is sure to be a hit at any party – it should be a crowd-pleasing dip. This homemade peanut butter dip is way better than any store-bought version and surprisingly easy to whip up as well. Plus, it's packed with protein, healthy fat, and flavors.
With just 5 simple ingredients and a couple of minutes of mixing, you can get an irresistibly delicious bowl of peanut butter dip ready to serve. You should use plain, full-fat Greek yogurt, which adds tons of creaminess to the dip.
Peanut works wonders in creamy dish dip. However, feel free to use your favorites, such as almond butter, nut butter, or cashew butter.
Total time: 15 minutes
Blueberry and pineapple are not a new combination; they make for delicious and healthy smoothies. And this time, the two fruits meet up again for a summery appetizer to die for.
The fruits are the obvious stars here, so the key is to use the freshest ingredients (best when they're in season). Some salsa elements also go into the mix, such as red onions, cilantro, and jalapeno.
Jalapeno, in particular, lends a spicy kick to the fruity mixture that will excite everybody's taste buds. The yellow pepper and lime dressing only takes every bite over the top. Ideally, serve this fruit salsa with tortilla chips.
Total time: 15 minutes
These phyllo fruit cups are so versatile: they can be either a perfect appetizer or an amazing finale for your party. Building up from a base of store-bought phyllo dough, you only need to add a filling of cream cheese, vanilla, and fresh fruits. Soon, a great phyllo cup appetizer will be yours to enjoy.
Most berries, such as raspberries, strawberries, blueberries, or blackberries, will do the trick here. These fruits' tart and sweet flavors will match perfectly with the sweet cream cheese filling.
These adorable phyllo strawberry cups will surely spruce up your next party!
Total time: 15 minutes
This sweet and succulent treat proves that fruit salsa is as amazing as salsa verde. Plus, incorporating diced fruits into a condiment is one of the best ways to enjoy their juiciness and freshness.
This salsa is loaded with fresh mango and ripe strawberries with just the right amount of spiciness from Jalapeño.
Serve it with tortilla chips as an appetizer or alongside roasted chicken or steak as a side dish. The sweet and savory combination is so good that I always end up scooping this salsa with a spoon instead of patiently enjoying it with chips.
Strawberry mango salsa can last two days when refrigerated. Yet, you'll prefer to enjoy it fresh (within a few hours) as the berries start to soften and disgorge juice over time.
Total time: 10 minutes
Fresh summer melons are amazing in fruit salads, but have you ever tried incorporating them onto skewers along with prosciutto and mozzarella cheese?
The sweet and salty combination of the fruit and prosciutto with a tasty yet simple mozzarella delicacy is so fantastic that you'll wonder why you didn't know it sooner. Yet, feel free to swap in sliced ham if you wish, as the flavors will be equally mind-blowing.
Adding creamy mozzarella balls and fresh parsley makes a good thing even better. Last but not least, a drizzle of balsamic glaze not only offers a tasty tang but also transforms these flavorful skewers into a fancier party appetizer.
Total time: 20 minutes + 1 hour of refrigerating time
These bite-sized appetizers are a fun addition to any springtime party! These cheese-covered grapes rolled in roasted pecans reveal plenty of flavors and texture in one bite.
They are crunchy on the outside, creamy on the inside, and finally, the burst of juicy and sweet flavors will be a major surprise (especially when you didn't let your guests into what is nestled inside).
Gorgonzola cheese, cream cheese, and fresh chives come together for the cheese mixture. It's truly amazing how the herb flavors can subtly highlight the taste of the cheese.
On a side note, these clusters need to sit in the fridge for at least 1 hour to firm up. Hence, you'd better whip them up a few hours before the party starts.
Total time: 20 minutes
Everyone is familiar with deviled eggs – one of the party staples across the country. Yet, have you ever heard of deviled strawberries?
They are all the rage on Tiktok's feeds as a mind-blowing fruity dessert worth trying on Valentine's day. However, this treat is more than ideal to be an appetizer for any occasion.
Chocolate and strawberries are always a winning duo. The sweetness and subtle acidity from the fruits go perfectly with the creamy and rich chocolaty filling. A hint of almond extract going into the filling helps further play up the flavors of this combination.
This recipe is simple as you'll only make the filling. Combine all the ingredients and beat until you get a fluffy mixture. And voila, you already have an irresistibly tasty filling to pipe onto the fresh fruits.
Swap out deviled eggs for these devilishly delicious deviled strawberries at your next party!
Total time: 15 minutes
These bacon-wrapped pineapple bites are always a huge hit in my family (and they'll soon be your family's new favorite, too).
The best thing is that they're super foolproof to prep. Wrap a whole piece of crispy bacon around the pineapple chunk, and pierce through a toothpick to secure it before popping them into the air fryer.
While brown sugar is an optional addition here, you shouldn't skip it. Rolling the fruit onto the brown sugar lends it a nice caramelized flavor, which is downright delicious when paired with salty bacon.
Here is a bacon hack you'll definitely need: Pre-cooking the meat for 1-2 minutes will leave it incredibly crispy. Yet, be mindful of the time: if the meat is overcooked, it will no longer be pliable and consequently unsuitable for wrapping later.
Total time: 15 minutes
Grapefruits, shrimp, and avocado come together for a surprisingly delectable skewered hors d'oeuvre that gets ready within 15 minutes. That also includes the time to rub the shrimp with spices mixture to infuse it with an impressive kick of flavors.
These flavored shrimps perfectly accompany the creamy avocado and sweet-and-tart grapefruit on each side. It's truly a bunch of flavors on a stick.
Here is the bonus: These blackened shrimp grapefruit skewers are not only visually pleasing on the serving plate, but they are also paleo- and Whole30- compliant.
Total time: 14 minutes
It seems like seasonal produce has an affinity to goat cheese. This time, apricots make for a wonderful pairing with the chevre.
Unlike classic canape recipes, these fruity bites have half of the apricot as a base instead of bread or cracker. They are topped with toasted walnuts and sweetened with a drizzle of honey for the ultimate summer treat.
What is special about this appetizer is lavender-infused honey. It's easy to make from scratch and much better than what you can buy from the store. However, if you're in a hurry, go without the lavender and use plain liquid honey instead.
Total time: 9 minutes
Caprese salad on the skewers, why not? Instead of alternating slices of juicy tomatoes and creamy mozzarella on the plate, you can arrange the same ingredients on the skewers.
There are a few twists here, however! Substitute slices of mozzarella cheese with mozzarella pearls for easier skewering. Watermelon also comes on the scene to transform this appetizer into a summery treat.
Once you've finished assembling this skewer, add a drizzle of balsamic glaze and fresh basil, and serve!
These watermelon Caprese skewers are a fun twist on the classic Caprese that is perfect for summertime!
Up Your Appetizer Game With These Easy Fruit Recipes!
Fruit appetizers are one of the best ways to go healthier, especially when heavy, calorie-packed dishes are always lining up at the party.
While not everyone is a huge fan of fruits, I bet they will enjoy these amazing fruit hors d'oeuvre. So, when the produce is in season, such as peaches, berries, cherries, and beyond, why not incorporate them into these tasty treats?
Have you tried any of these recipes? Please let me know what you think in the comments. If you like this post, please hit the share button so more people can read it. Thanks for reading!
Nutrition Facts
12 servings per container
---
Amount Per ServingCalories124
% Daily Value *
Total Fat 11.2g

17

%
Cholesterol 31mg

11

%
Sodium 139mg

6

%
Potassium 43mg

2

%
Total Carbohydrate 2.6g

1

%

Dietary Fiber 0.2g

0

%
Sugars 1.1g

Protein 4g

8

%
---
* The % Daily Value tells you how much a nutrient in a serving of food contributes to a daily diet. 2,000 calories a day is used for general nutrition advice.