As fancy as they may sound, French appetizers are more palatable, delicious, and simpler to prepare than most people think. These classic French canapés will surely add a touch of sophistication to any cocktail gathering or holiday entertaining.
French appetizer dishes at a classic French dinner party have a simple elegance: vibrant herbs, creamy butter, savory cheese, and acidic vinaigrettes to stimulate your appetite and invite guests to partake in another aperitif or bottle of Champagne.
However, cooking these French appetizers at home is possible and does not need the abilities of a Le Cordon Bleu graduate. These hors d'oeuvres are simple to create and will have your visitors asking where you learned to make such elegant canapés.
After all, there is a reason why gourmet is a French term, right? French gourmet, especially appetizers, focus strongly on technique and formulaic use of ingredients, ensuring a one-of-a-kind gastronomic experience for those who try.
Every celebration begins with an appetizer. So, if you are seeking delectable hors d'oeuvres, you have come to the perfect spot! Allow these simple starters to serve as the catalyst for your next dinner party!
These are the recipes you cannot miss if you want to experience authentic French cuisine. Even if you are not planning a complete French party, they certainly can help elevate the elegance of your dinner table.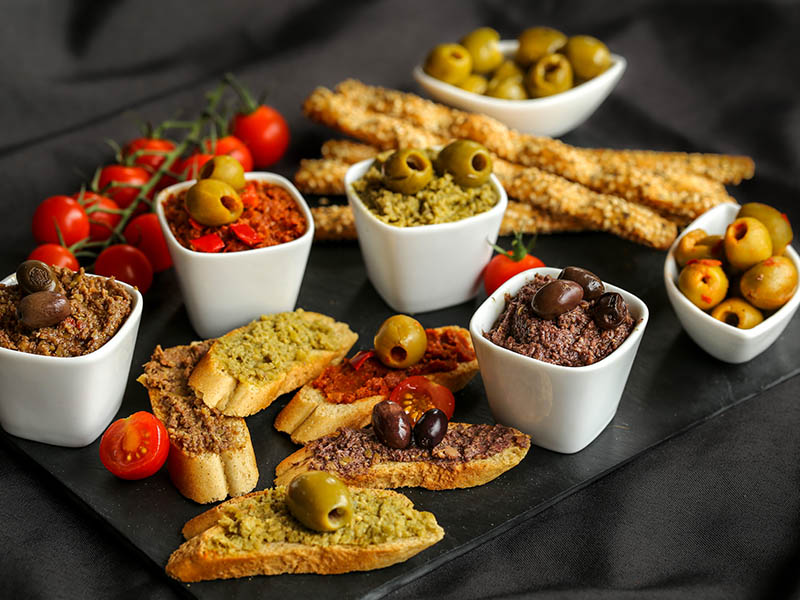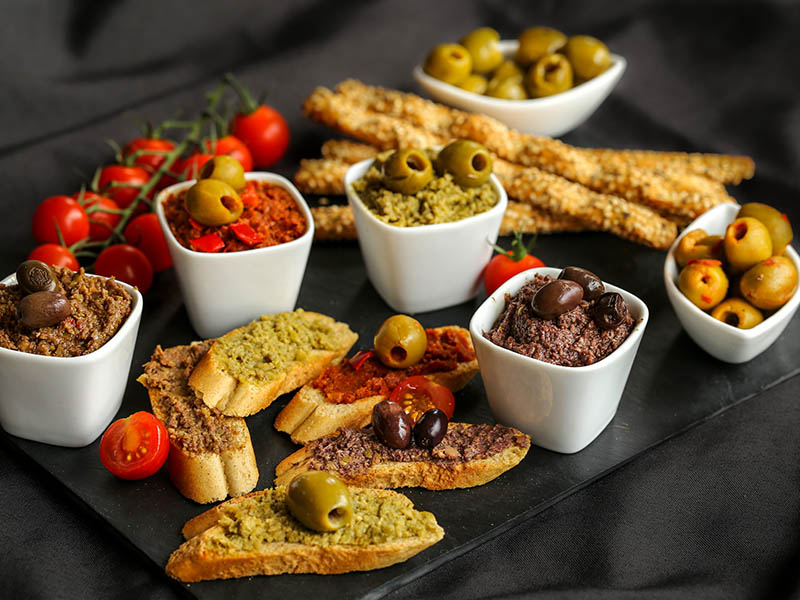 Explore The Beauty Of French Appetizers
Did you know that French appetizers are the perfect choice for Apéro, the time when French people pause their activities and gather for a drink and some small dishes? If you are a fan of Apéro, you must learn about these French appetizers!
If you are searching for an easy and quick canape, this smoked salmon recipe is an excellent option. They take around ten minutes to assemble and instantly lighten the mood for any party or event.
This French appetizer simply features a base made of toasted bread, blinis, cucumber slices, or pumpernickel bread. Upon that base, you will spread cheese, Crème Fraiche, yogurt-based sauce, or sour cream.
Condiments and herbs such as lemon juice, horseradish, and capers are preferred as flavorings. My go-to combination is a Greek yogurt-based sauce, rye bread, and sliced radish.
The most challenging step in rendering a successful Smoked Fish Canapé is keeping the blinis warm enough to serve without melting the cream cheese or over-frying the salmon.
Due to their bite-sized look, these Canapés are the ideal appetizer for a buffet or finger food during drinking events. Serve this hors d'oeuvre with a Champagne, a Kir, or a less expensive Champagne alternative called Crémant De Loire.
Preparation completes in: 10 minutes.
Cooking finishes in: 1 minute.
TOTAL TIME: 11 minutes.
Keeping the blinis warm enough to serve is key to rendering a successful Smoked Fish Canapé.
Originating from Genovese Farinata (an Italian dish made of flour), Socca became a classic delicacy of Nice, France, where it is a popular street meal. This starter only uses essential ingredients: chickpea flour, water, and olive oil.
If you are unfamiliar with Socca, it is a delicious cross between a rustic flatbread and a pancake with crisp, golden brown rims and a moisture filling.
Its deep, nutty taste comes from chickpea flour and olive oil. Not long ago, you may have needed to visit a specialized store to get chickpea flour. Nowadays, most supermarkets offer this gluten-free ingredient.
It is protein-dense yet contains no gluten protein. It takes longer to hydrate than all-purpose flour. That is why most Socca recipes require a test period before cooking.
Only when you have sampled Socca, you would understand why this French appetizer is a massive hit in Southern France and Northern Italy. Its crispy edges are so addictive that you won't be able to resist grabbing for a second piece.
After removing Socca from the oven, slice it into bite-sized snacking pieces or more substantial wedges for lunch or supper. When served simply, it makes a delicious French side dish and an excellent appetizer as well.
Yet, this simple Socca may double as a primary meal when appropriately topped with a tasty sauce, fresh herbs, and vegetables. Grab a glass of ice-cold rosé and call it a light and easy supper!
Preparation completes in: 35 minutes.
Cooking finishes in: 10 minutes.
TOTAL TIME: 45 minutes.
Try Socca once, and you will understand why this French appetizer is a massive hit!
Few appetizers in the world have as many names as this one. The French call it Tarte Flambée. Yet, Germans refer to it as Flammkuchen, and Alsatians call it Flàmmaküacha. Whichever name you use, it all points to a pie cooked in flames.
Many people consider Tarte Flambée to be a kind of German pizza. In fact, it is a dish associated with France's Alsace area and Germany's nearby Rheinland and Baden-Württemberg regions.
This French original savory tart is brimming with cheesy, creamy, and smoky tastes. It looks like a pizza, cooks like a pizza, but do not be fooled into believing it is a pizza! Tarte Flambée is lighter with puff pastry, making it an ideal way to quell a pizza hunger.
Don't be deceived by its fancy look! The recipe is actually a breeze to prepare and takes less than one hour to put together. Simply lay out the crust, pour the cheese mixture on top and sprinkle with toppings. Then, bake it on a hot pizza stone! So simple, right?
The special technique produces a traditional tart with thinly rolled pizza dough and shatteringly crispy crust. Top the delicate dough with Crème Fraiche, thinly sliced onions, and smoked bacon for a mouthwatering flatbread at home.
Preparation completes in: 10 minutes.
Cooking finishes in: 12 minutes.
TOTAL TIME: 22 minutes.
Like Lyonnaise Potatoes and Coq Au Vin, Lyonnaise Salad is a traditional French delicacy from Lyon. This substantial entrée salad is what I consider the ideal lunch, but it also works well as a supper with a glass of crisp white wine.
The salad's history dates back to the 1500s when Catherine De Medici directed her cooks to craft new dishes using vegetables gathered around France. Today, you will often see the dish served at small restaurants known as Bouchons.
The salad begins with a head of Frisee lettuce, which offers distinctive frizzled leaves and a somewhat bitter taste. If Frisee is unavailable, Escarole or even Bibb lettuce is a great substitution.
Don't forget thick bacon lardons and crispy potatoes as they lend a meaty, salty bite, bulk texture, and additional protein. All ingredients are mixed in a tart Dijon vinaigrette and then topped with a flawlessly poached egg.
It is fascinating to see someone's response when they witness the rich and golden yolk running through the greens, bathing every morsel in that opulent, velvety sauce when you pierce the poached egg.
Although Lyonnaise Salad often goes with Brioche Croutons, you can serve yours with crispy and toasted French Baguette pieces, a well-known kind of French bread. They soak up the sauce and the runny yolk flawlessly, adding an extra level of decadence to this salad.
Preparation completes in: 5 minutes.
Cooking finishes in: 15 minutes.
TOTAL TIME: 20 minutes.
Galette has traditionally been thought of as a well-known French fruit-filled dessert. However, if you substitute caramelized onions for the fruits, you can achieve a delicious appetizer for yourself.
"Galette" is a colloquial term derived from the French word "Galet", meaning a smooth, flat circular pastry or cake-like item. The term coins a broader category, including round, shortbread-like butter biscuits, thin buckwheat crêpes, or even potato cakes.
The secret lies in how you prepare the dough. It is pretty difficult to create if you are a newbie. You must roll and fold the dough fast in order to obtain the desired flakiness. This flaky crust lends a lovely texture you cannot find in other recipes.
The crust should be imperfect as Galettes are all about cracks and irregular folds. If you are not up for preparing your own dough, pre-made pastry dough is always an alternative.
Apart from the dough and caramelized onions, add other flavorings such as cheese, shallots, mustard, or white wine. Some people prefer adding garlic and scallions to the onion filling. Sprinkle sesame seeds over the dough to give it a beautiful nutty feel.
Preparation completes in: 30 minutes.
Cooking finishes in: 1 hour and 30 minutes.
TOTAL TIME: 2 hours.
Pissaladière is a traditional Provence dish with a thin pizza-like crust covered with caramelized onions, anchovies, black olives, and fresh herbs. While it is similar to pizza, Pissaladière is indeed a tart coming in a rectangular shape.
This French starter is the ideal balance of sweet and salty, featuring a doughy and crunchy crust. To achieve perfection, every Pissaladière has two secrets: white bread flour dough and milk-soaked anchovies.
The dish's name originates from the French term "Pèi Salat", which refers to a kind of salted fish purée traditionally poured over the dough before baking. People believe this entrée's history begins between 1305 and 1377, under the Papacy of Avignon.
Pissaladière is an excellent picnic meal, as well as a perfect afternoon snack when paired with a glass of chilled wine, particularly Côtes De Provence or Bellet.
Preparation completes in: About 1 hour.
Cooking finishes in: 1 hour.
TOTAL TIME: Around 2 hours.
Pissaladière is an ideal balance between sweet and salty flavors.
Gougères, or French Cheese Puffs, were first documented in Sens in 1571. These cheesy treats possess a crispy shell and creamy filling, making them great for an Aperitif. They vary in size, ranging from bite-size one-inch to four-inch round pastries.
The snacks were developed in the 17th century in a business in Burgundy named Le Ramequin De Bourgogne. Typically, the French prepare these pastry puffs with Choux dough and grated Comté, Emmentaler, or Gruyère cheese.
Gougères are often served at room temperature as an Aperitif with Champagne or wine, or heated as an appetizer. They guarantee to be a huge hit at your next cocktail party. Submerge them in thick soups or stews for a burst of flavor!
Preparation completes in: 20 minutes.
Cooking finishes in: 20 minutes.
TOTAL TIME: 40 minutes.
While it still belongs to the category of savory Soufflé, Cheese Soufflé is considerably lighter and airier, allowing ample space in your stomach for the following course.
Making Cheese Soufflé seems to be a formidable task. Yet, the process is easier than many people think. This egg-based delicacy is fluffy and cheesy to the max. The addition of ground mustard and white pepper imparts a somewhat spicy flavor.
And, although it is ideal to serve Cheese Soufflé with a fluffy, golden dome, it is still wonderful if the dome deflates a little. As long as you do not over- or under-cook your Soufflé, a failing top will have no effect on the texture.
Serve this French appetizer with a zesty salad or over roasted meats such as beef, ham, or lamb for an ideal supper!
Preparation completes in: 10 minutes.
Cooking finishes in: 35 minutes.
TOTAL TIME: 45 minutes.
If you are a big fan of wonderful French cheeses like me, you definitely have a variety of leftover cheese in your drawer right now! Slicing and assembling them on bread might seem tedious at times. Therefore, why not utilize them to generate a Fromage Fort?
In France, the dish's name translates as "strong cheese". That is why no cheese enthusiast can miss this fabulous entrée! In my opinion, Fromage Fort is the actual definition of "cheese taste".
The beauty of this recipe is that it works with practically any kind of cheese, such as a smidgeon of Romano, a chunk of Cheddar, a few tablespoons of crumbled Bleu, or a few Asiago bits.
However, if you are going to add blue cheese, keep it in moderation since this strong-flavored cheese tends to overpower other elements.
Mixing scraps of any sort of leftover cheese with wine and spices in a food processor until smooth is how you achieve Fromage Fort. It is ideal for holidays, whether you are throwing a cocktail party, searching for an easy hors d'oeuvre, or attending a potluck.
You can prepare the dish five minutes before rushing out of the door or a week in advance. The longer it sits, the more powerful it becomes! Serve it with crackers, crusty bread, vegetable platters, baked potatoes, or pretzels!
Preparation completes in: 15 minutes.
Cooking finishes in: 15 minutes.
TOTAL TIME: 30 minutes.
It may be perplexing, but the French term for sweet cake is Gâteau! However, this French recipe is known as "Cake Salé", which is not sweet at all. On the contrary, it is a savory cake, with the French term "Salé" meaning salty.
It gained popularity among anglophones after the wedding of Harry and Meghan, the Duke and Duchess of Sussex.
If you have never tried a salty cake before, French Cake Salé is a must-try. Like sweet cakes, this savory version incorporates various items such as veggies, cheese, meats, and nuts. Together, they generate a rich, moist flavor brimming with delectable morsels.
People traditionally serve cakes as a dessert at the end of meals. However, while attending a French Apéro, this cake will be the first thing that welcomes you. Do not be misled since this French dish is definitely an appetizer.
Besides, the cakes are also an excellent idea for French breakfast if you are searching for an alternative to plain old cereal. You can make them ahead of time and freeze them in slices, making it convenient to grab a piece on your way to work.
French Cake Salés are particularly popular among young and trendy Parisians gathering at someone's place on a Saturday evening after a long week. Diners are intended to enjoy Cake Salés like finger food on small plates while standing and talking.
Preparation completes in: 15 minutes.
Cooking finishes in: 45 minutes.
TOTAL TIME: 1 hour.
Brie and Pesto are a heavenly match, guaranteeing to steal everyone's heart! Soft, thick Brie cheese covered in Pesto is the sort of appetizer you should never cook alone at home since you will devour it!
When combining the slightly warm cheese with creamy basil Pesto, you get to enjoy a cheesy, garlicky plate that can be scooped up with bread pieces. Prepare some Socca or Baguette because you will not be able to resist dipping in this appetizer!
For those who love melting cheese, this recipe is definitely for you! Its earthy, green flavor will be stuck in your mind for a long time! You will find nothing else quite like it!
Preparation completes in: 20 minutes.
Cooking finishes in: 6 minutes.
TOTAL TIME: 26 minutes.
Here is a little something from the sea for your appetizer. Although the name is lengthy, it may be shortened to French Scallop Dish. Traditionally, this dish calls for just scallops. In a nutshell, it is a scallop gratin with a creamy wine sauce.
This recipe is a classic French entrée that has graced tables across the globe. It is a stunning appetizer adored by many seafood aficionados. Several variants today use mushrooms to provide an earthy taste and scent to the dish.
There is nothing more delectable than these delicate scallops nestled on a bed of mushrooms, cream, wine, and topped with sparkling cheese. Sauvignon Blanc, Pinot Grigio, or Chenin Blanc are a few ideas to pair with the appetizer.
Serve this delightful seafood meal with a green salad on the side and beautiful bread to mop up all the lovely sauce.
Preparation completes in: 30 minutes.
Cooking finishes in: 3 minutes.
TOTAL TIME: 33 minutes.
If you are searching for quick happy hour cuisine for your next dinner party, Baked Camembert is a fancy yet simple solution for you! This French appetizer has a robust and nutty flavor distinctive from Camembert cheese.
If you are unfamiliar with Camembert, it is a French round cheese similar to Brie. It is creamy and smooth with nutty overtones reminiscent of mushrooms, while Brie possesses a more buttery and delicate aroma.
Baked Camembert is rapidly becoming a favorite starter to share, whether at a fine dining establishment or a neighborhood bar. You can generate it at home as well, as this recipe is simple and requires no fancy equipment.
And remember, a gooey Baked Camembert accompanied by an abundance of crusty bread for dipping is always a hit!
Preparation completes in: 5 minutes.
Cooking finishes in: 12 minutes.
TOTAL TIME: 17 minutes.
Baked Camembert is a fancy idea for your next French dinner party.
According to one tale, everything about Mini Croque Monsieur began when several employees left their lunch sandwiches too close to the radiator. As the cheese melted and the bread toasted, the employees accidentally developed this appetizer!
Although little in size, they are jam-packed with delicious tastes! These popular delicacies are essentially an open-faced version of ham and cheese sandwich with a delectable Béchamel sauce.
Thanks to its simplicity, this starter is a huge hit at various French cafés and restaurants. It is virtually always on the menu! Yet, if you are unable to go to France, you can still partake in Mini Croque Monsieur right in your kitchen!
They smell so beautiful that it is difficult to wait for them to cool! Whether you serve them hot or at room temperature, they are always the ideal finger food appetizer!
Preparation completes in: 20 minutes.
Cooking finishes in: 15 minutes.
TOTAL TIME: 35 minutes.
If you ask me what the creamiest French appetizer is, I will waste no time in replying: Potatoes Au Gratin. Diehard fans of cheese and potatoes can never go wrong with this recipe!
Potatoes Au Gratin is unbelievably cheesy, creamy, and delectable. The dish matches nicely with whatever meaty main dish you serve for supper.
While the dish seems to belong more in the category of "main dish", with smaller amounts, it may still be an appetizer.
In this delightful treat, you will have potatoes and onions thinly sliced and coated in a fast cheesy sauce before being roasted until golden. When preparing, pick cheese with a strong taste profile, such as Cheddar, Parmesan, and Gruyère.
Many people often mistake Potatoes Au Gratin with Scalloped Potatoes. Simply speaking, Potatoes Au Gratin is everything about Scalloped Potatoes, plus the opulent cheese!
The key to successful Potatoes Au Gratin is that they must never be dry! The cheesy cream sauce must flow out! Not splattered all over the plate in a huge wet mess, but gently oozing out!
Preparation completes in: 30 minutes.
Cooking finishes in: 15 minutes.
TOTAL TIME: 45 minutes.
Potatoes Au Gratin is unbelievably cheesy, creamy, and delectable.
Tapenade is a quintessential Provence condiment made out of olives, anchovies, capers, fresh basil, and traditional spices. As a result, you have a rich and aromatic spread with various applications.
Although being a Provence dish, it was devised in 1880 by chef Meynier at the Marseilles restaurant La Maison Dorée. The first recipe was published in 1897 in Jean-Baptiste Reboul's La Cuisinière Provençale.
The beauty of this oh-so-flavor appetizer is that you can prepare it in a matter of minutes.  For that, Tapenade makes an excellent entree for a BBQ party to kick-start everyone's taste buds. All you need to do is combine essential ingredients in a food processor and pulse away!
The saline taste of capers, along with the fresh basil, creates a unique and delightful flavor. It is like having a piece of paradise on a slice of bread.
The dish's charm also stems from the vibrant colors of the ingredients. Tasty black and green olives, scarlet sundried tomatoes, and fresh basil bring this dish to life.
With olives and anchovies as the primary components, it is nutrient-dense and filled with antioxidants. Its fat content is beneficial in preventing heart disease and lowering bad cholesterol.
You can spread Black Olive Tapenade over small toasts for an Aperitif or pair a tablespoon of it with grilled fish or any kind of roast. Some people prefer to combine it with a vegetarian burger or serve it as a topping on a salad.
Preparation completes in: 10 minutes.
Cooking finishes in: 5 minutes.
TOTAL TIME: 15 minutes.
For those who despise mayonnaise in a salad dish, this lemony, garlicky, and ultra-herby French Potato Salad is for you! Unlike the mayo-based salad, this recipe offers a lighter version enhanced by the deceptively basic lemon vinaigrette.
Besides, you can add red wine and apple cider vinegar to the dressing. Then, tossing fresh herbs and olive oil into the salad can enhance the earthy taste and contribute to the dish's velvety smoothness.
This French entrée is fail-proof as it works great with almost any kind of potato you have on hand. Adding young potatoes in various colors (red, gold, white) makes your salad plate vibrant and your mouth swimming!
The dish is an ideal treat for crowds at parties, potlucks, barbecues, tailgates, and picnics. With only 30 minutes on hand, you can generate this refreshing salad with layers of wonderful tastes and textures! Let's try it, mes amies!
Preparation completes in: 10 minutes.
Cooking finishes in: 20 minutes.
TOTAL TIME: 30 minutes.
If you think Japan is the only nation that consumes raw meat, think again! Indeed, raw meat has been a staple of European cuisine for centuries, especially French food. Steak Tartare is an excellent example of such uncooked preparation.
Steak Tartare, a French classic, is a raw beef recipe popular in French bistros, brasseries, and cafés. It is quick and simple to prepare, involves no cooking, and pairs well with fries, toast points, and a light salad.
The succulent steak appetizer allows you to experiment with your favorite spices and condiments, such as capers, Worcestershire sauce, and pickled vegetables. Just remember to save the raw egg yolks for the last step!
Before serving, use round cookie cutters to mold the ground beef mixture into circular shapes. Once the meat is uniformly dressed and shaped, Steak Tartare is ready to serve.
Make sure to leave no room for leftovers. Steak Tartare should be consumed immediately, not the next day!
Preparation completes in: 30 minutes.
Chilling time takes: 1 hour.
TOTAL TIME: 1 hour and 30 minutes.
Rillette is a method used by the French to preserve meat for extended consumption. Typically applied for pig, rabbit, or fowl meat, Rilette today includes various seafood as well, with salmon being the most popular!
Made with smoked and cooked fish for textural contrast, Salmon Rillette is a must-have plate for special occasions, such as the New Year celebration. A single bite will generate a flavor explosion in your mouth!
Another incentive to create Salmon Rillette is that this delectable meal utilizes leftover fish. Thus, you can prepare it in advance and plan your meal better. It is a beautiful spread for your next party that will drive seafood enthusiasts crazy!
Serve your Salmon Rillettes with pieces of toasted bread. Use a high-quality baguette from a local bakery, thinly slice it, and brush one side gently with olive oil before toasting in the oven until crisp!
Preparation completes in: 15 minutes.
Cooking finishes in: 10 minutes
Chilling time takes: 2 hours.
TOTAL TIME: 2 hours and 25 minutes.
Originated in the 18th century and has expanded to various nations across the globe, Brandade De Morue is a creamy salted cod-and-potato spread served as a Canapé on Baguette slices or Baked Potato slices.
If the French call this hearty Mediterranean spread "Brandade", you will find its name "Baccalà Mantecato" in Italy or Brandada in Spain. While each nation has its own form of Brandade, the French version is still a classic everyone should taste at least once.
Once assembled, these coated slices are sprinkled with grated Parmesan or Emmental cheese and broiled until the tops acquire a brown hue.
Preparation completes in: 20 minutes.
Cooking finishes in: 50 minutes
Soaking time takes: 15 hours.
TOTAL TIME: 16 hours and 10 minutes.
Invented in the early 1800s in Paris's Antonin Carême's pastry shop, these round, light, airy puff pastries are cooked with the center removed, leaving space for sweet or savory contents.
Vol Au Vent is a French term that literally translates as "windblown" to refer to the dish's lightness. Nowadays, people love Vol Au Vent served as a snack or an appetizer with chicken, mushrooms, or fish filling.
This appetizer is certain to be a crowd favorite! One plate of Vol Au Vent can instantly elevate the elegance of your dinner table. Not to mention, this delicacy is a simple recipe to prepare as well.
Simply layer many rounds of puff pastry on top of one another. Then, drill a hole in the upper ones. Thus, when baked, the pastry will rise with a hole in the middle, allowing you to fill them with any items you like afterward.
Preparation completes in: 10 minutes.
Cooking finishes in: 35 minutes.
Resting time takes: 15 minutes.
TOTAL TIME: 1 hour.
Who hasn't heard of Foie Gras? This delicious, pricey food is a traditional French dish served on celebratory occasions. It is made with a thick slice of goose livers that have been briefly seared and then seasoned with salt and pepper.
The dish's texture is comparable to that of ice cream and is often served immediately for the greatest taste. You can choose to eat it in whole or chop it into tiny pieces on little round brioche bread slices.
Surprisingly, the history of Foie Gras begins 4,500 years ago in ancient Egypt! However, it was not well-known and did not achieve international popularity until the 20th century.
If you are a Foie Gras fan, you will know there are tons of amazing variations out there! There is Foie Gras Mousse with its silky, buttery texture and rich taste. There is also Foie Gras Poêlé with fresh or dried fruit, whiskey, and sweet wines.
Preparation completes in: 10 minutes.
Cooking finishes in: 30 minutes.
TOTAL TIME: 40 minutes.
What is a French dish beginning with the letter "E" and made with cooked land snails? Correct! That is Escargots Bourguignonne. While the primary component may seem revolting to some, this French delicacy definitely lives up to its reputation.
Not all land snails may satisfy this recipe. They must be sufficiently big to provide diners with a full, pleasant mouthful. Before cooking, the snails should be blanched in boiling water, washed in a solution of water and vinegar, then cooked in garlic butter or wine.
The dish's soft texture and clean, woodsy tastes combine particularly well with herb-infused butter. Additions of shallots, parsley, salt, and pepper are all acceptable.
You may serve this French appetizer on toasted Baguette slices to soak up the garlic butter, although they are most often presented in their shells on an Escargot dish.
Preparation completes in : 15 minutes.
Cooking finishes in: 10 minutes.
TOTAL TIME: 25 minutes.
This Crab Deviled Eggs recipe will quickly become an addiction since the dish is the ideal complement to Christmas, Easter, and other celebratory events. Not only are these eggs decorated with crab, but they are also succulently flavorful.
When cooking these eggs, you cannot skimp on the crab flesh since it is the dish's star. Crab flesh elevates the humble deviled egg to a gourmet finger snack worthy of being served at the most opulent of dinners.
It gives a sweet, delicate flavor to the Crab Deviled Eggs, plus the creamy but somewhat lumpy texture. If you like crab cakes, you will adore these deviled eggs!
Preparation completes in: 30 minutes.
TOTAL TIME: 30 minutes.
Pâté, which is French for "paste", is usually made using chicken liver, cognac, and spices. This Chicken Liver Pâté is a simple recipe featuring garlic, brandy, caper, and shallots to produce a smooth enough base for spreading over toasts and crackers!
With a marvelously smooth and softly rich taste contributed by butter and brandy, Chicken Liver Pâté is a staple as an appetizer or on charcuterie boards. Plus, it is really simple and cost-effective to create.
The nice thing about this recipe is the use of chicken liver, which gives the Pâté a more mellow and rich taste than deep-red livers.
It takes less than a half-hour to make and firm up quickly in the refrigerator. Simply compress the mixture into a dish or glass jar, cover with plastic wrap, and place in the refrigerator.
Preparation completes in: 15 minutes.
Cooking finishes in: 15 minutes.
TOTAL TIME: 30 minutes.
If you are ever in the mood for something light and Provencale, you must try this Southern France Panisse. Similar to Italian Farinata, these gently fried chickpea snacks are a good source of vitamins, minerals, and fiber. Plus, they are gluten- and dairy-free.
Served as a French appetizer, Panisse resembles Socca, another Nice specialty prepared with chickpea flour. Due to their robust taste and texture, both are brilliant vegetarian finger foods to open long and cozy lunches with family and friends.
Perfect Panisse with a glass of Pastis or any Southern France Aperitif. It is better to prepare the batter a day or two ahead of time to provide enough time for them to set.
Preparation completes in: 10 minutes.
Cooking finishes in: 40 minutes.
TOTAL TIME: 50 minutes.
Cervelle De Canut is a Lyon specialty that literally translates as "Silk Worker's Brain". It is named after the silk weavers of 19th-century Lyon. It is an excellent herbed-cheese spread to enjoy over crusty toast.
This tasty French cooking idea calls for the use of Fromage Blanc, which is a fresh, simple-to-make French cheese. This cheese type highly resembles cream cheese or thick yogurt.
People love to serve this food with room-temperature cooked potatoes as a light starter. Accompanying it with a glass of light red wine also makes an excellent deal!
Preparation completes in: 5 minutes.
Chilling time takes: 3 hours.
TOTAL TIME: 3 hours and 5 minutes.
The Anchoïade is a traditional Provence-inspired twist on the Tapenade, made with oil-packed anchovies, olive oil, chopped garlic, and capers. With anchovies, the dish provides an excellent source of omega-3 and other necessary vitamins and minerals.
You will find the French enjoy Anchoïade mostly with Crudités. Yet, you can simply spread it over toasted bread, pour it over roasted sweet bell peppers, bathe it with sweet fennel, or use it as a salad dressing.
Preparation completes in: 5 minutes.
TOTAL TIME: 5 minutes.
Moules Farcies guarantee to provide quite a WOW factor every time you serve them to visitors. The appetizer is quick to make and won't burn a hole in your wallet! It is simply baked Mussels loaded with garlic – Bechamel sauce and melted cheese.
To put this off, a traditional method is to cook the Mussels until they open. Then, fill each shell with a spoonful of the butter mixture, and coat everything with breadcrumbs and parmesan cheese before baking.
You will have a hard time resisting the temptation of such a lovely French appetizer like this plate. Not only your visitors but also yourself will be surprised at how a simple dish can possess such a crowd-pleasing taste.
Preparation completes in: 10 minutes.
Cooking finishes in: 15 minutes.
TOTAL TIME: 25 minutes.
Although Terrine De Porc is a substantial dedicated dish for French peasants, it has grown into an exquisite appetizer often seen on the menus of many upmarket restaurants.
Akin to Meatloaf, Terrine De Porc is a French dish made of ground pig parts, typically should and filet, seasoned with fragrant spices and herbs (like shallots, parsley, and a splash of brandy).
Additionally, butter, breadcrumbs, and cream are used in this meal. All ingredients are blended into a smooth, homogeneous mixture and cooked in a Bain Marie (water bath).
This Terrine recipe is just that simple yet incredibly delicious. You can add pistachios and basil to provide a nutty crunch. It is one of those dishes that can cater to a crowd. Serve it at picnics and social gatherings to wow your acquaintances!
Preparation completes in: 15 minutes.
Cooking finishes in: 1 hour and 30 minutes.
Resting time in the refrigerator takes 1 day.
TOTAL TIME: 1 day 1 hour and 45 minutes.
What was once a garnish in Hauté cuisine has evolved into its own meal – Potato Quenelle. In essence, it is a delicate oval dumpling filled with ground beef, chicken, fish, or vegetables mixed with breadcrumbs, eggs, and cream.
Originally developed in Lyon in the 19th century, Quenelle was composed entirely of Pike – a bright white fish. Nowadays, you can enjoy this recipe as an appetizer or a standalone meal at fine dining establishments across France.
Preparation completes in: 25 minutes.
TOTAL TIME: 25 minutes.
Bring These French Appetizers To Your Upcoming Party!
Let's set up these French appetizers on your dinner table and prepare for the party! Although they are only the start of your enjoyment, they will definitely seize all of the limelight for themselves!
If you love my list above, share it with your family and friends, and learn to make them together! After trying out these recipes, drop a comment below to show your opinions and concerns about these appetizers!
Also, don't forget to check out my other posts for more amazing recipes to come!