23+ Fabulous Filipino Drinks You Need In Your Life 2023
Filipino drinks are second to none for me, and you must gulp at least once. Just like many flavorsome fruits in the Philippines, these beverages also present the Filipino deep-rooted culture and local people's lives.
Come to the country, you will see some drinks are sold popularly on the road or in the market. With just a few pennies, you can serve yourself from traditional drinks like Tuba to modern beverages such as San Miguel.
I know you are so eager to see the list of drinks. So, no more squandering your time; these drinks are about to appear in your sight!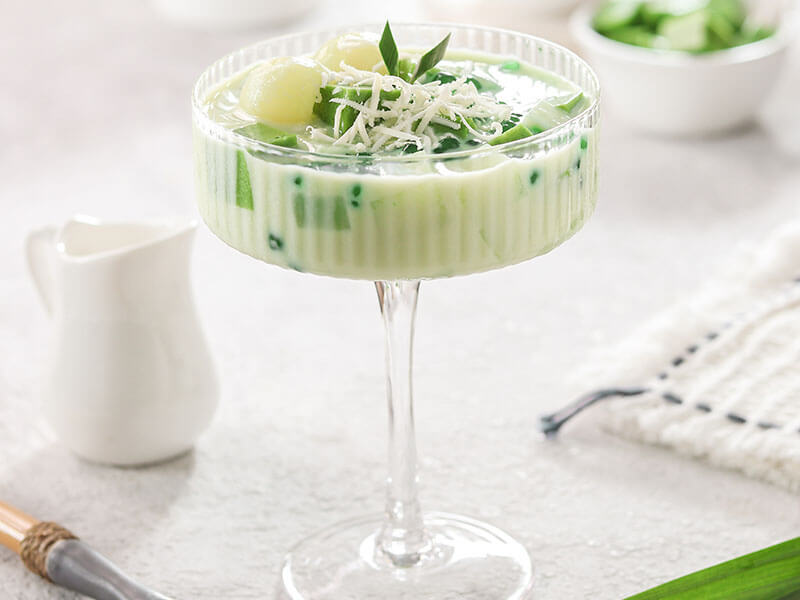 7 God-Sent Alcoholic Filipino Drinks To Stir Up The Night
In this section, I will introduce you to some liquors to get you from slightly dizzy to super drunk. You can serve these alcoholic beverages with Filipino snacks at parties, football matches, or friend gatherings.
1. San Miguel
Alcoholic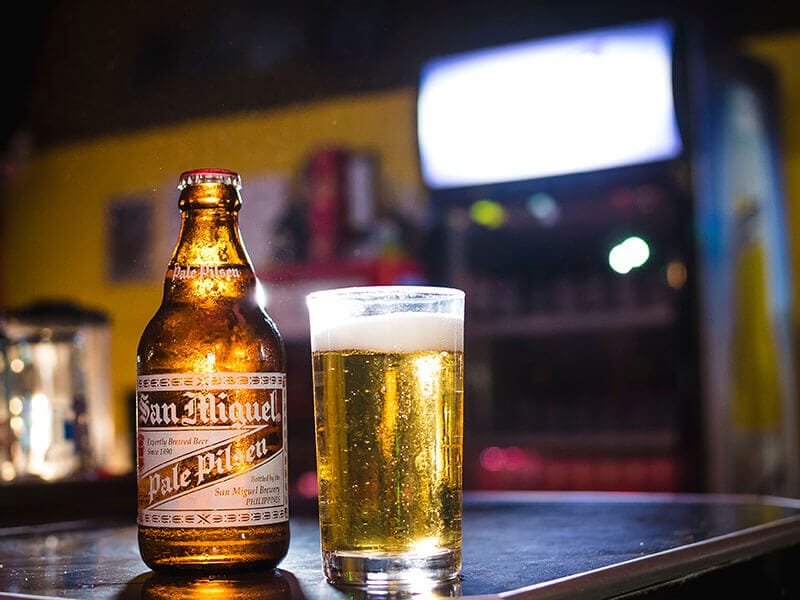 I would say San Miguel is the best when talking about beer in the Philippines! San Miguel is a beer that not only is sought after in Filipino but also has gained vast popularity overseas.
This Filipino San Miguel is a light beer from San Miguel Brewery, a company under San Miguel Corporation's control. The company is located in Mandaluyong, Metro Manila.
Looking at the ingredient content, you will see this beer consists of hops, malted barley, and water. Well, because the beer has no appearance of animal items, if you are following the vegan diet, you can also add this beer to your relaxing moments.
San Miguel has around 5% alcohol in volume. The beer is golden and topped with a creamy white foam. Some say the beer has an ideal bitterness ratio and rich, smooth, refreshing taste, making it perfect during hot summer.
Where to buy: Supermarkets, clubs, and bars in the Philippines.
Let's see how delicious San Miguel is!
Alcoholic
If you intend to get drunk after a long stressful day, this delectable Filipino recipe, Weng Weng, is undoubtedly a knock-out choice.
Well, if you want to know what's inside a glass of Weng Weng, I'm afraid that can't happen because each bartender will have their recipe, and you literally have no clue about its components. However, some liquors that they usually pick might be rum, vodka, or bourbon.
Regarding the name of the cocktail, there is still no solid evidence about where it came from. Some said the drink got its name from the Filipino actor Ernesto dela Cruz, also known as Weng Weng on stage.
On the other hand, the name is believed to stem from the native slang "totally wasted". Besides, the number of liquors appearing in the cocktail also indicates that it will make you blasted.
Where to buy: Filipino bars and clubs.
Alcoholic
You are wrong if you think Ube (a type of tuber) is only used for dessert. I will present a fabulous Filipino cocktail, Ube Martini, using Ube pudding as the primary way to achieve a beautiful purple color.
Typically, the Ube flavor matches very well with other sweet ingredients when it comes to dessert. However, it also works with an alcoholic drink. This cocktail will taste heavenly with a creamy and rich flavor from Ube.
Besides, people also said that the Ube Martini cocktail is a perfect combination of vanilla and pistachio, which sounds even more appealing and delicious!
Where to buy: Local bars in the Philippines.
Alcoholic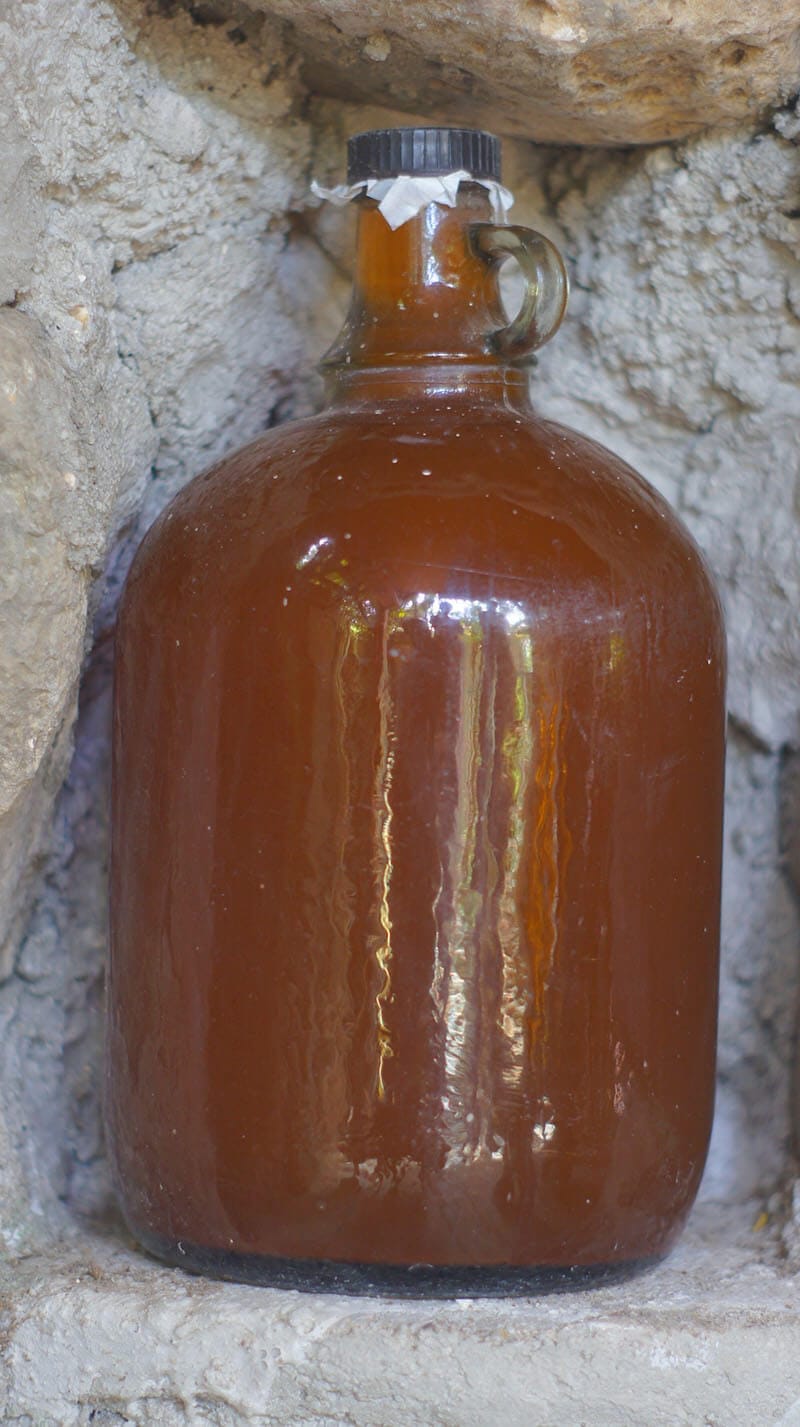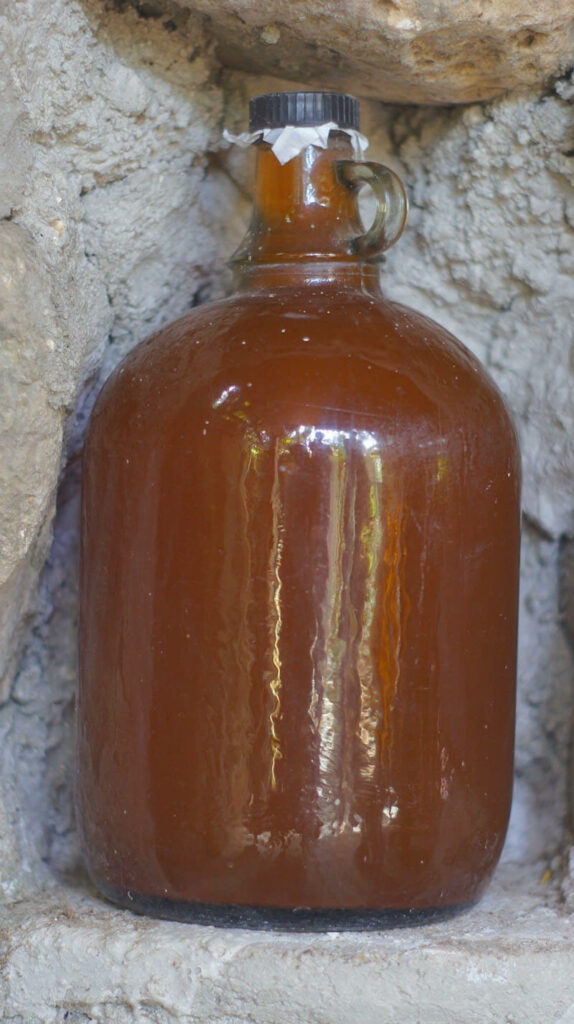 Bahalina is a traditional Filipino palm wine originated in Visayas and Mindanao islands. You might also know this special wine through another name, "coconut red wine", because it has a unique orange to brown color.
This wine happens when Tuba, a famous palm Toddy, is left to brew for a long time. Or in other words, Bahalina is generated from Tuba. These two first steps are the same as making Tuba. But the secret of building up this coconut red wine is still ahead.
To make this wine, local people will collect coconut sap or a large palm flower (Nipa frutescens). And then, they will leave these bottles or bamboo tubes containing that liquid to ferment for a week or longer.
After the Mananguete (Tuba collector) takes the sap out, they carefully cover it in a container, remove the sediment, and gradually add Barok, a reddish brown bark from a Tungog tree, in one of these steps.
This unique ingredient will reduce the sourness ratio in Bahalina and be the reason for this wine's color. Also, thanks to Barok, the wine has a slightly distinctive bitterness which makes the wine more sharp and astringent.
Besides, the deliciousness of Bahalina will depend much on the professional skill in measuring the amount of Barok and coconut sap.
Because of the longer fermentation time, Bahalina achieves 10-13% alcohol by volume. In the Philippines, this wine is sold at a relatively lower price than other strong drinks on the market. Therefore, people sometimes refer to Bahalina as a poor people's beverage.
Where to buy: Street vendors or alcoholic drink stores in Visayas and Mindanao islands.
If you are curious about how well Bahalina tastes, this one is for you!
5. Basi (Sugarcane Wine)
Alcoholic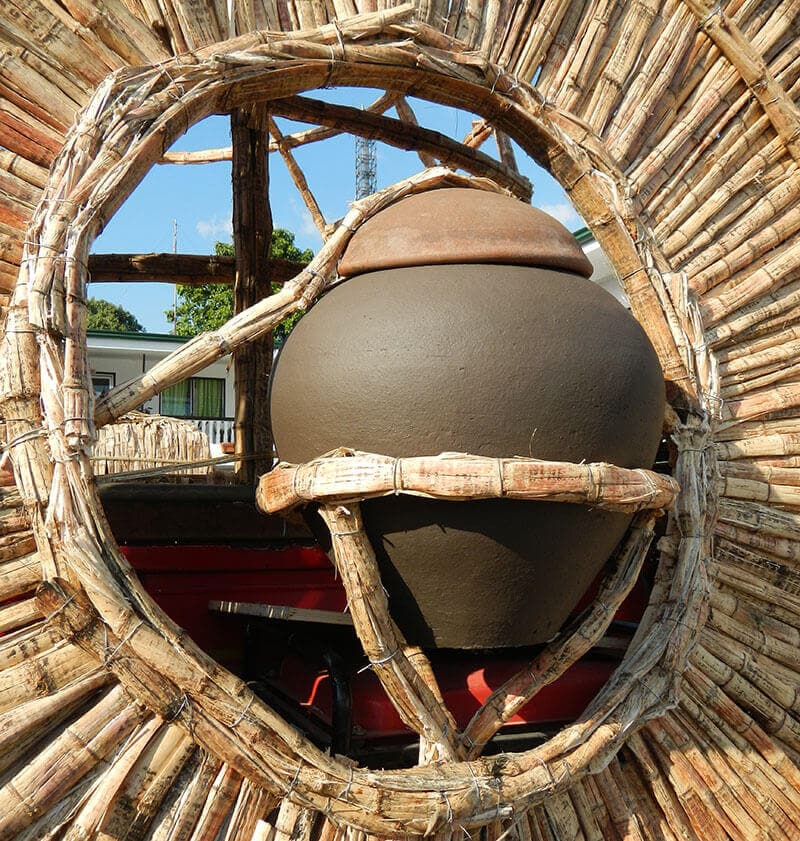 If you have a chance to visit northern Luzon, the Ilocos region, and you skip Basi, that'll be a huge mistake. This wine is made of fermented sugarcane juice, and almost all the making process occurs in tapayan or burnay (Ilocano earthen jar).
This Basi wine possesses a unique making process. Firstly, local people will crush the sugarcane to achieve the juice, cook the liquid, and store it in tapayan afterward. After being chilled, they will add other barks and fruits as flavoring elements.
To ensure that the fermented process works well, people will cover it carefully with banana leaves and let it be for many years. As a result, people will achieve a ruby liquid that tastes a bit bitter, spicy, and flavorful.
There are two main categories of Basi: Basing Babae and Basing Lalaki. The first one has a sweet taste and contains a lower alcohol volume. Meanwhile, the latter is usually bitter and full-bodied and presents a higher alcohol level.
People make two different Basi depending on the sugarcane juice ratio and other components, including green guava leaves, Tangal bark, and other parts of Samac.
Besides, the Filipino people have three ways to produce Basi: Ilocos, La Union, and Pangasinan method. However, the first two methods are more popular than the last-mentioned one.
In the Ilocos Region, local people drank Basi even before the Spanish invaded. Basi is considered an indispensable factor that is significantly important in Ilocano culture and lives, such as marriage, childbirth, or death.
Where to buy: Liquor stores in the Philippines.
Alcoholic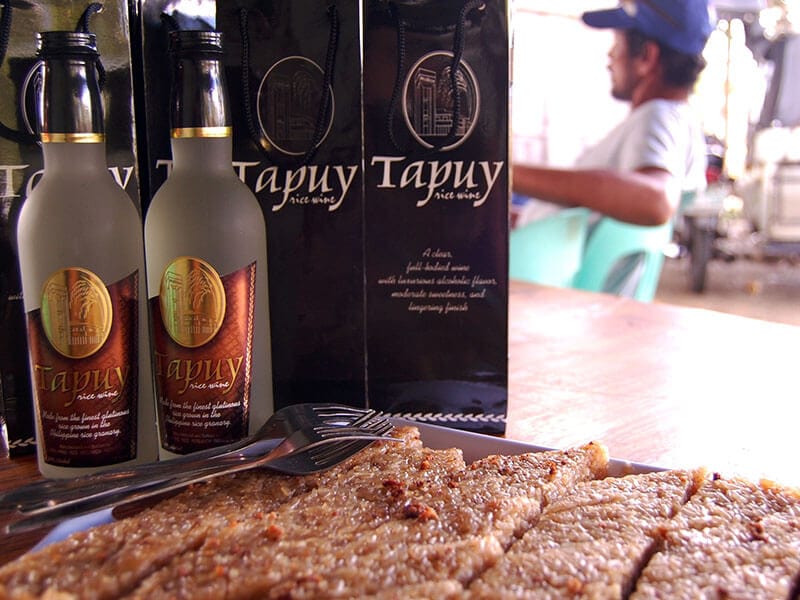 Tapuy (Tapuey or Tapey), famous Filipino wine rice, has its root in Banaue and the Mountain Province. The name Tapuy came from the Ilocano area, but it is also popular with other Igorot words, Baya and Bayah.
Tapuy is a type of rice wine, and Filipinos usually use pure sticky rice (glutinous rice) or a mixture of glutinous and non-glutinous rice. Besides, people will put ginger extract, Bubod (hardened starch powder), and Onuad roots.
This wine is relatively strong (14% abv) with an intense alcoholic taste. It's a pure wine with zero water, sugar, or preservatives. Some describe Tapuy's flavor as slight sweetness and leaving an unforgettable aftertaste.
Besides, Tapuy is a member of Austronesian rice paste (rice wine Tapai). When the Ipitik festival comes, each Tapuy manufacturer from Mountain Province will carry along their best Tapuy.
Tapuy commonly appears in some special Filipino events, including weddings, rice harvest festivals, and other traditional carnivals.
Where to buy: Filipino liquor stores and local bars.
7. Red Horse (Filipino Beer)
Alcoholic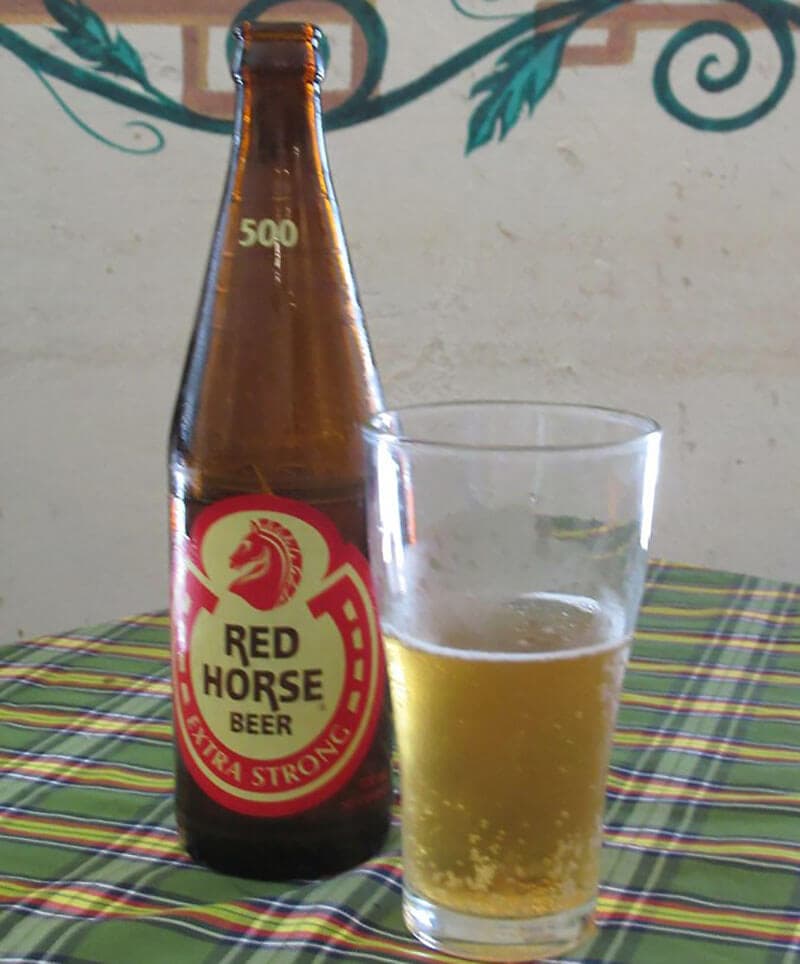 The last alcohol drink on the list is Red Horse, a well-known Filipino beer from the San Miguel Brewery. This beer has a high alcohol level, up to 6.9% abv in the Philippines and 8% when exported, so if you want to bring some strong liquor to the parties, this is it!
This is the first beer in the Philippines to contain that high amount of alcohol. Red Horse also delivers a balanced combination of sweetness and bitterness aftertaste at the first taste.
In 2014 and 2015, this excellent beer achieved the Gold Medal and Best International Lager in the Australian International Beer Awards.
Where to buy: Supermarkets or local stores in the Philippines.
Everything you want to know about Red Horse will be encapsulated here!
How About Taking Caffeine For A Productivity Morning?
For me, having a cup of coffee in the morning is one of the happiest things. But the experience will increase even more when you try some Filipino coffees! Here I introduce you to 5 cups of coffee you can enjoy with satisfaction.
8. Benguet Coffee
Non-Alcoholic
Benguet coffee is a famous coffee from the Cordillera highlands in the northern Philippines. To be exact, the locals in the Atok village in Benguet province create this delicious coffee.
You can also call Benguet coffee with another name, Benguet Arabica. In 1875, during the colony of America, the Spanish leader, Manuel Scheidnegal y Sera, brought Arabica coffee to the Cordilleras.
He planned to grow it in the region but failed. Then came the next person in charge in 1877, Enrique Oraa, who successfully cultivated the plant thanks to moving it to a more suitable place.
But in 1881, local people damaged and ruined the Arabica farm because they couldn't put up with the bossy governor (after Enrique Oraa). Luckily, the native ruler, Camising, persuaded the surrounding people to start growing the coffee plantation again.
Benguet coffee is one of the Coffea Arabica varieties belonging to the Typica family. Besides, according to the Ark of Taste, the international catalog, Benguet coffee is considered one of the heritage foods about to become extinct.
Where to buy: Coffee shops in Benguet, Philippines.
9. Kahawa Sug (Sulu Coffee)
Non-Alcoholic
You might come across some alternative terms for this coffee, including Sulu coffee or Sulu robusta. Like Benguet coffee, Kahawa Sug coffee is famous in one region, Sulu Archipelago, Philippines.
This Kahawa Sug has its root in the Robusta variant that appeared in Sulu in the 1860s. To be exact, the Upper Silesia trader, Leopold Schuck, is the person who brought Robusta coffee to Sulu and then planted it widely in the area.
Since then, Kahawa Sug has been raised wholeheartedly by the Tausug people. Kahawa Sug plays a significant role in Tausug people's lives and traditional culture.
This coffee has a unique serving method. Locals will prepare another glass to pour the liquid back and forth while spinning it. This trick not only helps cool down the coffee but also gives out an aromatic odor.
Usually, people will enjoy this coffee with Bangbang (Merienda snack), a typical Filipino light meal, or Latal (a plate with many Filipino foods). The coffee will deliver a slightly bitter taste with zero sourness.
Where to buy: Sulu coffee shops, especially Kahawahan (native coffee shops) in Muslim areas in the Philippines.
Non-Alcoholic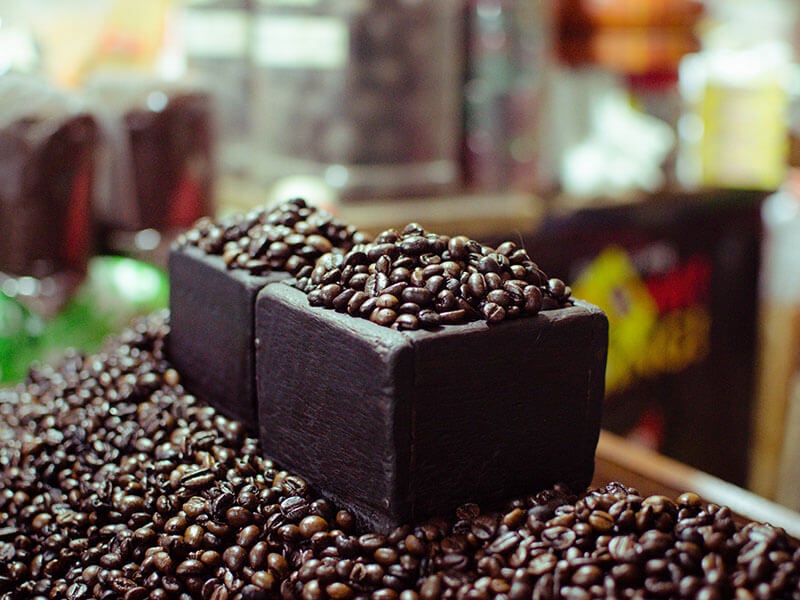 Kapeng Barako, Barako coffee, or Batangas coffee, you can choose one of these names to call this unique delicacy from the Philippines. Kapeng Barako is mainly produced in Batangas and Cavite provinces.
According to Filipino words, Barako refers to "stud", and this name is also related to masculinity and machismo. You might think Kapeng Barako is derived from Batangas, but the Spanish colonists brought this coffee to the Philippines.
Kapeng Barako is a member of the Coffea liberica family. The shape of the coffee beans stands out the most compared to other beans like Arabica, Robusta, and Excelsa: One side is higher than the other, and the middle line is more pointed.
Local people enjoy the coffee by drip brewing or pressing with a machine. This coffee has a natural black color, intense flavor, and fragrant aroma.
Don't be surprised to know Kapeng Barako can be used as body exfoliating. Besides, people sometimes serve the coffee with Tapa, a Spanish appetizer, or other optional fried dishes.
Where to buy: Come to any coffee shops in Batangas and Cavite to taste the authentic Kapeng Barako.
This introduction will provide lots of information about Kapeng Barako coffee.
Non-Alcoholic
Another coffee cup hailed from the Cordillera in Filipino, raise a huge round of applause to the Sagada coffee (or Sagada Arabica)!
You can find the coffee mainly in the Sagada and Besao area, where the climate and other conditions match perfectly with the coffee. Until now, Sagada coffee has gradually gained a good reputation overseas and is more popular than before.
To increase Sagada coffee production, the government has introduced many approaches, such as handing over the devices and instructions. There is even a regulation in Sagada that each family needs to grow a minimum of five Sagada coffee trees.
Taking a sip of this coffee, you will feel a perfectly balanced combination of bitterness and sweetness, featured with a tinge of floral and fruity flavor.
Where to buy: Coffee shops in Sadaga and Besao region.
Non-Alcoholic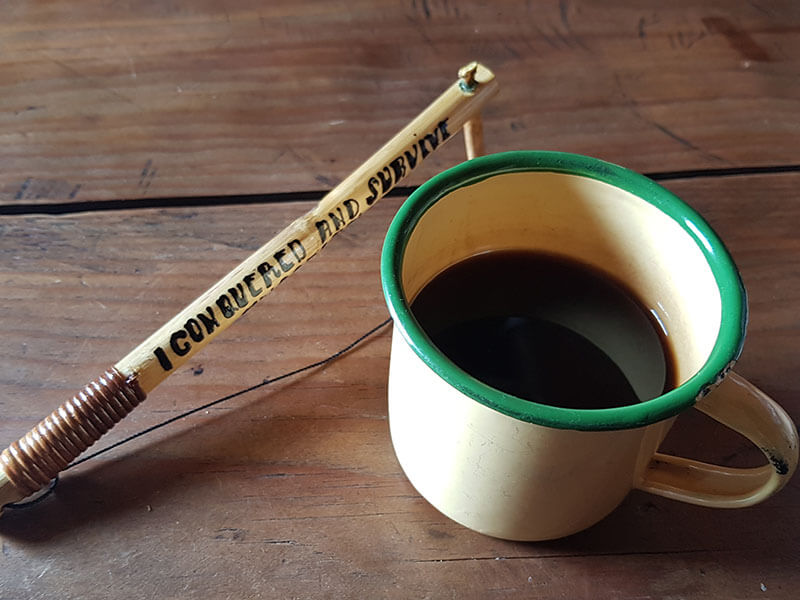 How about a cup of the finest Kalinga coffee from the Cordillera Mountain Range of the Philippines to lighten up the dreary morning? Well, I can see you nod repetitively! Like other coffee beans, the Cordillera Mountain Range is a promising land for growing Kalinga coffee.
Kalinga coffee belongs to the Robusta coffee family, which has been a worthy and well-known plantation since the 1970s. Every Kalinga coffee drop will gently wake every nerve with its robust flavor and exceptional bitter taste.
Where to buy: Coffee shops around the Cordillera Mountain Range region.
Other Popular Filipino Drinks You Have To Try At Least Once
This last section contains some famous beverages that define the Philippines. From summer drinks like Maiz Con Hielo to Tsokolate, a typical hot drink for winter, I've got them all for you! Let's keep scrolling and jotting down the ones you like!
Non-Alcoholic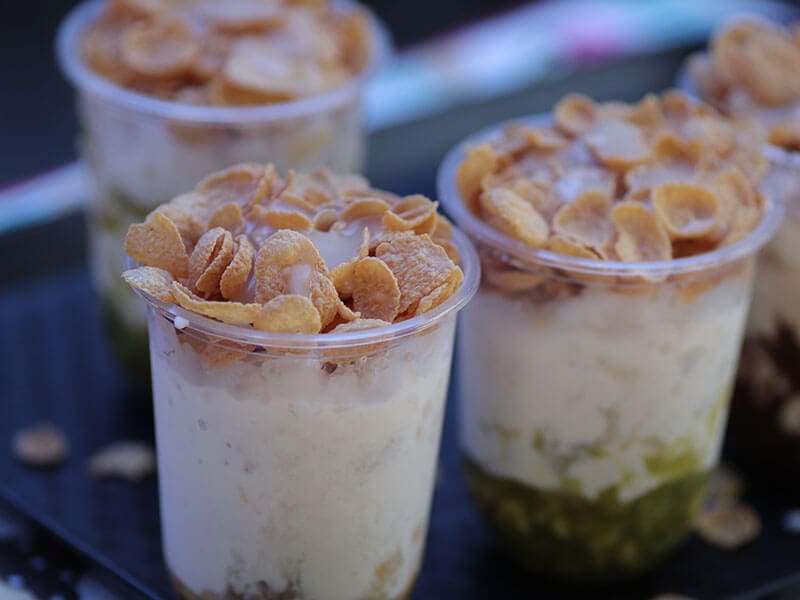 If you want something like the refreshing Halo-Halo (shaved ice dessert), Maiz Con Hielo is more than you need! This traditional Filipino dessert includes corn kernels, sugar, milk, and shaved ice.
The name Maiz Con Hielo (Mais Con Yelo) in Spanish refers to "corn with ice". Usually, the seller will put the shredded ice into a tall glass, drizzle condensed milk gaze, and add cream corn and sugar on top of it.
Besides, a scoop of optional flavored ice cream is also highly recommended. Overall, you will achieve a creamy texture with a refreshing and sweet flavor.
Where to buy: Filipino restaurants or street vendors.
Let's widen your knowledge with this detailed information about Maiz Con Hielo!
Non-Alcoholic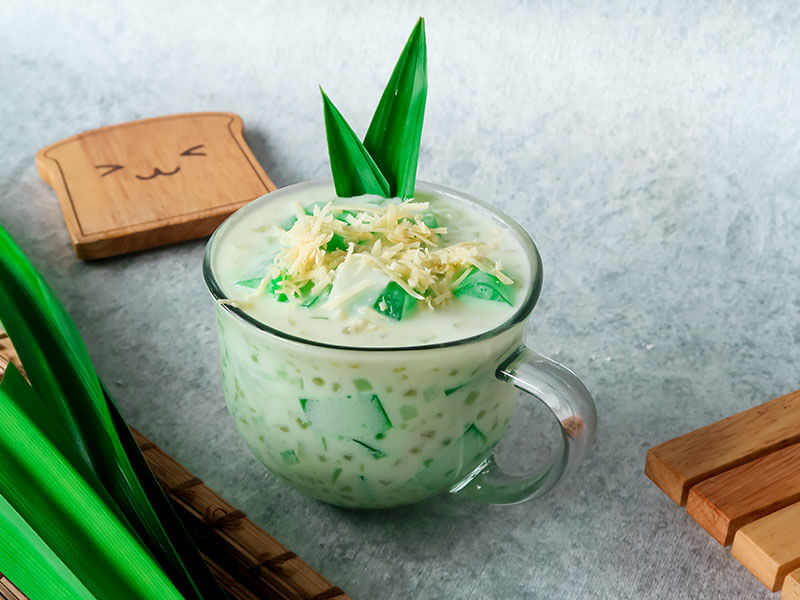 Buko pandan drink is so famous that when wandering around Filipino streets, you will see local people sell the drink in makeshift stalls or restaurants.
In English, Buko drink means "young coconut drink". This dessert drink is made of shredded young Buko (coconut), pandan leaves, and different types of jellies. Among them, Gulaman always takes the spotlight on the Buko pandan drink.
With this drink, locals color the drink green by adding pandan leaves, an important ingredient in Filipino cuisine and other Southeast Asia countries.
This drink offers a rich, creamy, and milky texture along with chewy Gulaman. Buko pandan drink will surely beat the heat and freshen you up with its fabulous flavor.
Where to buy: Restaurants and takeaway stores in the Philippines.
Non-Alcoholic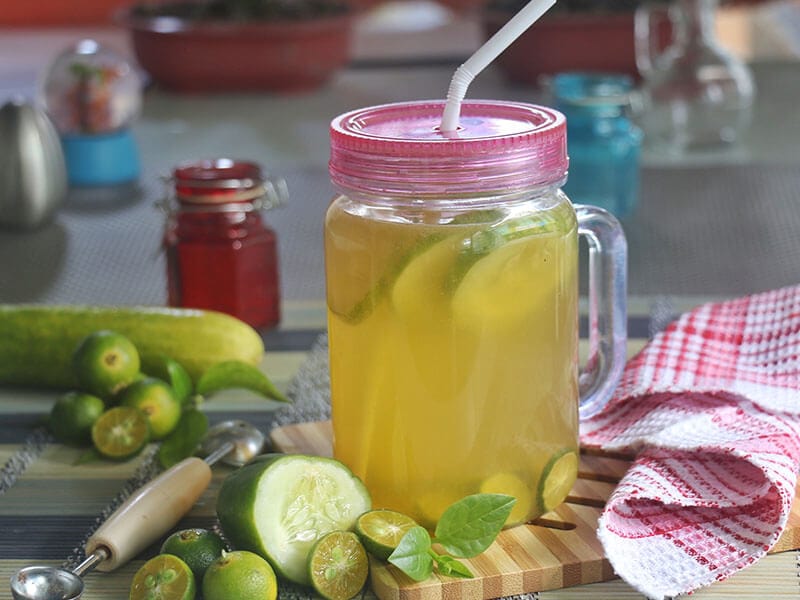 Calamansi is very useful and vital in Filipino cuisines. The local people have so many methods to make the best use of calamansi, and cooling calamansi juice is one of them.
This natural thirst-quencher is not only nutritious with a high source of vitamin C but also one of the best ways to cool down the heat. You can find this fruit juice all over the markets and street stalls throughout the Philippines.
The Filipino calamansi juice is distinctively sour with a hint of a fruity and floral combination of tangerine, pomelo, and lime.
Where to buy: Coffee shops, street stalls, or vendors in the Philippines.
Non-Alcoholic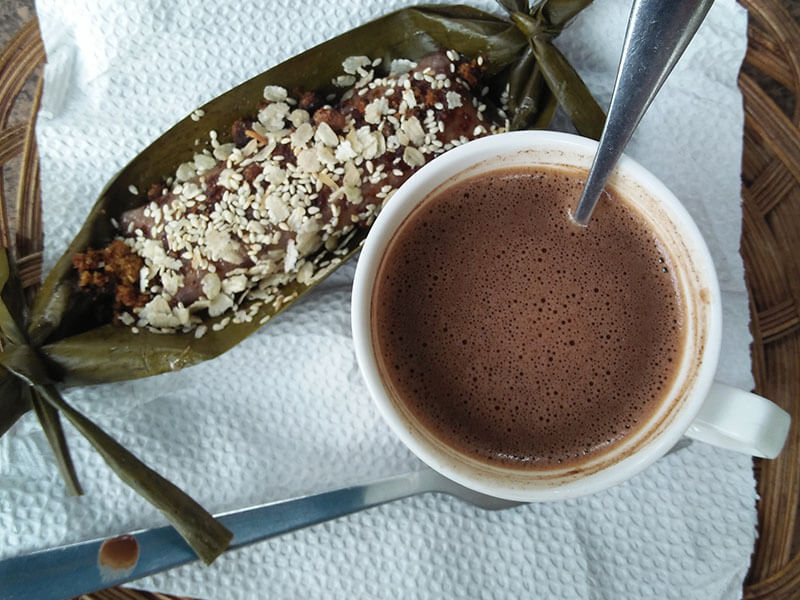 Tsokolate, also known as Filipino hot chocolate, has many names corresponding to each region in the Philippines. For example, in Kapampangan, people call Tsokolate Suklati; meanwhile, in Maguindanao, this hot chocolate is Sikulate.
Besides, according to Visayan languages, the beverage is Sikwate or Sikuwate. And all these name variations stem from "chocolate" in Spanish.
The secret ingredient of the drink lies in Tabliya (Tablea). It's a bar of chocolate made by Filipino people at home with dried cacao beans. These beans also contribute to Filipino delicacies such as Champorado, the famous Filipino chocolate porridge.
Traditionally, local people produce the drink using Tsokolatera, the pot specializing in preparing hot chocolate drinks, and Molinillo (a wooden baton). This utensil will help Tsokolate achieve the foam on top.
Filipino people often apply Muscovado sugar to sweeten Tsokolate. Although the drink just contains some essential components, including chocolate, milk (or water), and sugar, it still delivers a robust taste covered with cacao flavor.
People often serve the drink with Kakanin (rice cake) or Pandesal (bread roll) in the morning. Besides, this drink dominates the Christmas holiday, and children are usually big fans of it.
Where to buy: Filipino coffee shops.
Non-Alcoholic
Salabat is a quick Filipino ginger tea that local people usually drink to warm up their bodies when the weather gets chilly. It can remind you of Teh Halia, an appetizing drink from Malaysia with ginger tea and milk.
Salabat consists of fresh ginger peeled, shredded, and boiled in advance. And then, people will add calamansi, honey, and sugar to further the flavor. People prefer the indigenous ginger because it's stronger and spicier than the imported ones.
There is a more convenient version of Salabat called Instant Salabat. However, in the Instant Salabat, the ground ginger powder will be used instead of raw ginger.
In the Visayas and Mindanao islands, Dulaw (Duwaw or Duyaw) and Tsaang Dilaw (yellow tea), which has an appearance of turmeric, are other variations of Salabat.
People believe that Salabat can cure sore throats and other regular ailments. Also, with singers, there is an assumption that drinking Salabat will make their voice sound even better.
Where to buy: Coffee shops in the Philippines.
Non-Alcoholic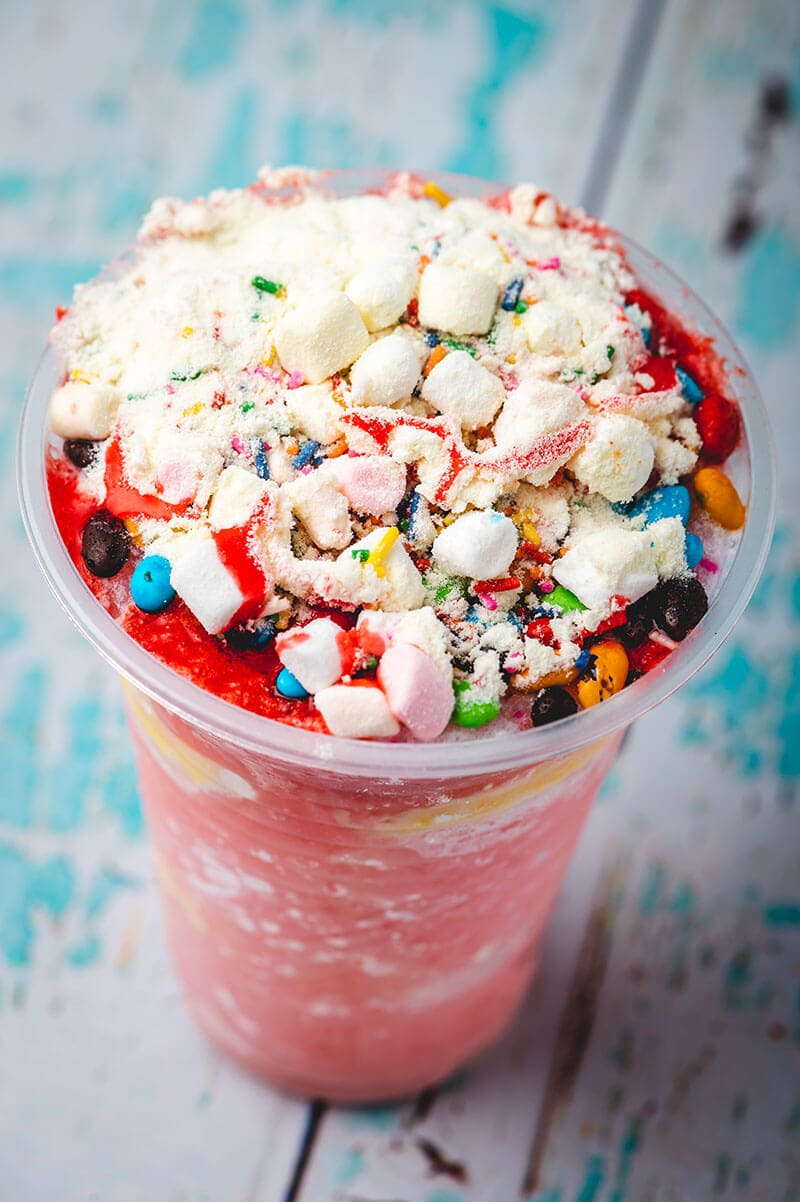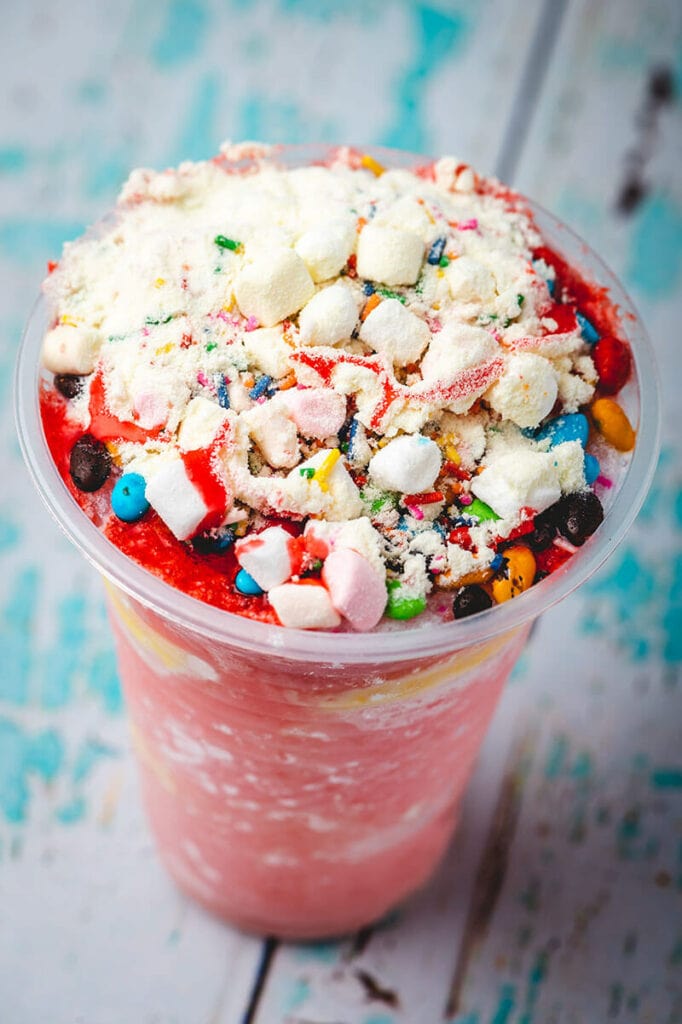 Iloilo in the Philippines has an iconic street drink called Iskrambol (ice scramble). This dessert-like drink will surely bring you back to a memorable childhood.
The drink is an excellent combination of banana extract, shredded ice, milk, and sugar. And to make the thing more attractive, Filipino people usually add a bunch of toppings like marshmallows, powdered milk, Pinipig (flattened rice), or Tapioca pearls.
The Filipino sellers wander around the schools waiting for kids to disperse after school. With its colorful appearance and affordable price, Iskrambol quickly grabs the children's attention and has gradually become their favorite drink.
Where to buy: Filipino street vendors in front of schools or the parks. Also, you can purchase the drink in most Filipino dessert shops.
It's amazing to see how local people make Iskrambol right on the spot.
Non-Alcoholic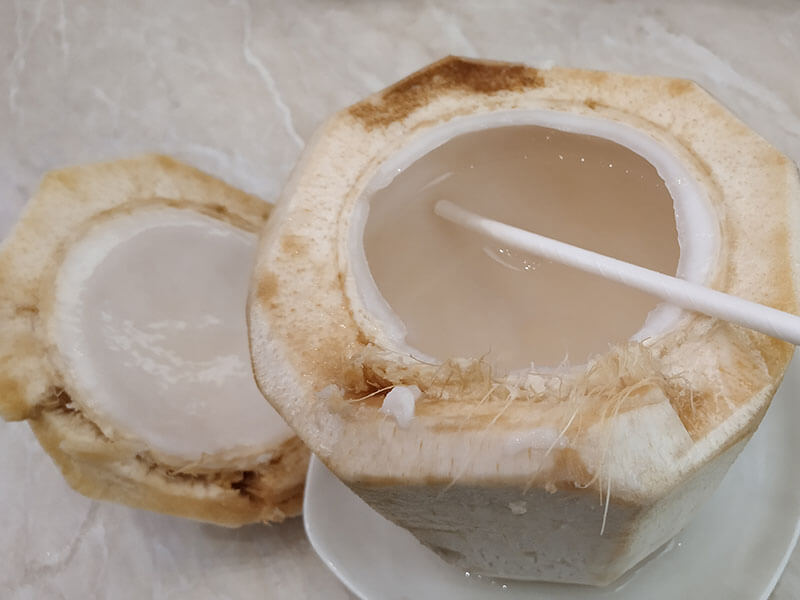 Buko juice is also known as coconut water, the fluid inside the young green coconut fruit. This effortless drink appears everywhere in the Philippines, especially on street stalls.
Coconut water has health benefits such as vitamins, minerals, and protein. Typically, customers will enjoy the white meat and transparent liquid inside the coconut fruit, or they will pour both into a glass.
Buko juice is a healthy and refreshing drink for hot days. So, instead of drinking soda containing too much refined sugar as a thirst-quencher, you can choose the Buko drink.
Where to buy: Walking along the Filipino streets, you will see many stalls selling Buko juice.
Non-Alcoholic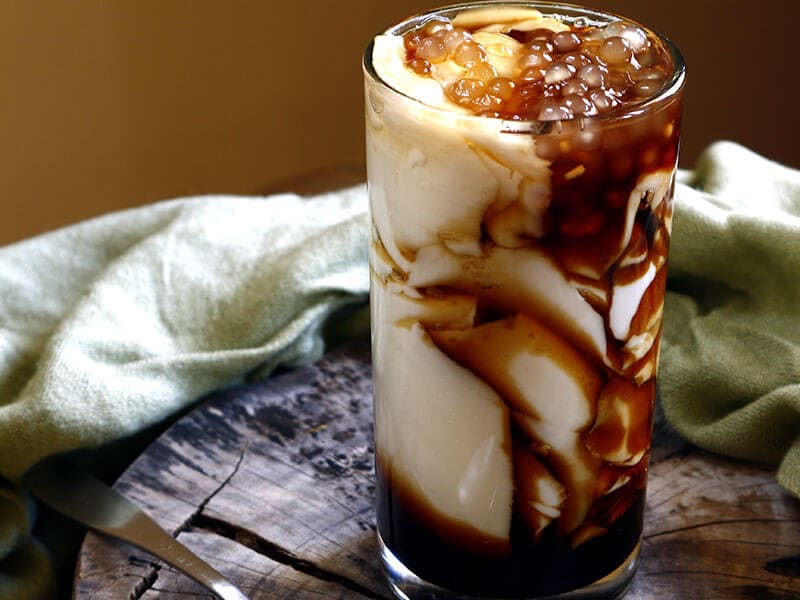 Well, in fact, Taho is Filipino snack food, but since it's served in a cup, I will consider it a dessert-like drink. This delicious drink is ultimately not hard to find. You might stumble upon some Mágtatahô (Taho vendors) carrying Taho on the streets.
Taho includes tofu, sago pearls, and Arnibal (brown sugar syrup). With that being said, every component contributes to Taho's current reputation.
Taho actually has a background in China from the dish Dou Hua (tofu topping), which was brought to the Philippines by the Hokkien people. Since then, Taho has naturally assimilated into the local people's lives and Filipino cuisines.
You can enjoy Taho with a spoon or straw or just gulp it because Taho is very soft and smooth. Taho vendors usually carry a Taho bucket and other ingredients in the other bucket, then they start their working day by walking around the streets.
Interestingly, Taho doesn't need some flattering advertisements but still catches customers' attention. They need to call out "Taho" everywhere they put their steps.
Where to buy: Food and drink stalls, cafeterias, and supermarkets in the Philippines.
Non-Alcoholic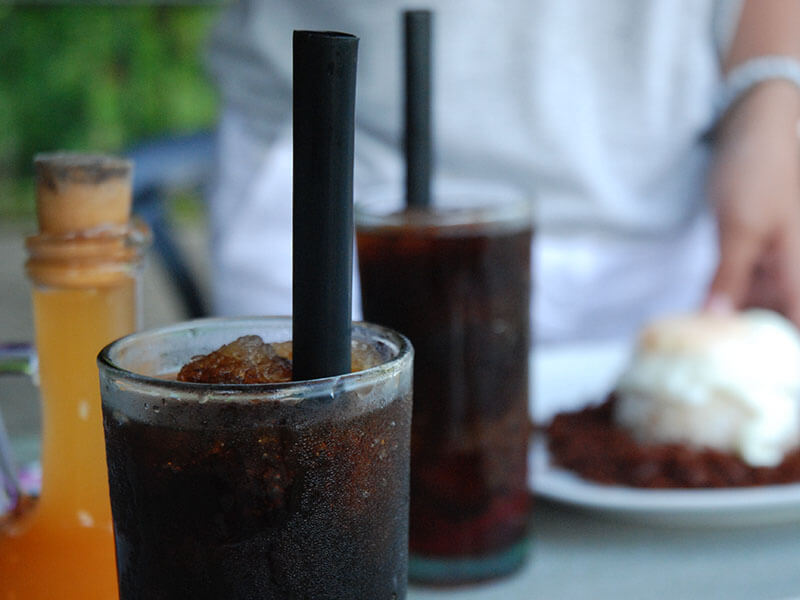 Sago at Guluman or Sago't Guluman is one of the main variants of Samalamig. When translated into English, Sago't Guluman is sago and gulaman, the two popular ingredients in Filipino desserts.
Besides, locals often add Muscovado sugar and pandan leaves to enhance the flavor and aroma. Each gulp of this beverage sends you chewy and fibrous Gulaman along with the icy brown liquid.
Sometimes, when people don't have sago on hand, they will use Tapioca pearls instead. Similarly, banana extract or vanilla can be an excellent substitution for pandan leaves.
In the Philippines, they usually sell the drink in plastic bags or cups with lots of ice. You should put the straw in and enjoy it as soon as possible to feel the freshness running along your body.
Where to buy: Filipino vendors or street stalls.
Non-Alcoholic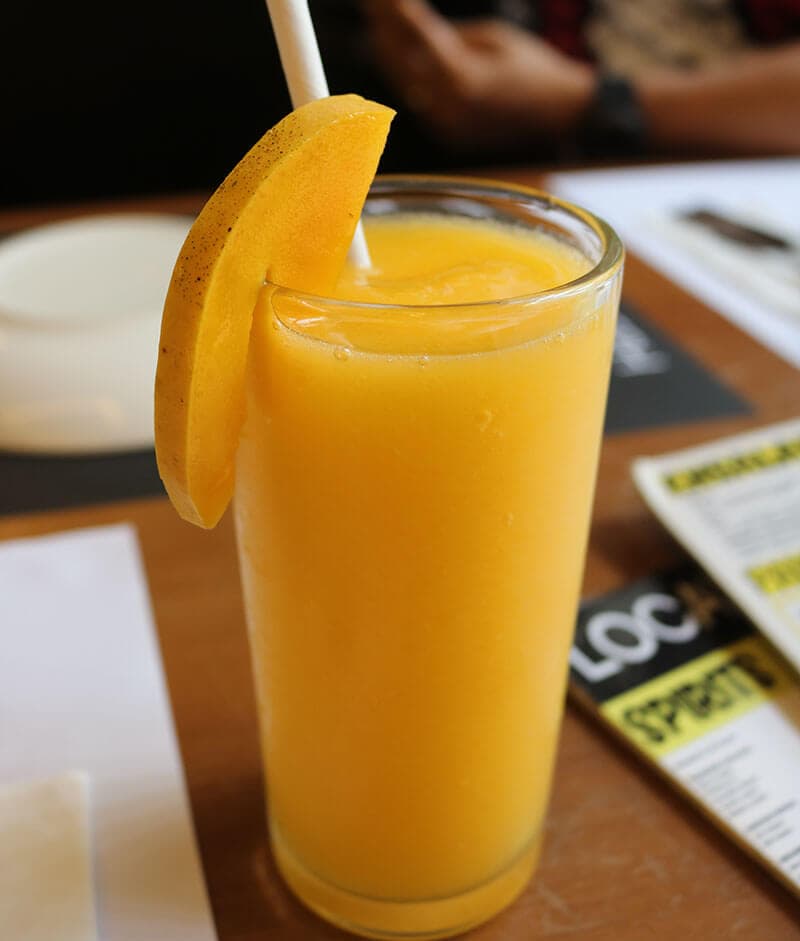 You might already know mango is a national fruit in the Philippines. That said, when the mango season comes, there will be several ways to deal with an abundant source of this fruit, and mango shake is no exception.
There are numerous advantages when drinking mango shake. The drink not only provides you with enough essential nutrients like iron and protein. If I rush in the morning, I will have a cup of delicious mango shake (or other fruits) to fill up my belly.
Where to buy: Filipino restaurants and fruit shake stalls.
Non-Alcoholic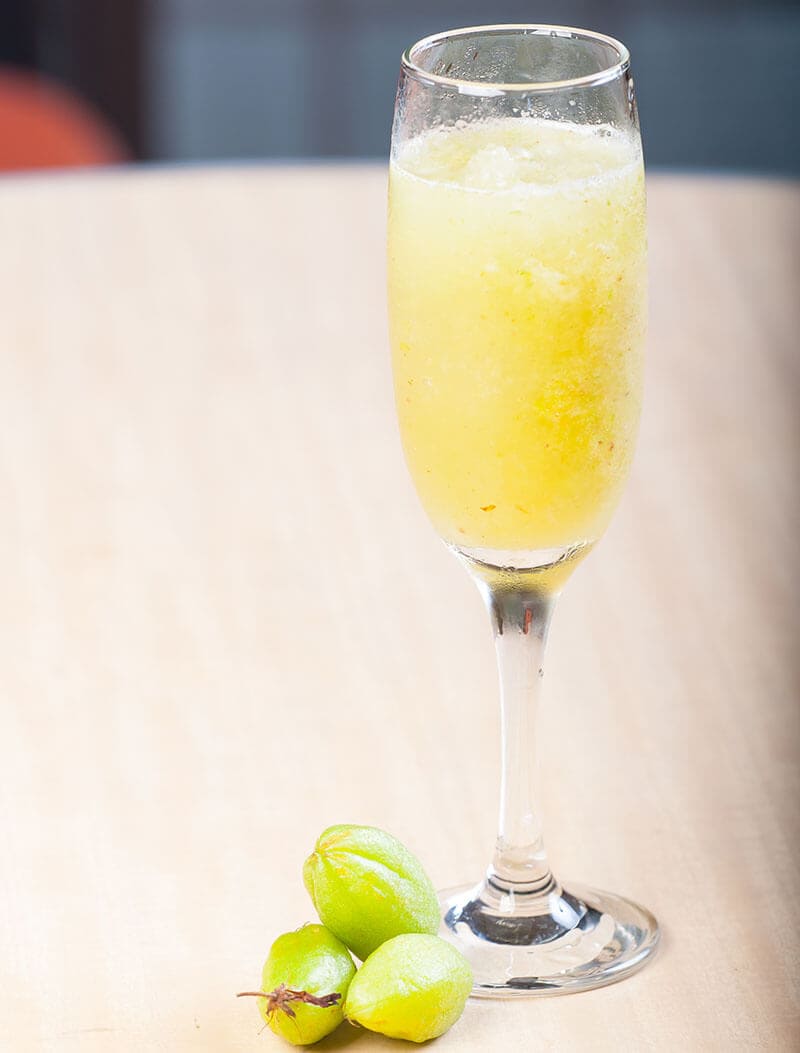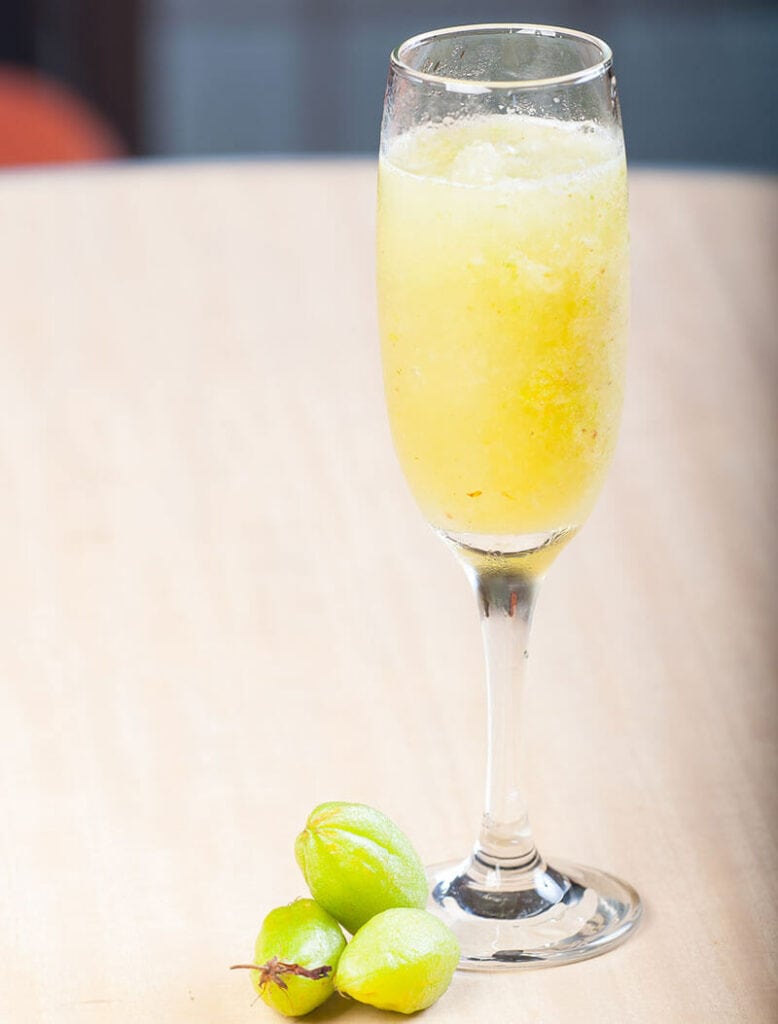 Do you want to challenge yourself with the unique sour shake coming from the Philippines? Then kamias shake is an engaging one! Personally, I'm a big fan of all sour fruit, so this shake just hits right in my spot.
Kamias or bilimbi is one of the popular fruits in the Philippines. Local people often apply the fruit in cooking as a sour element. Therefore, you might be a bit surprised when knowing that this fruit can become a delicious and appealing glass of shake.
If you can't stand the natural sourness of kamias shake, you can add sugar syrup or condensed milk to sweeten the shake.
Where to buy: Restaurants and fruit shake stalls in the Philippines.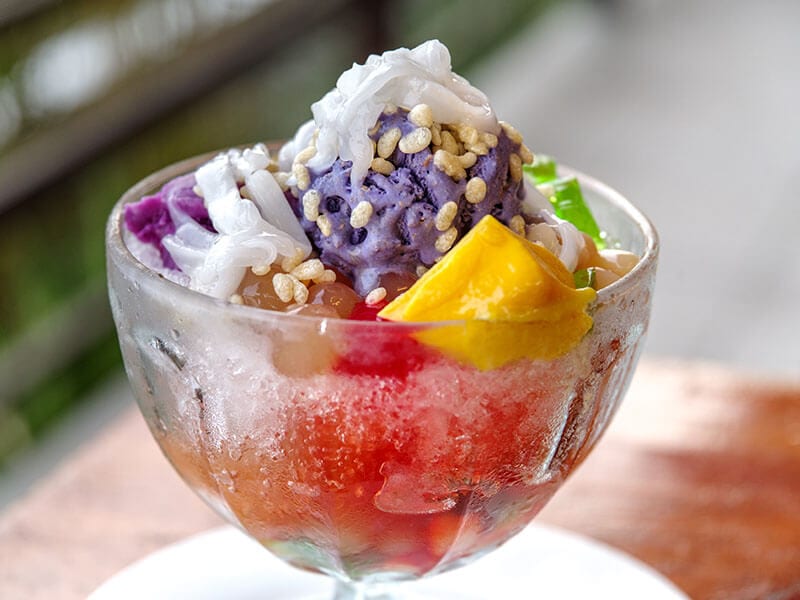 Well, you might think this tropical dessert drink is a product created by Filipino locals. Actually, Halo-Halo originated in the Japanese shaved-ice dessert, Kakigori.
In the past, the original Halo-Halo only contained boiled mung beans. Over time, Filipino locals added some unique ingredients, gradually becoming the current Halo-Halo.
According to the Tagalog language, Halo-Halo refers to the "mixing" action, telling you the ultimate way to enjoy the drink: stir and mix everything well. Typically, the glass includes shredded ice, coconut or evaporated milk, and other toppings.
Regarding toppings, Filipinos often use Ube Halaya (boiled and crushed purple yam), Kaong (sugar palm fruit), and Macapuno (coconut sport).
Where to buy: Small food stalls and restaurants, such as Jollibee, Max's, Chowking, in the Philippines.
If you are interested in Halo-Halo, I will give you this super-specific review about it.
Time To Collect Some Famous Filipino Beverage Recipes!
You guys will need recipes to make the concoction at home by yourself. Therefore, I pick three famous drinks that I believe you will fall in love with. Let's impress your family with these outstanding drinks in the Philippines.
1. Calamansi Juice
Let me offer you the way to create a perfect taste of calamansi juice. I swear you just need to do exactly the same as the recipe, and you will get astonished by the result.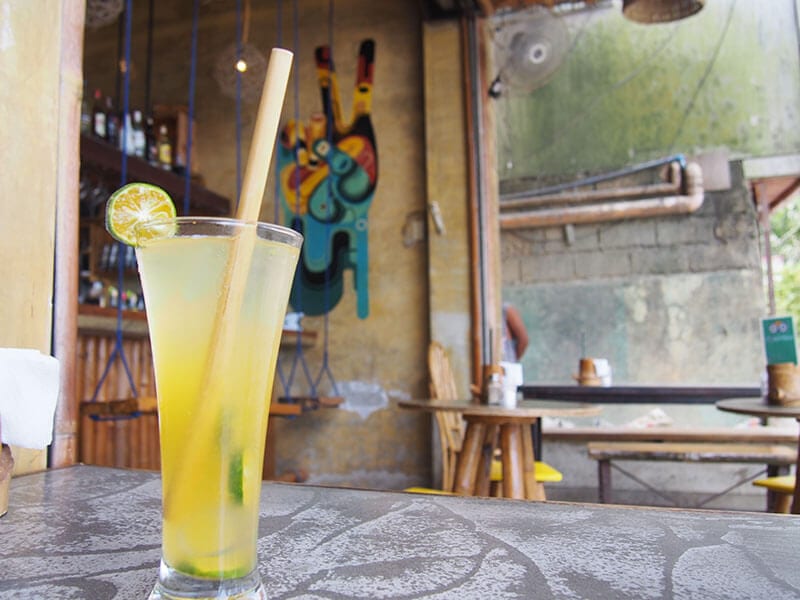 Ingredients: Water, sugar, calamansi juice.
Step 1: Pour water into a saucepan, then add sugar and cook the mixture until the sugar melts away. Turn off the stove and let the syrup cool down.
Step 2: Pour the sugar syrup into the pitcher, add water and calamansi juice, and stir the mixture well.
Step 3: Pour the mixture into the ice glass and enjoy the drink.
This tutorial might make calamansi juice faster than lemonade.
2. Taho (Filipino Sweet Tofu Drink)
Making Taho, one of the most famous Filipino sweet cups, is no longer difficult with the guide below. Let's see how well your dexterous ability is!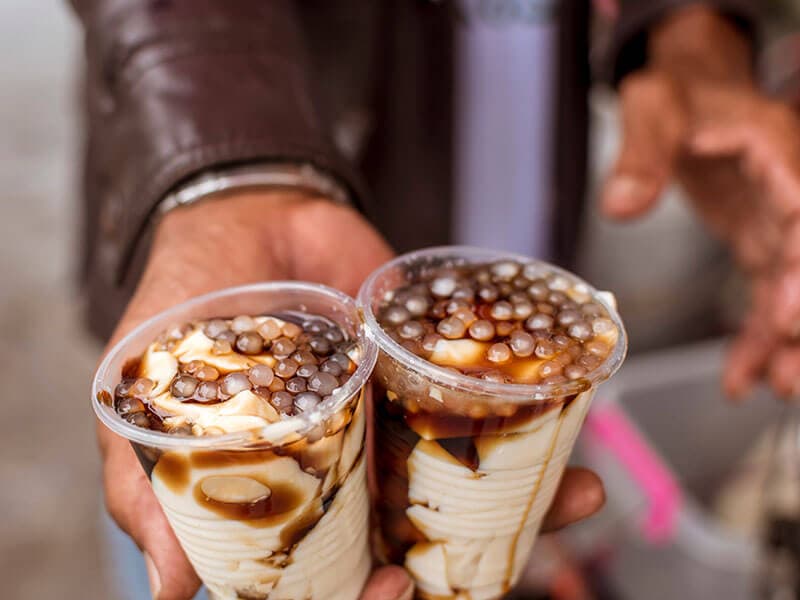 Ingredients: Silken tofu, brown sugar, water, vanilla, and sago pearls (or tapioca pearls).
Step 1: Cook the sago pearls in advance with the guide on the packaging.
Step 2: Store the cooked sago pearls with water or brown sugar syrup.
Step 3: Mix brown sugar, water, and vanilla in a saucepan and then boil it with medium heat. Stir well to dissolve the sugar, and then simmer the mixture with low heat for 2-4 minutes.
Step 4: Steam the tofu for 10-15 minutes, or you can microwave it for 2-5 minutes.
Step 5: Put silken tofu slices into a cup, next is sago pearls, and pour the brown sugar syrup on top. Better when served warm.
3. Tsokolate (Filipino Hot Chocolate)
If you love all types of hot chocolate drinks, try Tsokolate. You can purchase the special Tabliya chocolate online and make the beverage in the following direction.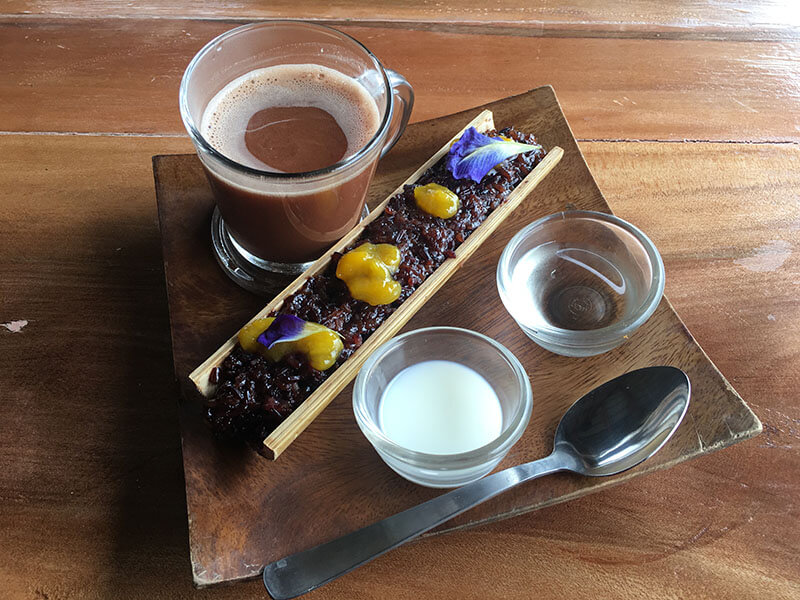 Ingredients: 1 piece Tablea de Cacao (Tabliya chocolate), water (or milk).
Step 1: Boil the water and then put in the Tablea de Cacao.
Step 2: With medium heat, keep stirring the tablet until it melts perfectly.
Step 3: Pour the drink into a cup and serve warm.
So, Do These Wonderful Filipino Drinks Satisfy Your Demand?
Finally, I've just got you some fabulous Filipino beverages, ranging from alcoholic drinks like Tapuy or Basi to zero alcoholic gulps, including Tsokolate or mango shake. Also, I enclosed some recipes for you guys, but I still recommend you to visit Filipino and taste them.
As usual, if my post attracts you with detailed information, don't hesitate to support me by sharing it around. Besides, if you discover some more exciting Filipino drinks, just leave them in the comment section. Thank you!