If you love sweet food, have you ever thought of the best Filipino desserts? The Philippines is such a rich source of natural ingredients: rice, banana, coconut… and they have created great treats by combining these components.
I will provide you with many fabulous Filipino treats many people love. Whether it's sweet soup, cookies, or ice cream, they can lift your mood or fill your heart with warmth.
Are you curious to find out about these fantastic treats?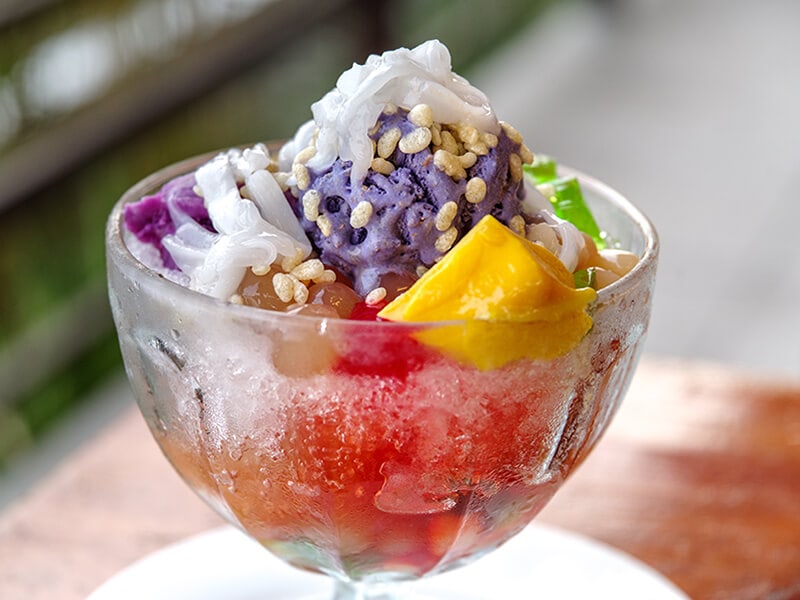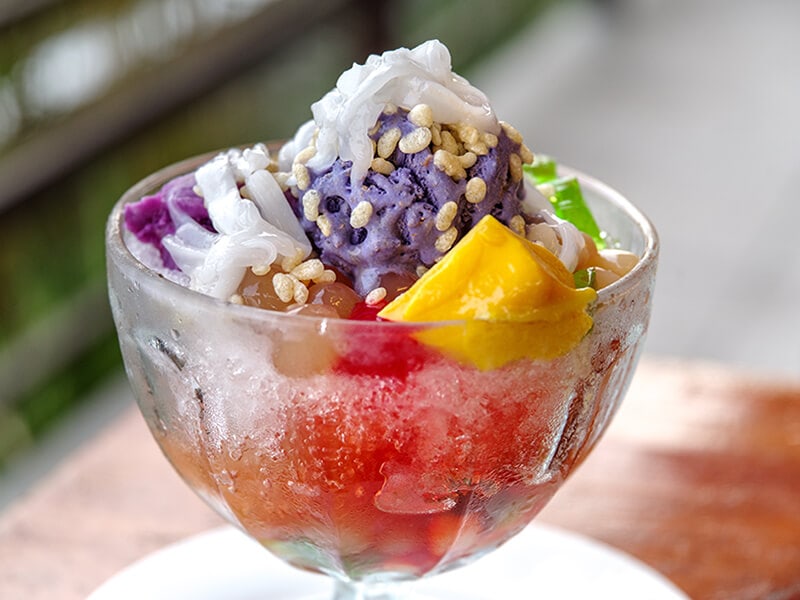 What Are The Best Filipino Desserts?
Here in this post, I will divide the desserts into six different categories for your convenience. The six are: pudding/gelatin desserts, sweet soups, cakes, cookies, pastry and other desserts.
Pudding/Gelatin Desserts:
Maja Blanca (Filipino Coconut Pudding)
Sapin Sapin (Layered Glutinous Rice And Coconut Cakes)
Ube Halaya (Purple Yam Jam)
Leche Flan (Filipino Creme Caramel)
Sweet Soups:
Filipino Fruit Salad
Ginataang Bilo Bilo (Sticky Rice Balls In Coconut Milk)
Buko Pandan (Young Coconut Pandan Salad)
Minatamis Na Saging (Plantain Bananas In Syrup)
Taho (Filipino Silken Tofu)
Buko Salad (Sweet Young Coconut Salad)
Ginataang Halo-halo (Mix Mix)
Cakes:
Kutsinta (Filipino Steamed Cakes)
Puto Bumbong (Steamed Glutinous Rice Cakes)
Palitaw (Sweet Flat Rice Cakes)
Bibingka (Baked Rice Cakes)
Puto (Steamed Cakes Made With Rice Flour)
Mamon (Filipino Sponge Cakes)
Suman (Rice Cakes)
Cassava Cakes
Biko (Sweet Rice Cakes)
Cookies:
Silvanas (Filipino Cookie Sandwich)
Coconut Macaroon
Polvoron (Filipino Shortbread)
Lengua De Gato (Filipino Butter Cookies)
Pastry:
Ensaymada (Filipino Sweet Dough Pastry)
Pastillas De Leche (Filipino Milk Pastry)
Egg Pie
Other Desserts:
Mais Con Yelo (Corn With Ice)
Yema (Sweet Custard Confectionery)
Carioca (Fried Sweet Rice Balls)
Turon (Filipino Fried Banana Rolls)
Banana Cue (Fried Saba Bananas With Brown Sugar Caramel)
Ube ice cream
Halo-halo (Mixed Cold Dessert)
Marvelous Filipino Pudding And Gelatin Treats For You To Try
In this category, the desserts are high in moisture content but not yet in liquid form. They are super smooth, soft, and tasty to enjoy. Let's check out what they are!
This creamy, delicate pudding is a popular dish in the Philippines. Just one bite and the treat is guaranteed to blow your mind! Maja Blanca has an extraordinarily smooth and jello consistency because there is cooked cornstarch inside.
You won't have to buy much stuff in order to make Maja Blanca. Sweet corn, coconut milk, and some additional ingredients are all it takes to create a fabulous dessert. Just remember to watch your timing as the coconut milk can turn out to be uncooked!
Sapin Sapin is meant for holidays and big occasions! Can you see how gorgeous and vibrant the multi-color layers are? Depending on the used fruits and vegetables, the colors can vary from one cake to another.
Famous for its sticky and chewy texture, this sweet pudding dish is made of a special dough called "galapong" (soaked glutinous rice). Completing the cake from this dough is very complex and time-consuming.
Condensed milk, sugar, and coconut milk are some other ingredients contained in this intricate dessert.
Ube is a common yam that is widely used in Filipino recipes. The word "halaya" means jelly, which is obviously derived from its pudding-like look. The gorgeous purple hue makes it even more outstanding and appetizing.
This recipe for this beautiful jam doesn't require much of your effort. Basically, you will need to mash the Ube, mix it with coconut cream and dairy products, then cook the mixture in a saucepan.
This is such a simple treat yet it will satisfy any sweet craving.
Leche flan is an optimal choice for anyone who enjoys the taste of caramel and pudding-like texture. This cake is the definition of a "simple yet satisfying" dessert.
The method to make Leche flan is quite similar to "Leche de flan" – the original Spanish name for this treat. However, the Filipino version is loaded up with more eggs and condensed milk, which results in a thicker, heavier custard texture.
This ultimate recipe will guide you to make the incredibly lovely Leche flan
Filipino Sweet Soups That Will Knock Your Socks Off
What's more wonderful than a sweet, yummy liquid treat to enjoy in this tropical country? The desserts below will satisfy any person on this planet!
Instead of regular vegetables, this salad is made with an array of fruit from the Philippines. Filipino fruit salad is a kind of fruit cocktail with a considerable amount of liquid. You only need a handful of ingredients and 15 minutes to create this delectable dish.
Simple as it may sound, Filipino fruit salad is ridiculously delicious! The tender taste of young coconut' meat pairs perfectly with condensed milk and mixed seasonal fruits. Once you have dug in, you will be very likely to crave for another glass of this fantastic dessert.
This one is a sweet rice ball coated in coconut liquid. In order to make the bilo bilo, you will pour water into the rice flour and shape the mixture into small balls. Ube powder may be added to enhance the mixture's flavor.
This treat is an explosion of texture and flavor! What is more magnificent than chewy rice balls, diced vegetables, and fruits infused in rich, yummy coconut milk? Not only does Bilo Bilo have a super enticing appearance, but it is also a symbol of money and luck.
Buko pandan is a unique sweet specialty using coconut from this Asian country. This tree, with pandan and palm trees, grows abundantly in the Philippines. Therefore, it's no wonder why people invented this delectable dessert.
People mix coconut water and whipping cream to create a wonderful liquid that covers the toppings of Buko pandan. These toppings are usually shredded soft, young coconut meat and pandan cubes.
Minatamis na saging is a wonderful sugary dessert. Bananas contain the natural sweetness inside them already, but these are "sweetened bananas". If you have a really sweet tooth, this is your to-go recipe!
The best part about this recipe is that it only requires 3 ingredients and less than half an hour to finish this amazing food! You can either serve it hot or add ice to make it colder and more enticing.
Who wouldn't love bubble tea, right? In the Philippines, people have a similar version of this addictive treat, called Taho. Taho is made by combining tofu, golden syrup, and beautiful tapioca pearls together.
Not only does Taho have an eye-catching look, but it also tastes out of heaven. The syrup in this delectable tofu dessert is made of aromatic brown sugar, which can easily comfort anyone. You can either eat this magnificent treat with a spoon or gulp it.
Master the best way to make Taho in your own kitchen with this super informative instruction
Even though it also contains coconut and palm fruits, Buko salad is slightly different from Buko pandan. This one is a hybrid of Filipino fruit salad and Buko pandan. Besides pandan cubes and young coconut, Buko salad can also contain pineapple chunks.
The colorful, festive look of this dessert will cheer you up any time of the day. Just take a long, large spoon and dig into this superfood anytime you are in the Philippines.
The Filipinos surely have a massive crush on rice flour and bananas, aren't they? The fancy-looking texture of Ginataang Halo-Halo is the result of the combination of various fruits, vegetables, and coconut milk.
The rice balls in this beautiful dessert are chewy and sticky, while cooked vegetables are soft and fruits are crunchy. All together, they create an exceptional flavor and texture to this marvelous sweet soup.
Extraordinary Filipino Cakes That Many People Love
Who wouldn't enjoy cakes, right? In the Philippines, cakes are both inspired by foreign countries and the traditional cultures. No matter where people took their inspirations from, all Filipino cakes are brilliant!
Kutsinta means brown rice cake in English. The Filipinos are sure to be very proud of their rice, right? Rice is found in a lot of Filipino dessert recipes as a major ingredient, and these treats are all insanely good!
There are two types of Kutsinta: brown and black cake. Both of them contain lye water, rice flour, and sugar. Thanks to the rice and this special lye water, Kutsinta is sticky, chewy, yet very soft and moist.
All this goodness is often topped with freshly grated coconut.
When people see Puto Bumbong, they know that "It's Christmas time of the year"! This gorgeous purple delicacy is made from a Filipino purple rice species, "pirurutong", which creates the signature purple look of the cake.
The rice is covered in bamboo tubes and cooked. People often add vegan butter, grated coconut, and sugar on top of it. The flavor of the rise is nicely subtle, while muscovado sugar – unprocessed cane sugar – tastes genuinely delicate.
This one is such an extraordinary cake in Filipino cuisine. One distinct characteristic of Palitaw is that it will float on the surface of boiling water when done. That's why the cake's name is "Palitaw", which means to rise or to appear in its native language.
Some people describe that palitaw's texture is like mochi because they're both chewy, stingy glutinous rice balls. It is often served with roasted sesame, desiccated coconut and has a wide variety of flavors.
Here is another unique "deck the season" dessert in the Philippines. Bibingka means "coconut rice cake", and this delicacy is often served during Christmas. The cake has a luscious golden yellow color and an undeniably delectable flavor.
The recipe for this well-known dessert is super easy and fast to make. The exceptional ingredient that delivers the savory taste to the cake is salted eggs. People often top the wonderful, fluffy coconut cake with shredded cheese.
Here's another decadent rice cake in this ultimate list: Puto. Puto is a traditional snack in the Philippines that both adults and children love to enjoy. It is classified as a "kakanin" – Filipino sweets made of glutinous rice.
The cake has a spongy and pillowy consistency. It is often steamed in a large pot of water instead of baking. People usually shred cheddar cheese all over the surface to even enhance the flavor of this incredibly yummy treat.
Mamon is a very popular Filipino cupcake. You can either enjoy this pastry at breakfast or during an afternoon snack. The sweet and buttery flavor of Mamon complements the bitter taste of tea/coffee perfectly.
The texture of this cake is extremely light, puffy, and airy. In traditional recipes, people top the surface of these mini cakes with a gorgeous layer of cheddar cheese. Therefore, Mamon is crispier than most regular Western sponge cakes.
The Philippines is regarded as one of the agricultural countries around the globe. That's the reason why there are so many rice-based recipes in this post. Suman is one of them, and don't belittle this delightsome treat due to its subtle look!
Sweet rice flour, coconut milk, and sugar are combined together, wrapped in banana leaves, and then steamed on high heat. From this simple process, the wonderfully chewy, sticky, and sugary Suman is created and loved by many people around the world.
In my opinion, cassava cake is my absolute cassava treat. Having one slice of this phenomenal cake is never enough for me. Cassava cake is made of cassava, coconut milk, eggs, and other dairy products.
Its texture is super soft, melty, and fudgy. Try making this at home, and you will believe what I am saying now. What could be more perfect than the custard taste combined with fatty, savory cheese?
Wanna make a stunning cassava cake at home? This unbelievably simple recipe will teach you how to make it successfully!
Here is another member of the "kakanin" family on the list. Biko is an attractive dessert using brown sugar and coconut for the exterior. You can come across this sweet, sticky rice cake on almost any occasion in the Philippines.
Basic as it may sound, biko is not easy to make at all. The recipe will require you to stir the mixture constantly for half an hour. And it will take you a night to let the rice completely soak in the water.
Wholesome Filipino Cookies To Steal Your Show
The cookies in this country are so darn good! They are made from rich, unique ingredients and cannot be mistaken with cookies from other countries.
Let's head into these little cuties right away!
In my opinion, Silvanas quite resembles almond meringue cookies. Instead of almond, these amazing cookies are made with ground cashew and stuffed with Swiss buttercream inside.
Because buttercream is likely to melt at room temperature, Silvanas Is often frozen before serving. The texture of crispy ground cashew and icy frozen buttercream combined together are just simply addictive!
Once in the Philippines, you should give a chance to appreciate the nutty and buttery flavor of this beautiful treat!
I can guarantee Filipino coconut macaroons are a crowd-pleasing sweet for every potluck meal! These macaroons and French macaroons aren't much alike, except for the round, miniature look.
Coconut macaroons are a divine combo of egg, butter, and condensed milk. They are usually sprinkled with grated coconut, and when the baking is done, the cakes turn out to be super fragrant and crispy.
You can try making these delightful treats at home as the recipe is straightforward.
Are you excited about these tasty coconut macaroons? This instruction will show you how to make them from A-Z
Polvoron is another mouthwatering dessert you can enjoy during tea break. Similar to a cookie as it may look, Polvoron is actually a type of shortbread. You will need a skillet to combine the dairy products and flour together.
What I love about this recipe is that you don't have to do any baking at all! This shortbread just turns out to be yummy and classic like any other Filipino baked cake. When biting, you will get the feeling that Polvoron gently crumbles right in your mouth.
These cookies are highly irresistible! People also refer to Lengua de Gato as cat's tongue or Filipino butter cookies. Inspired by Western butter cookies, this Filipino version is extra creamy with a note of vanilla aftertaste.
Lengua de Gato cookies are already yummy if eaten alone, but if you serve them with hot tea or coffee, they will become delectable and phenomenal. If you're going to make the recipe, please remember to keep these crispy cookies in an airtight jar/container.
Signature Pastries In The Philippines That Will Satisfy Your Sweet Craving!
Pastry is such a magical treat when it comes to Filipino desserts. All the magnificent sweets below are sure to blow your mind! Wait no more and dig into details right now!
This is a classic sweet bread recipe inspired by Spanish original pastries. This wonderful treat is made of brioche dough first, then rolled with butter and sugar. To enhance the flavor, people top Ensaymaya with a magnificent layer of buttercream and grated cheese (Queso de Bola).
The delicate sweetness of the dough complements so well the rich, fatty taste of the butter, cream, and cheese. All the marvelous ingredients combined together create a super soft, moist, and cheesy texture to the bread.
This is a traditional milk-based confection from the Philippines. The main ingredient in Pastillas de Leche is carabao's milk, which is also referred to as water buffalo's milk. This exceptional milk is mixed with powdered milk and heavy cream.
Because there are 3 types of dairy products in Pastillas de Leche, this cake is super milky and creamy. Together, those 3 components make the most heavenly treat. Some people would describe its texture as a marshmallow.
This one is the best Filipino pie that you'll ever have the pleasure to enjoy! Egg pie is an incredible combination of two contrast layers: the crust and the filling. While the custard filling is extra soft, smooth, and velvety, the crust is super crunchy and crispy.
Just one bite, and you can feel that the cake is crumbling in your mouth. The rich sweetness of condensed milk maximizes the milky, fatty taste of butter. People often add vanilla as a flavoring agent to the pastry.
Other Highly Recommended Filipino Treats With Different Textures
Here are the excellent, yummy desserts that you definitely should try when in the Philippines. Let's get more of their information!
This shaved ice dessert is an ideal candidate for you to cool down on summer days. Just one gulp and the amazing Mais con Yelo is guaranteed to carry away all your exhaustion.
Canned kernels are mixed with sugar and milk to create this treat. It somehow reminds you of milkshake recipes, doesn't it? The creamy, yummy flavor of milky corn and the fantastic smell of vanilla can absolutely deliver a refreshing feeling to anyone.
This is a supreme recipe made with egg yolks. Anyone who has a sweet tooth will love this mouthwatering, sugary treat. Yema has a distinctive look, thanks to its triangular shape.
The flavor of Yema resembles the well-known French cuisine – creme brulee – in a lot of ways. There are both combinations of eggs, vanilla, and caramelized sugar. Try this treat someday, and you will see it as it melts right in your mouth!
The Philippines is truly the territory of rice and coconuts. And when combined together, these two are a match made in heaven!
Carioca is an iconic street food you will probably come across in Manila. The major ingredients for this charming dessert are sticky rice, coconut, and sugar. The final products are usually in ball shapes and covered with a delectable coconut caramel sauce.
Bananas are very cheap and popular in the Philippines. The method to make this dessert is also straightforward and quick. Hence, you can find Turon sold in the streets in almost all rural and urban areas in this country.
Deep-fried bananas wrapped in spring rolls will be able to warm up anyone's heart and soul! To make these crispy, golden brown rolls more flavorful, people often serve them with tropical fruits and caramel sauce.
Banana cue is another signature Filipino street food that many people love. There are only 3 ingredients to accomplish this phenomenal dessert: saba banana, oil, and sugar.
There are certain similarities between Turon and banana cue: crunchy, deep-fried bananas coated with caramel sauce. However, banana cue has a skewer in the middle, while Turon is rolled in an edible wrapper.
This beautiful purple ice cream was inspired by Western ice cream. You can either use fresh or frozen purple yam to make this delectable dessert. A touch of Ube extract should enhance the flavor really well.
The ice cream delivers a super rich, creamy and vanilla taste. You can try making it at home, but don't overcook the egg mixture. When in the Philippines, you definitely don't want to miss this delicious cold treat!
This is an aesthetic dessert in Filipino tradition. The vibrant color of Ube yam, the fantastic flavor of fresh fruits, red beans, and ice cream mixed together are simply stunning! People often add shaved ice into the creamy liquid of Halo-Halo.
No need to say a lot, this delicious sweetness can definitely save your day! However, the recipe for Halo-Halo is quite complicated, and hence, this decent treat will require more of your time and effort.
Learn how to make the colorful shaved ice Halo-halo with this stunning recipe
What Is Your Favourite Filipino Dessert?
After reading my post, have you decided what Filipino desserts that you like best? What are your thoughts about this interesting list? Please give me their names or your thoughts by commenting below.
I hope that you've gained a lot of information about the Philippines and its sweet cuisine through my post. Don't forget to share it with your friends and family. Perhaps you will travel to this Asian country and enjoy those wonderful desserts someday, who knows?
Nutrition Facts
8 servings per container
---
Amount Per ServingCalories718
% Daily Value *
Total Fat 39.3g

60

%
Cholesterol 41mg

14

%
Sodium 237mg

10

%
Potassium 783mg

23

%
Total Carbohydrate 85g

29

%

Dietary Fiber 3.1g

12

%
Sugars 68.1g

Protein 13.2g

26

%
---
* The % Daily Value tells you how much a nutrient in a serving of food contributes to a daily diet. 2,000 calories a day is used for general nutrition advice.