Electric skillet recipes can turn out to be the best recipes in your entire "cooking career"! What's written in the instruction book sold together with your skillet is only a very small part of what this magical equipment is capable of!
Therefore, don't hesitate any more and keep scrolling down to get as many electric skillet recipes as you can. They are all effortless, require no special techniques, and, importantly, taste out of this world!
Before heading to every single dish, let's check out how many recipes are presented in this post!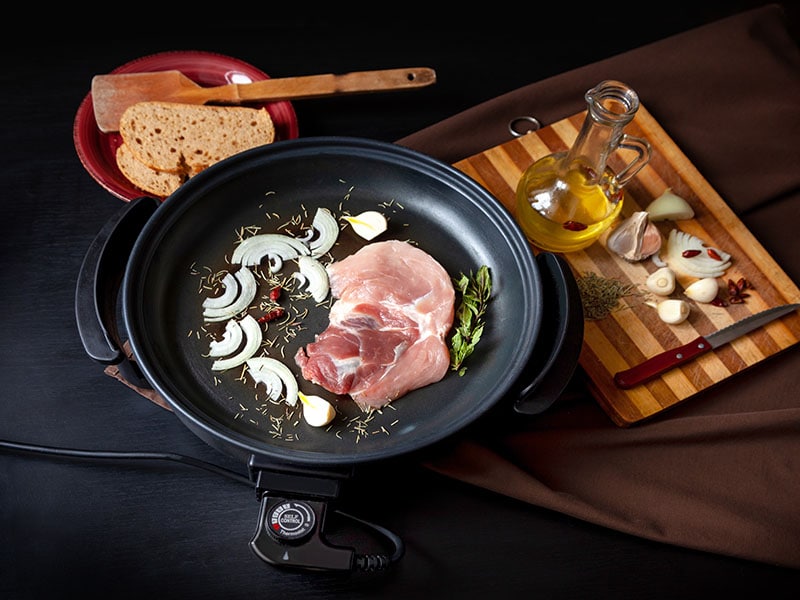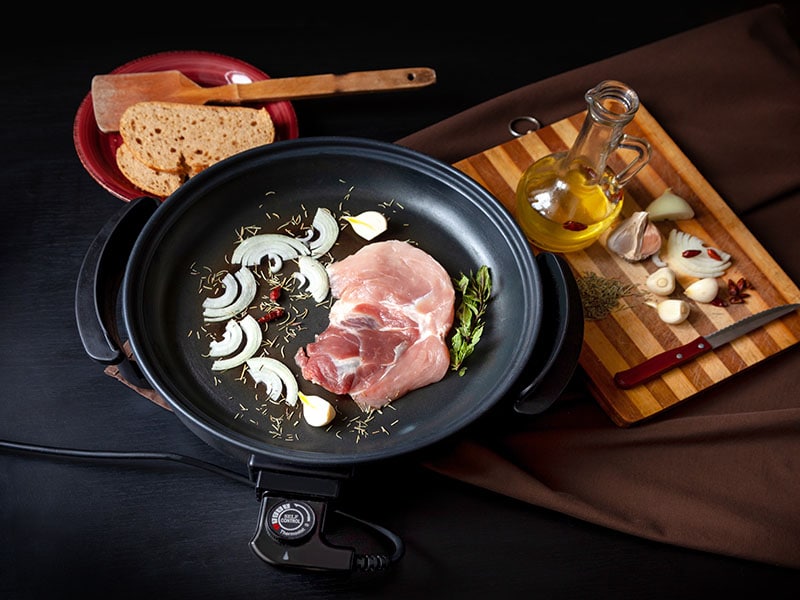 What Are The 33 Electric Skillet Recipes?
I have two separate categories for you to choose in this entire post: savory and sweet recipes. The savory recipes are divided into smaller parts, according to the dishes' main ingredients.
Savory Recipes:
Beef Recipes:
Electric Skillet Pot Roast
Electric Skillet Steak With Gravy
Classic Beef Stew
Meatloaf In Electric Skillet
Electric Skillet Cheeseburger
Chicken Recipes:
Electric Skillet Chicken, Broccoli And Cheese
Caramel Chicken Wings
Fried Chicken Tenders
Chicken Cacciatore
Easy Electric Skillet Garlic Chicken
Electric Skillet Chicken BBQ
Chicken Enchiladas
Potato Recipes:
Scalloped Potatoes
Potato Latkes
Cheesy Grilled Potatoes
Electric Fried Potatoes
Potato Pancakes
Other Recipes:
Veggie Electric Skillet Eggs
Electric Skillet Fried Catfish Fillets
Electric Skillet Pork Chops
Electric Skillet Lasagna
Electric Skillet Pizza
Chickpea Fritters With Sweet-Spicy Sauce
Electric Skillet Fried Rice With Vegetables
Electric Skillet Paella
Sweet Recipes:
Cinnamon And Sugar Tortilla Chips Recipe
Electric Skillet Cornbread
Electric Skillet French Toast
Electric Skillet Beignets
Funnel Cakes
Electric Skillet Cookies
Electric Skillet Coffee Cake
Fresh Apple Pancakes
Excellent Savory Dishes To Cook In An Electric Skillet
There are a bunch of phenomenal savory recipes that you can experience with an electric skillet. None of them are unattractive or not yummy, and most of the cooking methods are straightforward.
Awfully Yummy Beef Recipes In An Electric Skillet
When it comes to exquisite dishes from beef, you can regard an electric skillet as your helpful assistant. Not only can you fry things with this modern skillet, but you can also try a ton of delicious beef recipes with it!
Pot roast is a classic dish for gatherings, and it is guaranteed to be a crowd-pleaser. You can literally whip it up in no time yet still complete a high-class beef recipe.
I recommend that you choose chuck roast to achieve the most authentic flavor for pot roast. During the simmering process, please keep an eye on your electric skillet and refill the water if the liquid of the pot roast is about to run out.
Do you love enjoying high-quality chuck steak delicacies but want to stay at home and save your money? Then why not try this fantastic recipe, as electric skillet steak still tastes out of this world?
You are required to prepare only a handful of ingredients for this magnificent steak. And milk is an essential part of the dish. When beef absorbs this dairy product, it becomes much more tender. Once the gravy has reached the desired consistency, turn off the heat.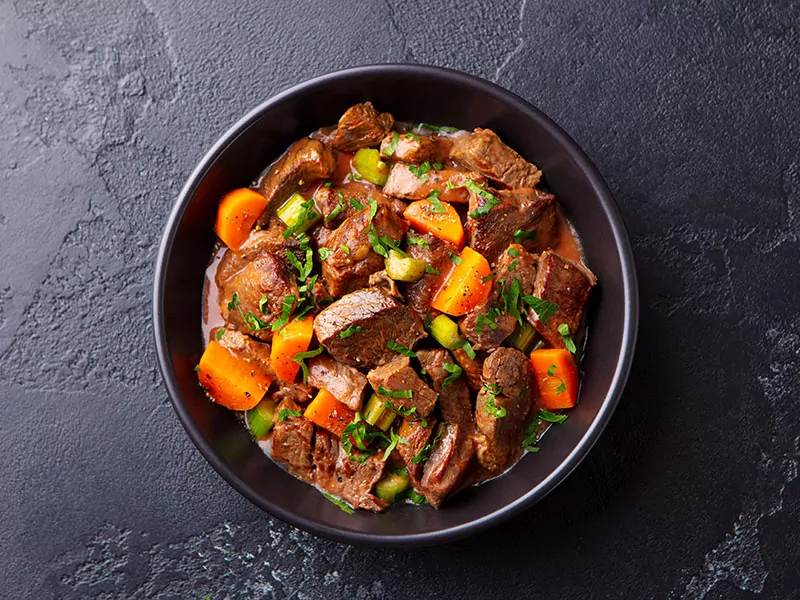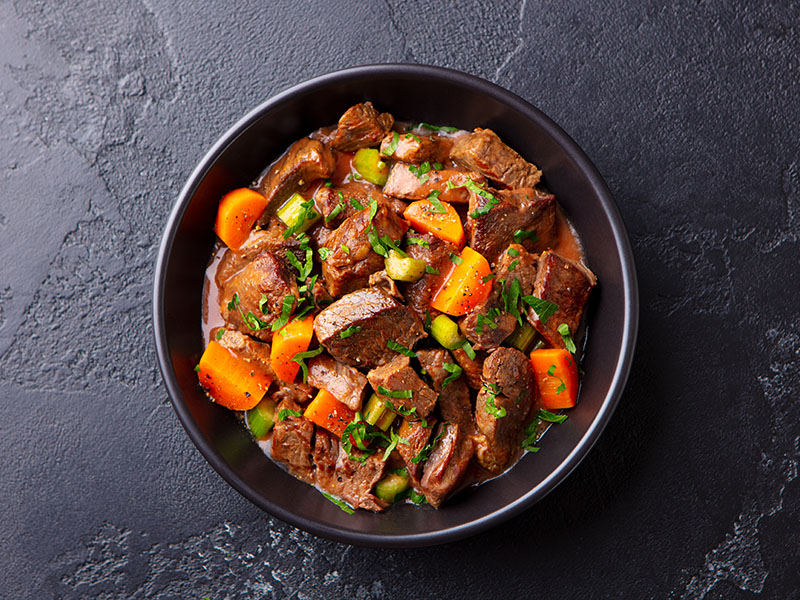 Beef stew is one of the most amazing foods to serve in big gatherings and parties. This dish is loaded with fiber, protein and if cooked the right way, beef stew will taste like it came out from your dream!
With an electric skillet on hands, nothing seems to be easier with this classic and phenomenal dish. The cooking method is really simple, but in order to make the beef and vegetables incredibly tender, you will have to cook the stew for more than an hour.
Who wouldn't love meatloaf, right? There are various perfect sides for this meatloaf, such as crispy baguettes, potatoes, and salads.
And the best part about this American recipe is that cooking meatloaf in an electric skillet gives you a lot of advantages. There will be no more sweating due to the high heat scattering around your kitchen, yet your meatloaf is still kept warm till it is served.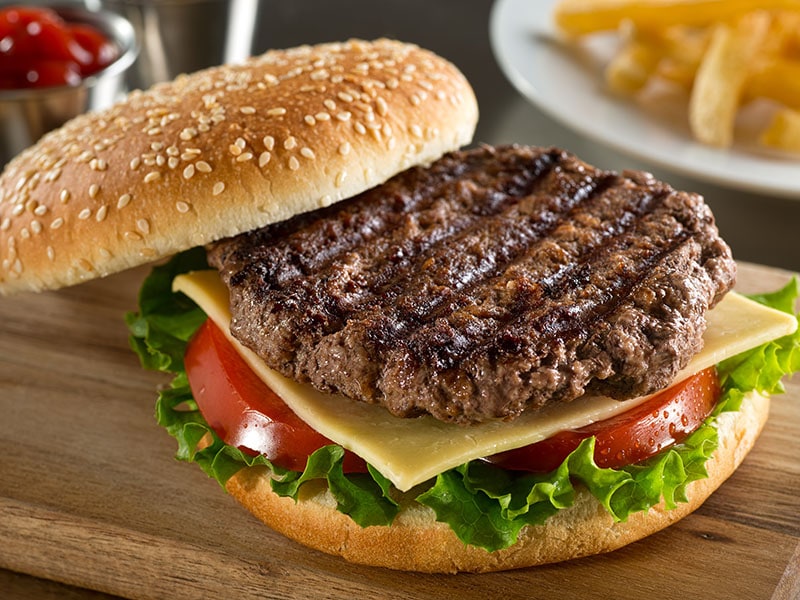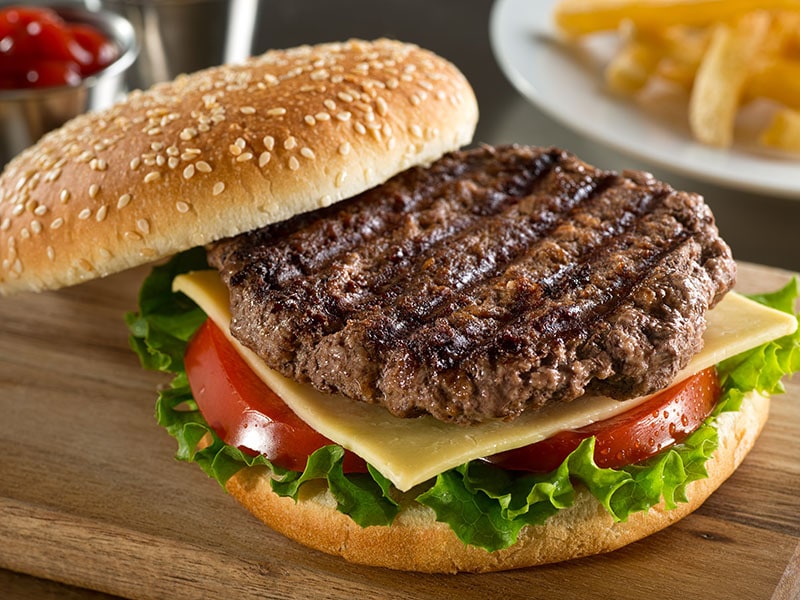 Making burger patties with an electric skillet is surely fun and enjoyable! Once the cooking is done, just assemble everything together and you will have mouthwatering, eye-catchy beef burgers!
The cheese plays a crucial part in these burgers. Not only does it look gorgeous but once melted on an electric skillet, the cheese becomes extremely silky and gooey. The buns covered in brown butter will maximize the deliciousness of this comfort meal.
When It Comes To Electric Skillets, Consider Cooking Chicken First!
Cooking chicken with an electric skillet is one of the most convenient and quickest ways. With the precise cooking temperatures and proper recipe, I guarantee that your electric skillet chicken is a crowd-pleaser!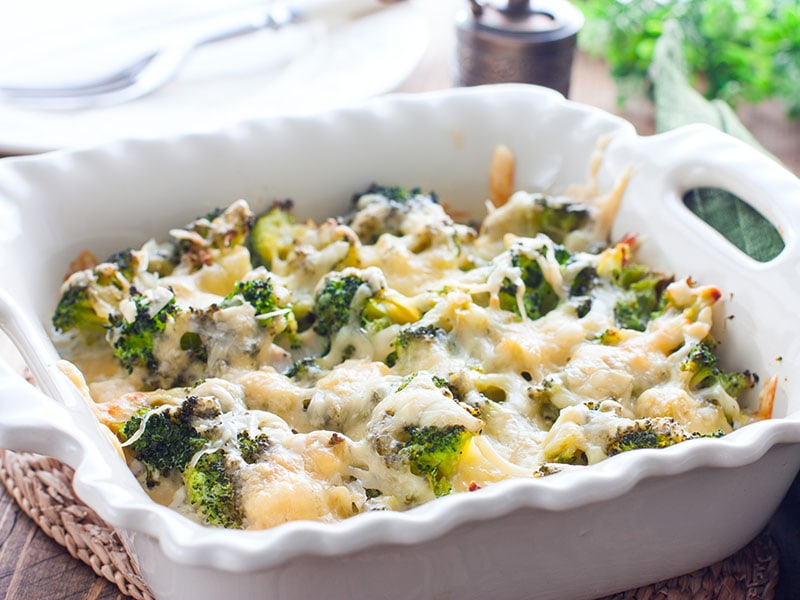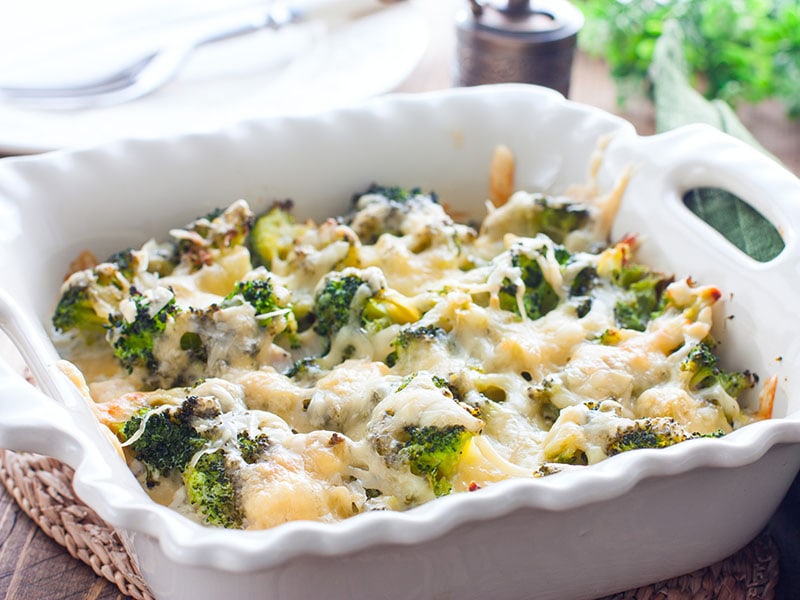 Can you believe that you can actually bake this stunning dish without an oven? An electric skillet is truly a kitchen hack, and electric skillet chicken, broccoli and cheese is supreme!
This hearty chicken recipe can be served as a main dish, because it contains many good proteins and healthy fibers. One thing to notice when cooking this food is to reduce the heat of your electric skillet to the lowest after adding the pasta.
Chicken wings covered in caramel glaze are truly mesmerizing, aren't they? Both kids and grown-ups love eating this marvelous treat, and you can easily caramelize the chicken with an electric skillet.
Caramel chicken wings are a beautiful balance between sweet, sour, and savory flavors. Soy sauce gives a powerful umami punch to the mixture, while honey adds a nice natural sweetness to the dish.
You should roast the sesame first before sprinkling it on the surface.
Chicken tenders are super soft and succulent. After dipping in a special batter and frying on an electric skillet, their exteriors become extremely crispy but still remain that tenderness inside.
The steps to fry your chicken strips are pretty simple to follow. Just find good kitchen measuring tools and read the instructions carefully. Once the chicken has turned golden brown, serve it immediately with your favorite choice of dipping sauce.
Please pay more attention, dear all lovers of exquisite Italian foods. If you love tomato braised chicken and want to complete the restaurant-like dish quickly, this chicken cacciatore is exclusively for you!
With chicken cacciatore, you will have to caramelize the chicken with seasonings first before simmering. From the beginning to the end of the cooking process, it only checks you for approximately half an hour. You can either eat the chicken alone or serve it with pasta.
Chicken and garlic are just born for each other. They complement each other perfectly, and together with other ingredients, these two create one of the most stunning electric skillet foods!
This is actually a very cool way to experience garlic chicken. The recipe only costs you 10-15 minutes till the finish, yet you will have to keep an eye on the meat to make sure it has been cooked through. Combine it with seared garlic, and it will surely hit the spot!
Learn how to create the gorgeous honey garlic chicken at home with a super convenient electric skillet!
What could be more amazing than grilling your barbeque chicken on an electric skillet? There is no coal, no fire, and not a lot of smoke, but the chicken still turns out heavenly!
You can use any part of a chicken's body to do this recipe, but the thighs will be the ideal one. The recipe only calls for a couple of ingredients yet still gives you a satisfying result. Remember to flip the chicken over halfway through cooking!
Are you a fan of Mexican cuisines? Do you want to know an entirely new method to handle the famous chicken enchiladas dish? Then here is your ultimate answer!
With the existence of an electric skillet, you can prepare a large patch of this exquisite food to serve your whole family and even some more guests. Keep in mind to watch the timing carefully, and I suggest garnishing the dish with green onions and black olives.
Mouthwatering Potato Dishes To Try With An Electric Skillet
Besides meaty recipes, an electric skillet can handle exquisite potato dishes in a very impressive way. Potatoes cooked this way are incredibly yummy, flavorful, and healthy for you.
Let's check out the stunning recipes below!
Scalloped potatoes are such a gorgeous casserole dish with potatoes. They are absolutely fancy and brilliant to serve in any important event, yet these potatoes are a breeze to make!
You can either peel the potatoes' skins or leave them on for this dish. All the seasonings mentioned in the recipe have been carefully chosen so as to bring out the best of your potatoes, so please do as instructed.
Your kids will go crazy for electric skillet potato latke, and so will your adult family members! Potatoes are super crunchy, beautiful golden brown, and perfect to enjoy as a tasty snack or side dish.
When frying this way, your potato should have a super crispy exterior but still remains soft and chewy inside. Be prepared to cook a big batch of potato latke, as it is very likely for this marvelous dish to disappear in the blink of an eye!
Do you love the combination of soft, crunchy grilled potatoes and a cheesy, melty layer on top? When I saw this spectacular dish for the first time, I fell in love with it immediately!
You can literally choose any kind of cheese to sprinkle in this recipe. However, in my opinion, parmesan cheese will be the most excellent option! The more cheese you coat your potatoes with, the better your grilled potatoes will turn out to be!
Want to know the optimal method to fry your potatoes? Then dig into this recipe because frying potatoes with an electric skillet is truly stunning as well as worth your time and effort!
Most electric skillets in the markets are non-stick ones, and this is a huge advantage when frying potatoes. In addition, the surfaces of these skillets are broader and larger than regular skillets, which helps distribute the heat more evenly.
What could be better than serving these potato patties with your favorite dipping sauce to satisfy your savory food cravings? They are crispy and a down-to-earth snack for everyone!
Frying potato pancakes in an electric skillet will take you a very little amount of time, yet these pancakes still have the amazing texture and flavor of regular ones. Fry multiple pancakes at a time to save your time, and keep in mind to pat the cakes thinly!
A Wide Variety Of Other Electric Skillet Recipes To Make Your Mouth Water
There are a bunch of other wonderful recipes with electric skillets for you to discover down here. None of them are uninteresting or require too many skills and effort to make!
Are you excited to know about these recipes now?
Eggs and vegetables are a supreme duo! They complement the flavor of each other so well that sometimes I wonder why a simple dish like this has such an undeniable attractiveness!
And I promise any novice chef can still achieve the best result for veggie electric skillet eggs. It requires no skillful techniques at all, and in just a short while, the dish is finished. You can adjust the time a bit to regulate how well done you want the eggs to be.
This lean fish meat is packed with protein and healthy nutrients. Frying catfish in an electric skillet instead of a regular pan will even upgrade this beneficial food to a new level!
There are only a couple of steps when it comes to frying catfish, as the plain fish is already yummy on its own. Seasoning the fish, coating it with flour, and fry its both sides on an electric skillet are all it takes to finish this basic yet delightful dish!
Electric skillet pork chops are a super-rich, meaty and creamy savory dish. The cooked pork is flavorful and juicy, covered in an insanely addictive layer of liquid.
If you want to make food that can comfort your soul and boost your energy at the same time, this dish is your ultimate option. With the support of an electric skillet, things turn out to be much easier as well as you can prepare a much bigger portion.
If you are a fan of cheese and pasta, you must have grown a love for the charming Italian lasagna, right? The next time you make lasagna at home, you can try this brand new way that has been exclusively developed for electric skillets!
Lasagna is a stunning casserole with pasta, tomato sauce, and mozzarella cheese. It delivers a creamy, zesty, and authentic Italian flavor. Italian seasoning is the key ingredient to maximize the taste of this dish, so please don't miss out on it!
Have you ever imagined that you can make a stunning pizza right at your house, as long as you have an electric skillet! Nothing seems impossible with this incredible kitchen device, right?
Mozzarella cheese, tomatoes, and olive oil are an essential part of this exceptional version of pizza. For the pizza dough, you can either make it at home or purchase a store-bought one. The recommended temperature to "bake" your electric skillet pizza is 375oF.
Discover how to make tasty fried tortillas with this conscientious instruction right away!
Chickpeas are such adorable and nutty peas, right? You can totally take these beautiful peas to a whole new height with this electric skillet fritters recipe!
The sweet and spicy sauce paired with chickpea fritters will surely knock your socks off! It's an incredible balance between the two contrast flavors, and its consistency is simply brilliant! Shaping chickpeas into balls is really enjoyable, so try this someday!
Want to dig in a hearty rice dish that is loaded up with rich fiber foods? This recipe is entirely made for you, and I promise that it will turn out way better than what you expected!
Fried rice with vegetables is packed with nutrients, and hence totally suitable to serve as a main dish. What I love about this recipe is that you can freely customize your choice of vegetables and can always add more meaty ingredients, like sausages and hams.
Please have a look at this phenomenal recipe and turn your regular fried rice into a super delish dish!
This fabulous Spanish rice dish is brilliant to be fried on an electric skillet. The large surface plus the even heat will give you the most straightforward and fastest way to complete this enticing dish with chicken and shrimp!
Electric skillet paella has a full range of flavors: umami, savory, and naturally sweet. The rice is infused with a lot of spices and herbs so as to evoke a mesmerizing flavor. One thing to notice when making paella is not to uncover the lid of the skillet, even when done!
Unimaginably Yummy Sweet Treats Coming Out From An Electric Skillet
An electric skillet is a fantastic imitation of an oven when it comes to frying and baking different types of cakes. You don't need to bother spending more money to purchase an oven anymore because an electric skillet is enough to make delicious cakes!
Cinnamon and sugar are a match made in heaven. This combo appears in a lot of fancy recipes, and that explains how good cinnamon and sugar tortilla chips are!
This lovely treat can actually be well done on an electric skillet. They are excellently crispy, fun to enjoy, and easy to make. However, you are required to pour a considerably large amount of oil in this recipe in order to make the tortillas super crunchy.
Cornbread is often associated with the picture of American mothers, right? This wonderful golden brown quick bread has a very good reputation, thanks to its distinct taste and texture.
And you can totally let your electric skillet do all the heavy job of baking this enticing bread. When the baking is done, the cornbread batter still remains incredibly moist, soft yet fully cooked through. You can eat this treat on its own or use it as an ingredient in other recipes.
An electrical skillet is truly multifunctional kitchen equipment! From exquisite savory main dishes to wholesome sweet desserts, there's nothing this simple device can't do!
This recipe will guide you on how to achieve the airiest, fluffy, and nicely aromatic french toast coming out from an electric skillet. Butter is the heart element to create French toast's signature scent, so make sure to opt for a high-quality one!
Step up your breakfast game with this step-by-step French toast instruction!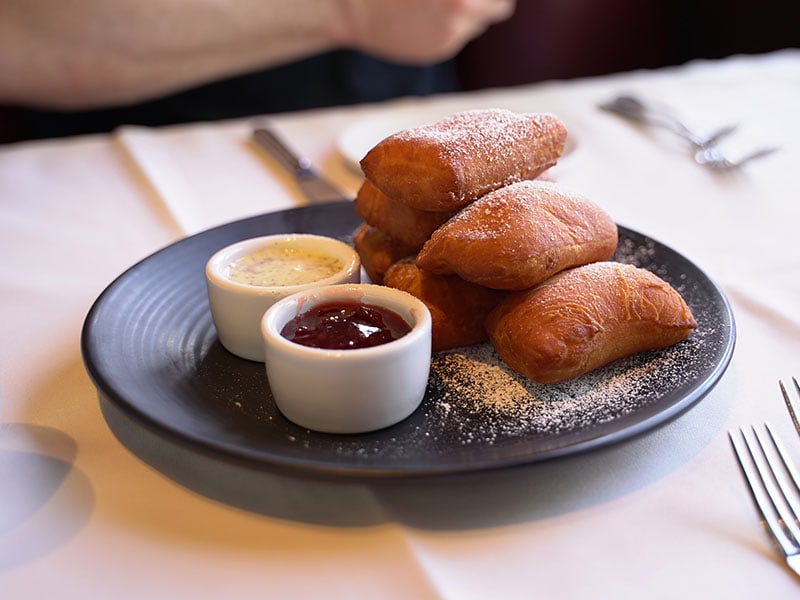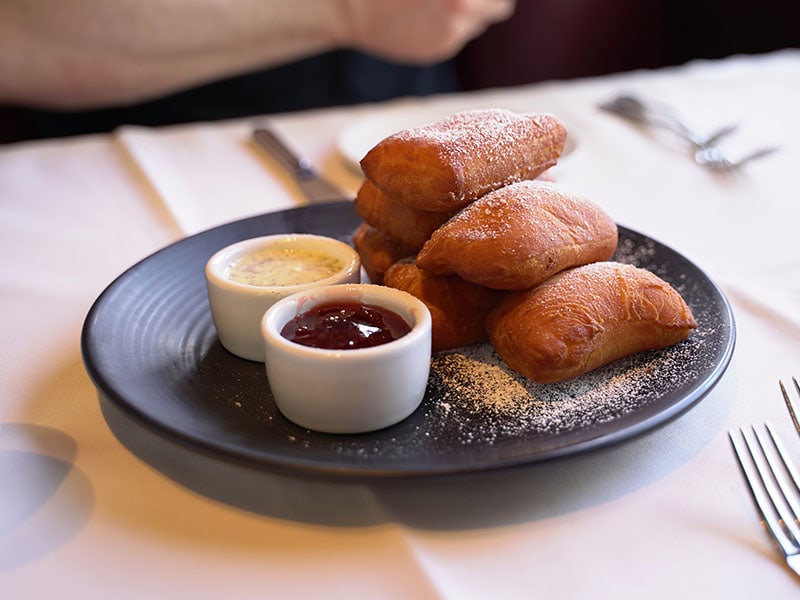 This is an absolute beginner electric skillet dessert that you can try making at home! Having an electric skillet is very convenient, as you can adjust the exact temperature and even set the timing.
In my opinion, beignets are like a relative of donuts: pillowy, mildly sweet, and they both have the typical sour flavor of yeast. Once the frying is done, the outer crust of the beignets becomes extra crispy, while the interior is still chewy and easy to bite.
Funnel cakes have such an interesting appearance, aren't they? These cakes are usually fried in a special kind of deep fryer, but for now, forget about them because you already have the electric skillet!
The fundamental ingredients for funnel cakes are eggs, milk, and sugar. A pinch of baking powder acts as a raising agent, while powdered or confectioners sugar is used as the coating of funnel cakes.
Cookies are another magical dessert that your electric skillet can demonstrate! There are various cookie recipes you can try making on this equipment, such as oatmeal and butter cookies.
Things are nowhere near difficult when "baking" your cookies on an electric skillet. Just mix the usual cookie batter, divide them into smaller portions and "bake" them at the instructed temperature.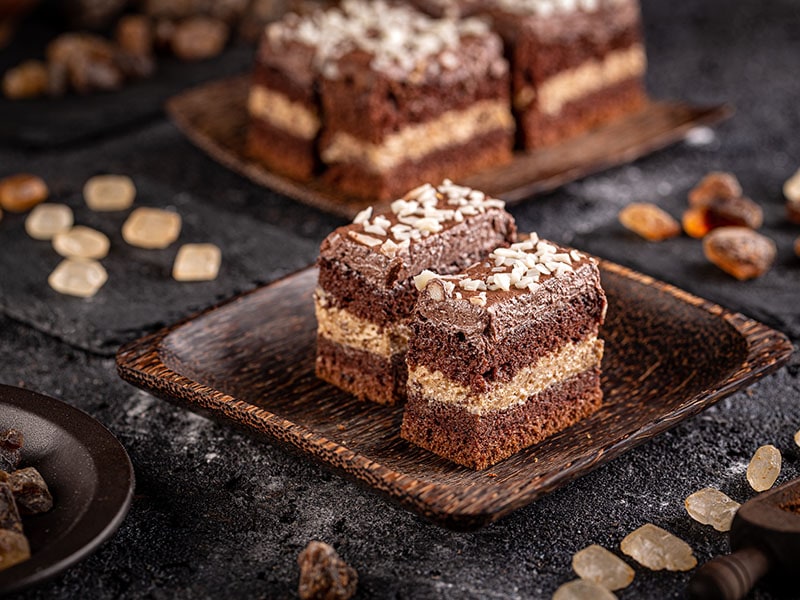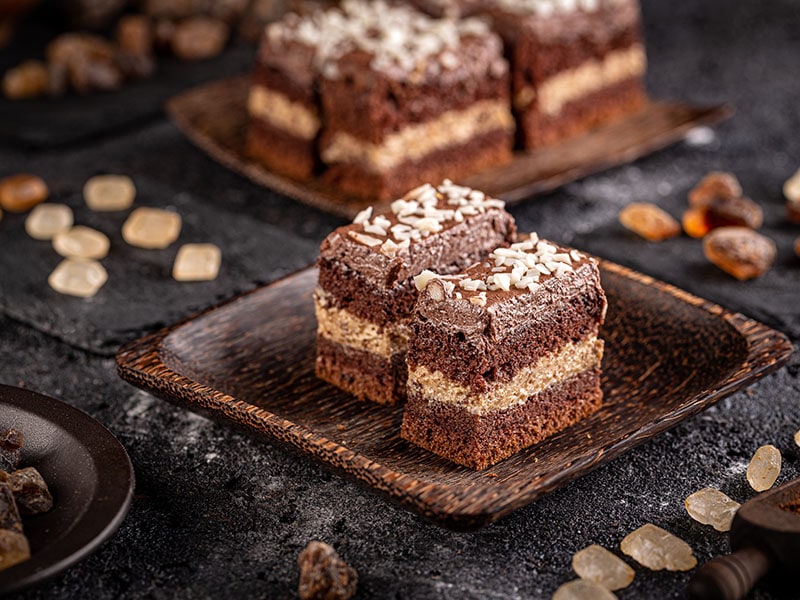 Step up this dessert game with your magical electric skillet! Everyone knows how yummy coffee cakes are, but when baked with an electric skillet, it tastes good as if you baked it in an oven!
You are required to buy numerous ingredients in order to make this heavenly cake. Sour cream is a very important element of coffee cakes, so make sure you don't skip it! Follow what the instructions say, cover your cake with a magnificent frosting and gobble it!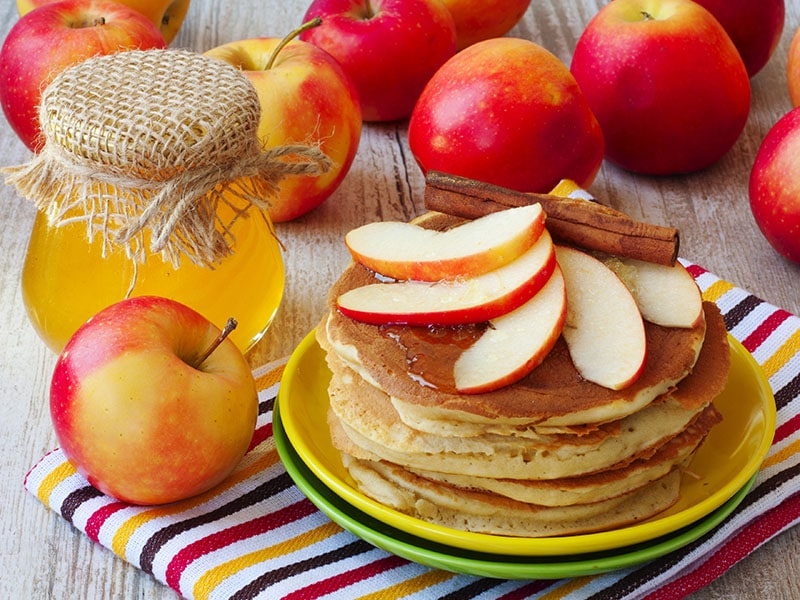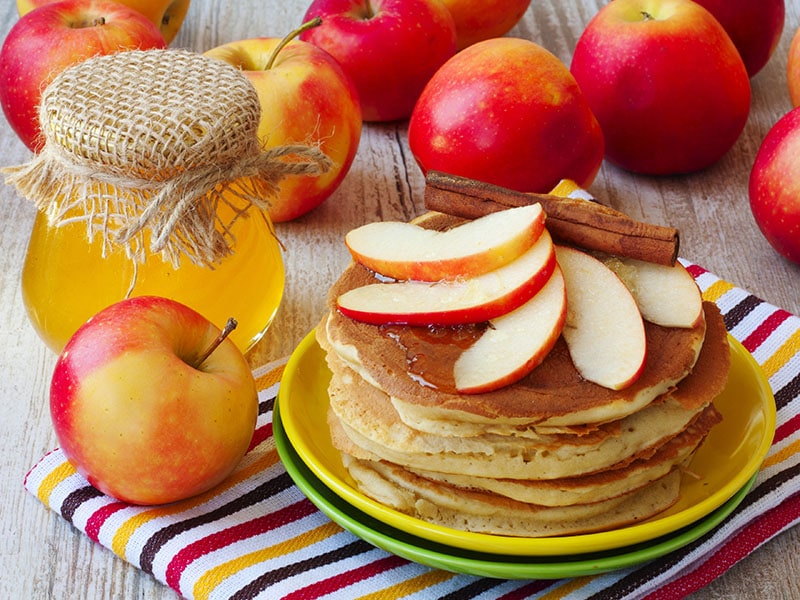 These fluffy pancakes are a super delicate treat with apples to enjoy! They can effortlessly be the centerpiece of your table and ready to steal the show!
Frying pancakes on an electric skillet is impressively fast. It only takes you about 2 minutes to finish one side of a pancake, and you can cook a dozen of the cakes at the same time! When served, drizzle your apple pancakes with honey or syrup to raise your appetite.
What Is The Most Impressive Electric Skillet Recipe In Your Opinion?
Before reading my post, have you ever thought that there are so many electric skillet recipes that you can experience? From the above list, which one leaves the most remarkable feeling on you? You can tell me your ideas by answering below.
Cooking is never too hard once you have bought an electric skillet, isn't it? I have tried my best to gain as much useful information about electric skillet dishes as I could. Therefore, I hope that you have finally decided what to do with this device in your upcoming meal!
Nutrition Facts
8 servings per container
---
Amount Per ServingCalories431
% Daily Value *
Total Fat 17.8g

27

%
Cholesterol 172mg

58

%
Sodium 208mg

9

%
Potassium 670mg

20

%
Total Carbohydrate 6.7g

2

%

Dietary Fiber 1.3g

4

%
Sugars 0.6g

Protein 57.4g

114

%
---
* The % Daily Value tells you how much a nutrient in a serving of food contributes to a daily diet. 2,000 calories a day is used for general nutrition advice.