Pleasing and mouth-watering – these easy desserts for kids will fulfill your family. These treats are eye-catching with bright colors to impress children. The making process is so effortless that you can even invite your kids into the kitchen without fear a mess will occur!
This is the time for parents and children to have fun together! These desserts also fascinate the kids and stimulate their love of cooking. So, ask your kids what sweet treat they are interested in today!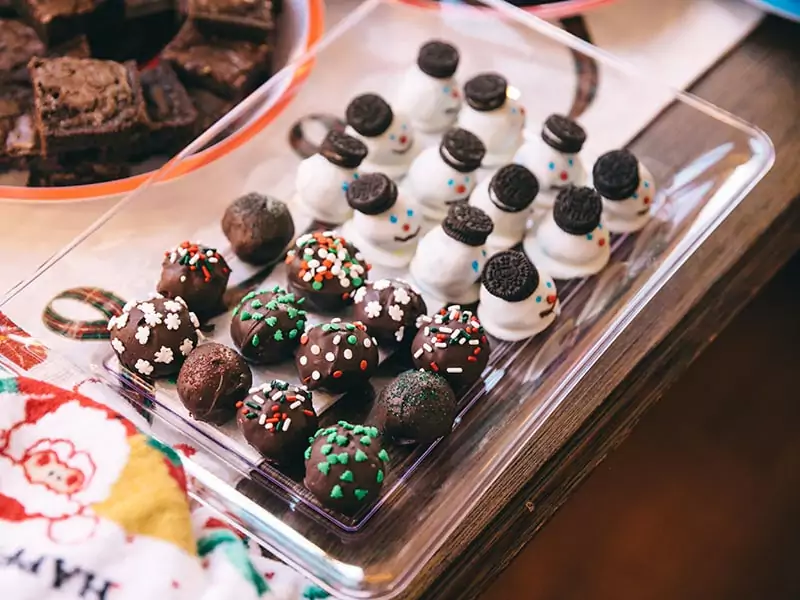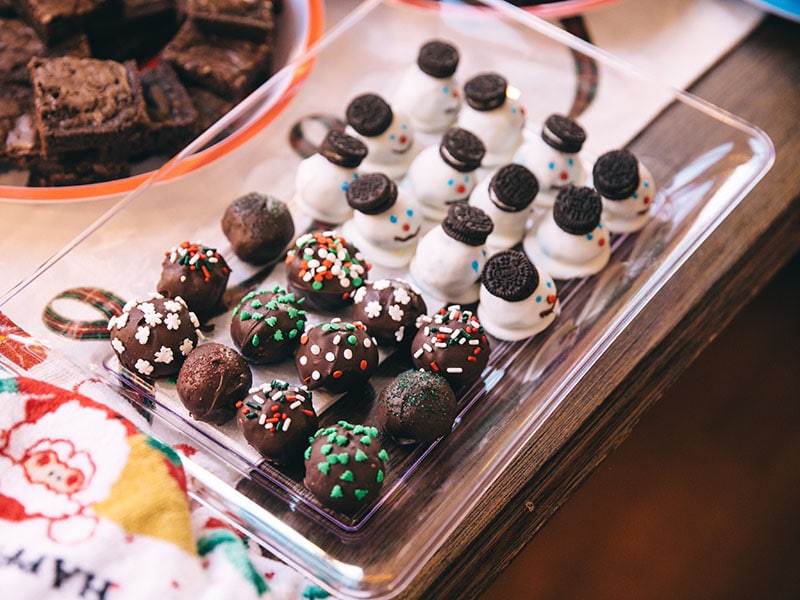 Let's Have Fun With 30 Easy Peasy Desserts For Kids!
Try inviting your kid to show off his/her talent today with these delectable desserts! Each treat has its own character, but the common point is that every recipe is unchallenging!
Easy Cookie Desserts For Kids
Chocolate Sandwich Cookies
No-Bake Cookies
Peanut Butter Cup Cookies
Sugar Cookies
Cake Mix Cookies
Cookie Ice Cream Sandwiches
Giant Cookie Ice Cream Sandwich
Easy Pudding Desserts For Kids
Banana Pudding
Chocolate Pudding
Sand Pudding Cups
Easy Brownie Desserts For Kids
One-Bowl Fudgy Brownies
Lego Brownie
Chocolate Brownie Muddy Buddies
Easy Cupcake Desserts For Kids
Unicorn Cupcakes
Rainbow Buttercream Cupcakes
Easy Frozen Desserts For Kids
Snow Ice Cream
Lucky Charms Cereal Milk Ice Cream
Banana Split Pudding Pops
Frozen-Inspired White Chocolate Fudge
Other Easy Desserts For Kids
Oreo Dirt Cups
Oreo Balls
Chocolate Covered Oreos
Cookie Monster Popcorn
Chocolate Lava Cake
Blueberry Muffins
Peanut Butter Cups
Rice Krispie Treats
Fruity Pebbles Sushi
S'mores Tacos
Cake Batter Macarons
30 Toothsome Desserts That Kids Will Ask For More!
Easy, quick, and flavorful are the must-have features when introducing desserts for kids. I have them all for you here with zero effort and a sweet double!
7 Tasteful Cookie Recipes That Your Kids Are Sure To Love!
Your kids' childhood may lack perfection if they don't have cookies in their pocket. Turn these cookies into more appealing desserts to make the kids even more happily addicted!
Every one may have loved this sweet treat from childhood: crunchy chocolate sandwich cookies. Your kids will love this dessert as much as you did!
The soft vanilla ice cream filling with the crispy chocolate chip layer creates the perfect combination of texture and flavor. Vary the filling in your ways for double creaminess!
Cookie but no-bake – even a kid can do it! Try this dessert with your children to see how easy it is. The buttery taste of peanut butter stands out among the cookies.
Besides, every chewy bite is fantastic, even more interesting when encountering crunchy oatmeal and pudgy pieces. Let's create unforgettable memories for kids with this treat!
Cookies have now become more attractive with melted filling! When breaking the crunchy cookies with the aroma of black sugar mixed with vanilla flavor, you will see the melted peanut butter cup coming out.
Imagine all these scrumptious flavors blending together in your mouth! They all seem to be perfectly made to put together. Kids will definitely love to bake and enjoy them!
An irresistible vanilla flavor characterizes sugar cookies. They have sharp edges, and the center is soft and smooth. The shape is always kept as beautiful as when it was just made.
Kids will love decorating these spacious flat surface sugar cookies. You can help your children shape these cookies to their liking. Get creative with sugar cookies!
These beautiful sweet treats use cake mix – the multi-use and easy-to-find ingredient. This easy recipe is flavorsome just by choosing the cake mix taste and stimulating kids' creativity. You can mix 2 or 3 cake mix flavors together, and the best cake mix cookies will be created.
Then kids can add in some favorite toppings like colorful M&Ms, sweet chocolate chips, chopped candy bars, buttery peanut butter crumbs, etc. Many textures also blend together, from crispy to soft, providing an excellent chewing sensation.
This ultimate treat will help you and your kids create the flavorful soft cake mix cookies in a moment!
Hard to resist two ice-cream biscuits – the perfect combination! This sweet treat is suitable for making just one time and saving in the fridge for kids all summer!
Soft butter and egg cookies blended with your favorite melted ice cream, filling the tip of your tongue! Sprinkle some colorful candies or sweet chocolate chips if your kids like them.
Enough for the whole group of kids is a giant cookie ice cream sandwich! This dessert is great for any gathering occasion like a birthday or camping.
The crowd-size sandwich is filled with chewy moderate sugared cookies and bittersweet chocolate chips that are delightful to chew. The thick layer in the middle is vanilla-flavored ice cream and loads of chocolate sprinkles! Who can resist a bite of this?
Help Your Kids Create 3 Appealing Pudding Desserts Now!
Puddings should definitely be on this list for their refreshing eating feeling! They are also the easiest choices to make with no mess, and kids can show off their talent too!
Banana pudding consists of soft ripe banana layers, plus the fatty taste of fresh cream and pudding makes you irresistible. Flavorsome wafer cookies also add a fun part when enjoying this dessert.
What characterizes banana pudding is the heavy cream blending flavor. Kids are sure to love the fabulous versions of pudding in tiny jars!
Kids of any age are happy with this dessert. Chocolate pudding has a wonderful texture that can melt in your mouth! Moreover, the ingredients to make this easy dessert are usually available in your refrigerator.
You will have cornstarch to thicken the texture. The fatty taste of milk and butter go great with the bittersweet cocoa powder. Topping with whipping cream, M&Ms or whatever your kids love to create endless fun.
Let's discover how many versions you can do with these easy peasy chocolate pudding recipes!
Here's a fun dessert for everyone to make together! Kids will definitely love the small sandy beaches mixed with pebbles and soil in a lovely glass cup.
Crispy Graham cracker crumbs intersperse well with fragrant vanilla pudding and whipping cream for a fresh sweet taste and the most attractive look.
Add more summer flavor with tiny paper umbrellas and beautiful colorful sweet marshmallows. Go to the beach right at home with these cute cups!
3 Chocolate-Filled Brownie Recipes To Satisfy Kids' Sweet Craving
Chocolate brownie – kid's love! You cannot ignore these tempting desserts when thinking of sweet treats for your children! Chocolate will fulfill your and kids' sweet craving!
One bowl for everyone – one fudgy brownie bar for a fun and easy day out! With the decadent flavor of chocolate, all the kids will be knocked out by the first bite.
The butter is stirred in the brown sugars along with the chocolate to make it taste even richer. Then, you can add the chewy chocolate chunks to generate the best ooey-gooey texture.
Almost every boy's childhood is associated with colorful Lego bars. Why not try turning your usual brownie mix treats into lifelike Lego bars? Vibrant and chewy Lego pieces sound fun, don't they? And your children will surely think so, too!
Green, red, yellow with chocolate flavors of both brownie and M&Ms make anyone fall in love. Straightforward recipe with readily available ingredients and a creative hand! Try asking the kids to do the same as if you were building a lego building together!
This is both a dessert and a mouth-watering snack that your kids will ask you every day if they've ever tasted it. These yummy chocolate brownie muddy buddies are luscious with semi-sweet chocolate and buttery salted butter flavors.
Interspersed in the brownie mix are funny chewy, crunchy cereal flakes. These little pieces look like cute brown candies. Try making a beautiful gift for your kids now!
Make Your Kids Melting With These Alluring Cupcake Desserts!
Lovely small cupcakes with fascinating creamy toppings will make any kid swoon! Try it as soon as you get the chance to bring your children a little joy!
Your little girls love unicorns! Help them create their own colorful unicorn cupcakes with this easy recipe. Not only does it look adorable with its cartoon unicorn face decoration, but its taste is scrumptious too!
I cannot bear to bite this cupcake because it is so pretty! The base is just an ordinary cupcake until you decorate it with colorful cream and marshmallows on the top. Besides, the ice cream cones are really suitable to make a horn.
A cupcake becomes much more gorgeous if you add more childish colors to it. Yes, rainbow buttercream cupcakes will make anyone adore due to their eye-catching looks.
The top with vanilla buttercream icing in full color adds flavor to the usual lightly sweet cupcakes. These cupcakes will quickly run out of your table if the kids are around!
Refreshing Kids' Mood With These 4 Frozen Desserts!
Adults love to eat ice cream, let alone children! Each cool bite will reset the feeling of excitement, and the sweet taste will get kids enthusiastic!
Every child loves ice cream! Inviting the kid into the kitchen and making this mouth-watering dessert. The unbelievably easy recipe made in a couple of minutes can make everyone happy!
Vanilla flavor suddenly becomes more tempting when mixed with milk and cool as snow! Decorate a few colorful sprinkles to make your kid's white snow ice cup more lively.
Another fun idea to make dessert for kids is ice cream with lucky charms details. This recipe uses whole milk and heavy cream to create a creamy fatty taste.
The "lucky charms" are made from sweet and soft marshmallows. The bright colors of the charms among the white of the ice cream create a pleasing whole when looked at and enjoyed.
This pop looks complicated (because it is so pretty), but it is actually not hard to make. The main ingredient is fresh bananas, and surprisingly they are easy to whip with other aromatic ingredients.
You simply freeze the banana in your favorite mold and finally dip it in some fun toppings. They could be melting chocolate (which always goes well with bananas), colorful sprinkles, and some creamy whipping cream!
If your kids are all about Elsa and Anna, you should make this dessert for them now! These stunningly beautiful turquoise Frozen-inspired fudges adorned with glittering sugar pearls will have kids going passionate.
Immersed in each bar will be the sweet white chocolate mixed with fragrant vanilla extract. With just 5 minutes and a few ingredients, the irresistible yummy Frozen fudges will shine!
This is the easiest Frozen-inspired fudge recipe you can make with your kids! You can see this video to know more:
Look At The Other Easy Peasy Desserts To Get More Colorful Options!
These remaining unique desserts will definitely help you find the right one! Their variety of colors and flavors is undeniable, and kids are sure to eat more!
Transform into little farmers with oreo dirt cups! Every scoop is like a shovel digging in the ground. Your kids will enjoy these cups filled with stimulating oreo and chocolate until there is no leftover.
This dessert couldn't be easier even for a kid: just use instant pudding and some fatty whipped topping. The oreo crumb looks really like garden soil with some vividly popping colorful gummy worms.
Give these creative Oreo dirt cups a try, you and your kids will never regret the fun it brings!
An easy no-bake dessert that kids will love to eat every day is oreo balls. They look as attractive as cute little snowballs. Hidden inside are toothsome oreo chocolate sandwich cookie crumbs that are hard to resist.
The outer coat is made of sweet melting white chocolate that combines very well with the filling inside. Moreover, cream cheese is also added to increase the appetizing fattiness of these balls.
These oreos look like little macarons. You can use any kind of your favorite oreo flavor such as chocolate, vanilla, or butter, then cover them with melting chocolate to create the excellent blending sweet taste.
You can choose white or black chocolate candy to make the sweet coating. Each bite will be so tasty with a mixture of crispy oreo and different coating flavors. Decorate with colorful sprinkles for a fascinating look!
Make a special flavored popcorn looking like the monsters with sweet blue marshmallows! The sweet and savory taste of popcorn mixed with buttery mini cookies creates a fun eating experience for kids!
This super cute popcorn dessert is incredibly effortless to make. Remember to add some candy eyes to make the crispy popcorn look even more monster-like!
Have fun with your kids by making this perfect salty and sweet monster popcorn!
Lava cakes are tasty with the fatty melted chocolate lava center. And yet, the outside is also chocolate! More chocolate means more attractiveness for kids!
The outer texture is succulent and soft, when the center is slightly molten and ooey-gooey. As for the lava topping, you can choose according to your kids' preferences, such as ice cream, chocolate sauce, or even fruit syrup!
Interspersed in the cute little muffin are pleasurable succulent blueberries! Nothing can be quicker and easier than this dessert recipe with just a few essential ingredients.
These muffins have a spongy and moist texture with a beautiful golden brown color after baking. The buttery and vanilla flavors are lusciously duplicated with the moderate acidity of blueberry.
Try to make a peanut butter cup with a few easy-to-find ingredients! Everything is trouble-free with this simple recipe. With these cups in lovely shape with layers of sweetened chocolate chips and fatty peanut butter, your kids will surely ask for more!
To contribute to the richer flavor, honey is added to the recipe to increase the sweetness. Freeze it and let the kids enjoy a little chocolate – peanut butter piece every day!
My childhood suddenly rushed back every time I mentioned this dessert. It seems that few dishes can replace the cereal treat with its crispness and characteristic rice aroma!
The Rice Krispies in this recipe are fused with sweet melted marshmallows and vanilla, along with a tasty butter blend. Only four simplest ingredients to create your best crunchy treat.
Sushi but not sushi at all – this real dessert is tempting enough for both kids and adults. The decoration is extremely eye-catching, with tiny marshmallows and loads of fruity pebbles.
Finally, it was all rolled up like a colorful scroll. You will feel the buttery taste when you take a bite. This dessert not only looks fantastic but is also extremely flavorsome for kids.
Kids love the thrill that camping trips offer, but how can their experience be complete without suitable camping desserts for the occasion? Help them out with S'mores tacos! It's a flavorful combination of melted toasted marshmallows with flatbread that pretends to be tacos.
Add tiny semi-sweet chocolate chips for topping and finely crushed graham cracker for a more enjoyable chew! No need for a campfire. The home-camping is also warm!
Just hearing the name makes you imagine a tremendously cute dessert, right? Don't need to come to DisneyLand, you can make the interesting copycat tiger tails with an irresistible taste that kids will say wow.
Guess who doesn't like sweet marshmallows mixed with melting sugared caramel bits? All are enticing with delightfully orange color, making these tigger tails look as excellent as they taste.
Inviting Your Kids To Make The Flavorful Dessert Today, Mom!
You must have a gross appetite when looking at these scrumptious desserts for kids, right? Not only is it easy to make, but it all also looks so pretty and scrummy!
Ignoring them is unthinkable, so immediately pick out a few of the best ones and invite your kids into the kitchen to have fun in your spare time!
Do not forget to share this post with other moms so that all children can enjoy these extraordinary, irresistible desserts! Happy cooking, mom and kids!
Nutrition Facts
30 servings per container
---
Amount Per ServingCalories163
% Daily Value *
Total Fat 8.1g

13

%
Cholesterol 8mg

3

%
Sodium 30mg

2

%
Potassium 100mg

3

%
Total Carbohydrate 21.2g

8

%

Dietary Fiber 1.6g

4

%
Sugars 14.4g

Protein 3.5g

6

%
---
Calcium

15

%
Iron

1

%
Vitamin D

2

%
* The % Daily Value tells you how much a nutrient in a serving of food contributes to a daily diet. 2,000 calories a day is used for general nutrition advice.