Do you want to know some dinner party dessert recipes so that you do not get confused at future parties? Or are you looking for simple recipes that can treat the whole crowd? If that is what you need, this post is perfect for you.
After finishing the reading, you will gain multiple benefits. Specifically, you will get your hands on 26 dessert recipes. Also, you will have access to worthy sharings of cooking and serving methods along with some tips to make delicacies better. So cool, right?
So, the arduous search is over. Now, join me and gather the sweet results!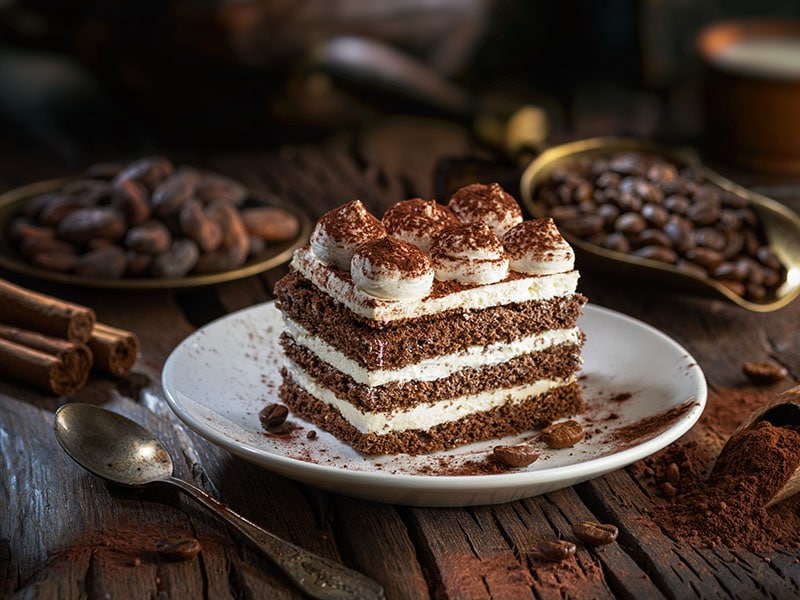 Discover These Dinner Party Dessert Recipes With Glowing Reviews
You have everything arranged at the dinner party, but you do not know what dessert to choose for both convenience and ease of serving. No biggie! Just leave the matter here and be ready to welcome a variety of dessert recipes. Start now!
Total Time: 18 minutes
Raspberry mousse is a light and trouble-free dessert for big gatherings. Usually, the mousse cake has raw eggs as a stabilizer to hold the shape of the cake. But if you are afraid of eating raw eggs, this eggless raspberry mousse recipe is for you.
With only five handy ingredients, you will get your dinner party an elegant dessert of mousse. In particular, the making process will start with stirring everything into a saucepan under low heat without bubbling or boiling until well dissolved. Let them cool to room temperature.
Once cool, spoon whipped cream into the mixture and wait for the dish to set before serving. You can serve this ridiculously delicious raspberry treat immediately or make it in advance for one or even two days. It will be perfect after being stored in the fridge with a cover.
Check out how to make creamy and fluffy raspberry mousse for your summer gathering!
Total Time: 10 minutes
You need dessert for your upcoming party, but your oven has been broken down? No worries! You can survive through the party with these easy no-bake cheesecake cups. In just ten minutes, you will surprise everyone with your delightful dessert without even touching an oven.
Now it is time for you to go for the recipe. First, make the cake base by stirring cracker crumbs with melted butter. Then fold whipped cream into the cream cheese mixture and blend well. Once finished, pipe the mixture onto the cups with a pre-prepared cake base.
For proper serving, you can add fresh fruit or more whipped cream on top. But if you like simple, eating it plain is still super good. Your cheesecake cup will taste creamy and buttery, with a silky texture melting in your mouth right from the moment you put the spoon in. So enjoy!
Total Time: 20 minutes
Panna cotta is a classic dessert hailing from Italy. Indeed, the dish has earned its name from the Italian word that means "cooked cream." Like its name says, all you need to do is whip cream and other ingredients in a saucepan and cook them.
Yes, it is just effortless to make! But the finished product is promisingly quality and delicious. When scooping a spoon of chocolate panna cotta, you will find it silky, creamy, and full of chocolate flavor, bringing you the melt-in-mouth feeling.
For the best dish, dark chocolate is an ideal option out of all types. Since panna cotta contains fatty and milky flavors like cream and vanilla, dark chocolate will reduce the excessive sweetness with a rich cocoa flavor.
Or, if you hate bitterness, try some fruity flavors with strawberry and lemon panna cotta. These fruity flavors will surely please your sweet tooth.
Total Time: 15 minutes
Molten chocolate lava cakes are the king dessert for chocolate lovers. They have a somewhat firm texture on the outside yet gooey and melty in the center, creating a stunning scene every time you cut it in half.
This delicacy is easy to bake since you just melt and blend all ingredients, and there goes your dish. However, the key to the dessert lies in the timing. While taking it out too soon will give you a chocolate soup, an overdone cake will disappoint you with no lava in the center.
For that reason, you should carefully watch out for your lava cakes. In particular, you can look for a sign of wobble to know if your dessert is ready. Simply shake these cakes before taking them out of the oven. If they sway like a whole pudding, they are perfect for serving.
Total Time: 40 minutes
Espresso martini trifles are a demanding but suitable dish for date nights. With the classic brown of coffee and chocolate and the luxurious golden color of amaretti biscuit crumble, this dessert will make you and your guests feel like a gentleman or a lady.
The highlight when served methodically is the layout of the dish. You can vary the style of the glass to give it a different feel, but I highly recommend tall glasses for a more elegant look.
Besides, you should serve espresso martini trifles with a drizzle of coffee syrup. Then break a pre-prepared brittle into pieces to put on top along with chocolate chips or cocoa nibs sprinkle. Not only for decoration, but they also enrich the flavor of your desserts.
Total Time: 38 minutes
Lemon tarts are a tasty and untroublesome dessert in springtime. The delicacy also has customizable sizes according to your preference. If you like an individual dessert, mini tarts are a good choice. But if you love sharing moments, it is okay to make it big. All your choice!
No matter what size lemon tarts are, they will be everyone's favorite, thanks to their flavor. In particular, lemon tarts will serve a tender crust with a burst of lemony flavor and creamy sweetness. Add a few more decorative flowers, and they bring the spring taste to your party.
Let's make a healthy lemon tart with gluten-free almond flour crust!
Total Time: 2 hours 25 minutes (Refrigerating Time: 2 hours)
Banana pudding is a straightforward sweet treat to serve to your dinner guests. The pleasant aroma of bananas satisfies everyone, even the pickiest person. Also, your diners will be impressed with layers of crunchy wafers, creamy puddings, and fresh bananas.
The steps to make this delicacy are uncomplicated. First, you make the pudding with milk and let it cool. After that, fill about one-third of a small cup or container with vanilla wafers and the remaining space with banana slices and pudding. Then repeat, and your cup is complete.
Total Time: 44 minutes
Peaches and cream tart is an incredible dessert to make if there are some ripe peaches available in your garden or local market. It has a beautiful cookie crust topped with vibrant yellow peaches and red wine berries, creating a glossy and pretty cake appearance.
Specifically, peach-and-cream tart tastes fresh, fruity, and almond-flavored in companion with a crispy crust and creamy filling. Therefore, you will feel diverse flavors exploding in your mouth when first having a piece of peach tart.
With such versatility in taste, this dessert is a perfect match for special occasions, like birthday parties. If you need an elegant treat for the Thanksgiving sweet course or Easter brunch highlights, it will fit the bill nicely. Its festive look alone is enough to lift up everyone's spirits.
Total Time: 1 hour 5 minutes
Lemon meringue pie is a delicate dessert fit for BBQ parties or dinners. Also, they are easy to make. Simply bake the pie crust until golden, pour the filling mix into the baked cases, and bake again. Then pipe the meringue evenly on top, bake for about 30 minutes, and be ready to serve.
Besides, you can prepare the pastry and lemon filling in advance to shorten the service time. Once desired, you just need to top these lemon cases with the meringue and bake for a warm serving. In that way, your lemon pie will always be fresh and less waste.
Total Time: 1 hour
If you want to end the party grandly, you cannot skip the dessert charcuterie board. This charcuterie refers to the board with plenty of fruits and sweet treats that you can prepare at home or buy from any store.
For the fruit component, people often choose easy-to-find and juicy fruits like berries, apple and pear slices, or fruit skewers from cubed melons and grapes. For sweet treats, you can pick various ones ranging from bite-sized candies and chocolate to cookies and dips.
To successfully create a charcuterie board, you should start sorting sweet treats and fruits according to size. When there is space between the sweets, you fill them with the smallest. After that, take a fresh mint to decorate your board if needed. And well done!
Do you not know how to arrange a dessert charcuterie board? Dive into this guide!
Total Time: 1 hour
Eton mess is a delicate and creamy dessert to impress anyone at the dinner party. This elegant food contains three main ingredients: cream, fruit, and meringue. Specifically, you can make the last one from eggs and sugar.
For the best dish, you should buy the nice whippable cream and whisk until moderate thick for a harmonious mixture of cream and meringue. Besides, you should serve it immediately when done because meringue can dissolve into cream and lose its crunchy texture after a while.
Indeed, Eton mess is the perfect dessert for creativity. You can make many variations of it by changing or adding some more ingredients. For instance, you can make Eton mess with ice cream or try different fruits, which means you will never get bored with your dessert!
Total Time: 1 hour 5 minutes
Apple galette is a heaven-sent dessert with a hybrid between apple pie and tart. It consists of cinnamons and apple slices beautifully lying onto the buttery and flaky crust. Indeed, you will forget the word "apple pie" after knowing this stunning delicacy.
Besides, the apple galette is also fairly easy to handle. You do not need any fancy pan, and the clean-up after baking is a breeze. All you have to do is prepare the dough, slice, and season the apples. Then assemble these cinnamon apple slices onto the dough and bake until done.
A big plus for this dessert is its long shelf life. In particular, you can keep it wrapped in the refrigerator for two days or in the freezer for up to three months. But remember to let the baked goods cool completely for the most proper storage.
Total Time: 30 minutes
Blueberry cheesecake shooters are perfection to end your party most ultimately. They are light, sweet, cheesy, yet tangy enough to treat your crowd. Not to mention, it is also very little work that even your kids can lend you a hand.
In particular, you begin the baking process by adding cracker crumbs to shooters for a base and piping, in turn, the cheesecake, blueberry compote, and whipped cream layers. Then top with a fresh blueberry and mint leaf to garnish your shooter. That's it!
In addition, you can make cheesecake shooters faster with canned blueberry pie filling if needed. Indeed, you do not need to follow the recipe so strictly. Instead, you can flexibly modify layers like cheesecake and fruit compote as you need.
Total Time: 45 minutes
Chai spice cake is a handy and flavorful dessert recipe. This delicacy tastes spicy, citrusy, and coconut-flavored with a sweet hint. Indeed, most of the flavor comes from chai spice, which contains various spices, including cinnamon, ginger, cardamom, etc.
Thanks to its warming spices, chai spice cake is an ideal vegan dessert to serve at winter parties like Christmas or Thanksgiving. You can also prepare a hot tea to pair with the delicacy. These two combined will make your cold day cozier.
Besides, you can feel comfortable serving your vegan friends this delight because of its vegetarian-friendly nature. But if you are not vegan and desire a fatty mouthfeel, feel free to alter to milk and cream cheese. Your cake will have a more cheesy feeling.
Total Time: 2 hours 50 minutes (Refrigerating Time: 2 hours)
As its name shows, the scoop of heaven trifle is a heavenly and delightsome dessert for your dinner party. This trifle has rich cake, sweet caramel, creamy whipped cream, and crispy toffee. Just imagine having a spoonful of it; how perfect can it be!
Not only does it taste great, but the dessert is simple to make. To handle a scoop of heaven, you first bake a cake and spice it up with condensed milk. Then assemble all the prepared ingredients into layers and done.
Total Time: 1 hour 10 minutes
Here comes another heaven-sent dessert, especially for chocolate lovers. Let me introduce you to the chocolate souffle! I am sure this delight will be your weakness with its sweetness and multiple textures.
When you first put a spoon of souffle in your mouth, you will feel a sweet crust coated with sugar. Then the next layer has a somewhat spongy texture, light and airy. And finally, melt in your mouth is a creamy center. All come from only a spoon of cake!
However, one minus point for this dish is its ability to keep a spongy shape because, after a while, your out-of-oven souffle will fall.
For that reason, you may want to serve when done immediately. Or, you can flexibly fill the cavity with whipped cream and ice cream. These decadents will add flavor and serve as a garnish to your desserts.
Figure how easy to make a chocolate souffle with just some simple ingredients!
Total Time: 8 minutes (plus 3 hours of setting time)
Almond honey panna cotta is a light and luxurious dessert to serve, especially on special occasions. It has a pudding-like yet creamy texture, making you satisfied when scooping a spoon. Not stopping there, you will still be impressed when you put it in your mouth.
There is mild sweetness and rich honey-flavored with a hint of almond flavor. All tastes explode in your mouth. Then gradually fade following the panna cotta melt, creating a lingering feeling that makes you have to eat another bite.
In addition, you can creatively serve this delight. You can provide it individually in glasses or all in one big dish. Besides, if you are short on cheesecake topping, almond honey panna cotta can also be the one.
Total Time: 20 minutes
Cheesecake bites are a great fit to treat the crowd at your party. There is no sweating since everyone can serve themselves, thanks to the proper size of bites. Besides, this recipe is no-bake and takes you only minutes to finish a party dessert.
To make these bites, you start forming a cheesecake mixture by blending all ingredients well at room temperature. Then fill in your phyllo cups with that mixture to finish the dish. Optionally, you can bake them for a few minutes if wishing for a crunchier texture.
Also, you can sprinkle extra powdered sugar and add some chocolate chips for an extraordinary appearance. Or, crumbling some Oreo cookies to sprinkle on top is also a good idea.
Total Time: 10 minutes
Tiramisu is a classic ladyfinger dessert that originated in Italian cuisine. The after has a creamy, rich texture full of espresso, chocolate, and almond flavors. Cut the cake, and you will see that each piece of it has beautifully interwoven layers of white cream cheese mixture and brown ladyfingers.
Besides, this tiramisu recipe is also easy to make. You will have a yummy dessert by dipping ladyfingers and spreading cream cheese mix. But remember to make a quick dunk of ladyfingers instead of soaking them if you do not want your cake to be soggy.
To properly present the finger-licking ladyfinger-packed dessert, you can simply pipe sweet mascarpone mixture evenly across the tiramisu surface before sprinkling cocoa powder on top for an elegant look.
Let's explore step-to-step instructions on homemade tiramisu from scratch!
Total Time: 2 hours (including 30 minutes of resting time)
Mini lemon berry pavlovas are one of the loveliest desserts at your dinner table. They contain a miniature meringue-based crust topped with whipped cream and colorful fresh fruit, creating a tiny but extraordinary dish to serve.
This mini pavlovas recipe will bring you the sweet and fruity flavor accompanied by a hint of lemon taste and crispy crust outside. With that flavorful taste, you can also serve them at a cocktail party in addition to the dinner party, in which their mini size is an advantage.
Total Time: 15 minutes
Baileys chocolate pots are among the most impressive desserts of all time. They have a smooth and creamy texture with a tasty and rich flavor. In particular, these sweet treats require only three ingredients and an easy process to make.
All you need to do is blend melted chocolate with coconut milk and Baileys (of course). The coconut milk will contribute to the creamy texture of your pots, especially becoming silkier when you refrigerate them for a few hours.
However, coconut milk and chocolate may get harder under cold temperatures. Therefore, if you intend to keep them in the freezer, you should keep an eye on them to keep the cold from destroying the silky texture.
Total Time: 25 minutes
If you want a perfect dessert to end your formal dinner, coffee panna cotta can help you. It is a delicate and opulent dish with three layers of flavors: a coffee panna cotta at the bottom, a thin plain cream in the middle, and rich, sweet coffee syrup on top.
Like other panna cotta, this coffee type has a creamy texture that will melt right after being put in your mouth. Besides, much as you may see it as indulgent, coffee panna cotta is not oversweet but tasty enough to eat.
In addition, you must focus on two notes when handling this delicacy. First, never boil your milk. Instead, steam it in low heat. Besides, you should simmer coffee syrup at low to medium heat and frequently stir to prevent your treat from getting burned and bitter.
Total Time: 10 minutes
If you like strawberry cheesecake, you cannot miss cheesecake stuffed strawberries. They taste just the same as the cheesecake one but in the form of finger food and also save a lot of time and effort.
All you have to do is make the filling and pipe it into the pre-prepared strawberries, then your finger-licking dessert is ready to go. If you pop one in your mouth, you will feel the fresh tanginess of strawberry harmonized with a rich and creamy filling.
For easy plate arrangement, you can cut a slight sliver off the back to create a flat surface for the strawberry, keeping it steady on the plate. Then you can decorate the dish to your preference.
How about making some deviled strawberries for your Valentine's day?
Total Time: 1 hour 10 minutes
Mexican flan is an upgraded version of regular flan. In particular, it is richer in taste and denser in texture with a note of bittersweet caramel. With its custard-like quality, Mexican flan is easier for you to cut into cubes and arrange on the serving plate.
Despite its long baking time, the making process of Mexican flan is super easy. Simply start with the bottom caramel made from sugar, then make the flan base, pour over the caramel, and bake. Once done, let it cool and refrigerate it for the best experience.
Total Time: 20 minutes
Oreo vanilla pudding cake is another quick and no-bake cake for lazy bakers like me. It highlights an Oreo base and vanilla pudding cream cheese topped with crumbs and cool whip. That's why the dessert is super moist, creamy, and immediately melts when it is in your mouth.
Corresponding to the three layers of cake, you will have three stages of preparation and baking. First, make the cake base with melted butter and Oreo crumbs. Then, blend the pudding mix, vanilla, milk, and cream cheese to make the center layer.
Once done with the first two layers, spread the Cool Whip and sprinkle the Oreo crumbs on top for garnish. If you do not have any Oreos, you can utilize any sandwich cookies in the pantry. They will work as well as Oreo cookies for this recipe.
Total Time: 1 hour 20 minutes (Refrigerating time: 1 hour)
Keto peanut butter pie is a great deal for people who are peanut butter lovers on weight loss diets. This delight features a basic crust in the bottom layer and a chocolate layer on top with loads of peanut butter filling in the middle, creating a firm yet creamy pie.
Enjoy this flavorful sugar-free dessert, and you will feel the combination of the two most loved flavors: chocolate and peanut butter. While the former is rich with bittersweet notes, the latter is creamy and extremely fatty. Their combination gives this dessert an unforgettable sensation.
Search for faster keto peanut butter pie? Here you go!
Numerous Dinner Desserts Help End Your Party Perfectly
Good going! You have discovered all the leading dessert recipes, and it is time to level up your dessert game. Just pick one and add it to your dinner party menu. So, which dish did you choose? Comment now to name and once again later to share your experience with me!
Also, sharing is caring. Thus, if you think my post is worthy and helpful to others, please share it publicly on social media. And do not forget to leave a like for my sharing, too. I would love to see your thumb up. Thank you, and hasta la vista!
Nutrition Facts
6 servings per container
---
Amount Per ServingCalories206
% Daily Value *
Total Fat 11.7g

17

%
Cholesterol 42mg

15

%
Sodium 17mg

1

%
Potassium 51mg

2

%
Total Carbohydrate 24.1g

8

%

Dietary Fiber 2g

8

%
Sugars 19.8g

Protein 3.4g

6

%
---
* The % Daily Value tells you how much a nutrient in a serving of food contributes to a daily diet. 2,000 calories a day is used for general nutrition advice.