Desserts without eggs are as tasty and pleasing as egg-based sweet courses. Even if you're allergic to eggs or on a special diet, these eggless desserts are totally guilt-free and can satisfy your sweet tooth. They're also perfect for both crowds and single servings.
You're not a skilled baker? Just relax because I will provide you with amazing recipes and pro tips that can help you whip them up without a sense of struggle. From pastries to frozen treats, a wide range of luscious desserts is waiting for you to discover. Check them out now!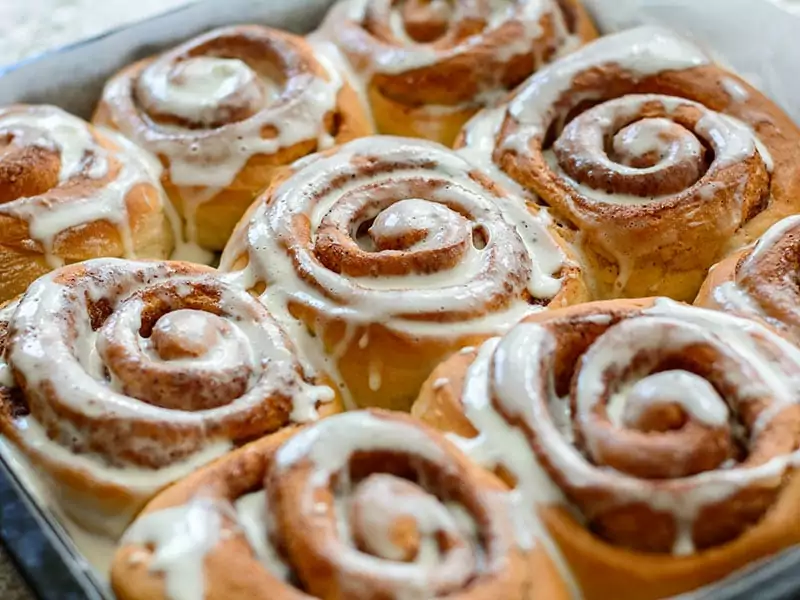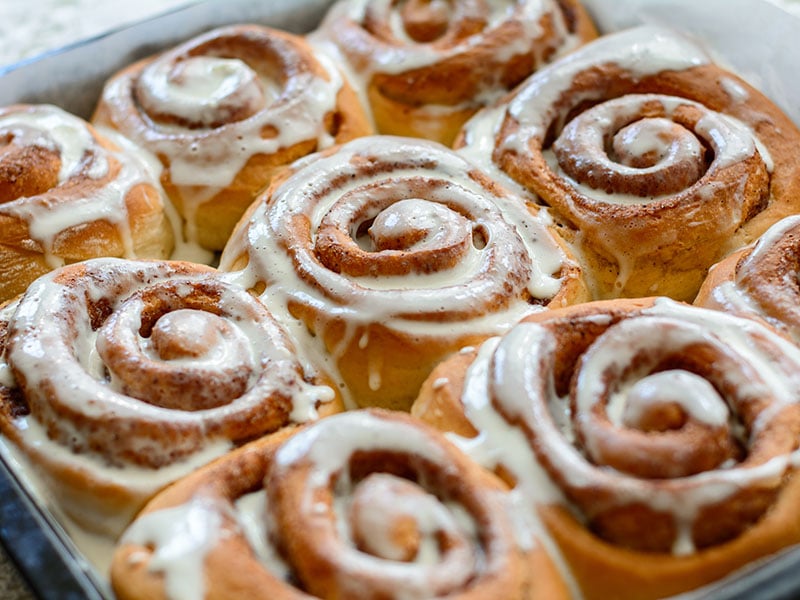 Best Eggless Dessert Recipes To Please Your Sugar Cravings
You won't stop asking why there are so many super satisfying desserts without including eggs. Not only are they yummy, but these sweet treats are much healthier for your body than old-fashioned ones. Once trying them, you'll soon get addicted to their delightful flavors.
Total time: 6 hours 50 minutes (including 6 hours and 30 minutes of chilling time)
This eggless chocolate cream pie consists of a buttery crust and a creamy, rich chocolate filling. Without baking, the pie is surprisingly as yummy and satisfying as store-bought sweets.
For this recipe, you can buy a premade pie crust to cut down on the prep time or create a perfect eggless one in a few simple steps at home. The no-bake crust is simply made from Oreo crumbs and butter. Feel free to substitute Oreos with any of your favorite biscuits.
The smooth and silky filling may take some time to finish, but it's never challenging at all. The no-bake pie needs some time to be totally firm and set, including 4-6 hours of refrigeration. So, you can prepare it 1-2 days ahead of time.
Total time: 50 minutes
You'll never get tired of citrus-flavored desserts, especially with this creamy eggless lemon cake. The spongy texture filled with lemon zest and lemon juice will leave a refreshing and satisfying taste in your mouth.
Without using eggs, the lemon cake is still so moist and fluffy due to the Greek yogurt. It's advisable to use castor sugar since it can dissolve quickly when mixed with other components.
It'll take 35–40 minutes to bake the lemon cake in the oven. But do you know that you can prepare it as a quick microwave treat? This approach can shorten the time by 25%. As for the frosting, you can glaze it with cream cheese frosting or whatever you feel comfortable with.
Eggless lemon cake doesn't require too much time and effort to finish.
Total time: 45 minutes (not including the chilling time)
Eggless chocolate brownies will become your go-to dessert whenever your body suddenly craves sweetness. From grown-ups to children, everyone will fall deeply for these fudgy, moist, and packed chocolate brownies.
You may know that without eggs, the cakes easily get dry and crumbly. But not in this case. The key here is applesauce. It is rich in moisture and can work as a leavening agent like eggs. You can purchase applesauce in every supermarket or simply make your own.
Keep an eye when microwaving the chocolate. It's easy to get burnt and ruin your sweet taste. You should leave the finished brownies in the fridge for about 1 hour before cutting and serving.
Total time: 35 minutes (not including the chilling time)
Save this recipe into your extravagant dessert compilation of French cuisine so you can please your sweet tooth on busy days. Better yet, this French silk pie only includes no more than 5 ingredients and takes several steps to be done.
The ingredient list includes a premade pie crust, cream cheese, vanilla extract, whipped cream, and baking chocolate.
There are some tips for new bakers to assemble the perfect egg-free pie. Look for the best quality semi-sweet baking chocolate and refrigerated crust from reputable brands. Make sure the cream cheese sits at room temperature before combining it with the other ingredients.
Total time: 4 hours 45 minutes (including 4 hours of freezing time)
If you're allergic to eggs, why don't you try a well-made vegan treat? Like these vegan fudge bars with chocolate and peanut butter, their lusciousness will certainly blow your mind. The frozen sweet treats are rich, creamy, and buttery, with an incredibly salty-sweet flavor.
These beautiful bars are best for serving at tea parties, crowd gatherings, or simply as yummy snacks. The secret ingredient that makes these bars excellent is cashews. They give a mild nutty taste and create a smooth and silky texture for the sweet.
Total time: 45 minutes
No matter the occasion, cookies are always the best dessert for your sweet tooth. These eggless chocolate chip cookies will astonish you with their incredibly tender and chewy texture combined with their rich, buttery, and caramel-like flavors.
Making cookies will no longer be a challenge if you know these tricks. Always make sure the butter consistency is not too warm or mushy by pressing your finger on it and seeing if it leaves an imprint. Use exactly the amount of flour as instructed, or it may lead to undesirable effects.
You can make cookie dough balls and store them in a container in your freezer. Whenever you are ready to serve, take the frozen balls out and bake them in the oven. Baked cookies can be tasty for 4-5 days at room temperature. Remember to place them in an airtight container.
Eggless chocolate chip cookies can be fun snacks or nutrient-rich breakfasts.
Total time: 20 minutes (not including the chilling time)
This flavorful orange dessert is the embodiment of convenience: it takes less than 30 minutes to prepare, and you don't have to bake anything. The crumble crust is made simply by combining some ingredients in a food processor and waiting until they are set in the refrigerator.
The highlight of the tart is the blood orange filling. The fresh blood orange juice brings out a vivid color and a distinctively refreshing flavor. If you can't find blood oranges, use regular ones as a replacement. But the color won't be as pretty as you wish.
The filling ingredients consist of blood orange juice, sugar, coconut milk, corn starch, and agar-agar. To prepare the filling, simmer all the ingredients until thickened. Whisking is very important here. So make sure to whisk continuously to have a perfectly smooth filling.
Total time: 30 minutes (including 20 minutes of the chilling time)
Cookie dough is never a bad option when you are not in the mood to bake something. Mixing all the ingredients and waiting for the dough to get chilled is all you have to do. The treat is effortless to prepare but packed with flavors and nutrients.
Some of the components for the recipe consist of coconut oil, syrup, oat flour, and chocolate chips. It's completely safe to eat this unbaked cookie dough due to the lack of raw eggs, baking soda, or baking powder. So, don't try to bake it.
To store the cookie dough, form dough balls and place them in a tight lid container. They can last for 3 days on the countertop and up to a month in the refrigerator.
Total time: 10 minutes
Made from dates, cacao, oats, and PB2 powdered peanut butter, the dessert is rich in protein and loaded with flavors. The parfait is a layered dessert involving a layer of cookie dough and another layer of creamy mousse.
PB2 powdered peanut butter is the starting point here. It creates a creamy and smooth texture for the mousse. If you're uncomfortable with peanut butter, you can alter it with PB2 almond butter.
You can also serve the mousse as a dip with fruits, as a pancake topping, or eat it alone.
Total time: 1 hour 25 minutes
Not only kids but adults also fall for these lovely cheesecake balls. They are outstanding and delightful. The eggless cookie dough in the center is covered with vanilla cheesecake and finally coated in a chocolate crust.
These balls are ideal for serving at any party, family gathering, or even a single serving. Though this recipe requires quite many steps, preparing cheesecake bites won't be difficult. I think it'll be a fun time to make the dessert with your kids over the weekend.
If you find the balls are quite large, you can decrease the cheesecake and cookie dough on each ball. Don't forget to keep these balls in your fridge until you're ready to eat them up.
Total time: 1 hour 10 minutes
Craving for something crispy and pleasantly sweet? These crumb bars are a solid choice for fans of desserts made with blueberries, a fruit with a beautiful purple. The sweet course comes with different layers: a buttery crust, a sweet blueberry filling, and a crumble topping.
The big hit of the bars is the combination of fresh blueberries and lemons. They create a tangy-sweet flavor for the blueberry filling that you'll never mistake for any other. Besides fresh blueberries, you can also use blueberry jam or defrosted berries for this recipe.
This easy and simple dessert can be served as breakfast or a snack. Place the bars in your lunch box, so you can enjoy them whenever you want.
These tasty blueberry crumb bars will satisfy your sweet tooth immediately.
Total time: 40 minutes
Pudding made from squash may sound strange, but it is amazingly delicious. Believe me, with just 6 ingredients, you can whip up this incredible pudding treat in no time. Of course, there is no egg yolk here.
Why is squash pudding? Squash gives the pudding a vibrant orange color without using artificial coloring. Next, it has a slight natural sweetness and a great number of essential minerals, including vitamin C, A, B6, etc.
The recommended squash types for this pudding recipe are honeynut or butternut squash. To prepare the veggie, cut it in half, remove the seeds, bake until tender, and scoop out the flesh. Now your squash is ready to be used in the pudding.
Total time: 25 minutes (not including the chilling time)
If you're in love with cherry-flavored sweet courses, this frozen course will fill your heart. This cherry ice cream is unbeatable with a creamy, sugary, and fruity taste. The cream may take a while to totally set, but it's all worthwhile for a super cool and refreshing dessert.
The ice cream taste can be tasty even if you don't make it with an ice cream machine. All you need to do is whisk the custard, let it chill, and repeat several times. Sprinkling some chopped walnuts before serving can make your ice cream yummier.
Total time: 1 hour 15 minutes
Are you finding a simple but impressive cake for a special occasion? This red velvet bundt cake is a must-try. The recipe allows you to create a moist, spongy, and soft cake only by mixing some baking ingredients.
As the name suggests, everyone will be hooked on the red velvet bundt cake topped with a fluffy cream cheese frosting. To make this eggless cake non-dairy, you can replace regular plain yogurt with other vegan products.
At room temperature, the sugary treat can last for 3–4 days and may be longer in the fridge. To freeze the cake, make sure to cover it in plastic wrap and aluminum foil tightly. It can be kept for 1 month in the freezer.
Total time: 30 minutes
Who can resist these fudgy, pleasantly sweet, and chocolatey brownies? Including all healthy ingredients such as ground flaxseed, oats, cacao powder, etc., the peanut butter brownies are gluten-free, non-oil, and vegan.
Some peanut butter substitutes are tahini, sunflower butter, and coconut butter. Remember to line the baking sheet with parchment paper, so you can take the cake off easily after baking.
Leftover brownies are still good after 5 days on the countertop if you place them in a container with a loose lid.
Total time: 2 hours 25 minutes
Your recipe list of eggless desserts won't be complete if it lacks cinnamon rolls. The rolls are truly hearty desserts for any sweet lover. They are wonderfully soft, fragrant, and glazed with a sweet, vanilla frosting.
This version of cinnamon rolls consists of plant-based milk instead of dairy products. Your dessert will become a hit when you serve it with a cup of matcha latte or warm beverage.
If you can't consume these cake rolls within a day, it's better to put them in an airtight container and store them in the fridge for 5 days.
These cinnamon rolls are very soft, moist, delicious, and vegan.
Total time: 33 minutes
Cupcakes are an easy but tasty dessert for everyone. Eggless orange cupcakes are so fluffy, moist, and easy to whip up all the time. Unlike traditional cupcakes, these sweets are outstanding with a fresh citrus flavor from orange zest and orange juice.
Prefer more flavors for your orange cupcakes? Go ahead. Add dried cranberries if you'd like a little chewy texture, or mix some cocoa powder with flour for a nice chocolatey fragrance. To make the cake completely vegan, choose plant-based yogurt to alternate with the dairy one.
Total time: 40 minutes
Chocolate vegan Oreo cupcakes filled with creamy frosting will lift your mood up instantly. These delicious sweet treats made with Oreo have the bold aromatic fragrance of strong coffee and the comforting flavors of Oreos, cocoa powder, and vanilla.
Besides using the correct amount of flour, baking soda and apple cider vinegar play a significant role in making the cake moist, soft, and spongy. Be careful when mixing the batter, only stir until there are no big lumps. Overmixing can make the cake texture dense.
Eating Oreo cupcakes within a day is the best. For long-term storage, you should put the cakes in a Ziplock bag and store them in the freezer. Don't store cakes with Oreo biscuits inside. The frozen Oreo cookies may soften once thawed.
Total time: 6 hours 15 minutes (including 6 hours of chilling time)
I'm not going to lie to you, but this fancy tiramisu is done after 15 minutes of preparation. This light, rich, and intensely raspberry-flavored dessert will steal the show at your weekend parties.
Tiramisu is an Italian dessert flavored with coffee. The translation of "tiramisu" means "pick me up" or "cheer me up". What a perfect name for this charming sugary treat!
Unlike the authentic version, the raspberry tiramisu is not related to coffee but has an unforgettable taste of fruits and almond liqueur. Note that the cake can last for 2-3 days when refrigerated. But if you leave the treat sitting for too long, it'll become soggy.
Total time: 2 hours 10 minutes (including 2 hours of chilling time)
This yummy mango sweet can be the simplest mousse ever when it only takes 10 minutes and 4 ingredients to prepare: mango puree, double cream, vanilla extract, and condensed milk.
Let's begin by whisking the cream until it is soft enough to assemble the mango mousse. Place the whisked cream with the other 3 ingredients, transfer the mixture to mason jars, and let them chill for at least 2 hours.
After chilling, you can make the easy and delicious condensed milk dessert more engaging by topping it with some cubed fresh mangoes, blueberries, and mint leaves. What an elegant and mouth-watering sweet course!
Eggless mango mousse is an ideal dessert to serve every summer.
Total time: 15 minutes (not including the chilling time)
Making desserts has never been this easy and quick with this eggless strawberry mousse. The elegant strawberry-based sweet treat is extremely creamy, fluffy, and rich in strawberry flavors without using gelatin. Thanks to this recipe, you can treat yourself to delightful mousse cups daily.
The flavor of the mousse comes from the homemade strawberry compote. If you don't have fresh strawberries on hand to make the compote, use store-bought strawberry jam instead.
The mousse needs about 40–50 minutes in the fridge to set. Before serving, let's garnish with some fresh strawberries on top.
Total time: 1 hour 10 minutes
Peach cobbler never gets old with the combo of the juicy peach filling and the buttery, fragrant topping. This delectable dessert will become your family-friendly dessert every summer. Plus, the recipe doesn't contain soy, nuts, or even grain.
It's always perfect when you can use fresh fruits to make the dessert. However, frozen peaches aren't a problem as long as you defrost the fruits before mixing them with other ingredients.
As for the egg replacement, try making this homemade gelatin egg. Start by soaking grass-fed gelatin in hot water, then blending it with a hand immersion blender until it turns white. Your "egg" is ready to be combined with other ingredients.
Egg-Free Sweets Will Be The Center Of Attention At Any Party
Now you can comfortably enjoy your favorite desserts without worrying about your egg allergy. You can do everything from cookies to pudding after some simple steps. I've already said that, but eggless desserts aren't less tasty or satisfying than any other extra-egg ones.
Make sure to rate your most impressive recipes and express your thoughts in the comments. Save the recipe list and share it on social media to help other sweet lovers sensitive to eggs. Thank you for your continued support, and I hope to see you in the coming articles!
Nutrition Facts
12 servings per container
---
Amount Per ServingCalories305
% Daily Value *
Total Fat 16g

25

%
Cholesterol 38mg

13

%
Sodium 249mg

11

%
Potassium 161mg

5

%
Total Carbohydrate 36.2g

12

%

Dietary Fiber 2.1g

8

%
Sugars 28.9g

Protein 5g

10

%
---
* The % Daily Value tells you how much a nutrient in a serving of food contributes to a daily diet. 2,000 calories a day is used for general nutrition advice.